Olympian Hiawatha

Header Photo: Drew Jacksich
---
In the late 1940s the Milwaukee Road introduced the Olympian Hiawatha, the transcontinental version of the railroad's very popular fleet of Hiawatha passenger trains. The original version of the train was the Twin Cities Hiawatha, which began operating between Chicago and the Twin Cities on May 29, 1935, one of the first streamlined trains ever to be introduced in the U.S. For the Milwaukee itself, the Hiawathas were virtually the only streamlined passenger trains run by the railroad (they certainly were the most popular and well-remembered) with the rest operated in conjunction with Union Pacific. Originally powered by 4-4-2 Atlantic-type steam locomotives (later 4-6-4 Hudson-types) the train was entirely streamlined, including the locomotive, and home-built in the Milwaukee's own shops. These trains became instantly successful and regularly cruised over 100 mph with nary a bump or shudder during the ride (both trains could make the jaunt between the two cities in roughly six hours).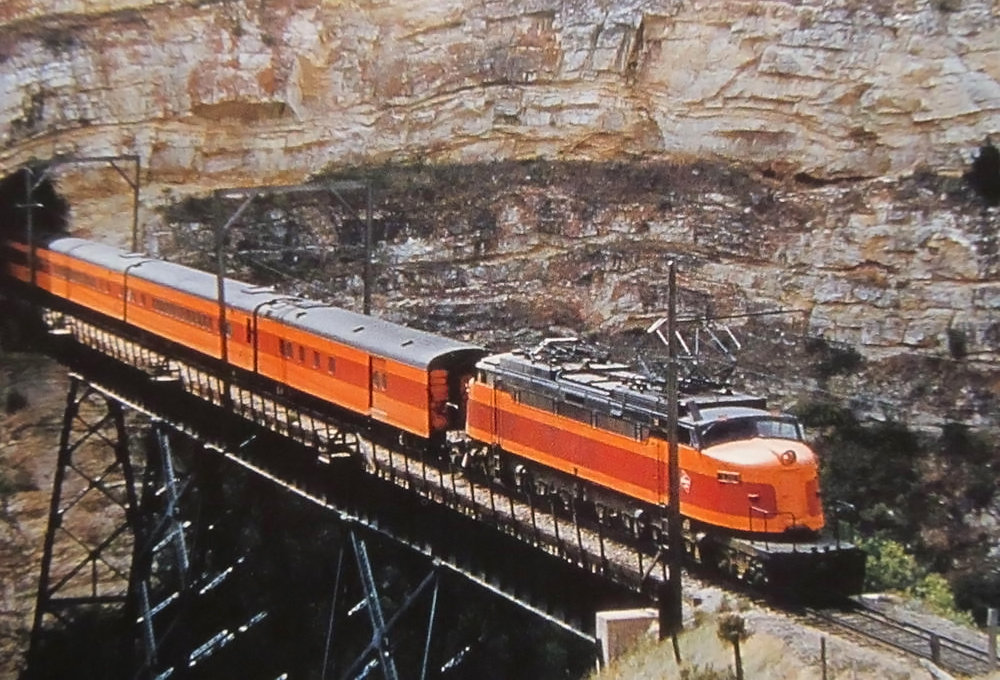 A "Little Joe" leads Milwaukee Road's train #16, the eastbound "Olympian Hiawatha," as it exits the stunning Eagle Nest Tunnel and crosses Sixteen Mile Creek, located in western Montana, in 1954. Sandy Goodrick photo.
These regional trains offered by the Milwaukee Road became so successful that the railroad found itself short on demand and to meet such eventually operated two versions of the train, the Morning Hiawatha and the Afternoon Hiawatha. There were eventually four versions of Milwaukee Roads' regional Hiawathas. These included the Twin Cities Hiawatha, North Woods Hiawatha (served New Lisbon, Wisconsin to Minocqua, Wisconsin), Chippewa Hiawatha (served Chicago; Ontonagon, Michigan; and Milwaukee and Green Bay), and the Midwest Hiawatha (from Chicago this train served both Omaha, Nebraska and Sioux Falls, South Dakota). However, these Midwest versions were not the only Hiawathas the Milwaukee ever operated.
With the success of its regional Hiawathas, in 1947, about twelve years after the railroad first launched its Hiawatha the railroad introduced the streamlined Olympian Hiawatha, a train meant to fully compete with the Great Northern and Northern Pacific for rail travel to and from the Pacific Northwest (the Milwaukee had operated the Olympian and Columbian since 1911 over its Pacific Extension but these trains used heavyweight equipment and were pulled by conventional steam locomotives).
The Milwaukee Road's Hiawathas owe their creation to industrial designer Otto Kuhler, the same man who designed the Baltimore & Ohio's regal Capitol Limited and its classic royal blue, gold, and gray livery. Kuhler designed similar stunning features on the Hiawathas. However, it was Brook Stevens, who designed the celebrated Sky Top sleeper-lounge observations (perhaps the most distinctive and dramatic observation cars ever built) that created the Milwaukee Road's Olympian Hiawatha.  The train featured passenger equipment (save for the cars purchased from Pullman) entirely home-built by the railroad's own shop forces, which along with the beautiful Sky Top observations included cars such as the Super Domes, which allowed for full car-length, panoramic viewing.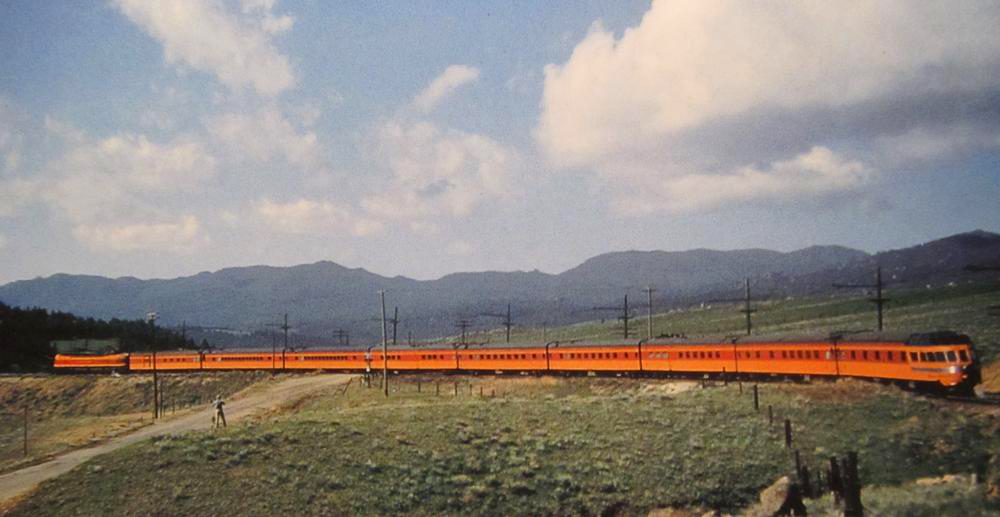 A famous photo by Sandy Goodrick depicting Milwaukee Road's train #15, the westbound "Olympian Hiawatha," led by an EP-4 "Little Joe" climbing Pipestone Pass near Newcomb, Montana in a scene predating the 1952 arrival of the "Super Domes."
When the train initially began on June 29, 1947 it included a mix of heavy and lightweight cars but by 1949 when the Pullman equipment arrived it was an entirely streamlined, lightweight train. For power the train featured Erie-Built, diesel locomotives manufactured by Fairbanks-Morse. These locomotives were originally designated to handle the train between Minneapolis and Tacoma, even in electrified territory, according to Jim Scribbins' book, "The Milwaukee Road Remembered."  However, they were eventually replaced with electrics between Harlowton, Montana and Avery, Idaho and then again between Othello, Washington and Seattle.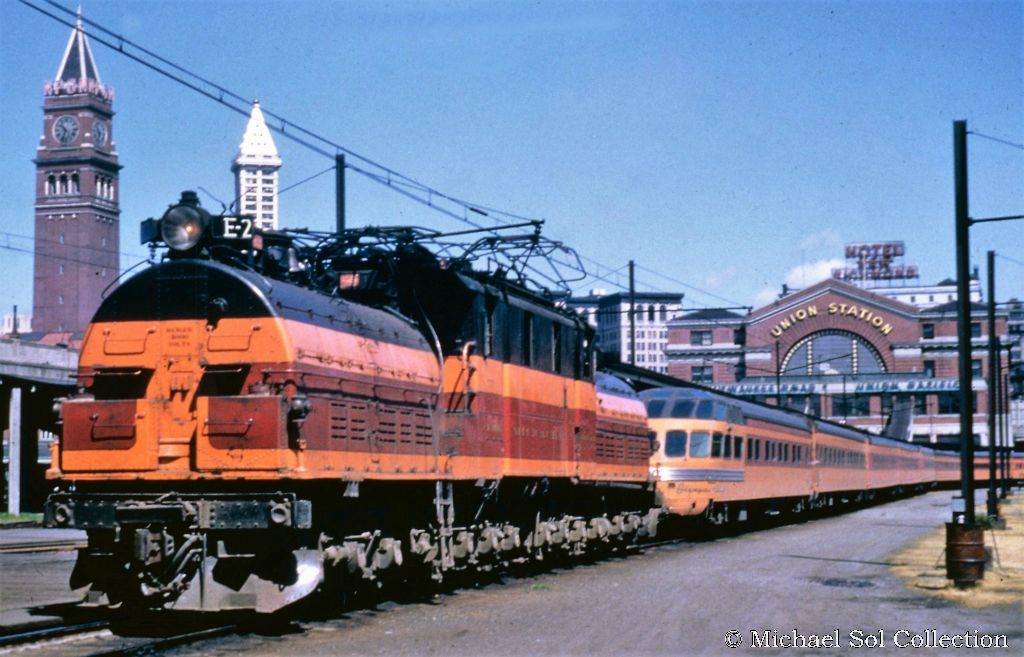 Milwaukee Road "Bi-Polar" E-2 with the "Olympian Hiawatha" at Seattle Union Station on May 4, 1952. Note King Street Station to the left. Today, Union Station is restored although its platforms and tracks have been replaced by commercial development. Photo from the Michael Sol collection.
While aesthetically quite stunning with added touches by Brooks Stevens of a chromed-nose design with "Olympian Hiawatha" adorning the locomotive along its forward flanks, the Erie-Builts were not very reliable, which led to their replacement.  Sadly, the train lasted a mere 14 years and the Milwaukee Road bowed out of the Pacific Northwest market, canceling the train in May of 1961.  Interestingly, while the railroad claimed lack of ridership on the Olympian Hi thanks to historian Michael Sol's exhaustive research it actually appears the Milwaukee saw the writing on the wall early and simply wanted to rid itself of the unprofitable train (the railroad saved about $2.1 million annually for doing so).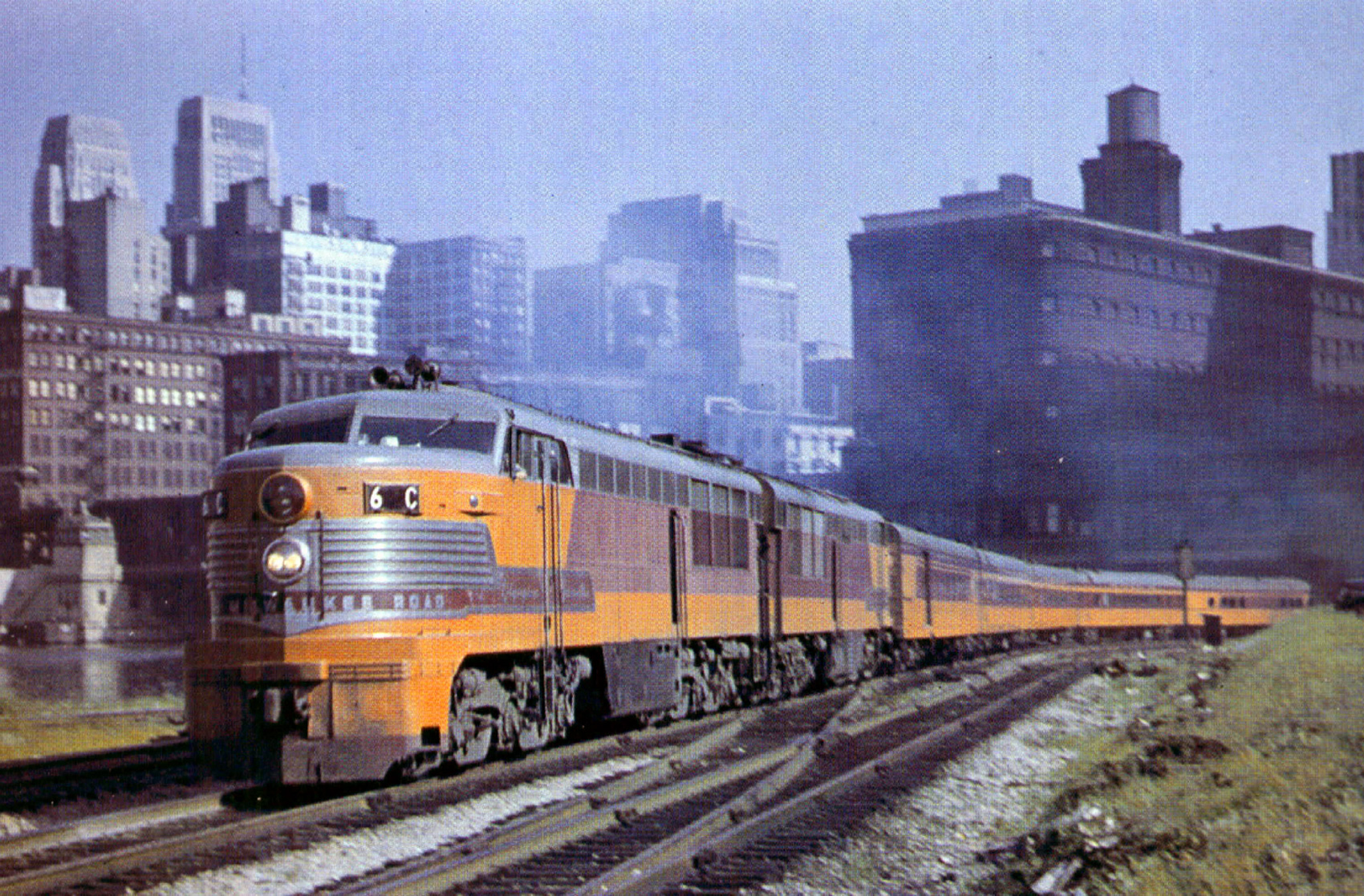 An A-A set of Milwaukee Road "Erie-Built's" appear to be near Chicago's Union Station with the "Olympian Hiawatha" in the 1950s.
Also of interest is how well each of the three lines actually fared from an operating standpoint. According to railroad historian and civil engineer Michael Sol, the ICC's official statistics from 1959 contain the following; the Milwaukee Road carried a 148.7% operating ratio (which is a company's operating expenses divided by its operating revenues) while the Great Northern carried a 177.4% and the Northern Pacific a 194.3%. That same year the Milwaukee earned $3.3 million in passenger train revenues for the Olympian Hi, alone, while the Northern Pacific earned just $6 million in revenues for its entire passenger train fleet and the Great Northern $10 million.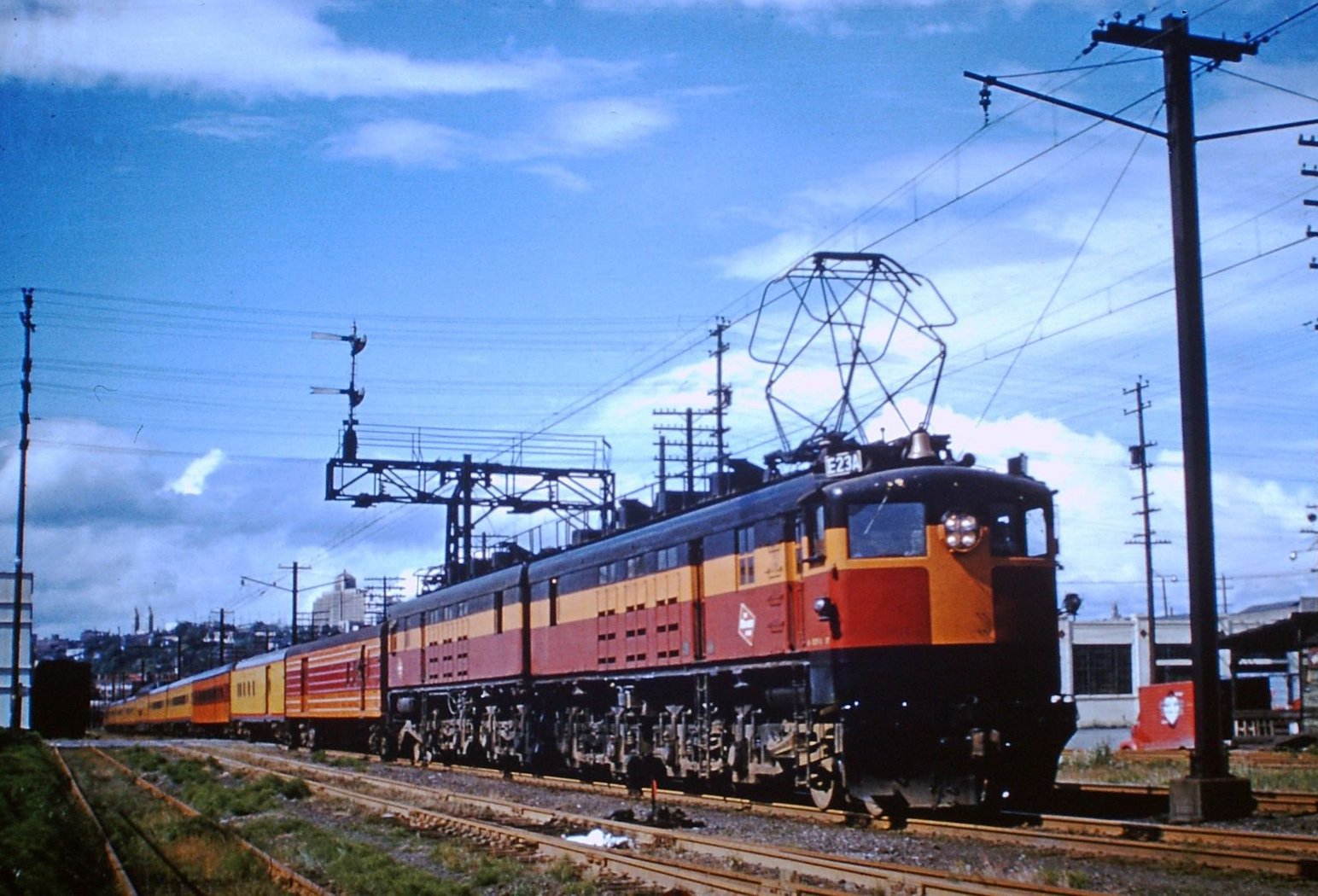 Milwaukee Road's train #16, the eastbound transcontinental "Olympian Hiawatha" (Seattle/Tacoma - Twin Cities - Chicago) departs Seattle behind boxcab set E-23 on June 10, 1956. By the date of this photo the railroad was switching its passenger livery to Union Pacific's Armour Yellow as the two began partnering between Chicago and Omaha in October, 1955. Stan Kistler photo.
From these numbers it is clear to see that despite what you may have previously read or understood about Milwaukee's Northwest flagship, the railroad was far more efficient than its competitors with transcontinental rail service. However, that's not to say that it was a "better" train, simply that it was operated more efficiently (in truth, all three railroads fielded magnificent trains to Seattle). Of greater note is that in actuality the three railroads did not really "compete" in the truest sense of the word as, except for the Northern Pacific, all served different intermediate points between Seattle and Minneapolis/Chicago. Additionally, by the time the Olympian Hi was launched there were fewer and fewer passengers riding  such trains from end-point to end-point (Seattle to Minneapolis/Chicago) as most boarded or de-boarded somewhere in between.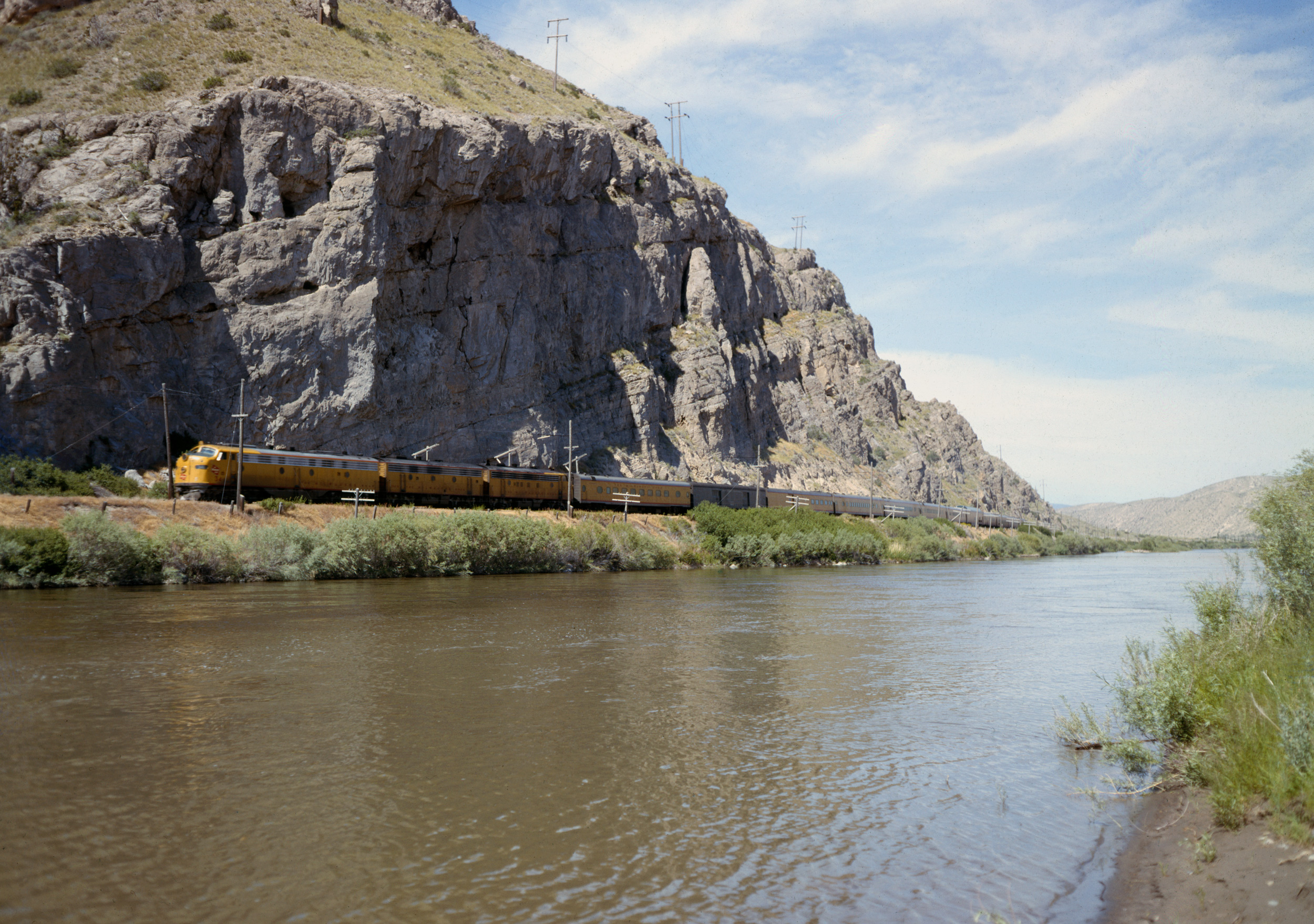 Milwaukee Road E9A #34-A leads train #15, the westbound "Olympian Hiawatha," along the Missouri River near Three Forks, Montana on June 18, 1960. Ron Nixon photo.
Olympian Hiawatha Timetable
(The below Olympian Hiawatha timetable is dated effective, July of 1956.  For additional information about the train please click here.)

| Time/Leave (Train #15) | Milepost | Location | Time/Arrive (Train #16) |
| --- | --- | --- | --- |
| 3:00 PM (Dp) | 0.0 | Chicago, IL (Union Station) | 1:45 PM (Ar) |
| 4:15 PM | 85 | Milwaukee, WI | 12:20 PM (DP) 12:15 (Ar) |
| 5:35 PM | 178 | Portage, WI (Madison via bus) | 10:42 AM |
| | 195 | Wisconsin Dells, WI | 10:27 AM |
| | 240 | Tomah, WI | 9:51 AM |
| 6:55 PM (Ar) 7:00 PM (Dp) | 281 | La Crosse, WI | 9:15 AM (Dp) 9:10 AM (Ar) |
| 7:28 PM | 308 | Winona, MN | 8:40 AM |
| 9:15 PM | 410 | St. Paul, MN | 7:10 AM (Dp) 7:05 AM (Ar) |
| 9:45 PM | 421 | Minneapolis, MN | 6:20 AM (Dp) 6:10 AM (Ar) |
| 12:20 AM | 554 | Montevideo, MN | 3:55 AM |
| 2:55 AM (Ar) 3:00 AM (Dp) | 707 | Aberdeen, SD | 1:15 AM (Dp) 1:10 AM (Ar) |
| 4:30 AM (Ar) | 805 | Mobridge, SD (CT) | 11:40 PM (Dp) |
| 3:30 AM (Dp) | 805 | Mobridge, SD (MT) | 10:40 PM (Ar) |
| 5:05 AM | 904 | Lemmon, SD | 8:58 PM |
| 5:30 AM | 927 | Hettinger, ND | 8:32 PM |
| 6:10 AM | 967 | Bowman, ND | 7:49 PM |
| 6:40 AM | 995 | Marmarth, ND | 7:22 PM |
| 7:00 AM | 1015 | Baker, MT | 7:00 PM |
| 8:40 AM (Ar) 8:50 AM (Dp) | 1119 | Miles City, MT | 5:20 PM (Dp) 5:10 PM (Ar) |
| 11:07 AM | 1265 | Roundup, MT (Great Falls via bus) | 2:51 PM |
| 12:15 PM (Ar) 12:20 PM (Dp) (Begin electrification) | 1335 | Harlowton, MT | 1:45 PM (Dp) 1:40 PM (Ar) (End electrification) |
| 1:35 PM | 1393 | Ringling, MT | 12:22 PM |
| 3:00 PM | 1450 | Three Forks, MT (Yellowstone National Park via bus) | 10:55 AM |
| 4:53 PM | 1522 | Butte, MT | 9:03 AM |
| 5:45 PM (Ar) 5:55 PM (Dp) | 1562 | Deer Lodge, MT | 8:05 AM (Dp) 7:55 AM (Ar) |
| 7:20 PM | 1641 | Missoula, MT | 6:25 AM |
| 8:29 PM | 1703 | Superior, MT | 5:13 AM |
| 10:40 PM (Ar) (End electrification) | 1773 | Avery, ID (MT) | 3:10 AM (Dp) |
| 9:45 PM (Dp) | 1773 | Avery, ID (PT) | 2:05 AM (Ar) (Begin electrification) |
| 11:06 PM | 1818 | St. Maries, ID | 12:41 AM |
| 12:55 AM (Ar) 1:05 AM (Dp) | 1879 | Spokane, WA | 10:55 PM (Dp) 10:45 PM (Ar) |
| 3:45 AM (Ar) 3:55 AM (Dp) (Begin electrification) | 2000 | Othello, WA | 8:10 PM (Dp) 8:05 PM (Ar) (End electrification) |
| 5:56 AM | 2074 | Ellensburg, WA | 6:12 PM |
| 6:35 AM | 2099 | Cle Elum, WA | 5:38 PM |
| 8:53 AM | 2177 | Renton, WA | 3:38 PM |
| 9:30 AM (Ar) 9:45 AM (Dp) | 2189 | Seattle, WA (Union Station) | 3:15 PM (Dp) 3:00 PM (Ar) |
| 10:15 AM | 2210 | Auburn, WA | 2:25 PM |
| 10:45 AM | 2227 | Tacoma, WA (Union Station) | 2:00 PM |
---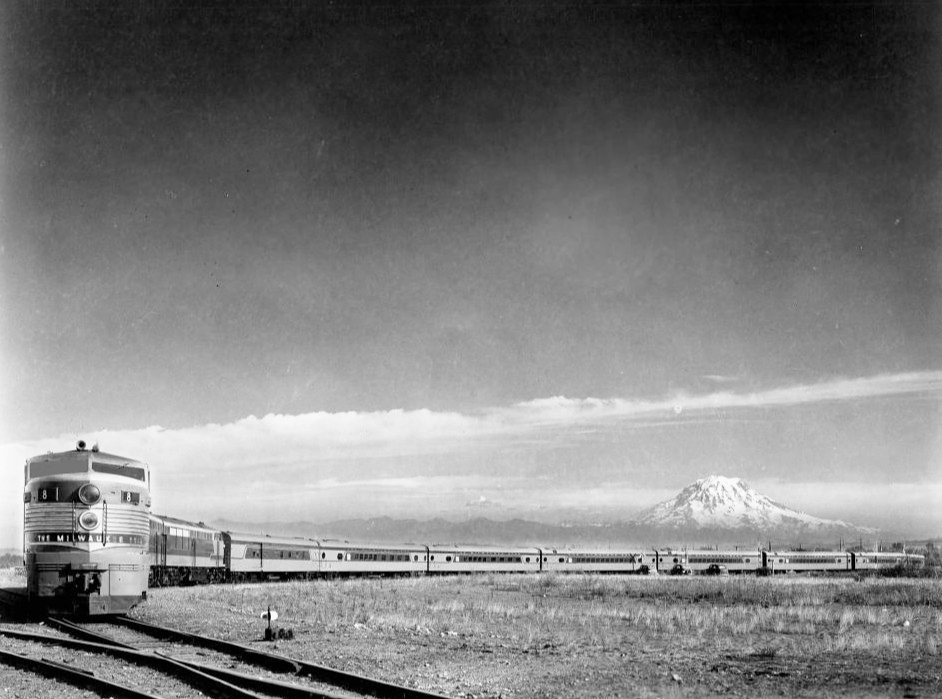 A publicity photo of the "Olympian Hiawatha" with Mount Rainier in the background, powered by Fairbanks-Morse "Erie-Builts," circa 1947.
From a railfan's and historian's (and even a traveler of the time period) perspective it's a shame that the Olympian Hi was canceled so early considering it operated through some of the most stunningly beautiful areas of the country had to call it quits barely into the 1960s.   In any event, today, while Amtrak carriers on the legendary Hiawatha service, to some degree, offering Hiawatha regional trains between Milwaukee and Chicago, the Olympian Hiawatha and the route it traveled are sadly relegated to history and the memories of those who were lucky enough to ride it. In the 1970s the Milwaukee Road began making dumbfounding managerial decisions that ultimately led to the railroad's undoing in the late 1970s and subsequent abandonment of all lines west of Terry, Montana.