The 
Texas Special
Last revised: April 3, 2023
By: Adam Burns

The Katy (Missouri-Kansas-Texas Railroad) and Frisco (St. Louis–San Francisco Railway) are not well remembered for their passenger services. However, both railroads launched a joint train that turned out to be quite famous during the streamliner era in the late 1940s, the Texas Special.

The train featured one of the most dazzling liveries in America.  For a number of years the Katy and Frisco carried a strong partnership that produced a top-quality train. 
Alas, financial troubles for the Katy resulted in the service declines along its portion of the route.  For a time the Frisco tolerated this setback but would eventually elect to pull out which brought an end to the Special.
The once-glamorous Special (featuring a livery of red, yellow and stainless-steel) died a slow, quiet death during the 1960s. 
The Katy continued running a truncated version for a few years but finally gave up altogether.  Today, nothing remains of this flashy train but its memories of those who saw and rode aboard it certainly will never be forgotten.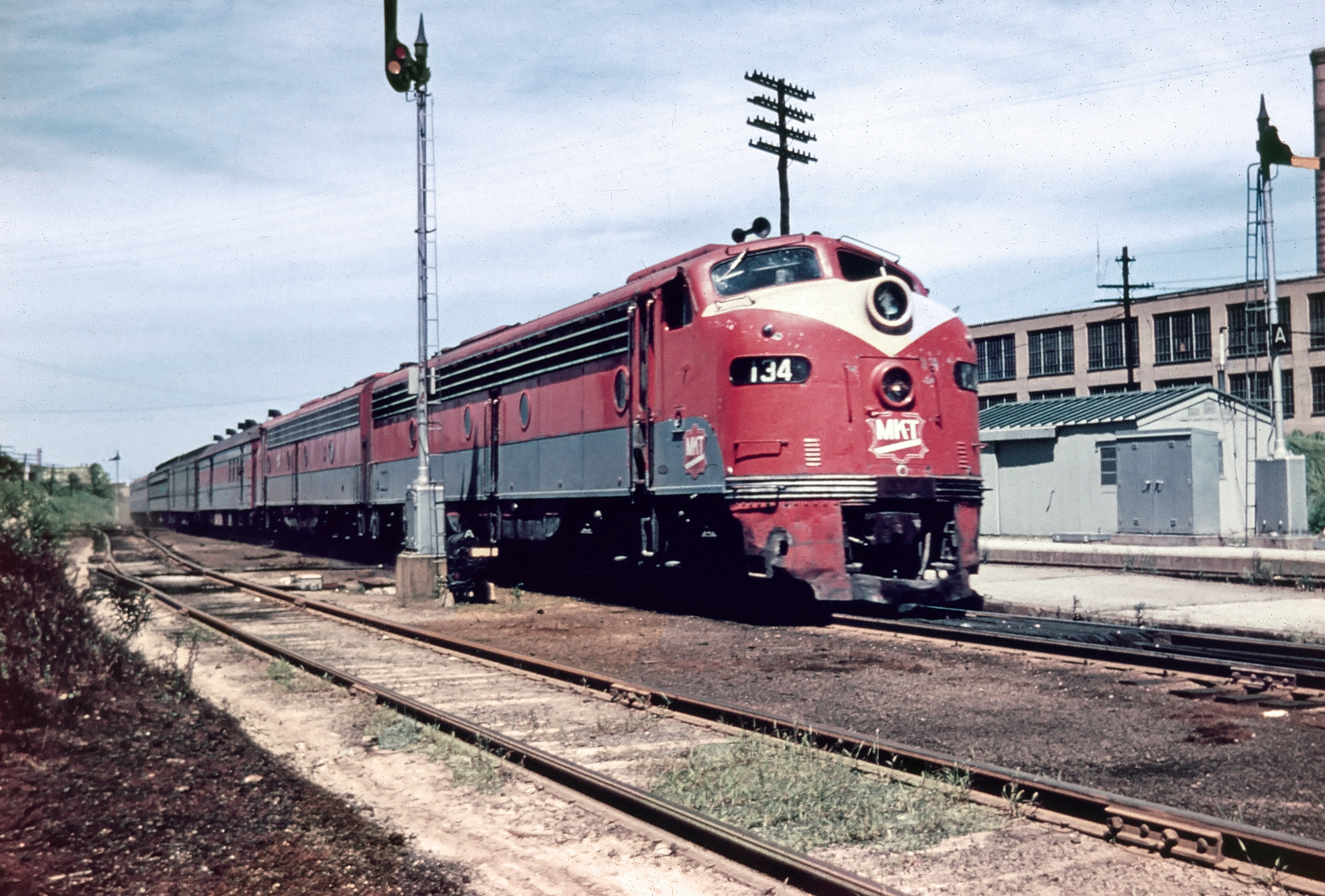 Missouri-Kansas-Texas E8A #134 arrives at Tower Grove, Missouri with train #2, the northbound "Texas Special," on the morning of June 23, 1957. Richard Neumiller photo. American-Rails.com collection.
Route And History
The railroads which operated the Texas Special were mid-sized Class I systems that operated in the Midwest through southern Texas.
The Missouri-Kansas-Texas Railroad like the Illinois Central and Gulf, Mobile & Ohio railroads ran, unconventionally, north-south (instead of the more common, east-west).
As its name implies, the Katy connected all of its namesake states with connections to cities such as Omaha and St. Louis in the north and Galveston and San Antonio, Texas in the south. The railroad was somewhat successful over the years but it ran into financial trouble a number of times throughout its life. 
The St. Louis-San Francisco Railway, commonly known as simply the Frisco has a storied history of two halves. During the railroad's first 60 years it had a very interesting and tumultuous history going through a number of name changes and bankruptcies (resulting in so many names).
However, after its final name as the St. Louis-San Francisco Railway, the railroad did quite well and prospered for its last 60+ years of operation before becoming part of the large Burlington Northern system in the very early 1980s. 
The Special was re-inaugurated by the Katy and Frisco in May of 1948 as an all-streamlined train (it has its beginnings dating all of the way back to 1915) serving the Midwest and Southwest.
The train's journey started on the Frisco between St. Louis and Vinita, Oklahoma where it was relayed to the Katy and carried south to various points in Texas such as Dallas/Fort Worth, Austin, Waco and San Antonio. The train also offered connecting services to Denison, Whitesboro, and Wichita Falls.

According to the train's official timetable, once leaving St. Louis Union Station via the St. Louis-San Francisco Railway at 5:40 pm, it reached the connection with the Missouri-Kansas-Texas at Vinita, Oklahoma at 2:10 am the following morning.
From this point aboard the Katy the train traveled as far south as Denison, Texas before it split with one section heading to Fort Worth (where it arrived by 8:45 am), while the other continued southward towards San Antonino reaching that city by 2:45 pm later that same day.
Consist (1952)
Overall it took the St. Louis-San Antonino Special just over 21 hours to complete the journey while the truncated St. Louis-Fort Worth version of the train took just over 14 hours to complete its trip. 
Additionally, the Texas Special through sleeper service to both Washington, D.C. via the Baltimore & Ohio as well as Philadelphia and New York City in the Northeast via the Pennsylvania Railroad. This connecting service was through the Frisco at St. Louis Union Station. 
Timetable (November, 1948)
Read Down Time/Leave (Train #1/St. Louis-San Francisco Railway)
Milepost
Location
Read Up
Time/Arrive (Train #2/St. Louis-San Francisco Railway)
5:30 PM (Dp)
0.0

St. Louis, MO

8:30 AM (Ar)
5:40 PM
3.3

Tower Grove, MO

8:15 AM
10.1

Webster Groves, MO

8:03 AM
7:43 PM
110.7

Rolla, MO

6:12 AM
7:59 PM (Ar)
119.2

Newburg, MO

5:58 AM (Dp)
8:03 PM (Dp)
119.2

Newburg, MO

5:54 AM (Ar)
9:24 PM
181.9

Lebanon, MO

4:41 AM
10:30 PM (Ar)
239.3

Springfield, MO

3:39 AM (Dp)
10:45 PM (Dp)
239.3

Springfield, MO

3:24 AM (Ar)
F 11:40 PM
283.0

Monett, MO

F 2:35 AM
(Ar)
349.1

Afton, OK

(Dp)
Time/Leave (Train #1/Missouri-Kansas-Texas Railroad)
Milepost
Location
Time/Arrive (Train #2/Missouri-Kansas-Texas Railroad)
(Dp)
360.7

Vinita, OK

(Ar)
2:10 AM (Ar)
425.3

Muskogee, OK

12:05 AM (Ar)
2:25 AM (Dp)
425.3

Muskogee, OK

11:50 PM (Dp)
3:29 AM
487.7

McAlester, OK

10:45 PM
4:45 AM
563.1

Durant, OK

9:32 PM
5:10 AM (Ar)
582.6

Denison, TX

9:10 PM (Dp)
RTime/Leave (Train #11/Fort Worth Section)
Milepost
Location
Time/Arrive (Train #12/Fort Worth Section)
6:20 AM (Dp)
582.6

Denison, TX

8:35 PM (Ar)
F 6:37 AM
591.3

Pottsboro, TX

F 6:55 AM
603.5

Sadler, TX

7:05 AM
607.4

Whitesboro, TX

7:50 PM
F
625.7

Pilot Point, TX

F
7:50 AM
643.3

Denton, TX

7:00 PM
8:45 AM (Ar)
679.1

Fort Worth, TX

6:10 PM (Dp)
Time/Leave (Train #1/Dallas/San Antonio Section)
Milepost
Location
Time/Arrive (Train #2/Dallas/San Antonio Section)
5:25 AM (Dp)
582.6

Denison, TX

8:55 PM (Ar)
6:24 AM
634.7

Greenville, TX

7:56 PM
7:23 AM
685.0

Highland Park, TX

6:58 PM
7:35 AM (Ar)
688.9

Dallas, TX

6:50 PM (Dp)
7:50 AM (Dp)
688.9

Dallas, TX

6:35 PM (Ar)
9:55 AM (Ar)
788.6

Waco, TX

4:31 PM (Dp)
10:05 AM (Dp)
788.6

Waco, TX

4:21 PM (Ar)
10:50 AM
823.1

Temple, TX

3:40 PM
866.4

Georgetown, TX

2:42 PM
12:40 PM
898.6

Austin, TX

1:45 PM
929.6

San Marcos, TX

1:02 PM
946.4

New Braunfels, TX

12:41 PM
2:45 PM (Ar)
981.7

San Antonio, TX

12:01 PM (Dp)
As for the train's overall design, it was one-of-a-kind. The Katy and Frisco spent handsomely on the Special's streamlined equipment from Pullman-Standard, which featured brilliant red paint and stainless-steel sheathing and named for Texas locations or important people.

Up front the EMD E-series diesel locomotives were likewise bedecked in stainless-steel sheathing along the bottom of the carbody (a rare design feature not often found on most other passenger train designs) with a yellow nose and big centered "Lone Star" (the train certainly embodied Texas through and through). 

As for the train's interior it likewise used red colors and included reclining seat coaches and also included sleepers, diners, a coach-buffet-lounge, and lounge-observation.
In total, the Katy and Frisco each had a 14-car train although they eventually had to add a third train, made up mostly of older, heavyweight equipment to meet demand and allow for better scheduling.
---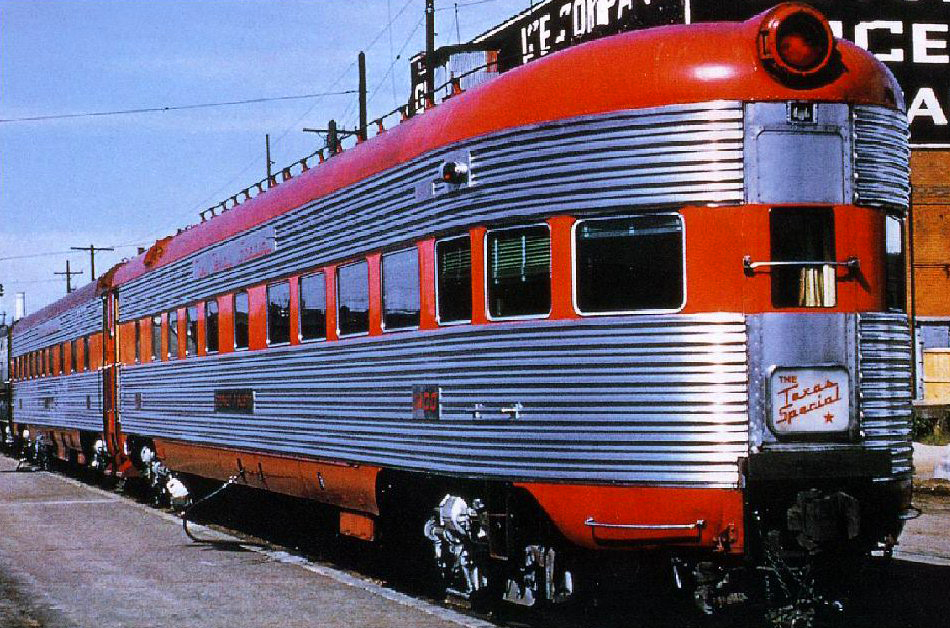 One of the "Texas Special's" handsome lounge observations, manufactured by Pullman-Standard in the late 1940's.
Final Years
A typical full consist of the Special between St. Louis and San Antonino included a diner, reclining seat coach service, a coach-lounge-buffet, no less than six sleepers (including B&O and PRR equipment), and finally a lounge observation.  
The streamlined version did well until the late 1950s when the Katy's service levels were deteriorating so badly (due to poor maintenance on both its track and equipment) that trains were running several hours late.
The Frisco, embarrassed by the several service declines, became fed up with the Katy's antics and discontinued its leg of the Special in 1959. What was left of the Special was discontinued altogether under the Katy until 1965.