The
South Wind
Last revised: June 28, 2023
By: Adam Burns

Of the vast number of streamliners that made up the Pennsylvania Railroad's fleet perhaps none were as successful yet relatively unknown, from a historical standpoint, as the South Wind.

When many think of the Pennsy's passenger trains names of the "Fleet of Modernism" come to mind like the Broadway Limited, General, Spirit of St. Louis, and others. However, the Wind was quite successful and it was one of three trains that served the Midwest to Florida market along with the Illinois Central's City of Miami and Florid East Coast's Dixie Flagler.
Due to the market these trains served they enjoyed strong patronage well into the 1960s, except for the Dixieland which had been discontinued in 1957 (the train was the last surviving remnant of the Dixie Flagler that had been renamed in 1954). 
Their success was in stark contrast to the rail travel sector which had been in sharp decline since the post-World War II era. 
The Wind would survive into the Amtrak era for a short time. However, as the national carrier consolidated routes in an effort to reduce operating expenses the train was off the timetable before 1972 (then known as the Floridian).
Photos
Penn Central E8A #4247 (built as Pennsylvania #5837) has train #93, the northbound "South Wind," at Seymour, Indiana on July 4, 1968. American-Rails.com collection.
History
In a lot ways the South Wind was bit of an unorthodox Pennsylvania streamliner given the region in which it served as most of the Pennsy's fleet all operated an east-to-west heading.
To complete the journey from Chicago to Miami required the partnership of several southern railroads including the Louisville & Nashville between Louisville, Kentucky and Montgomery, Alabama; Atlantic Coast Line southward to Jacksonville, Florida; and finally the Florida East Coast Railway carried it the rest of the way into Miami.
In total the train traveled some 1,550 miles, the longest of the three southern trains serving the corridor although interestingly it offered a schedule just as fast, if not faster, than the other two trains.
Consist (1952)
While the Wind carried an elegant name that evoked feelings of warm, tropical weather all by itself, the train was not nearly as visually stunning in such a regard as its counterparts the City of Miami and Dixie Flagler.
The ever-conservative PRR dispensed with such things going with a much more ordinary look and chose not decorate the train in beach and coastal themes. The all-coach train had its equipment provided by the Budd Company, which by that time was well known for its shiny, stainless steel cars.
Consist (1966)

However, in one of the few (if not only) known instances the Pennsy insisted on the equipment being painted in its classic Tuscan red livery with gold trim to match the rest of the fleet.

This was not warmly received by Budd who not only felt its cars looked the best in their natural stainless steel appearance but also required the material to be specially prepared to receive paint. In the end, however, with the PRR paying the bills Budd complied.

In reality the painted equipment looked quite beautiful albeit the livery did not carry the tropical theme. Officially, the Pennsy inaugurated the South Wind in December, 1940 right around the same time as its two counterparts.
Overall the train was a seven-car affair featuring a baggage-dormitory-coach, four coaches, a diner, and a tavern-observation with a Wind keystone drumhead adorning the final car. Just as with the City of Miami the PRR had the cars named for various locations in Florida.
In total, the train could handle 258 passengers and was initially steam-powered although soon replaced these with diesel locomotives.
Read Down Time/Leave (Train #308/PRR)
Milepost
Location
Read Up
Time/Arrive (Train #309/PRR)
8:40 AM (Dp)
0.0

Chicago, IL (Union Station)

9:55 PM (Ar)
8:53 AM
7

Englewood, IL (Union Station)

9:42 PM
12:02 PM (Ar)
202

Indianpolis, IN

6:30 PM (Dp)
12:05 PM (Dp)
202

Indianpolis, IN

6:27 PM (Ar)
2:10 PM (Ar)
313

Louisville, KY (Union Station)

4:20 PM (Dp)
Time/Leave (Train #15/Louisville & Nashville)
Milepost
Location
Time/Arrive (Train #16/Louisville & Nashville)
2:15 PM (Dp)
313

Louisville, KY (Union Station)

4:15 PM (Ar)
5:40 PM (Ar)
500

Nashville, TN

12:42 PM (Dp)
5:47 PM (Dp)
500

Nashville, TN

12:35 PM (Ar)
9:31 PM (Ar)
705

Birmingham, AL

9:02 AM (Dp)
9:38 PM (Dp)
705

Birmingham, AL

8:55 PM (Ar)
11:30 PM (Ar)
803

Montgomery, AL

7:05 AM (Dp)
Time/Leave (Train #12/ACL)
Milepost
Location
Time/Arrive (Train #11/ACL)
11:40 PM (Dp)
803

Montgomery, AL

6:55 AM (Ar)
2:09 AM
922

Dothan, AL

4:20 AM
3:55 AM (Ar)
1014

Thomasville, GA (ET)

2:37 AM (Dp)
4:58 AM (Dp)
1014

Thomasville, GA (CT)

3:34 AM (Ar)
6:55 AM (Ar)
1118

Waycross, GA

1:40 AM (Dp)
7:05 AM (Dp)
1118

Waycross, GA

1:30 AM (Ar)
8:30 AM (Ar)
1193

Jacksonville, FL

12:05 AM (Dp)
Time/Leave (Train #3/FEC)
Milepost
Location
Time/Arrive (Train #4/FEC)
8:40 AM (Dp)
1193

Jacksonville, FL

11:55 PM (Ar)
9:15 AM
1230

St. Augustine, FL

11:10 PM
F 9:38 AM
1280

Bunnell, FL

F 10:40 PM
10:02 AM
1303

Daytona Beach, FL

10:18 PM
10:25 AM
1318

New Smyrna Beach, FL

10:01 PM
10:54 AM
1347

Titusville, FL

9:22 PM
11:11 AM
1367

Cocoa-Rockledge, FL

9:02 PM
11:30 AM
1387

Melbourne, FL

8:42 PM
12:02 PM
1421

Vero Beach, FL

8:13 PM
12:21 PM
1435

Fort Pierce, FL

7:59 PM
12:41 PM
1454

Stuart, FL

7:32 PM
F 12:54 PM
1468

Hobe Sound, FL

F 7:16 PM
1:21 PM
1492

West Palm Beach, FL

6:52 PM
1:33 PM
1499

Lake Worth, FL

6:37 PM
1:45 PM
1510

Delray Beach, FL

6:25 PM
F 1:54 PM
1518

Boca Raton, FL

F 6:15 PM
F 2:01 PM
1526

Pompano, FL

F 6:07 PM
2:12 PM
1534

Fort Lauderdale, FL

6:25 PM
2:24 PM
1541

Hollywood, FL

5:47 PM
2:50 PM (Ar)
1559

Miami, FL

5:25 PM (Dp)
The Wind's 30-hour schedule meant that it could depart Chicago Union Station about every other day (or about three days each week). In 1950 the train was upgraded (along with the Wind) to include new lightweight equipment along with full sleepers for the first time.
Perhaps the biggest change to both trains came in 1963 (by 1957 the then Dixieland had been discontinued) when the Florida East Coast experienced a brutal strike that resulted in the PRR and Illinois Central rerouting each to a different carrier, the Seaboard Air Line, to reach Miami.
Throughout the 1960s the South Wind sustained very good patronage in no small part, as mentioned above, to the region in which it served. 
---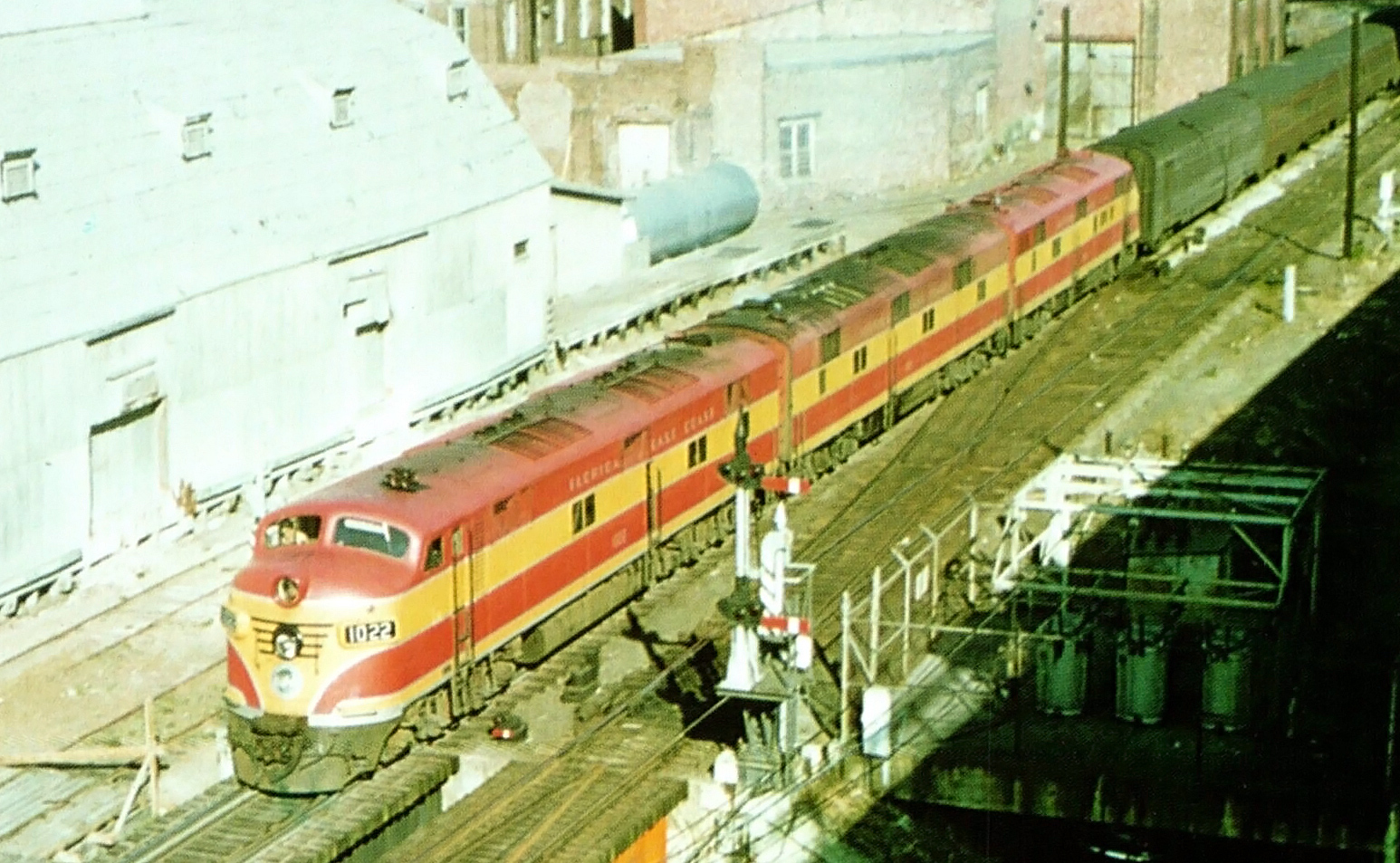 A nice A-B-A set of Florida East Coast E7's have the "South Wind" (Chicago - Miami, via the Pennsylvania/Louisville & Nashville/Atlantic Coast Line/Florida East Coast) approaching Jacksonville, Florida in 1958. Howard Robins photo.
Final Years
After the Penn Central merger of 1968, service on its leg of the route suffered tremendously, particularly as its financial condition worsened. By December, 1969 the PC provided only a coach connection to Louisville which forced the L&N and then Seaboard Coast Line to provide remaining services south of that point to Florida.
When Amtrak began operations in the spring of 1971 it originally retained the Wind and upgraded it to operating every day. However, as the carrier continued to consolidated services it finally discontinued the train permanently on November 14, 1971.

Sources
Johnston, Bob and Welsh, Joe.

Art Of The Streamliner, The

. New York: Andover Junction Publications, 2001.
Schafer, Mike and Solomon, Brian. Pennsylvania Railroad. Osceola: MBI Publishing, 1997.
Schafer, Mike and Welsh, Joe. 

Streamliners, History of a Railroad Icon

. St. Paul: MBI Publishing, 2003.
Solomon, Brian. Streamliners: Locomotives And Trains In The Age Of Speed And Style. Minneapolis: Voyageur Press, 2015.