The 
Nickel Plate Limited
Last revised: June 22, 2023
By: Adam Burns

The New York, Chicago & St. Louis (or Nickel Plate Road) was not known for its passenger fleet.  However, some of its trains like the Nickel Plate Limited were classy operations with excellent service that carried full streamliner status. 

The NKP's primary Midwest market between Chicago and Buffalo was heavily dominated by larger rivals and it always maintained a status quo as the underdog. 
However, this never stopped the railroad from providing quality passenger trains like the Limited, which are still fondly remembered even today.  Stiff competition, though, eventually forced the Nickel Plate to retire most of its fleet by the early 1960s. 
The Limited survived until the middle of that decade, when it was finally retired, under a different name, following the NKP's takeover by the Norfolk & Western.  Nickel Plate Road passenger trains were modest, yet classy and respectable.
Flagship among its trains was the Limited which connected Chicago with Buffalo, and then on to Hoboken near New York City courtesy of ally Delaware, Lackawanna & Western aboard that carrier's train, the New York Mail.
Photos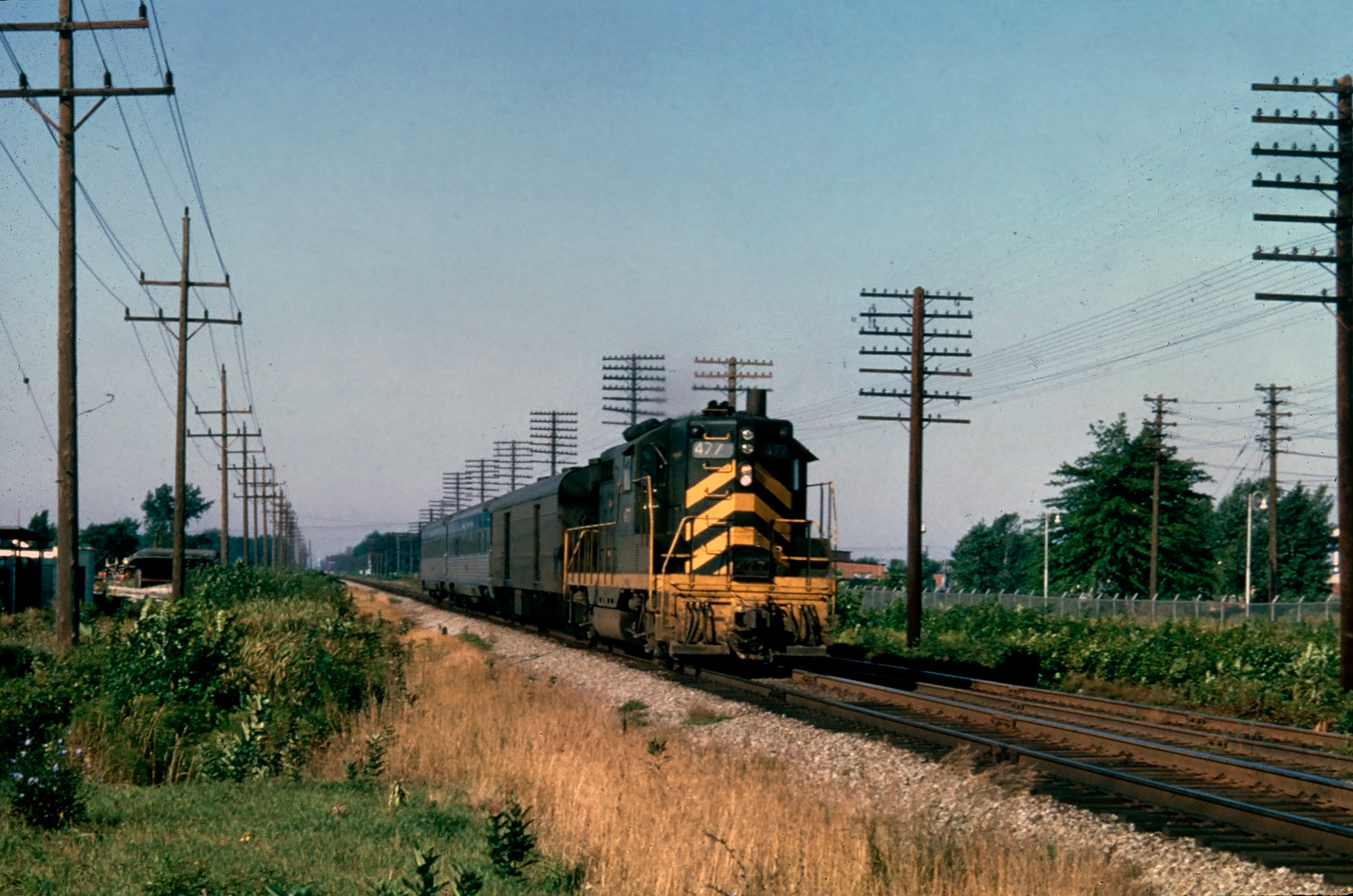 Nickel Plate Road GP9 #477 has the remnants of train #6, the eastbound "City of Cleveland," at Gerard, Pennsylvania in September, 1964. American-Rails.com collection.
History
The Nickel Plate Limited was first introduced by the railroad during April of 1929, when a previously unnamed New York-Chicago run was renamed.  
Even by that date the Nickel Plate's passenger services were very modest although it had offered Pullman sleeper service between the Windy City and Big Apple for several years.  Interestingly, the railroad gained streamliner fame by mere accident.
During November of 1946 the Chesapeake & Ohio ordered too much equipment when it began upgrading its fleet.  In all the railroad was to receive 287 stainless steel-sheathed passenger cars from Pullman-Standard; to this the Nickel Plate added ten coaches, thirteen sleepers, and two lounge-sleepers. 
The new cars arrived in 1950 and were powered by 11 of Alco's legendary PA-1 diesels.  The Nickel Plate had purchased eleven of these locomotives between 1947 and 1948, numbered 180-190, although the railroad did not purchase matching "B", booster units. 
Listed as trains #5 and #6 in the railroad's official timetable it featured a schedule of between 12 and 13 hours connecting Buffalo with Chicago, with an average train speed of around 44 mph (if heading on to New York City passengers could expect an additional five hours aboard the Delaware, Lackawanna & Western). 
At A Glance
Route

Chicago - Cleveland - Buffalo

Travel Time (1952)

12 Hours, 50 Minutes (Eastbound)

13 Hours, 5 Minutes (Westbound)

Service History

April, 1929 - 1954 (Nickel Plate Limited)

1954 - September 10, 1965 (City of Chicago/City of Cleveland)

Train Numbers

5 (Westbound)

6 (Eastbound)

Distance

523.8 Miles

End Terminals

LaSalle Street Station (Chicago)

Babcock Street Station (Buffalo)
During the Lackawanna leg of the trip passengers would normally ride aboard its posh Phoebe Snow into Hoboken, a train that was still in service during the Erie Lackawanna era. 
A typical consist for the Limited included a  handful of sleepers, reclining seat coaches, a buffet lounge, a club-diner lounge, and a standard diner.
The Nickel Plate Limited was adorned in a stylish blue and white livery dubbed the "Bluebird" scheme and through the 1950s the train, along with sister New Yorker, actually remained profitable.
Predominantly, the Limited provided direct competition to New York Central's Forest City, Pacemaker, Cleveland Limited, and Chicagoan between Chicago and Buffalo. 

However, the train was also up against indirect competition from other lines' trains such as the Pennsy's General (New York-Chicago) and Clevelander (New York-Cleveland) as well as the B&O's Capitol Limited (New York-Chicago).
Also during this time the Limited was renamed as the City of Chicago (westbound) and City of Cleveland (eastbound) during 1954 to provide passengers with a better perspective of the corridor the train served. 
The NYC&StL also offered a pair of daytime runs between Buffalo and Chicago known as the New Yorker (eastbound) and Westerner (westbound).  These trains also operated through to Hoboken on the Lackawanna if passengers so chose.
Consist (1952)
While Nickel Plate Road's passenger fleet was somewhat successful in the 1950s the 1960s were much different.   Cutbacks began as early as 1959 as through service on the two City trains ended to Hoboken.  Then, in 1963 the Westerner and New Yorker were also cancelled. 
Increased competition from not only larger railroads but also other modes of transportation eventually caused the NKP to throw in the towel on passenger services to focus on what it did best, moving freight very fast and efficiently.
In 1964 the railroad was purchased by the Norfolk & Western and within a year the new owner had ended all of the Nickel Plate's remaining trains, which by then consisted only of the City runs between Buffalo and Chicago. 
Timetable (April, 1950)
Read Down Time/Leave (Train #6)
Milepost
Location
Read Up
Time/Arrive (Train #5)
10:45 PM (Dp)
0.0

Chicago, IL (La Salle Street Station) (CT)

6:40 AM (Ar)
10:58 PM
6.7

Englewood, IL

6:25 AM
12:23 PM
19.9

Hammond, IN

5:27 AM
F
30.6

South Gary, IN

F 5:05 AM
46.5

Valparaiso, IN

F 4:43 AM
12:23 AM
72.0

Knox, IN

4:12 AM
F 12:37 AM
84.8

Hibbard, IN

F 3:52 AM
126.5

South Whitely, IN

3:04 AM
1:53 AM (Ar)
152.2

Fort Wayne, IN (CT)

2:35 AM (Dp)
2:03 AM (Dp)
152.2

Fort Wayne, IN (CT)

2:20 AM (Ar)
F 3:51 AM
198.0

Continental, OH (ET)

F 2:21 AM
F 4:09 AM
213.0

Leipsic, OH

F 2:01 AM
F 4:28 AM
230.5

North Findlay, OH

F 1:37 AM
4:49 AM
243.1

Fostoria, OH

1:18 AM
5:30 AM
275.6

Bellevue, OH

12:37 AM
6:17 AM
313.0

Lorain, OH

11:45 PM
6:38 AM
331.0

Rocky River, OH

11:15 PM
7:00 AM (Ar)
339.7

Cleveland, OH

10:55 PM (Dp)
7:20 AM (Dp)
339.7

Cleveland, OH

10:30 PM (Ar)
7:35 AM
346.7

East Cleveland, OH

10:10 PM
8:14 AM
369.9

Painesville, OH

9:43 PM
8:50 AM
395.6

Ashtabula, OH

9:15 PM
9:15 AM
408.7

Conneaut, OH

8:56 PM
9:53 AM
436.8

Erie, PA

8:13 PM
10:10 AM
450.5

North East, PA

10:45 AM
482.7

Dunkirk, NY

F 7:20 PM
11:40 AM (Ar)
523.8

Buffalo, NY (Lackawanna Terminal)

6:30 PM (Dp)
---
Nickel Plate Road GP9 #477 has what remains of train #6, the eastbound "City of Cleveland," at Silver Creek, New York in September, 1964. A month later the railroad was merged into the Norfolk & Western. American-Rails.com collection.
Final Years
The N&W transferred the Nickel Plate's fleet of lightweight cars to its pool of trains whereupon the N&W slowly began retiring services throughout the 1960s.  The City of Chicago/City of Cleveland managed to outlive its parent y only a year with the trains making their final runs on September 10, 1965.
Today, given the fact that other, more popular historic named trains make the run between New York and Chicago for Amtrak this is little hope in ever seeing Nickel Plate's named passenger trains ever returning to the rails.
However, an ex-Santa Fe Alco PA was restored by Doyle McCormack between 2002-2023 into the Nickel Plate's famous "Bluebird" livery and numbered 190.  In March, 2023 it was announced the locomotive had been sold to Genesee Valley Transportation for operation on the company's Delaware-Lackawanna Railroad based in Scranton, Pennsylvania.
One the railroad has completed the final touches on the PA it will lead excursions along the former Delaware & Hudson line in Northeastern Pennsylvania.
Sources
Hampton, Taylor.  Nickel Plate Road, The: The History Of A Great Railroad. Newton: Circulation, Publishing And Marketing L.L.C., 1947.
Johnston, Bob and Welsh, Joe. Art Of The Streamliner, The. New York: Andover Junction Publications, 2001.
Schafer, Mike. More Classic American Railroads. Osceola: MBI Publishing, 2000.
Schafer, Mike and Welsh, Joe. Streamliners, History of a Railroad Icon. St. Paul: MBI Publishing, 2003.