Burlington's "Zephyr 9900" Streamliner

Last revised: May 9, 2023
By: Adam Burns

The Chicago, Burlington & Quincy is often credited with kicking off the streamliner revolution in the United States. While its Pioneer Zephyr, also often referred to as the Zephyr 9900, was not the first streamliner introduced to the public it did garner the greatest public attention. 

The train evoked speed just standing still, clad in gleaming stainless steel and a sleek carbody.  But these good looks weren't just for show, the train really could move at high speed. 
It was originally designed as a three car trainset with an overall length somewhat shorter than the M-10000.  However, its marketing campaign wowed the public when it traveled non-stop from Denver to Chicago in record time.  
The PR move worked beyond the railroad's wildest expectations and it was quickly forced to add more cars and purchase new trains.  These new trains also carried the Zephyr moniker and were equally successful. 
All of the railroad's early articulated trainsets were retired by the late 1950s as newer, non-articulated locomotives and cars replaced the aging Zephyr fleet. However, their legacy has certainly not been forgotten and the original remains preserved today.
Photos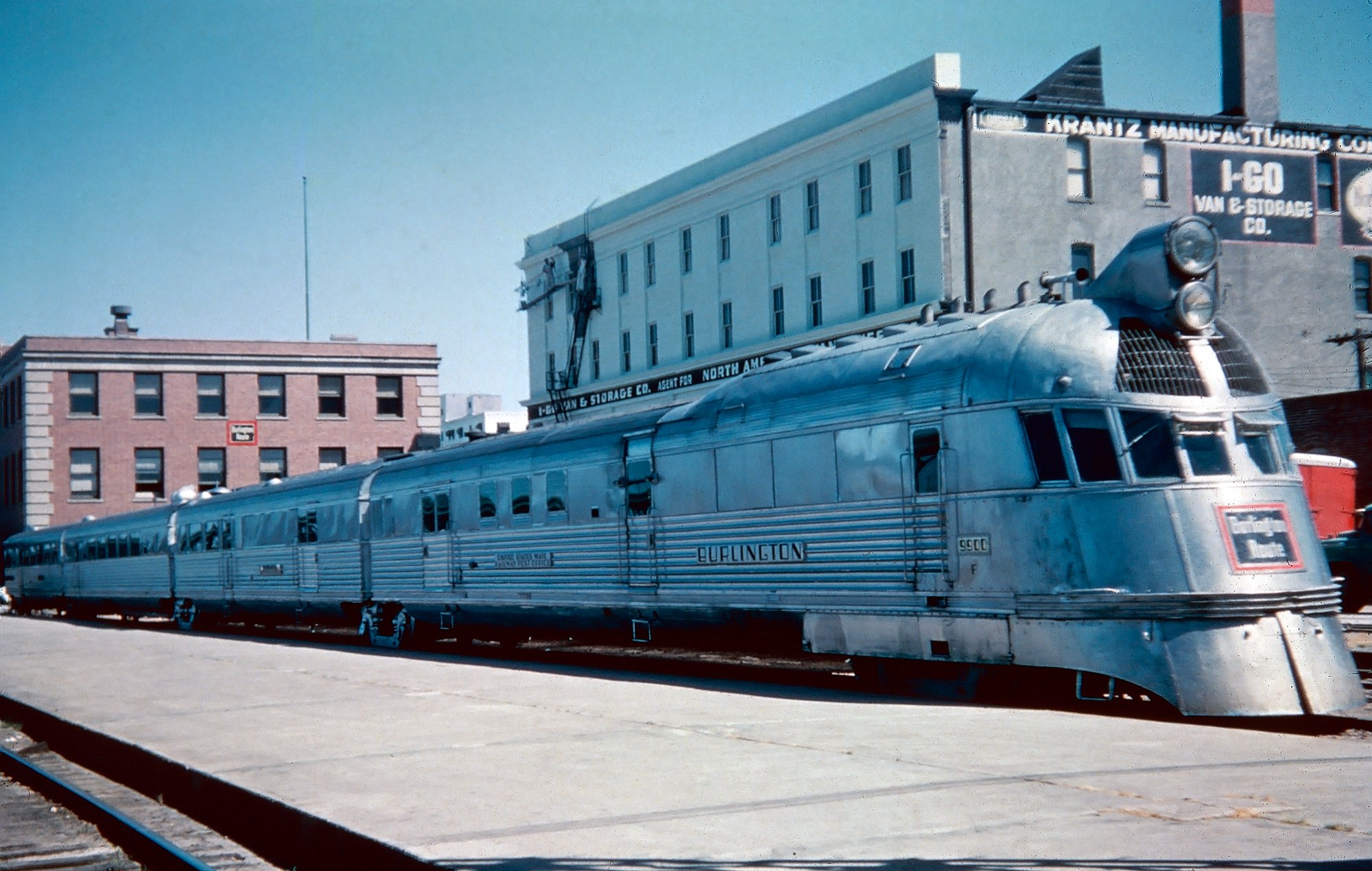 Burlington's "Pioneer Zephyr," the original "Zephyr 9900," lays over at Lincoln, Nebraska, circa 1959. The train was retired the following year and donated to Chicago's Museum of Science and Industry. American-Rails.com collection.
History
The Burlington Route's Pioneer Zephyr was the concept of the railroad's then president Ralph Budd. Interestingly, soon after joining the company, Budd began to brainstorm on the idea of building a lightweight, fast, and stylish passenger train that was powered by a diesel engine.
As it turns out the new streamliner would go down in history as the first ever powered by such a prime mover. Budd's idea for using a diesel dated back to the 1920s where he first saw them employed in early small switchers of the time (probably one of the first boxcab models).
In any event, soon after Budd arrived at the Chicago, Burlington & Quincy he began talking with the Winton Engine Company, the first true pioneer and successful builder of diesel engines for railroad applications, about designing such for a new passenger train. 
Design
However, the Burlington Zephyr (as it was originally called, named after the Greek god of the West Wind, Zephyrus) also needed a sleek carbody in which to dazzle the public and passengers.
The streamlined look of the Zephyr would never have been possible without the recent development of shot-welding, another patented concept the Budd Company mastered.
This version of welding enabled stainless steel to be welded together using high amp electric current that actually created a bond stronger than the steel itself.
Now able to mold, bend, and form stainless steel into whatever shape it wanted Budd could design an endless types of railroad equipment. 
And it certainly exploited this advantage as much as possible allowing Budd to become a major competitor against Pullman, as it was the only company producing flashy stainless steel equipment.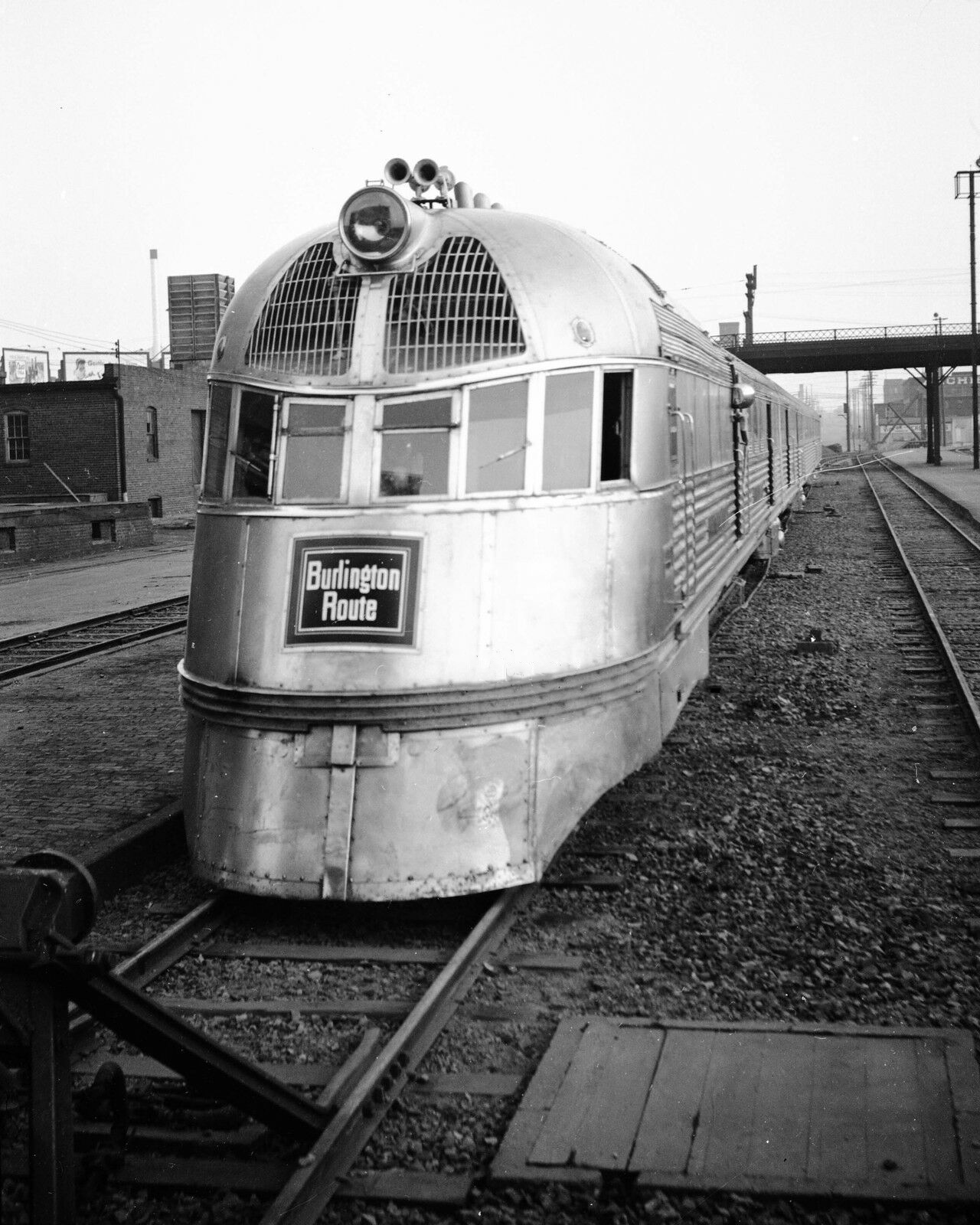 A Chicago, Burlington & Quincy's "Zephyr" trainset is seen here at rest in Lincoln, Nebraska, circa 1944. As the story goes the train was given its name by CB&Q president Ralph Budd, who read Geoffrey Chaucer's, "The Canterbury Tales," and learned Zephyrus was the Greek God of the West Wind.
Budd Company
Officially, the CB&Q placed an order from Budd for the Zephyr on June 17, 1933 for a three-car, articulated trainset that would be powered by a 660 horsepower model 201-A prime mover from Winton. While Budd could fabricate the carbody, somebody actually had to come up with a design.
That was tasked to Albert Dean, an aeronautical engineer who worked for the company. His design featured a shovel nose power car that included a significantly raked lead windshield. The entire train was sheathed in stainless steel and one could barely even see the wheel assemblies.
If the train itself looked stylish and futuristic it was in large part due not only to the lead power car and fluted stainless steel but also because of the observation car.
At A Glance
Primary Engineer

Albert Dean (Aeronautical Engineer)

Interior Designers

John Harbeson and Paul Cret (Architects)

Manufacturer

Budd Company

Engine

Winton 201-A (660 horsepower)

Length

197' (Articulated)

Width

9' 8 ½"

Accommodations

Power Car/Railway Post Office/Mail Storage, Baggage-Coach, Coach-Parlor Observation

Seating Capacity

72

Initial Test Run

April 9, 1934 (Reading Railroad)

Christened

April 18, 1934 (Broad Street Station, Philadelphia)

Dawn-To-Dusk Run

May 26, 1934 (Denver - Chicago)

Notable Changes

Original 201-A Engine (Serial #4510) Replaced With Another 201-A (Serial #4686): 1937

Coach/Chair Car #525 Addition: 1934

#525 Replaced With Dinette-Coach Car #500: June, 1935

Mars Light Addition: 1948

Pioneer Zephyr Operational History

November 11, 1934 - March 20, 1960
A completely new way to give a passenger train a "finished" look the observation was a round-ended affair, completing the streamlined look.

Inside the train the features were subtle but elegant due to the fact that the train was meant to be a "dayliner", regional train only. Much of its interior was of Art Deco design and the observation car was largely decorated by John Harberson of Philadelphia.
Overall, the train was 197 feet long and could hold 72 passengers, 44 fewer than the Union Pacific's M-10000. Its consist included a Railway Post Office (RPO), baggage-coach, and a coach-parlor observation.
It is somewhat fascinating that for a train that was only supposed to be regional in nature that the company since so many resources on its development. Of course, while extremely expensive in comparison to a traditional train of the time it not only proved to be widely successful but also offered much lower maintenance costs.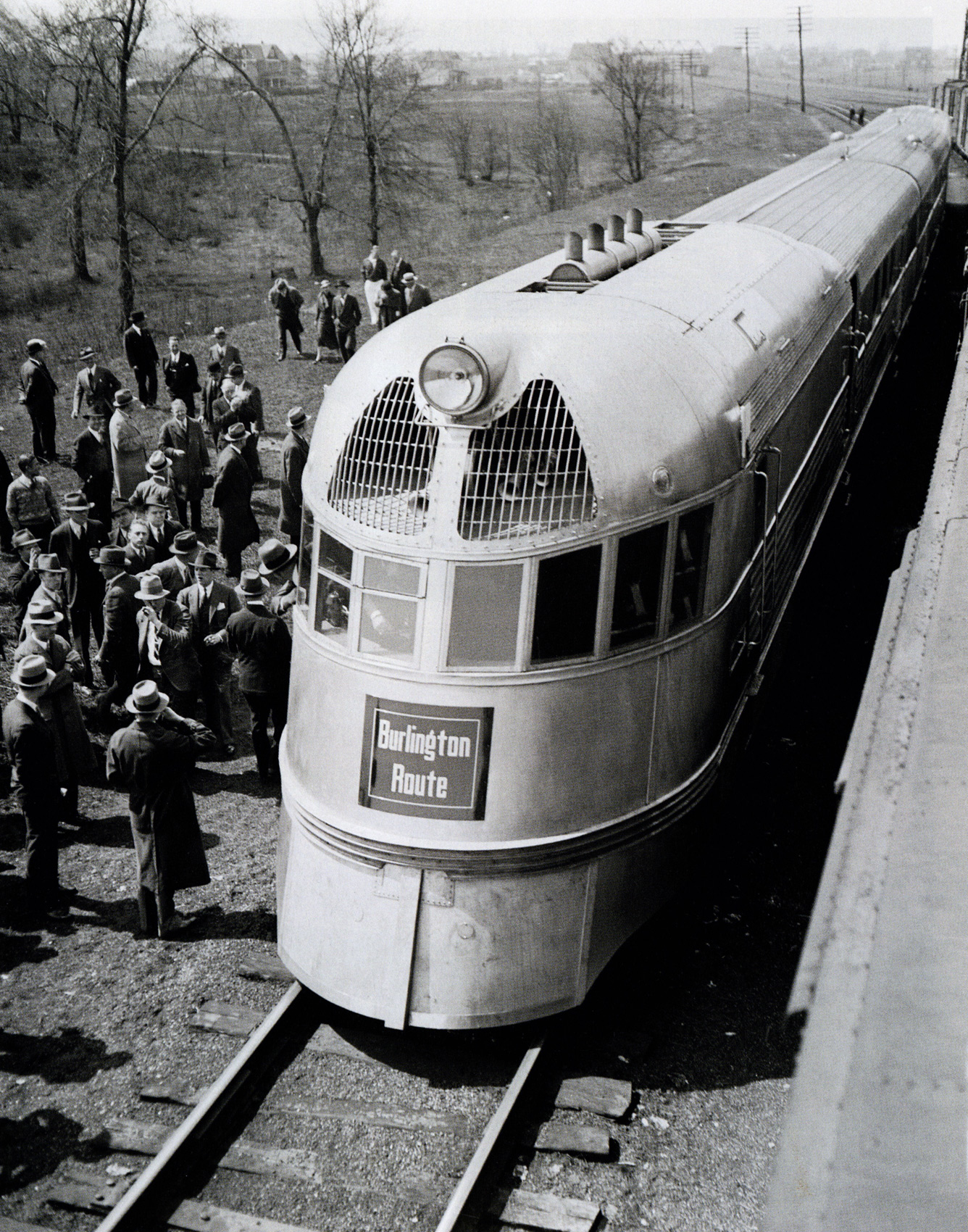 No date of information was provided with this photo but it was likely taken soon after the "Zephyr 9900" trainset rolled out of Budd's plant near Philadelphia in April, 1934.
Completion
On April 7, 1934 the Burlington Zephyr exited Budd's plant near Philadelphia and two days later on April 9th made its first test runs of the Reading Railroad reaching speeds as high as 104 mph.
Nine days later on April 18 the train was debuted to the public at Broad Street Station in Philadelphia and the public was awestruck.
About a month later, on May 10th the train reached Chicago although along the way it toured Cincinnati, Cleveland, Pittsburgh, Detroit, Buffalo, and Washington, D.C. After returning to Burlington's rails the train continued to be featured to the public, wowing audiences as it went. 
Much of the success of the Pioneer, and its historical fame, can be greatly attributed to its incredibly popular public appearances it made during the spring of 1934 (much more so than the UP's M-10000).
Record Trip (May 26, 1934)
Its legendary status was further cemented by the events which occurred on the morning of May 26th at 5:05 A.M. At that time the Zephyr officially left Denver on its way to Chicago. 

Averaging a speed of 78 mph it arrived in the Windy City at 7:10 P.M. that same evening covering a distance of 1,015.4 miles. The public was further amazed and it didn't hurt that that very evening the Progress World's Fair Exposition was ongoing.
In September, 1934 the train was used in the filming of Silver Streak and did not actually begin regularly scheduled service on the Burlington until November 11 of that year.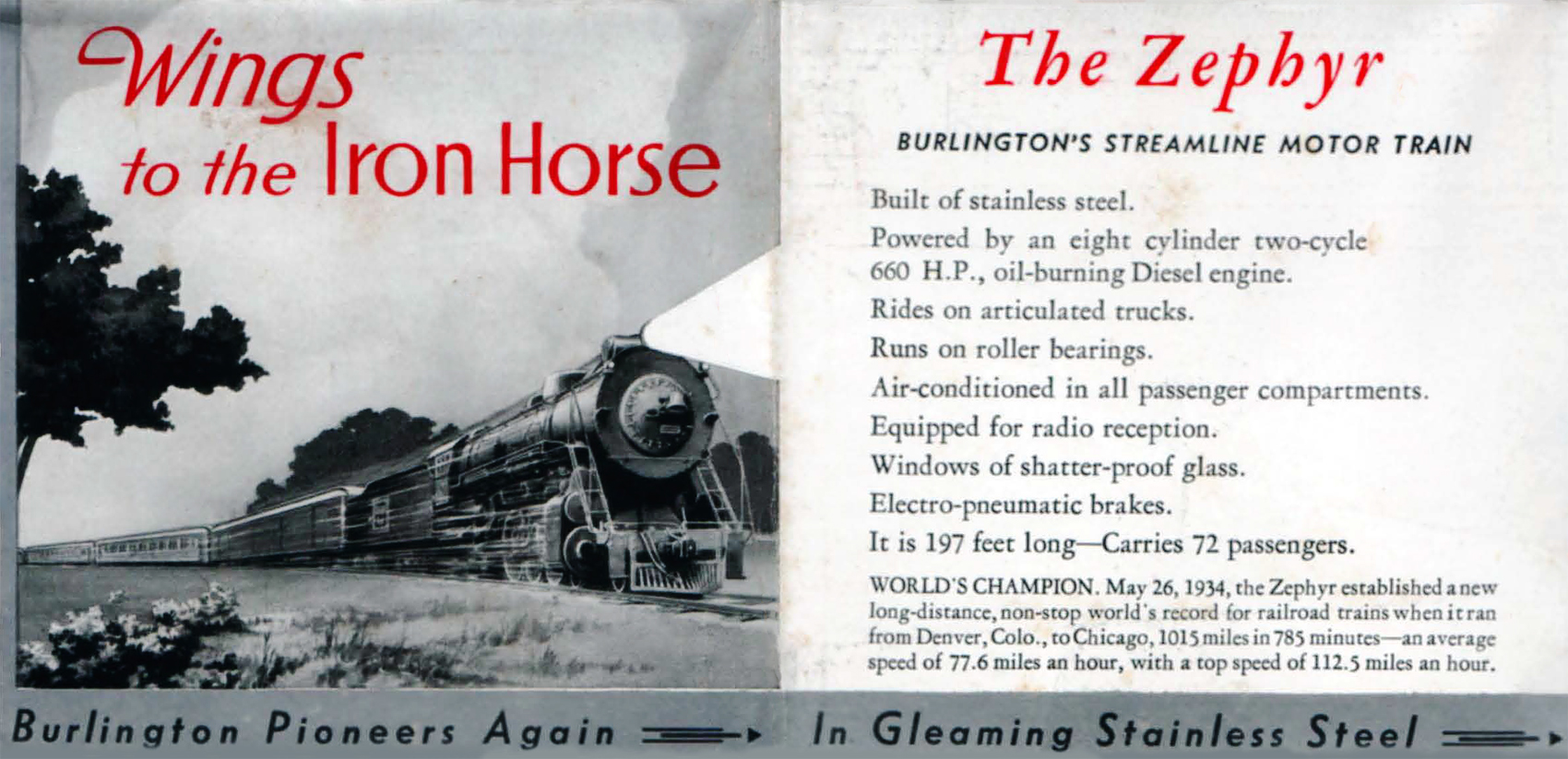 This particular advertisement provided the general public with a great deal of technical data regarding its new "Zephyr" streamliner.
According to Mike Schafer and Joe Welsh's Streamliners: History of a Railroad Icon when touring had completed of the Zephyr it had traveled 30,437 miles, been featured in 222 cities, and was seen by over two million people.
After the train entered service it even defied the railroads expectations, earning a profit when the Burlington believed that it never would. In June, 1935 a dinette-coach was added to the train, which increased ridership to 112. 
Read Down Time/Leave (Train #21)
Milepost
Location
Read Up
Time/Arrive (Train #20)
2:30 PM (Dp)
0.0

Kansas City, MO (Union Station)

12:55 PM (Ar)
2:58 PM
26

East Leavenworth, MO

12:20 PM
3:24 PM
46

Armour, MO

11:58 AM
3:47 PM (Ar)
64

St. Joseph, MO (Union Depot)

11:34 AM (Dp)
3:53 PM (Dp)
64

St. Joseph, MO (Union Depot)

11:28 AM (Ar)
103

Bigelow, MO

10:49 AM
110

Craig, MO

F 10:40 AM
116

Corning, MO

10:34 AM
4:50 PM
126

Langdon, MO

10:23 AM
5:10 PM
143

Hamburg, IA

10:05 AM
5:21 PM
150

Payne, IA

9:55 AM
6:03 PM
192

Council Bluffs, IA

9:14 AM
6:09 PM
193

Council Bluffs Transfer, IA

9:14 AM
6:20 PM (Ar)
196

Omaha, NE

9:00 AM (Dp)
7:00 PM (Dp)
196

Omaha, NE

8:25 AM (Ar)
7:55 PM (Ar)
251

Lincoln, NE

7:30 AM (Dp)
---
Burlington's original "Pioneer Zephyr" trainset, #9900, is seen here still in service late in its career between Kansas City-Omaha-Lincoln, circa 1959. Photographer unknown. American-Rails.com collection.
Other Zephyrs
As mentioned above the Burlington Zephyr was renamed as new trainsets were purchased giving it the Pioneer Zephyr moniker (or known as the Zephyr 9900 by its original numbering).  
In total, eight more trainsets were purchased, #9001-#9008: #9001 and #9002 were referred to as the Morning Zephyr and Afternoon Zephyr (or the Twin City Zephyrs); #9003 as the Mark Twain Zephyr; #9004 and #9005 as additional Twin City Zephyrs; #9006 and #9007 as the Denver Zephyrs; and #9008 as the General Pershing Zephyr.
Of course, there were other trains with the Zephyr name as well such as the California Zephyr, Nebraska Zephyr, and Kansas City Zephyr which were standard-diesel powered/passenger car trains. Today, the original is on display at Chicago's Museum of Science and Industry.