The 
Pan American
Last revised: May 8, 2023
By: Adam Burns

The Louisville & Nashville is not well remembered for its passenger services although one of its top trains within its fleet was the Pan American, a fairly successful run for several years although officially never entirely streamlined (it was, however, upgraded with various equipment throughout its years of operation).

While most of L&N's passenger trains were dropped or canceled prior to the creation of Amtrak in the spring of 1971, the American, remained until the end ceasing operations on April 30, 1971 one day prior to Amtrak's startup. 
The railroad's interest in passenger service waned significantly after the 1950's.  It was similar to the Southern Pacific, which held the same view of such trains after that time.

In spite of this, the L&N continued fielding respectable service until the end (the same could not be said at SP).  The Pan American inspired several songs including "Pan-American, Blues" by DeFord Bailey, "The Pan-American," by Hank Williams, and "Pan-American, Boogie" by the Delmore Brothers. 

Photos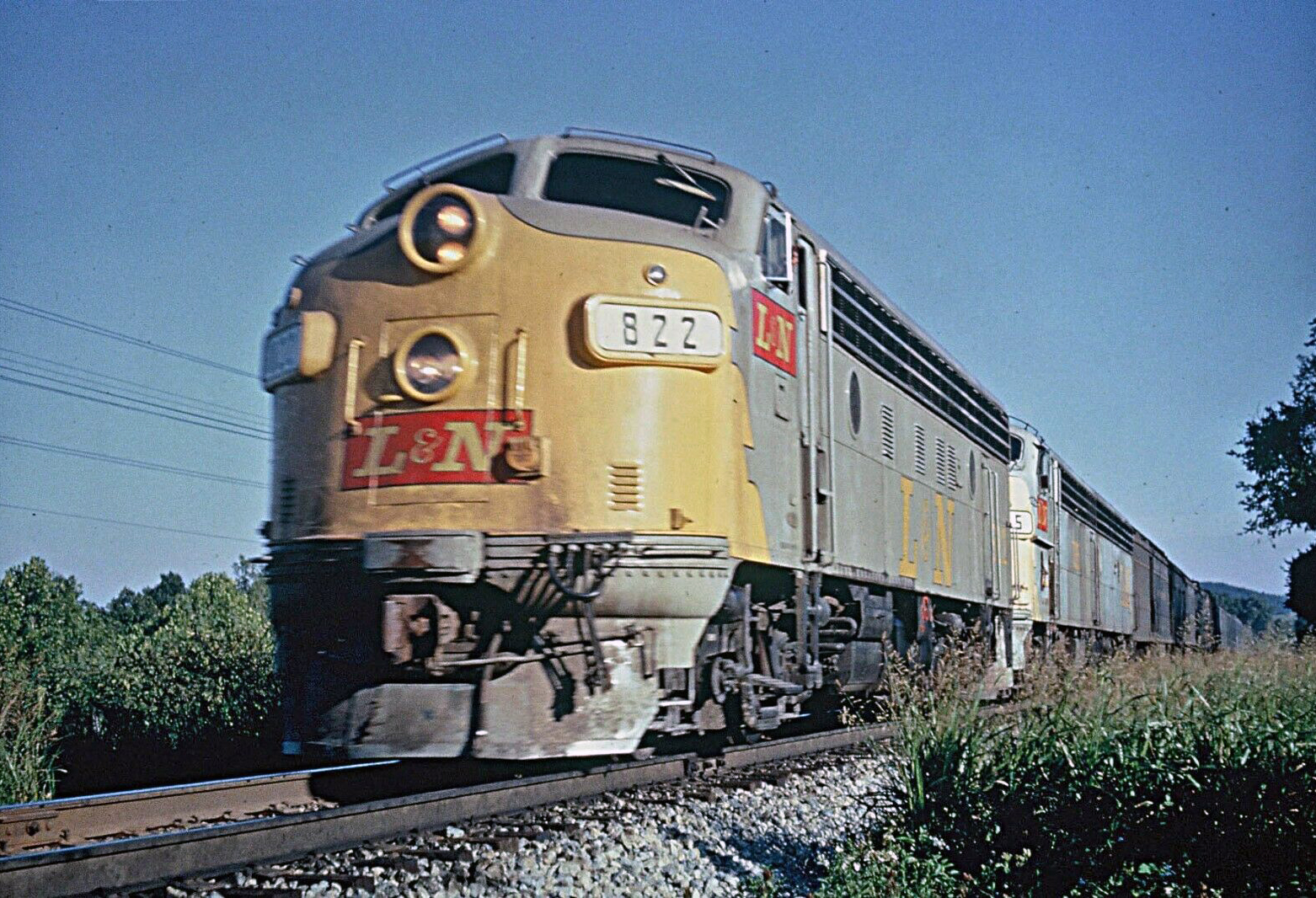 Louisville & Nashville's train #8, the northbound "Pan American," hustles through rural Munfordville, Kentucky in the mid-afternoon of an August day in 1968.
History
The Pan American, (named because of the service Louisville & Nashville provided hauling Central and South American goods through Gulf Coast ports) began as a heavyweight operation in 1921 serving Cincinnati and New Orleans as the railroad's flagship train.
It lost this status in 1947 when the L&N debuted the all-streamlined Humming Bird. Beginning in 1949 the L&N slowly updated the train with older, streamlined equipment (which also included new streamlined sleepers for through service between New York and Memphis/Louisville/Nashville in conjunction with the Pennsylvania).
In 1953 it again received some additional new, through sleepers and in 1955 began occasionally swapping older and new equipment with the Humming Bird. For power the train originally used Electro-Motive E6As, later upgrading to EMD E7As between 1945 and 1949.

At A Glance
Route

Chicago - New Orleans

Travel Time (1954)

23 Hours, 10 Minutes (Southbound)

23 Hours, 15 Minutes (Northbound)

Service History

December 5, 1921 - April 30, 1971

Train Numbers

99/9 (Southbound)

98/8 (Northbound)

Distance

927 Miles

End Terminals

Union Terminal (Cincinnati)

Canal Street/Union Passenger Terminal (New Orleans*)
* From 1902 - 1954, the L&N used its own terminal in New Orleans at Canal Street.  In 1954, Union Passenger Terminal opened which consolidated all intercity passenger services.
Finally, in 1951 the L&N purchased E8As for passenger service. Interestingly, the railroad never used "B", booster units, which at the time was typically a common practice for a Class I's flagship (it allowed for additional power without the need for an additional cabbed locomotive).  
The train was a quite successful operation although because it competed in a market dominated by the Illinois Central with its Panama Limited, and City of New Orleans, the American, was often overshadowed.
Still, for over five decades it provided reliable, efficient, and friendly service between the Gulf Coast and Midwest even if it was not a fully-equipped streamliner like some of the other runs serving both cities.
Listed for years as trains #99 (southbound) and #98 (northbound) on the L&N timetable in its final days the train was changed to #9 and #8 respectively.

Essentially the American was a less luxurious version of the Humming Bird, which offered opulent dayliner services including reclining-seat coaches and lounges.  
As with all of the Louisville & Nashville's original passenger fleet, the train's locomotives were originally bedecked in L&N's handsome deep blue and cream with red trim while the cars featured a combination of deep blue and stainless steel. 
Consist (1952)
In later years the railroad changed this to a more simple general livery of grey, yellow, and red for all its equipment, including freight.
While the passenger trains still carried a level of good looks the new paint scheme was simply not as elegant as the original. In 1955 the American received additional newer equipment when the L&N purchased 13 new coaches to reequip it and the Humming Bird. It was also given a rebuilt, streamlined lunch-counter lounge in 1957. 
Timetable (1969)
Read Down Time/Leave (Train #9)
Milepost
Location
Read Up
Time/Arrive (Train #8)
12:20 PM (Dp)
0.0

Cincinnati, OH (Cincinnati Union Terminal) (EST)

5:35 PM (Ar)
F 12:35 PM
3

Latonia, KY

F 5:15 PM
3:35 PM (Ar)
114

Louisville, KY (Union Station)

2:25 PM (Dp)
4:05 PM (Dp)
114

Louisville, KY (Union Station)

2:00 PM (Ar)
F 3:59 PM
156

Elizabethtown, KY

F 11:49 AM
4:42 PM
199

Cave City, KY

11:08 AM
5:19 PM
228

Bowling Green, KY

10:39 AM
7:00 PM (Ar)
301

Nashville, TN

9:10 AM (Dp)
7:20 PM (Dp)
301

Nashville, TN

8:50 AM
8:25 PM
355

Lewisburg, TN

7:36 AM
9:21 PM
408

Athens, AL

6:41 AM
9:42 PM
421

Decatur, AL

6:21 AM
10:19 PM
454

Cullman, AL

5:35 AM
11:15 PM (Ar)
506

Birmingham, AL (EST)

4:35 AM (Dp)
11:30 PM (Dp)
506

Birmingham, AL (EST)

4:15 AM (Ar)
1:30 AM (Ar)
604

Montgomery, AL (CST)

2:10 AM (Dp)
1:50 AM (Dp)
604

Montgomery, AL (CST)

1:50 AM (Ar)
2:43 AM
648

Greenville, AL

12:36 AM
3:01 AM
663

Georgiana, AL

12:18 AM
3:45 AM
684

Evergreen, AL

11:55 PM
4:10 AM
709

Brewton, AL

11:27 PM
4:35 AM (Ar)
722

Flomaton, AL

11:10 PM (Dp)
5:05 AM (Dp)
722

Flomaton, AL

10:50 PM (Ar)
5:24 AM
737

Atmore, AL

10:23 PM
5:57 AM
758

Bay Minette, AL

10:00 PM
6:45 AM (Ar)
782

Mobile, AL

9:20 PM (Dp)
7:05 AM (Dp)
782

Mobile, AL

9:00 PM (Ar)
7:57 AM
822

Pascagoula, MS

F 8:03 PM
8:28 AM
842

Biloxi, MS

7:31 PM
8:38 AM
848

Edgewater Park, MS

7:20 PM
8:58 AM
855

Gulfport, MS

7:07 PM
F 9:11 AM
864

Pass Christian, MS

6:48 PM
9:23 AM
870

Bay St. Louis, MS

6:39 PM
9:30 AM
874

Waveland, MS

6:30 PM
10:10 AM

New Orleans, LA (Carrollton Avenue)

5:25 PM
10:35 AM (Ar)
927

New Orleans, LA (Union Passenger Terminal)

5:15 PM (Dp)
While the Pan could be classified as a semi-streamliner, the railroad made sure to never advertise it as such since it was simply not on the same level as the Humming Bird.  
Like with the rest of the rail industry, by the 1960s the Louisville & Nashville was looking to get out of the passenger train business, disenchanted by the growing loss and lack of interest from the American public which abandoned trains in droves for the independence of the highway and speed of the airliner. 
This issue was only compounded by the loss of the lucrative U.S. mail contracts during 1967.  Interestingly, the railroad was so quick to call it quits on the Humming Bird that it discontinued the train in the middle of its run in 1969, making news all over the country! 
---
Final Years
Still, while most of the L&N's fleet had been canceled by the late 1960s, the American carried on until the end when Amtrak took over intercity passenger rail operations on May 1, 1971.  
During the American's final years of operation it still retained sleeper service, an amenity quickly disappearing by the 1960s in the rail travel industry.  According to the L&N's 1969 timetable a typical consist included 10-roomette, double-bedroom sleepers running the length of the route, reclining seat coaches, and a diner offering "complete meal service."
By this time the company's South Wind was its only intercity passenger train offering a nearly intact allotment of services (aside from parlors which had disappeared long ago) including sleepers, lounges, coaches, and even a grill car.
Sources
Burns, A.J. and Dawson, Leslie. Official Guide Of The Railways And Steam Navigation Lines Of The United States, Porto Rico, Canada, Mexico, and Cuba, The. Volume 85.  Issue 3. Pages 534-554.  New York: National Railway Publication Company, 1952.
Schafer, Mike. Classic American Railroads. Osceola: MBI Publishing, 1996.
Schafer, Mike and Welsh, Joe. Streamliners, History of a Railroad Icon. St. Paul: MBI Publishing, 2003.