The
Denver Zephyr
Last revised: May 9, 2023
By: Adam Burns

Of all the many passenger trains that served Denver from the Midwest Chicago, Burlington & Quincy's Denver Zephyr was very likely the most popular.

The train dates back to the earliest years of the railroad's streamlined era and, despite competition from a handful of other lines, remained popular for several years. 
The Denver Zephyr was clad in striking stainless steel and later upgraded with Vista Domes in the mid-1950s, allowing for maximum sightseeing across the Midwest and Plains.
While the DZ survived the transition to Amtrak it lasted for only a few more years before being discontinued by the new carrier.
The Denver Zephyr was born out of the Burlington's original Pioneer Zephyr of 1934.  The success of that train, initially launched as a marketing experiment, led to an entire fleet of Zephyrs serving all points across the CB&Q's network. 
The railroad's decision to stick with the Greek theme, and stainless steel trains, made its fleet of streamliners one of the most unique across America.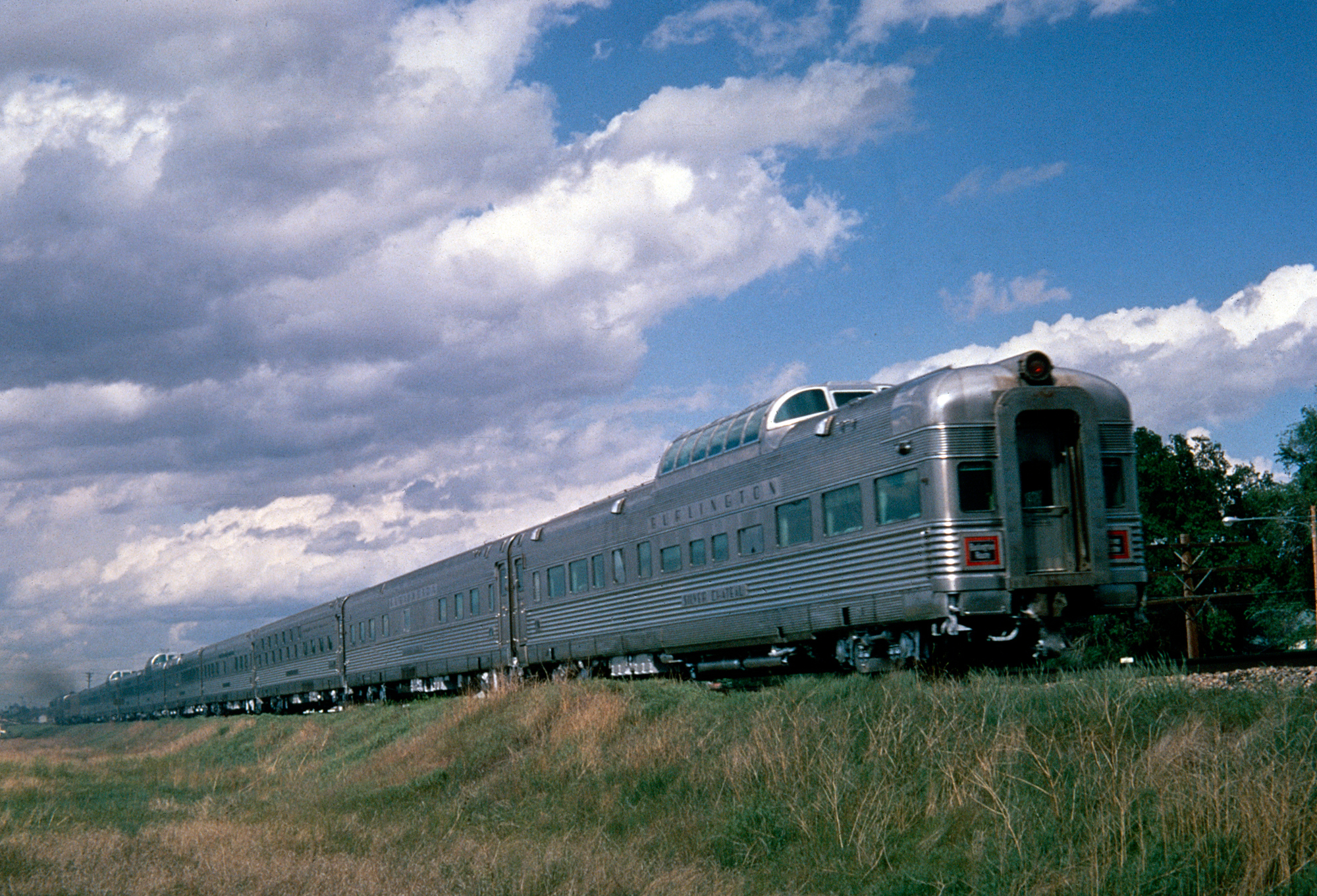 Chicago Burlington & Quincy dome lounge observation #235, the "Silver Chateau," brings up the tail end of the "Denver Zephyr" during the 1960s. Location not recorded. American-Rails.com collection.
History
The Denver Zephyr came about because of the tremendous successes of the Burlington's original Zephyrs.
However, unlike these first lightweight trainsets, which were fully articulated, the Denver Zephyr was a ten-car, semi-articulated train that replaced the original #9900 and #9903 Budd products on November 8, 1936.
A few years after its debut two additional cars were added, a coach dinette and full-room sleeper, giving it a 10-car consist.
The train was an instant hit, in no small part due to its extremely fast schedule, great scenery, and on board amenities.
 1952 Timetable/Consist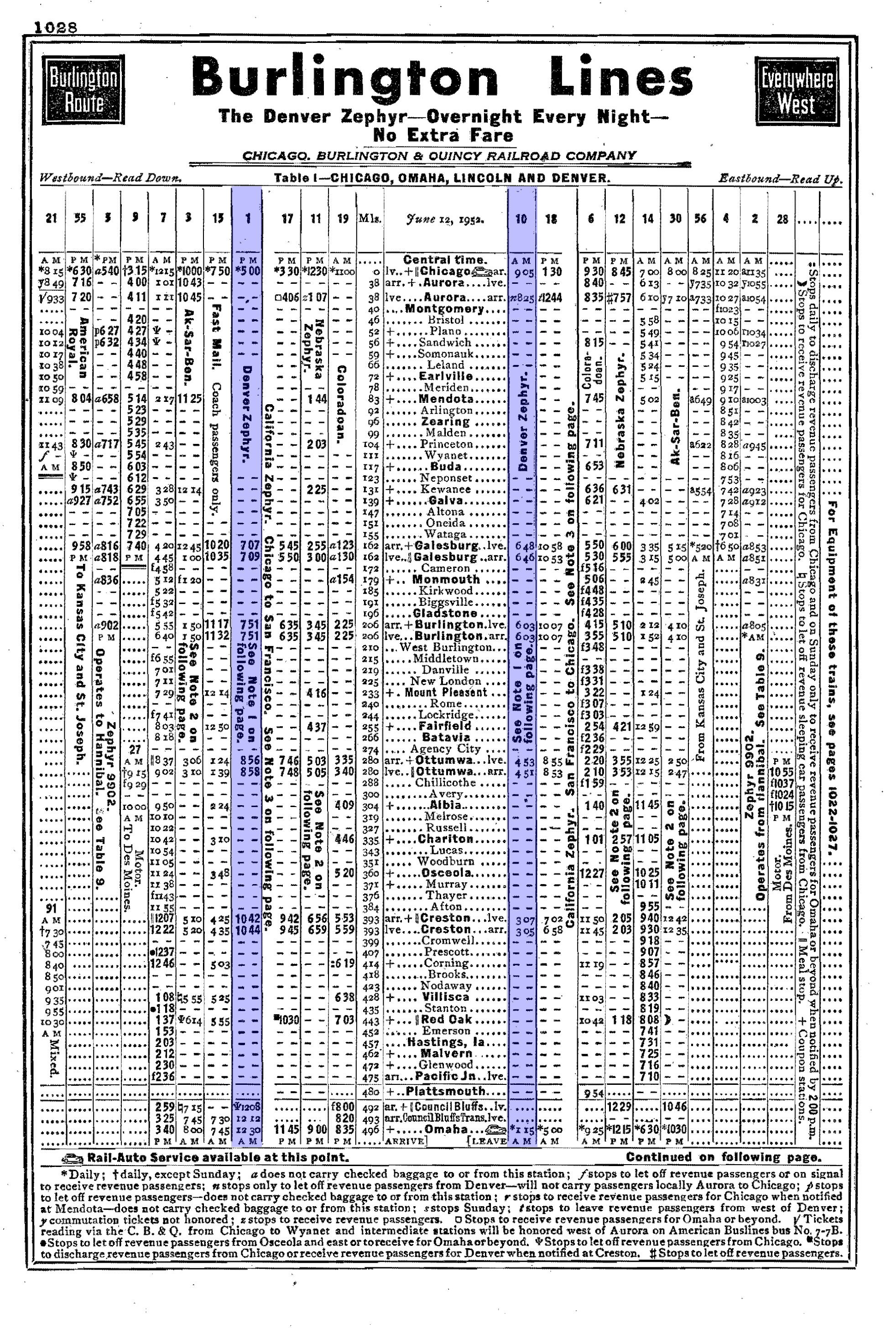 The train's entire route between Chicago and Denver covered exactly 1,034 miles.
Also, if one so chose, connecting service with the Rio Grande was available at Denver Union Station via the Royal Gorge reaching such location as Colorado Springs (Colorado) and Salt Lake City, Utah.
The two railroads were close allies in the passenger sector, teaming up to offer another famous streamliner, the California Zephyr, in conjunction with the Western Pacific.
1958 Timetable/Consist
The Burlington's original Zephyrs had been built in conjunction with the Electro-Motive Corporation; these trains would revolutionize rail travel.
The trainsets were streamlined, lightweight designs and the first to utilize diesel power (Union Pacific's M-10000, by contrast, featured a less efficient gasoline distillate engine).
The first of these trainsets, cast in all stainless steel, was the Zephyr #9900.  After touring across the country it made its famous, nonstop trip between Denver and Chicago in mere hours, an unheard of accomplishment for its day.
The Denver Zephyr continued to boast a 10-car consist until October of 1956 when the train truly came of age.
That year the Burlington completely reequipped the DZ (28 cars in total) with domes galore.  As always, the Budd Company supplied the equipment which included:
Two "flattop" coaches


Vista-Dome counter-lounge (called the "Chuck Wagon")


Vista-Dome coach


Dining car


Five sleepers


Two Slumbercoahes (the first train ever to feature such amenities)


Vista-Dome observation
From a historical standpoint, the 1956 reequipping of the DZ was the last, entirely new streamlined passenger train built in the United States.

(Thanks to Stephen Levine and Bill Haithcoat for help with the information on this page.)
Timetable (April 28, 1957)
Read Down Time/Leave (Train #1)
Milepost
Location
Read Up
Time/Arrive (Train #10)
5:00 PM (Dp)
0.0

Chicago, IL (Union Station) (CT)

9:00 AM (Ar)
38

Aurora, IL

8:20 AM
7:07 PM (Ar)
162

Galesburg, IL

6:43 AM (Dp)
7:09 PM (Dp)
162

Galesburg, IL

6:41 AM (Ar)
7:51 PM
206

Burlington, IA

5:58 AM
8:56 PM (Ar)
280

Ottumwa, IA

4:49 AM (Dp)
8:58 PM (Dp)
280

Ottumwa, IA

4:47 AM (Ar)
10:42 PM (Ar)
393

Creston, IA

3:04 AM (Dp)
10:44 PM (Dp)
393

Creston, IA

3:02 AM (Ar)
F 12:08 AM
492

Council Bluffs, IA

12:30 AM (Ar)
496

Omaha, NE

1:15 AM (Dp)
12:40 AM (Dp)
496

Omaha, NE

1:08 AM (Ar)
1:45 AM (Ar)
551

Lincoln, NE

12:11 AM (Dp)
1:52 AM (Dp)
551

Lincoln, NE

12:04 AM (Ar)
3:23 AM (Ar)
648

Hastings, NE

10:41 PM (Dp)
3:25 AM (Dp)
648

Hastings, NE

10:40 PM (Dp)
F 3:52 AM
680

Minden, NE

F 10:08 PM
4:12 AM
702

Holdrege, NE

9:49 PM
726

Oxford, NE

9:24 PM
5:32 AM (Ar)
779

McCook, NE (CT)

8:38 PM (Dp)
4:35 AM (Dp)
779

McCook, NE (MT)

7:35 PM (Ar)
6:40 AM
922

Akron, CO

5:39 PM
7:13 AM
956

Fort Morgan, CO

5:07 PM
8:30 AM (Ar)
1034

Denver, CO (Union Station)

4:00 PM (Dp)
Time/Leave (Train #1/Rio Grande "Royal Gorge" Connection)
Milepost
Location
Time/Arrive (Train #2/Rio Grande "Royal Gorge" Connection)
9:00 AM (Dp)
1034

Denver, CO (Union Station)

2:50 PM (Ar)
9:20 AM
1044

Littleton, CO

2:30 PM
F 9:38 AM
1059

Sedalia, CO

F 2:11 PM
1067

Castle Rock, CO

2:02 PM
F 10:01 AM
1077

Lark Spur, CO

F 1:51 PM
F 10:06 AM
1081

Greenland, CO

F 10:15 AM
1086

Palmer Lake, CO

F 1:40 PM
F 10:21 AM
1090

Monument, CO

F 1:33 PM
10:45 AM (Ar)
1109

Colorado Springs, CO

1:10 PM (Dp)
---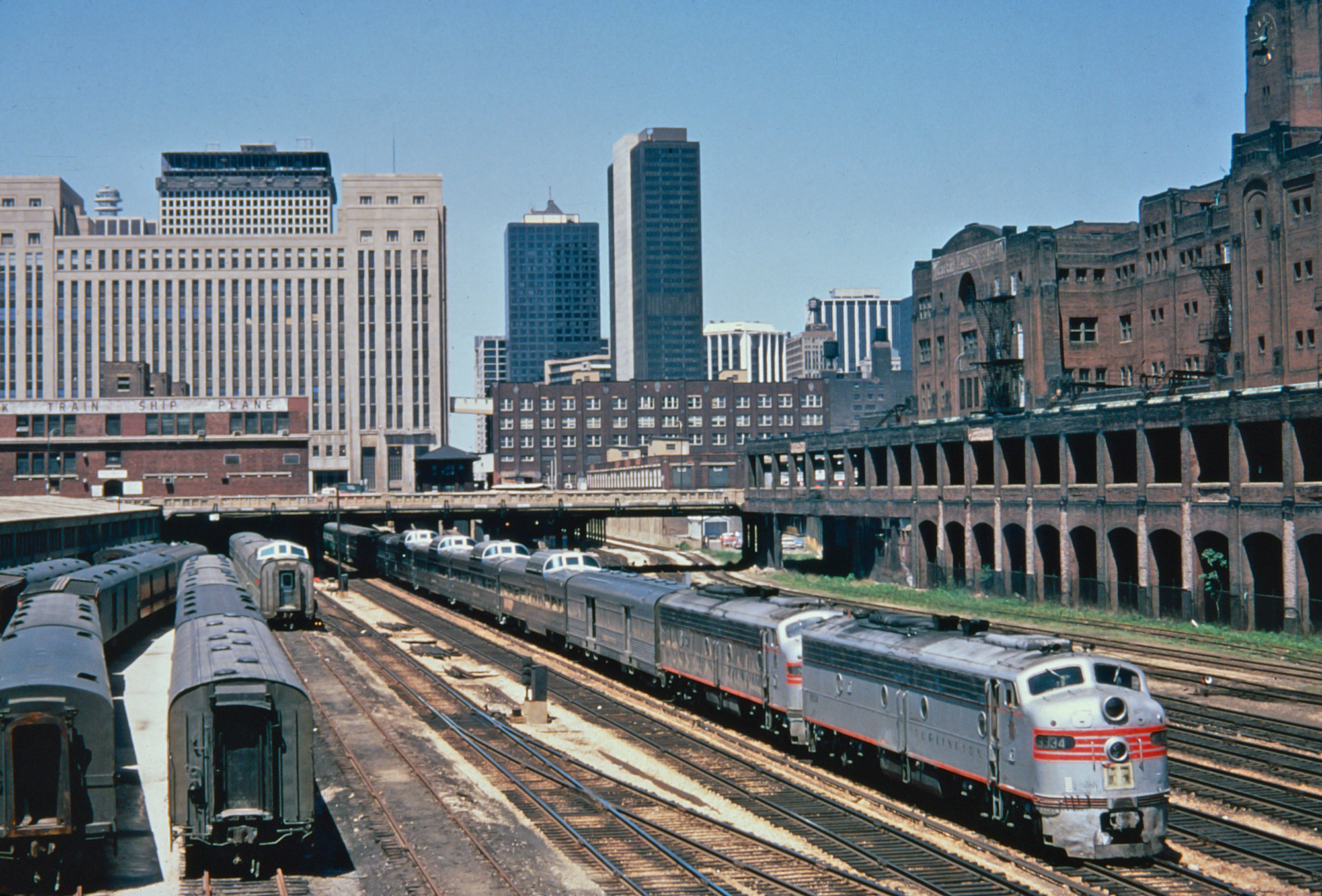 It's the early Burlington Northern era as a pair of former Chicago, Burlington & Quincy E8A's, led by #9934, depart Chicago Union Station with the westbound "Denver Zephyr" in the summer of 1970. American-Rails.com collection.
Final Years
The Denver Zephyr remained so popular that it was virtually unchanged until 1968.  By then, rising labor costs and declining patronage caused many railroads to sharply reduce their schedules. 
Even successful railroads like the Burlington were not immune.

While Denver Zephyr's consist was cutback during the off-season, and at other various times, the train remained largely intact until Amtrak took over intercity passenger rail operations on May 1, 1971.
The Denver Zephyr was initially kept by  the new carrier  although it was eventually combined with City of San Francisco and eliminated.
This train had its own interesting history under Amtrak; it was renamed as the San Francisco Zephyr for a time before being named again as the California Zephyr in 1983 after the Rio Grande discontinued its Rio Grande Zephyr.