The 
Prospector
Last revised: May 11, 2023
By: Adam Burns

Due to the fact that the Denver & Rio Grande Western was so well known for hosting the highly popular and legendary California Zephyr the railroad's primary passenger train fleet is sometimes forgotten, which is also partly due to the fact that it served such a very small region.

One of its most well known streamliners was the Prospector, a train that had a history dating back just prior to World War II during the early years of the new fad.
Its earliest version very much resembled the Chicago, Burlington & Quincy's original Pioneer Zephyr trainset. However, it was problematic and short-lived. 
The reincarnated train that hit the rails about 10 years later was a much more elegant operation with an incredibly beautiful paint scheme unique to the Rio Grande.
Altogether the train was an on-again, off-again part of the D&RGW for nearly three decades until declining ridership forced its discontinuance in the late 1960s.
Photos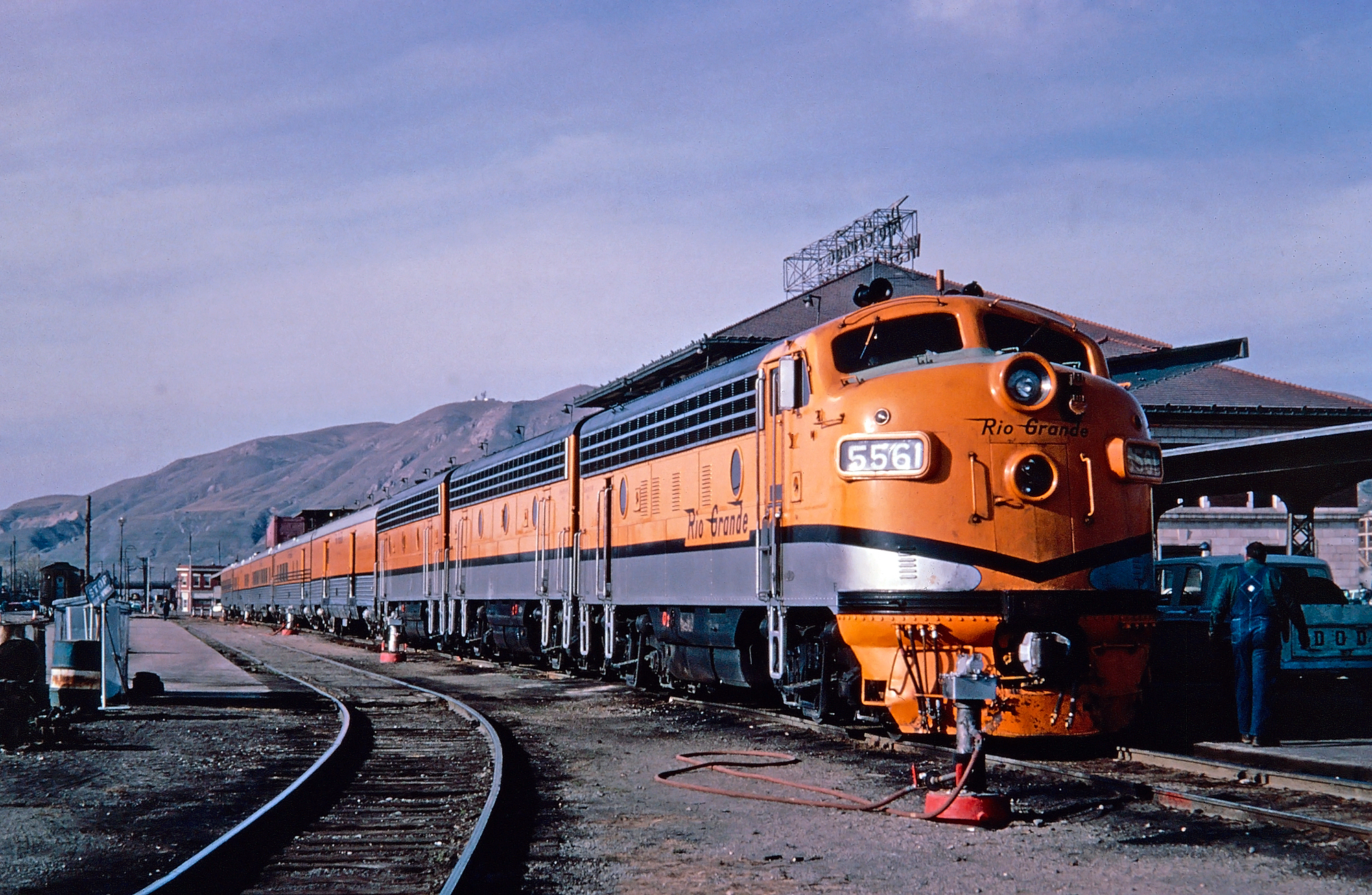 Rio Grande F7A #5561 awaits departure from Salt Lake City, Utah with the eastbound "Prospector" in 1965. American-Rails.com collection.
History
The history of the train dates back to 1940 when the Denver & Rio Grande was interested in entering the streamliner market itself but at the time financial troubles precluded any serious investment.
However, the Budd Company suggested the railroad try a very small two-car, Zephyr-like trainset that somewhat resembled RDCs (Rail Diesel Cars) and clad in the builder's classic fluted stainless steel. The Rio Grande jumped at the chance to finally be a part of the streamliner craze and took Budd up on the offer.
At A Glance
Route

Denver - Salt Lake City

Travel Time (1957)

14 Hours, 31 Minutes (Westbound)

14 Hours, 30 Minutes (Eastbound)

Service History

November 17, 1941 - May 28, 1967

Train Numbers

7 (Westbound)

8 (Eastbound)

Distance

570.0 Miles

End Terminals

Union Station (Denver)

Salt Lake City Station (Salt Lake City)
The new little train was known as the Prospector and the D&RGW planned to use it to serve its Denver-Salt Lake City corridor (its primary main line), which was much shorter than the Union Pacific's line serving the two cities but fraught with stiff grades, tunnels, and sharp curves.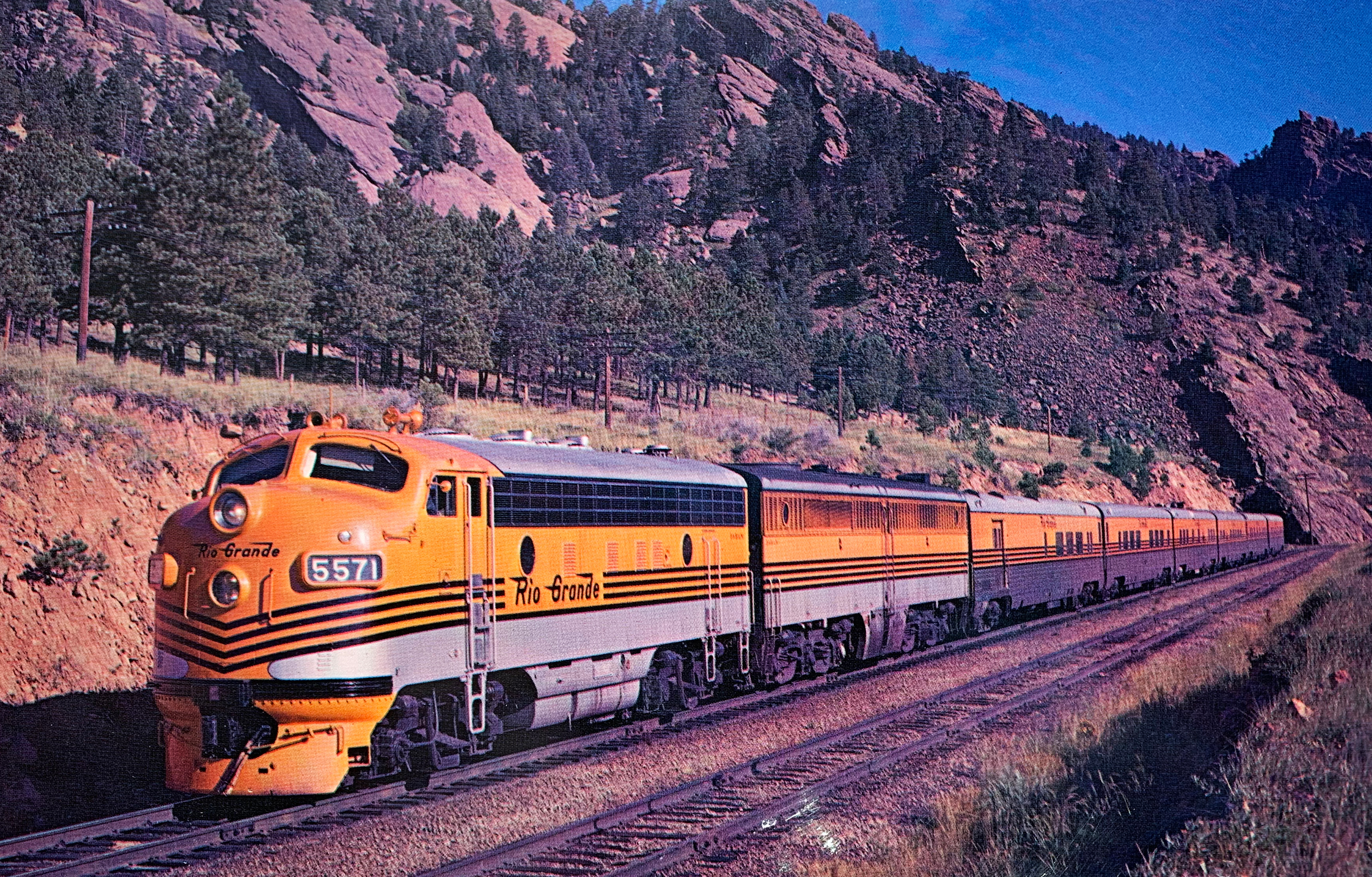 In this Rio Grande publicity photo the eastbound "Prospector" poses for a closeup at Plainview, Colorado in 1952. Otto Roach photo. Author's collection.
In any event, the new streamliner set out on November 17, 1941 and included a luggage compartment, reclining seat coaches, and washrooms in the first car while the second featured eight upper and lower berths, two "chamberettes", a small dinette area (serviced by Pullman), and a small observation lounge.
Timetable (1952)
The train was powered by two 192 horsepower Hercules diesel engines. The train proved quite successful as passengers not only loved the scenic views along the Rio Grande's route but also the fact that it was more than hour faster than UP's Pony Express, a train eventually put out of business due partially to its competition.
However, the Prospector was not meant to traverse the D&RGW's stiff main line and as a result was constantly breaking down. This forced the railroad to pull the streamliner from service after less than a year on July 5, 1942.
For the next several years the train remained a heavyweight train powered by traditional steam locomotives. After World War II the Rio Grande plunged back into the streamliner fray when it introduced the California Zephyr along with the Burlington and Western Pacific between San Francisco and Chicago in 1949.
Soon afterwards the D&RGW was upgrading its own passenger trains to streamliner status. In 1950 it purchased a large fleet of brand new, lightweight streamlined cars from the Chesapeake & Ohio which the eastern line had intended to use as part of a new train that was never launched.
Built by Pullman-Standard the cars included eight coaches, four sleepers, three baggage-RPOs, three full baggage cars, two baggage-coaches, three buffet-lounges, and two diners. Additionally it acquired three domes built by Budd (also from the C&O).
Timetable (April, 1957)
Read Down Time/Leave (Train #7)
Milepost
Location
Read Up
Time/Arrive (Train #8)
5:59 PM (Dp)
0.0

Denver, CO (Union Station)

8:00 AM (Ar)
49.6

East Portal, CO (Moffat Tunnel)

F 7:40 PM
56.9

Winter Park, CO

F 5:59 AM
F 8:16 PM
75.5

Granby, CO

F 5:29 AM
8:53 PM
103.2

Kremmling, CO

4:53 AM
9:52 PM (Ar)
129.3

Bond, CO

4:00 AM (Dp)
9:57 PM (Dp)
129.3

Bond, CO

3:55 AM (Ar)
11:23 PM
185.0

Glenwood Springs, CO

2:27 AM
F 11:52 PM
211.5

Rifle, CO

F 1:54 AM
1:03 AM (Ar)
274.5

Grand Junction, CO

12:40 AM (Dp)
1:20 AM (Dp)
274.5

Grand Junction, CO

12:20 AM (Ar)
F
285.4

Fruita, CO

F
F
290.5

Loma, CO

F
F
293.8

Mack, CO

F
F
313.3

Westwater, UT

F
F
329.3

Cisco, UT

F
2:54 AM
353.0

Thompson, UT

10:45 PM
3:24 AM
380.1

Green River, UT

F 10:11 PM
F
406.3

Woodside, UT

F
F
428.1

Mounds, UT

F
4:55 AM
444.0

Price, UT

8:55 PM
5:15 AM
451.4

Helper, UT

8:40 PM
F
455.2

Castle Gate, UT

F
469.4

Colton, UT

F
F 6:02 AM
476.3

Soldier Summit, UT

F 7:47 PM
485.9

Gilluly, UT

F
6:56 AM
505.8

Thistle, UT

6:55 PM
F 7:15 AM
520.7

Springville, UT

F 6:34 PM
7:28 AM
526.1

Provo, UT

6:27 PM
F
532.1

Geneva, UT

F
F
538.6

American Fork, UT

F
F
541.9

Geneva, UT

F
F
554.1

Riverton, UT

F
F
559.4

Midvale, UT

F
8:30 AM (Ar)
570.0

Salt Lake City, UT

5:30 PM (Dp)
All of the new equipment allowed the Rio Grande to fully streamline the Prospector and nearly so the Royal Gorge (between Denver, Pueblo, and Ogden).
The reborn, streamlined train entered service in March, 1950 and quickly became widely acclaimed for the incredible scenery and wonderful services.

Consist (1952)
It was promoted in many ways but one of its memorable ads during its initial relaunching stated, "Good Service, Good Eating, Good Sleeping: The Prospector, overnight, every night between Denver and Salt Lake City."
Its new scheduling found it leaving Denver Union Station (as train #7, westbound with train #8 its eastbound counterpart) during the late afternoon and arriving in Salt Lake City the next morning at breakfast. 

The returning eastbound offered a very similar departure and arrival.  There was also available connections to Chicago via allying Burlington as well as St. Louis via the Missouri Pacific.   For more reading about the train please click here.

---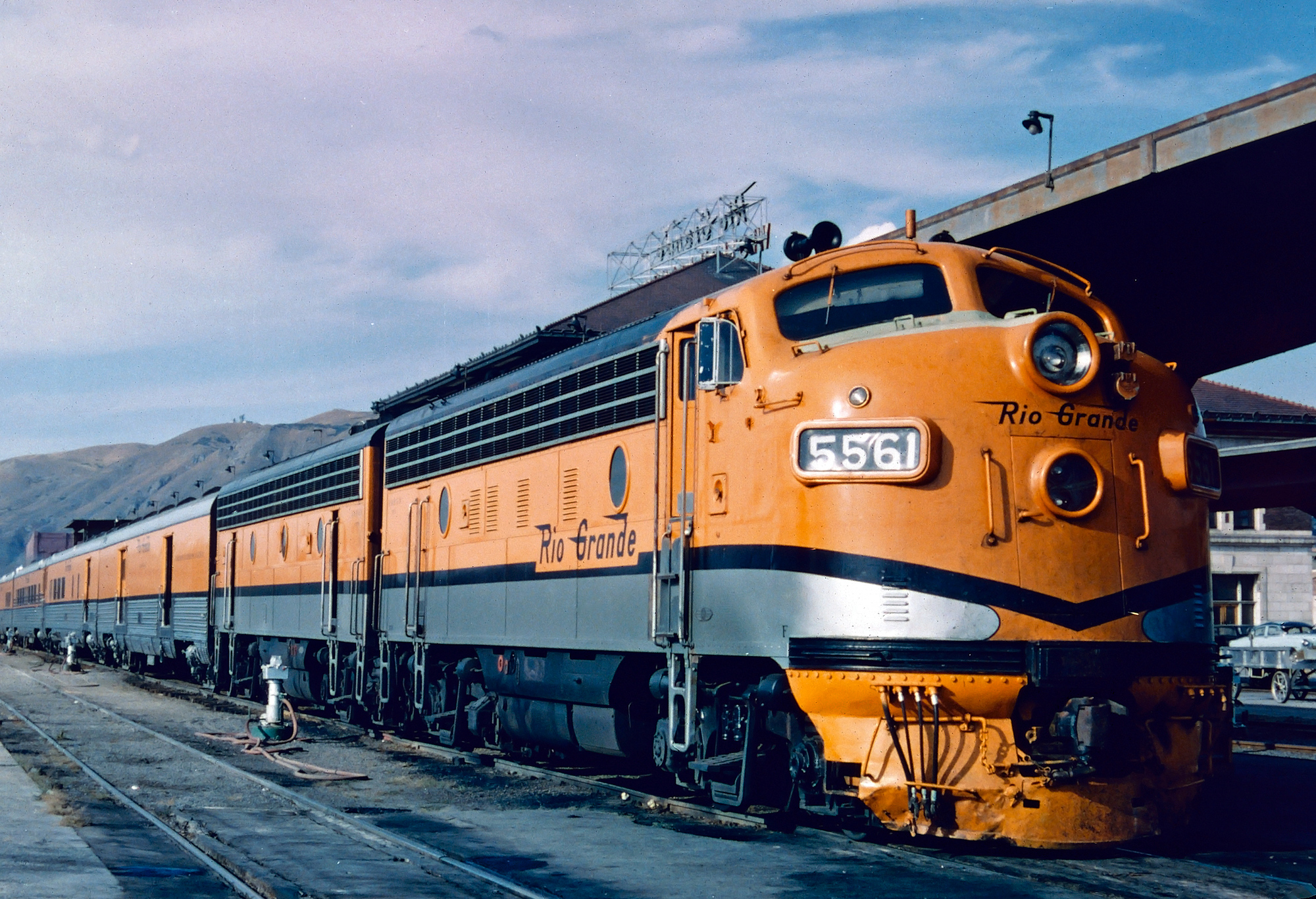 Rio Grande F7A #5561 in a different scene with the "Prospector" at Salt Lake City, Utah on September 9, 1966. Ed Fulcomer photo. American-Rails.com collection.
Final Years
One of the train's most striking features was its livery. In later years the Rio Grande featured a simpler passenger paint scheme of orange and silver with a single black pinstripe.  
However, originally, in the 1950s, this was much more ornate and consisted of Aspen Gold paint offset back stainless steel with black pinstripes that resembled the "cat whiskers" so well known on the Pennsylvania Railroad.
When the Prospector was powered by one of the Rio Grande's four Alco PA locomotives it was quite a sight and certainly ranks up there as one of the all time classic passenger liveries.
As rail travel patronage declined through the 1950s and 1960s it was perhaps inevitable that the train was doomed along with passenger rail industry in general. The train made its final trip on May 28, 1967 well before Amtrak took over intercity operations four years later.

Sources
Burns, A.J. and Dawson, Leslie. Official Guide Of The Railways And Steam Navigation Lines Of The United States, Porto Rico, Canada, Mexico, and Cuba, The. Volume 85.  Issue 3. Pages 770-776.  New York: National Railway Publication Company, 1952.
Griffin, James R. Rio Grande Railroad.  St. Paul: Voyageur Press, 2003.
Schafer, Mike and Welsh, Joe. Streamliners, History of a Railroad Icon. St. Paul: MBI Publishing, 2003.