The 
California Zephyr
Last revised: September 18, 2023
By: Adam Burns

Other trains may have been more luxurious but none could compare to the California Zephyr in the way of friendly service and breathtaking scenery.

Operated jointly by the Chicago, Burlington & Quincy (the Burlington Route); Denver & Rio Grande Western (Rio Grande); and Western Pacific the train traveled through some of the most spectacular scenery in the country.  

As a result it is not surprising the CZ continued to do well even even during rail travel's waning years after World War II.  
Following the CZ's cancellation as a through service in 1970, Rio Grande picked up the torch and operated a truncated version along its territory between Denver and Salt Lake City/Ogden as the Rio Grande Zephyr. 
Background
The RGZ remained in service for more than a decade until the D&RGW finally handed over the train to Amtrak during the early 1980s.  

The national carrier brought back the California Zephyr name and today it remains one of the most popular long distance trains in the country.
Photos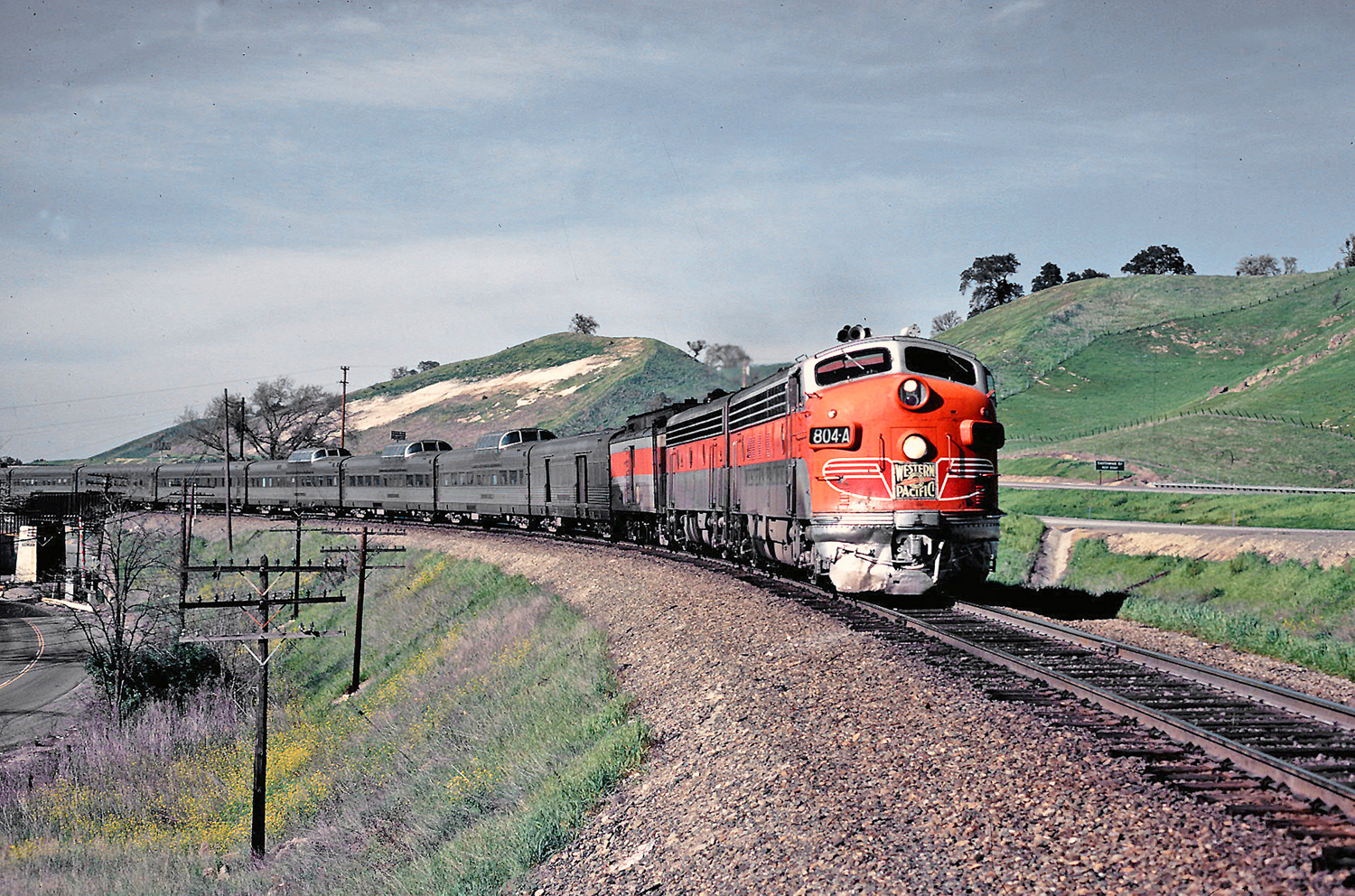 Just prior to the train's cancellation the "California Zephyr" is seen here operating west on the Western Pacific near Hearst, California in March of 1970. Drew Jacksich photo.
History
Mike Schafer and Joe Welsh note in their fabulous book, "Streamliners: History Of A Railroad Icon," that the California Zephyr had a "double beginning."  An argument could be made that it actually had a so-called "triple beginning" as two notable events preceded its inauguration.  
In 1934 the Burlington made a splash by deputing one of the first-ever streamliners, the Zephyr 9900 (also known as the Pioneer Zephyr) during April of 1934.  
The sleek, stainless-steel contraption was the first of its kind powered by a diesel engine and proved more successful, operationally, than UP's design.  
Both wowed the public and led to the Burlington christening an entire fleet of Zephyrs through the 1940s.  In 1939 the Golden Gate International Exposition opened on Treasure Island in San Francisco Bay.  
The CB&Q, Rio Grande, and Western Pacific subsequently came up with a plan to provide a through train for this event; known as the Exposition Flyer it traveled virtually the same route as the later California Zephyr albeit utilized largely heavyweight Pullman equipment and was steam powered.
At A Glance (1950)
Route

Chicago - Denver - Salt Lake City - San Francisco

Inauguration Date

March 20, 1949

Travel Time (1950)

50 Hours and 20 Minutes (Westbound)

50 Hours and 30 Minutes (Eastbound)

Distance

2,532 Miles

End Terminals

Union Station (Chicago)

3rd & Washington Street Station (Oakland)
The train entered service on June 10, 1939 and became so popular thanks to its scenic route the railroads agreed to continue its operation after the San Francisco event.  
Into the 1940s the Flyer gained diesel power and some lightweight equipment while the three lines contemplated revamping the entire service with new, streamlined cars and locomotives after the war (the Flyer remained in service until the CZ's inauguration in 1949). 
The Burlington led the charge, buffered by the success of its Zephyr fleet and new Vista-Domes first delivered by the Budd Company in 1947.  
According to, "The Art Of The Streamliner" (Bob Johnston, Joe Welsh, Mike Schafer), Budd designer John Harberson toured the CZ's proposed route, which passed through the Colorado Front Range, entered scenic Glenwood Canyon, worked its way along California's rugged Feather River Canyon, and finally wound through the rolling green hills of Altamont Pass before terminating in Oakland.  
He concluded that trainsets should feature no fewer than five dome cars, nearly unheard of at the time, for maximum viewing pleasure of the passengers.
Running on the Rio Grande, train #17, the "California Zephyr," hustles westward near Price, Utah on June 5, 1967. Gordon Glattenberg photo.
Individually, the three roads could not offer a flagship, transcontinental streamlined train such as the Santa Fe, Union Pacific, Southern Pacific, Great Northern, Northern Pacific, or even the Milwaukee Road.  The Burlington provided the longest stretch of unbroken territory reaching as far west as Denver.
The railroad was also the gateway to Chicago, the key to any successful long-distance passenger train; without large markets at each end point no train would garner considerable patronage and there was no bigger market than the Windy City.  
The Burlington understood this (as did all other western lines) and already worked with allying roads GN and NP to provide service from Chicago to the Pacific Northwest with popular trains like the North Coast Limited and Empire Builder.  
Consist (1952)
In a first within the industry, and perhaps only time it proved wildly successful, the California Zephyr was routed specifically as a scenic train.  It sacrificed speed for viewing and the concept proved a huge success.
In December of 1945 all three agreed on what was dubbed the California Zephyr. In 1947 they placed an order for six sets of stainless-steel cars from the Budd Company, all of which carried a western theme but with the prefix "Silver" as per Burlington's standards.  
As the authors point out in "Streamliners," each CZ trainset normally consisted of a baggage, three reclining-seat Vista-Dome coaches, a Vista-Dome dormitory-buffet-lounge, diner, four sleepers, and the Vista-Dome sleeper-lounge observation bearing the train's famous neon "California Zephyr" drumhead featuring the Golden Gate Bridge.

Officially, the new train debuted on March 20, 1949 when the first eastbound consist, train #18, departed from Oakland under the Western Pacific.  
---
Christening A Legend
A huge celebration took place on March 19, 1949 in San Francisco to officially dedicate the new California Zephyr.  The train's primary terminus in daily operation was Oakland with ferry service provided across the bay to San Francisco.  
However, for this special event the WP backed the train down an industrial spur through city streets to the Embarcadero where Mayor Leland Cutler, WP President H.A. Mitchell, and California Lieutenant Governor Goodwin Knight gave brief speeches.  The train was officially christened by Hollywood actress Eleanor Parker and a legend was born.  
The following day riders on the maiden trip were given corsages of orchids flown in from Hawaii while Edward Budd, Jr. himself, whose company had built the train's equipment, made the trip to Chicago.
---
It was immediately splashed as "The most talked about train in America" and despite its slower schedule the use of new lightweight cars and diesels enabled the CZ to sped up its running times from 60 hours, under the Exposition Flyer, to just 51 hours.

A rare color photo of the post-World War II transcontinental "Exposition Flyer," precursor of the "California Zephyr," posed 1.5 miles east of Moffat Tunnel (Colorado) led by a set of new FTs, circa 1946.
Historically, the CZ was also noteworthy as being the first-ever transcontinental train to run with dome cars.  To provide the very best scenic enjoyment, the train was scheduled so vacationers could enjoy the fabulous views through Colorado, Utah, Nevada, and California during daylight hours.  
Once again, Electro-Motive was contracted to provide the power as all three roads used a combination of the builder's popular E and F series cab model "covered wagons" as primary road power.  
Beyond the scenery, the CZ success was thanks to its friendly staff; passengers were treated warmly no matter if you were just a vacationer or a well-known celebrity (although the "rich and famous" tended to take other trains like the Super Chief and City of Los Angeles). 

---
The "Zephyrettes"
The "Zephyrettes" were a unique phenomenon during the "Silver Age" of streamlined rail travel.  Outside of the Burlington's network no other service duplicated what the California Zephyr offered in terms of friendly on-board staff members, akin to the present-day airline stewardesses.  
They traveled with the CZ from the very beginning and remained a fixture on-board until the very end during its last run on March 22, 1970.  The "Zephyrettes" held a combination of jobs from social director to tour guide and train nurse; essentially, they performed nearly any task requested by the train crew or passengers and always did so with a friendly smile.  
The idea for these hostesses came from CB&Q's Supervisor of Passenger Train Services, Velma McPeek.  It had first been tested on the Denver Zephyr and carried over to the CZ. As the book, "Streamliners," notes former "Zephyrette" Beaulah Ecklund (1964-1970) was welcomed back by Amtrak to host the first trip of the re-inaugurated California Zephyr in the summer of 1983.
---
And then, there were the "Zephyrettes," a distinctively Burlington creation; these hostesses were courtesy, friendly, and just plain nice young women that made a lasting impression on thousands of passengers.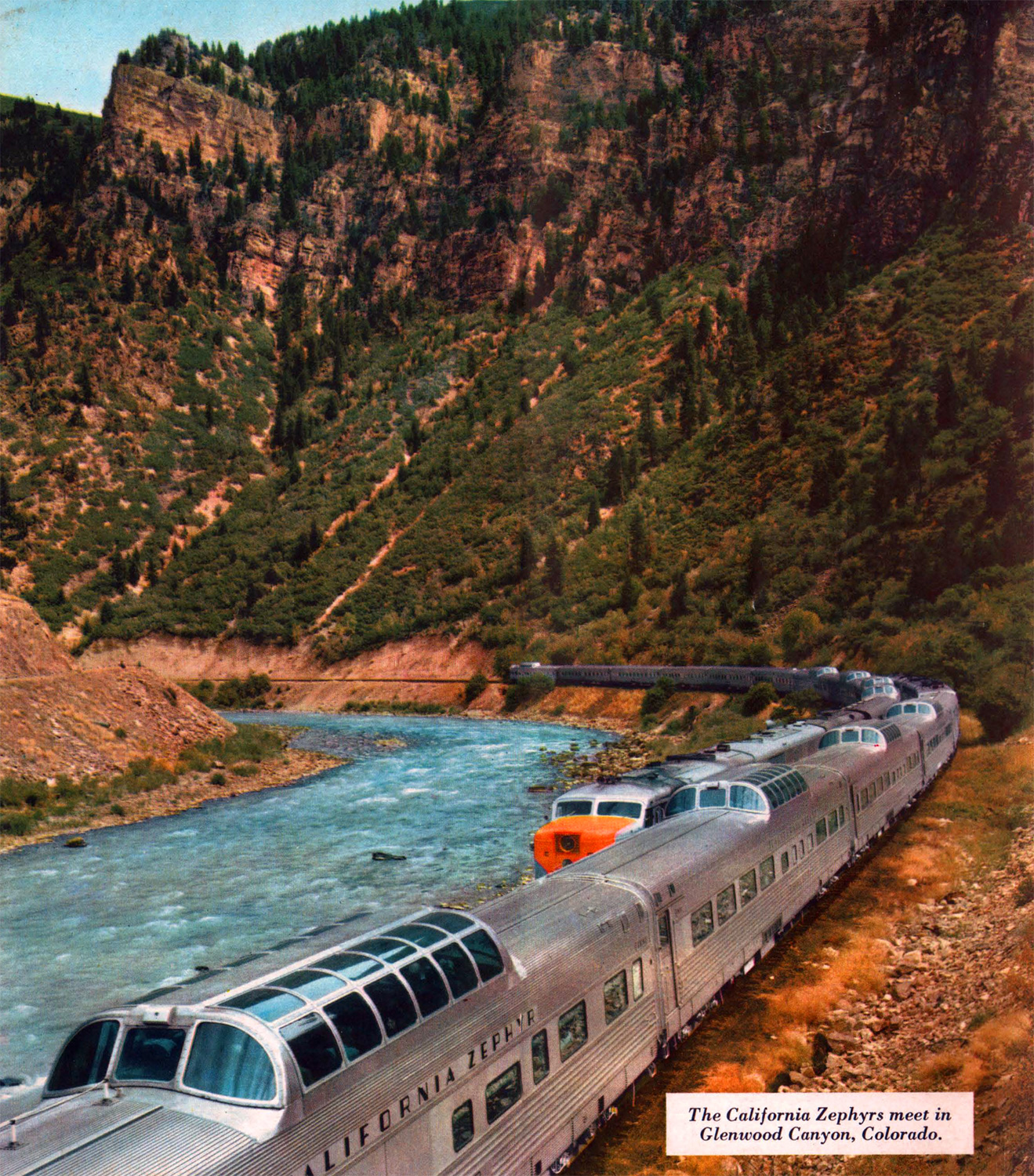 This spectacular scene shows the east and westbound "California Zephyr's" passing one another in Colorado's Glenwood Canyon along the Colorado River, likely taken during the late 1940s or early 1950s. Note the A-B set of Alco PA's.
Other attractive features included prerecorded music played into passenger's rooms and hall windows which allowed guests to enjoy views from both sides of the train.  
If their was one signature car aboard-train, similar in nature to the Super Chief's "Turquoise Room,"  it was the buffet-lounge.  Given the moniker of "Cable Car Room" it was dressed in murals and motifs from the Bay Area and even featured scale models of San Francisco's trademark cable cars.
---
Train Route
The original California Zephyr route began on the Chicago, Burlington & Quincy from Chicago to Denver before being passed off there to the Denver & Rio Grande Western at Union Station. 
From there travelers could enjoy the spectacular scenery of the Rocky Mountains while passing through the 6.2-mile Moffat Tunnel before reaching Salt Lake City at the Rio Grande Depot. 
They would then complete their journey over the Western Pacific which traveled through the equally stunning Feather River Canyon and over the rolling green hills of Altamont Pass.
Today's version of the train, maintained by Amtrak since 1983, largely still travels the previous route albeit now utilizes the former Southern Pacific/Central Pacific corridor (part of the original Transcontinental Railroad) over Donner Pass, west of Salt Lake City, to reach San Francisco.
Map (Original)
Along the way you will pass through such historic locations as Truckee, Norden, Yuba Pass, Emigrant Gap, Colfax, and Sacramento.  
Route Map (Amtrak Era)
The current California Zephyr also features a fraction of the original's services with "Superliners" throughout which double as a dome cars for maximum viewing above and sleeping quarters below.  The train's food service has been deemed acceptable but again falls short of the high quality meals 

---
According to the train's 1950 timetable it could complete a Chicago to San Francisco run in just over two days across the three different railroads; such scheduling was not bad considering its scenic routing and the fact that Santa Fe's "San Francisco Chief" made the run only about 3.5 hours faster (47 hours and 30 minutes).  
After only a few years of operation it was clear the railroads were on to something; annually the CZ averaged about 80% ridership and was often sold out during the summer.  In 1952 new cars were ordered to meet demand and sellouts persisted throughout 1965.
A Rio Grande PA/PB/PA set leads the demonstration train for the soon-to-be-launched "California Zephyr" near Draper, Utah on March 14, 1949. It officially entered service on March 20th. In the background looms Mt. Timpanogos. Otto Roach/Rio Grande photo.
The CB&Q and Western Pacific carried the train for much of its journey while the Rio Grande was in charge during perhaps the most scenic stretches across the Rocky Mountains between Denver and Salt Lake City.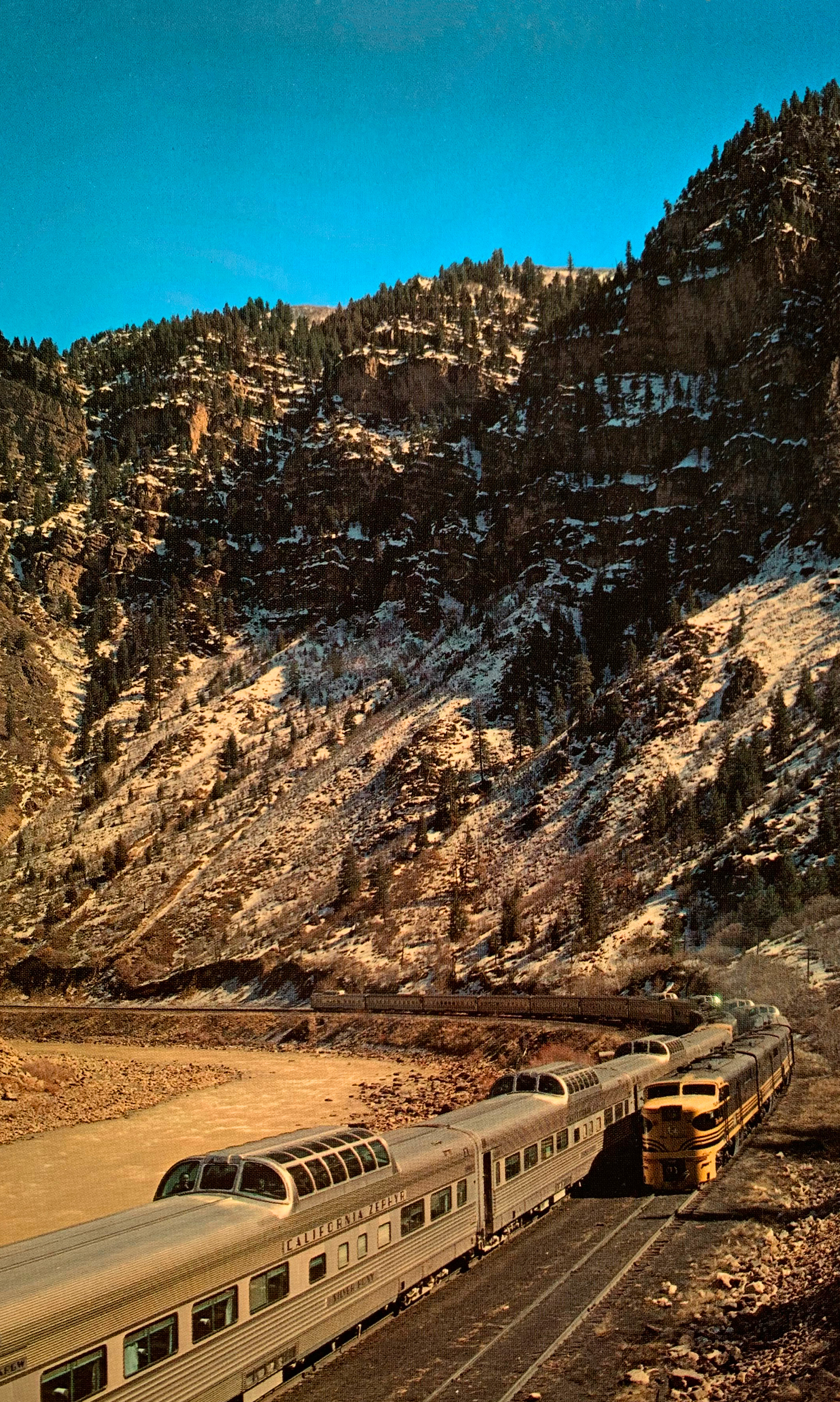 In this publicity photo, the Rio Grande's very first eastbound and westbound "California Zephyrs" meet within Colorado's Glenwood Canyon at Grizzly Siding on March 21, 1949. Otto Roach photo. Author's collection.
The downfall of the original CZ is an interesting story. While patronage remained incredibly high throughout the 1960s, particularly when compared to the severe declines experienced overall by the industry, costs to operate the train were increasing so rapidly that even strong, sustained ridership made it increasingly unprofitable to operate.  
The larger, and more financially stable carriers, Rio Grande and Burlington, could more or less weather the growing red ink although the much smaller Western Pacific could not.  During September of 1966 the WP petitioned the Interstate Commerce Commission to discontinue its leg.  
Read Down Time/Leave (Train #17/Burlington)
Milepost
Location
Read Up
Time/Arrive (Train #18/Burlington)
3:30 PM (Dp)
0.0

Chicago, IL (Union Station) (CT)

1:30 PM (Ar)
4:06 PM
38

Aurora, IL

12:44 PM
5:45 PM (Ar)
162

Galesburg, IL

10:58 AM (Dp)
5:50 PM (Dp)
162

Galesburg, IL

10:53 AM (Ar)
6:35 PM
206

Burlington, IA

10:07 AM
7:46 PM (Ar)
280

Ottumwa, IA

8:55 AM (Dp)
7:48 PM (Dp)
280

Ottumwa, IA

8:53 AM (Ar)
9:42 PM (Ar)
393

Creston, IA

7:02 AM (Dp)
9:45 PM (Dp)
393

Creston, IA

6:58 AM (Ar)
F 10:30 PM
443

Red Oak, IA

11:45 PM (Ar)
496

Omaha, NE

5:00 AM (Dp)
11:59 PM (Dp)
496

Omaha, NE

4:55 AM (Ar)
1:04 AM (Ar)
551

Lincoln, NE

3:55 AM (Dp)
1:19 AM (Dp)
551

Lincoln, NE

3:40 AM (Ar)
2:49 AM (Ar)
648

Hastings, NE

2:09 AM (Dp)
2:52 AM (Dp)
648

Hastings, NE

2:06 AM (Ar)
4:49 AM (Ar)
779

McCook, NE (CT)

12:14 AM (Dp)
3:55 AM (Dp)
779

McCook, NE (MT)

11:09 PM (Ar)
922

Akron, CO

9:13 PM
8:20 AM (Ar)
1034

Denver, CO (Union Station)

7:15 PM (Dp)
Time/Leave (Train #17/Rio Grande)
Milepost
Location
Time/Arrive (Train #18/Rio Grande)
8:40 AM (Dp)
1034

Denver, CO (Union Station)

7:00 PM (Ar)
1084

East Portal, CO (Moffat Tunnel)

12:35 PM (Ar)
1163

Bond, CO

3:12 PM (Dp)
12:38 PM (Dp)
1163

Bond, CO

3:09 PM (Ar)
2:01 PM
1219

Glenwood Springs, CO

1:35 PM
3:48 PM (Ar)
1309

Grand Junction, CO

11:35 AM (Dp)
3:58 PM (Dp)
1309

Grand Junction, CO

11:46 AM (Ar)
7:21 PM
1485

Helper, UT

8:36 AM
9:21 PM
1560

Provo, UT

6:32 AM
10:20 PM (Ar)
1604

Salt Lake City, UT

5:40 AM (Dp)
Time/Leave (Train #17/Western Pacific)
Milepost
Location
Time/Arrive (Train #18/Western Pacific)
10:40 PM (Dp)
1604

Salt Lake City, UT

5:20 AM (Ar)
1:55 AM (Ar)
1867

Elko, NV

11:17 PM (Dp)
1:57 AM (Dp)
1867

Elko, NV

11:15 PM (Ar)
4:01 AM (Ar)
2000

Winnemucca, NV

9:12 PM (Dp)
4:08 AM (Dp)
2000

Winnemucca, NV

9:05 PM (Ar)
5:38 AM
2094

Gerlach, NV

7:33 PM
6:42 AM
2160

Herlong, CA

6:26 PM
7:39 AM (Ar)
2211

Portola, CA

5:30 PM (Dp)
7:42 AM (Dp)
2211

Portola, CA

5:27 PM (Ar)
11:02 AM (Ar)
2327

Oroville, CA

2:14 PM (Dp)
11:05 AM (Dp)
2327

Oroville, CA

2:11 PM (Ar)
11:38 AM
2353

Marysville, CA

1:39 PM
12:28 PM
2393

Sacramento, CA

12:50 PM
1:34 PM (Ar)
2438

Stockton, CA

11:53 AM (Dp)
1:37 PM (Dp)
2438

Stockton, CA

11:51 AM (Ar)
4:00 PM
2525

Oakland, CA (3rd & Washington Street Station)

9:44 AM
4:15 PM (Ar)
2528

Oakland Pier, CA (PT)

9:30 PM (Dp)
4:30 PM (Dp)
2528

Oakland Pier, CA (PT)

9:20 PM (Ar)
4:50 PM (Ar)
2532

San Francisco, CA (Via Ferry)

9:00 PM (Dp)
There was strong public backlash from this attempt, which the ICC labeled a, "unique national asset."  A second try came in 1969 when the Rio Grande filed to discontinue its section but again the ICC rebuffed the idea.  
The commission finally relented a year later; in a ruling that came down on February 13, 1970 it allowed the WP to cancel its section but required the D&RGW and Burlington to continue operating a tri-weekly version of the CZ from Chicago to Ogden.  
In this panoramic publicity photo train #18, the eastbound "California Zephyr" and its many Vista-Domes, is operating over the Rio Grande as it skirts the Colorado River within picturesque Ruby Canyon during the 1960s.
From there passengers continuing westward could take Southern Pacific's/Union Pacific's City of San Francisco into the Bay Area.  

On March 20th the final, original California Zephyr's left Chicago and Oakland for the last time arriving at their destinations on March 22nd.  
Following its cancellation regional versions included Burlington's "California Service" (Chicago - Denver) and Rio Grande's Rio Grande Zephyr (Denver - Salt Lake City - Ogden).
Interestingly, while Amtrak had been setup in 1971 to operate all intercity passenger trains across the country the Rio Grande would not relinquish control of its Rio Grande Zephyr until the early 1980s.
---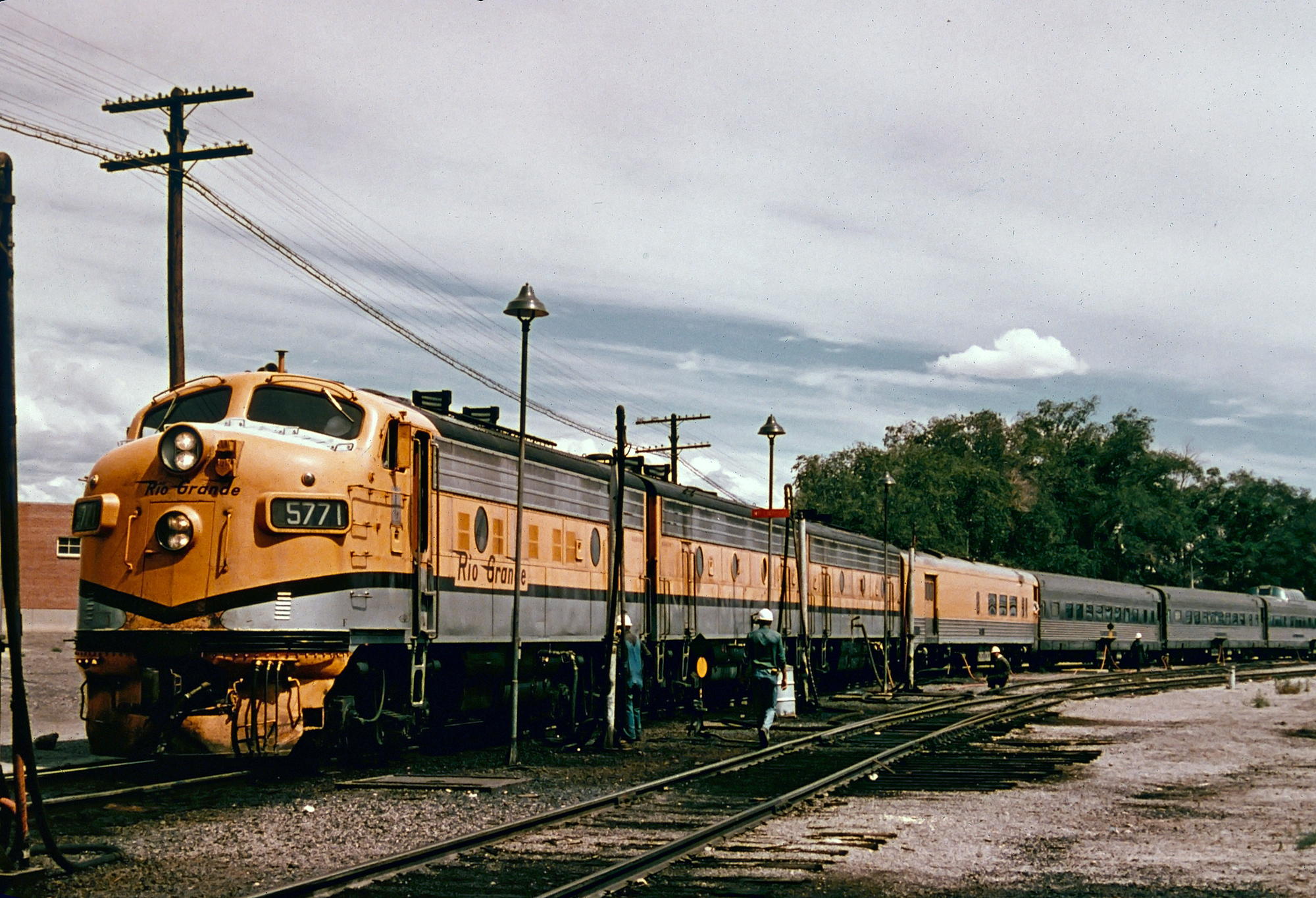 Rio Grande's "Rio Grande Zephyr," led by F9A #5771, is serviced in Grand Junction, Colorado on August 2, 1976. Carl Sturner photo. American-Rails.com collection.
Amtrak Era
It was at this time that Amtrak reinstated the train due to the original's popularity.   Its first 2,400-mile run (Chicago - San Francisco) occurred on April 23, 1983 although its route did not entirely follow the original. 
East of Salt Lake City the former Rio Grande and Burlington main lines are used.  However, west of that point the ex-Southern Pacific line is used which crosses Donner Pass (much of which is the original Central Pacific alignment, the western leg of the Transcontinental Railroad). 
While the reborn CZ may no longer feature streamlined equipment, "Zephyrettes," classic diesel locomotives on the head-end, or Vista-Domes it remains a very popular and respected train under Amtrak thanks largely to the corridor it travels across the West. 
Amtrak's California Zephyr also offers something the original never could, coast-to-coast service with vacation packages ranging from several hundred to several thousand dollars.  While somewhat expensive these trips are such a great way to see the country.  
Schedule (Amtrak): Effective As Of July, 2017
Read Down Time/Leave (Train #5/Daily)
Milepost
Location
Read Up
Time/Arrive (Train #6/Daily)
2:00 PM (Dp)
0.0

Chicago, IL (Union Station) (CT)

2:50 PM (Ar)
2:34 PM (Dp)
28

Naperville, IL

1:53 PM (Dp)
3:44 PM (Dp)
104

Princeton, IL

12:33 PM (Dp)
4:38 PM (Dp)
162

Galesburg, IL

11:41 AM (Dp)
5:25 PM (Dp)
205

Burlington, IA

10:36 AM (Dp)
5:59 PM (Dp)
233

Mount Pleasant, IA

9:54 AM (Dp)
6:53 PM (Dp)
279

Ottumwa, IA

9:09 AM (Dp)
8:09 PM (Dp)
359

Osceola, IA (Des Moines)

7:40 AM (Dp)
8:41 PM (Dp)
392

Creston, IA (Des Moines)

7:04 AM (Dp)
10:55 PM (Ar)
500

Omaha, NE

5:14 AM (Dp)
11:05 PM (Dp)
500

Omaha, NE

4:59 AM (Ar)
12:08 AM (Ar)
555

Lincoln, NE

3:26 AM (Dp)
12:14 AM (Dp)
555

Lincoln, NE

3:20 AM (Ar)
1:47 AM (Dp)
652

Hastings, NE (Grand Island)

1:42 AM (Dp)
2:34 AM (Dp)
706

Holdrege, NE

12:54 AM (Dp)
3:43 AM (Dp)
783

McCook, NE (CT)

11:49 PM (Dp)
5:05 AM (Dp)
960

Fort Morgan, CO (Sterling) (MT)

8:25 PM (Dp)
7:15 AM (Ar)
1038

Denver, CO (Union Station)

7:10 PM (Dp)
8:05 AM (Dp)
1038

Denver, CO (Union Station)

6:38 PM (Ar)
10:07 AM (Dp)
1100

Fraser-Winter Park, CO

3:50 PM (Dp)
10:37 AM (Dp)
1113

Granby, CO (Rocky Mountain National Park)

3:12 PM (Dp)
1:53 PM (Dp)
1223

Glenwood Springs, CO (Aspen)

12:10 PM (Dp)
4:10 PM (Dp)
1311

Grand Junction, CO

10:23 AM (Dp)
5:58 PM (Dp)
1417

Green River, UT

7:59 AM (Dp)
7:20 PM (Dp)
1488

Helper, UT (Price)

6:37 AM (Dp)
9:26 PM (Dp)
1563

Provo, UT

4:35 AM (Dp)
11:05 PM (Ar)
1608

Salt Lake City, UT (MT)

3:30 AM (Dp)
11:30 PM (Dp)
1608

Salt Lake City, UT (MT)

3:05 AM (Ar)
3:03 AM (Dp)
1871

Elko, NV (PT)

9:31 PM (Dp)
5:40 AM (Dp)
2013

Winnemucca, NV

7:08 PM (Dp)
8:36 AM (Dp)
2202

Reno, NV

4:06 PM (Dp)
9:37 AM (Dp)
2237

Truckee, CA (Lake Tahoe)

2:38 PM (Dp)
11:48 AM (Dp)
2301

Colfax, CA

12:21 PM (Dp)
12:57 PM (Dp)
2336

Roseville, CA

11:35 AM (Dp)
2:13 PM (Ar)
2353

Sacramento, CA

11:09 AM (Dp)
2:44 PM (Ar)
2367

Davis, CA

10:36 AM (Dp)
3:26 PM (Ar)
2411

Martinez, CA

9:54 AM (Dp)
3:59 PM (Ar)
2430

Richmond, CA

9:22 AM (Dp)
4:10 PM (Ar)
2438

Emeryville, CA (Connecting Bus Service Into/Out Of San Francisco)

9:10 AM (Dp)