Colorado Eagle

The Missouri Pacific was another classic fallen flag railroad that had an entire fleet of passenger trains with a common name. The MoPac's fleet became known as Eagles and have their beginnings thanks to the railroad's first such train known simply as the Eagle, which served St. Louis, Kansas City, and Omaha. Most of the Eagle fleet was regional in nature although two were long-distance in nature, the Colorado Eagle and Texas Eagle. The train was a joint operation with the Denver & Rio Grande Western, which, as the train's name implies allowed it to reach Denver. While the MoPac's Eagle fleet is well remembered for the areas it served it did not prove to be as successful as some of the West's other fabled trains such as the Santa Fe's Super Chief or the California Zephyr. Despite this, the fleet carried enough status that the Eagle name continues on under Amtrak today.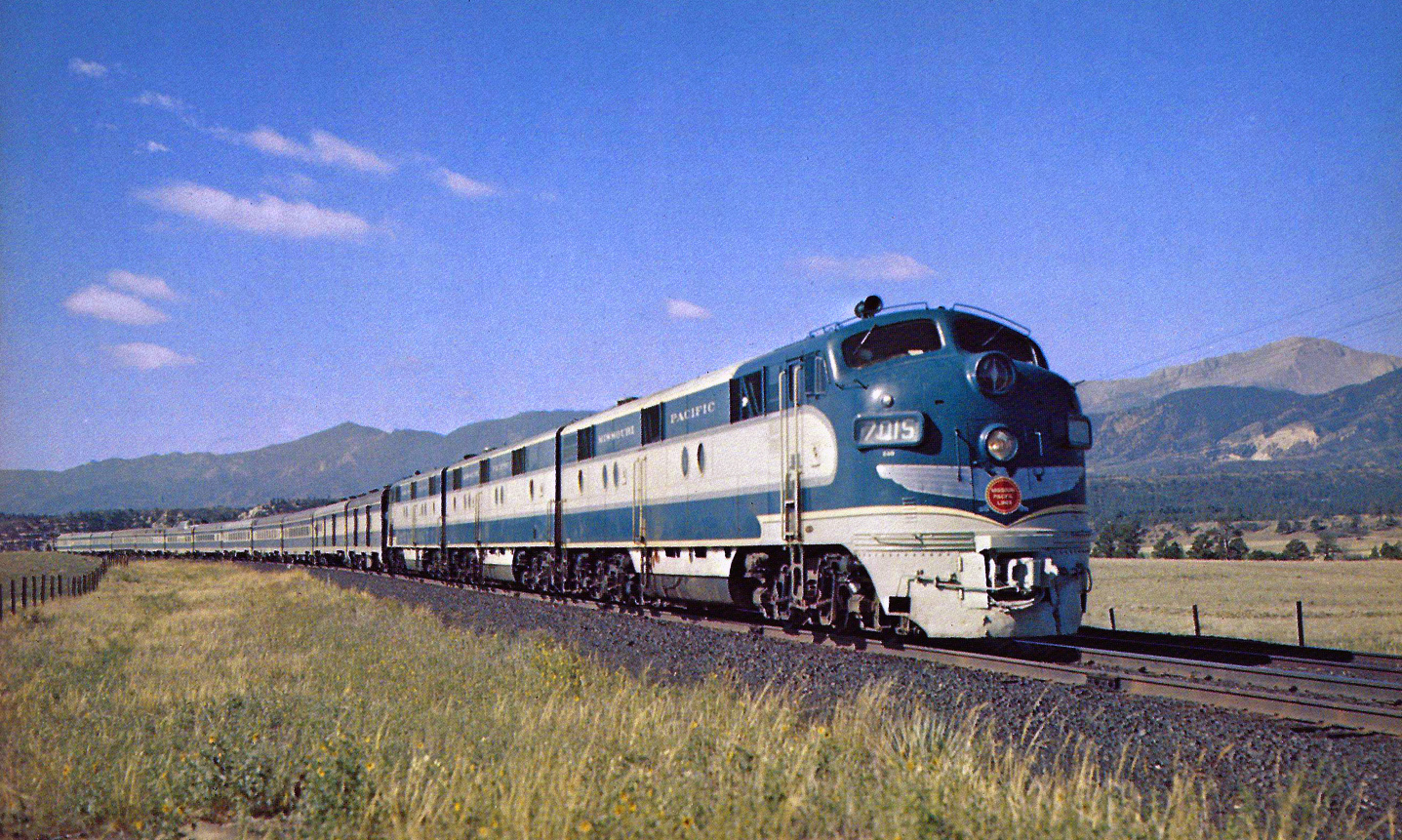 The Missouri Pacific, better known by railroaders and railfans as the "MoPac," was never a strong company financially but it was always a fighter. The railroad was the first to be built west of the Mississippi River and would eventually come under the Jay Gould empire, who owned scores of railroads in the 19th century. By also owning the Texas & Pacific Railway the Missouri Pacific reached nearly all of Texas's major cities and by the early 20th century it had stretched across 11 Midwestern and Western states from New Orleans and Memphis to Denver, Colorado and El Paso, Texas (without ownership of this railroad the MP could not have offered so many passenger train services into Texas and the surrounding regions). For all of the railroad's mileage and size this did not necessarily turn into substantial profits and earnings. Between its earliest beginnings and the mid-1950s the railroad witnessed over a half-dozen bankruptcies and reorganizations (the final one being in 1956).  For more reading about MoPac's passenger services please click here.
Being only regional in nature (it covered almost 500 miles connecting the three cities) the original Eagle was a six-car consist (with an EMD E3 diesel locomotive on the point for power), built by American Car & Foundry, made up of only diners, lounges, and a parlor-observation. The regional Eaglefleet reached across all stretches of the system and enabled passengers to connect to virtually any city in the Southwest or Midwest including Houston, Brownsville, San Antonio, Mexico City (yes, Mexico City!), Memphis, Tallulah (Mississippi), Denver, and Marshall, Texas (along with the aforementioned St. Louis, Kansas City, and Omaha).
The Missouri Pacific's Colorado Eagle was the very last of the fleet to get its wings when it was inaugurated in June of 1942. The train's route headed westward from St. Louis and once reaching Pueblo, Colorado, worked in tandem with the D&RGW to complete its journey to Denver. What the MoPac began as just the Eagle in March 1940 blossomed into an entire fleet of Eagles including the Aztec Eagle, Missouri River Eagle (which was the original Eagle renamed), Valley Eagle, Louisiana Eagle, and Delta Eagle.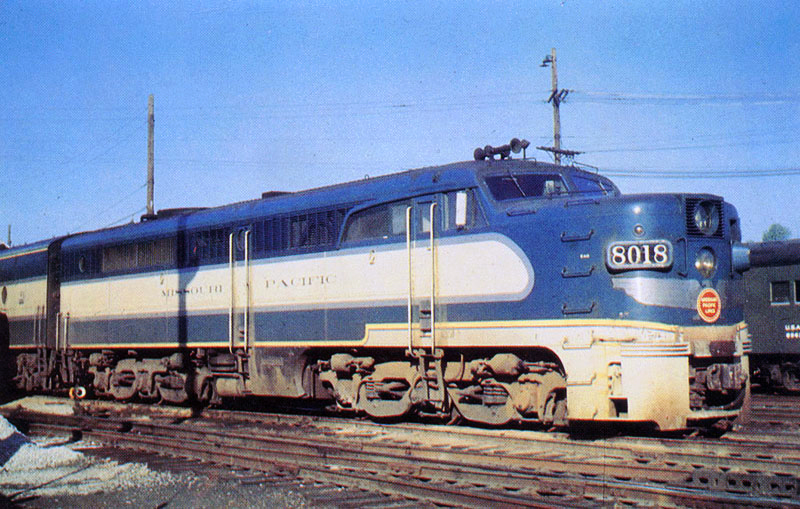 Like the rest of the fleet the Colorado Eagle featured dazzling designs on both its exterior and interior. All of this came from noted industrial designer Raymond Loewy (of Pennsylvania Railroad fame, he helped mold that railroad's classic GG1 electric locomotive into a thing of beauty) who gave the Eagle fleet one of the all time classic liveries, which was an intricate design of dark blue, light cream, silver, and yellow with a chromed eagle flanking the nose of diesel locomotives (for power the Missouri Pacific typically employed an EMC/EMD E series model such as the E6, E7, or E8). The interior of the train featured similar colors, particularly the train's noted dark blue in a consist featuring diner-lounges, standard sleepers, diners, and a grill/chair coach.
During these early years, Pullman was contracted to staff and serve the train.  The train also featured domes, known on the MoPac as "Planetarium Domes" (other railroads commonly referred to this car as the Vista-Dome).  The Colorado Eagle served another of the ultra-competitive Western corridors, St. Louis to Denver. No less than four other trains also served this region; the Rock Island's Rocky Mountain Rocket; Union Pacific's City of Denver; and the Chicago, Burlington & Quincy's Denver Zephyr and California Zephyr (although the latter was a through train to California operated in conjunction with the Denver & Rio Grande Western and Western Pacific).
According to the Missouri Pacific's 1944 timetable the westbound train (#11) would depart St. Louis Union Station at 4:15 pm, reaching the connection with the Rio Grande at Pueblo by 6:50 am the following morning (this was the western edge of the MP system). Of note, the MP also provided connecting service for the train between Wichita and Geneseo, Kansas. From Pueblo, the D&RGW would ferry the train into Denver Union Station in a few short hours, arriving there by 9:50 am. In total, the trip typically lasted just over 18 hours carrying an average train speed topping 55 mph (quite fast). 

Colorado Eagle Timetable
(The below Colorado Eagle timetable is dated effective July of 1944.  For a 1957 timetable and consist information regarding the train please click here.)

Read Down Time/Leave (Train #11/Missouri Pacific)
Milepost
Location
Read Up
Time/Arrive (Train #12/Missouri Pacific)
4:15 PM (Dp)
0.0

St. Louis, MO (Union Station)

12:15 PM (Ar)
4:22 PM
2.9

Tower Grove, MO

11:59 AM
4:39 PM
9.5

Webster Groves, MO

4:35 PM
12.9

Kirkwood, MO

11:47 AM
5:09 PM
51.1

Washington, MO

63.5

New Haven, MO

10:56 AM
6:15 PM (Ar)
121.5

Jefferson City, MO

10:00 AM (Dp)
6:17 PM (Dp)
121.5

Jefferson City, MO

9:58 AM (Ar)
6:43 PM
146.6

California, MO

9:31 AM
7:25 PM
185.1

Sedalia, MO

8:53 AM
7:52 PM
214.6

Warrensburg, MO

8:25 AM
8:22 PM
245.5

Pleasant Hill, MO

7:55 AM
8:50 PM
269.5

Independence, MO

7:30 AM
9:15 PM (Ar)
279.2

Kansas City, MO (Union Station)

7:15 AM (Dp)
9:25 PM (Dp)
279.2

Kansas City, MO (Union Station)

6:45 AM (Ar)
10:25 PM
338.1

Osawatomie, KS

5:32 AM
10:43 PM
359.1

Ottawa, KS

5:00 AM
11:09 PM
391.4

Osage City, KS

4:24 AM
11:48 PM
429.3

Council Grove, KS

3:50 AM
12:12 AM
455.9

Herington, KS

3:22 AM
12:59 AM
501.0

Lindsborg, KS

2:38 AM
1:37 AM (Ar)
529.2

Geneseo, KS

2:09 AM (Dp)
1:37 AM (Dp)
529.2

Geneseo, KS

2:09 AM (Ar)
2:13 AM (Ar)
563.2

Hoisington, KS

1:33 AM (Dp)
595.1

LaCrosse, KS

11:50 PM
F 3:11 AM
687.2

Scott City, KS

10:38 PM
711.8

Leoti, KS

10:13 PM
3:53 AM (Ar)
735.5

Horace, KS

9:52 PM (Dp)
3:58 AM (Dp)
735.5

Horace, KS

9:47 PM (Ar)
4:50 AM
790.5

Eads, CO

9:06 PM
5:42 AM
846.1

Sugar City, CO

8:16 PM
5:50 AM
851.2

Ordway, CO

8:11 PM
6:50 AM (Ar)
901.7

Pueblo, CO

7:25 PM (Dp)
Time/Leave (Train #4/Rio Grande)
Milepost
Location
Time/Arrive (Train #3/Rio Grande)
7:00 AM (Dp)
901.7

Pueblo, CO

7:15 PM (Ar)
F
932.9

Fountain, CO

F
7:50 AM
945.9

Colorado Springs, CO

6:25 PM
F
959.0

Husted, CO

F
F
964.9

Monument, CO

F
F
968.9

Palmer Lake, CO

F
F
973.9

Greenland, CO

F
F
977.8

Larkspur, CO

F
F
988.3

Castle Rock, CO

F
F
996.3

Sedalia, CO

F
F
1000.1

Louviers/Gann, CO

F
F
1010.5

Littleton, CO

F
9:30 AM (Ar)
1020.8

Denver, CO (Union Station)

4:45 PM (Dp)
The entire Eagle fleet reached across all stretches of the railroad and enabled passengers to connect to virtually any city in the Southwest or Midwest including Houston, Brownsville, San Antonio, Mexico City (yes, Mexico City!), Memphis, Tallulah (Mississippi), Denver, and Marshall, Texas (along with the aforementioned St. Louis, Kansas City, and Omaha). However, despite this vast network, the MoPac was plagued, like the rest of the railroad industry, with loss of ridership due to outside competition. In the early 1960s with losses mounting the MoPac had no choice but to downgrade or discontinue many of its regional services although fragments of them limped on until Amtrak took over intercity passenger train operations in 1971.  
---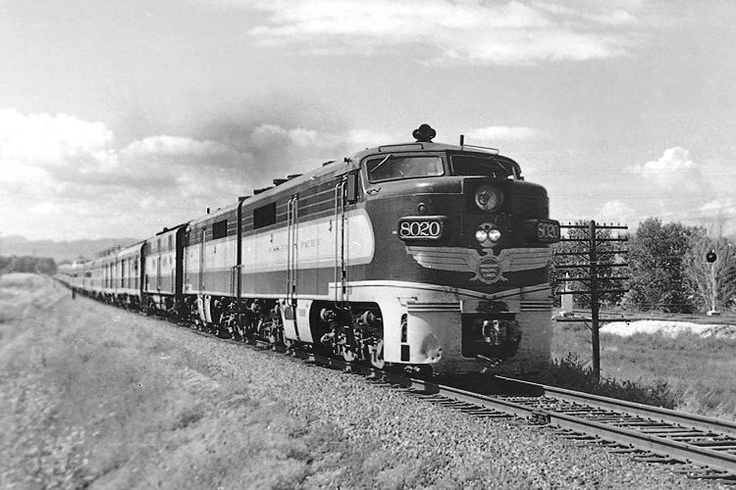 While most of the Missouri Pacific Railroad's Eagle was discontinued or significantly cut back during the late 1960s the Colorado Eagle was one of the first to see reductions in services. In early 1964 the train lost all-Pullman status and likewise had its dining services yanked. Just a few years later it had completely lost its name and was cut back to just Kansas City, no more than a regional run, and remained this way until the startup of Amtrak in 1971. During these final years the train typically employed a consist featuring nothing more than coaches. The slow decline of the streamliner can certainly be attributed to outside competition in the way of automobiles and airplanes although another major factor in the train's decline was the hotly contested market it served.
Home

›
Streamliners
› Colorado Eagle