The 
Pocahontas
Last revised: May 6, 2023
By: Adam Burns

While the Norfolk & Western's Pocahontas was not initially a streamlined operation it nonetheless operated alongside the railroad's flagship run, the Powhatan Arrow.

Once again, the N&W maintained the Native American theme as the train carried a nighttime schedule between Norfolk and Cincinnati (with an available connection to Columbus).
The N&W called its trains the Twin Team serving the Virginia coast and the duo proved surprisingly successful for a railroad which did not spend lavishly on passenger services. 
Still, the trains were nonetheless very handsome, adorned in a Tuscan Red livery and powered by the famous J Class 4-8-4 steamers. 
It took the Pocahontas more than 15 years to finally earn streamlined status (thanks to hand-me-downs from its big sister) and remained on N&W's timetable until the start of Amtrak in 1971. 
Into the diesel era the train partially lost its good looks when sleek steamers were replaced by boxy GP9's (pictured below).  Nevertheless, service remained quite good until the end.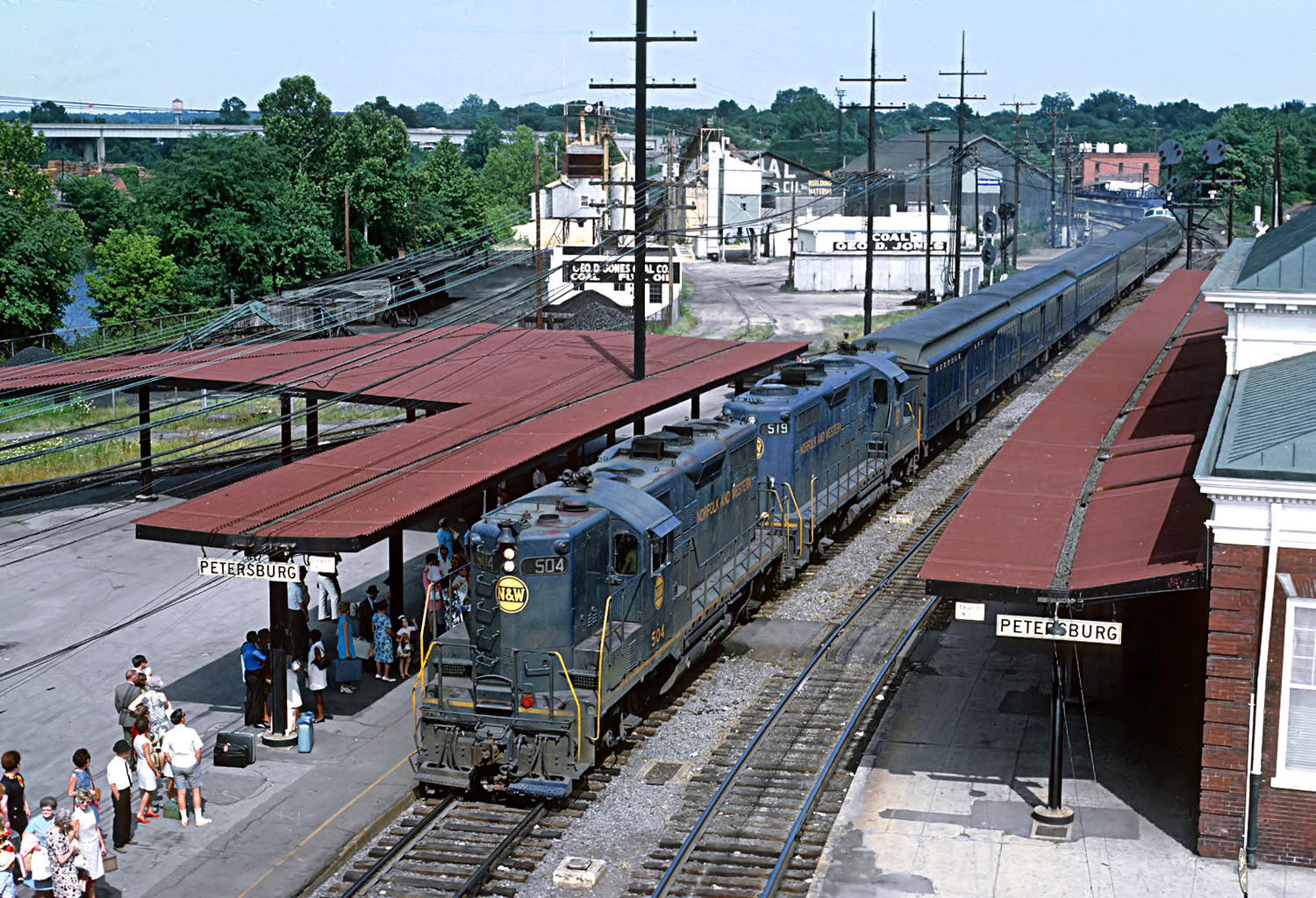 A pair of Norfolk & Western GP9's arrive at Petersburg, Virginia at around 4:10 PM with train #3, the westbound "Pocahontas," on the afternoon of June 14, 1970. The train's accommodations at this time still included a 10 roomette/6-double-bedroom sleeper (Roanoke-Cincinnati), diner/cocktail lounge (Norfolk-Williamson), reclining seat dome coach, and reclining seat coaches. Roger Puta photo.
History
On November 21, 1926 the Norfolk & Western added a new passenger train to its conservative fleet; dubbed the Pocahontas (or Pokey for short) the train, then the railroad's primary nighttime run between Norfolk and Cincinnati, replaced an earlier named consist called the Norfolk-Chicago Express (the train's numbers for the train renamed the same, #3 [westbound] and #4 [eastbound]). 
The N&W promoted the Pokey as "...a new fast train connecting the Midwest with the Carolinas and the Atlantic Coast."
While the railroad typically kept a low-key approach with its passenger services it did make a bit of public splash over its inauguration, holding a contest to find the appropriate name for the train (it would do the same thing 20 years later when inaugurating the Powhatan Arrow).
As might be expected the Pocahontas featured standard heavyweight equipment of the era with power provided by K Class 4-8-2 Mountains (in later years, some of these locomotives, notably the K-2's, featured elegant, semi-streamlining like the legendary Js.).
The early version of the train offered relatively familiar amenities of the day such as sleepers, diners (which offered classic Southern fried cooking), parlors, and standard coach service. As an added touch the rear heavyweight observation featured a brass railing with its rear porch overhang.
Finally, with through Pullman service offered passengers had the option of reaching such far away destinations as Chicago, Cleveland, and Detroit (before the N&W came to serve these cities directly in later years by acquiring such roads as the Wabash and Nickel Plate).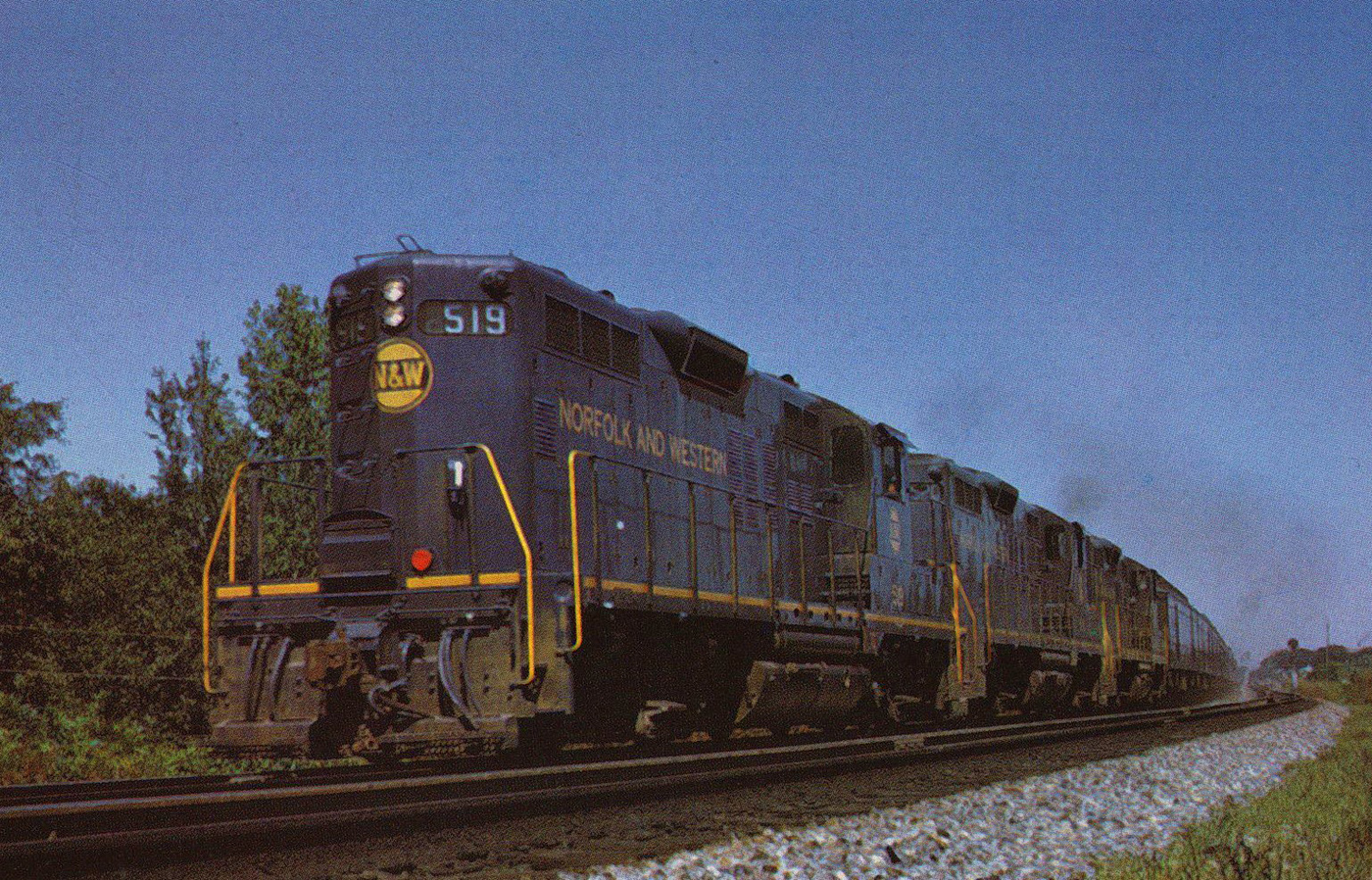 Norfolk & Western's diesel-era passenger service was quite utilitarian in appearance when compared to its beautifully streamlined 4-8-4's and 4-8-2's. Here, GP9's have the "Pocahontas" (featuring head-end equipment, a diner-lounge, reclining-seat coaches, and 10-6 sleeper) near Suffolk, Virginia in September of 1969. Bob Yanosey photo.
In 1946 the status of the Pocahontas was bumped a bit when the Norfolk & Western launched its first brand new streamliner, the daylight run of the Powhatan Arrow, using new equipment it had already ordered in 1941 before the start of World War II.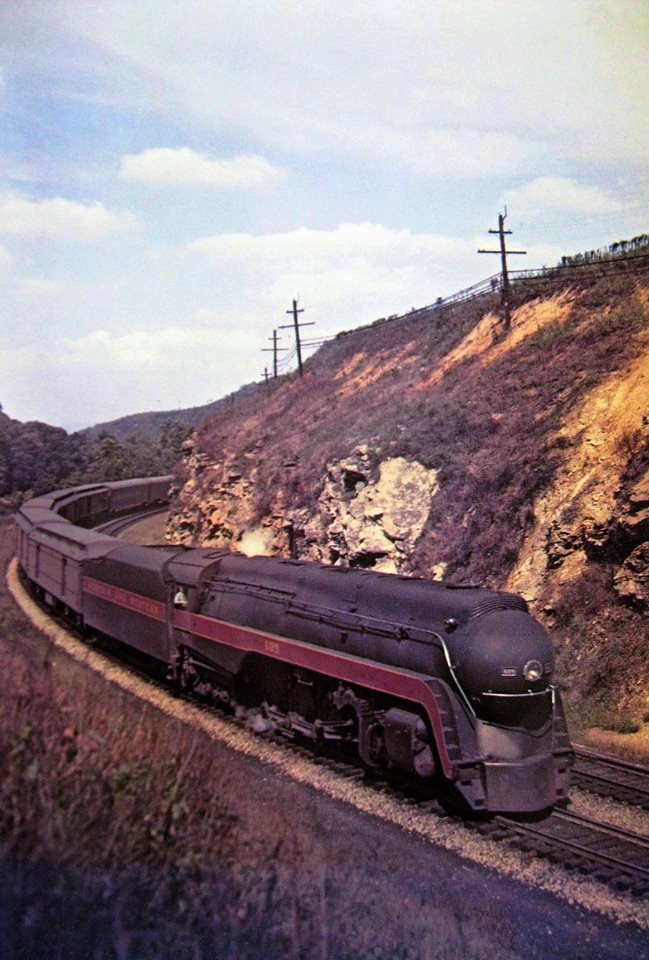 A Norfolk & Western publicity photo featuring 4-8-4 #609 (J) ahead of train #4, the eastbound "Pocahontas" (Cincinnati - Norfolk), near Walton, Virginia as it readies to climb the 1% grade to Christiansburg.
In 1949 the Powhatan was further upgraded when it received even more new streamlined equipment from Pullman-Standard allowing the "hand-me-downs" to be transferred to the Pocahontas. Initially, this older streamlined equipment did not allow the train to achieve full status as a streamliner.  
However, that changed after 1950 when the N&W completed its order of new sleepers from Pullman, allowing the Pokey to operate with complete sets of streamlined cars.
Timetable (December 15, 1969)
Read Down Time/Leave (Train #3)
Milepost
Location
Read Up
Time/Arrive (Train #4)
2:40 PM (Dp)
0.0

Norfolk, VA

5:10 PM (Ar)
3:15 PM
25.2

Suffolk, VA

4:23 PM
3:40 PM
54.2

Wakefield, VA

3:56 PM
3:46 PM
61.7

Waverly, VA

3:49 PM
4:10 PM (Ar)
84.2

Petersburg, VA (Fort Lee)

3:25 PM (Dp)
4:25 PM (Dp)
84.2

Petersburg, VA (Fort Lee)

3:00 PM (Ar)
5:03 PM
121.5

Blackstone, VA (Camp Pickett)

2:16 PM
5:25 PM
132.1

Crewe, VA

2:05 PM
5:52 PM
153.4

Farmville, VA

1:30 PM
6:11 PM
170.5

Pamplin, VA

1:05 PM
6:21 PM
181.4

Appomattox, VA

12:55 PM
6:55 PM (Ar)
205.6

Lynchburg, VA

12:25 PM (Dp)
7:05 PM (Dp)
205.6

Lynchburg, VA

12:10 PM (Ar)
7:30 PM
227.5

Bedford, VA

11:45 AM
8:10 PM (Ar)
255.6

Roanoke, VA

11:10 AM (Dp)
8:35 PM (Dp)
255.6

Roanoke, VA

10:35 AM (Ar)
9:20 PM
288.2

Christiansburg, VA

9:41 AM
F 10:10 PM
323.9

Pearisburg, VA

F 8:46 AM
F 10:15 PM
327.2

Narrows, VA

F 8:42 AM
11:15 PM (Ar)
356.5

Bluefield, WV

7:55 AM (Dp)
11:30 PM (Dp)
356.5

Bluefield, WV

7:40 AM (Ar)
12:04 AM
378.6

North Fork, WV

6:46 AM
12:28 AM
390.7

Welch, WV

6:28 AM
409.0

Iaeger, WV

6:00 AM
2:10 AM (Ar)
456.1

Williamson, WV

4:55 AM (Dp)
2:15 AM (Dp)
456.1

Williamson, WV

4:50 AM (Ar)
3:53 AM
529.1

Kenova, WV

3:01 AM
4:12 AM
541.1

Ironton, OH

2:41 AM
4:45 AM (Ar)
568.3

Portsmouth, OH

2:05 AM (Dp)
5:00 AM (Dp)
568.3

Portsmouth, OH

1:50 AM (Ar)
5:42 AM
602.6

Peebles, OH

1:08 AM
6:02 AM
617.3

Winchester, OH

F 6:14 AM
626.8

Sardinia, OH

F 12:39 AM
7:35 AM (Ar)
679.9

Cincinnati, OH (Union Terminal)

11:25 PM (Dp)
Just as with the Powhatan, the Pokey began using the N&W's legendary semi-streamlined J Class 4-8-4s after 1941, which replaced the fleet of Class K 4-8-2s.
The Js remained primary power for the two flagship trains until the N&W finally upgraded to Electro-Motive's GP9s for passenger service in 1958.
Consist (1952)
Interestingly, unlike most lines, which used streamlined diesels (such as Electro-Motive's E series) for their passenger trains the N&W never owned a single example (this can be explained by the fact that it continued operating steam locomotives until the late 1950s).

For many years both flagship runs sported the railroad's classic passenger livery of Tuscan red and black with Gold Leaf trim.
However, this changed somewhat in the early 1950s when the N&W attempted to reduce costs by switching to an imitation gold paint.
Timetable (1952)
---
Final Years
As it turns out, the railroad was one of just a very few lines to completely scrap its original passenger livery for an entirely different look (the Great Northern was another).
After the mid-1960s, under new ownership the railroad switched to a deep blue and gold livery powered by matching GP9s.
This scheme remained through the end of the railroad's time as a passenger carrier. Interestingly, the Pocahontas actually became the N&W's flagship train for the last few years until Amtrak took over intercity operations.
On May 23, 1969 the Powhatan was discontinued leaving the Pokey as the last remaining named train on the system (actually, the Interstate Commerce Commission required the railroad to at least maintain one intercity train).
It thus acquired the Powhatan's former equipment including Vista-Domes and streamlined diners. The Pokey made its final run on April 30, 1971.