The
Sunset Limited
Last revised: October 14, 2023
By: Adam Burns

The Southern Pacific Railroad is lauded for the vast and illustrious passenger services it offered over the years and the Sunset Limited was another of these fabled trains. 

Along with the Sunset other well-known "Espee" passenger trains include the legendary Daylights, the Lark, Imperial, Del Monte, Starlight, and the joint Rock Island Golden State among many others.
The Sunset was the Espee's premier train serving Los Angeles and the Deep South at New Orleans; the train remained part of the railroad's passenger fleet through the end and was retained by Amtrak when the carrier began service in 1971.
The Sunset, when inaugurated by the SP was the oldest named train in the country and today has long outlived its creator. 
For many years Amtrak had extended the Sunset from New Orleans into Florida's western panhandle.  However, after significant damage following Hurricane Katrina this leg to the Sunshine State has yet to be reinstated.
Much like the Pennsylvania Railroad was to the State of Pennsylvania so was the Southern Pacific to the State of California, an institutional icon.
Also just like the Pennsy the Southern Pacific (also referred to affectionately as the "Espee" by railfans and historians after its SP reporting marks) has such a history that entire libraries of books could be written on the differing aspects of the railroad.
Photos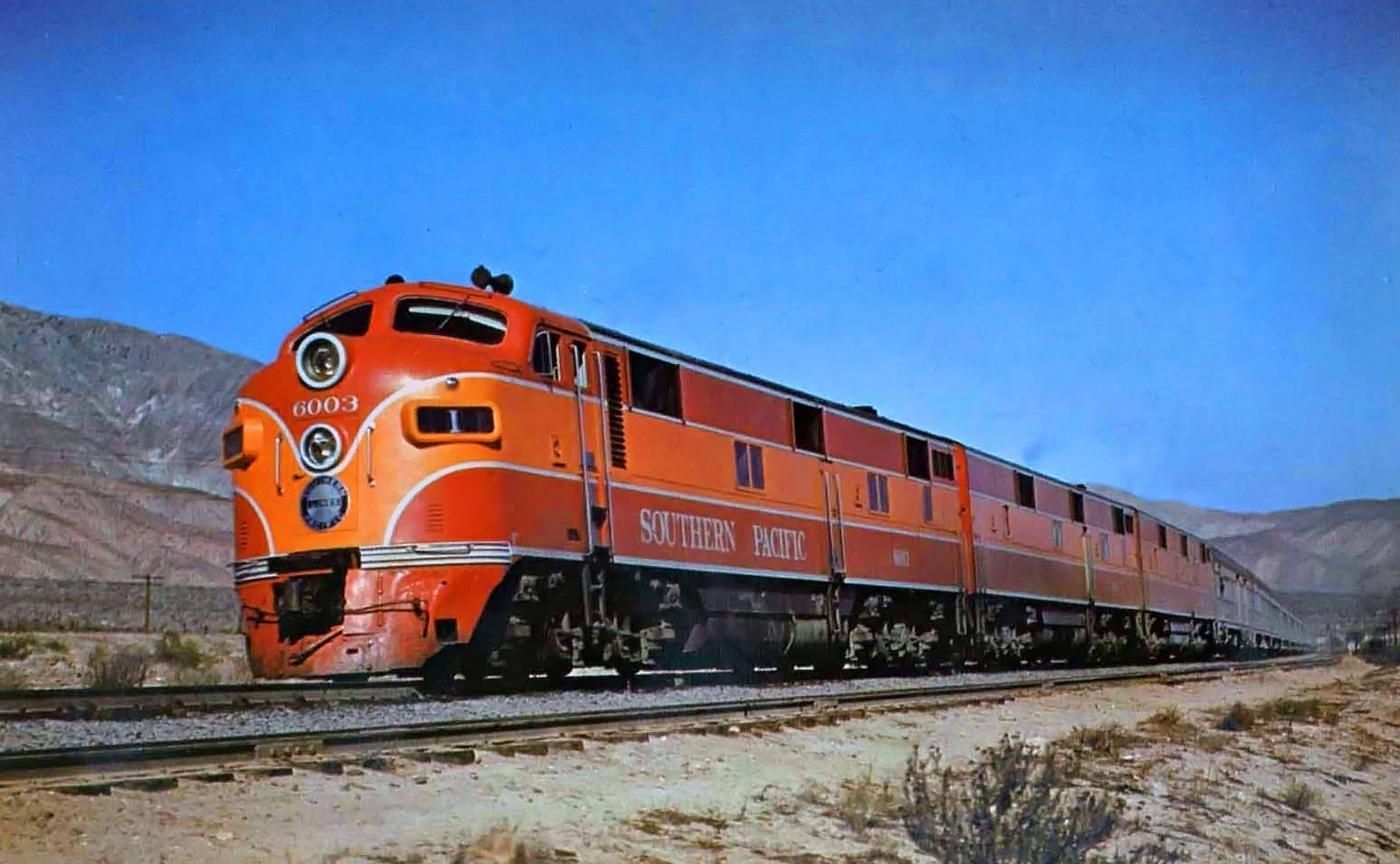 In this Southern Pacific publicity photo train #1, the "Sunset Limited" (New Orleans - Los Angeles) rolls westward up the eastern side of Beaumont Pass just outside of Palm Springs, California in the early 1950s.
History
The SP was by far our country's single largest classic railroad (i.e., before the modern-day merger movement began in the 1950s), spanning over 15,000 miles and reaching from the stretches of northwest Oregon to southeast Louisiana! 
The Southern Pacific Railroad has a whole host of renowned achievements it is credited with, far too many to go into detail here.
At A Glance
Route

New Orleans - Houston - San Antonio - El Paso - Los Angeles

Service History

1894 - April 30, 1971 (Southern Pacific)

May 1, 1971 - Present (Amtrak)

Train Numbers

1 (Westbound)

2 (Eastbound)

Travel Time

41 Hours (1950)

Distance

2,069 Miles

End Terminals

Union Station (New Orleans)

Terminal Passenger Terminal (Los Angeles)
However, to name a few it had three important main lines which continue as important arteries under Union Pacific today, the Overland Route (San Francisco to the Midwest), the Golden State Route (the Southwest to Kansas City), and the Sunset Route (the Pacific Coast to the Gulf Coast). 
The Southern Pacific's Sunset dates all of the way back to the 19th century when the railroad inaugurated the train in 1894 to serve a corridor across the vast reaches of its system, connecting Los Angeles with New Orleans. 
Southern Pacific FP7 #6451 is stopped at Tucson, Arizona with train #2, the eastbound "Sunset Limited," on the morning of October 14, 1970. Leo Caloia photo. American-Rails.com collection.
The Sunset remained a respectable, yet low-key operation on the SP for the first 50+ years of its life using heavyweight, non-streamlined equipment.  
However, this all changed in 1950 when the train was upgraded with shiny stainless-steel equipment from the Budd Company (over 70 new cars worth about $15 million), complete with EMD E-series diesel locomotives for power which were clad in the Espee's very popular Daylight livery (later, FP7s took over the train sporting the SP's red and gray livery).
The on board accommodations were quite classy although never quite as luxurious as rival western trains like the Super Chief or City of San Francisco.
Still, like its sister long distance train, the Shasta Daylight, the Sunset featured themes of the regions in which it operated such as a lounge car highlighting the French Quarter in New Orleans.
Southern Pacific's train #2, the eastbound "Sunset Limited" (Los Angeles - New Orleans), awaits departure from Track #11 at Los Angeles Union Passenger Terminal during an August evening in 1954. Don Sims photo.
While the inherent drawback of the Sunset was its rather bland scenery of flat deserts in the west and swampy buoys in the Deep South, the train still turned out to be quite successful, no doubt in part due to the fact that it reached New Orleans and covered a distance of over 2,000 miles!
Listed as trains #1 (westbound) and #2 (eastbound) on Southern Pacific's official timetable the Sunset could make the run between New Orleans and Los Angeles in 42 hours flat carrying an average train speed of nearly 50 mph.
Lunch
Dinner
---
1993 Crash
Amtrak's suffered its deadliest accident and the worst rail accident since 1958's Newark Bay Bridge disaster when the Sunset Limited derailed on the Big Bayou Canot Bridge near Mobile, Alabama on September 22, 1993. 
The incident was caused when the pilot of the towboat Mauvilla (owned by Warrior & Gulf Navigation of Chickasaw, Alabama) became lost in the fog and turned off an unnavigable channel of water.  
The towboat and its barges would eventually strike the Big Bayou Canot Bridge, knocking it three feet out of alignment.  At 2:53 AM, Amtrak's eastbound Sunset Limited immediately derailed; ultimately, 47 people were killed and 103 were injured.
---
The train was one of the few transcontinental southwest trains to offer through sleeper service as far east as New York City via the Southern Railway, Louisville & Nashville, West Point Route, and Pennsylvania Railroad. If one chose to reach NYC in this manner they could expect an additional 17-hour train ride.

Consist (1952)
A typical consist for the Sunset Limited included reclining-seat coaches, a lounge, several sleepers (due to through service), a diner, coffee shop lounge (later this was switched to a hamburger grill lounge), and round-ended observation.
By the late 1960s the SP was having the same problems with its Sunset as were virtually all other railroads with their long-distance, first class train; an increasing loss of ridership due to automobiles and airplanes.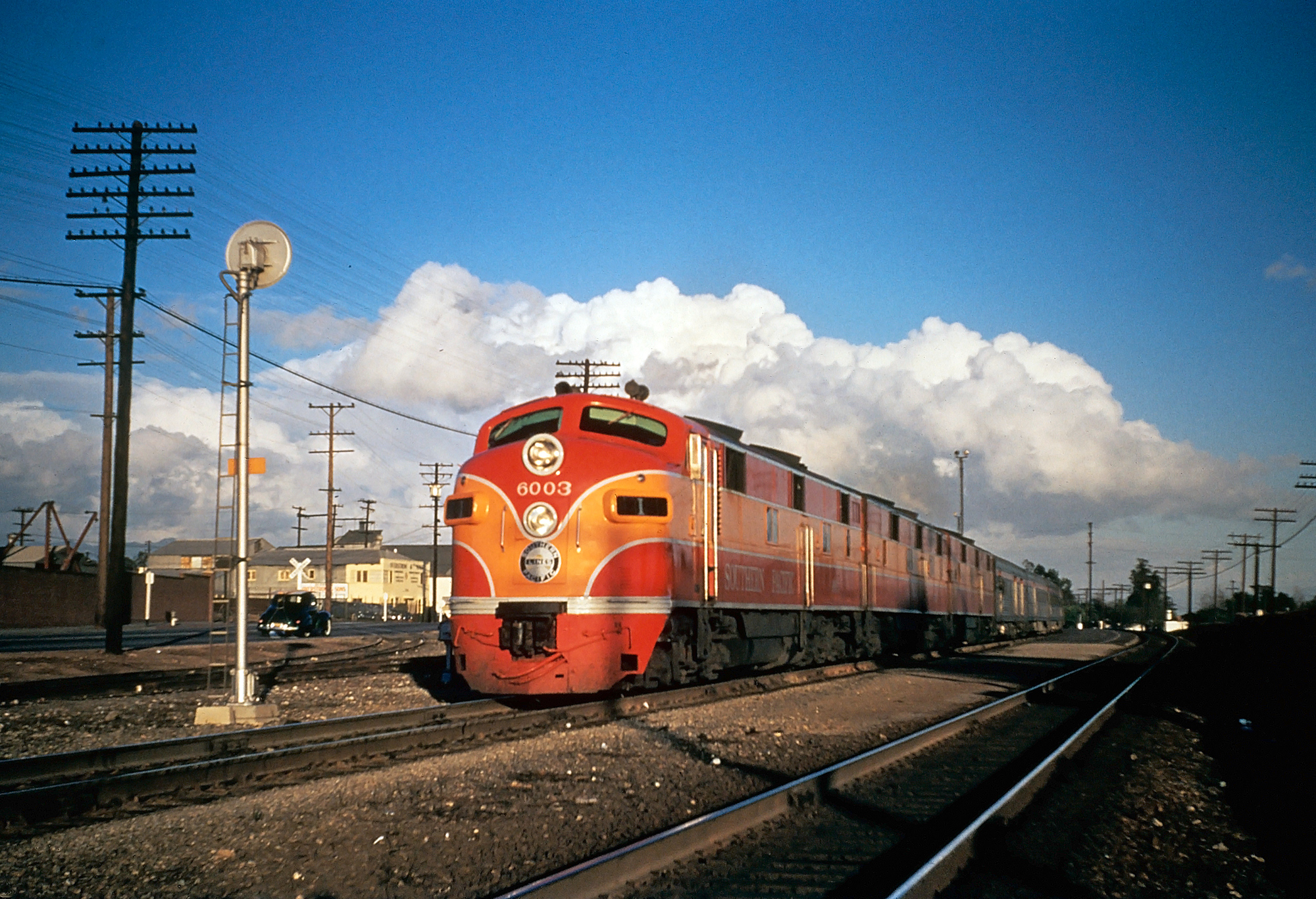 A handsome, A-B-B set of Southern Pacific E7's, led by #6003, near the conclusion of their 1,996-mile run from New Orleans with train #1, the westbound "Sunset Limited," in Los Angeles, circa 1955. Gordon Glattenberg photo. American-Rails.com collection.
While the train was briefly cut down to humiliating coach-only status (with a semblance of dining service) it was reinstated to tri-weekly status with lounges and sleepers upon the urging of the ICC.
During the final years the train featured baggage, reclining-seat coaches, and an automatic buffet car.  For more reading and information about the train please click here.
Timetable and Schedule (August, 1950)
Read Down Time/Leave (Train #1)
Milepost
Location
Read Up
Time/Arrive (Train #2)
12:30 AM (Dp)
0.0

New Orleans, LA (Union Station) (CT)

4:00 PM (Ar)
12:36 AM
2

New Orleans, LA (Carrollton Avenue)

3:50 PM
12:40 AM
6

East Bridge Junction, LA

3:42 PM
12:56 AM
11

West Bridge Junction, LA

3:26 PM
3:25 AM (Ar)
145

Lafayette, LA

1:00 PM (Dp)
3:30 AM (Dp)
145

Lafayette, LA

12:55 PM (Ar)
4:51 AM
219

Lake Charles, LA

11:36 AM
5:36 AM
257

Orange, TX

10:52 AM
6:00 AM
279

Beaumont, TX

10:28 AM
7:30 AM (Ar)
363

Houston, TX (Grand Central Station)

9:00 AM (Dp)
7:50 AM (Dp)
363

Houston, TX (Grand Central Station)

8:40 AM (Ar)
F
400

Rosenberg, TX

11:40 AM (Ar)
573

San Antonio, TX (Southern Pacific Station)

4:45 AM (Dp)
11:55 AM (Dp)
573

San Antonio, TX (Southern Pacific Station)

4:30 AM (Ar)
2:55 PM (Ar)
743

Del Rio, TX

1:30 AM (Dp)
3:05 PM (Dp)
743

Del Rio, TX

1:10 AM (Ar)
792

High Bridge, TX

5:45 PM (Ar)
871

Sanderson, TX

10:40 PM (Dp)
5:55 PM (Dp)
871

Sanderson, TX

10:30 PM (Ar)
7:42 PM
962

Alpine, TX

8:46 PM
8:14 PM
988

Marfa, TX (CT)

8:14 PM
11:10 PM (Ar)
1184

El Paso, TX (MT)

3:20 PM (Dp)
11:40 PM (Dp)
1184

El Paso, TX (MT)

3:00 PM (Ar)
3:25 AM (Ar)
1401

Douglas, AZ

11:05 AM (Dp)
3:32 AM (Dp)
1401

Douglas, AZ

11:00 AM (Ar)
3:57 AM
1423

Bisbee Junction, AZ

F 10:31 AM
5:45 AM (Ar)
1524

Tucson, AZ

8:25 AM (Dp)
5:55 AM (Dp)
1524

Tucson, AZ

8:10 AM (Ar)
F 7:40 AM
1621

Chandler, AZ

F 6:27 AM
F
1629

Mesa, AZ

F
8:20 AM (Ar)
1645

Phoenix, AZ

5:50 AM (Dp)
8:35 AM (Dp)
1645

Phoenix, AZ

5:40 AM (Ar)
11:40 AM (Ar)
1818

Yuma, AZ (MT)

2:35 AM (Dp)
10:55 AM (Dp)
1818

Yuma, AZ (PT)

1:15 AM (Ar)
F 12:02 PM
1884

Niland, CA

F 11:49 PM
12:58 PM
1940

Indio, CA

10:57 PM
F 1:35 PM
1968

Palm Springs, CA

F 10:26 PM
F
1989

Beaumont, CA

3:00 PM
2012

Colton, CA

9:22 PM
3:30 PM
2037

Pomona, CA

F 8:50 PM
4:05 PM
2063

Alhambra, CA

8:18 PM
4:30 PM (Ar)
2069

Los Angeles, CA (Union Passenger Terminal)

8:00 PM (Dp)
---
Amtrak
Needless to say, during these last days before Amtrak the Southern Pacific had all but given up on passenger service, a sad end to a once proud tradition on the railroad.
The Sunset remained under this light setup until Amtrak, when the carrier kept the train as part of its new system.
Today, the Sunset Limited remains a popular train under Amtrak although its regard has diminished somewhat after the carrier has chosen not to reinstate the train's original route (under Amtrak) to Tallahassee, Florida for unknown reasons after
Hurricane Katrina had knocked out the line for some time. it remains to be seen whether Amtrak will eventually reinstate the train's service all of the way to Florida as it was one of the carrier's most popular under such a routing.