The 
Golden State
Last revised: June 12, 2023
By: Adam Burns

The Southern Pacific and Rock Island teamed up in the late 1940s to field their own Chicago–Los Angeles streamliner named the Golden State, a long-running partnership between that dated back to the early 20th century.

The streamlined version featured all lightweight equipment with fine on-board amenities. However, the train was never as well known as others in the hotly contested LA – Chicago corridor traveling territory not as scenic as the Super Chief, City of Los Angeles, or California Zephyr.  
As such, the Golden State had trouble effectively holding its own against stronger competition. 
Still, for twenty years it did its best in this cutthroat region until the Espee and Rock Island finally gave up on the train in the late 1960s.  Today, both the Golden State, and the railroads, which hosted it are but a memory.
Photos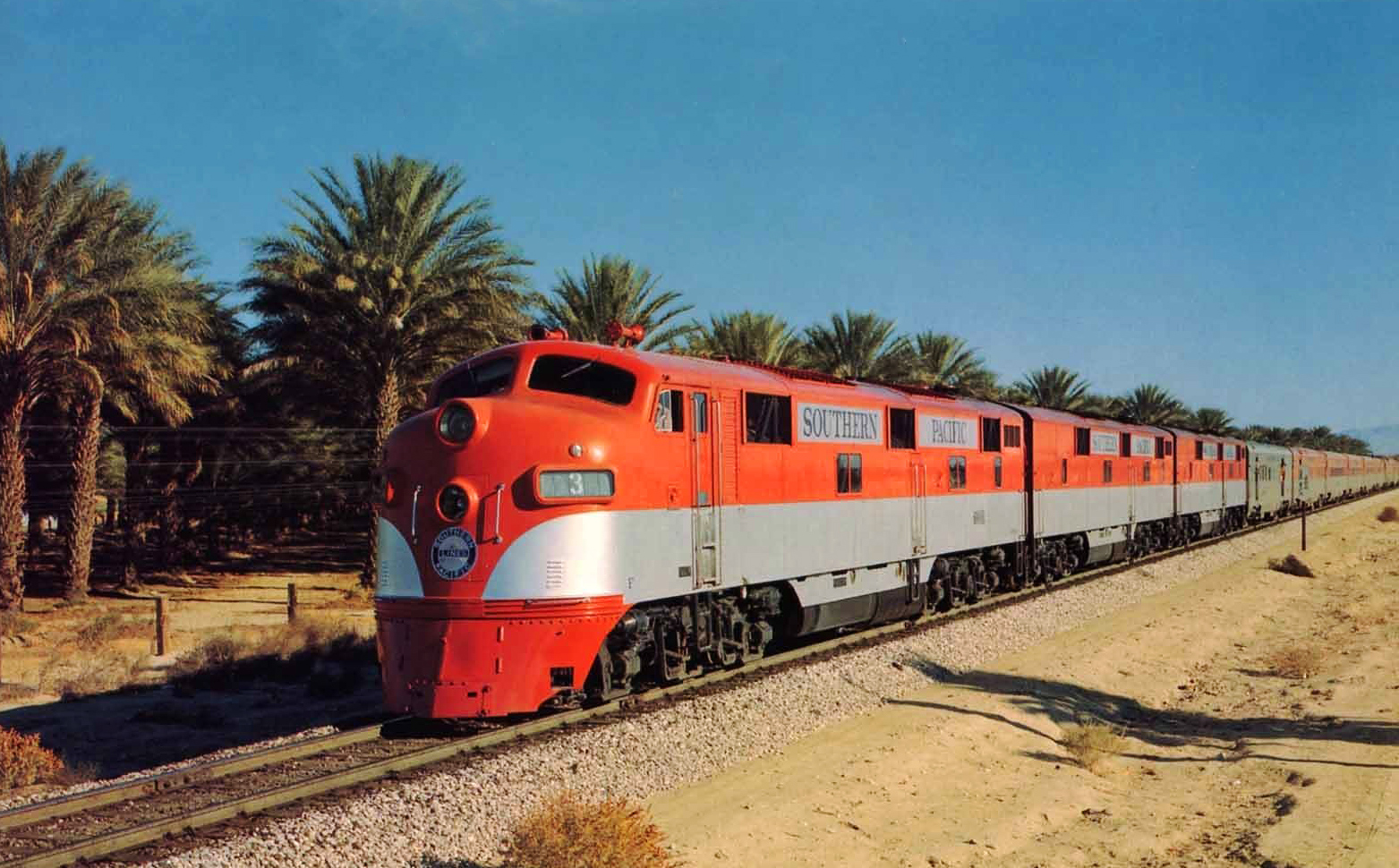 A Southern Pacific publicity photo featuring train #3, the westbound "Golden State," staged near Indio, California, led by an A-B-B set of E7's in January of 1948.
History
The Golden State dates back to 1902 when it was then known as the Golden State Limited.  The train ran seasonally, powered by traditional steam locomotives and carried standard, heavyweight cars. 
Back then, the Rock interchanged with the El Paso & North Eastern at Tucumcari, New Mexico via its Golden State Route. 
The EP&NE went on to become a subsidiary of the El Paso & Southwestern (EP&SW), which itself was later fold into the much larger Southern Pacific.  
The SP would go on to abandon much of the EP&SW, except for its Tucumcari - El Paso main line which became part of the "Golden State Route" in conjunction with the Rock Island.
According to Mike Schafer and Joe Welsh's book, "Streamliners:  History Of A Railroad Icon" the Golden State Limited had a tumultuous early career and wasn't always on the timetable. 

It remained a seasonal train until the 1930s when the two partners began upgrading its services by adding a barber shop, valet, air-conditioning (then an entirely new technology), and showers.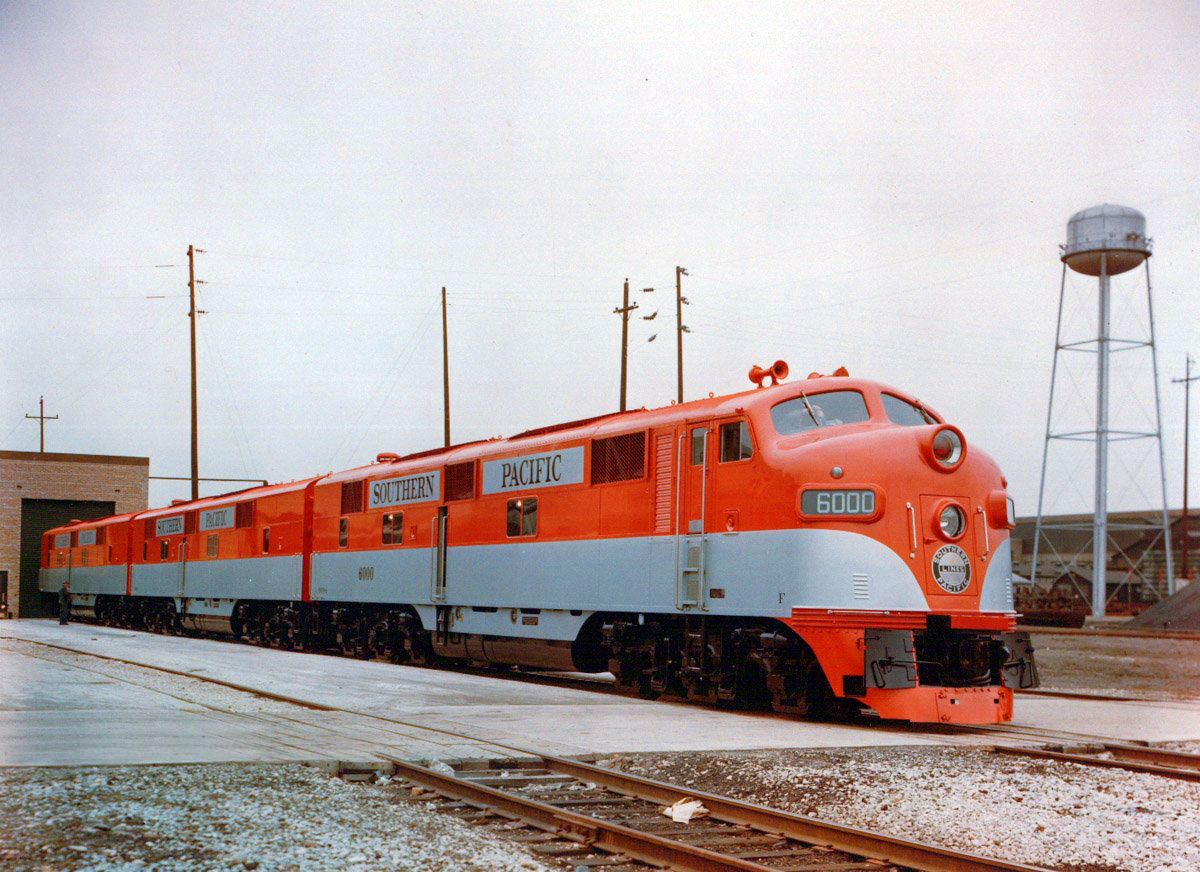 An A-B-B set of Southern Pacific's new E7's adorned in the "Golden State" livery following their completion in April, 1947.
Just prior to the train's complete makeover it boasted its first lightweight equipment directly after World War II, receiving a 4-compartment/4-double bedroom/2-drawing room sleeper and a 6-section/6-roomette/4-double bedroom sleepers. 
Both were Pullman built and serviced.  To further enhance the train, Rock Island chipped in a trio of Budd Company  lightweight diners. 
Hoping to more effectively compete against the Santa Fe and Union Pacific, Rock Island and SP went all out and completely reequipped the train.  In the process of doing so it was renamed as simply the Golden State (the Limited was dropped in 1947). 
By January, 1948 it was ready to roll, and thanks to a strong marketing effort the train caught the public's attention.  New equipment came from both Pullman and Budd along with a batch of lightweight cars from the never-launched Golden Rocket, another transcontinental train once planned by the two railroads. 

At A Glance
Route

Chicago - Kansas City - Tucumcari, New Mexico - Los Angeles

Inauguration Date

November 2, 1902 (Seasonal Golden State Limited Until 1910)

Dates Of Operation (As Streamliner)

January, 1948 - April 8, 1968

Travel Time

46 Hours and 15 Minutes (1952)

Distance

2,340 Miles

End Terminals

La Salle Street Station (Chicago)

Union Passenger Terminal (Los Angeles)
The upgraded Golden State boasted on-board features that included (along with air conditioning and showers) reclining seat coaches, diners, a coffee shop lounge-diner, club lounge, sleepers, and even a barbershop, running on a 46-hour schedule between Chicago and Los Angeles. 
It carried five sleepers; one between New York-Los Angeles, another serving Chicago-Phoenix, two from Chicago to Los Angeles, and finally one between St. Louis-Los Angeles. 

Read Down Time/Leave (Train #3/Rock Island)
Milepost
Location
Read Up
Time/Arrive (Train #4/Rock Island)
10:15 PM (Dp)
0.0

Chicago, IL (La Salle Street Station) (CT)

11:30 AM (Ar)
10:25 PM
6

Englewood, IL (Union Station)

11:15 AM
F
40

Joliet, IL (Union Station)

F
F
114

Bureau, IL

F 9:23 AM
F
179

Moline, IL

F
1:35 AM (Ar)
181

Rock Island, IL

8:10 AM (Dp)
1:40 AM (Dp)
181

Rock Island, IL

8:00 AM (Ar)
F 1:47 AM
183

Davenport, IA

F 7:50 AM
F
210

Muscatine, IA

F
F
231

Columbus Junction, IA

F
F
292

Muscatine, IA

F
F
334

Centerville, IA

F
8:25 AM (Ar)
510

Kansas City, MO (Union Station)

1:10 AM (Dp)
8:40 AM (Dp)
510

Kansas City, MO (Union Station)

12:55 AM (Ar)
9:50 AM
579

Topeka, KS

11:35 PM
11:25 AM (Ar)
661

Herington, KS

10:10 PM (Dp)
11:30 AM (Dp)
661

Herington, KS

10:05 PM (Ar)
F
707

McPherson, KS

F
12:50 PM
735

Hutchinson, KS

8:37 PM
2:00 PM
787

Pratt, KS

7:40 PM
4:05 PM (Ar)
919

Liberal, KS

5:30 PM (Dp)
4:10 PM (Dp)
919

Liberal, KS

5:25 PM (Ar)
5:57 PM (Ar)
1030

Dalhart, TX

3:44 PM (Dp)
6:01 PM (Dp)
1030

Dalhart, TX

3:40 PM (Ar)
7:45 PM (Ar)
1124

Tucumcari, NM (CT)

2:05 PM (Dp)
Time/Leave (Train #3/Southern Pacific)
Milepost
Location
Time/Arrive (Train #4/Southern Pacific)
7:00 PM (Dp)
1124

Tucumcari, NM (MT)

12:59 PM (Ar)
10:06 PM (Ar)
1311

Carrizozo, NM

9:43 PM (Dp)
10:11 PM (Dp)
1311

Carrizozo, NM

9:38 PM (Ar)
12:35 AM (Ar)
1455

El Paso, TX (Union Station)

7:10 PM (Dp)
12:55 AM (Dp)
1455

El Paso, TX (Union Station)

6:50 PM (Ar)
4:40 AM (Ar)
1671

Douglas, AZ

3:05 PM (Dp)
4:45 AM (Dp)
1671

Douglas, AZ

3:00 PM (Ar)
F 5:10 PM
1693

Bisbee Junction, AZ

F 2:37 PM
7:00 AM (Ar)
1794

Tuscon, AZ

12:28 PM (Dp)
7:10 AM (Dp)
1794

Tuscon, AZ

12:18 PM (Ar)
F
1859

Coolidge, AZ

F
F
1892

Chandler, AZ

F
9:29 AM (Ar)
1915

Phoenix, AZ

10:03 PM (Dp)
9:42 AM (Dp)
1915

Phoenix, AZ

9:53 PM (Ar)
12:49 AM (Ar)
2089

Yuma, AZ (MT)

6:44 PM (Dp)
12:59 AM (Dp)
2089

Yuma, AZ (PT)

6:34 PM (Ar)
2:07 PM
2154

Niland, CA

5:21 PM
F 3:02 PM
2211

Indio, CA

F 4:25 PM
3:36 PM
2239

Palm Springs, CA

F 3:55 PM
4:51 PM
2283

Colton, CA

2:51 PM
5:21 PM
2308

Pomona, CA

2:22 PM
5:55 PM
2334

Alhambra, CA

1:48 PM
6:15 PM (Ar)
2340

Los Angeles, CA (Union Passenger Terminal)

1:30 PM (Dp)
The Golden State's equipment also fielded its own special livery that included red/orange and silver.  This same scheme was used on SP's locomotives while the Rock stuck with its "Rocket" scheme of crimson, silver, and white. 
Overall, it was quite a handsome train and certainly matched its competitors in regards to the services provided.
Consist (Rock Island, 1952)
Consist (Southern Pacific, 1952)
Unfortunately, the streamliner lacked many things that made it difficult to effectively compete:
Firstly, it traveled through some of the blandest scenery in the west (flat deserts or farmland), losing a valuable marketing opportunity to attract, and retain, travelers.


Secondly, the train featured no Vista Domes or general dome cars to give patrons impressive 360-degree panoramic views.


Thirdly, the Golden State could not offer schedules as fast as other trains like the Super Chief which could speed across the desert and Heartland in just over 39 hours.  
This last issue was partially the result of the Tucumcari connection, although certainly not the primary issue.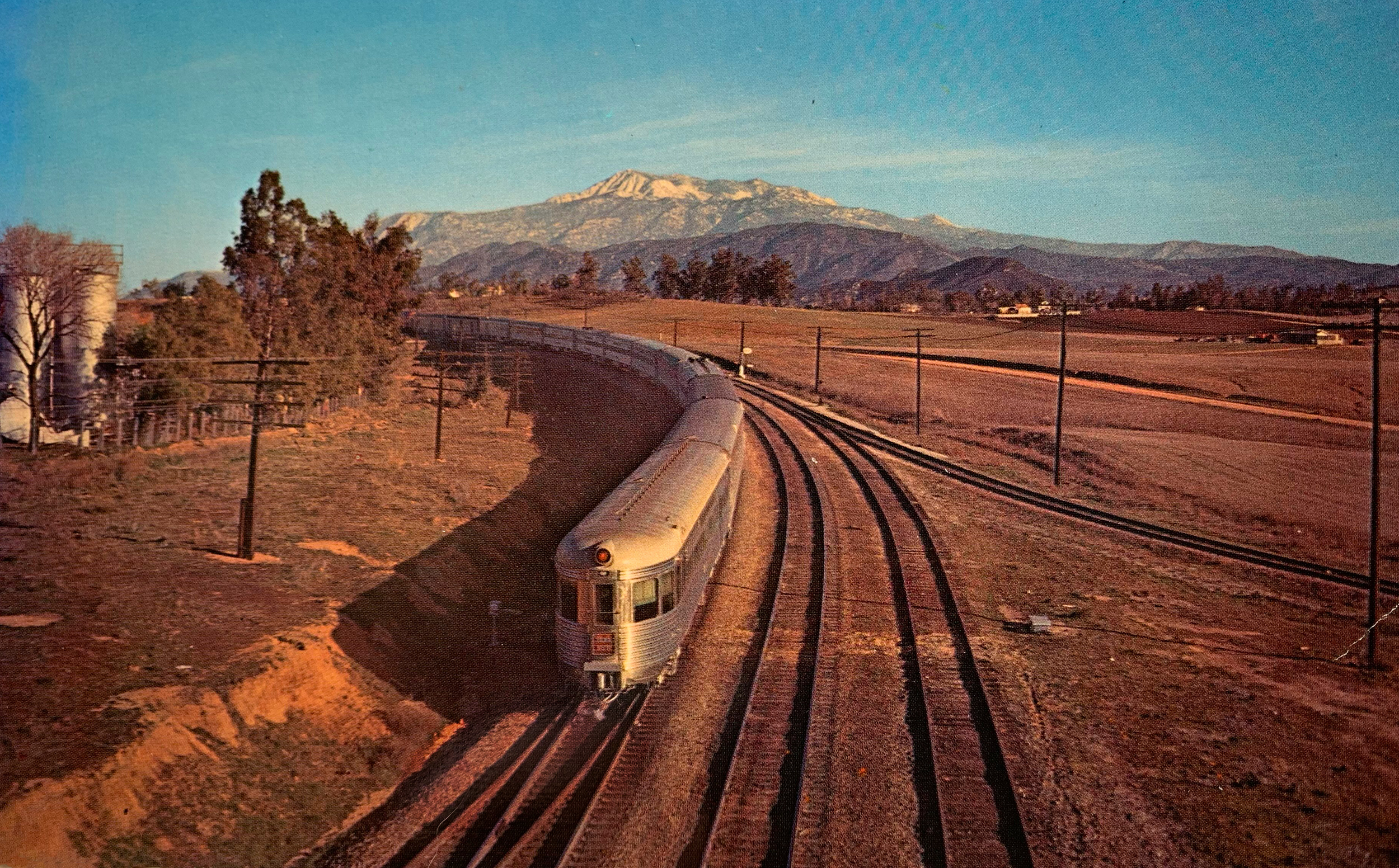 In this publicity photo Southern Pacific's train #3, the westbound "Golden State," rolls over Beaumont Pass in California; in the background looms Mt. San Jacinto. Author's collection.
The streamliner's only true marketing ploy was its ability to provide through sleeper service to New York, in conjunction with the Pennsylvania and New York Central.  It also offered available connecting service from St. Louis via Kansas City during the Rock Island portion of the trip.  
Timetable (1952)
Listed as Trains #3 (westbound) and #4 (eastbound) on the railroads' official timetables, the Golden State would depart Chicago just after 10 pm and arrive at Tucumcari, New Mexico at nearly 8 pm the following day.
The SP would continue the train westward and into Los Angeles by just after 6 pm the day after. Considering the Golden State had to make additional stops that other western transcontinentals did not, it still carried a respectable average train speed of 52 mph. 
---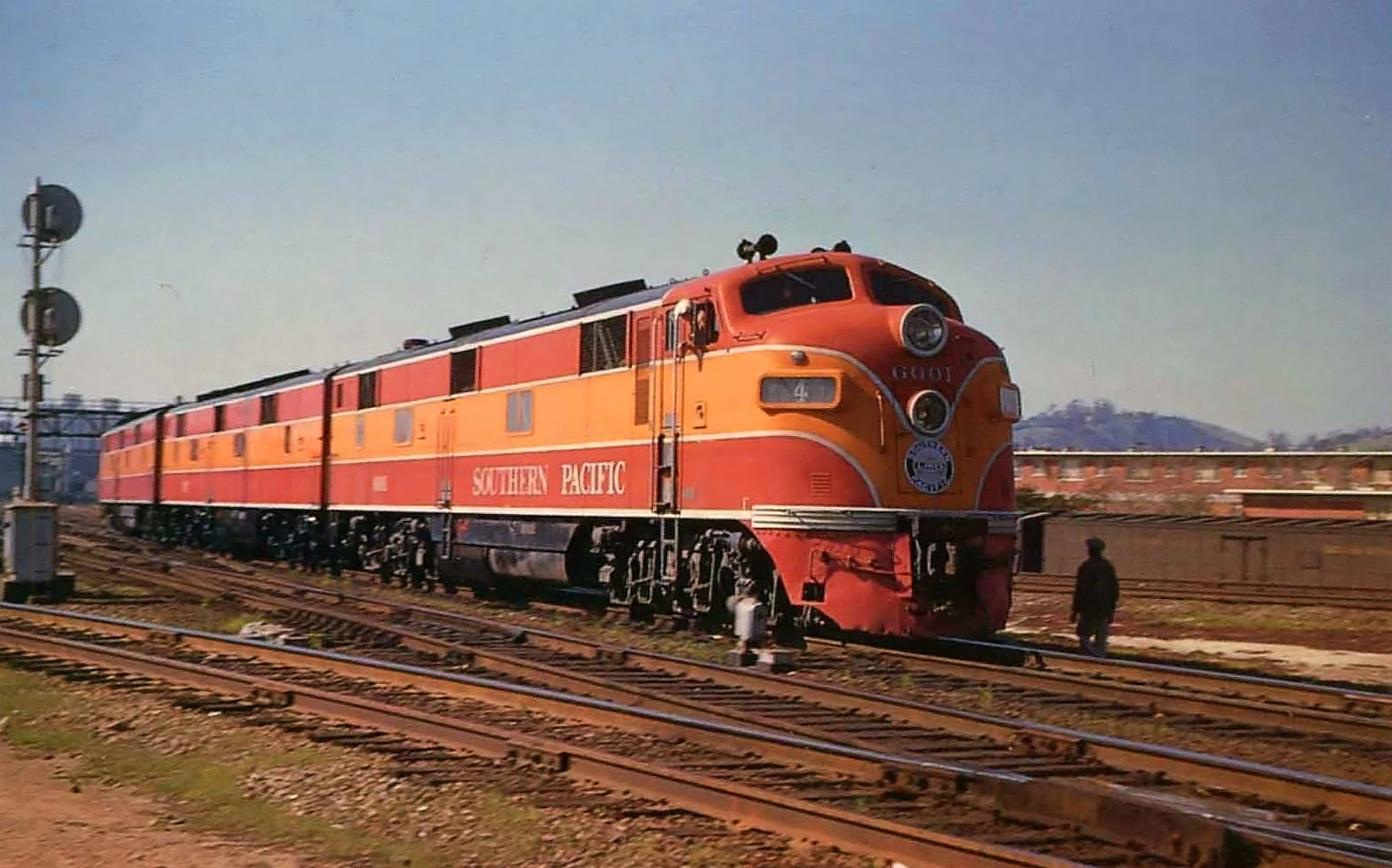 Southern Pacific E7's will power the eastbound "Golden State" readying to depart Los Angeles on February 7, 1955. This was the transcontinental service to and from Chicago operated in conjunction with the Rock Island. Joe Stark photo.
Final Years
As patronage declined so did the service, which by the late 1960s included only a few dismal cars pulled  by a banged-up Rock Island E7's or E8's.  The final westbound Golden State departed Chicago on April 8, 1968.
As mentioned before, the SP and Rock Island came extremely close to launching a much more luxurious train that would have operated over the same route as the Golden State to fully compete with the Santa Fe, Union Pacific, and others with no expenses spared.
The train was to be called the Golden Rocket and came so close to becoming a reality the Rock actually had its consist delivered before the Southern Pacific backed out (which resulted in that equipment transferred to the Golden State).