The
City of Miami
Last revised: May 9, 2023
By: Adam Burns

While the City of Miami may have officially been a train owned by the Illinois Central it took no less than four total railroads for it to reach its intended destination including (along with the IC) the Central of Georgia, Atlantic Coast Line, and Florida East Coast (later the Seaboard Air Line).

The Miami was one of the first streamliners to serve the Florida-to-Midwest market as it was one of the few to be inaugurated prior to the World War II conflict.
In terms of appearance the train rival any of the famed southern streamliners like the Silver Meteor and Champion featuring a beautifully striking livery of tropical colors and interior décor. 
If travelers from the Northeast regularly tapped the Meteor and Champion for their winter getaways than Midwestern folks called upon the Miami for sunshine and warmer weather. 
Unfortunately, you cannot find a similar service under Amtrak today.  The carrier schedules no direct service from Chicago to Miami.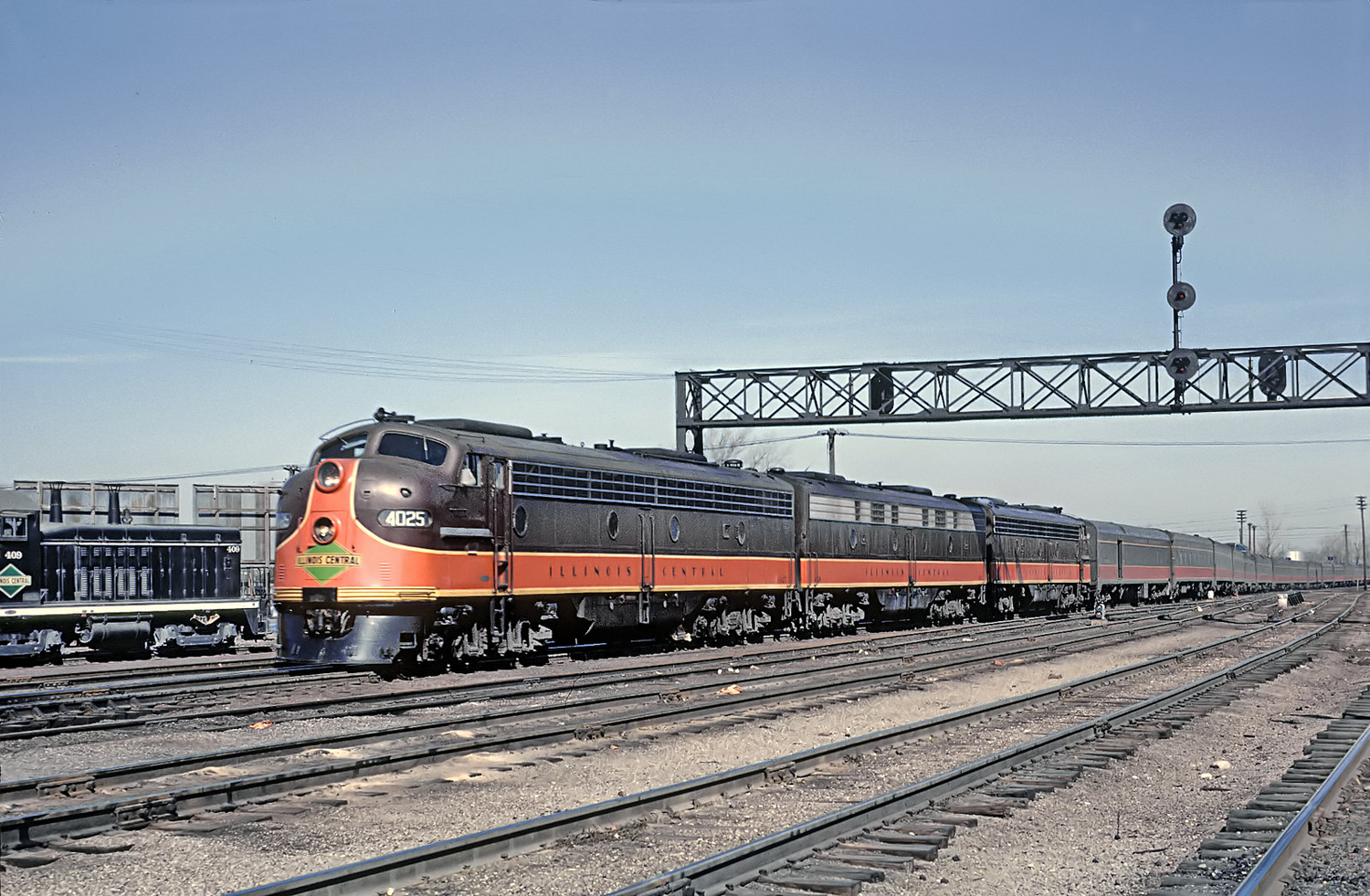 Illinois Central E8A #4025 works its way through Champaign, Illinois with a very long "City of Miami" in April, 1965. Many Northeastern and Midwestern trains bound for the Southeast continued to enjoy strong patronage until the Amtrak era. Roger Puta photo.
History
In some ways it can be strongly argued that no other streamliner defined the South like the Miami. The train was such a radical departure even for most other streamliners introduced up to that point that it was nearly in a class all by itself.
The overall layout and presentation of the Miami was not the result of a famed industrial designer like Raymond Loewy, Otto Kuhler, or Henry Dreyfuss but rather the Electro-Motive Division and Pullman Standard.
This may be somewhat surprising but EMD was actually an innovator in the railroad field as it was responsible for numerous now-classic liveries and the City of Miami was no different, as it was primarily responsible for the train's paint scheme while Pullman designed the car layouts and overall interior.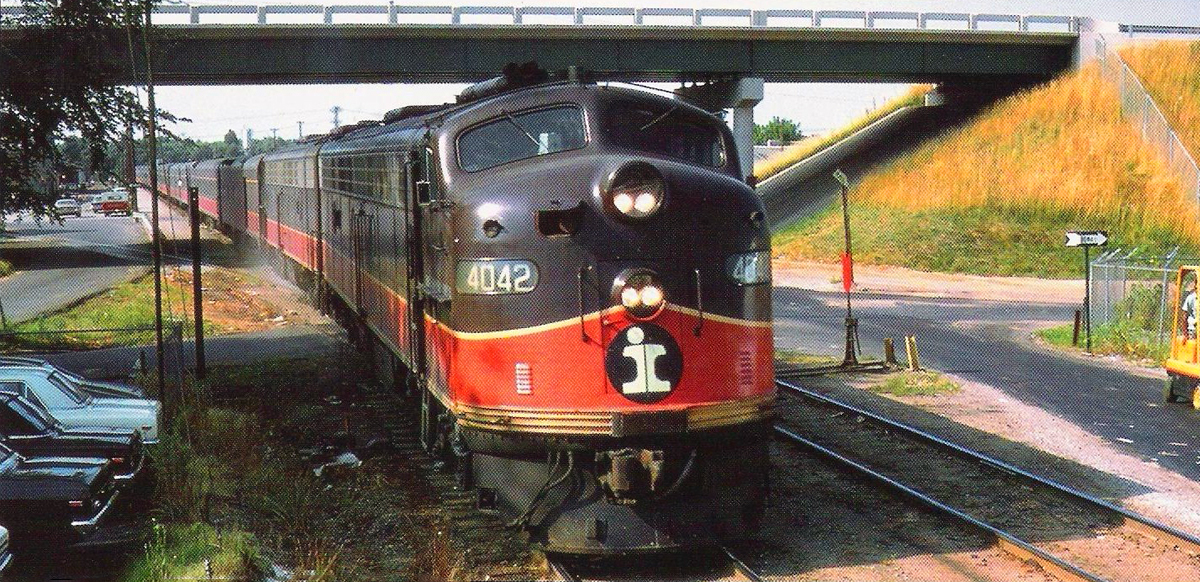 Illinois Central's train #52, the northbound "City of Miami," departs Jackson, Tennessee in June, 1968.
The train's livery was something to behold. EMD came up with a design that used bright yellow-orange paint juxtaposed against dark green for the roof as well as the skirting.
However, the green was a not a solid stripe along the bottom of the train as it came up to form a wave near the cab of the locomotive (which in this case was the manufacturer's new streamlined E6 passenger diesel) and flowed across the nose bowing downward and meeting near the bottom while the top featured the bright yellow-orange.
Consist (1952)
For trim EMD used a stark red paint that very much stood out against the other two colors with "Illinois Central" adorning the front of the nose along with the railroad's diamond logo.
The purpose of the livery was certainly to catch your eye but it was also meant to invoke the train's southern appeal and charm.
For the interior Pullman stuck quite closely to the beachy, southern theme of the seven-car train, with each car named specifically for the region in which it served.
For instance, the car's included (per the layout of the train) the baggage-dormitory-coach Bougainvillea, coach Camellia, coach Japonica, diner Palm Garden, coach Hibiscus, coach Poinsettia, and tavern-lounge-observation Bamboo Grove.
Pullman spent a great deal of effort recreating the Florida experience for passengers on their way to the warm, sunny southern climate as in many ways patrons had to feel like they were already at the beach as soon as the stepped aboard the train in Chicago given the interior themes chosen.
According to Bob Johnston, Joe Welsh, and Mike Schafer's The Art of the Streamliner, each car of the Miami featured different colors of blue, coral, green, tan, copper, and yellow to play on the various themes of the tropics. Native woods were also used for the interior including bamboo and zebra wood.
Other tropical motifs included the use of coconut shells, coral leather for the upholstery, a map of the route featuring the Florida coast, various photos of the beach, and even a fake palm tree!
The Miami debuted to the public on on December 18, 1940 and was even christened using water directly from the Biscayne Bay of Florida.
Overall, the train could seat 254 passengers and operated on a 30 hour schedule departing Chicago at 8:40 A.M. and arriving the following day at 2:50 P.M. carrying an average speed greater than 50 mph over the 1,493 miles traveled. 
Timetable (1941)
Read Down Time/Leave (Train #53/Illinois Central)
Milepost
Location
Read Up
Time/Arrive (Train #52/Illinois Central)
8:40 AM (Dp)
0.0

Chicago, IL (Central Station) (CT)

9:55 PM (Ar)
8:47 AM
5

Chicago, IL (53rd Street Station)

9:46 PM
8:50 AM
7

Chicago, IL (63rd Street Station)

9:43 PM
F 9:37 AM
54

Kankakee, IL

8:54 PM
10:45 AM
126

Champaign-Urbana, IL

7:39 PM
F 11:22 AM
171

Mattoon, IL

6:54 PM
11:47 AM
198

Effingham, IL

6:27 PM
12:45 PM
251

Centralia, IL

5:31 PM
1:35 PM (Ar)
307

Carbondale, IL

4:31 PM (Dp)
1:38 PM (Dp)
307

Carbondale, IL

4:31 PM (Ar)
2:45 PM
360

North Cario, IL

3:27 PM
F 3:38 PM
405

Fulton, KY

2:34 PM
4:55 PM
470

Jackson, TN

1:20 PM
6:03 PM
528

Corinth, MS

12:16 PM
7:28 PM
607

Haleyville, AL

11:03 AM
8:50 PM
648

Jasper, AL

9:45 AM
10:17 PM (Ar)
690

Birmingham, AL

8:18 AM (Dp)
Time/Leave (Train #53/Central Of Georgia)
Milepost
Location
Time/Arrive (Train #52/Central Of Georgia)
10:27 PM (Dp)
690

Birmingham, AL

8:08 AM (Ar)
11:39 PM
741

Sylacauga, AL

6:50 AM
1:06 AM
813

Opelika, AL

5:25 AM
1:43 AM (Ar)
841

Columbus, GA

4:55 AM (Dp)
1:45 AM (Dp)
841

Columbus, GA

4:53 AM (Ar)
905

Americus, GA

3:35 AM
3:40 AM (Ar)
941

Albany, GA (CT)

2:57 AM (Dp)
Time/Leave (Train #15/Atlantic Coast Line)
Milepost
Location
Time/Arrive (Train #14/Atlantic Coast Line)
4:52 AM (Dp)
941

Albany, GA (ET)

3:43 AM (Ar)
7:00 AM (Ar)
1053

Waycross, GA

1:35 AM (Dp)
Time/Leave (Train #3/Atlantic Coast Line)
Milepost
Location
Time/Arrive (Train #4/Atlantic Coast Line)
7:05 AM (Dp)
1053

Waycross, GA

1:30 AM (Ar)
8:30 AM (Ar)
1128

Jacksonville, FL

12:05 AM (Dp)
Time/Leave (Train #3/Florida East Coast)
Milepost
Location
Time/Arrive (Train #4/Florida East Coast)
8:40 AM (Dp)
1128

Jacksonville, FL

11:55 PM (Ar)
F 9:38 AM
1215

Bunnell, FL

F 10:40 PM
10:02 AM
1238

Daytona Beach, FL

10:18 PM
10:25 AM
1253

New Smyrna Beach, FL

10:01 PM
10:54 AM
1282

Titusville, FL

9:22 PM
11:11 AM
1302

Cocoa-Rockledge, FL

9:02 PM
11:30 AM
1322

Melbourne, FL

8:42 PM
12:02 PM
1356

Vero Beach, FL

8:13 PM
12:21 PM
1370

Fort Pierce, FL

7:59 PM
12:41 PM
1389

Stuart, FL

7:32 PM
F 12:54 PM
1403

Hobe Sound, FL

F 7:16 PM
1:21 PM
1427

West Palm Beach, FL

6:52 PM
1:33 PM
1434

Lake Worth, FL

6:37 PM
1:45 PM
1445

Delray Beach, FL

6:25 PM
F 1:54 PM
1453

Boca Raton, FL

F 6:15 PM
F 2:01 PM
1461

Pompano, FL

F 6:07 PM
2:12 PM
1469

Fort Lauderdale, FL

5:58 PM
2:24 PM
1476

Hollywood, FL

5:47 PM
2:50 PM (Ar)
1494

Miami, FL

5:25 PM (Dp)
---
Final Years
Unfortunately, this original version of the Miami lasted only about six years when it was replaced with chocolate and orange in 1946.  In 1950 the Illinois Central purchased new equipment, upgrading the Miami.  
While the IC's now-famous livery was also handsome in its own right, the splashy tropical paint of the original train was something never repeated in the industry. After 1963 the Miami was no longer operated over the Florida East Coast after the railroad experienced a severe strike. 
Instead, it was reroute via the Seaboard Air Line between Jacksonville and Miami.  For the Miami it remained a popular train nearly through the end when Amtrak took over intercity passenger rail services on May 1, 1971.
Much of its success, as with the ACL and SAL trains was due to the market and region in which served; folks are always looking to get away from the harsh winter weather on an annual basis. Unfortunately, Amtrak elected not to keep the train and canceled it in favor of the South Wind.