Illinois Polar Express Train Ride Locations (2023)
Last revised: October 12, 2023
By: Adam Burns

Officially licensed The Polar Express trips have grown tremendously in popularity since the release of Warner Brothers Pictures' movie, "The Polar Express," released the film in November, 2004.
The film brings to life the book of Chris Van Allsburg's magical tale, The Polar Express. It was instant hit with kids and families and the film was subsequently adapted by heritage railroads around the country into a popular holiday event.
All of these trips carry a common theme, the telling of a story during a train ride with kids (and adults) enjoying hot chocolate, cookies, and the children receiving a small gift.  Everyone is also encouraged to wear their pajamas!  When possible, and if available, a steam locomotive is used to pull the train. 
During the trip the kids visit the North Pole whereupon Santa Claus boards the train and visits briefly with each child.  Most rides last just over an hour.
Illinois is home to many organizations preserving railroad history and a few also host official The Polar Express events.  There are currently three locations to ride the train this holiday season including at Chicago Union Station, the Fox River Trolley Museum, and Monticello Railway Museum.
A brief overview of each organization and their particular trip is highlighted below, including links to each website for more information about the event.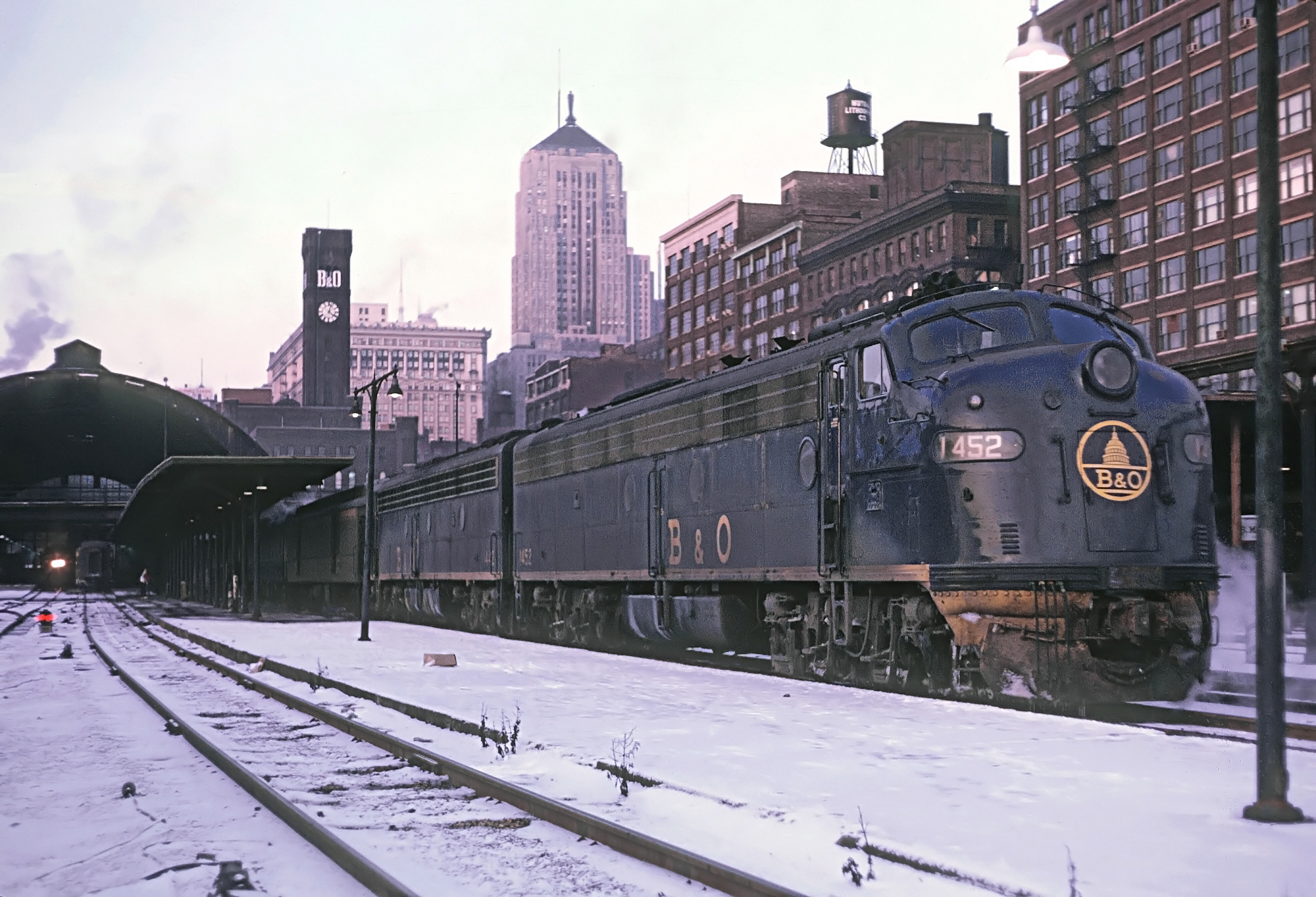 Baltimore & Ohio's train #6, the eastbound "Capitol Limited," awaits departure from Grand Central Station in Chicago on December 26, 1967. Roger Puta photo.
Overview
Chicago Union Station's production of The Polar Express is arguably one of the highest profile events available nationwide. 
A joint effort of Rail Events, Amtrak, and the station it is hosted every day from late November and throughout December except on Thanksgiving and Christmas. 
It was originally launched in 2016 and due to strong demand has continued to run every holiday season since that time.  Chicago Union Station is currently only one of three locations (St. Louis Union Station and New Orleans Union Passenger Terminal) where one can ride The Polar Express aboard Amtrak. 
Visitors can also experience passing through the historic terminal and its Great Hall, one of America's architectural masterpieces. 
The station is one of the Six Great Terminals to serve the Windy City (Grand Central Station, Central Station, LaSalle Street Station, Dearborn Station, and North Western Terminal). 
It was designed by Daniel Burnham in the Beaux-Arts style it opened for service in 1925.  At the time the facility also included the main concourse which was demolished in 1969 to make way for a 35-story office tower. 
During its height the station was served by the Pennsylvania Railroad, Milwaukee Road, Chicago & Alton (Gulf, Mobile & Ohio), and Chicago, Burlington & Quincy. 
If you enjoy trolley cars and interurbans, particularly those which served Illinois and the Chicago area, a trip to the Fox River Trolley Museum in South Elgin should be in your bucket list. 
The group was founded in 1961 as R.E.L.I.C. (Railway Equipment Leasing & Investment Company), a group dedicated to preserving these transportation entities. 
Those which remained at that time were rapidly disappearing across the country.  R.E.L.I.C. opened to the public in 1966 and was renamed as the Fox River Trolley Museum in 1984. 
The organization boasts a huge collection of streetcars, switchers, and other rapid transit equipment.  Many are of Chicago, Aurora & Elgin ("The Roarin' Elgin") or Chicago, North Shore & Milwaukee ("The North Line") heritage. 
These two systems were once vital commuter operations for Chicago; the former linked downtown with the city's western suburbs while the latter extended north along Lake Michigan to Milwaukee. 
Alas, rising costs and declining numbers due to improved highways and automobiles led to the bankruptcy and ultimate abandonment of both. 
Other equipment to see at the museum are of Chicago, South Shore & South Bend; Aurora, Elgin & Fox River Electric (CA&E); and various local rapid transit agency cars. 
Fox River Trolley Museum's official The Polar Express productions are somewhat unique in that they are presented within some of these restored trolley cars.  
The Polar Express Dates:
November 25-26
December 2-3
December 9-10
December 16-17
---
This museum has a fascinating history; like the Illinois Railway Museum it has largely been built from the ground up. 
It was founded as the Society For The Perpetuation Of Unretired Railfans, Inc. (SPUR) in 1966, a grassroots train enthusiasts group aimed at continuing steam excursions along the Chicago, Burlington & Quincy.  
While steam ended over the railroad by the late 1950's, President Harry Murphy continued offering public excursions until his retirement in 1965. 
The trips proved quite popular behind 4-8-4 #5632 and 2-8-2 #4960.  Despite SPUR's best efforts the new president was not interested in continuing the practice and the locomotives were parked in 1966. 
After a few years contemplating their next move the group decided to embark on a permanent home.  It was provided a vacant lot in Monticello by the Illinois Pioneer Heritage Center to house its first locomotive, 0-4-0T #1. 
In 1970 it was renamed as the Monticello & Sangamon Valley Railway Historical Society, Inc. which was shortened to its current name in 1982. 
Soon after arriving in Monticello the group acquired 5 miles of abandoned Illinois Terminal right-of-way to White Heath, opening about 2.5 miles for excursions. 
In 1987 they acquired more property by picking up 7.5 miles of the former Illinois Central Gulf between the same towns. 
Today, the Monticello Railway Museum maintains a large collection of preserved and restored equipment, enabling them to host very nice trips along their property.
The Polar Express Dates: 
November 17-19
November 24-26
December 1-3
December 8-10