Colorado Fall Foliage Train Rides (2023)
: A Complete Guide
Last revised: October 26, 2023
By: Adam Burns

The state of Colorado is world renowned for its natural beauty, home to the Rocky Mountains and a number of smaller chains like the Front Range, Sawatch Range, Sangre de Christo Mountains, and San Juan Mountains.
In addition, natural waterways like the San Juan River, Colorado River, Arkansas River, and Rio Grande River, which carve their way through this region, only adds to the state's awesome scenery.
Colorado's history with the iron horse is an interesting tale on its own as early builders, notably General William J. Palmer's Denver & Rio Grande Railway, sought passage through this rugged country.
In an effort to keep costs down, many promoters elected to construct their lines as 3-foot, "narrow-gauge" systems.  It proved somewhat successful and no other state boasted as many 3-foot railroads as Colorado.
Many books have been published over the years, along with countless magazine articles, detailing the state's fabled narrow-gauge systems with names like the Rio Grande Southern; Denver, South Park & Pacific; Colorado Central; Florence & Cripple Creek; Uintah Railway; and others.
Most of these lines were abandoned by the early 20th century although some of the Rio Grande's trackage survived until the late 1960s.  In particular was its San Juan Extension, with two disconnected segments now offering very popular excursion as the Durango & Silverton Narrow Gauge and Cumbres & Toltec Scenic.
Most flock to these particular railroads for the incredible scenery they afford over Cumbres Pass and along the Animas River through the San Juan National Forest.  However big attraction to these venues is the level of service provided with first-class accommodations, meal service, and numerous special events offered throughout the operating season.
There are currently three locations within Colorado one can catch a train while enjoying the fall colors including the (previously-mentioned) Durango & Silverton, Georgetown Loop Railroad, and Leadville, Colorado & Southern.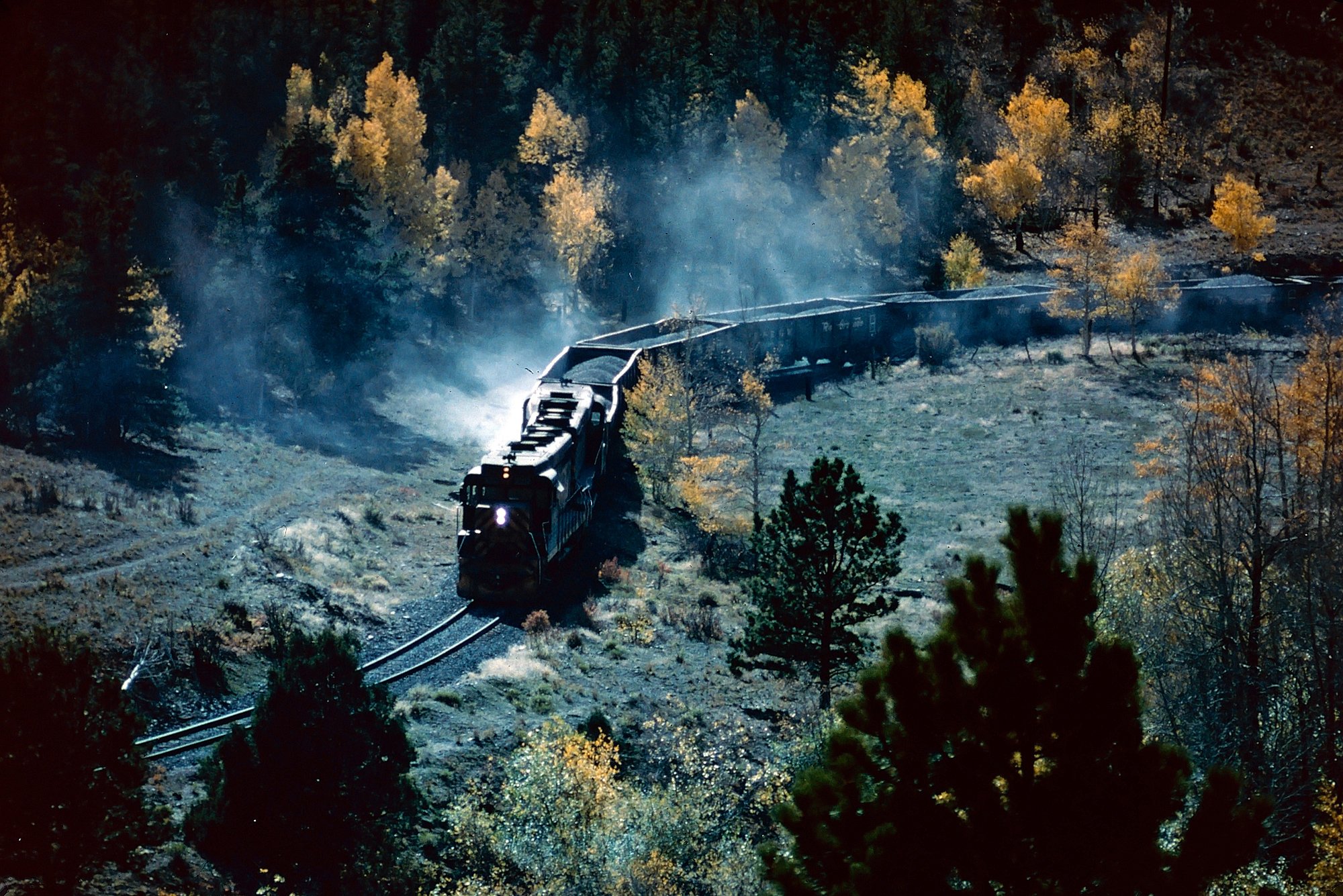 Rio Grande GP30's #3002 and #3015 bring loads of limestone off the Monarch Branch at Maysville, Colorado on October 8, 1979. Robert Harmen photo. American-Rails.com collection.
Overview
(Durango):  One of the top 3 heritage railroads in America, the D&SNG operates 45.2 miles of the old Denver & Rio Grande Western's "San Juan District" (specifically the "Silverton Branch") between Durango and Silverton. 
This three-foot gauge railroad (otherwise known as "narrow gauge") is truly from a bygone era.  You will step back in time to experience rail travel as it was in the early 20th century; period cars are fully restored, trains pulled by historic steam locomotives (of the 2-8-2 "Mikado" type), and the on-board service is second-to-none.
What really draws the crowds is the scenery, with incredibly breathtaking views of the San Juan National Forest as tracks hug the cliffs overlooking the Animas River.  Each autumn (September and October) the aspens and cottonwoods turn brilliant shades of red, yellow, and orange.
(Georgetown):  An easy access from Interstate 70 (and only an hour from downtown Denver), this attraction has rebuilt a 2-mile segment of the old Colorado Central Railroad's narrow-gauge (36-inch) trackage between Georgetown and Silver Plume. 
Most notable, and the feature which draws folks back year after year, is the massive Devil's Gate High Bridge spanning Clear Creek that forms a huge horseshoe curve with grades of 4%! 
The railroad does not offer dedicated fall foliage excursions but its location within the breathtaking Rocky Mountains provides excellent views of autumn colors during September and October.
(Leadville):  The state of Colorado is famous for its narrow-gauge railroads; many, except the Denver & Rio Grande (which was specifically designed as a through corridor), were built to serve the booming silver mining industry during the latter 19th century. 
The LC&S operates the last component of the historic Denver, South Park & Pacific still in existence, 10.5 miles.  Trips depart from the 1893 brick/stone depot originally built by the Denver, Leadville & Gunnison. 
During weekends in September they host the Fall Photo Special (lasting approximately 3 hours) allowing you to view the splendid aspen trees this time of year; trains head north past Little Evans Gulch and follows the Arkansas River's East Fork before passing over a small horseshoe curve near Birdseye Gulch. 
The train continues northward before terminating at Mount Arkansas.  Located within the San Isabel National Forest.  With incredible views of the Rocky Mountains in any direction, the LC&S is worth riding any time of the year!
---
Rio Grande Scenic Railroad
(Closed)
(Alamosa):  This heritage railroad was based in Alamosa, the Rio Grande Scenic began in 2006 over a section of the old Denver & Rio Grande Western between Alamosa and La Veta (61.4 miles). 
It hosted trips over the San Luis & Rio Grande Railroad, a short line freight carrier, during the warmer months.  During early September through early October the railroad hosted the "Fall Colors Explorer" via two different routes; one departed Alamosa while the other left from Fort Garland.  Both featured climate-controlled cars, including dome service, and provided brunch on-board. 
The line was part of the original Denver & Rio Grande Railway built by General William J. Palmer, a decorated U.S. Army officer of the Civil War.  Heading south, then west from Denver his railroad crossed 9,220-foot Veta Pass, and arrived in Alamosa during July of 1877. 
He would go on to complete much of the railroad he originally envisioned as a through corridor penetrating the Rocky Mountains to reach Salt Lake City although his goal of utilizing New Mexico's Raton Pass would be thwarted by the Atchison, Topeka & Santa Fe. 
The views along the line were pretty spectacular, including sights of the San Luis Valley and Sangre de Cristo Mountains along with open vistas allowing one to see for miles and miles.  The railroad also hosted some trips behind historic steam locomotives.  Unfortunately, bankruptcy resulted in the operation discontinuing service in 2019.