Dakota, Minnesota & Eastern Railroad (DM&E)

Last revised: June 10, 2023
By: Adam Burns

The Dakota, Minnesota & Eastern, reporting mark DME or commonly known as the DM&E, was a fairly young railroad operating for twenty-two years between 1986 and 2008, when it became part of the Canadian Pacific system (which first vied to purchased the railroad in September of 2007).
The DM&E also owned and operated the Iowa, Chicago & Eastern Railroad, commonly known as the IC&E, and together they were under the holding company of Cedar American Rail Holdings (although this was basically a "paper" company and in no way managed or operated the railroads). 
During the company's height it stretched more than 1,000 miles in length across the upper Midwest and was attempting to build hundreds more miles of new railroad before its purchase by CP ended this goal.
Ironically, Canadian Pacific control was short-lived.  The large Class I maintained control of the property for only five years before ultimately siphoning off most of the property in 2012 to short line operator Genesee & Wyoming.
Today, the short line conglomerate operates roughly 700 miles of the old DM&E west of Tracy, Minnesota.
Photos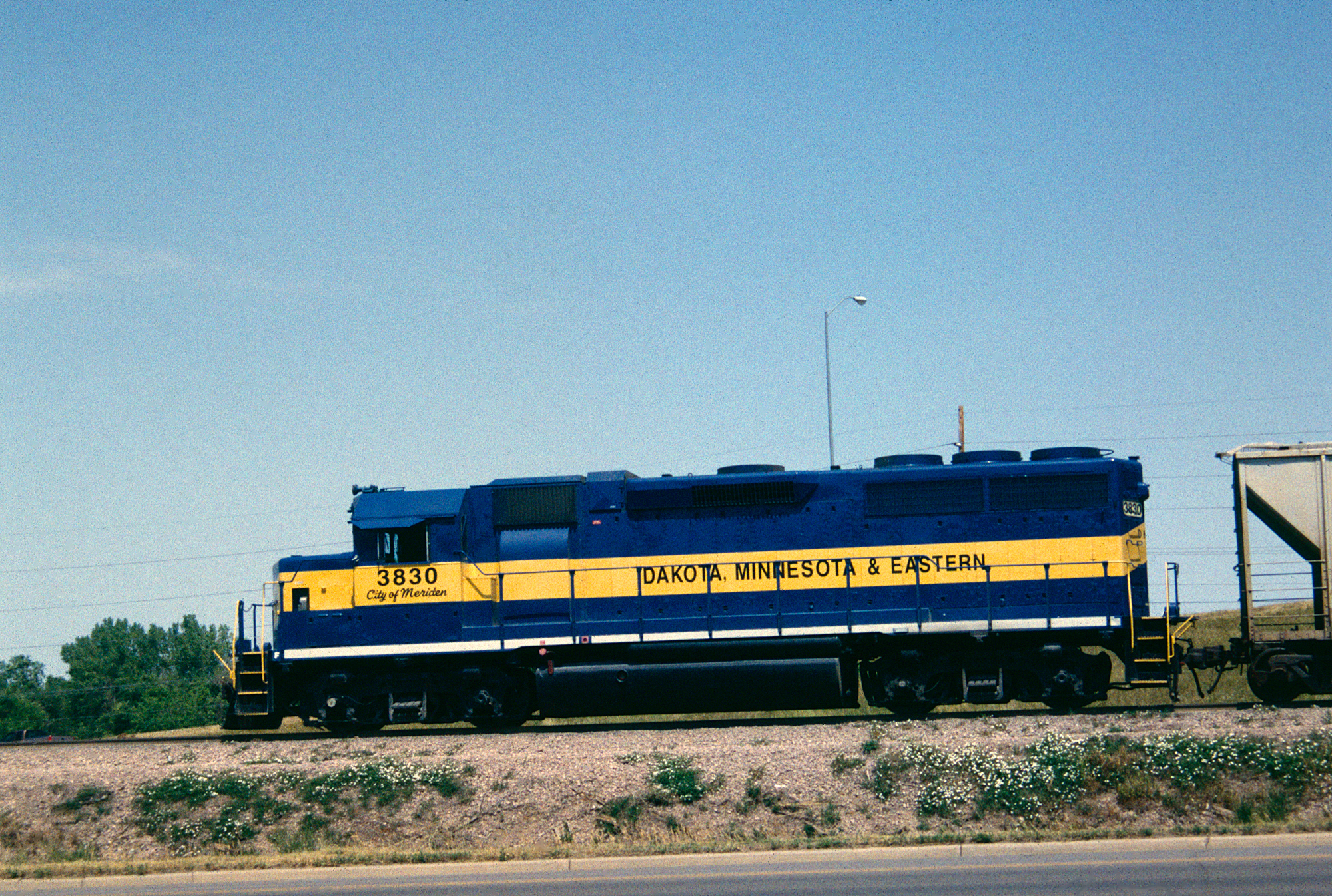 Dakota, Minnesota & Eastern GP40 #3830, named the "City of Meriden," is seen here in service near Sioux Falls, South Dakota in July, 2002. This unit was built as Illinois Central #3045. American-Rails.com collection.
History
The DM&E came into existence in 1986 when the Chicago & North Western Railway (the C&NW) decided to abandon a large chunk of its railroad in South Dakota in 1985.
This trackage, at the time, was quite unprofitable, as nearly all of the granger railroads during that period were having a very tough time earning a profit on a region which was not only overpopulated with railroads but also losing traffic.
The DM&E's creation came about largely through the efforts of United States Senator Larry Pressler who fought against the C&NW's proposed abandonment of the South Dakota lines and won (which then led to DM&E being created to serve the routes).
Formation
In 1986, his efforts led to the sale of come 826 miles of former C&NW lines for a total price tag of $26 million.  As part of the deal the new Dakota, Minnesota & Eastern Railroad gained an additional 139 miles of trackage rights along with numerous ex-C&NW buildings, locomotives, and vehicles.
The rest of the DM&E's current system came from its purchase of the Union Pacific's Colony Line.  At its peak, the Dakota, Minnesota and Eastern operated a railroad of some 1,103 miles of track, with nearly 195 miles of that trackage rights.
Logo
Along with operating a 1,000+-mile rail system, the DM&E also owned some 200 locomotives and 8,000 rail cars. What's interesting about the DM&E is the fact that its Iowa, Chicago & Eastern subsidiary was actually larger, with some 1,400 miles of track; combined the two roads maintained slightly more than 2,500 route miles. The IC&E operated east of its parent connecting cities such as Chicago, Minneapolis, and Kansas City.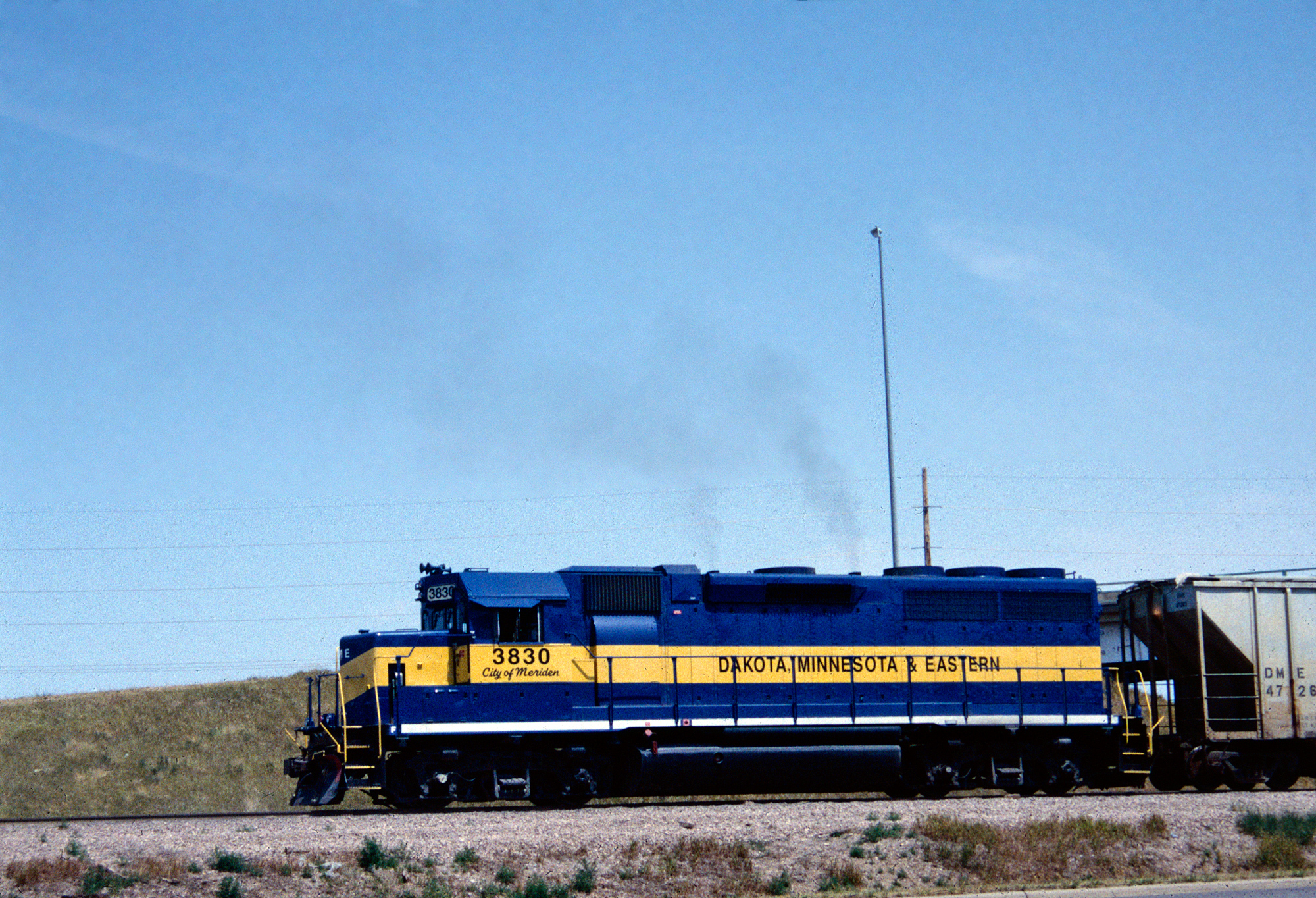 Dakota, Minnesota & Eastern GP38-3 #3830 (built as Illinois Central GP40 #3045), named the "City of Meriden," is seen here in service in June, 2002. American-Rails.com collection.
Powder River Basin
The DM&E became well known for was its attempt to access the lucrative Wyoming Power River Coal Basin.  The project would have veered off the old Chicago & North Western at Wall, South Dakota and headed southwesterly before turning northwesterly at the state line and terminating at Gillette, Wyoming.
The process dragged out for more than a decade and construction ultimately never commenced.  Worse for the railroad was the fact that a requested federal loan of some $2.3 billion to fund the project was denied by the FRA in 2007.
On September 4, 2007, Canadian Pacific announced its intentions to purchase the DM&E, all but ending the PRB project. 
Locomotive Roster
#1463-1484 - EMD GP9
#3800-3803 - EMD GP38
#3830-3835 - EMD GP38-3
#4000-4006 - EMD GP40
#6601-6621 - EMD SD9
#544-560 - EMD SD10
#6056-6067 - EMD SD40
#6200-6370 - EMD SD40-2
#6050-6055 and #6068-6097 - EMD SD40-3
#5000 - EMD SD50-3
Final Years
The transaction was quickly approved by the Surface Transportation Board and CP purchased the DM&E, and all subsidiaries, for $1.48 billion.
Kevin Schieffer, then-president of the DM&E, noted the acquisition was a natural fit as it essentially gave CP additional markets with the two roads interchanging only at three points.
At A Glance
Headquarters

Brookings, South Dakota (22nd Avenue)

States Served

South Dakota, Minnesota, Iowa, Nebraska, Wyoming

Dates Of Operation

September 5, 1986 - October 29, 2008

Employees

975

Route Miles

1,103

Track Gauge

4 Feet, 8 ½ Inches

Principal Lines

Minnesota City, Minnesota - Mankato, Minnesota - Huron, South Dakota - Rapid City, South Dakota - Colony, Wyoming

Rapid City - Chadron/Crawford, Nebraska

Mankato - Mason City, Iowa

Huron - Watertown, South Dakota (Burlington Northern/BNSF trackage rights)

Huron - Aberdeen, South Dakota (Burlington Northern/BNSF trackage rights)

Redfield - Mansfield

Predecessor Trackage

Chicago & North Western Railway

Reporting Mark

DME

Successor

Canadian Pacific Railway
If CP was truly interested in reaching the Powder River Basin, the railroad quickly reneged on that promise.  The company stated it would payout an additional $1 billion to DM&E shareholders, if the PRB extension was completed. 
However, the company stated on December 3, 2012 it would not build the extension due to  rising costs and increasing resistance from locals along the proposed route.
In particular was the town of Rochester (Minnesota) and the Mayo Clinic, which had fought for years to keep the D&ME from building its PRB extension.
---
System Map
Postscript
Following the purchase, CP rerouted its Chicago to Huron, South Dakota trains from their current running (through Iowa and Illinois) to CP's ex-Milwaukee Road main line, which operated through Wisconsin to Chicago and connected to the former DM&E at Winona, Minnesota (Iowa, Chicago & Eastern).
Ironically, the new routing, took CP trains directly through Rochester and next to the Mayo Clinic.  In addition, CP spent a great deal of capital improvements on this corridor.
On December 4, 2012 CP announced intentions to sell nearly all of the former DM&E lines west of Tracy, Minnesota to short line operator Genesee & Wyoming.
The company subsequently formed the Rapid City, Pierre & Eastern Railroad on May 30, 2014 which currently operates 743 miles of trackage in four separate states (Minnesota - 43, Nebraska - 13, South Dakota - 679, Wyoming - 7).
The RCP&E also has trackage rights over BNSF to Aberdeen, South Dakota and CP from Tracy to Mankato, Minnesota where interchange is established with Union Pacific.
This sale left only a sliver of former DM&E trackage under CP control east of Tracy, consisting of former Chicago & North Western trackage.
The remainder is entirely the old Iowa, Chicago & Eastern lines running through Iowa, back towards Chicago, and south to Kansas City, via Missouri. 
It seems this trackage, which links several major markets, is the property CP was largely interested in when it first purchased the DM&E in 2007.
Today, the RCP&E continues to operate its acquisition of the old DM&E lines with traffic dominated in agriculture but also consisting of several other types of business.