Erie Lackawanna Railway (EL), The Friendly Service Route

Last revised: February 8, 2022
By: Adam Burns
The Erie Lackawanna Railway was created in 1960, the result of a marriage between the Erie Railroad and Delaware, Lackawanna & Western as a means to cut costs and better streamline operations.
It's interesting that despite the company lasting only 16 years, EL remains a greatly discussed subject today and admired by those who enjoy all aspects of railroading.  
It was one of the earliest mega-mergers carried out across the country to achieve greater efficiency in the face of stiff governmental regulations and falling traffic.  
While the new EL enjoyed some savings it was never a strong carrier facing problems both within, and outside of its control.  
Following the 1968 Penn Central disaster, EL dealt with one issue after another, most notably the severe flooding from Hurricane Agnes which forced it into bankruptcy.  
It initially opted out of Conrail but eventually decided otherwise a few years later.  Today, large components of its network east of Ohio are still in use.  However, west of Marion, Ohio its Chicago main line has returned to local farmers and property owners.
A handsome set of Erie Lackawanna covered wagons, led by F7A #6111, layover in Binghamton, New York during February of 1966. American-Rails.com collection.
A Brief History Of The Erie Lackawanna
What eventually became Erie Lackawanna can trace its heritage back to the 1950s when two of the Northeast's competing railroads realized the future looked bleak; the euphoria of record traffic during World War II was quickly dashed by sharp declines afterwards.  
The historically successful Delaware, Lackawanna & Western, which had never dealt with bankruptcy after more than a century of service, lost nearly $1 million in 1955 while the Erie tried innovative ways to curb losses by encouraging industrial development along its property and launching new trailer-on-flatcar service (TOFC) during July of 1954.  
The Erie was the fourth way to Chicago, competing in the hotly-contested market alongside the New York Central, Pennsylvania, and Baltimore & Ohio running via Binghamton, Salamanca, Marion, and Rochester.  
Its routing was somewhat slower than its competitors but featured a high and wide, double-tracked main line with arguably the best engineered route across Indiana.  
According to H. Roger Grant's authoritative title, "Erie Lackawanna: Death Of An American Railroad, 1938-1992," executive John Barringer III noted during the 1920s that, "No other railroad into Chicago has as easy grades as the Erie route," a sentiment echoed by others.
However, the Erie was also hampered with heavy debt throughout much of its history due to four bankruptcies dating back to the Civil War era (1861, 1878, 1893, and 1938).  The road to merger began in 1954 when the Erie launched informal talks with the Lackawanna.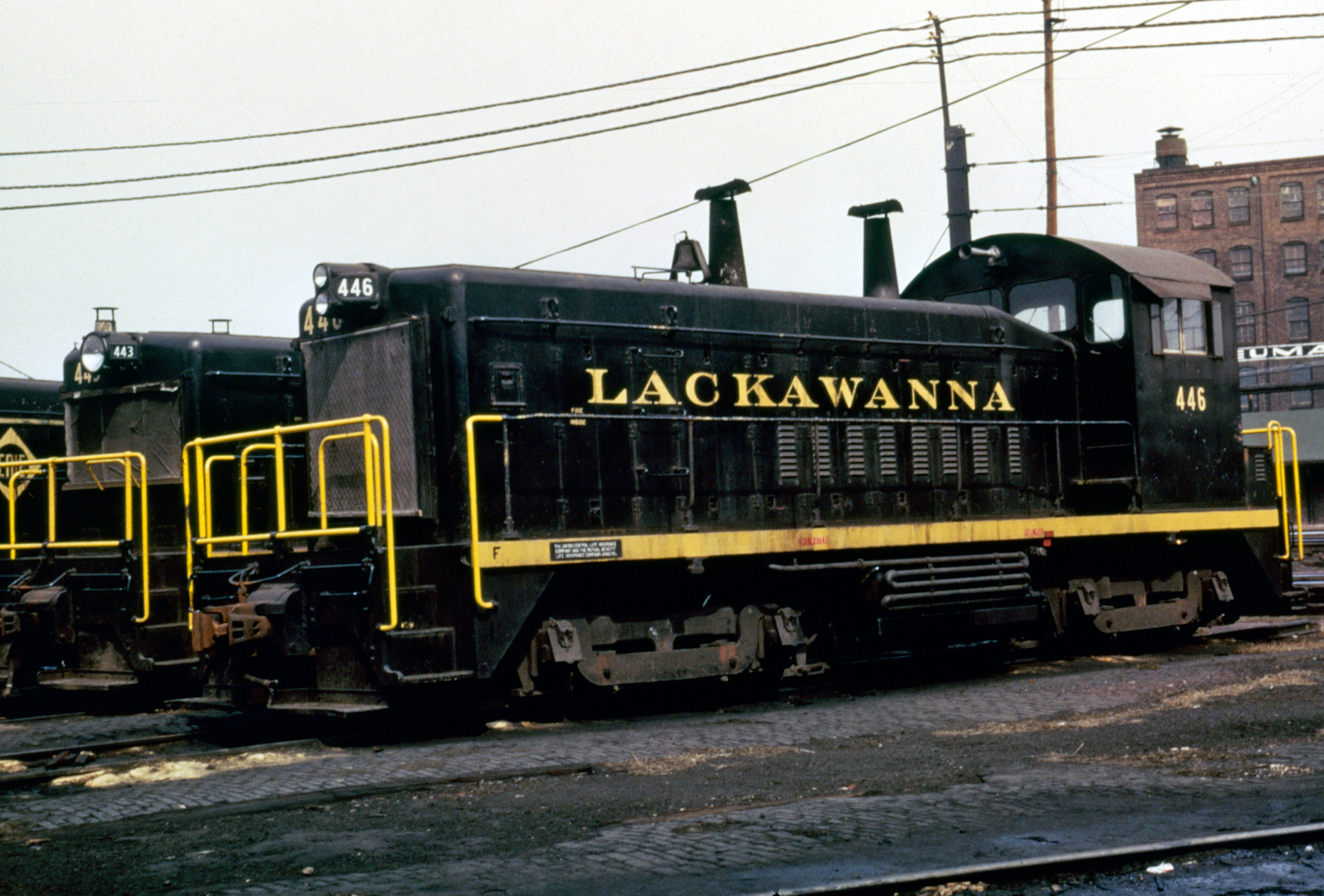 In this early Erie Lackawanna scene, SW9 #446 (ex-Delaware, Lackawanna & Western #551) and #443 (ex-Delaware, Lackawanna & Western #463) layover at the former DL&W's shops and roundhouse in Scranton, Pennsylvania during the early 1960s. American-Rails.com collection.
In the meantime, to cut losses they voluntarily initiated joint operations in various locations; on October 13, 1956 the Erie began using Lackawanna's Hoboken Terminal for commuter services, completing the closure of its Pavonia Terminal in Jersey City on December 12, 1958.  

In addition, beginning in 1957 the two shared trackage between Binghamton and Gibson, New York via the Erie's main line.  
These moves were nearly unheard of at the time, long before the modern merger movement.  On September 10, 1956 studies were launched regarding a formal merger between the Erie, DL&W, and Delaware & Hudson.  The inclusion of the D&H would have been a significant boon for the new railroad.  
For fiscal year 1955, its net income was more than $9 million, greater than the Erie and Lackawanna's combined (the DL&W actually lost near $1 million that year) while operating only a fraction of the trackage.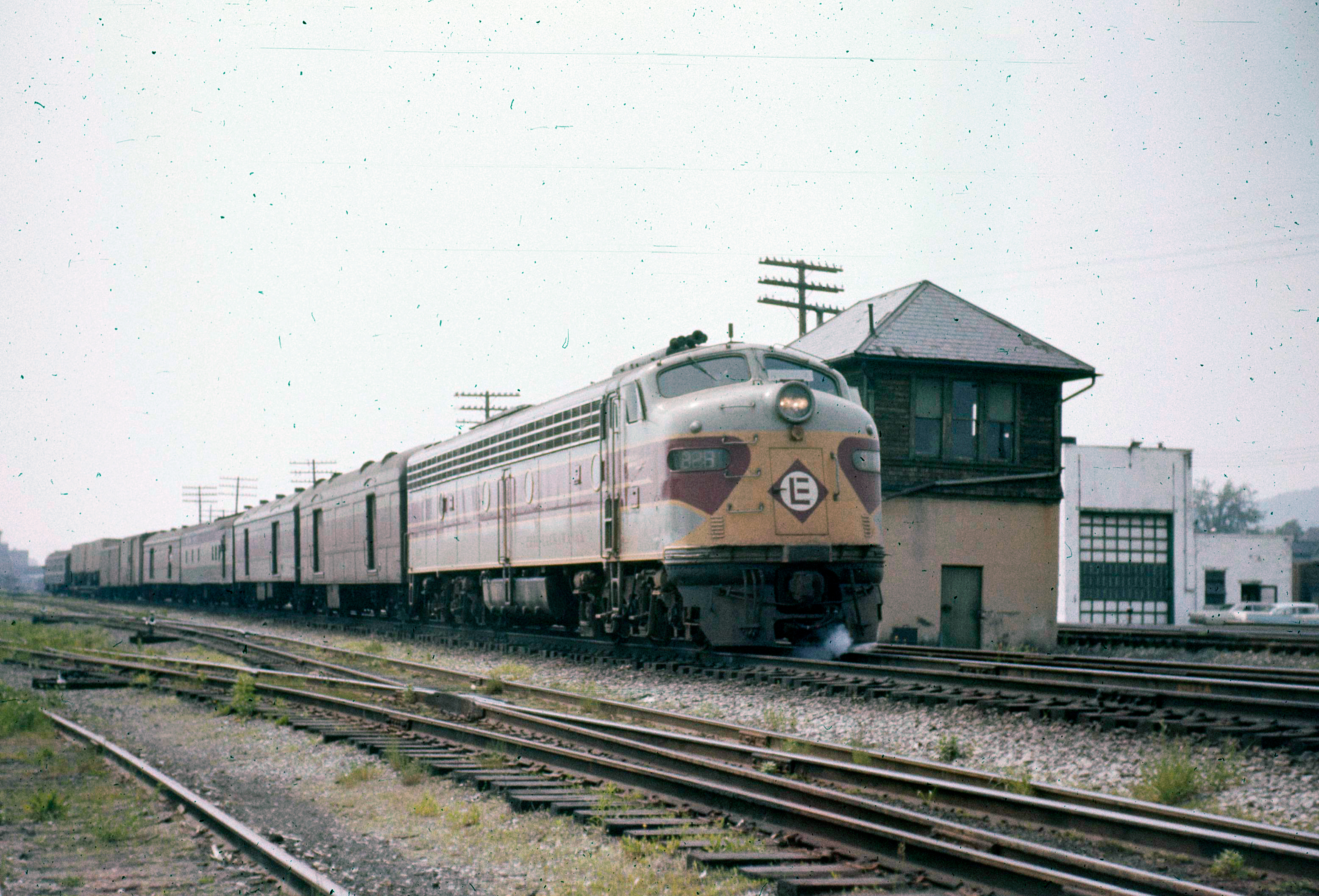 Erie Lackawanna E8A #828 is eastbound over the old DL&W main line with a mail/express train at Binghamton, New York as it passes the former Erie Railroad engine house in June, 1963. American-Rails.com collection.
The D&H would have also provided new markets through northern New York and Montreal, Quebec.  On April 13, 1959 "The Bridge Line" disappointingly dropped out of discussions but the other two roads forged ahead, in part due to the country's deepening recession.  
During the entire process they had relied on the consulting firm Wyer, Dick & Company to prepare studies regarding cost savings and potential earnings.  The idea of a union between the two roads seemed logical.
The Erie provided the coveted western connection to Chicago while the two roads could merge duplicate facilities and shed redundant trackage along their territories east of Buffalo.  
Wyer, Dick believed the new company could generate $16.6 million in annual savings, albeit this was dependent upon carrying out infrastructure improvements and/or acquiring new rolling stock/locomotives (i.e., capital expenditures).  In addition, net income would rise from $2.8 million in the merger's first year to $24.1 million after five years.  
The D&H setback was unfortunate in other ways; not only would it have provided for a stronger overall company but the railroad also carried just one outstanding bond.  By comparison, the Erie had seven and the once-vaunted Lackawanna, fifteen.
---
Erie Lackawanna's Logo
The Erie Lackawanna's classic logo was a simple but very creative design using aspects of both predecessor companies.  It was created by former Erie fireman Truman Knight, from Stow, Ohio, who worked the Kent Division.  
The base concept was his company's old diamond logo but with "Erie" removed from the center.  In its place he used a stylized "E" with the top arms slightly disconnected so that it also formed an "L."  
Finally, the logo was adorned in Lackawanna's classic maroon instead of Erie's yellow and black, thus incorporating both predecessors into the new design.  
The emblem was widely praised by top management and well-liked by employees.  It was the winning choice of close to 2,500 entries submitted in a contest to create a new herald; Knight was given twenty shares of common stock in the new EL.  Historically, his design will live on as one of the industry's classic logos.
---
Looking back, the D&H may have also helped save the EL from its future bankruptcy, or at the very least enabled its reorganization.   Over the next year the process worked its way forward until the Interstate Commerce Commission formally approved the union on September 13, 1960.  
The new Erie-Lackawanna Railroad (EL) officially began operations on October 17, 1960 with an entire network of 3,031 miles.  In 1963 the company dropped the hyphen and became simply the Erie Lackawanna Railroad.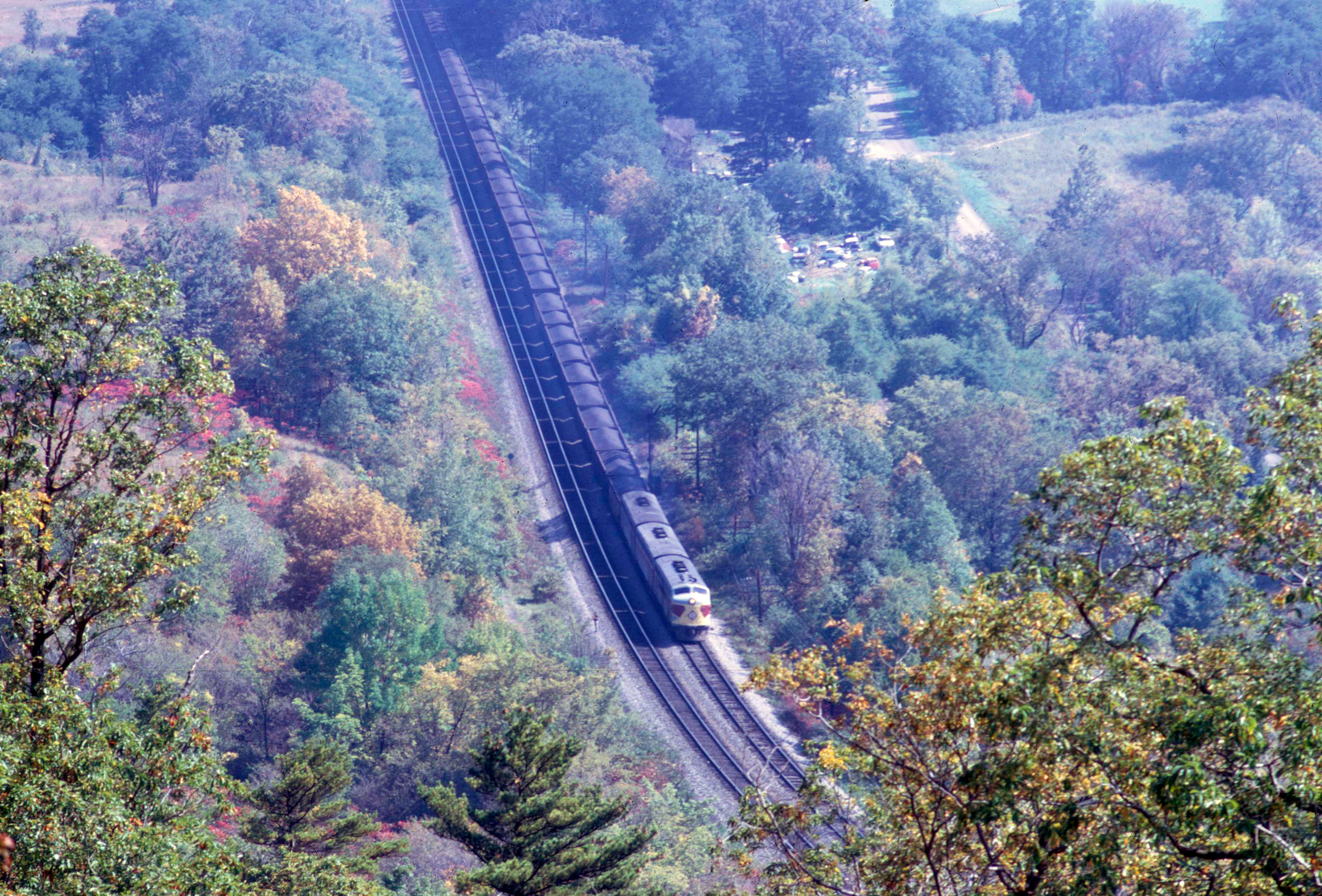 This dramatic panoramic scene, unfortunately, did not have any additional information. Erie Lackawanna F units appear to be stopped (based on what looks like a crewman standing off to the left of the locomotives) with a coal drag. October, 1967. Author's collection.
From the very start, EL ran into issues both of its own doing and outside its control.  The long-seated rivalry of the two predecessors emerged when Lackawanna's officers were largely ignored in favor of the Erie's.  

The issue here was not only one of favoritism and domination but also pragmatism.  The DL&W had, historically, always been the much better managed railroad. 
The Erie Lackawanna could have certainly used the knowledge and expertise of Lackawanna's top management playing a more direct role in the new company.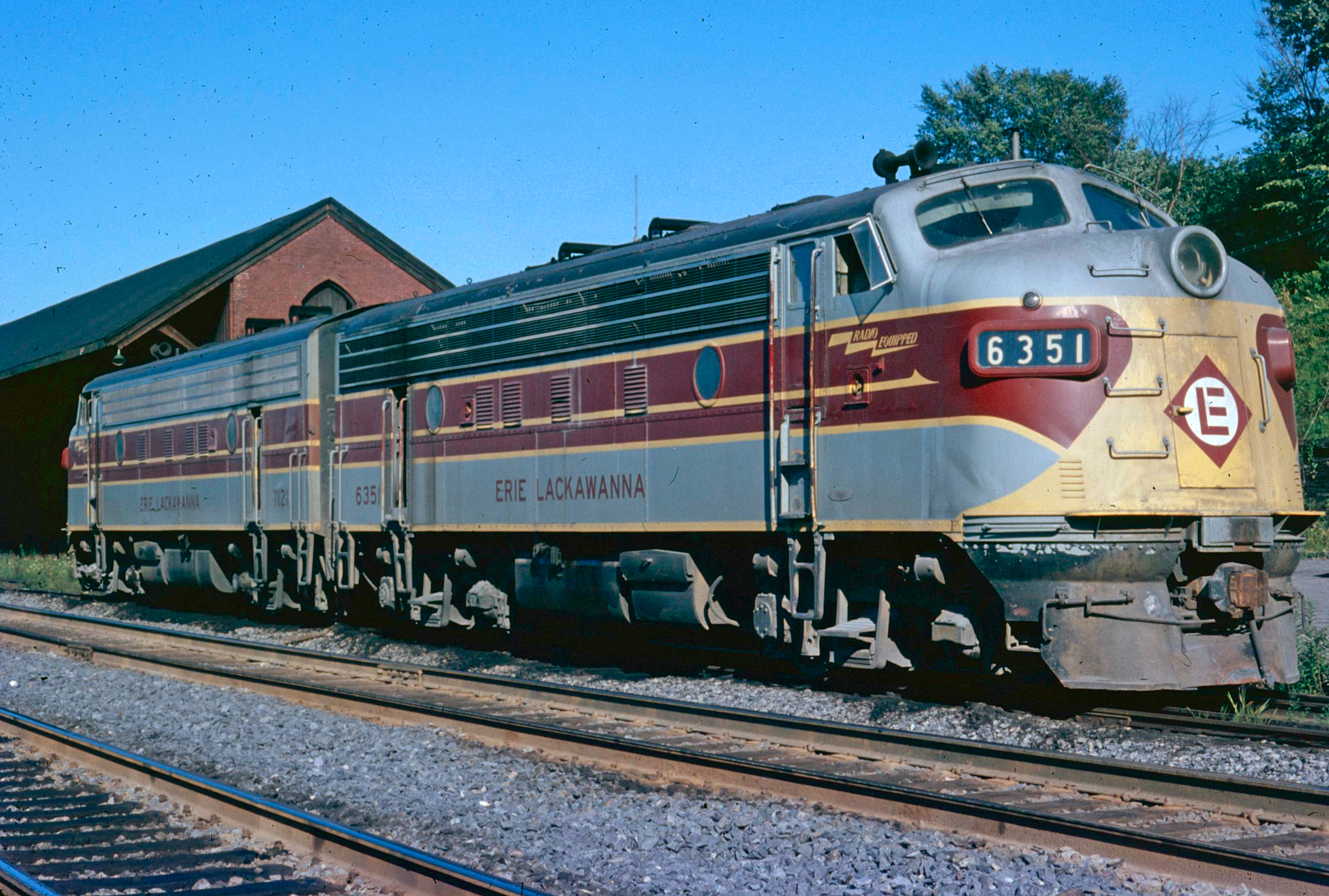 Erie Lackawanna F7A's await their next assignment at Deposit, New York in August, 1969. By this date the F units had been relegated to helper service. Author's collection.
An Erie man, Harry Von Miller, was given EL's first chairmanship as well as duties as president and chief operating officer.  His immediate second in command was the Lackawanna's former chief, Perry Shoemaker.  
Miller retired just months after EL's creation but instead of Shoemaker being named his replacement another Erie man got the job, Milton McInnes.  
Shoemaker received chairmanship of the board but still carried no direct decision making duties and later said so: "I was made chairman, but I certainly didn't run the railroad."  
Beyond managerial issues the hope for savings and higher earnings was immediately dashed; in 1961 the company lost more than $26.4 million and $16.6 million the following year. 
The EL proved itself a smaller version of the later Penn Central disaster; incoming officers did not work together and the merger was rushed through without proper time to vet and work out all of the details for a smooth transition.
As the Erie's team dominated the show (similar to the PRR at Penn Central), Lackawanna managers eventually left the company or found work with other railroads.  By 1962, the road's long term debt stood at more than $322 million and its future appeared grim.

An interesting lash-up of Erie Lackawanna power is on the former Erie at Binghamton, New York in February, 1966. Author's collection.
Enter William "Bill" White, a highly respected executive who had started his career with the Erie and worked his way up the corporate ladder to eventually head several companies including the Virginian, Lackawanna, and even the mighty New York Central.  
He formally joined Erie Lackawanna on June 18, 1963 and immediately set about streamlining operations by:
Restructuring the road's debt. 
Increasing borrowing power to implement capital improvements (notable here was more more than $59 million in loans to acquire new locomotives and rolling stock).


Doing away with the road's aggressive but failed less-than-carload (LCL) policies to focus on profitable long-haul movements (such as intermodal/TOFC and general merchandise).
Trying unsuccessfully to eliminate money-losing commuter operations around New York, and bringing in more effective managers.  Ironically, this move resulted in many former Lackawanna officers replacing those of Erie heritage.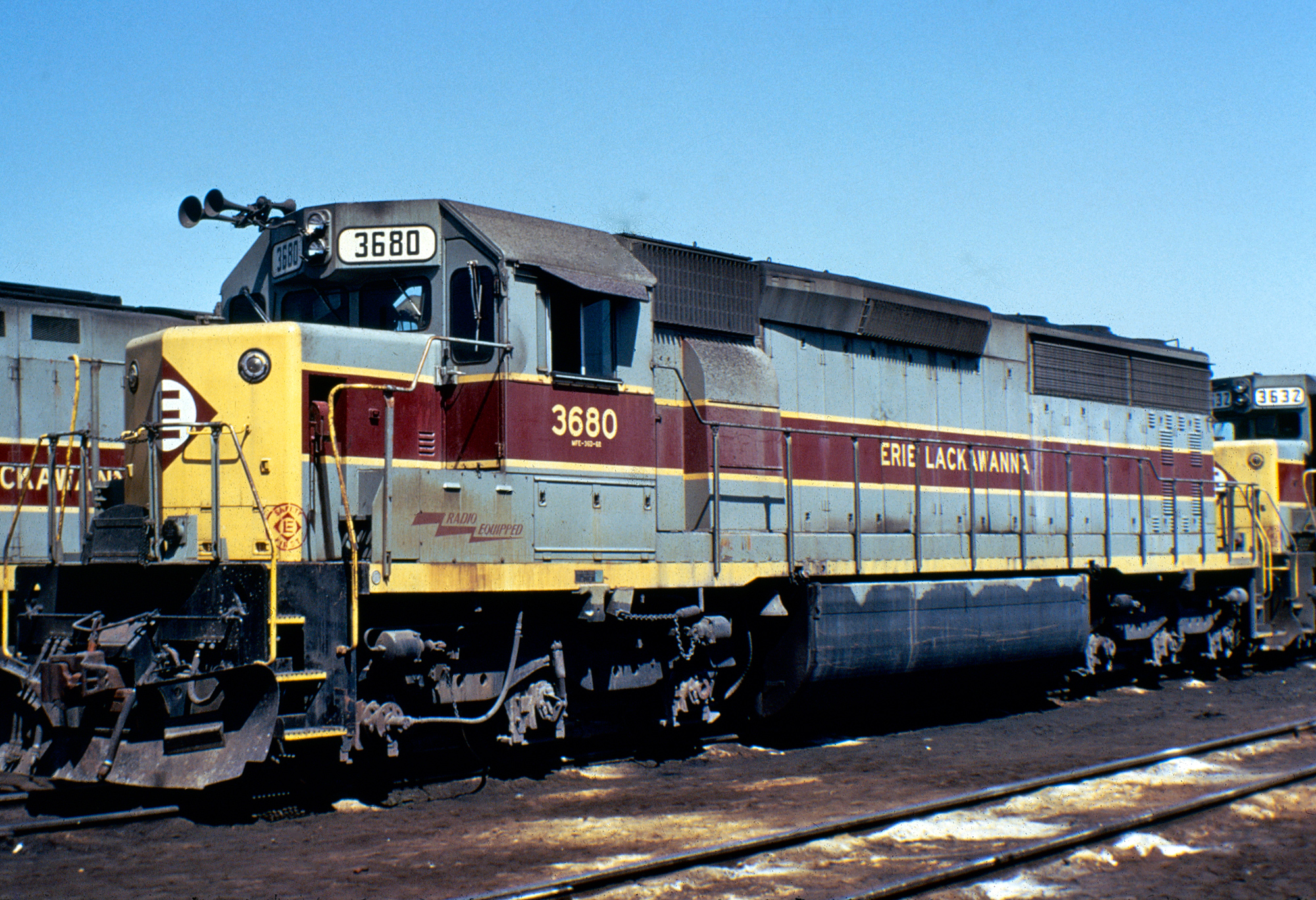 Erie Lackawanna SD45-2 #3680 at Croxton Yard in Secaucus, New Jersey, circa 1975. American-Rails.com collection.
White also looked for a merger partner, believing this was the only true way EL could survive.  The Norfolk & Western eventually agreed to acquire the road but from a distance.  
To protect itself from EL's financial condition and heavy debt, The Friendly Service Route was placed within a new holding company known as Dereco, Inc. (an interesting name with an interesting history, it would later include the Delaware & Hudson).
The Interstate Commerce Commission approved the idea during December of 1966.  The following spring, Bill White passed away unexpectedly and was later replaced by Jack Fishwick from the Norfolk & Western under the corporate banner of the Erie Lackawanna Railway formed on March 1, 1968.  
Fishwick's immediate subordinate was the accomplished Gregory Maxwell who was given the presidency. The loss of White was a big blow to the company; he had greatly turned around its situation and avoided bankruptcy.  
Although White was unable to eliminate the suffocating commuter operations (long-distance services ended with the cancellation of the Phoebe Snow on November 27, 1966 and later the Lake Cities on January 6, 1970) he accomplished much during his few years.  
System Map (1969)
By the late 1960s the EL had posted its first ever profits thanks to aggressive cost-cutting, downsizing, and marketing.
The latter step paid off with the railroad gaining new intermodal/piggyback services and a contract with the United Parcel Service (UPS) in 1970 (this gave the EL five new intermodal trains between New York and Chicago), which continued until the road disappeared into Conrail.  
For years, executives from John W. Barriger of the 1920s to Fishwick himself, recognized the Erie's one vital asset, its high and wide Chicago main line devoid of clearances, stiff grades, and sharp curves.  
Alas, the colossal Penn Central merger, created on February 1, 1968 through the Pennsylvania and New York Central, began a quick secession of problems for EL just after it posted net incomes that year and into 1969.  
The new conglomerate, which added the New Haven on January 1, 1969, severely hurt The Friendly Service Route's freight tonnage.  The New Haven had long been an important interchange partner at Maybrook, New York via the Poughkeepsie Bridge transferring tens of thousands of carloads annually.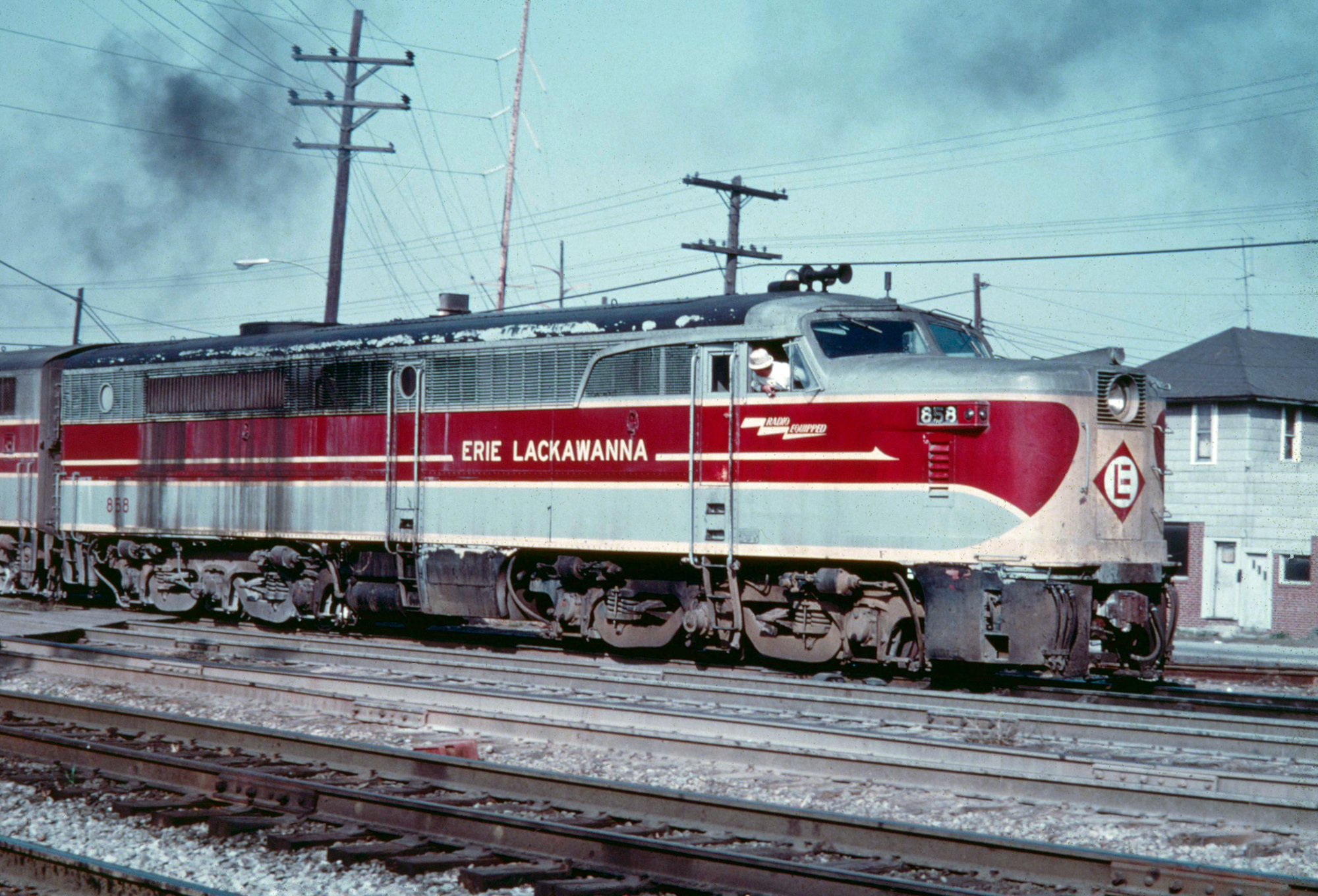 Erie Lackawanna PA-1 #858 (ex-Erie #858) is seen here in Chicago during the 1960's. Author's collection.
After the first year (1969), numbers dropped by more than a third and had been cut by half through 1970.  Since Penn Central could now carry this freight over its own rails there was no need to short-haul itself by interchanging with the Erie Lackawanna.  
The declines resulted in more than $17 million of lost annual revenue for EL.  On May 8, 1974 the gateway was closed forever when the bridge burned and PC refused to make repairs.  
The year 1970 had also witnessed the stunning bankruptcy of Penn Central sending the Northeast's rail industry into chaos; soon, roads which had not already entered receivership were vying for court protection.
The EL had been able to avoid a similar fate until Hurricane Agnes ravaged the region during June of 1972 causing more than $11 million in damages and lost revenue.  The railroad filed for reorganization on June 26, 1972 completing the service disaster across the Northeast.  

Not long after its bankruptcy the N&W sold off all interests in the company (roughly $56 million), which was again independent, albeit a realm of the court.
During 1970 Fishwick returned to the Norfolk & Western and handed over the EL's duties to Maxwell, who turned out to be the company's final president and chief executive.  Maxwell guided the road as best he could.  
In 1973 Congress and President Richard Nixon passed the Shoup-Adams Act (also known as the Regional Rail Reorganization Act, or 3R Act) which stipulated millions in governmental assistance to create what eventually became the quasi-public Consolidated Rail Corporation, or Conrail, to cleanup the mess in the Northeast.  
However, EL had the choice of joining or going it alone, eventually deciding upon the latter in 1974.  That spring, the bankruptcy judge gave the go ahead for a reorganization and it appeared the railroad would be Conrail's competition to Chicago.  
However, after nearly a year of number crunching EL's trustees realized it had little hope of making it on its own and during January of 1975 asked for inclusion into Conrail.
As planners worked out the details there was a great desire to have two competing Northeastern systems and not one, gigantic monopoly.  
There were various proposals put forth, which included the Erie Lackawanna in competition solely against Conrail or have EL acquired by Norfolk & Western while Chessie System would takeover much of the Reading and Jersey Central to reach the Port of New York.  
The latter, according to Rush Loving Jr.'s book, "The Men Who Loved Trains," was referred to as the "Three Systems East" plan.  
It was the brainchild of Jim McClellan and assistant Gerald Davies.  Their idea was to have the only two profitable systems in the Mid-Atlantic region acquire the aforementioned bankrupts which would provide the port with three railroads.  
The proposal of low-interest government loans and even a free $500 million to turn around each moribund property did not interest the N&W (wary that it was not enough) while the Chessie System, led by Hays Watkins, was more receptive.  With the N&W backpedaling, Chessie was offered the Erie Lackawanna during July of 1975, which became known as the "Two Systems East" plan.
Later that year, in October, the railroad formally agreed to acquire the entirety of Erie Lackawanna east of Sterling, Ohio for $155 million (west of that point the Baltimore & Ohio's line to Chicago would be utilized with the rest of EL sold or abandoned across western Ohio and Indiana).  
The last hurdle to clear was negotiating contracts with EL's labor unions.  As Mr. Loving's book points out labor had enjoyed lucrative contracts under their former company and would not agree to what was essentially a pay cut under Chessie System.  
As a result, talks broke down and a deal was ultimately never reached.  Time was running out to find a suitable place for the EL in the soon-to-be carved up Northeast as Congress had mandated Conrail launch operations during the first half of 1976.  
Alas, with no takers, this proved the fate of EL which was eventually included in Big Blue upon its start date; April 1, 1976.  What many had feared with a Conrail takeover happened as the old Erie Lackawanna lines played only a small role in the new conglomerate.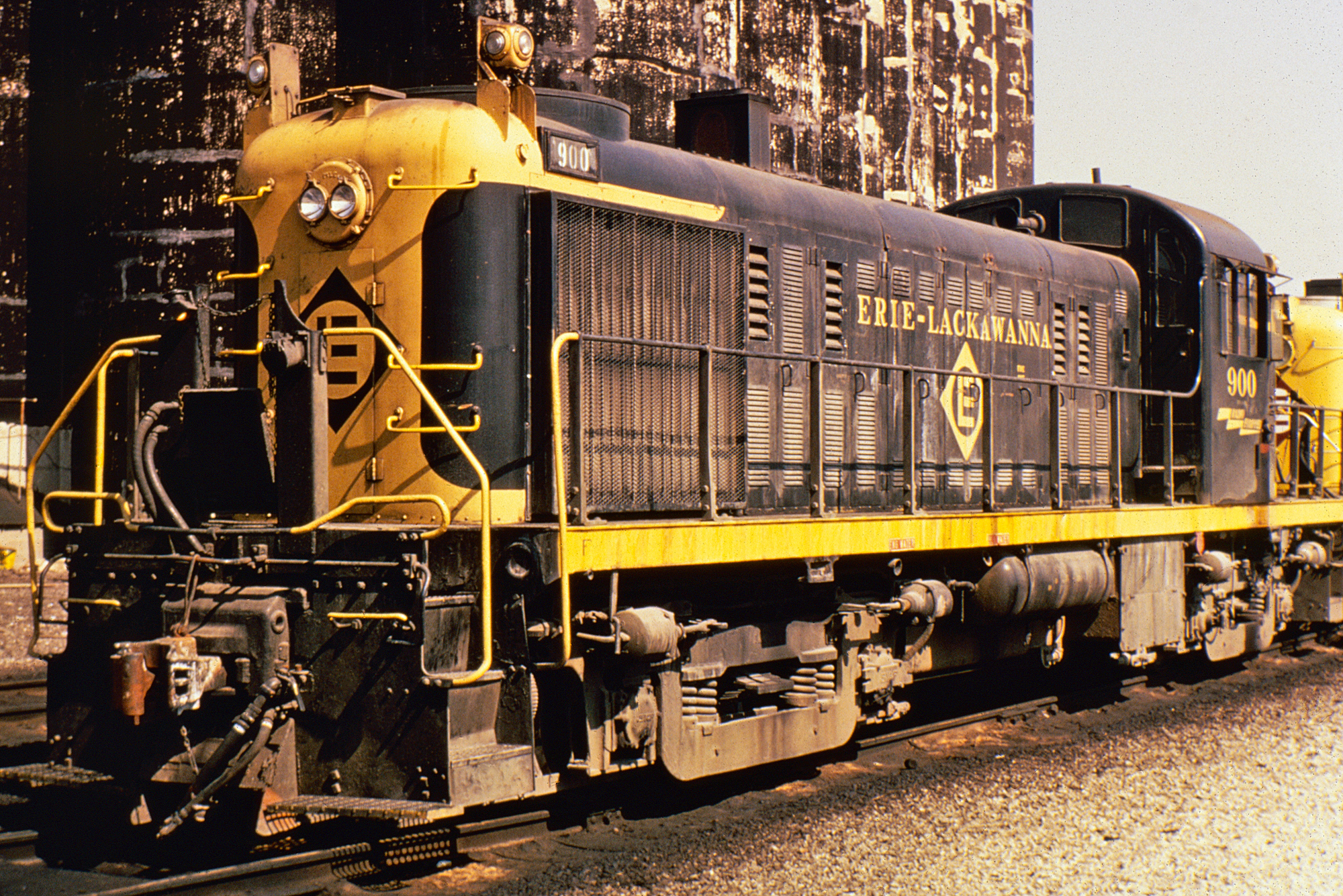 Erie Lackawanna RS2 #900 (ex-Erie #900) layover at the Normal & 51st Yard in Chicago during the 1960s. American-Rails.com collection.
Conrail had no need for three main lines to Chicago and mothballed the EL west of Marion, Ohio during September of 1977.  
The Erie Western Railway was formed soon afterwards to operate the ex-EL from Wren, Ohio into Chicago.  However, the western extent of the old Erie had never generated much traffic and relied largely on agricultural movements.  
The new short line soon realized this and entered bankruptcy during June of 1979.  A new startup took over, named the Chicago & Indiana Railway, but failed so quickly that operations ceased before the end of the year.  
Perhaps a private report prepared by the affluent Atchison, Topeka & Santa Fe during May of 1975 best illustrates Erie Lackawanna's potential.  
The Santa Fe had been a longtime interchange partner with EL via Chicago and noted that, "an extensive six-year rehabilitation plan would generate a net, after-tax income of $28 million annually" (in 2021 that figure would be $144 million).
Diesel Locomotive Roster
American Locomotive Company
| Model Type | Road Number | Date Built | Quantity |
| --- | --- | --- | --- |
| HH-660 | 302-305 (Ex-Erie) | 1939 | 4 |
| S1 | 306-321 (Ex-Erie) | 1946-1950 | 16 |
| HH-600 | 322-325 (Ex-DL&W) | 1934-1940 | 4 |
| S2 | 500-525, 530-533 (All Ex-Erie), 534-550 (Ex-DL&W) | 1946-1949 | 47 |
| S4 | 526-529 (Ex-Erie) | 1952 | 4 |
| PA-1 | 850-861 (Ex-Erie) | 1949 | 12 |
| PA-2 | 862-863 (Ex-Erie) | 1951 | 12 |
| RS2 | 900-913, 950-954 (All Ex-Erie) | 1949 | 19 |
| RS3 | 914-933, 1005-1056 (All Ex-Erie) | 1950-1952 | 72 |
| C424 | 2401-2415 | 1963 | 15 |
| C425 | 2451-2462 | 1964 | 10 |
| FA-1 | 7251, 7254, 7271, 7274, 7281, 7284, 7321, 7324, 7331, 7334, 7341, 7344, 7351, 7354 (All Ex-Erie) | 1947-1949 | 14 |
| FB-1 | 7252-7253, 7282-7283, 7292-7293, 7332-7333, 7342-7343, 7352-7353 (All Ex-Erie) | 1948-1949 | 12 |
| FA-2 | 7362-7363, 7372-7373, 7381-7384, 7391-7394 (All Ex-Erie) | 1950-1951 | 12 |
Baldwin Locomotive Works/Lima Locomotive Works

| Model Type | Road Number | Date Built | Quantity |
| --- | --- | --- | --- |
| DS-4-4-660 | 381-385 (Ex-Erie) | 1947 | 5 |
| DS-4-4-750 | 386-389 (Ex-Erie) | 1949 | 4 |
| DS-4-4-1000 | 600-616 (Ex-Erie) | 1946-1949 | 17 |
| S12 | 617-628 (Ex-Erie) | 1951-1952 | 12 |
| LS-1000 | 650-659 (Ex-Erie) | 1949 | 10 |
| LS-1200 | 660-665 (Ex-Erie) | 1950 | 6 |
| DRS-4-4-1500 | 1100-1105 (Ex-Erie) | 1949 | 6 |
| AS16 | 1106-1120, 1140 (All Ex-Erie) | 1951-1952 | 16 |
| DRS-6-6-1500 | 1150-1161 (Ex-Erie) | 1950 | 12 |
Electro-Motive Division

| Model Type | Road Number | Date Built | Quantity |
| --- | --- | --- | --- |
| SW1 | 349-359 (Ex-DL&W), 360 (Ex-Erie) | 1940-1948 | 12 |
| SW8 | 361-371 (Ex-DL&W) | 1951-1953 | 11 |
| NW2 | 401-427 (Ex-Erie), 441-445 (Ex-DL&W) | 1945-1949 | 32 |
| SW7 | 428-433 (Ex-Erie) | 1950 | 6 |
| SW9 | 434-440 (Ex-Erie), 446-455 (Ex-DL&W) | 1951-1953 | 18 |
| SW1200 | 456-463 (Ex-DL&W) | 1957 | 8 |
| SD45 | 801-803 (Ex-Demonstrators), 3601-3634 | 1966-1968 | 37 |
| E8A | 809-819 (Ex-DL&W), 820-833 (Ex-Erie) | 1951 | 25 |
| GP7 | 1200-1246 (Ex-Erie), 1270-1284 (Ex-DL&W), 1400-1404 (Ex-Erie), 1406-1409 (Ex-DL&W) | 1950-1953 | 71 |
| GP9 | 1260-1265 (Ex-Erie) | 1956 | 6 |
| GP35 | 2551-2586 | 1964-1965 | 36 |
| SDP45 | 3635-3668 | 1969 | 34 |
| SD45-2 | 3669-3681 | 1972 | 13 |
| FTA | 6011, 6014, 6021, 6024, 6031, 6034, 6041, 6044, 6511, 6521, 6531, 6541 (All Ex-DL&W): 7001, 7004, 7051, 7054 (All Ex-Erie) | 1944-1945 | 16 |
| FTB | 6012, 6022, 6032, 6042, 6512, 6522, 6532, 6542 (All Ex-DL&W): 7002-7003, 7052-7053 (All Ex-Erie) | 1944-1945 | 12 |
| F3A | 6051, 6054, 6061, 6064, 6111, 6114, 6211, 6214, 6512, 6522, 6571, 6581, 6591, 6601-6602, 6611-6612, 6621-6622, 8411, 8412, 8414, 8421, 8424, 8422, 8431-8432, 8414, 8442, 8451-8452, 8454 (All Ex-DL&W): 7061, 7064, 7081, 7084, 7091-7094, 7101-7104, 7141-7144, 8001, 8004, 8061, 8064 (All Ex-Erie) | 1946-1948 | 52 |
| F3B | 6052, 6062, 6112, 6212, 6532, 6542, 6572, 6582, 6592 (All Ex-DL&W): 7062-7063, 7082-7083, 8002, 8062 (All Ex-Erie) | 1946-1948 | 15 |
| F7A | 6311, 6314, 6321, 6331, 6341, 6351, 6361-6362 (All Ex-DL&W): 7111, 7114, 7121, 7124, 7131, 7134 (All Ex-Erie) | 1948-1952 | 14 |
| F7B | 6322, 6332, 6342, 6352 (All Ex-DL&W): 7112-7113, 7122-7123, 7132-7133 (All Ex-Erie) | 1949-1952 | 10 |
Fairbanks Morse
| Model Type | Road Number | Date Built | Quantity |
| --- | --- | --- | --- |
| H24-66 (Train Master) | 1850-1861, 1930-1935 (All Ex-DL&W) | 1953-1956 | 18 |
General Electric

| Model Type | Road Number | Date Built | Quantity |
| --- | --- | --- | --- |
| 44-Tonner | 26 (Ex-Erie), 51-53 (Ex-DL&W) | 1946 | 4 |
| U25B | 2501-2527 | 1964-1965 | 27 |
| U33C | 3301-3315 | 1964-1969 | 15 |
| U36C | 3316-3328 | 1971 | 13 |
| U34CH | 3351-3382 | 1970-1973 | 32 |
---
---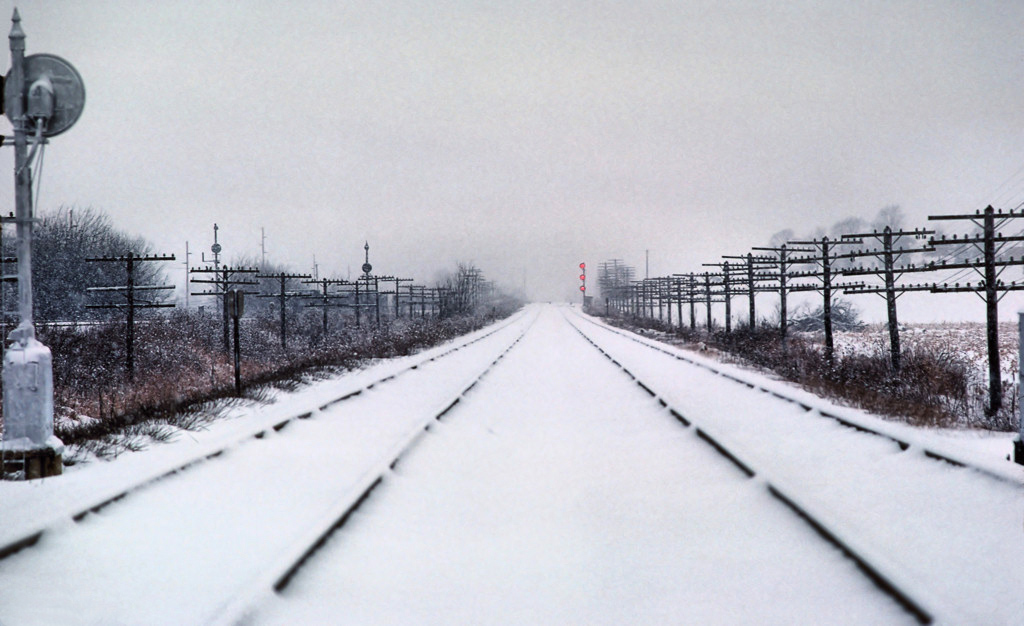 This was the Erie Lackawanna, a high and wide pike ideal for intermodal service. It still witnessed nearly 25 trains per day before Conrail but after its start fell largely silent, as seen here near Sterling, Ohio in December, 1976. Gary Morris photo.
Santa Fe's report went on to state that, "The E-L is the only Eastern railroad which has the right-of-way suitable for high-speed, long-haul service without superfluous, congested and expensive urban terminals every hundred miles."
"The absence of clearance restrictions, an extensive double track main line, and interdivisional crew districts are indicative of the physical resources which are presently being utilized at a level far below capacity."  
In another words, the EL offered great potential and would certainly have blossomed during the intermodal revolution of the 1980s.  
Alas, the political environment of the time (which saw railroads as an archaic mode of transportation) and strict regulation, coupled with EL's heavy debt, resulted in a near impossible situation for the carrier.  
The government certainly had the ability and means to save the road by creating a second Conrail but believing the Northeast already held far too much excess trackage (a notion quite true in many respects) was not willing to do so.