Grand Trunk Western Railroad, "The Good Track Road"

The Grand Trunk Western (GTW) was one of three notable U.S. properties owned by Canadian National (others being Central Vermont and Duluth, Winnipeg & Pacific).  Despite a network of less than 300 miles its hotly contested Detroit - Chicago market was a vital artery for CN in reaching America's railroad capital.  
Until Grand Trunk Corporation's creation in 1971 the GTW was a double-edged sword.  It moved considerable high-value freight, notably autos and autoparts, but its short-haul nature proved a bane in generating respectable income.
Its earliest predecessor was put into service before the Civil War serving the Detroit area.  Later, under Canadian-control, a direct link into Chicago was established by outmaneuvering the mighty Vanderbilts.  
At the turn of the 20th century these patchwork of railroads achieved a common name, Grand Trunk Western.  By the early 1920's it found itself under Canadian National's wing, a Canadian government creation.
During the early 1990's, CN opted to restructure its American enterprises resulting in the loss of GTW's corporate image.  Today, it remains a paper corporation only of CN's American holdings.

Grand Trunk Western F3A #9014 lays over between assignments in Chicago during July, 1964. Roger Puta photo.
For purposes of this article, we will highlight the Grand Trunk Western Railroad which should not be confused with the Grand Trunk Railway (GTR) although the two carriers do share historical ties. The GTR predates even Canadian National and eventually blossomed into a network stretching from the Great Lakes to Quebec.  
The company's history is complex although to understand GTW's lineage a basic understanding of the Grand Trunk Railway is needed.  It was Canada's version of America's eastern trunk lines (Baltimore & Ohio, Pennsylvania, New York Central, and Erie), envisioned to link Northeastern/New England ports with Chicago.  
On November 10, 1852 the Grand Trunk Railway of Canada (GTR) was incorporated with intentions of connecting Portland, Maine with Detroit, Michigan via Montreal and Toronto.  Once this task had been completed routes to both Chicago and New York City were eyed.  
The latter initiative was never accomplished although a Windy City connection carried more success.  Grand Trunk Western's immediate heritage begins when the Chicago, Detroit & Canada Grand Trunk Junction Railroad (CD&CGTJ) was formed on March 16, 1858 to connect Detroit with Port Huron, a distance of 60 miles.  It opened a little over a year later on November 21, 1859.  
As Don Hofsommer's book, "Grand Trunk Corporation: Canadian National Railways In The United States, 1971-1992" notes it was soon leased by GTR for the purpose of forming a Detroit-Chicago corridor.
More Reading...
A History Of Michigan's Railroads
Detroit, Toledo & Ironton, "We Have The Connections"

Canadian National, "The People's Railway" 

Pushing Towards Chicago
Grand Trunk interests quickly realized that reaching Chicago would require a monumental battle with the Vanderbilts who sought to restrict competition across Michigan.  
While smaller carriers like the Wabash, Pere Marquette, and Nickel Plate Road also reached the Chicago and Detroit market, New York Central dominated the region through its Michigan Southern (Lake Shore & Michigan Southern) and Michigan Central subsidiaries.  
They also controlled the strategic Canadian Southern (CASO) linking Detroit with Buffalo, New York via southern Ontario.  The Vanderbilts, especially the Commodore, were ruthless in their aim to spread NYC's influence throughout the Northeast and Midwest.  

This cutthroat approach was also instilled in his son, William, who was running the empire when the Grand Trunk made its push towards Chicago.  In a surprising turn of events he was ultimately outfoxed in attempting to block its entry.  
To do this he acquired the small Chicago & North Eastern (C&NE), believing this road of just 49 miles (opened in 1877) connecting Flint and Lansing was a key asset.  His intuition proved correct but the Canadians countered by slyly picking up a series of disconnected railroads surrounding the C&NE. 
These included the Port Huron & Lake Michigan in 1879 (running between Port Huron with Flint it first opened in 1871 and totaled 66 miles); Peninsular Railroad of Michigan (opened between 1869 and 1872, at 115 miles in length it connected Lansing with South Bend, Indiana); and the Peninsular Railroad Company of Indiana (extending west from South Bend it opened 45 miles to Valparaiso by 1873).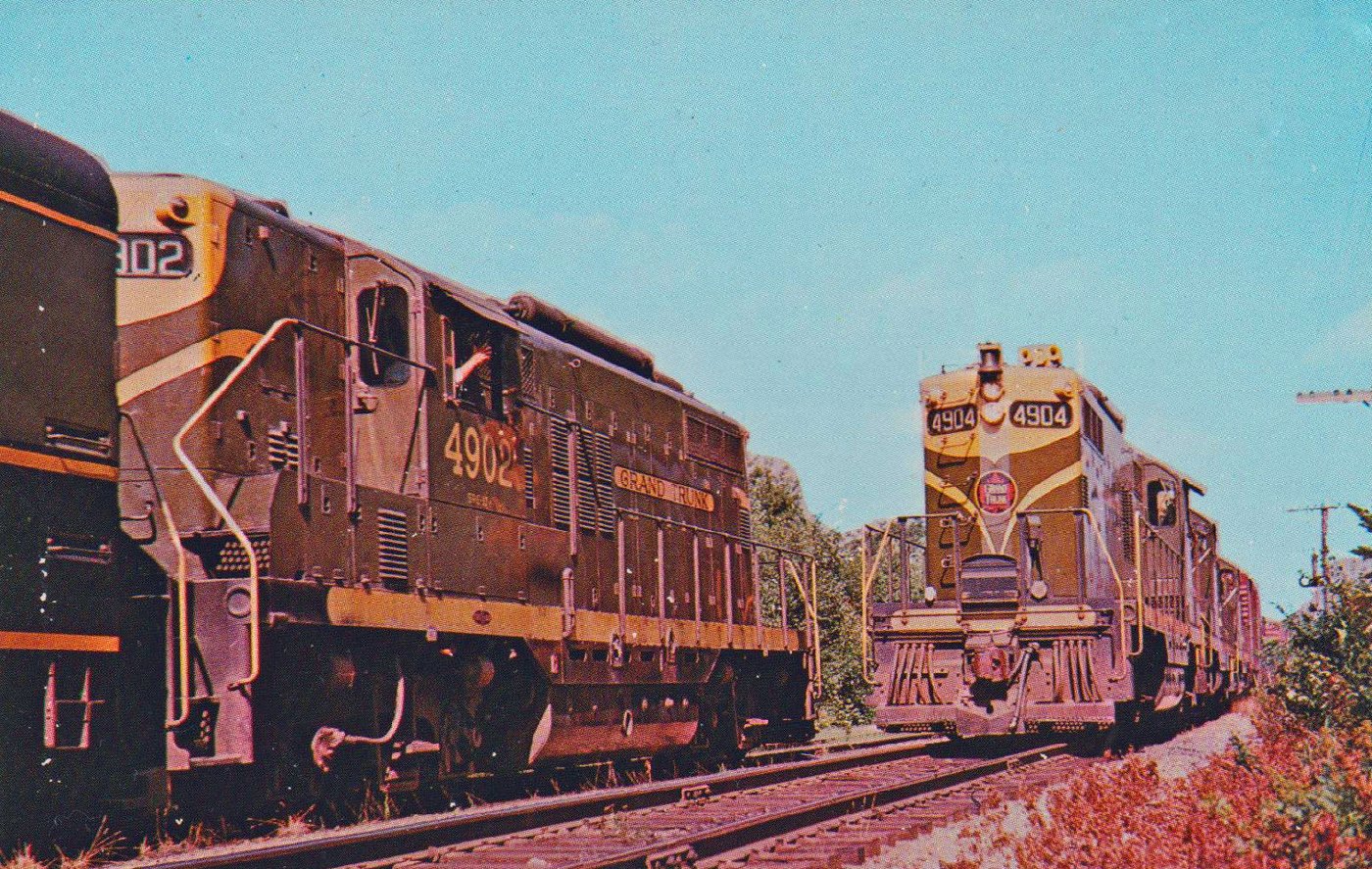 Grand Trunk Western GP9 #4902 has westbound/northbound train #16 (Portland - Montreal) as it passes GP9 #4904 ahead of an eastbound/southbound freight (train #493) at Gilead, Maine during August of 1961.
Cutoff from friendly connections and with nowhere else to turn Vanderbilt capitulated and sold out to the Canadians.  
As Patrick Dorin notes in his book, "The Grand Trunk Western Railroad: A Canadian National Railway," all of these properties were first operated as the Chicago & Lake Huron Railroad, which became the Chicago & Grand Trunk Railway in 1880.  
Service opened to Chicago via the Chicago & State Line Extension's completion on February 8th running 47 miles from Valparaiso to Elsdon (Chicago).  
The GTR later gained access to one of the city's six great terminals, Dearborn Station, when it helped establish the Chicago & Western Indiana (The GTR also held ties in the Belt Railway of Chicago, Chicago's and the country's first belt line system.).  
With a through route now established, attention pivoted to expanding its reach across the Wolverine State.   Much of the growth came via the Great Western Railway which was acquired on August 12, 1882.  
This was another Canadian flag that served southern Ontario and competed with the Canada Southern between Niagara Falls and Windsor.  It also owned a notable U.S. property, the Detroit, Grand Haven & Milwaukee Railway (DGH&M), itself a merged system.  
Grand Trunk Western 4-8-4 #6322 (U-3-b) is seen here in South Bend, Indiana on August 7, 1960. Author's collection.
The DGH&M's lineage includes the Detroit & Pontiac (opened in 1844 it operated 26 miles between its namesake cities) and Detroit & Milwaukee (constructed from 1855 to 1870 it operated a rather substantial network of 163 miles between Pontiac and Grand Haven).  
More additions followed that decade:
The Toledo, Saginaw & Muskegon Railway (running 96 miles from Ashley to Muskegon) was added in 1888.


Cincinnati, Saginaw & Mackinaw (a 54-mile operation connecting Durand with Bay City) in 1890.


Michigan Air Line (Richmond to Jackson, 105 miles).


Pontiac, Oxford & Port Austin (completed in 1883 it maintained 100 miles from Pontiac to Caseville).


Chicago, Kalamazoo & Saginaw (finished in 1901 it was a short branch running 11 miles from Pavilion to Kalamazoo). 
While this growth was ongoing a crucial infrastructure project was completed in 1891, the St. Clair River Tunnel.  It was the first bore of its kind ever completed in North America and provided an all-rail link between the Grand Trunk and its Michigan properties, running beneath the river between Sarnia, Ontario and Port Huron, Michigan. 
---
Notable Passenger Services
The International Limited: (Montreal - Detroit - Chicago)
Inter-City Limited: (Montreal - Detroit - Chicago)
Maple Leaf: (Montreal - Detroit)
---
At its zenith the Grand Trunk Railway was an impressive operation, maintaining its own 800-mile corridor from Portland, Maine to Sarnia while also linking Montreal, Quebec, and Toronto.  In addition, it controlled the Central Vermont along with the Michigan roads.  
To streamline its operations in the Midwest GTR formed the Grand Trunk Western Railway on November 22, 1900.  Despite a network that already totaled more than 1,000 route miles, after reaching Chicago GTR's promoters sought their own transcontinental extension to more effectively compete against the Canadian Pacific and Canadian Northern.  
To do this the Grand Trunk Pacific Railway was incorporated on October 24, 1903.  The vehicle behind all of this growth was Charles Hays, an American who held experience in operating American railroads. Alas, he was tragically killed when the Titanic sank on April 14, 1912.  
This event, coupled with the financial Panic of 1907 and a 1910 strike, ended the Hays dream of transforming GTR into Canada's preeminent coast-to-coast carrier.  
In his book, "Canadian National Railway," author Tom Murray notes the process of establishing what became the Canadian National Railways (as originally spelled, the "s" was later dropped) required several years.  Its heritage began in May of 1915 when the Canadian government took over the National Transcontinental Railway.
Grand Trunk Western Railroad
It already controlled the Intercolonial and Prince Edward Island Railways and next brought in the financially troubled Canadian Northern (Quebec City - Vancouver) in December of 1918.  The Canadian National Railways was formally created on June 6, 1919 under which all the above properties were placed.  
In January of 1923 the Grand Trunk Railway and its affiliates joined the new conglomerate, thus forming the modern Canadian National system.  
As a means of further corporation simplification the Grand Trunk Western Railroad (GTW) was born on November 1, 1928 to operate all rail assets between Detroit and Chicago.
This included the Grand Trunk Western Railway; Detroit, Grand Haven & Milwaukee; Chicago, Detroit & Canada Grand Trunk Junction; Toledo, Saginaw & Muskegon; Pontiac, Oxford & Northern; Detroit & Huron; Michigan Air Line; Chicago & Kalamazoo Terminal; Bay City Terminal; and Grand Rapids Terminal.  
The new GTW also held its longstanding interest in terminal carriers Belt Railway of Chicago, Chicago & Western Indiana and Detroit & Toledo Short Line while also maintaining car ferry service between Muskegon and Milwaukee via the Grand Trunk-Milwaukee Car Ferry Company.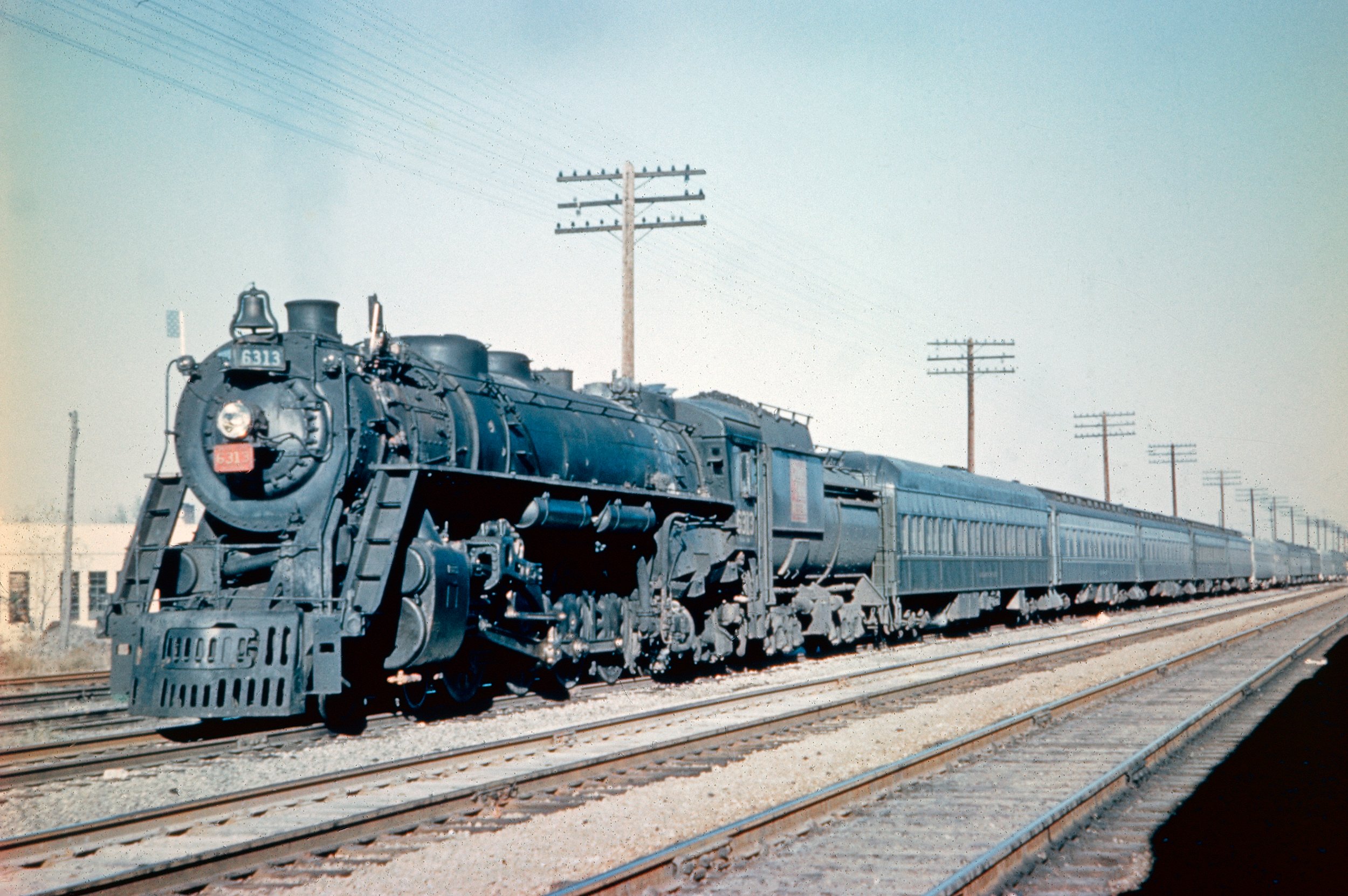 Grand Trunk Western 4-8-4 #6313 with a railfan special at Imlay City, Michigan during the 1950's. Author's collection.
Interestingly, much of Grand Trunk Western's corporate existence was a financial struggle.  For reasons already mentioned, it moved high-value freight and was a key artery for Detroit's auto makers.  However, its short-haul nature made profits difficult to procure.  
It may have fallen into bankruptcy during the depression era save for its parent's protective wing.  Traffic rebounded strongly with the onset of World War II although difficulties returned afterwards.  For many years Canadian National paid almost no mind to its subsidiary's problems, perhaps in part due to its own troubles.  
Since it was a publicly-owned corporation any annual losses were simply covered by taxpayers.  As a result, nothing changed and a "business as usual" approach settled over CN and its affiliates.  With no incentives to do so there was little innovation and management carried a blasé attitude.  
By the mid-1960's CN finally took serious steps at improving both its own situation as well as GTW's.  The idea of outright sale to a large American Class I was mulled but ultimately CN's headquarters in Montreal decided a new team led by Robert Bandeen would hopefully point the carrier in a new, and more profitable, direction.  
One tactic involved placing all U.S. properties under one holding company.  The Duluth, Winnipeg & Pacific was the most lucrative of the three and could help mask GTW's problems.  This gave rise to the Grand Trunk Corporation in 1971; officially, GTW, Central Vermont, and DW&P were placed within it on July 31st that year.  
The move immediately paid dividends as GTC posted a net income of $3.9 million for 1972.  Another significant boon was the retirement of money-losing passenger services when Amtrak launched on May 1, 1971.  
By then, GTW was hemorrhaging more than $2 million annually to maintain these trains and was happy to pay Amtrak's required entrance fee to rid itself of such services (final runs were made April 30th).  
As Bandeen and his group worked to further cut red ink efforts were aimed at eliminating anything which did not garner a profit.  In December of 1973 GTW got out of the commuter business when it turned over its Detroit - Pontiac services to the Southeastern Michigan Transportation Authority (SEMTA).  
There was also the issue of the Lake Michigan car ferries.  Until January 1, 1954, GTW worked in conjunction with the Pennsylvania Railroad at Muskegon to run these into Milwaukee, interchanging there with the Chicago & North Western, Soo Line, and Milwaukee Road.

Through the late 1960's the ferries still provided more than 800,000 tons in annual freight with an added incentive of bypassing congested Chicago.  
Unfortunately, operating the boats (City of Milwaukee, Grand Rapids, and Madison) was labor intensive and extremely expensive.  After several attempts, GTW was finally given Interstate Commerce Commission authorization to discontinue the boats.  
The final run occurred on October 31, 1978 when the City of Milwaukee tied up in Muskegon early that morning.  The decade also witnessed a handful of abandonments including Jackson - Lakeland (35 miles) and Coopersville - Grand Haven (15 miles).  
Other improvements included the purchase of new diesel road-switchers from Electro-Motive, implementation of centralized traffic control (CTC), and laying heavy welded-rail.  In 1975 the railroad began marketing itself as the "Good Track Road" and introduced a new red, white, and blue livery featuring a stylized "GT."  
While much effort was placed on cutting costs management simultaneously worked hard to encourage business.  This effort also paid off through the introduction of new trailer-on-flatcar (TOFC) service, oil trains, and handling food products.  
Grand Trunk Western SD40 #5926 and GP38-2 #5700 lead autoracks through Durand, Michigan on May 22, 1993. Author's collection.
By the end of the 1970's, GTW was posting its first stand-alone net profit in several decades.  The 1980's proved a turning point.  With carriers struggling and federal regulations loosened the merger movement swept across the United States.  
As this was ongoing GTW watched carefully for a way to grow through acquisition.  Its first purchase occurred in 1980 by picking up the Detroit, Toledo & Ironton.  
It was a regional system that offered additional customers in the Detroit area (notably Ford's gigantic River Rouge Complex), interchanges across Ohio, and access into Cincinnati via Conrail trackage rights.  
It then took an extremely bold measure in 1982 by trying to acquire the slimmed down and bankrupt Milwaukee Road.  
The deal was to involve GTW assuming the entirety of Milwaukee's $250 million debt.  While this fabled granger no longer reached the Pacific coast it still provided great opportunities throughout the Midwest at Louisville, Kansas City, and the Twin Cities.  
From a network and public standpoint the combined railroads made the most sense offering a system that stretched from Detroit to America's Heartland.  It appeared the marriage would happen until Chicago & North Western and Soo Line both submitted bids between the summer of 1983 (C&NW) and early January of 1984 (Soo).  

Steam Locomotive Roster
Numbers

2664-2683

2684

3515-3519

3516 (2nd)*

3720-3724

3740-3747**

3748-3757

5627-5631

5632-5634

6037-6041

6312-6336

6405-6410

7474-7498

7519-7521

7522-7526

8300-8304

8305-8319

8320-8329

8340-8349

8370-8381

Wheel Arrangement

2-8-0

2-8-0

2-8-2

0-8-2

2-8-2

2-8-2

2-8-2

4-6-2

4-6-2

4-8-2

4-8-4

4-8-4

0-6-0

0-6-0

0-6-0

0-8-0

0-8-0

0-8-0

0-8-0

0-8-0

Class

N-4-d

N-4-e

S-1-g

S-1-g

S-1-h

S-3-b

S-3-c

K-4-a

K-4-b

U-1-c

U-3-c

U-4-b

O-18-b

O-18-d

0-19-a

P-5-a

P-5-b

P-5-c

P-5-e

P-5-g

Builder

Alco

Alco

Alco

Alco

Alco

Alco

Alco

Alco

Baldwin

Baldwin

Alco

Lima

Lima

Lima

Alco

Alco

Alco

Lima

Baldwin

Baldwin

Date Built/Notes

1907-1911

1911

1918

1918

1918

1923

1924

1924

1929

1925

1942

1938

1920

1923

1919

1923

1924

1927

1927

1929
*  Rebuilt from 2-8-2 #3516.
** #3740 renumbered #4076, #3742 to #4078, #3744 to #4079, and #3745 to #4080.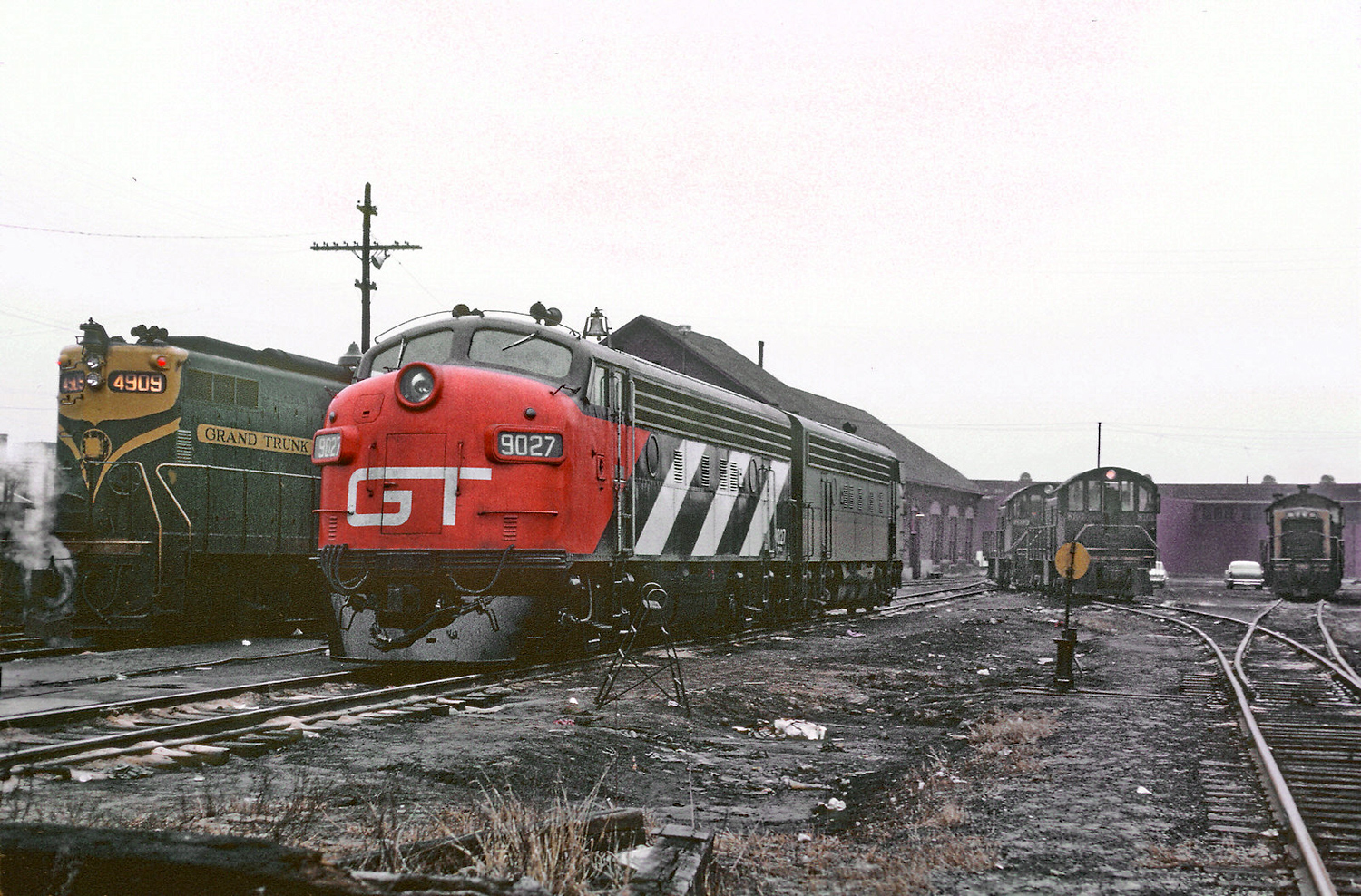 Grand Trunk Western F3A #9027, GP9 #4909, and other power layover at Elsdon Yard in Chicago during an overcast January day in 1965. Roger Puta photo.
Diesel Locomotive Roster
Numbers

73

78-79

1000-1003

1500-1503

1509-1519

1950-1951

4134-4139

4427-4441

4539-4546

4552-4557

4600-4629

4700-4707

4900-4901

4907-4922

4930-4933

4950-4952

5700-5708

5709-5734

5800-5811

5812-5836

5844-5849

5850-5861

5900-5929

5930-5937

6200-6204

6250-6254

6400-6404

6405-6425

7010-7016

7017-7019

7225-7232

7262-7268

7900-7914

7966-7974

8026-8027

8034-8035

8082-8090

8091-8111

8119-8121

8162

8196-8205

9006-9027

Model Type

Boxcab

SC

CS-9

SW1200

SW1200

RS-1

GP9

GP9

GP9

GP9

GP9R

GP18

GP9

GP9

GP9

GP18

GP38-2

GP38-2

GP38AC

GP38-2

GP38-2

GP38-2

SD40

SD40-2

GP38

SD38

GP40

GP40-2

SW9

Sw1200

SW900

SW900

NW2

NW2

S-4

S-4

S-4

S-2

S-2

S-4

S-4

F-3

Builder

J.G. Brill Company

Electro-Motive

Alco

Electro-Motive

Electro-Motive

Alco

Electro-Motive

Electro-Motive

Electro-Motive

Electro-Motive

Electro-Motive

Electro-Motive

Electro-Motive

Electro-Motive

Electro-Motive

Electro-Motive

Electro-Motive

Electro-Motive

Electro-Motive

Electro-Motive

Electro-Motive

Electro-Motive

Electro-Motive

Electro-Motive

Electro-Motive

Electro-Motive

Electro-Motive

Electro-Motive

Electro-Motive

Electro-Motive

Electro-Motive

Electro-Motive

Electro-Motive

Electro-Motive

Alco

Alco

Alco

Alco

Alco

Alco

Alco

Electro-Motive

Date Built/Notes

1926, Acquired 1934

1938, Ex-#7800-7801

1979-1980, Rebuilt S-4's

1955

1957-1960

1957

1958-1959

1954

1957

1957

Rebuilt GP9's

1960

1954

1957

1958

1960

1972

1972, Ex-MP

1971

1977-1980

1977, Ex-P&LE

1978, Ex-Rock Island

1969-1970

1975, Ex-MP

1966-1969, Ex-DT&I

1969-1971, Ex-DT&I

1968, Ex-D&TI

1972-1973, Ex-DT&I

1952-1953

1955

1956

1958

1941-1942

1947-1948

1953

1955

1955

1942-1946

1947, Ex-CN

1951, Ex-CV

1956

1948
The above roster information is courtesy of "The Grand Trunk Western Railroad: A Canadian National Railway" by Patrick Dorin and Don Hofsommer's, "Grand Trunk Corporation: Canadian National Railways In The United States, 1971-1992."
---
---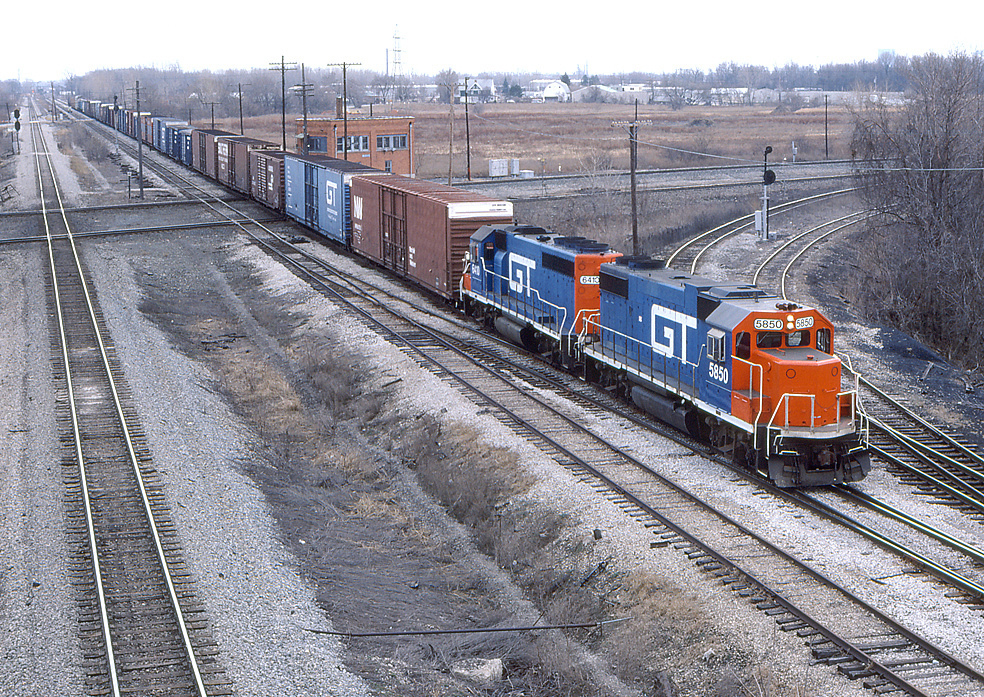 Grand Trunk Western GP38-2 #5850 and GP40-2 #6410 head north past Alexis Tower and through the interlocking in Toledo, Ohio with autoparts on March 26, 1994. Wade Massie photo.
When both included cash incentives GTW's leverage collapsed.  By the time their bidding war had ended C&NW's offer ballooned to a staggering $781 million with Soo close behind at $571 million (Soo was ultimately declared the winner by bankruptcy Judge Thomas McMillen).  
With this defeat GTW and Grand Trunk Corporation settled into a regional role over the next decade. In the early 1990's CN opted to further simplify its American holdings by largely eliminating their identities through the creation of "CN North America" in December of 1991; Grand Trunk Corporation was then folded back into CN as of January 1, 1992.  
As Mr. Hofsommer's book points out the move integrated marketing and operations for purposes, as the railroad put it, of "introducing a single system [for] seamless transportation."  
A few years later, in 1995 CN itself was spun-off as a private, independent company that no longer carried any ownership under the Canadian government (ironically, most of its stock was purchased by American investors).  
While the GTW had failed in its Milwaukee Road purchase CN eventually did reach new markets in the Midwest by purchasing Illinois Central in 1998.  
The legendary "Main Line of Mid-America" provided access to Omaha as well as a corridor running the spine of America to New Orleans.  Today, GTW remains a paper corporation although no longer carries a separate identity.