Pacific Great Eastern Railway

Last revised: June 12, 2023
By: Adam Burns

British Columbia's largest railroad and Canada's third largest was the Pacific Great Eastern Railway of the early 20th century.  The system languished for years as an incomplete, money-losing operation with a few hundred miles in service north of Vancouver. 

This changed after World War II when government funding helped expand the PGE by several hundred miles and it continued to grow throughout the 1980s. 
By then the railroad was renamed as the British Columbia Railway and efforts were in place to extend it to the Alaskan border, finally allowing that state to connect with the North American rail network.  

This proposal would ultimately fall through due to rising costs.  Later, the BC Rail system disappeared into Canadian National, which now leases the entire railroad from the local government.

Photos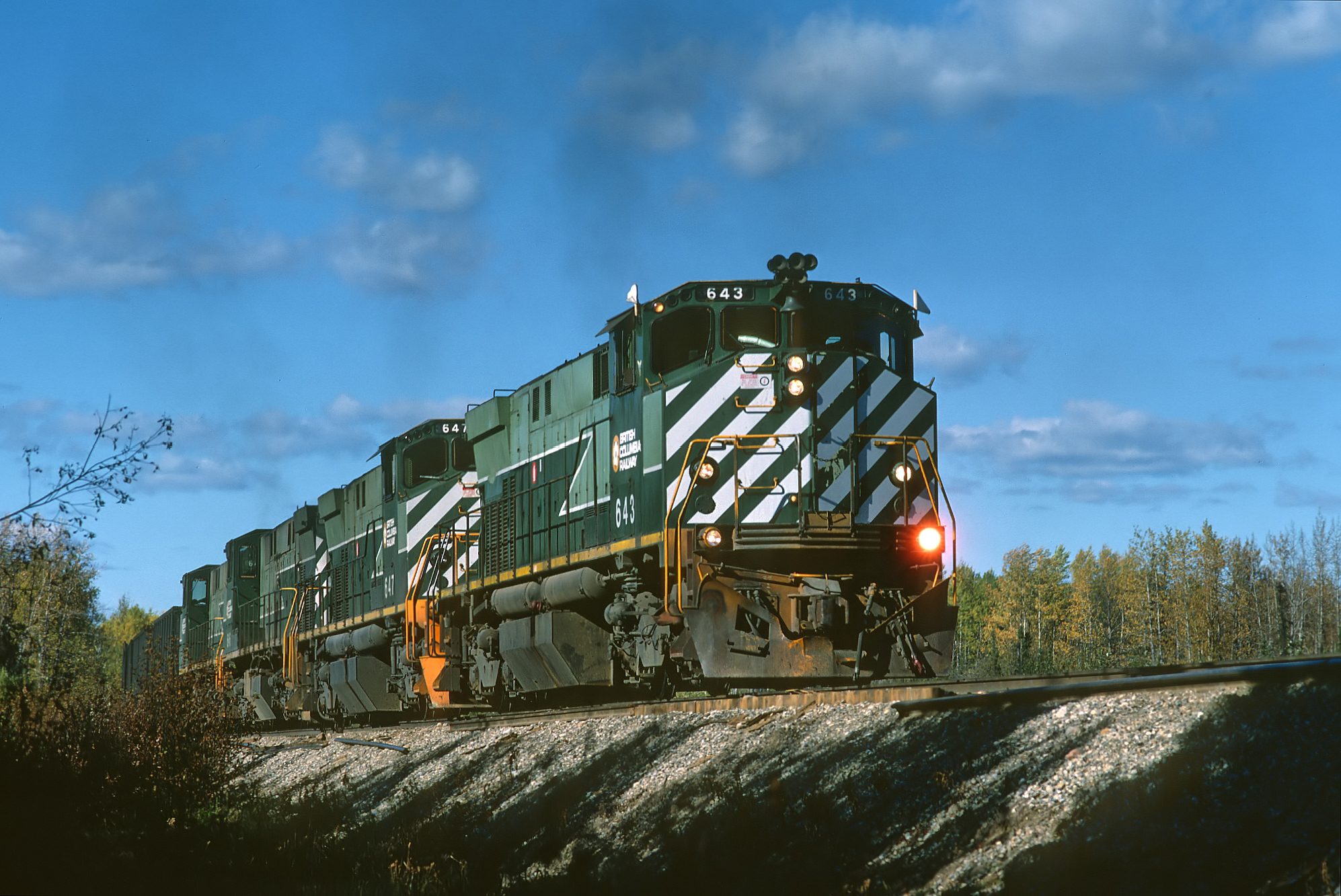 British Columbia Railway M420W #643 leads a southbound freight on the Ft. Nelson Subdivision near Needley, British Columbia on September 16, 1987. Roger Puta photo.
History
Perhaps Canada's most well known railroad that was not named either (Canadian) National or (Canadian) Pacific was the Pacific Great Eastern (PGE).  It was a late entrant into the industry, not incorporated until February 27, 1912. 
As originally founded the PGE was to be privately operated with funds coming from major American and Canadian investors.  Initial plans saw the system connecting the major port of Vancouver along the Strait of Georgia with Prince George where a connection would be established with the Grand Trunk Pacific Railway. 
To begin the project the PGE took over the small Howe Sound & Northern Railway, which had a small, 9-mile line opened near Squamish.  During the next six years new construction took place that saw 195.5 miles of unconnected railroad opened between North Vancouver and Chasm.
At A Glance
Headquarters

Vancouver, British Columbia (94 West Pender Street)

Canadian Provinces Served

British Columbia

Dates Of Operation

1912 - July 14, 2004

Incorporation Date

February 27, 1912

Route Miles

861.9 (1969)

Track Gauge

4 Feet, 8 ½ Inches

Principal Lines

North Vancouver - Squamish - Lillooet - Quesnel - Prince George

Prince George - Chetwynd

Chetwynd - Dawson Creek

Chetwynd - Fort St. John - Fort Nelson

Odell - Fort St. James - Jackson

Kennedy - Mackenzie

Wakely - Quintette

Reporting Mark

PGE/BCOL

Successor

Canadian National
The PGE, however, ran into money problems during 1915 when it defaulted on an interest payment and the government took over the property in 1918. 
With a lack of funding and no incentive on British Columbia's part to see the railroad completed or even fully connected it languished as an unwanted stepchild through World War II. 

Expansion
At this time it served no city of any particular importance and traffic mostly included local natural resources such as timber and ore.  The railroad's fortunes finally turned after 1949 when an effort to complete its original planned route began. 

On November 1, 1952 a train formally arrived in Prince George with an RS3 bearing the shield "Hello! Prince George, We're Here."  Four years later on August 27, 1956 the PGE completed a connection to Vancouver, giving it a through route stretching 462.7 miles. 

British Columbia Railway SD40-2's #759 and #761, along with an interesting cabless M420B (#686) work as mid-train helpers near Squamish, British Columbia in September, 1981. American-Rails.com collection.
The railroad's expansion did not end here as it continued to push northward over the next few decades.  During 1958 British Columbia Premier W.A.C. Bennett announced intentions to extend the Pacific Great Eastern Railway into the Yukon and connect Alaska with the rest of the North American railroad network. 
During the 1960s the PGE saw more growth than it had experienced its entire half-century of operation when new construction connected the road to Fort Nelson, 334 miles north of Prince George. 
Along this main line spurs were also opened to Mackenzie, Quintette, Fort St. James, and Dawson Creek (here, an interchange was made with CN). 
At this time the railroad also looked to the northwest and its proposed Dease Lake Line.  From the main line at Fort St. James this new route would extend 412 miles to Dease Lake, which was very close to both the Yukon and southern Alaska (it also was not far away from short line, White Pass & Yukon).
System Map
Ultimately, rising costs ended construction on the Dease Lake project after just 263 miles had been completed to Jackson.  Interestingly, since that time there have been no serious proposals to connect Alaska (at least in terms of actual rails laid) although the idea has been discussed many times. 
British Columbia Railway
During 1972 the PGE was renamed as the British Columbia Railway with a new logo and two-tone green livery.  Interestingly, this name lasted a mere 12 years as it was shortened to BC Rail in 1984 with a red, white, and blue paint scheme. 
The railroad saw one last expansion during the early 1980s as well, the Tumbler Ridge Subdivision which stretched 82 miles from Wakely to Quintette. 
It was constructed to tap coal mines and not only featured two large bores (the 5.6-mile Table Tunnel and 3.7-mile Wolverine Tunnel) but was also electrified using motors built by Electro-Motive's General Motors Diesel Division (GMDD) of London, Ontario.
Locomotive Roster
| Builder | Model Type | Road Number | Date Built | Quantity |
| --- | --- | --- | --- | --- |
| GE | 70-Tonner | 551-557 | 1956-1965 | 7 |
| MLW | RS3 | 561-578 | 1951-1955 | 18 |
| MLW | RS10 | 579-630 | 1957-1966 | 52 |
| MLW | RSD17 | 624 | 1958 | 1 |
| MLW | C630M | 701-704 | 1969 | 4 |
| MLW | M630 | 705-716 | 1970-1972 | 12 |
| MLW | S13 | 1001-1003 | 1959 | 3 |
| CLC | H10-44 | 1004 | 1949 | 1 |
| Budd | RDC-1 | BC10-BC12 | 1956 | 3 |
| Budd | RDC-3 | BC30-BC33 | 1956 | 4 |
| Alco | FB-1 | RCC1 | 1950 | 1 |
| MLW | FPB-1 | RCC2 | 1955 | 1 |
| CLC | CFB16-4 | RCC3, RCC4 | 1953 | 2 |
---
At its peak BC Rail covered 962 miles, including all main lines and branches.  The PGE's, and later BC Rail's freight traffic initially relied mostly on natural resources such as wood products (lumber, pulpwood, woodchips, etc.), ore, and agriculture. 
However, as the railroad was greatly expanded after World War II its freight was vastly diversified from interchange traffic with major connections (Milwaukee Road, Canadian National, Canadian Pacific, Great Northern, Northern Alberta Railways, Northern Pacific, British Columbia Hydro & Power Authority, and Union Pacific) to intermodal and general merchandise. 
After owning the railroad for more than 80 years the British Columbia government announced in the spring of 2003 that all property except the right-of-way would be sold to Canadian National, which formally occurred a year later on July 15, 2004.  Today, CN still leases the former Pacific Great Eastern/BC Rail system from the government.
Thanks to "To Alaska Or Bust On A Mixed Train" by Steve Patterson and Joe McMillan from the August, 1986 issue of Trains as a primary reference for this article.