Pittsburgh and Lake Erie Railroad (P&LE): "The Little Giant"
Last revised: June 9, 2023
By: Adam Burns

The Pittsburgh and Lake Erie Railroad was a relatively small system.  It directly served the Pittsburgh region with lines extending as far as Connellsville to the southeast and Youngstown, Ohio to the northwest.  

Interestingly it never reached Lake Erie although it did become quite profitable moving raw materials for the steel industry that once proliferated the region.  
The P&LE sprang up at around the time Cornelius Vanderbilt's New York Central & Hudson River was expanding across the Midwest.  
During the midst of this growth an NYC&HR subsidiary eyed the property to gain entry into Pittsburgh, then the sole domain of rival Pennsylvania Railroad.  
In the succeeding years the P&LE became an important Central subsidiary although the larger road never formally absorbed it.  
Incredibly, it managed to even outlive the NYC and later Penn Central.  As an independent it continued to operate a profitable business into the early 1990s when CSX Transportation gained control.  Today, the company is still in existence although under a different name.

Pictures
Five Pittsburgh & Lake Erie GP38s lead westbound freight LT29 across the diamond at Blasdell, New York on August 20, 1988 as a Buffalo Southern freight waits in the distance. Doug Kroll photo.
History
The Pittsburgh and Lake Erie Railroad dates back to its organization on May 11, 1875 when a prominent Pittsburgh businessman, William McCreery, along with a group of associates, chartered the company.  
His hope was to develop a successful local operation, which would offset the monopolistic nature and discriminatory rates imposed by the PRR.  
According to the Pittsburgh & Lake Erie Railroad Historical Society the P&LE was officially chartered in Pennsylvania on May 18th while a similar charter was acquired from Ohio on April 30, 1877 for the Youngstown & Pittsburgh Railroad. 
The Y&P was formed to construct the P&LE's Youngstown extension.  Unfortunately, McCreery had little success in obtaining the needed capital for his project and a new group took over in 1877.  
They were able to see some construction in the Beaver Falls, Pennsylvania area (north of Pittsburgh) along the Beaver River but little else.
At A Glance
Headquarters

Pittsburgh, Pennsylvania

States Served

Ohio, Pennsylvania

Dates Of Operation

February 10, 1879 - 1993

Charter Date

May 18, 1875

Route Miles

231.27 (1930)

Track Gauge

4 Feet, 8 ½ Inches

Principal Lines

Youngstown, Ohio - Pittsburgh - McKeesport, Pennsylvania

McKeesport - Brownsville, Pennsylvania

McKeesport - Connellsville, Pennsylvania

Slogan

The Little Giant

Reporting Mark

PLE

Successor

CSX Transportation
It was at this time that Andrew Carnegie, Pittsburgh's celebrity steel tycoon, became involved by providing financial backing.  In addition, John Newell, general manager of the Lake Shore & Michigan Southern, also took an interest.  
The LS&MS was a very large Midwestern system of the latter 19th century.  It held a history tracing as far back as the 1830s and grew through a combination of takeovers and mergers.  
Logo
Expansion
At its peak it connected Buffalo with Chicago via Toledo, Cleveland, and Elkhart.  It also reached Detroit, southern parts of Michigan, and Oil City, Pennsylvania.  In 1877 Vanderbilt acquired stock control of the road.

With a large system taking notice and strong monetary support wide-scale construction of the P&LE commenced in 1878.  
On February 10, 1879 the road opened from Pittsburgh to Haselton, Ohio (today, a borough of Youngstown).  Within a few years the P&LE was again expanding when it leased the Pittsburgh, McKeesport & Youghiogheny on January 1, 1884.
The PMcK&Y went on to acquire the McKeesport & Belle Vernon Railroad in 1890 which connected McKeesport with nearby Belle Vernon.  In total, the P&LE operated a 123-mile main line (Connellsville - Youngstown) with a network totaling 274 miles.  
The New York Central subsidiary may not have served Pittsburgh via a through route but the P&LE was nevertheless a successful venture.  It was so profitable its main line was eventually expanded to four tracks and earned a nickname as "The Little Giant."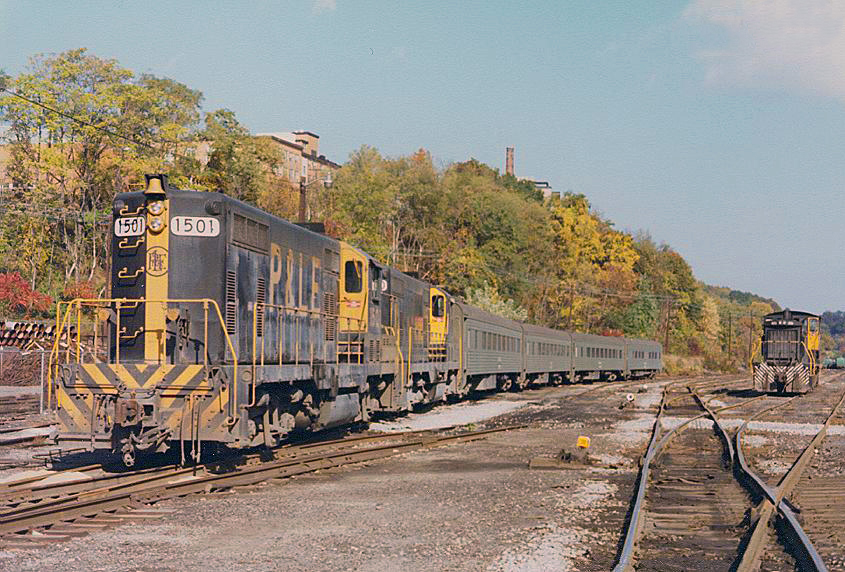 Pittsburgh & Lake Erie GP7s #1501 and #1500, power for the railroad's local commuter service, are seen here on October 19, 1980. These two Geeps remained on the railroad's roster as long as it operated commuter trains as they were equipped with steam generators. Doug Kroll photo.
According to the book, "New York Central," Railroad by Brian Solomon and Mike Schafer; "...the railroad had such a large concentration of heavy shippers that it earned $100,000 a mile or more for many consecutive quarters...paying a 12% dividend."  
Much of its tonnage was thanks to its strategic location within the country's bustling steel-production belt. With a direct route from Pittsburgh to the NYC's ore docks along Lake Erie, iron could be transported quickly to the mills. 
In addition, coal arrived from nearby mines in central Pennsylvania as well as the Monongahela Railway from the south.  Finally, coke (a refined version of coal carrying few impurities for the purpose of steel production) also moved in large volumes.  
To handle all of these heavy products the P&LE operated a small fleet of Berkshires (2-8-4), Mikados (2-8-2), and Consolidations (2-8-0).  Into the diesel era its roster was a sampling of products from Electro-Motive, American Locomotive, General Electric, and even Fairbanks-Morse.  
System Map (1910)
These locomotive carried an interesting display of liveries; during the NYC era they usually featured either the Central's classic "Lightning Stripes," two-tone grey scheme or the Pittsburgh & Lake Erie's own green and black design with white lettering and trim.  
After regaining independence the railroad utilized a simple black livery with yellow lettering, followed by a herald of the company adorning the front nose or flanking the hood.  
---
Passenger Service
By operating such a confined network the Pittsburgh & Lake Erie did not handle a great deal of passenger trains.  However, parent New York Central did supply it with a small fleet of Alco's streamlined PA diesels for its connections to the Steel City.  
In addition, it operated regional services, such as the Steel Kings to Cleveland.  This train, and all others, died in January of 1957 when the U.S. mail contracts were cancelled.  
Finally, commuter service survived until 1985; the railroad had continued providing a single weekday operation between Pittsburgh and Beaver Falls (pictured above) through the 1970s.  
It utilized former NYC, streamlined day coaches.  As business declined the railroad tried to discontinue it in 1978 but ran into stiff, local opposition.  
For a few years the state of Pennsylvania provided subsidies to continue the run but, due to little support, the train was finally canceled altogether on July 12, 1985.
---
Interestingly, famous painter Howard Fogg arguably documented the P&LE better than any photographer; several of his commissioned pieces featured beautiful scenes of the P&LE in its heyday.  
While the P&LE was a subsidiary it was part of one notable co-ownership; along with the Pennsylvania Railroad, and later Baltimore & Ohio, it operated the coal-hauling Monongahela Railway in southwestern Pennsylvania and northern West Virginia.  
The Monongahela dates back to 1900 when it was originally created by the PRR and P&LE as the Monongahela Railroad to build a line south of Brownsville Junction (just north of Brownsville where the P&LE and PRR met), following the east bank of the Monongahela River to reach Martin, Pennsylvania; here the railroad tapped several coal mines.

Interestingly, this line would be one of the only corridors built by the Monongahela as most of its system was a result of mergers or buyouts of small railroads.  
Independence
Except for a very brief period when the Pittsburgh & Lake Erie was first chartered it had never been independently operated.  When the Penn Central Transportation Company was formed on February 1, 1968 the P&LE became a ward of the badly planned conglomerate.  
Despite PC's declining status its Pittsburgh subsidiary remained a healthy and profitable system, pumping greatly needed revenue into its parent's coffers.  Of course, this money was not enough to stave off PC's eventual bankruptcy (June 21, 1970).  
However, as Lee Gregory points out in his article, "The Little Giant, Free Again," from the July, 1981 issue of Trains Magazine, the parent was not hesitant to use its subsidiary in offloading debt, $15 million in all including unpaid per-diem charges and joint-facility fees.  
This issue continued to grow until it all boiled over with the two roads winding up in court; the P&LE wanted the debts written off while Penn Central tried to maintain P&LE's required payments (agreements dating back to the New York Central days).  
It was a bizarre situation for what amounted to a company suing itself (Penn Central owned more than 90% of P&LE's stock at the time).
Diesel Roster
American Locomotive Company
| Model Type | Road Number | Date Built | Quantity |
| --- | --- | --- | --- |
| PA-1 | 4204-4207 | 1949 | 4 |
| PA-2 | 4213-4214 | 1952 | 2 |
| RS3 | 8353-8357 | 1953 | 5 |
| S2 | 8537-8549 | 1948-1949 | 13 |
| S4 | 8633-8667 | 1953 | 35 |
Electro-Motive Division
| Model Type | Road Number | Date Built | Quantity |
| --- | --- | --- | --- |
| SW1500 | 1534-1563, 9280-9289 | 1971-1973 | 40 |
| MP15DC | 1574-1598, 5030-5039 | 1974-1975 | 35 |
| GP38 | 2025-2041 (Ex-PC) | 1969 | 17 |
| GP38-2 | 2051-2056, 2057-2060 (Ex-CRI&P) | 1976-1977 | 10 |
| GP7 | 5676-5685, 5713-5737 | 1951-1953 | 35 |
| NW2 | 8705-8714, 8740-8749 | 1947-1949 | 20 |
| SW9 | 8931-8940, 8952-8961 | 1951-1952 | 20 |
Fairbanks-Morse
| Model Type | Road Number | Date Built | Quantity |
| --- | --- | --- | --- |
| H10-44 | 9100-9103 | 1946-1948 | 4 |
General Electric
| Model Type | Road Number | Date Built | Quantity |
| --- | --- | --- | --- |
| U28B | 2800-2821 | 1966 | 22 |
Steam Roster
| Class | Type | Wheel Arrangement |
| --- | --- | --- |
| A-1 | Switcher | 0-4-0 |
| A-2a | Berkshire | 2-8-4 |
| B-2 Through B-6 | Switcher | 0-6-0 |
| D (Various) | American | 4-4-0 |
| E-1 | Altantic | 4-4-2 |
| G-1 Through G-3 | Ten-Wheeler | 4-6-0 |
| H-1 Through H-3 | Consolidation | 2-8-0 |
| H-8, H-10A | Mikado | 2-8-2 |
| K-4A/B | Pacific | 4-6-2 |
---
Bringing up the rear of a freight at Buffalo, New York on July 23, 1988 is Pittsburgh & Lake Erie bay-window caboose #503. Doug Kroll photo.
CSX Transportation
As the litigation continued the Consolidation Rail Corporation launched on April 1, 1976; a government-sponsored railroad which acquired the bankrupt assets of Penn Central and several other Northeastern carriers.  
The P&LE argued it should not be included in the new operation since it was profitable.  The railroad ultimately won its case and was spun-off by the then-Penn Central Company on February 27, 1979, selling its stock to the new Pittsburgh & Lake Erie Company.  
This corporation was funded by local investment as well as the Beloit Company, a Wisconsin based manufacturer.  
Interestingly, even by the early 1980s P&LE still relied heavily on Pittsburgh's historic steel industry and handled around 23 million tons annually related to the steel-making business.  The once-bustling firms, however, were in their twilight.  
By 1989 it wanted out of the Monongahela ownership in exchange for cash and four years later was purchased by CSX Transportation in 1993.  
Under larger ownership once again, the P&LE was renamed as the system Three Rivers Transportation by CSX.  There is no distinction between equipment although the former P&LE main line is still in service today.