Maryland and Pennsylvania Railroad: "The Ma & Pa"
Last revised: June 9, 2023
By: Adam Burns

The Maryland & Pennsylvania Railroad (reporting mark, MPA), affectionately remembered as the "Ma & Pa," was a bucolic short line based in western Maryland and southern Pennsylvania connecting northern Baltimore with the small town of York, Pennsylvania.  

Interestingly, despite the road's main line that circuitously wound its way nearly 80 miles along a route over 27% longer than a nearby branch of the Pennsylvania Railroad (56 miles) it was dearly revered by railfans for its beautiful scenery, wooden trestles, and rugged profile.  
Somehow the Ma & Pa managed to handle just enough freight to survive as an independent operation for more than a century (including predecessors). 

Today, its successor, the York Railway, remains in operation as part of Genesee & Wyoming's family.  However, nearly all of the original Ma & Pa trackage has long since been abandoned (unfortunate considering the route would have offered a superb tourist attraction similar to the Strasburg Railroad located not far away). 

Photos
Maryland & Pennsylvania 4-4-0 #6, manufactured by American Locomotive's Richmond Works in 1901, is seen here pulling a very short passenger train. These were typical consists on the Ma & Pa.
History
What eventually became the classic Maryland & Pennsylvania Railroad originally began as one of the many narrow-gauge systems conceived during the latter half of the 19th century as a means to construct new, profitable corridors at a lower cost in comparison to standard-gauge lines.  
Unfortunately, as historian and professor Dr. George Hilton points out in his books, "American Narrow Gauge Railroads" and "The Ma & Pa," this concept proved shortsighted for prolonged, general freight service.  
There were many reasons for this with the most notable being constricting curves, steep grades, and infrastructure issues as locomotive and car weights increased requiring heavier bridges and rail.  
While some companies proved successful enough to convert to standard-gauge (4 feet, 8 1/2 inches) others either eventually shutdown or handled one primary commodity until finally calling it quits.  
At A Glance
Headquarters

Baltimore, Maryland

States Served

Maryland and Pennsylvania

Dates Of Operation

June 30, 1874 - 1999

Formation Date

February 2, 1901

Genesis

Peach Bottom Railway (March 24, 1868)

Route Miles

79 (1930)

Track Gauge

3 Feet (June 30, 1874 - August, 1900)

4 Feet, 8 ½ Inches (August, 1900 - 1999)

Principal Lines

Baltimore - Belair, Maryland - Delta - York, Pennsylvania

Passenger Trains (Northbound): 1930

1 (Delta, Pennsylvania - York, Pennsylvania)

3 (Baltimore - York, Pennsylvania

7 (Baltimore - York, Pennsylvania

11 (Baltimore - Delta)

51 (Baltimore - Delta)

53 (Baltimore - Bel Air, Maryland)

57 (Baltimore - Delta)

Passenger Trains (Southbound): 1930

2 (Bel Air, Maryland - Baltimore)

6 (Delta - Baltimore)

8 (York - Baltimore)

12 (York - Baltimore)

16 (York - Delta)

52 (Delta - Baltimore)

56 (Delta - Baltimore)

58 (Bel Air - Baltimore)

Slogan

The Ma & Pa

Reporting Mark

MPA

Successor

Genesee & Wyoming
The Ma & Pa's ancestry had grand dreams of connecting far away places, moving freight and passengers of all types.  Alas, most never made it out of the planning stages and those which did ultimately laid down only a fraction of the mileage they had wished.  
The Ma & Pa's earliest predecessor was the Peach Bottom Railway.  This system was incorporated on March 24, 1868 and formally organized in 1871.  
Logo
According to Dr. Hilton's, "The Ma & Pa," its builders envisioned a route skirting the southern part of Pennsylvania, linking Philadelphia with the central coal fields.  If successful, further extensions west, perhaps even to Pittsburgh, were hoped.  

There were three distinct parts to the immediate Peach Bottom Railway and included the following segments; the Eastern Division would run from Peach Bottom to Oxford (with further eastern extensions into Philadelphia), the Middle Division would link Peach Bottom with Delta and on to Felton (via the rugged Muddy Creek Gorge), and finally the so-called Western Division.
This last section was a bit undefined but hoped to one day connect Gettysburg in its westward ambitions to terminate at the rich coal fields around Orbisonia.
Predecessors
The Peach Bottom was a very ambitious project considering it had to bridge the mighty Susquehanna River and scale numerous mountains all the while funded with only local monies.  
On December 1, 1871 the initial surveys commenced along the Muddy Creek Valley.  The town of York grew considerably interested in the project, wishing to finally have rail service reach their community.  
Since the Peach Bottom's promoters needed all the funded they could obtain it was decided York would be the western terminus of the Middle Division as more money could be generated via stock subscriptions.  
In the spring of 1874, 27 miles of grading was completed from York to Woodbine via Red Lion, Felton, and the Muddy Creek Gorge.
By 1878 the Eastern Division had rails in place between Peach Bottom and Eldora although promoters felt that bridging the Susquehanna River would be a nearly impossible task.  
In addition, the Panic of 1873 had all but ended the road's hopes of constructing its Western Division due to lack of funding and the expense of laying a route across seven mountain ranges.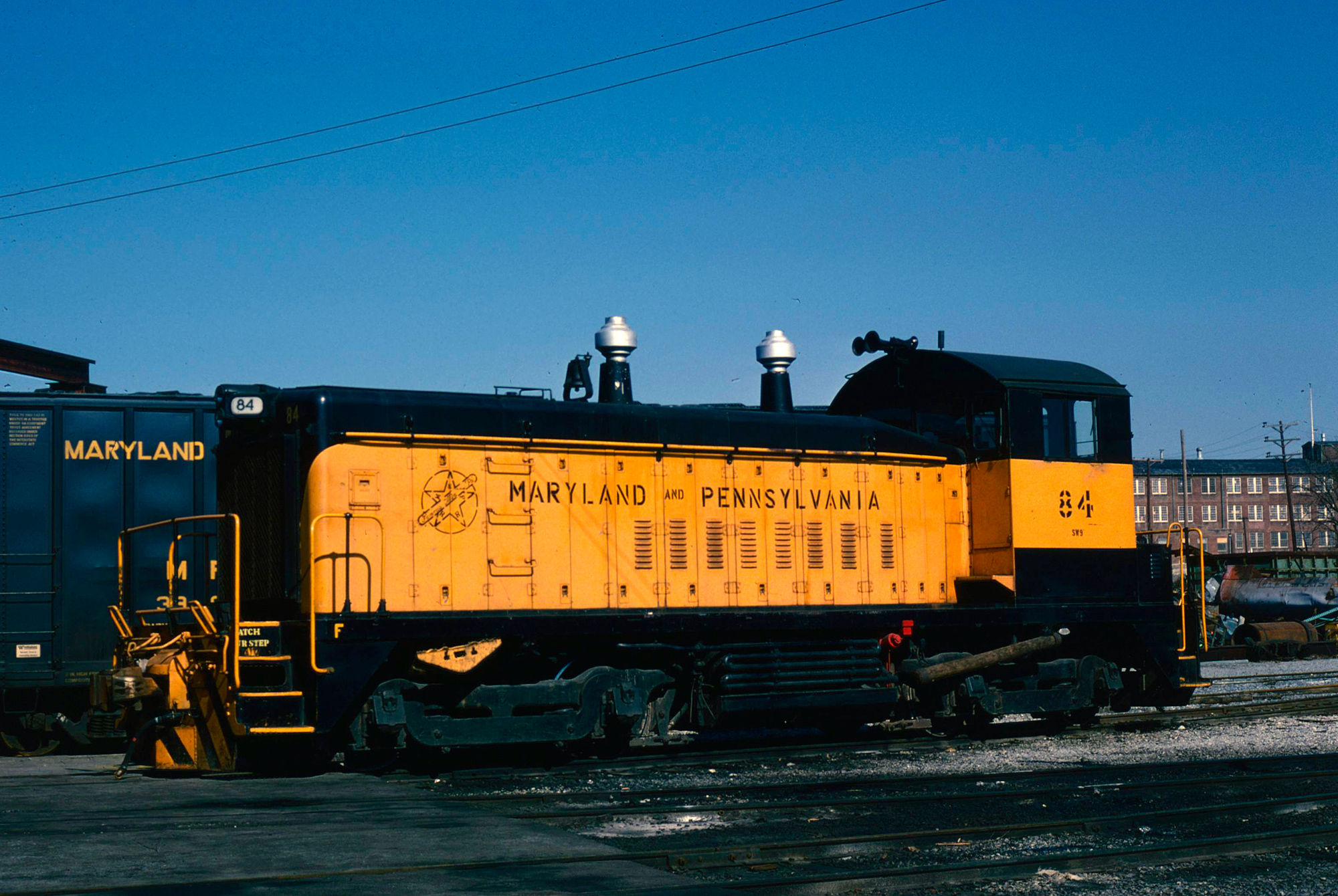 Maryland & Pennsylvania SW9 #84 (built as Pittsburgh & Lake Erie #8952) is seen here in York, Pennsylvania on April 10, 1982. Richard Louderback photo. Author's collection.
Expansion
The Middle Division proved the most promising as track laying began on May 1, 1874.  By June 30th the line was complete from York to a point near Yoe where a station was built and named Dallastown.  
This work allowed the road to initiate passenger service, which launched on July 4, 1874.  By that Christmas trains were rolling into Muddy Creek Forks via Red Lion and Felton.  With funding exhausted by this time the railroad was able to attain a bond issue to complete the line into Delta, achieved on April 15, 1876.  
The Middle Division had cost $472,500 and while traffic was steady, profits were not strong enough to bridge the Susquehanna.  
In early 1881 the Peach Bottom defaulted on its interest payments sending the company into foreclosure and all but sealing the fate of any hopes promoters may have still held in building a railroad from Philadelphia to the Broad Top coal fields.
On September 1, 1881 the Eastern Division was sold off and eventually became known as the Lancaster, Oxford & Southern ending its involvement with the later Maryland & Pennsylvania Railroad.  
This little system connected no towns of notable size and handled largely local agriculture and passengers, similar to interurbans which sprang up at the end of the 19th century.  With such sparse traffic it quietly disappeared just prior to the United State's involvement in World War I, making its last run on April 14, 1917.  
The Middle Division was sold on December 20, 1881 and renamed as the York & Peach Bottom Railway on March 17, 1882.  
The only growth experienced during the Y&PB's years was early on, soon after its creation.  Then-owner Charles McConkey still held onto to the glory of seeing the river bridged and had tracks laid on the completed 5.7-mile grade from Delta to the western shore.  
It opened for service in March of 1883 but, not surprisingly, proved of little value with meager traffic and no online towns of any practical size. 
The Y&PB's future contained further growth despite the disappointment of the Peach Bottom Branch.  Since the town of Delta lay only a little more than 40 miles to the north of Baltimore the idea of building an extension to the prosperous port city seemed feasible.  
As Dr. Hilton notes in his book there were many projects that sprang up throughout the 19th century envisioning a railroad linking Baltimore with the Susquehanna in southern Pennsylvania.  
Most such endeavors carried ambitions of reaching Philadelphia but all died when attempting to bridge the river; the waterway was simply too wide and the expense too great.  
One such enterprise was the first Maryland & Pennsylvania Railroad, organized in 1873 to connect the two large cities via Conowingo, Maryland.  Alas, it managed no more than 10 miles of grading.  
What eventually became the Ma & Pa's southern division began as the Valley & Delta Narrow-Gauge Railway, organized in 1876.  
This short line carried more reasonable goals of connecting Baltimore with Harford County, and eventually Delta, where an interchange could be established with what was then the Peach Bottom Railway.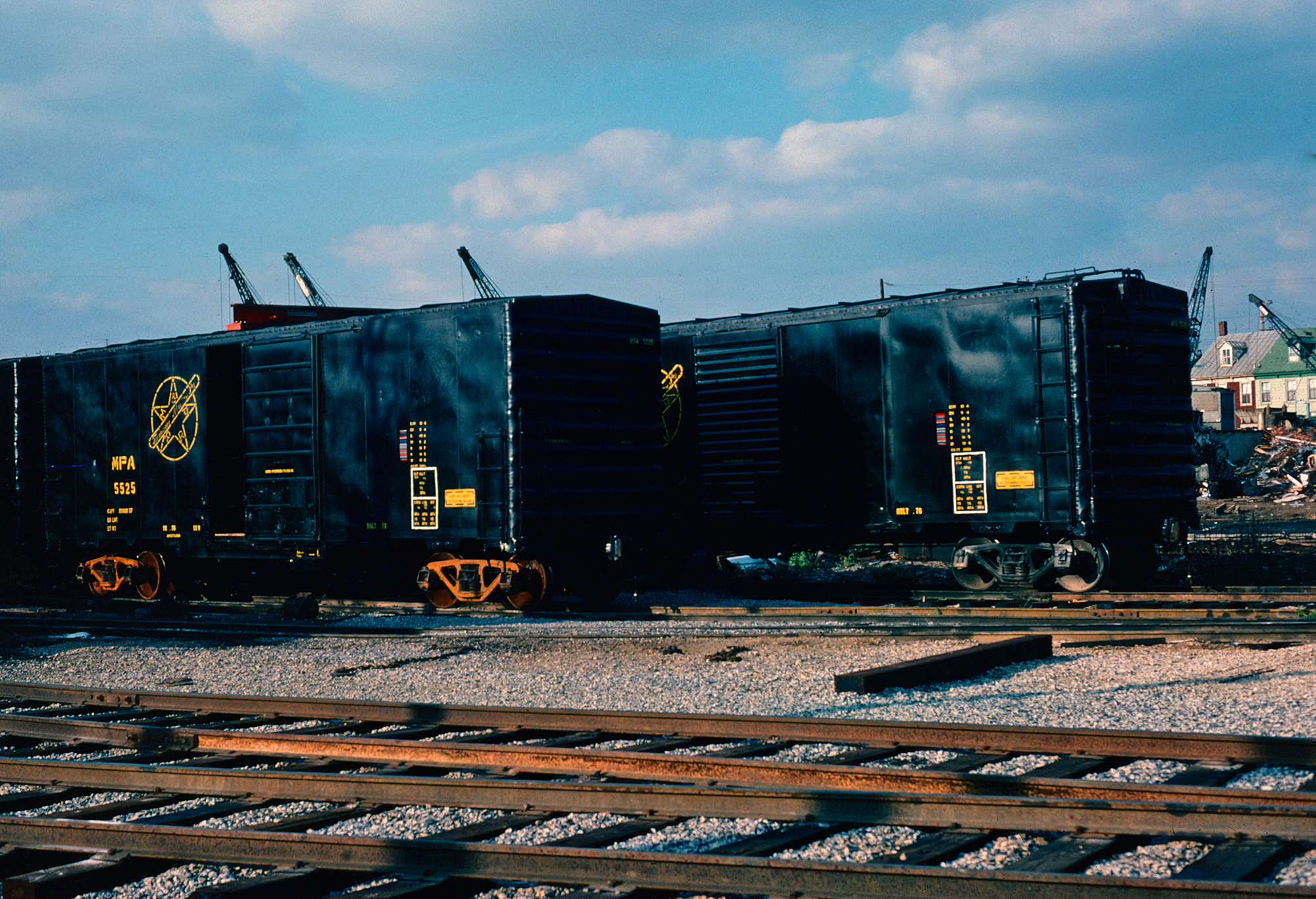 Maryland & Pennsylvania 40-foot boxcars layover in York, Pennsylvania; August, 1976. American-Rails.com collection.
It was largely promoted to handle local agriculture and milk products as well as slate from mines near Delta.  Since the road hoped to interchange with the Peach Bottom it was engineered to a similar three-foot, narrow-gauge right-of-way.  
As it turns out the company's planners laid a right-of-way as rugged as the Peach Bottom's; from the small town of Baldwin the line carried steep grades and sharp curves as it headed roughly eastward through Fallston, Vale, and Bel Air before turning north towards Forest Hill.  
It then pushed further north to Whiteford until finally terminating at Delta.  Before any actual construction commenced the V&DNG merged with the Baltimore, Hampden & Towsontown Railway to form the Baltimore & Delta Railway Company on December 16, 1878.  
The BH&T was envisioned as a local system to connect Baltimore, at North Avenue, with nearby Towsontown (7 miles).  The road's grading was completed but nothing followed until after the merger.

By late 1878 the entire project had its right-of-way in hand and construction commenced the following year.  Despite running, continually, into monetary problems the railroad slowly came to life as service opened from Baltimore to Towsontown on April 17, 1882.  
From that point, progress continued steadily; Fallston was reached in April of 1883 (22 miles), Bel Air in June, and finally Delta was linked on December 31, 1883.  
What was then known as the Maryland Central Railroad, which had acquired the B&D on August 28, 1882, began regular service to Delta on January 21, 1884.  Unfortunately, the road ran into further financial issues as a result of its construction and entered receivership that same year.  
It emerged in December of 1888 as the Maryland Central Railway with plans to merge with the Y&PB.   Only a month after this event, in January of 1889, the new Maryland Central gained control of its northern neighbor and began operating through service from Baltimore to York on May 19th.
On May 5, 1891 the two systems formally merged, creating the Baltimore & Lehigh Railroad.  Interestingly, this setup lasted but a few years before yet more financial problems forced another bankruptcy in 1893 due to the panic that year.   
This setback broke up the two halves once more with the York Southern operating the northern segment and the Baltimore & Lehigh Railway acquiring the southern section.  
During this time there were a few notable achievements carried out, the most important of which was the conversion to standard gauge; the York Southern was the first, completing its York-Delta line in late 1895 while the Baltimore & Lehigh finished its section (Baltimore-Delta) in August of 1900.  
As the stronger of the two, the York Southern was also able to convert its short Peach Bottom Branch to standard gauge (finished 1898 it was abandoned only a few years later on September 1, 1903) and built a 1.25-mile spur to Dallastown, opening on May 20, 1899.
Formation
The eventual birth of the Ma & Pa was spurred by the deeper pockets of an outside firm, Alexander Brown & Company, a Baltimore bank.  He acquired control of the B&L and proposed a merger with the York Southern.  
The company's stockholders approved the sale on February 2, 1901 and thus the Maryland & Pennsylvania Railroad was born.  The Ma & Pa's system map appeared as the letter "C," flipped 180 degrees; rails wound their way northeastward from Baltimore to the state line at Delta and then turned northwesterly until reaching York.  
With Brown's financial backing the railroad was able to carry out several important improvement projects such as converting the remainder of its property to standard gauge, replacing rickety trestles, and constructing better facilities in Baltimore which included a handsome stone station at North Avenue and Howard Street.
Not surprisingly, passenger traffic never comprised a large percentage of the road's profits and early roadways helped to eliminate its milk traffic, as well as local agriculture shipments, which could be shipped faster and more cheaply even by the rudimentary trucks of the day.  
For all of the Ma & Pa's stunning scenery it needed freight tonnage to pay the bills and customers were thinly spread across its system, even in Baltimore.  According to Dr. Hilton's book it only operated six industrial sidings within the city, four of which were coal docks.  
The road's greatest source of revenue was generated from slate mines around Delta, upon which it increasingly depended ss other traffic dried up over the years.  
The Ma & Pa's northern segment held the greatest concentration of customers with furniture and cigar factories based in Red Lion and Dallastown along with an assortment of businesses in York.  Finally, there was the general LCL traffic (less-than-carload) which the Ma & Pa handled comprising all sorts of miscellaneous freight.
System Map
It has been said that the railroad's booming years lasted until about 1915, after which time it slowly declined with occasional strong showings during particular years.
During the 1920s passenger traffic was to the point that gas-electric motor cars could do the job and hung on until after World War II thanks to lucrative U.S. Mail contracts.  
Amid great fanfare the Ma & Pa ended passenger service on August 31, 1954, witnessing so much patronage that it had to rent a P-54 coach from the Pennsylvania Railroad.  The last train was pulled by NW2 #81, carrying motor cars #61 and #62 along with the PRR coach.  More retrenchments followed before the decade ended.  
The Ma & Pa's southern district (officially known as the Maryland District) was becoming a drain on its bottom line with little in the way of freight remaining on that section of the railroad.  
It petitioned the Interstate Commerce Commission (ICC) on July 8, 1957 for formal abandonment south of Whiteford, Maryland which was approved.  The last train to make the trek did so on June 11, 1958 and scrapping began a few months later.
Traffic continued to slip and the Ma & Pa found it increasingly difficult to stay out of the red.  In 1959 the Red Lion Cabinet Company shutdown and the railroad immediately petitioned the ICC for its entire abandonment, formally applying on October 15th.  
This time the commission denied the request due to the many customers still served on the Pennsylvania District.  The road continued on with the officers and employees doing their best to keep the business solvent.  
An interesting twist occurred during the 1960s when the Philadelphia Electric Company constructed a nuclear power plant at Peach Bottom; wanting rail service to the facility they paid to have 3.5 miles of the old Peach Bottom Branch rebuilt, more or less following the old grade albeit on a new alignment.  
It opened on March 31, 1969.  Unfortunately, the new branch saw only intermittent use and provided the Ma & Pa with little traffic on a sustained basis.  By 1970 the Ma & Pa's only source of reliable traffic was slate and after the Funkhouser quarry shutdown in 1971 the end seemed near.  
Then, a saving grace appeared when Emons Industries, Inc. acquired control of the railroad on October 4th that year.  Its intentions were to turn around the road's fortunes and earn additional profits through the ICC's new "Incentive Per-Diem" program launched that decade, which intended to address the national shortage of clean, reliable boxcars by allowing railroads to earn a bit of extra income in the process.  
The term per diem (Latin for per day) referred to the daily rental fee a car owner charged one wishing to use its car(s) or anytime they were in service on another's rails.  Interestingly, large Class I's mostly ignored the proposal but small short lines like the Ma & Pa, needing the income, welcomed the concept.  
The only catch was that most of these little operations couldn't afford the price of new cars.  So, venture capital groups, not unlike Emons Industries, used a loophole whereby they purchased the cars and then leased them back to the short lines for a small fee.
During that decade, new boxcars began roaming all over the country bearing colorful liveries and interesting heralds of numerous short lines throughout the lower 48 states.  
At the time, per diem cost roughly $20 per day and since those cars rarely returned to home rails each car provided these systems with about $600 per month, roughly twice the rental charges.  
The concept worked great until a recession in the late 1970s saw a substantial downturn in business and many short lines saw their fleets returning to home rails, sometimes with nowhere to store them.  
In any event, for about a decade per diem provided the Ma & Pa with desperately needed cash flow and it began building new cars at the small yard in York.  At first the boxcars were built in the open but in 1977 a carshop was erected, constructing cars of 50 and 70-foot lengths.  
During peak operations the shop could produce three new cars every day!  Following the recession, car building ended in 1981 and the leasing operation ceased in 1991.
Diesel Roster (EMD)
| Model Type | Road Number | Date Built | Quantity |
| --- | --- | --- | --- |
| SW1 | 70 | 1946 | 1 |
| NW2 | 80-81 | 1946 | 2 |
| SW9 | 82 | 1951 | 1 |
| SC | 83 | 1937 | 1 |
| SW9 | 84 | 1952 | 1 |
| NW2 | 85 | 1941 | 1 |
| GP7 | 86 | 1953 | 1 |
Notes
#83: Built as Philadelphia, Bethlehem & New England #206.  Acquired by the Ma & Pa in 12/67.

#84: Built as Pittsburgh & Lake Erie #8952. Acquired by the Ma & Pa in 3/76.
#85: Built as Reading #92. Acquired by the Ma & Pa in 3/76.
#86: Built as Reading #621. Acquired by the Ma & Pa in 3/76.

Steam Roster (Standard Gauge)
| Road Number(s) | Wheel Arrangement | Date Built | Builder |
| --- | --- | --- | --- |
| 1 | 4-4-0 | 1895 | Baldwin |
| 2 | 2-6-0 | 1895 | Baldwin |
| 3 | 4-4-0 | 1895 | Baldwin |
| 4-6 | 4-4-0 | 1901 | Alco (Richmond) |
| 20 | 0-4-0st | 1887 | P&WB/PRR |
| 21-22 | 4-6-0 | 1881 | PRR/Altoona |
| 23-24 | 2-8-0 | 1902 | Baldwin |
| 25 | 2-8-0 | 1905 | Baldwin |
| 26 (1st) | 2-6-0 | 1905 | Baldwin |
| 26 (2nd) | 2-8-0 | 1912 | Baldwin |
| 27 | 4-6-0 | 1906 | Baldwin |
| 28 | 4-6-0 | 1910 | Baldwin |
| 29-30 | 0-6-0 | 1913 | Baldwin |
| 41-42 | 2-8-0 | 1914 | Baldwin |
| 43 | 2-8-0 | 1925 | Baldwin |
---
Final Years
The Emons era saw both growth and retrenchment.  After Conrail's formation and startup on April 1, 1976 it sold segments of former PRR branches to the Ma & Pa, which contained new sources of traffic; included in the sale were 18.5 miles between York and Hanover, a short 3-mile stretch to Hyde (via York this was part of the old Northern Central and once PRR's busy, doubled-tracked main line from Baltimore to Harrisburg), and all former PRR trackage and facilities in York.  
Maryland provided the Ma & Pa a subsidy to continue operating the PRR's dilapidated Frederick Branch south of Hanover to Walkersville (the line terminated at Frederick but flooding from Hurricane Agnes in 1972 had knocked out the bridge over the Monocacy River).  
However, with little traffic remaining on this stretch the state gave up the operation in 1978 and rail service ceased beyond the state line on March 31st.  Around the same time Emons embargoed the trackage beyond Red Lion and all rails south of York were eventually abandoned in 1983.  
The Ma & Pa officially disappeared as a corporate entity in 1999 when Genesee & Wyoming acquired the property and renamed it as the York Railway (reporting mark, YRC).  Today, it continues to do a healthy business on the former PRR trackage handling a wide variety of freight.
Sources
Hilton, George.  American Narrow Gauge Railroads. Stanford:  Stanford University Press, 1990.



Hilton, George W.  Ma & Pa, The:  A History Of The Maryland & Pennsylvania Railroad.  Baltimore: Johns Hopkins University Press, 1999 (Second Edition, Revised).


Moedinger, William Jr. "The Ma & Pa."  Trains Magazine. Volume #2, Issue #2. December, 1941. Pages 6-17.