Norfolk Southern Railway (Original): "East Carolina Dispatch"

Last revised: June 9, 2023
By: Adam Burns

Long before there was today's well known Class I carrier there was another Norfolk Southern Railway.  In a weird twist, the road had to be dissolved so the merging Norfolk & Western and Southern could use its name.

The original NS dated to the post-Civil War period as a small line intent on connecting northeastern North Carolina with the Norfolk, Virginia area.  In the succeeding years it slowly expanded south through the Tarheel State before proceeding west across the Piedmont.
It stretched as far as Charlotte, via Raleigh, with a peak network of nearly 1,000 miles.  Throughout the 20th century NS was more or less a profitable railroad and operated independently for nearly 70 years.

The railroad we now know still utilizes small sections of its predecessor while other segments are part of short lines such as the Chesapeake & Albemarle (a Genesee & Wyoming property). 
Thanks to today's Norfolk Southern this classic road is kept alive through a heritage unit which proudly wears its venerable livery.  

Photos
Wearing the road's original livery, a pair of AS416's layover near the turntable in Raleigh, North Carolina on April 2, 1968. Warren Calloway photo.
History
The original Norfolk Southern Railway carries an important place within the industry's history.  It was a Class I carrier, the principal line in northeastern North Carolina and, of course, formed part of present-day NS.  
Unfortunately, little has ever been written about it and no known books dedicated to its history have ever been published.  In his article, "Norfolk Southern" from the January, 1951 issue of Trains Magazine, H.A. McBride echoed similar comments.  
The company's corporate heritage presented here is thanks largely to his piece as well as information gleaned from the Norfolk & Southern Historical Society.  
The origins of NS begin on January 20, 1870 when the Elizabeth City & Norfolk Railroad was chartered to complete a line running from Berkley, Virginia (present-day Norfolk) to Edenton, North Carolina via Elizabeth City (a distance of about 83 miles). 
It took 11 years to acquire the necessary funding and complete construction but the initial 55-mile line from Norfolk to Elizabeth City finally opened in 1881.  Later that same year 28 additional miles were added to Edenton along Albemarle Sound.
At A Glance
Headquarters

Norfolk, Virginia

States Served

Virginia, North Carolina

Dates Of Operation

1881 - 1982

Formation Date

1883

Genesis

Elizabeth City & Norfolk Railroad (January 20, 1870)

Route Miles

949 (1930)

Track Gauge

4 Feet, 8 ½ Inches

Principal Lines

Norfolk - Elizabeth City, North Carolina - Raleigh - Charlotte

Suffolk, Virginia - Edenton, North Carolina

Marsden - Beaufort, North Carolina

Goldsboro - New Bern - Oriental, North Carolina

Mackeys - Columbia, North Carolina

Mackeys - Belhaven, North Carolina

Varina - Fayetteville, North Carolina

Sanford - Durham, North Carolina

Asheboro - Star - Aberdeen, North Carolina

Reporting Mark

NS

Successor

Southern Railway
In 1883 it changed its name to the Norfolk Southern Railroad to better reflect its operating territory.  The connection at Edenton enabled car ferry operations across the sound at Mackey's Ferry where interchange was made with a narrow-gauge (3-foot) line.  
According to Dr. George Hilton's book, "American Narrow Gauge Railroads," between 1888 and 1889 the Roanoke Railroad & Lumber Company constructed a private line from Plymouth to Washington (33 miles) along the western tip of Pamlico Sound.  The region was rich in soft pine and caught the attention of many lumber producers during that era.  
Logo
Wood products were an important freight commodity for the early Norfolk Southern and remained so until Southern's takeover.  

In 1901 the lumber company's narrow-gauge was sold to private interests which established the common carrier, Washington & Plymouth Railroad.  Initially, new ownership hoped to push service southward to New Bern along the Neuse River but these plans were later dropped.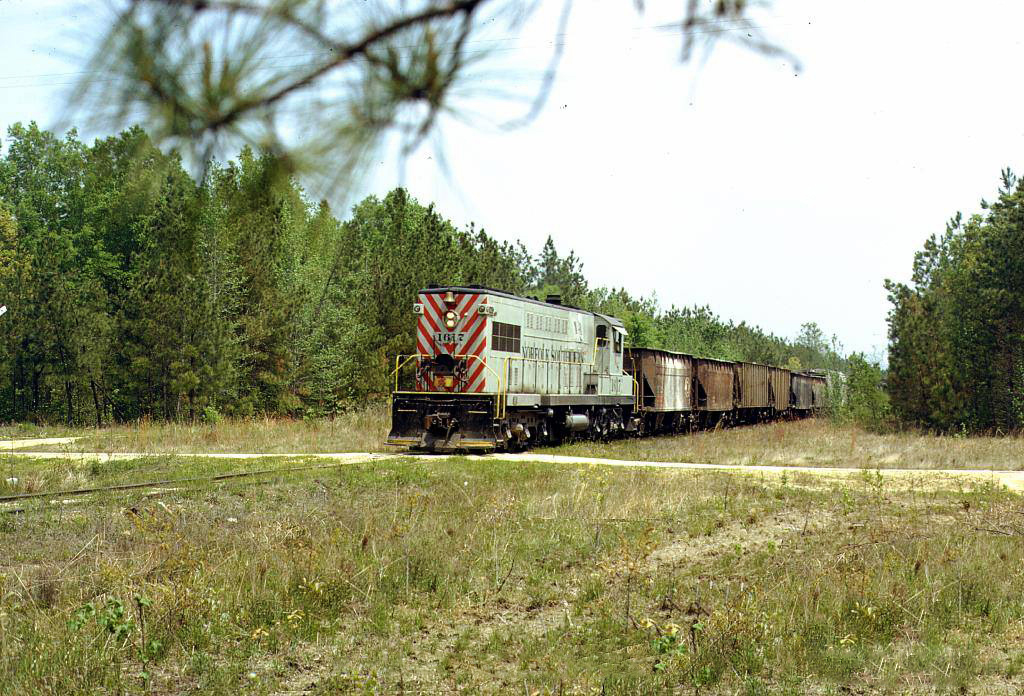 Norfolk Southern never worried about running through the weeds, a common trait in its later era. Here, AS416 #1617 has a short freight near Senter, North Carolina in September of 1971. Warren Calloway photo.
After only a few years of operation the W&P was sold to Norfolk Southern on January 15, 1904 which utilized its right-of-way to extend west towards Raleigh.  In 1905 the property was converted to standard-gauge (4 feet, 8 1/2 inches).  
Most of the classic railroads we know today grew predominantly through expansion and NS was no different.  
Its more notable acquisitions include the Albemarle & Pantego Railroad (extending further south into North Carolina); the Norfolk, Virginia Beach & Southern Railroad picked up in 1899 (connecting both Norfolk and Virginia Beach); and the Chesapeake Transit Company in 1904.  
These latter systems, totaling about 31 miles, provided a direct access to the coastal resort towns of Virginia Beach and Cape Henry.  
At the time they proved a successful venture handling heavy commuter traffic to these areas.  However, as highways and automobiles ate away revenues NS opted to replace trains with gasoline rail buses.  
This continued until 1947 when the company abandoned service east of Norfolk.   A year later all passenger trains were dropped (mail and express runs did continue for several years).
More weed-wacking as GP18 #5 rumbles through a rural grade crossing with a few cars near Pinehurst, North Carolina during September of 1969. Warren Calloway photo.
On November 24, 1906 the Norfolk & Southern Railway was created when the Norfolk Southern Railroad and Raleigh & Pamlico Sound Railroad (whose main line stretched from Washington, North Carolina west to Raleigh) merged, along with several smaller companies.
These other railroads included the Virginia & Carolina Coast Railroad; the Pamlico, Oriental & Western Railway; the Atlantic & North Carolina Railroad; and the Beaufort & Western Railroad. 
In 1910 the new NS went through another name change when it reverted back to the Norfolk Southern Railroad following receivership in 1908. 
More growth continued into 1914 when more mileage was added by extending westward from Varina to Charlotte, reaching the latter city in 1916.  This would be the extent of the road's main line, which stretched 383.3 miles from Norfolk to Charlotte.  
However, there was some additional expansion after this time, notably the Durham & South Carolina Railroad acquired on May 27, 1920, which gave NS another 40.5 miles.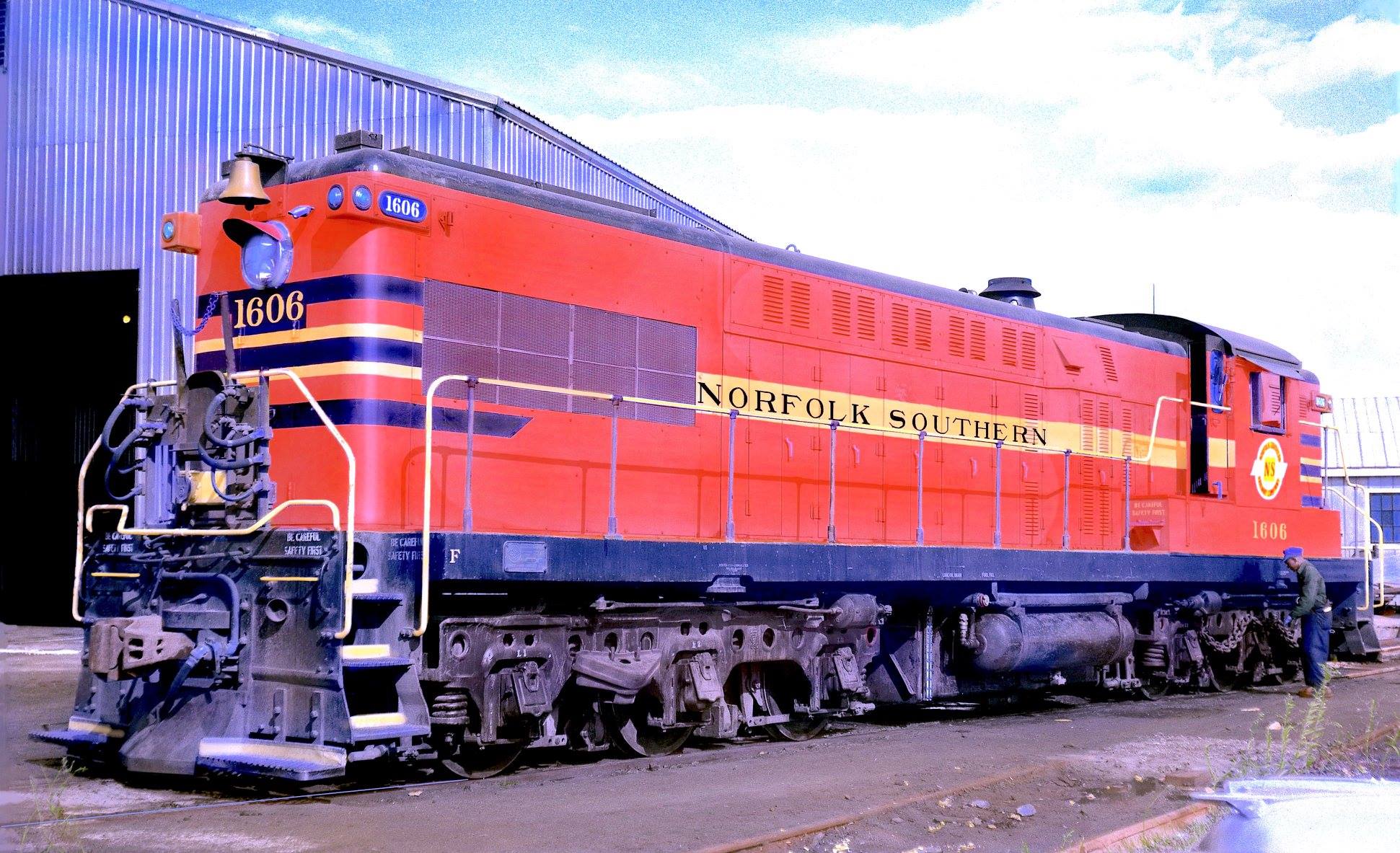 Norfolk Southern AS416 #1606 receives some attention at the railroad's terminal in Raleigh, North Carolina, circa 1960's. Warren Calloway photo.
This branch ran from the main line at Duncan and extended northward to Durham where additional connections were made with the Norfolk & Western, Southern, Durham & Southern, and Seaboard Air Line.  
Other secondary lines included:
A 17.0-mile branch between Pinetown and Belhaven.
A 31.1-mile branch between Chocowinity and New Bern (added in 1906). 
A 31.5-mile branch between Phosphate Junction and Lee Creek. 


A 16.5-mile branch between New Bern and Bayboro.
A 42.9-mile branch between Varina and Fayetteville.
A 33.3-mile branch between Star and Aberdeen.  
In 1910 it finally managed to eliminate car ferry service across Ablemarle Sound when it opened a 5.8 mile trestle from just east of Edenton at Hornblower Point to Mackey's Ferry.  
At its peak, following the opening to Charlotte, NS maintained a network of 907 miles.  By 1951 this number had dropped to 870 miles and was down to 623 miles by 1969.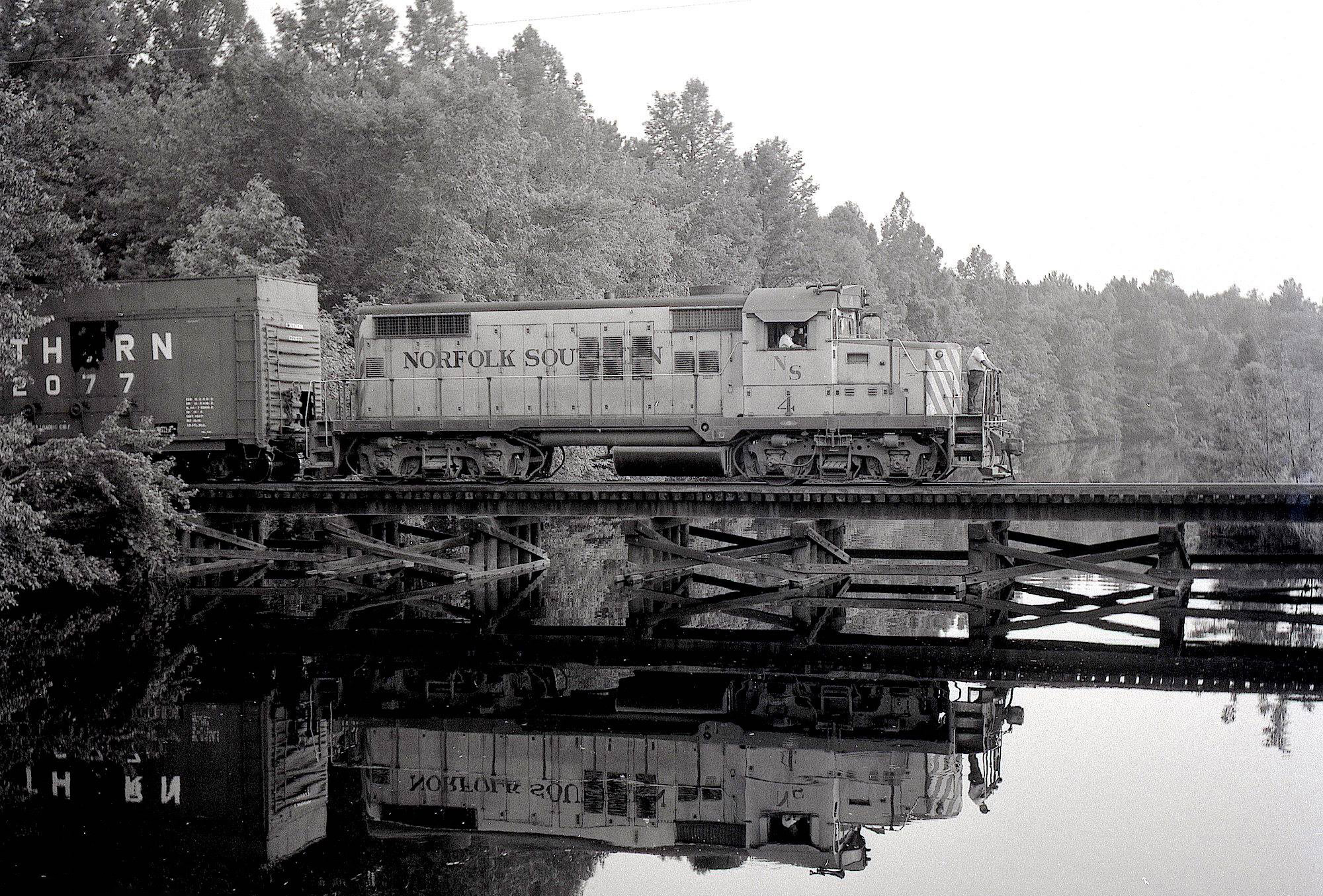 Along the road's coastal territory GP18 #4 eases across a bucolic wooden trestle near Plymouth, North Carolina on July 2, 1972. Warren Calloway photo.
Times were not always good.  The company had trouble during the 1930s and 1940s including receivership into the Great Depression where it defaulted on its lease of the Atlantic & North Carolina Railroad and gave up control in 1935.  
The A&NC had allowed it access deeper into North Carolina by reaching Goldsboro and Morehead City.  After operating independently for several years the A&NC became a ward of the Southern in the late 1950s.  
In early 1942 Norfolk Southern became the now well-known, original Norfolk Southern Railway.  It rebounded nicely after World War II.  
As Vice President J.R. Pritchard noted in an interview from 1951, "We're getting the road in fairly good shape now but it certainly has gone through its ups and downs and weird adventures. "
System Map (1969)
In 1949 its traffic base had diversified far beyond wood products and totaled more than $8.7 million in gross revenues that year with freight consisting of everything from agricultural products (peanuts, potatoes, fruit, etc.) and catfish to petroleum products and heating coal.  
It even ran time freights!  The company was an extremely important transportation artery for the Tarheel State's farming industry, which is still the case today under short line Chesapeake & Albemarle.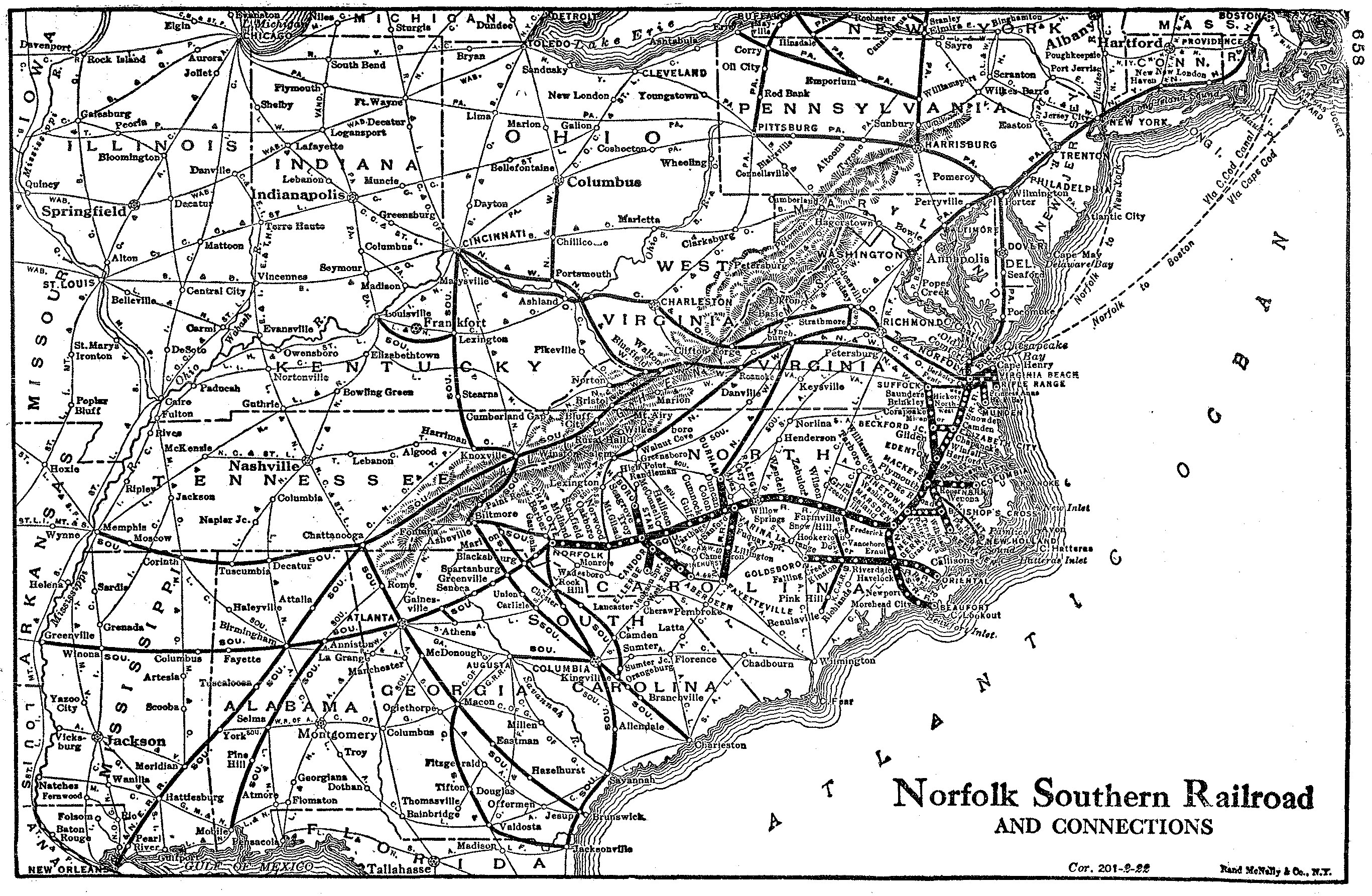 Southern Railway
Norfolk Southern remained relatively profitable through the postwar period, carrying on for the next three decades until the Southern purchased it on the first day of 1974.  It then merged the Carolina & Northwestern Railway into its new subsidiary.  
Interestingly, when the Southern and Norfolk & Western proposed to merge they needed the NS name. To accomplish this Norfolk Southern was renamed as the Carolina & Northwestern, the very railroad it had only a few years earlier merged into the NS!  During the diesel era, NS operated a large fleet of Baldwin locomotives.
It acquired many different models but largely stuck with the builder's late era, AS416 model. Even more interesting, these units remained service through the Southern takeover during a time in which most other carriers had long since sold, traded in, or scrapped theirs.  Norfolk Southern purchased its first diesels after the war and had entirely replaced its steam fleet by early 1954.  
Diesel Roster
| Road Number | Manufacturer | Model Type | Date Built | Other Notes |
| --- | --- | --- | --- | --- |
| 1-17 | EMD | GP18 | 9-10/63 | Entered the Southern roster with new high, short hood. |
| 661-663 | Baldwin | DS4-4-660 | 1-5/47 | Retired in the 1960s. |
| 701-703 | GE | 70-Tonner | 6/48 | Retired by Southern in 1978 save for 702, sold to Montpelier & Barre Railroad in June, 1967. |
| 1001-1002 | Baldwin | DS4-4-1000 | 1/46 | Retired in the 1960s. |
| 1501-1510 | Baldwin | DRS6-4-1500 | 10/47-3/48 | Retired in the 1960s. |
| 1601-1605 | Baldwin | AS416 | 5-7/51 | Retired in the 1960s. |
| 1606-1617 | Baldwin | AS416 | 9/52-12/55 | Retired by Southern following merger. |
| 2001-2007 | EMD | GP38 | 6/66-6/67 | Entered the Southern roster with new high, short hood. |
Steam Roster
The NS only operated a small contingent of steam locomotives, mostly 4-6-0 Ten-wheelers and 2-8-0 Consolidations; it also rostered a small fleet of 2-8-4 Berkshires.

| Class | Type | Wheel Arrangement |
| --- | --- | --- |
| 2 | Switcher | 0-4-0 |
| 7 | Switcher | 0-6-0 |
| 9, 10, 16 | Mogul | 2-6-0 |
| 31, 38, B-5 | American | 4-4-0 |
| 100 | Ten-Wheeler | 4-6-0 |
| E-3 | Ten-Wheeler | 2-8-0 |
| F-1 | Berkshire | 2-8-4 |
---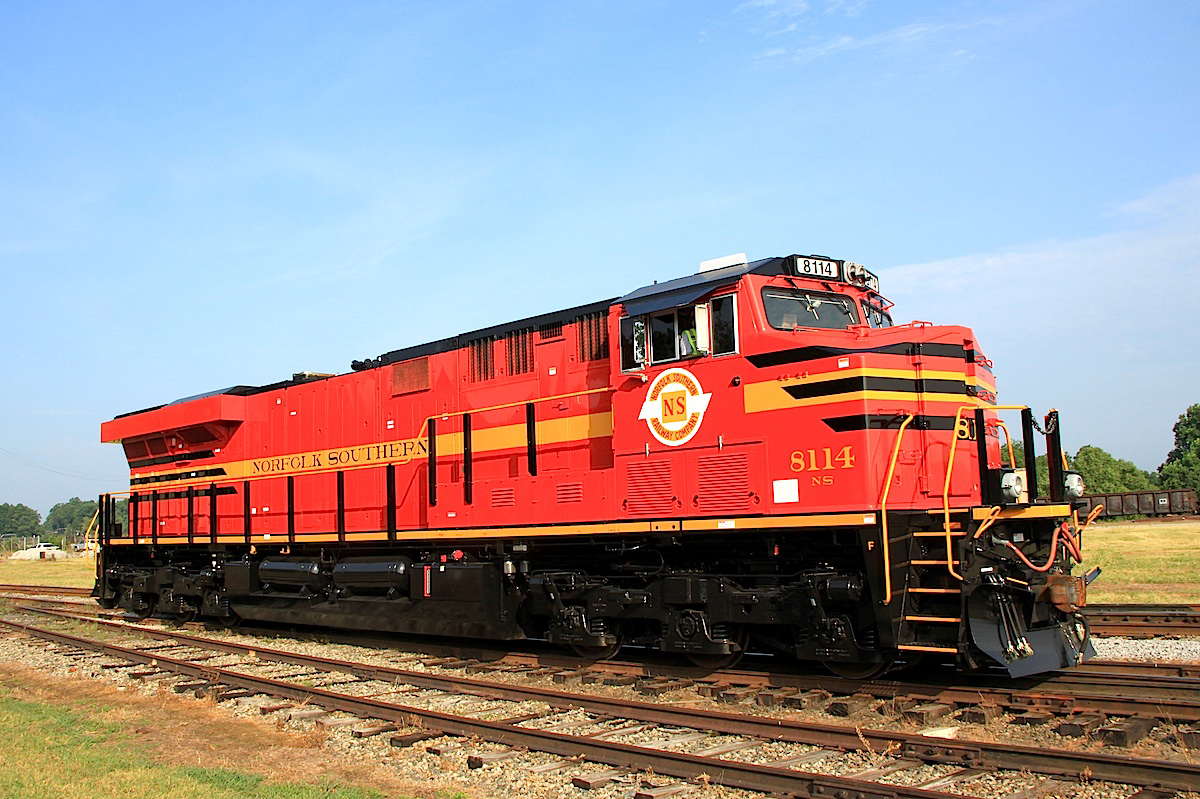 Norfolk Southern offered a nod to its heritage by painting ES44AC #8114 in the original NS colors. It is seen here in the summer of 2012. Warren Calloway photo.
ES44AC #8114
According to the Norfolk & Southern Railway Historical Society the final revenue run under steam occurred on January 12th that year when 2-8-0 #538 completed its switching assignments at Glenwood Yard in Raleigh.  A few weeks later on January 29th the last locomotive was officially retired from the roster, marking the end of an era. 
While Baldwins dominated into the diesel era they were not the only such locomotives the road owned.  Aside from a small fleet of General Electric 70-ton switchers it also purchased a crop of eight Electro-Motive GP38's between 1966 and 1967. 
These Geeps were the final new power the company acquired.  In the spring of 2012 current Norfolk Southern announced intentions to honor several predecessor companies comprising its current system by painting a series of new locomotives into authentic corporate liveries. 
The original NS was included within this fleet and its red/orange scheme with yellow and black trim was adorned on ES44AC #8114.  Today, the General Electric unit regularly roams the NS system.