Detroit & Mackinac Railway: "The Turtle Line"

Last revised: June 10, 2023
By: Adam Burns

The Detroit and Mackinac Railway (pronounced "Detroit & Mackinaw Railway") served the northern reaches of Michigan's Lower Peninsula.  Its heritage dates back to the 1870's as a narrow-gauge operation when businessmen began tapping the state's rich timber resources.  

There were two notable railroads that went on to form the modern D&M system; the Detroit, Bay City & Alpena and Au Sable & Northwestern.  
As various woodland tracts were exhausted its trackage fluctuated wildly until the company finally settled into maintaining a nearly 200-mile network stretching from Bay City to Cheboygan along the shores of Lake Huron.  
Its northerly location meant its primary connections, at different points, were primarily with New York Central's Michigan Central subsidiary.  
Interestingly, after Penn Central's collapse and the formation of Conrail the D&M acquired a large segment of former MC trackage to provide it direct access into Mackinaw City.  
Despite its timber heritage the D&M boasted a long era of profitably, able to diversify by handling a variety of natural resources.  
Unfortunately, declining business in the 1980's led to its disappearance a decade later.  Today, a segment of its original main line and former MC trackage is operated by short line Lake State Railway.

Photos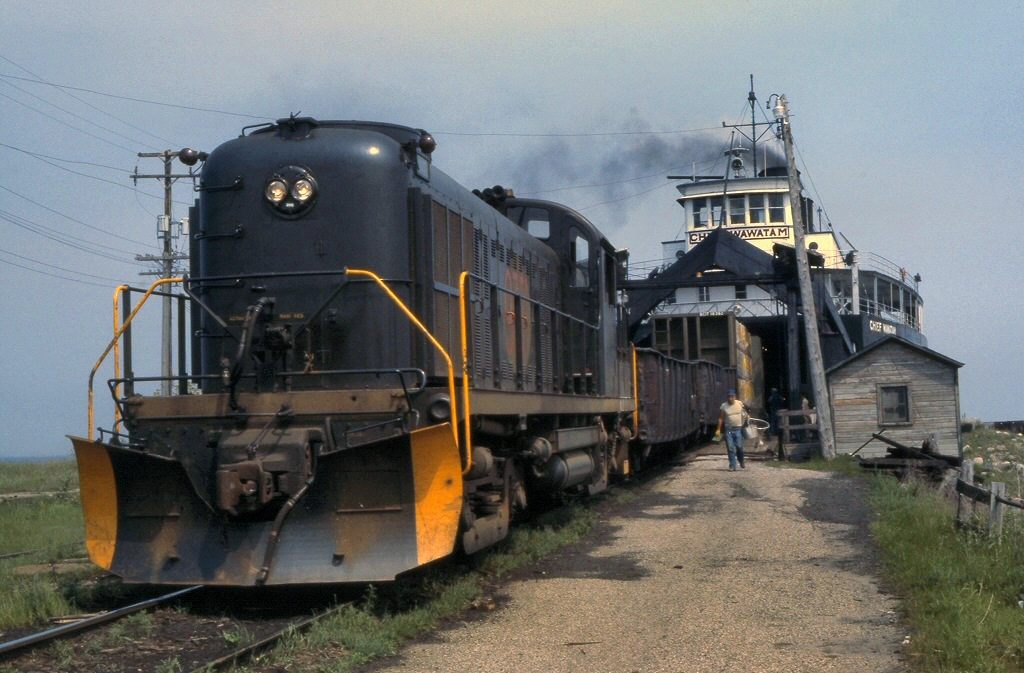 Detroit & Mackinac RS2 #977 unloads the coal-fired "Chief" ("S.S. Chief Wawatam") at Mackinaw City, Michigan in June, 1979. These operations once afforded the D&M with a steady flow of traffic but by the late 1970s they were nearing the end. Rob Kitchen photo.
History
The history of the Detroit & Mackinac can be traced back to the logging industry when the Lake Huron & Southwestern Railway was incorporated on April 15, 1878.
Its promoters, lumber operators Charles and Sylvester Hale, intended to construct a railroad from their base of operations in Tawas City to the Au Gres and Rifle Rivers.  
Later that year they had opened 26 miles to the small community of Prescott using an odd 3-foot, 2-inch narrow-gauge alignment.  In short order the Hales ran into financial difficulties, which began a quick succession of name and ownership changes.  
According to the book, "Michigan Railroads & Railroad Companies," by Graydon Meints, Charles Prescott purchased the property at foreclosure on October 1, 1879 and reorganized it as the Tawas & Bay County Railroad (T&BC) on February 12, 1880.  
Prescott's involvement was short-lived for in July of 1882 he sold the carrier to successful lumberman Russell Alger and as of April 2, 1883 it became part of his Detroit, Bay City & Alpena Railroad (DBC&A).
Alger planned to expand the system both northward and southward along the Lake Huron shoreline in hopes of reaching Au Sable and Alger, which would offer a connection with the much larger Michigan Central.
Expansion
Alger wasted no time in completing both extensions which were finished by January of 1884 when a bridge was opened over the Rifle River, outside of Alger.  
According to Dr. George Hilton's book, "American Narrow Gauge Railroads," while these segments were also built to the 3-foot, 2-inch gauge they were laid with standard-gauge ties with plans to eventually covert the property at a later date (completed in 1886).  
More expansion continued into 1885 when a line was projected from Oscoda (just outside Au Sable) to the Black River, near Thunder Bay.  This 30-mile extension actually required only 15 miles of new railroad since the northern segment was already in service by a private carrier under Alger's control.  
It was completed on December 27, 1885, which expanded the DBC&A network to 83 miles of main line, not including short spurs and branches.
Once more, financial hardship befell the railroad and entered receivership in 1893.  It was reorganized on December 31, 1894 as the Detroit & Mackinac Railway, a name which would survive unchanged for nearly a century.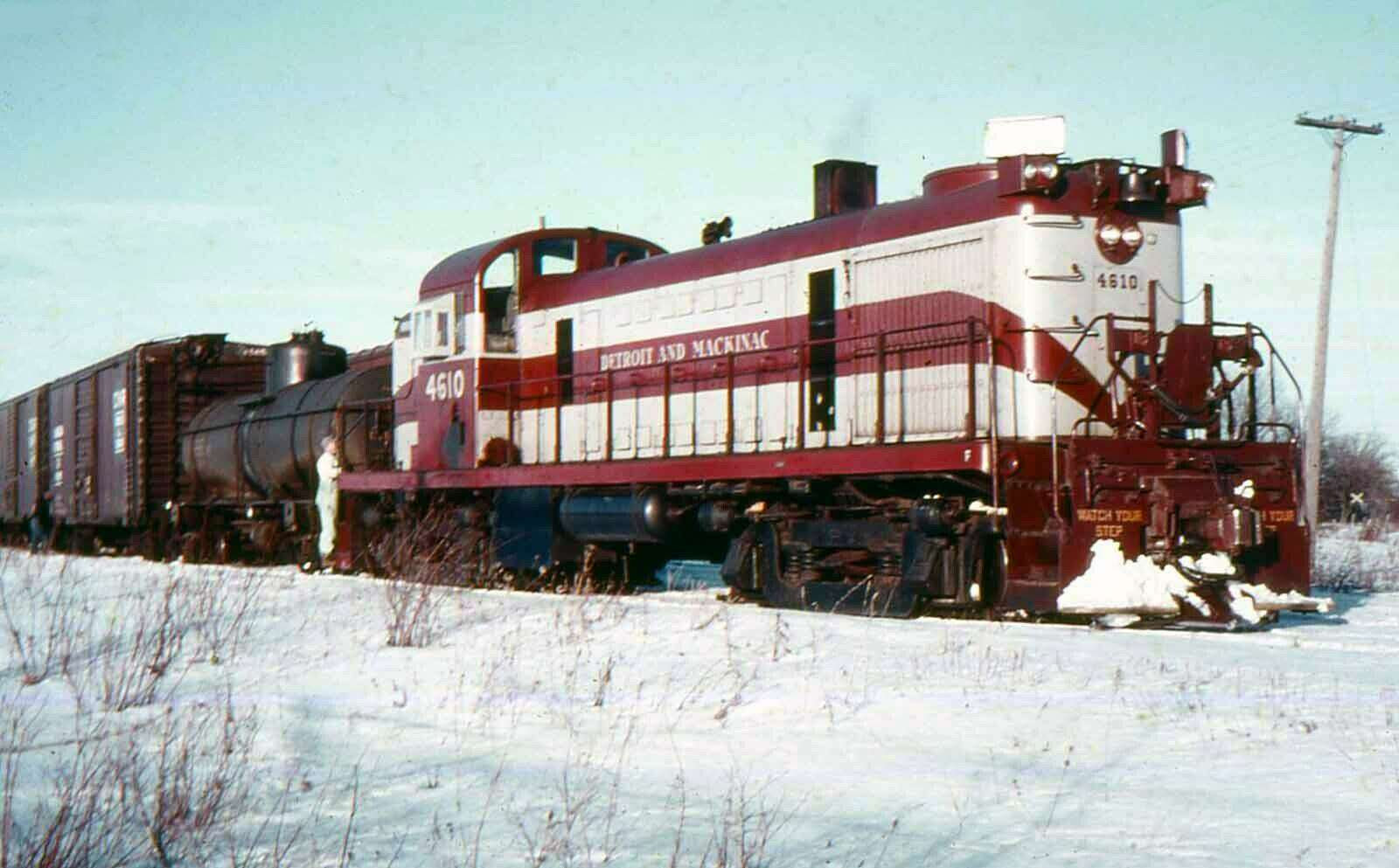 Detroit & Mackinac RS2u #4610 is all shined up as she works through the snow in a scene taken, circa 1964.
New ownership hoped to expand and diversify the D&M's traffic base beyond timber.  Within two years their plans were put into motion when a standard-gauge extension opened to Bay City, via the small community of National City (it subsequently abandoned the Prescott-Alger trackage while the remainder from National City to Prescott survived for a few decades before it too was taken up on November 8, 1943).  
Service officially opened on September 20, 1896.  Bay City held a population of nearly 30,000 residents, and not only provided the D&M an important market but also interchanges with the Michigan Central, Grand Trunk Western, and Pere Marquette (acquired by the Chesapeake & Ohio in 1947).  
At A Glance
Headquarters

Tawas City, Michigan

States Served

Michigan

Dates Of Operation

1878 - February 16, 1992

Formation Date

December 31, 1894

Genesis

Lake Huron & Southwestern Railway (April 15, 1878)

Route Miles

275 (1930)

Track Gauge

3 Feet: Au Sable & Northwestern Railroad (July 15, 1889 - May, 1915)

3 Feet, 2 Inches: Detroit, Bay City & Alpena Railroad (April 2, 1883 - December, 1886)

4 Feet, 8 ½ Inches (December, 1886 - February 16, 1992)

Principal Lines

Bay City - Cheboygan

National City - Rose City

National City - Prescott

Posen - Rogers City

Mackinaw City - Gaylord - Alger - Bay City (ex-New York Central/Michigan Central, acquired in 1976 from Conrail)

Slogan

The Turtle Line

Reporting Mark

DM

Successor

Lake State Railway
Looking north beyond the Black River an extension to Alpena and Mackinaw City was anticipated.  To do this, it purchased another railroad owned by Alger, the Alpena & Northern on April 16, 1896.  By 1904 the A&N had reached Cheboygan after a long fight with the Michigan Central concerning a crossing dispute.  
The hope of reaching Mackinaw City and launching car ferry service across the Straits of Mackinac, however, were not realized for many years.  In spite of this setback the D&M was able to carry out an important improvement project when the new Harrisville Cutoff opened in 1901.  
The alignment passed through Harrisville and followed the lake's shoreline, rendering the old right-of-way largely obsolete (the surviving "Lincoln Branch" remained in service until 1928).
---
Au Sable & Northwestern Railroad
There was another early narrow-gauge (3-foot) component of the Detroit & Mackinac known as the Au Sable & Northwestern Railway (AuS&NW).  Much of its system was gone, however, prior to the Great Depression.  
It began as a privately owned operation under the direction of the J.E. Potts Salt & Lumber Company to provide transportation services from its base of operations in Potts to Au Sable/Oscoda, where it interchanged with the then-Detroit, Bay City & Alpena.  Its right-of-way roughly followed the winding Au Sable River.  
On July 15, 1889 the AuS&NW became a common carrier and soon afterwards was sold to Henry Loud who reorganized it as the Au Sable & Northwestern Railroad on July 15, 1891.  
In the following years it was expanded beyond Potts reaching McKinley, Hardy, Comins, and finally a connection with the Michigan Central at Lewiston.  There were also branches extended to Beevers and Luzerne.  
Despite its common-carrier status, which included handling light passenger service, the AuS&NW was largely dependent on timber.  It reached a peak of 108 miles before losing half this total by the turn of the century.
 In 1905 its main line was cut back from Lewiston to Comins and then a crippling fire at Au Sable/Oscoda caused the railroad to its remaining trackage to the Detroit & Mackinac in 1912.  In 1914 it absorbed the AuS&NW and converted it to standard-gauge in 1915.  The remaining line to Comins was abandoned in 1927.
---
Modern Network
Soon after the Detroit & Mackinac Railway was formed it adopted its slogan as "The Turtle Line" and spent the early years upgrading its property for greater and improved rail service.  
It did this by replacing the original tracks with a heavier, 70-pound variety as well as purchased new locomotives, other equipment, and moved its headquarters from Detroit to Tawas City.  
In addition, efforts were focused under new owner H.K. McHarg, Sr. in 1902 (a New York banker, he remained in control until 1941) to promote the region's increasingly popular vacationing business.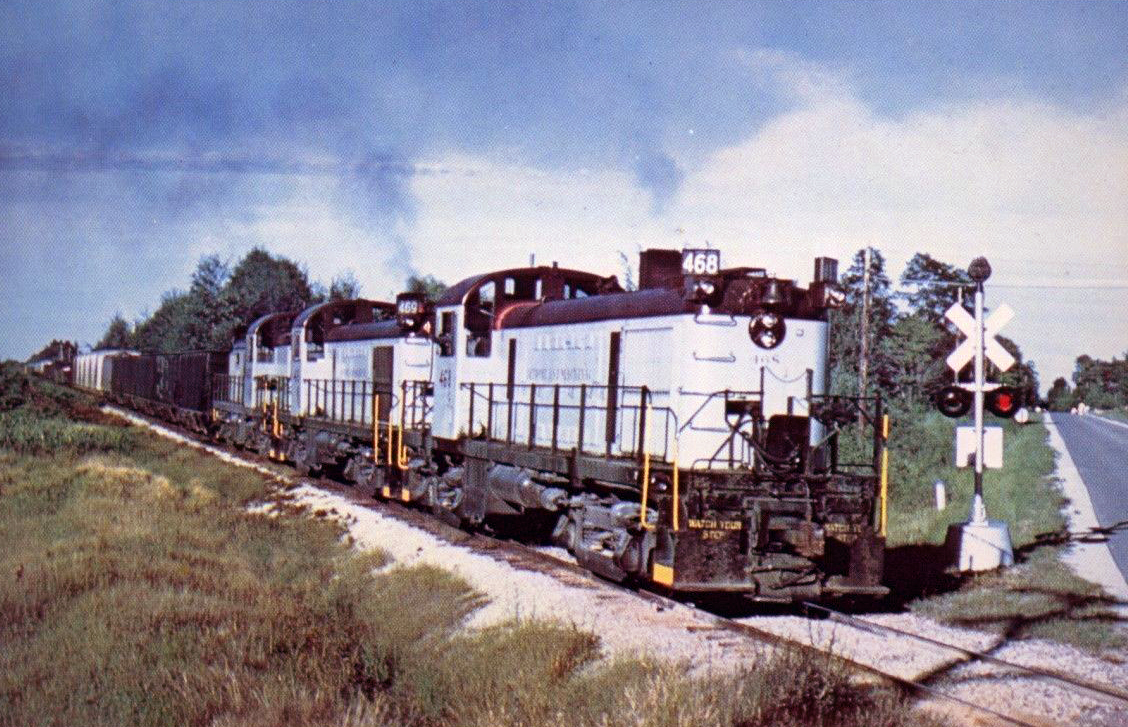 A trio of Detroit & Mackinac RS2's have southbound freight AB-2 (Alpena - Bay City) south of Tawas City, Michigan on July 13, 1976. Today, much of the "Turtle Line" is abandoned north of Alpena. Bob Lenardson photo.
During an era when folks escaped the city life by flocking to nearby resorts situated at coastal beaches, lakes, or mountains the D&M tapped into this market by aggressively boasting its location along Lake Huron for sportsmen and fishermen.  

According to Roob Allie's article, "They Shed No Tears," from the July, 1951 issue of Trains Magazine, the D&M prominently advertised itself as a getaway destination in an effort to increase ridership.  As an added incentive the railroad opened the Tawas Beach Resort and organized the Tawas Bay Yachting Association.  
The D&M was successful in this endeavor although the business was short-lived, the peak years lasted only through 1911 upon which time it was dispatching six passenger trains daily in each direction.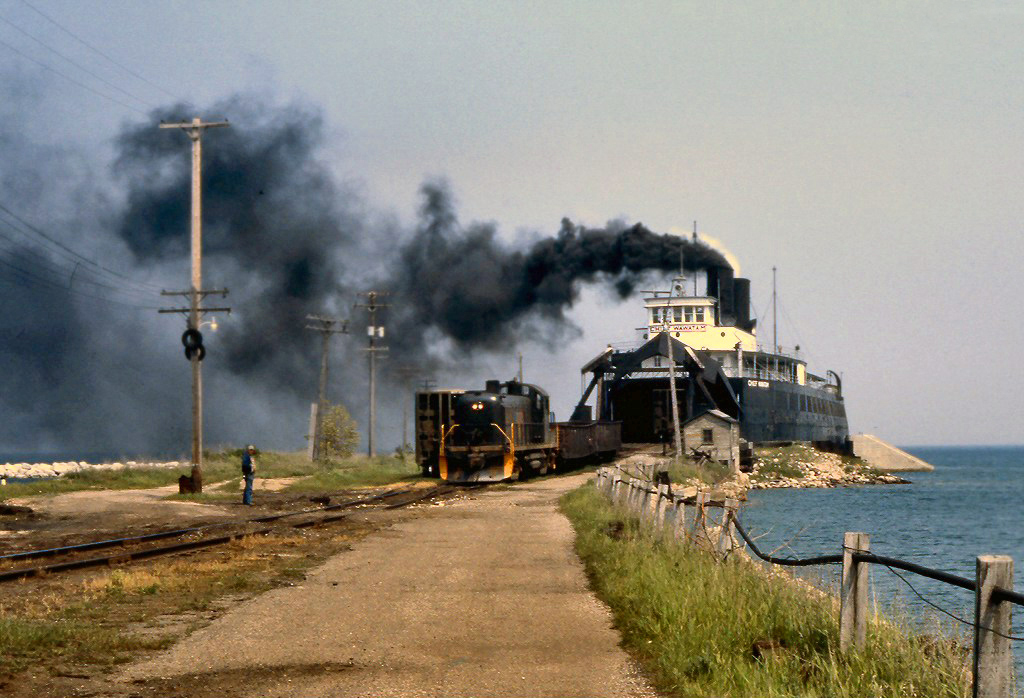 A panoramic view of the same Detroit & Mackinac train featuring in the first photo unloading the "Chief" during June of 1979. Rob Kitchen photo.
But, as they say, all good things must come to an end.  The seasonal trains faded as automobiles and roads became more affordable and improved after World War I.  
The slide continued through the lean 1930's and after World War II, by which time losses were far outpacing earnings.  In 1949 the company petitioned the Michigan Public Service Commission to discontinue remaining trains entirely.  The move was initially granted but a great backlash from the public resulted in the D&M rescinding its decision.  
Instead, it began working with the Grand Trunk Western to expand service into Detroit via Bay City on a trial, six-moth period.  The idea was that by dispatching trains to the much larger Motor City market greater ridership could be attracted.  
Ultimately, this initiative failed and despite a continued public outcry the railroad revived its attempt to discontinue all passenger service.  The commission again granted the move and the final trains (pulled by RS2 #466) ran on March 31, 1951 amid a modest fanfare.  With the removal of this money-losing operation the railroad focused efforts solely on its profitable freight business.
System Map (1910)
The Detroit & Mackinac's success is rather incredible considering it began life as a logging line.  During its peak years aside from timber it moved mine products, aggregates, gypsum, limestone, Portland cement, various types of agriculture (such as sugar beets), and oil/petrochemicals.
With the Penn Central's bankruptcy in 1970 and formation of Conrail six years later the new carrier had no interest in the former NYC/MC trackage between Mackinaw City and Bay City.  This allowed the D&M to step in and purchase the line, which it renamed as the Mackinaw Division. 
The segment offered direct entry into Mackinaw City and car ferry service with the Soo Line across the Straits.  Alas, as Ron Cady notes in his article, "Detroit & Mackinac Adieu" from the July, 1992 issue of Trains Magazine, the 1980's were a rough decade.  
Many businesses left including the loss of ferry service when the historic, coal-fired S.S. Chief Wawatam was shutdown in 1984 after state subsidies were discontinued (the opening of the Mackinac Bridge in 1957 seriously hurt rail service).  
Diesel Roster
| Builder | Model Type | Road Number | Date Built | Quantity |
| --- | --- | --- | --- | --- |
| GE | 44-Ton | 10 | 1942, Ex-M&StL | 1 |
| Plymouth | DLC/6 | D-120 | 1927 | 1 |
| Alco | C425m | 181, 381 | 1965, Ex-PRR | 2 |
| Alco | C425 | 281 | 1965, Ex-PRR | 1 |
| Alco | RS2 | 466-469, 481, 4610 | 1946-1948 | 6 |
| Alco | RS3 | 481 | 1948 | 1 |
| Alco | S1 | 646 | 1946 | 1 |
| Alco | TE56-4A | 974-975 | 1954, Ex-B&M | 2 |
| Alco | C420 | 976 | 1964, Ex-LIRR | 1 |
| Alco | RS3 | 977, 1077 | 1949-1955, Ex-LIRR | 2 |
| Alco | C425m | 1280 | 1965, Ex-PRR | 1 |
| Alco | RS2u | 4610 | 1946 | 1 |
---
Across the Straits of Mackinac the D&M provided car ferry service in conjunction with the Duluth, South Shore & Atlantic (later Soo Line) at St. Ignace, Michigan. Here, Soo GP30 #708 unloads the "Chief" in June of 1979. Rob Kitchen photo.
Final Years
With no need to reach Mackinaw City, not surprisingly service cutbacks were initiated; the northern Cheboygan - Alpena section was abandoned as well as the original southern main line between Bay City and Pinconning, in favor of the NYC alignment.  
Finally, all service north of Gaylord was discontinued following the loss of car ferry service.  The railroad continued to lose business into the 1990's and was ultimately sold to vice presidents James George and Richard Van Buskirk.  
On February 17, 1992 the new property became the Lake State Railway.  Today, this short line operates the D&M's main line between Pinconning and Alpena as well as the ex-New York Central trackage from Pinconning to Gaylord.
Interestingly, Lake State continues to operate some of the D&M's historic Alco's including two RS2's and its sole S1 switcher.
Also, at least one of the D&M's steam locomotives survive on display at the restored Lincoln depot, along with other artifacts housed in the building. Lastly, the D&M's depot in Standish still stands and includes a museum with rolling stock on the grounds.