Richmond, Fredericksburg and Potomac Railroad (RF&P): "Linking North & South
"
Last revised: June 9, 2023
By: Adam Burns

The Richmond, Fredericksburg and Potomac was not a large railroad.  It connected only Washington, D.C. with Richmond, Virginia, a distance of just 113 miles. However, its strategic location provided numerous connections with key northern and southern systems.  

The RF&P's ancestry dates to the mid-1830s as one of Virginia's first, chartered to connect the state capital with the Potomac River.  As it pushed further north it eventually reached the nation's capital.  
This event coincided with a consortium of lines acquiring stakes in the RF&P as a strategic bridge route.  From an early period it was double-tracked and had a unique arrangement of operating freights as extras.  

The railroad took great pride in its southern heritage and longstanding corporate history from its blue and grey livery to steam locomotives named for prominent political figures. 
Eventually, as mergers whittled away owners the RF&P was acquired in full by CSX Transportation during the early 1990's.  Today, it is no longer an operating entity but its main line remains an important and busy corridor. 

Photos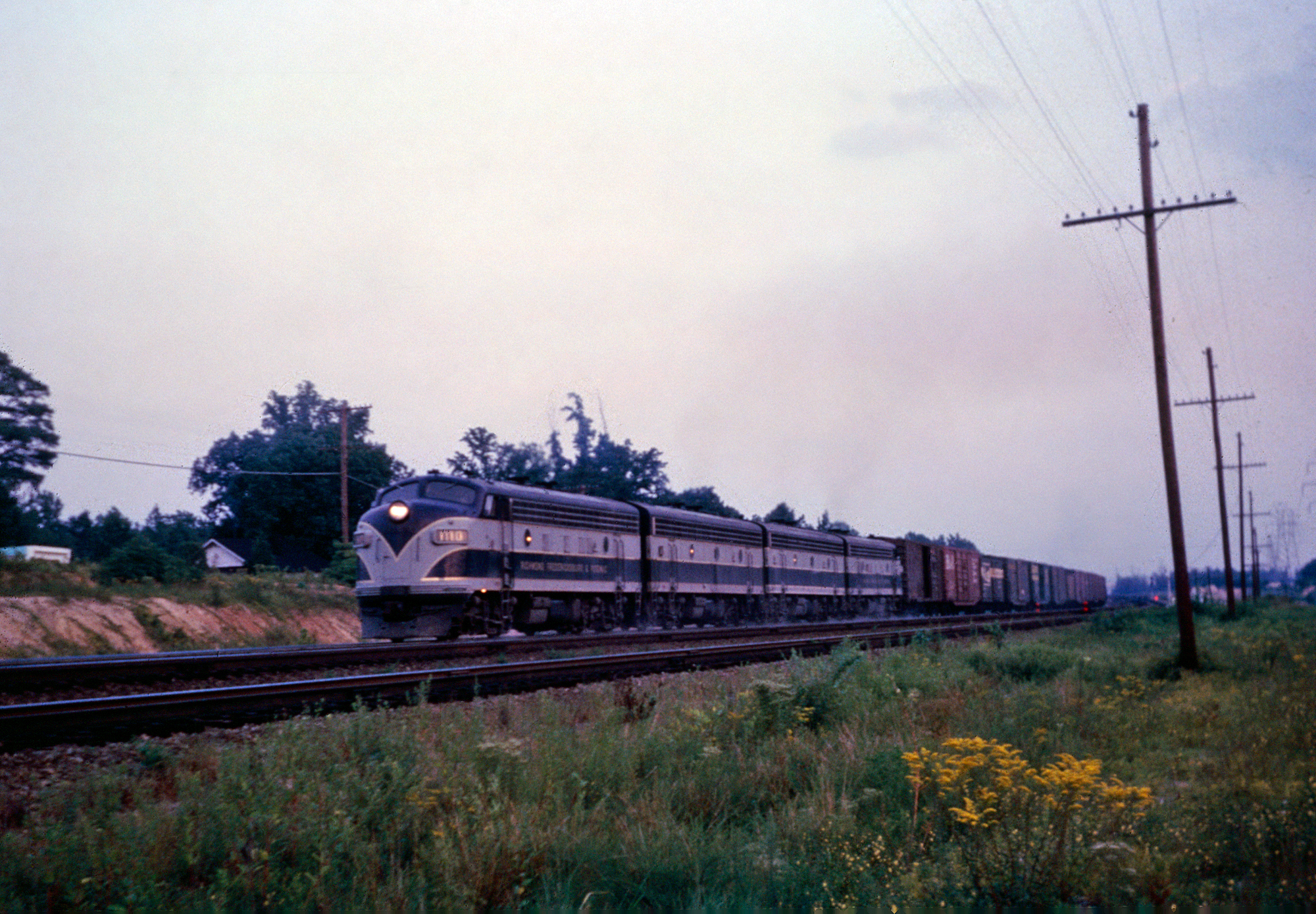 A handsome A-B-B-A set of Richmond, Fredericksburg & Potomac F7's, led by #1110, have arrived at North Acca Yard in Richmond, Virginia on the evening of September 3, 1960. American-Rails.com collection.
History
In 1991, after nearly 160 years of continuous service, the RF&P was purchased outright by CSX Transportation.  As E.L. Thompson notes in his article, "Richmond-Washington" from the November, 1946 issue of Trains Magazine, the Richmond, Fredericksburg and Potomac Railroad was chartered on February 25, 1834 to extend rail service northward out of Richmond.  
In less than two years, 20 miles were ready for service when rails reached the South Anna River on February 13, 1836.  The railroad was only the sixth chartered in Virginia at that time and recognized as just the third to utilize a steam locomotive.  
While not yet a high-speed, efficient transportation artery by reaching this waterway the RF&P improved passage south from Washington, D.C.  At our nation's capital the Baltimore & Ohio had extended a 32-mile branch from its main line at Relay, Maryland which opened on August 25, 1835.  
According to Don Phillips' article, "Gateway Between Blue And Gray: RF&P...Conservative, Colorful, Capable," from the November, 1977 issue of Trains Magazine, passengers could take the B&O to the capital, catch a steamboat down the Potomac River and then board a stagecoach from Potomac Creek to the RF&P's end-of-track. 
At A Glance
Headquarters

Richmond, Virginia

States Served

Virginia

Dates Of Operation

February, 1836 - October, 1991

Charter Date

February 25, 1834

Route Miles

118 (1952)

Track Gauge

4 Feet, 8 ½ Inches

Principal Lines

Washington, D.C. - Alexandria, Virginia - Fredericksburg - Richmond

Dahlgren Junction - Dahlgren

Accotink - Fort Belvoir, Virginia

Slogan

Linking North and South

Reporting Mark

RFP

Successor

CSX Transportation
Expansion
During January of 1837 it continued northward, completing a link to Fredericksburg on the 23rd.  Five years later, on November 1, 1842 service opened to Aquia Creek and an important Potomac River connection.  
Here, there was dock capable of supporting the big steamboats and folks no longer needed a stagecoach to reach RF&P rails.   This concluded its growth for more than 20 years.  When the Civil War broke out the railroad's location caused it considerable damage from Union forces which constantly ransacked the right-of-way.  
It regained its footing after the conflict and was again on the move in 1870 when 12 miles were added to Quantico, which completed an all-rail connection along the eastern seaboard.  
At that small town, which later became a major installation of the U.S. Marine Corps, the RF&P met up with the Alexandria & Washington.  
This system was a Pennsylvania Railroad subsidiary that reached D.C. running via Newington, Woodbridge, and Alexandria.  With through service established the region's primary railroads realized the importance of the RF&P gateway.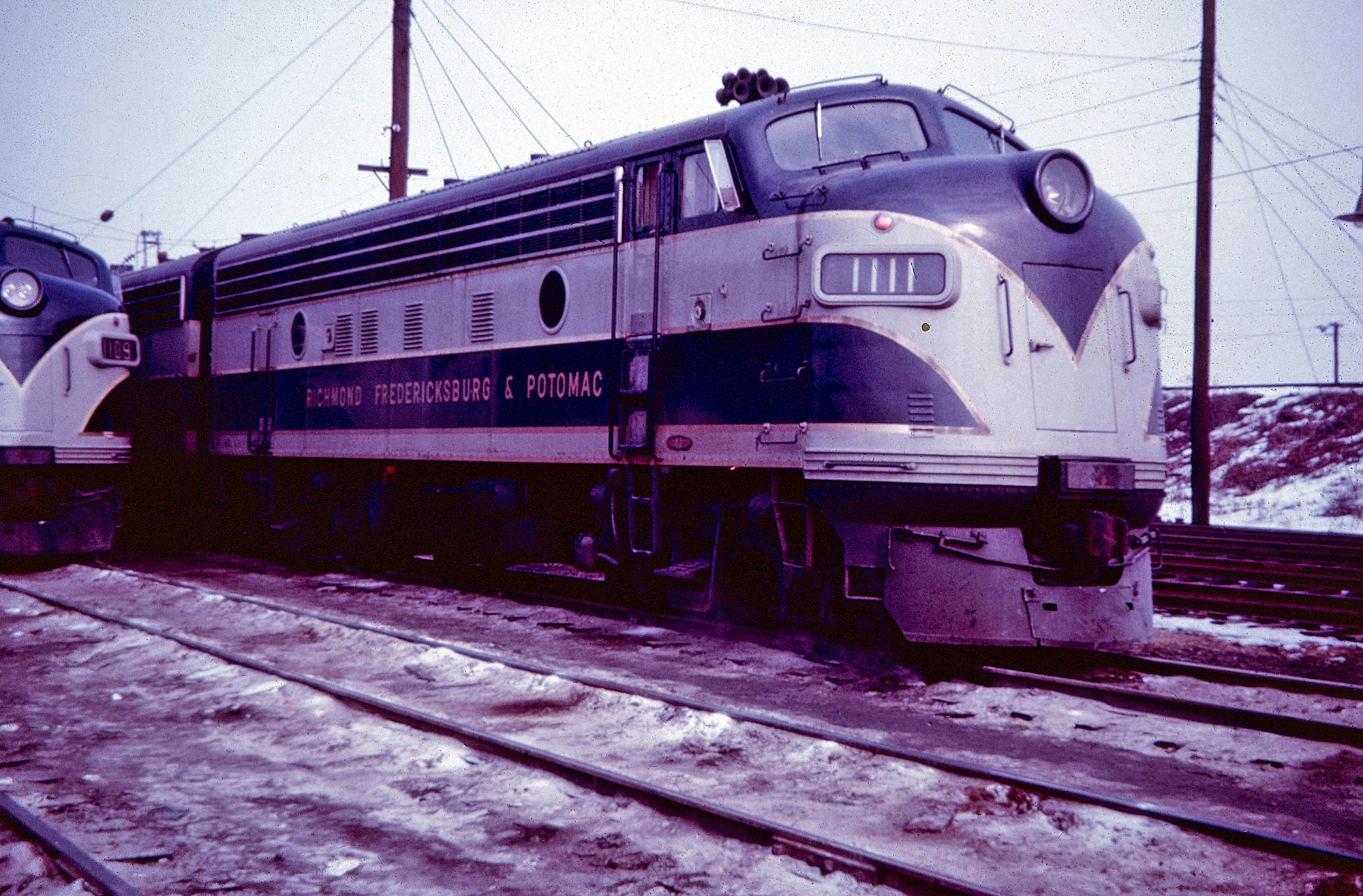 Richmond, Fredericksburg & Potomac F3A #1111, sporting F7 grills, is seen here in Alexandria, Virginia on November 6, 1963. American-Rails.com collection.
Modern Network
In 1901 a consortium of six carriers purchased a controlling interest in the Richmond, Fredericksburg & Potomac through a holding company known as the Richmond-Washington Company.  
These railroads included the Pennsylvania, Baltimore & Ohio, Southern, Atlantic Coast Line, Chesapeake & Ohio, and Seaboard Air Line.  
They comprised a 76% ownership while the state of Virginia picked up the remainder and a held a seat on the board for many years.  As a final stipulation the PRR's Washington & Alexandria was given to RF&P in establishing a through Richmond-Washington route under common ownership.  
Thus was born the 113-mile line that very much lived up to its slogan, "Linking North And South."  In 1903 a project was launched to double-track the entire route.  
It was largely completed in 1905 save for the bridge over the Rappahannock River on the north side of Fredericksburg.  The structure was finally replaced with a modern, double-tracked span in 1927.  
Over the years the RF&P blossomed into a high-speed corridor capable of handling more than 100 trains per day with improvements that included grade reductions (ruling grade of 0.6% northbound and 0.8% southbound), straightening curves (2 degrees or less) with super-elevation, laying heavy 130-pound rail, and Centralized Traffic Control (CTC).
---
Named Time Freights
While relatively uncommon, some railroads chose to distinguish their hotshot, time-freights with names.  The RF&P was no different even though the movements were, somewhat ironically, considered "extras."  
According to Wiley Bryan's article, "Capital Cities Route" from the November, 1941 issue of Trains Magazine, these names included the Richmond Merchandise, Coast Line Special, Seaboard Special, Potomac Merchandise, and the Blue Eagle.  
In the late steam-era, the big 4-8-4's, equipped with cab signals (a practice carried into the diesel era) were almost always ahead of the freights.  
The first five Generals carried a tractive effort of more than 66,000 pounds and were rated at 3,000 tons for northbound movements and 2,500 tons for southbound runs.  Their future counterparts, the Governors and Statesmen, were rated somewhat less (63,000 pounds of tractive effort) but also performed quite well.
---
While the railroad was generally a through route with no branches it did connect with two government-owned, military lines.  
These were located at Accotink, near Newington, where a 4.5-mile spur branched to serve Fort Belvoir, a U.S. Army installation, and just above Fredericksburg at what the railroad described as Dahlgren Junction (Falmouth).  
Logo
Here, a U.S. Navy operation ran 24 miles to what was then the Dahlgren Naval Proving Station situated along the Potomac River (today, known as the Naval Surface Warfare Center-Dahlgren).  The Navy's branch was later cutback to Sealston.  

In the RF&P's case, feeder lines were never needed as the owning railroads provided it plenty of business to sustain a healthy profit.  
Through the 1940s, 90% of this was bridge traffic (70% of which was through traffic) ranging from phosphate and aggregates to agriculture, cotton, and paper. 
During the "Golden Age" of rail travel, depending upon the time of year, passengers could account for up to 40% of its annual revenues thanks to a strong seasonal business of travelers flocking to the sunny, white sandy beaches of Florida.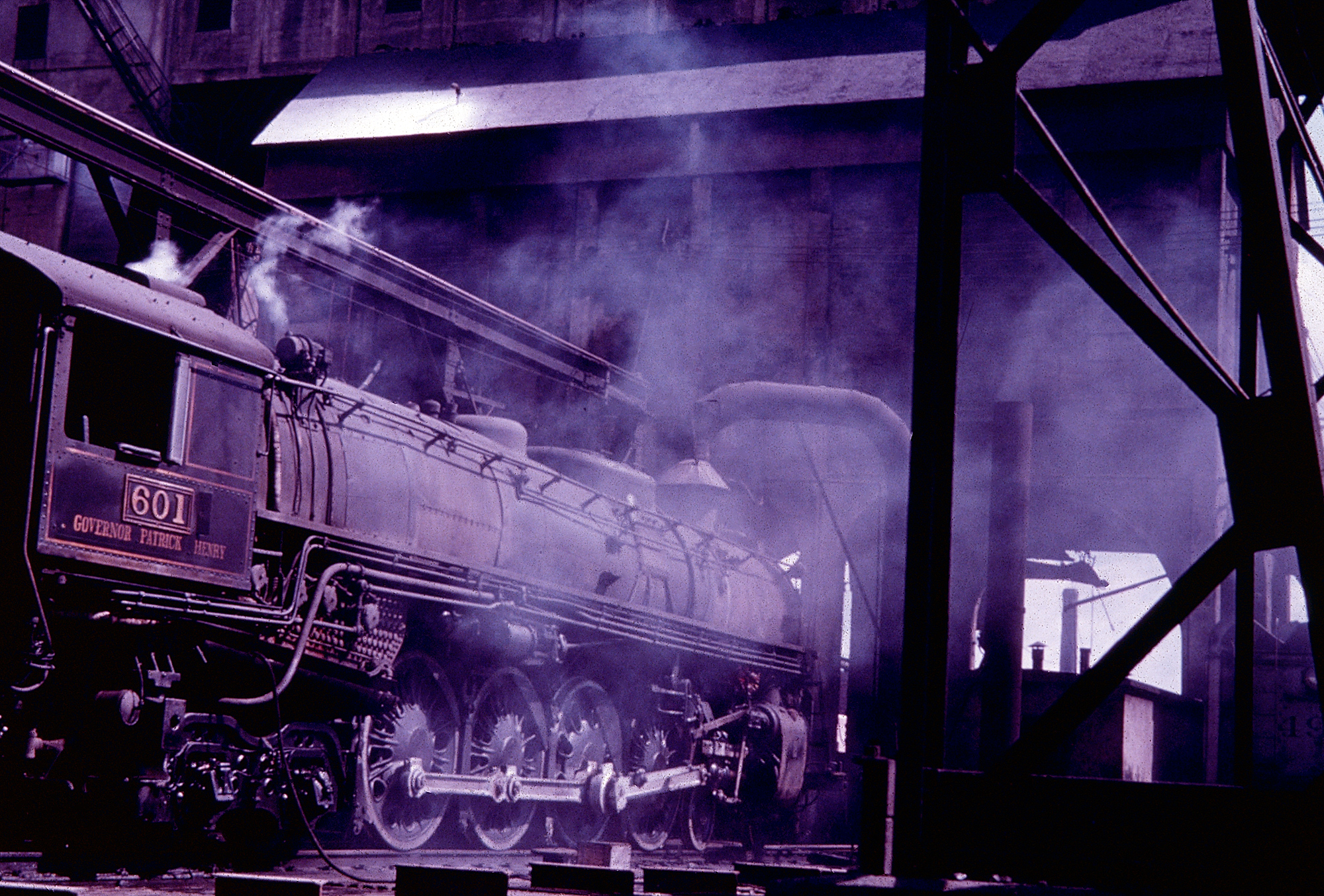 Richmond, Fredericksburg & Potomac 4-8-4 #601, named the "Governor Patrick Henry," takes on coal at the Ivy City engine terminal in Washington, D.C. during the 1950s. Ed Olsen photo. American-Rails.com collection.
Operations Through The Years
From an operational standpoint the RF&P was a quirky little railroad unique into itself.  During the passenger era a train running south out of Washington would depart Union Station via the Washington Terminal Company, briefly utilize trackage rights over the Pennsylvania, and then reach Potomac Yard.  
Once past RO Tower it was officially operating on RF&P rails; otherwise known as "Pot Yard" this once massive terminal handled all freight business at the northern end of the RF&P system.  
As the train entered Richmond it would pass AY Tower and Acca Yard, the road's southern freight terminal, before continuing on to Broad Street Station (the city's other notable facility was Main Street Station utilized by the Chesapeake & Ohio and Seaboard Air Line, the latter of which switched to Broad Street in 1959).  
System Map (1940)
To reach the facility a train was required to navigate through a complete loop and all consists arrived, regardless of direction, from the south.  
This unique arrangement meant the total mileage was slightly different depending upon direction; northbound runs did so in 113.5 miles with southbound trips requiring slightly less, 113.1 miles (including all trackage rights the RF&P operated 118 miles).
When it came to motive power assignments the RF&P was equally particular.  During the late steam era some 4-8-4's operated freight-service only (due to weight restrictions the first five of this class could not cross the Long Bridge spanning the Potomac River and their size prevented clearance through the First Street Tunnel into Washington Union Station) while others handled duel assignments.
Most often, 2-8-4's performed freight chores as did 4-8-2's while 4-6-2's were called upon for additional passenger assignments.  
The railroad also maintained a small fleet of switchers (0-6-0's and 0-8-0's) along with a trio of former Chesapeake & Ohio 2-8-8-2 compound Mallets (H-7).
 The 4-8-4's were an interesting bunch; honoring the South's rich heritage the first five were named for Generals and the next batch for Governors.  The latter group was lighter and narrower so they could operate without issue directly into Union Station.  
A final set of ten, similar to the Governors, were the last new steam locomotives purchased and arrived in 1945.  They were named for notable Statesmen.  
The 4-8-4's were the only steamers RF&P ever named and according to Wiley Bryan's article, "Capital Cities Route" from the November, 1941 issue of Trains Magazine, the railroad did not even classify its locomotives.  Instead, ty were simply described by their numbering series.
Mr. Thompson noted that in the immediate postwar period the RF&P rostered a fleet of 115 locomotives, most of which were steam while a small group of S2 diesels from American Locomotive handled switching chores.  
The move to complete dieselization hastened during the 1950s.  Most steamers were gone by 1952 while a few 4-8-4's survived for a few more years.  Their final revenue runs took place on December 17, 1954.  A year later, ten locomotives were brought out of storage and leased to Chesapeake & Ohio.  
They were returned in short order and sold for scrap in 1959.  Into the diesel era, RF&P stuck solely with Electro-Motive for all road-switchers and later switchers.  At first it acquired E8's for passenger duties and F7's to handle freight assignments.  
The big E's were supplemented with three FP7's in 1950 while GP7's augmented the F's when they arrived between 1950 and 1953.  
For many years these locomotives, totaling just 69 units, replaced all steam power.  During the second-generation era more were added; GP35's and SW1200's in 1965 followed by SW1500's and GP40-2's a few years later.  
This concluded its road power until disappearing into CSX.  In another unique practice, diesels always had even-numbered engines pointed north while their odd-numbered counterparts faced south.
Final Years
The Richmond, Fredericksburg & Potomac hummed along in the decades following World War II but with mergers picking up by the 1970's its future was cloudy.  
In 1967 the Seaboard Air Line and Atlantic Coast Line merged to form Seaboard Coast Line.  A few years later, Chesapeake & Ohio and Baltimore & Ohio were included under the Chessie System holding company.  
Then, the Pennsy disappeared into Penn Central in 1968 and that disastrous union led to Conrail's creation in 1976.  How the RF&P came under CSX ownership was the result of additional mergers.  
When the ICC approved the conglomerate's creation in 1980 Southern and Norfolk & Western realized their own merger was the only means of survival.  As a result, Norfolk Southern was born in 1982.  
That decade had reduced RF&P's ownership to only CSX, NS, and Conrail with the former carrying the majority.  Since CSX held a two-thirds ownership Norfolk Southern and Conrail eventually sold out (NS had largely discontinued using the RF&P by that time), an agreement the parties reached officially on October 10, 1991.
Diesel Roster
American Locomotive Company
| Model Type | Road Number | Date Built | Quantity |
| --- | --- | --- | --- |
| S2 | 1, 51-71 | 1942-1948 | 22 |
Electro-Motive Division
| Model Type | Road Number | Date Built | Quantity |
| --- | --- | --- | --- |
| SW1500 | 1-8, 91 | 1966-1967 | 9 |
| SW1200 | 81-85 | 1965 | 5 |
| GP7 | 101-104 | 1950-1953 | 4 |
| GP35 | 111-118 | 1965 | 8 |
| GP40 | 121-127 | 1966-1967 | 7 |
| GP40-2 | 141-147 | 1972 | 7 |
| E8A | 1001-1015 | 1949-1953 | 15 |
| E8B | 1051-1055 | 1949 | 5 |
| F7A | 1101-1110 | 1949-1950 | 10 |
| F7B | 1151-1160 | 1949-1950 | 10 |
| FP7 | 1201-1203 | 1950 | 3 |
Steam Roster
| Series | Wheel Arrangement |
| --- | --- |
| 100 | 4-6-0 (Ten-Wheeler) |
| 200 | 4-6-2 (Pacific) |
| 300 | 4-6-2 (Pacific) |
| 400 | 4-6-2 (Pacific) |
| 500 | 4-8-2 (Mountain) |
| 551 | 4-8-4 |
| 571 | 2-8-4 (Berkshire) |
| 600 | 4-8-4 |
The 4-8-4's (All Products Of Baldwin)
Generals
| Road Number | Name | Year Built |
| --- | --- | --- |
| 551 | General Robert E. Lee | 1937 |
| 552 | General T.J. Jackson | 1937 |
| 553 | General J.E.B. Stuart | 1937 |
| 554 | General A.P. Hill | 1937 |
| 555 | General J.E. Johnson | 1937 |
Governors
| Road Number | Name | Year Built |
| --- | --- | --- |
| 601 | Governor Patrick Henry | 1938 |
| 602 | Governor Thomas Jefferson | 1938 |
| 603 | Governor Thomas Nelson | 1938 |
| 604 | Governor Benjamin Harrison | 1938 |
| 605 | Governor James Monroe | 1938 |
| 606 | Governor John Tyler | 1938 |
| 607 | Governor Edmund Randolph | 1938 |
| 608 | Governor Henry A. Wise | 1938 |
| 609 | Governor John Letcher | 1938 |
| 610 | Governor Fitzhugh Lee | 1938 |
| 611 | Governor William Smith | 1938 |
| 612 | Governor Claude A. Swanson | 1938 |
Statesmen
| Road Number | Name | Year Built |
| --- | --- | --- |
| 613 | John Marshall | 1945 |
| 614 | George Washington | 1945 |
| 615 | Henry Clay | 1945 |
| 616 | George Mason | 1945 |
| 617 | John Randolph | 1945 |
| 618 | James Madison | 1945 |
| 619 | William Byrd | 1945 |
| 620 | George Wythe | 1945 |
| 621 | Richard Henry Lee | 1945 |
| 622 | Carter Braxton | 1945 |
---
Potomac Yard
Finally, there were the passenger trains.  The names which once passed over its rails were many ranging from the Silver Comet, Silver Meteor, Orange Blossom Special, Champion, and Crescent to the Birmingham Special, Florida Special, Miamian, and Palmland.  As rail travel declined in the postwar years, these names all disappeared.  
When Amtrak launched on May 1, 1971 the new quasi-government carrier took over most remaining services while Southern's Southern Crescent (Washington - New Orleans) continued to run the RF&P until 1979.  All of these cutbacks and reductions made the massive Potomac Yard largely redundant.  
As Robert Carper notes in his article, "Farewell To Potomac Yard" from the February, 1992 issue of Trains Magazine, the terminal had long been an important means of preparing all freight arriving from the north for its continued southbound journey on RF&P rails.  
The yard had originally opened on August 1, 1906 and was considerably modernized over the years.  
It was even electrified when the PRR strung catenary into the terminal prior to World War II.  At its peak the yard spanned 526 acres with 136 miles of track (when built it covered 450 acres and 52 miles of track).  
As technologies improved (ending the need for such necessities as icing stations) and mergers took place the facility usefulness had passed.  CSX sold the property in the 1990's and much of it has since been redeveloped.