Akron, Canton And Youngstown Railroad: "Ohio's Road Of Service"

Last revised: June 7, 2022
By: Adam Burns
The Akron, Canton and Youngstown Railroad was a small Class I carrier which came into existence in 1907.  Ironically, despite the long name it connected only one city within its charter.  Nevertheless, the AC&Y was quite success as a terminal/bridge line serving northern Ohio's many industries.  
Born as a small local operation within Akron it grew substantially following World War I by acquiring the Northern Ohio Railway's dilapidated property.  
Overview
This takeover pushed it as far west as Delphos, which proved the extent of its network.  In addition, it owned stakes in a local belt line serving nearby Barberton.  The AC&Y lasted as an entirely independent railroad until 1964 when it was sold to the Norfolk & Western. 

It remained a subsidiary until 1982 when its corporate name was officially dissolved following creation of current Class I, Norfolk Southern. Today, part of the former AC&Y lines remain in operation under the Wheeling & Lake Erie Railway, a Class II regional that stretches into western Pennsylvania.  

A Brief History
During the late 19th century the idea of narrow-gauge rights-of-way became a popular concept due to their cheaper construction costs.  The AC&Y's direct ancestry does not stem from such a system although it later acquired assets of a former one, which will be discussed later.  
The Akron, Canton & Youngstown's immediate history begins in June of 1907 when it was organized to connect Akron with Youngstown and Canton.  
All three cities blossomed into great centers of industry; Akron became known as the "Rubber Capital Of The World," Youngstown a steel producer, and Canton a mecca of general manufacturing (brick, roller bearings, poultry, bakeries, etc.).  
In 1912 construction commenced from downtown Akron to a connection with the Wheeling & Lake Erie at nearby Mogadore.  The route opened in 1914.  Ironically, this would prove the road's furthest eastern reach as it would fail to connect the other cities in its charter.  
Regardless, the AC&Y became successful as a small terminal road serving local businesses and interchanging with the much larger Chicago trunk lines (Pennsylvania, Baltimore & Ohio, and Erie).  One other interchange also proved important, the Northern Ohio Railway (NO).

At the time, this struggling, rundown New York Central subsidiary was headed for insolvency and perhaps even liquidation.  Its more circuitous route with less favorable grades connected points already served by the larger railroads. The NO held a fascinating, yet convoluted history.  
According to Dr. George Hilton's book, "American Narrow Gauge Railroads," it began as the Cleveland, Delphos & St. Louis organized on March 7, 1881.  The project was promoted by James Callery, William Semple, Joseph Boehmer, and Dr. Carey Evans to build an expansive and far-reaching narrow-gauge (3-foot) system.  
Logo
The CD&StL was to work in conjunction with the Toledo, Cincinnati & St. Louis in opening a through route from Toledo to East St. Louis, head further east to Cleveland, and finally handle coal and iron out of southwestern Ohio.  

The CD&StL was tasked with reaching Cleveland and would branch from the TC&StL at Delphos, running via Findlay and Medina.  The group also planned two additional extensions, one from Medina to a connection with the Pittsburgh & Western and another from Columbus Grove to Antwerp, Ohio near the Indiana border where interchange would be established with the Wabash Railroad.
---
Akron & Barberton Belt Railroad
The Akron & Barberton Belt Railroad became a successful but largely inconspicuous terminal line serving the businesses of Barberton, a small industrial suburb located slightly southwest of Akron.  It began as the 2-mile Baberton Belt Line Railroad formed on March 19, 1891 and opened for service on July 12, 1892.  
This small system was one of three to form the modern A&BB with the others being the Cleveland, Barberton & Western (1899) and Barberton, Akron & Eastern Belt Line (originally formed in 1901).  
On May 6, 1902 the group merged to form the Akron & Barberton Belt.  It eventually grew to maintain 21 route miles (and many more industrial spurs and sidings) running from Brittian, where it connected with the AC&Y, to Barberton.  
From there the line ran due north to Belt Junction and another interchange with the AC&Y.  Along the way additional interchanges were carried out with the B&O, Erie, and PRR.  All four roads held joint stakes in the operation.  Today, the remnants of the A&BB are operated by the Wheeling & Lake Erie as the Akron Barberton Cluster.

---
Typical of such grand schemes they had little long term success with any project; the Antwerp and P&W extensions were organized but never built.  
The TC&StL did see substantial construction across Ohio, Indiana, and Illinois boasting a nearly 800 mile network at its peak.  However, it struggled with insolvency and was never completed as envisioned.  The CD&StL managed to open only part of its route before it, too, ran out of funds.  
Construction was launched from Columbus Grove in both directions in August of 1881; to the west it reached Delphos by November 26th (17 miles) but to the east could not secure the needing right-of-way into Findlay.  So, the railroad bypassed the town to the south on a new alignment via Bluffton.  

By the fall of 1883 it had opened to Carey, a distance of 55 miles, where connection was made with the Columbus, Hocking Valley & Toledo a predecessor of the Hocking Valley Railway (later Chesapeake & Ohio).  Under its original charter the CD&StL would extend no further as it fell into bankruptcy.  
On November 1, 1885 it was reorganized as the Eastern & Western Air Line Railway but no construction took place before another name change was carried out a year later as the Cleveland & Western Railroad (C&W) on August 1, 1886.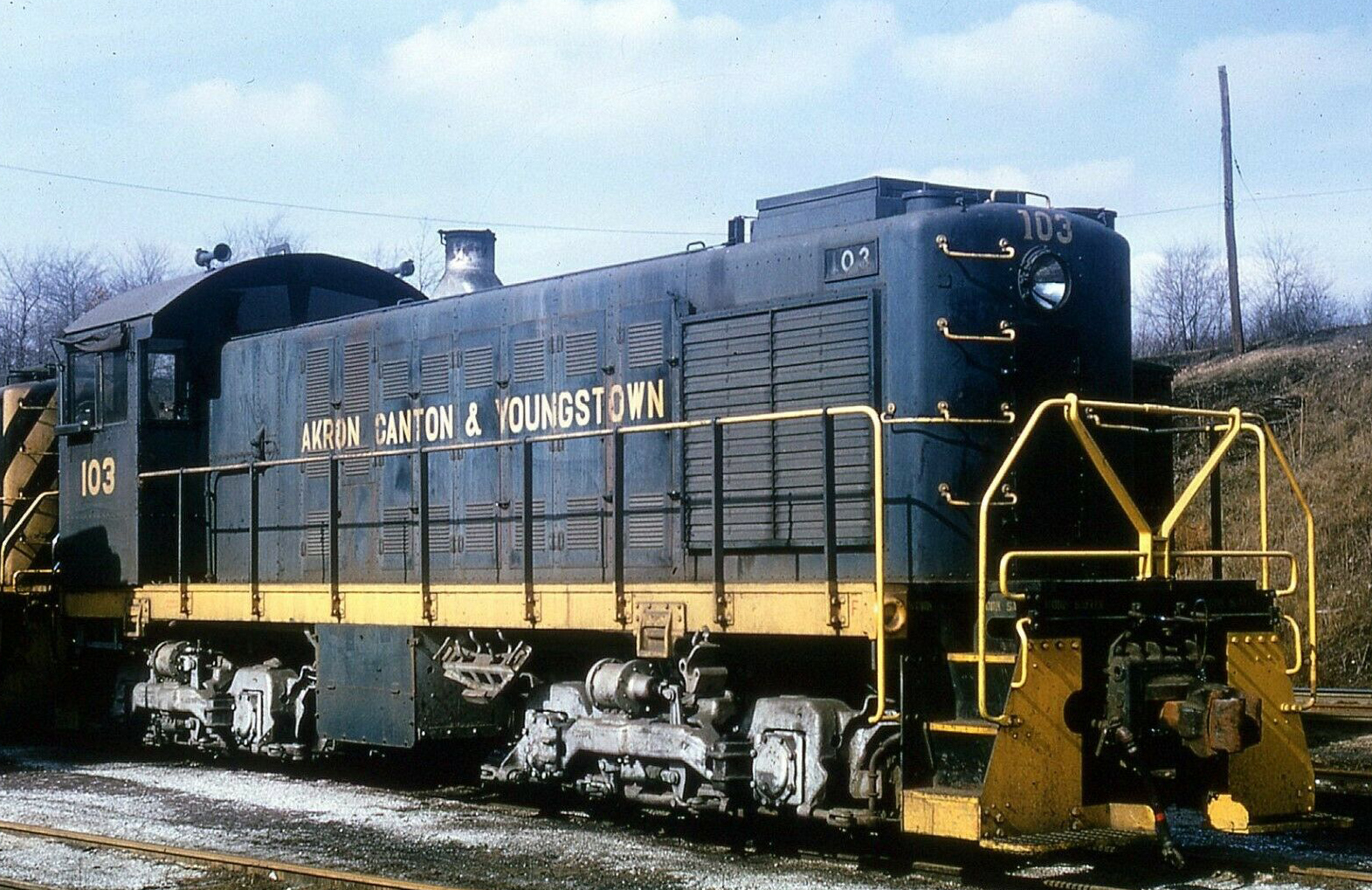 Akron, Canton & Youngstown S2 #103, a former Delray Connecting unit, is seen here during the 1960's.
By then the TC&StL project had died and along with it dreams of opening a major, narrow-gauge trunk line across the Midwest.  
New ownership took the C&W project in a new direction.  The amended plan called for the railroad to be completed across Ohio, establish a Pittsburgh connection, and then sell the entire property to the Baltimore & Ohio.  
At the time the B&O was looking for a better through route into Chicago, one via Pittsburgh and northern Ohio.  It had already reached the Windy City in 1875 using a circuitous routing from Benwood, West Virginia (just south of Wheeling) that headed west to Newark, Ohio then north to Chicago Junction (later Willard).  
Here, it turned westward again to Deshler and across northern Indiana before finally entering Chicago.  As the B&O extended through Maryland and West Virginia it battled with the Pennsylvania Railroad for control of a route to Pittsburgh via Cumberland.  
After winning the fight in court the line opened in May of 1871 (as the Pittsburgh, Washington & Baltimore).  With this corridor in hand all that remained was establishing a new segment from Pittsburgh to Chicago Junction (Willard).
Formation
In 1887 the Cleveland & Western property was again renamed as the Pittsburgh, Akron & Western and was converted to standard-gauge on August 4, 1890.  A year later the final, hoped-for extension to Akron and a connection with the Pittsburgh & Western was completed on May 28, 1891.  
As Kirk Reynolds and David Oroszi note in their book "Baltimore & Ohio Railroad," the P&W had been acquired by the B&O in 1884.  
The line was also originally narrow-gauge and had managed to open a route from Allegheny, Pennsylvania (just across the Allegheny River from Pittsburgh) to Youngstown, Akron and Fairport, Ohio.  
System Map (1946)
Following B&O's takeover the railroad ignored the PA&W in favor of a new line from Akron to Chicago Junction, known as the Akron & Chicago Junction Railroad.  The 73-mile route opened in 1891 and had completely bypassed the PA&W, dashing its promoters' hopes.  
The now-orphaned property connected no noteworthy cities along a lightly-trafficked, lightly-built, and circuitous 162-mile route.  Bankruptcy followed and it was reorganized as the Northern Ohio Railway in 1895.  Soon afterwards a lease to the Lake Erie & Western was arranged, which itself came under New York Central's control in 1900.
---
Passenger Services
The Akron, Canton & Youngstown's modest passenger services between Akron and Mogadore began in November of 1918 using a unique, internal-combustion rail car from the McKeen Motor Car Company.  For a year, between 1921 and 1922, the railroad even provided commuter service to the northwest side of Akron at the small suburb of Copley.  
After taking over the Northern Ohio Railway service was extended to Delphos.  The year 1921 also marked peak ridership of 43,601 patrons.  As Eric Hirsimaki's article, "Mixed Train Farewell," from the April, 1983 issue of Trains Magazine notes, in the final years the AC&Y provided mixed train service as #90 (eastbound) and #95 (westbound).  
They were so lightly utilized in the postwar period that in 1950, of the $4.8 million gross revenues the railroad earned, just $975 were ticket sales!  Obviously, not a money-making venture, the railroad petitioned the Public Utilities Commission in 1951 to discontinue these trains.  The move was approved the final runs occurred on July 20th that same year.
---
For the next two decades it remained an unwanted ward of the Vanderbilt road until owners of the Akron, Canon & Youngstown recognized the Northern Ohio's potential.  
According to Robert Lucas and the Akron Canton & Youngstown Historical Society's book, "Akron, Canton & Youngstown And Akron & Barberton Belt In Color," following negotiations the AC&Y acquired the NO on March 1, 1920.  
Timetables (1946)
While the property needed a great deal of modernization for heavy freight service once this was completed (in time, much of the old 35 and 60-pound rail was replaced with heavier 90-pound sections that, in addition to bridge improvements, enabled the railroad's largest steam locomotives, 2-8-2 Mikados, to run the line's length) the AC&Y blossomed into a successful bridge road.  

In particular was the Detroit auto industry where the local tire and rubber manufacturers found the AC&Y ideal for shipping their products to the Motor City.

Diesel Locomotive Roster
American Locomotive Company
Model Type

S2

RS1

S2

S2

S2

S2

Road Number

D-1

D-2

103

104

105

106-108

Date Built

5/42

10/45

5/45

7/42

8/42

8/47

Notes

Renumbered 100

Renumbered 102

Ex-Delray Connecting

Ex-NKP #1

Ex-NKP #6

Ex-NKP #32/38/42
Fairbanks-Morse
Model Type

H15-44

H16-44

H20-44

Road Number

200

201-208

500-508

Date Built

6/49

12/51 - 3/57


1/48 - 2/53

Notes

New

New

New
Steam Locomotive Roster
Class

C-1

C-2

E

L

L-1

L-2

M

M-1

O

P

R

R-1

R-2

R

R

Road Number

1-3

21-22

5360-5369

35-36

37-38

39-40

320-321

322-324

350-356

300-314

400-401

402-403

404-406

407,409-410

408

Wheel Arrangement

0-6-0

0-6-0

2-6-0

0-8-0

0-8-0

0-8-0

2-8-0

2-8-0

2-8-0

4-6-0

2-8-2

2-8-2

2-8-2

2-8-2

2-8-2

Builder

Lima

Lima

Brooks

Alco

Baldwin

Lima

Baldwin

Baldwin

Alco

Alco

Lima

Lima

Lima

Alco

Lima

Date Built/Notes

1912

1912

1895-1896, Ex-NO

1920

1926

1912

1922

1923

1903

1905-1906

1926

1928

1941-1944

1918

1921
The above steam roster information is courtesy of Robert Lucas and the Akron Canton & Youngstown Historical Society's book, "Akron, Canton & Youngstown And Akron & Barberton Belt In Color."
---
---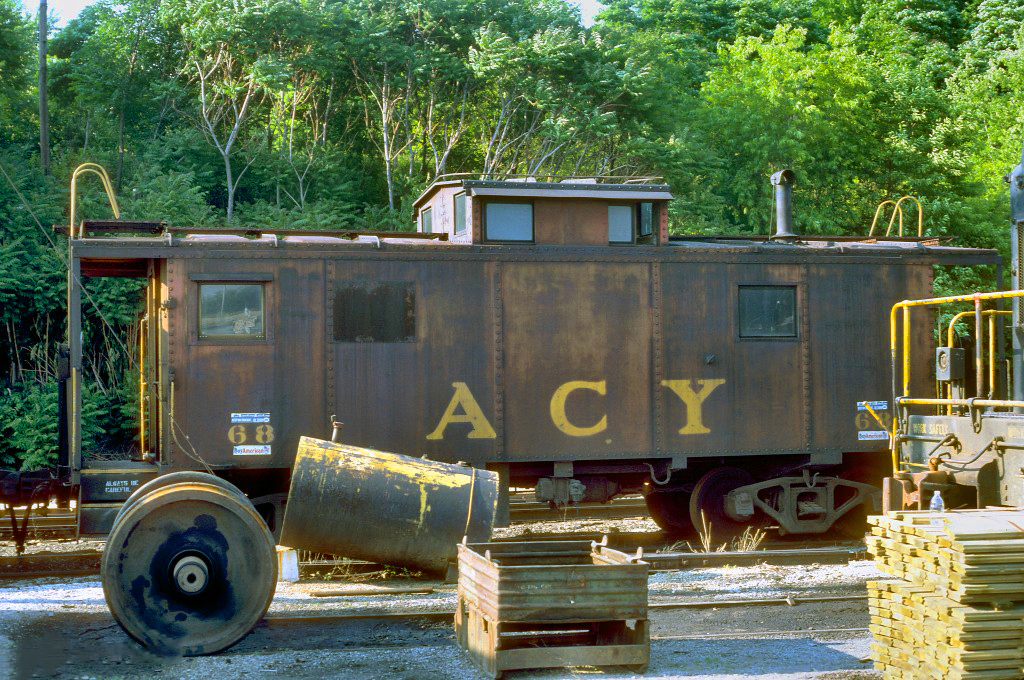 A worn and faded AC&Y caboose has yet to be repainted as it sits at the yard in Akron, Ohio during June of 1983. Gary Morris photo.
Final Years
The AC&Y at first managed to avoid financial troubles with the onset of the Great Depression but eventually the economic downturn forced into bankruptcy during April of 1933.  
The surge in traffic brought about from World War II allowed it to escape receivership in 1944 where it became the Akron, Canton & Youngstown Railroad.  
The company began its dieselization program in 1942 by acquiring early American Locomotive road-switcher models and then later purchased the Fairbanks-Morse opposed-piston designs.  
Steam was retired completely by 1955.  Ironically, this motive power had outlived passenger services which had been discontinued a few years prior.  
The AC&Y, not surprisingly, did not carry many passengers and was successful in canceling its final two trains during the early 1950's.  
During 1961 negotiations began with the Norfolk & Western regarding the prosperous coal road acquiring the AC&Y.  After a final agreement was hammered out the railroad became an N&W subsidiary on October 16, 1964.  
The AC&Y remained a largely independent operation until the 1982 formation of Norfolk Southern.  That December the last run was took place over the section west of Carey and the remainder was sold to Wheeling & Lake Erie in the spring of 1990.