Monongahela Railway, The Biggest Little Coal Carrier

Last revised: June 9, 2023
By: Adam Burns

The Monongahela Railway (MGA) was incorporated for a singular purpose, to transport coal out of the rich northern Appalachian seams situated in West Virginia and southwestern Pennsylvania.  

It was formed as a joint operation of the Pennsylvania Railroad and New York Central-controlled Pittsburgh & Lake Erie to move black diamonds to steel production centers in Pittsburgh and northern Ohio.  Just before the Great Depression the Baltimore & Ohio was allowed to acquire a one-third ownership.  
As the primary railroad serving northern areas of the Mountain State, the B&O's entry made good business sense. 
The MGA's network ebbed and flowed throughout the years as it followed the coal although its main line never wavered, running from Brownsville, Pennsylvania to Fairmont, West Virginia.  
Ironically, the road's last years were its most prosperous as it acquired Class I-like characteristics, earning substantial profits along a well-built and well-maintained network.  
Following mergers and bankruptcies only two owners remained by the 1980's, CSX Transportation and Conrail.  The former would eventually sell out to the latter and the Monongahela disappeared as a corporate entity in 1993.

Photos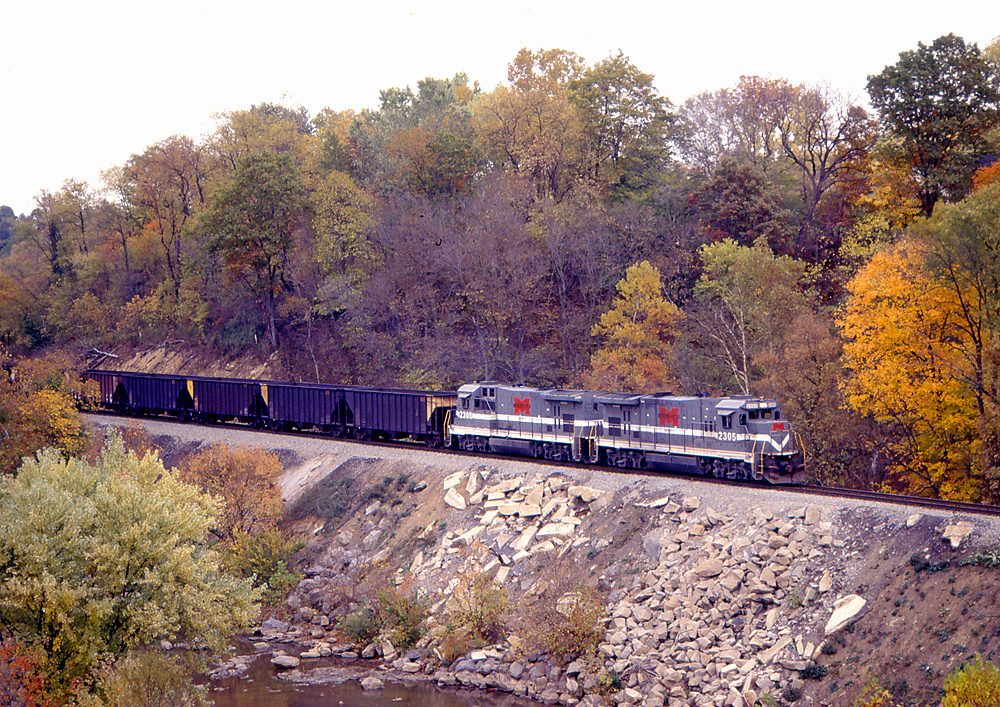 Here, Super 7's pull a string of empties near Mather, Pennsylvania, bound for the Emerald Mine, on October 14, 1991. Wade Massie photo.
History
If you would like a detailed history of the Monongahela's operations try to find a copy of, "The Monongahela Railway: Its History And Operation, 1903-1993," by authors David Gratz and Terry Arbogast.  This title does a fantastic job covering the road's corporate history, branches built, and provides all-time locomotive roster information.  
In this article, only a brief background will be provided.  Tracking down the heritage of this out-of-way operation was somewhat difficult as there have been few books or pieces published about it.  
The MGA dates back to 1900 when the Monongahela Railroad was incorporated by the Pennsylvania Railroad (PRR) and Pittsburgh & Lake Erie (P&LE) to streamline their hotly contested coal operations south of Brownsville, Pennsylvania.  
This town, which became the Monongahela's primary headquarters and shop complex, blossomed into the region's hub in the transportation of black diamonds.  
The mighty PRR was truly beginning to flex its muscles by the late 19th century as it spread its tentacles throughout the Midwest.  It arrived at Brownsville in the spring of 1881 through a subsidiary known as the Pittsburgh, Virginia & Charleston Railway. 
At A Glance
Headquarters

Pittsburgh, Pennsylvania

States Served

Pennsylvania, West Virginia

Dates Of Operation

May 15, 1881 - May 1, 1993

Formation Date

1905

Genesis

Pittsburgh, Virginia & Charleston Railway (1881)

Route Miles

171.26 (1930)

Track Gauge

4 Feet, 8 ½ Inches

Principal Lines

Brownsville, Pennsylvania - Morgantown - Fairmont, West Virginia

Brownsville - Waynesburg - Blacksville, Pennsylvania

Randall (Morgantown) - Brave, West Virginia (Scotts Run Branch)

Millsboro, Pennsylvania - Nemacolin, Pennsylvania (Chartiers Southern Branch)

Reporting Mark

MGA

Successor

Conrail
Expansion
The PV&C ran south from Pittsburgh into West Brownsville and began operations on May 15th that year.  It was then consolidated into the PRR on April 1, 1905.  
Only a year later the Pennsy pushed rails east to a location known as Red Stone Junction which connected with another PRR affiliate, the South-West Pennsylvania Railway running north to Connellsville where it reconnected with the Harrisburg-Pittsburgh main line at Greensburg.  
The P&LE arrived nearly a decade later, finally reaching a spot near Brownsville in 1890 via the McKeesport & Belle Vernon Railroad, which had also pushed south from the Steel City.  
Despite the animosity and ongoing rivalry between the PRR and P&LE owner, New York Central, the two realized a joint ownership offered the most efficient means of operation.  Following the Monongahela Railroad's creation it acquired the current rail assets in the Brownsville area.  
One of its first extensions was leasing the Connellsville & Monongahela Railway.  This short segment ran 27 miles south of Brownsville to serve a number of coal mines and coke ovens.
It then swung westward and stopped near Masontown along the Monongahela River.  This corridor later became the Dunlap Creek Branch, which remained in operation until November 6, 1975.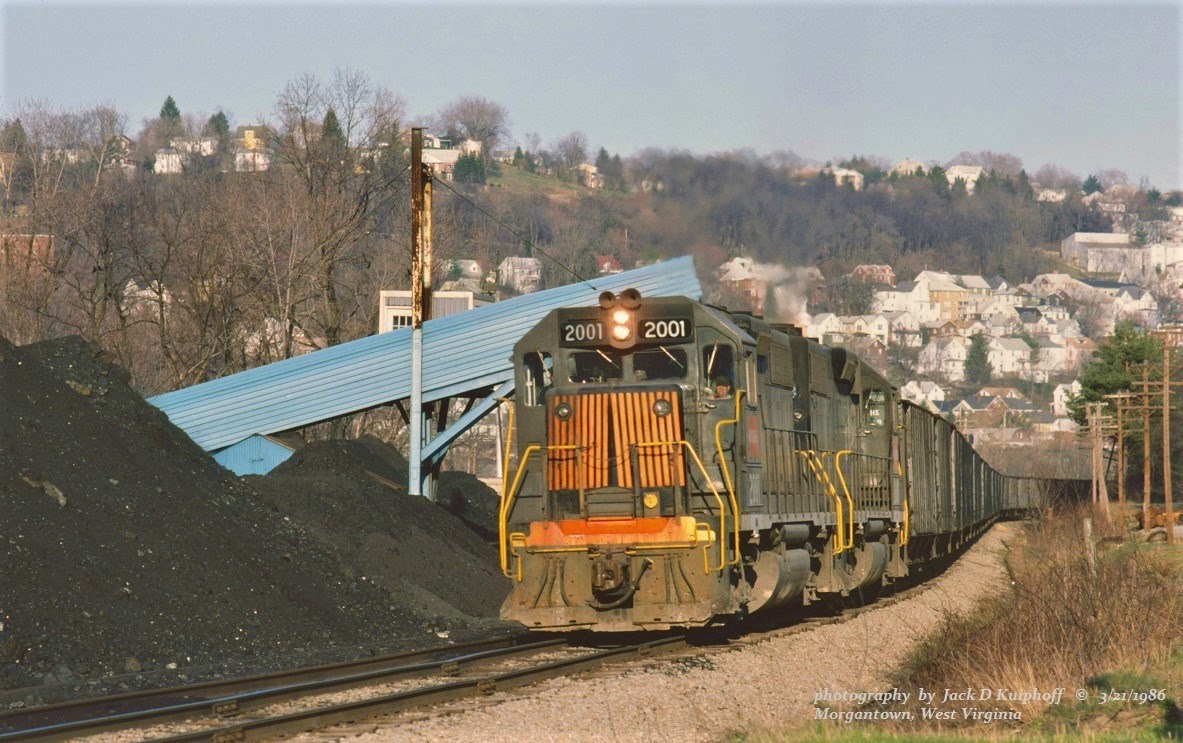 Monongahela GP38's #2001 and #2003 are northbound with a loaded coal train at Morgantown, West Virginia on March 2, 1986. MGA's five GP38's were the heaviest ever built by EMD when outshopped in 1969. They had heavier frames for extra tractive effort in handling coal drags. Jack Kuiphoff photo.
The next major extension involved a new line running south from Brownsville following the winding river's east bank where it established a connection with the Buckhannon & Northern Railroad (B&N) at the Pennsylvania/West Virginia state line.  What was known as the State Line Extension began construction in 1911 and opened in 1912.  
The B&N carried an interesting, albeit brief history.  The road was incorporated in February of 1902 to build from Buckhannon to Hickman Run, near Fairmont.  
After George Gould acquired control through his Wabash Railroad the planned route was extended further north to the state line near Blacksville, West Virginia while also heading east to "a point 4 1/2 miles from Belington" where interchange would be opened with another Gould interest, the West Virginia Central & Pittsburg Railway. 
The entire system was to encompass 79.5 miles.  While some construction was carried out this second version was ultimately never put into operation.  
Gould lost control before the B&N was completed and the final version, under P&LE control, saw a railroad running from the state line to a connection with Baltimore & Ohio's Catawba Branch at Rivesville Junction.  
It was only 30 miles in length.   Soon after it had opened the Paw Paw Branch was added from Rivesville (Catawba Junction) to serve a mine at Loveridge, West Virginia.
Logo
The B&O also contributed to the Monongahela's network before acquiring partial control.  To alleviate the growing traffic volume within the Fairmont area (which included through routes to Wheeling, Connellsville, and Clarksburg as well as several coal branches) the short Prickett Creek Branch was constructed from Prickett Creek Junction to Fairmont as a sort of bypass.  
It was later incorporated into the Monongahela's main line.  On July 1, 1915 the B&N was consolidated with the Monongahela Railroad to form the new Monongahela Railway (MGA).  This essentially comprised the bulk of the MGA's main line, which extended a total of 69 miles from Brownsville to Fairmont.  
The next noteworthy event occurred in 1926 when the B&O was allowed to acquire a one-third interest, providing MGA access to the west side of its namesake river.  
Even before this event the B&O was already indirectly involved since it owned a quarter interest in the Buckhannon & Northern, a third of the Chartiers Southern Railway, and all of the Indian Creek & Northern Railway.  The former had been originally created by the PRR in 1906 and eventually laid down two notable branches.  
System Map
According to the book, "Twilight Of The Monongahela" by Harry Stegmaier and Jim Mullison, these spurs extended from Ten Mile Mile Run Junction (Millsboro) to Nemacolin and Mather, Pennsylvania.
- Later known as the "Nemacolin Branch" it was organized as the Pennsylvania, Monongahela & Southern Railroad in 1902, reaching its farthest length when it opened to Crucible on December 15, 1913, along the west bank of the Monongahela River. -
Operations to this town commenced on November 1, 1919 and the line was later extended to Waynesburg, opening there on January 1, 1930.  
The latter (Indian Creek & Northern, or IC&N) was only a very short segment about 3 miles in length; it ran from a connection with the MGA at Lowsville, West Virginia to Federal Mine #3 and #4 at Arnettsville, reaching its final length by 1921.
After these facilities played out the branch was taken up between 1960 and 1963.  Following the Chartiers Southern and IC&N was the Scotts Run Railway organized in May of 1923 to acquire the Morgantown & Wheeling Railway. 
---
Passenger Service
It is perhaps not surprising that, given the nature of the Monongahela Railway's traffic base it did not derive considerable revenue from transporting the public.  Such services could be traced back to 1903 and were extended as far south as Fairmont by 1915.  
The company maintained seventeen notable stops along its network, including the two-story Brownsville Union Station (opened in January of 1929), also served by the PRR and P&LE.  The 1920's witnessed the peak years of business and following the Great Depression rapidly declined.  
In an effort to reduce growing expenses a gasoline rail car ("Doodlebug") was acquired in 1940 but saw only a few years of service before begin sold.  Finally, the Monongahela was granted permission to end its remaining train between Fairmont and Brownsville in 1950.
---
This small, 20-mile pike was attempting to connect its namesake cities; it had branched westward from the Monongahela River at a location known as Randall (just north of Morgantown) and eventually reached Brave, Pennsylvania just across the state line in August of 1918.
While the line was riddled with grades and sharp curves it did serve a number of mines; as Mr. Gratz's and Mr. Arbogast's book note the first four miles, alone, served nearly three dozen such facilities.  
Unfortunately, the M&W ran out of money far short of its goal and sold out to the MGA.  After the Great Depression the Monongahela fell on hard times, despite an upswing in traffic during World War II. 
It continued handling black diamonds in large quantities but the property was suffering from deferred maintenance.  The issue was partially due to the parent roads' own problems; both the B&O and PRR were dealing with financial troubles after the war and could not invest money into their affiliate.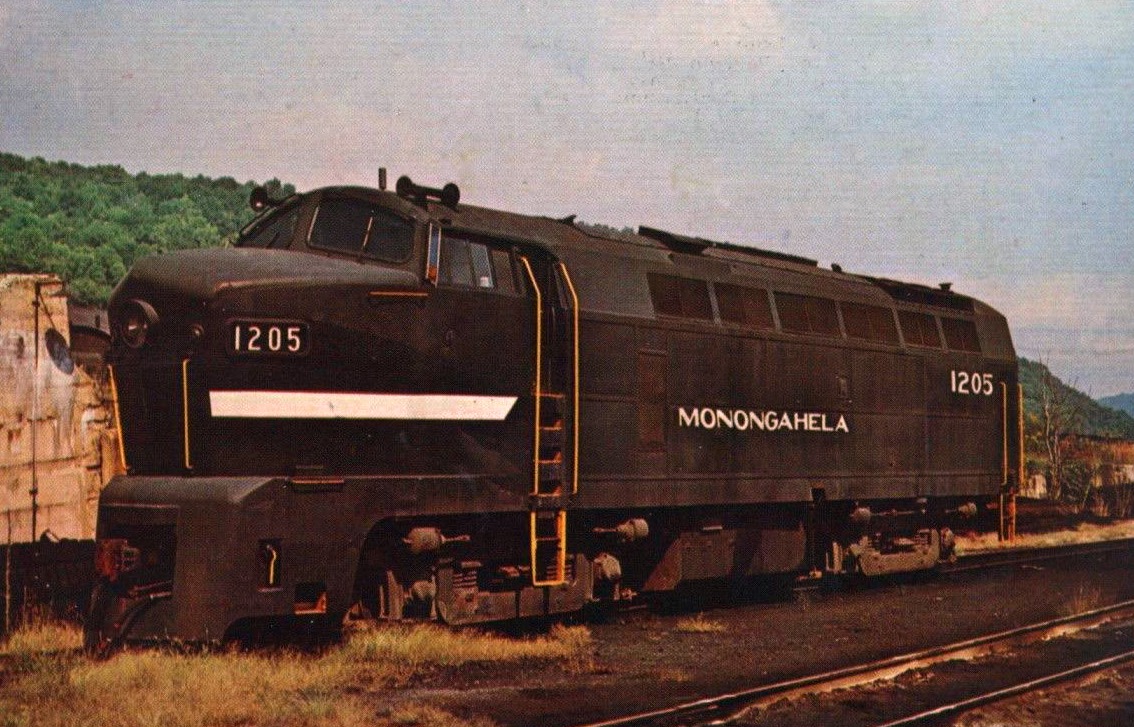 Monongahela RF16 #1205 (ex-New York Central #3805) is seen here in Brownsville, Pennsylvania on September 21, 1971. Today, this unit is stored away on short line, Escanaba & Lake Superior. Dan Cupper photo.
The railroad did, however, begin receiving diesels in 1952 when a new batch of Baldwin S-12's arrived that year.  The Eddystone builder's products reigned during the first-generation era; 27 of these switchers were received through 1954, allowing for retirement of the remaining steam locomotives.  
With more power needed the S-12's were supplemented by second-hand RF16's from New York Central during the 1960's.  Curiously, during an era when many were struggling the Monongahela began prospering at this time.  
A major event occurred then when the Waynesburg Southern Railroad was organized in September of 1966.  This new subsidiary was to run 27 miles from the Ten Mile Run Branch to a connection with the Scotts Run Branch at Blacksville.  It constituted a roughly "C" configuration and was the largest new railroad built in many years.  
At about the same time the Scotts Run Branch was idled due to its steep, 4% grades and declining coal business.  The last train ran to Brave on February 12, 1967 and the line was subsequently lifted during the 1970's.  Just a month after its incorporation the Waynesburg Southern began construction and was ready for service by June of 1968.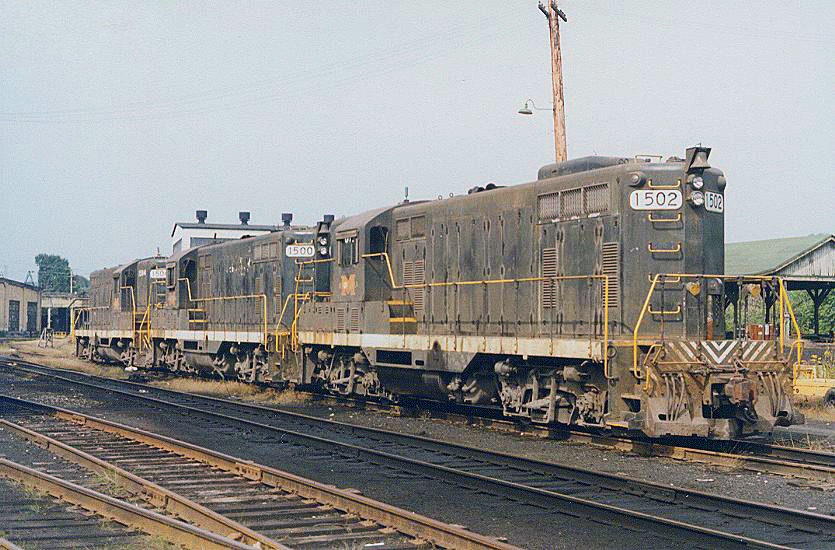 A trio of GP7s including #1502, #1500 and #1504 sit at the engine terminal in Brownsville, Pennsylvania on September 20, 1980. Doug Kroll photo.
Built to very high standards with gentle grades and relatively easy curves it included one notable bore, the 1,415-foot White Cottage Tunnel located at about the halfway point.  
There was also a short, 6-mile spur known as the Miracle Run Branch. Altogether this new trackage served Blacksville #2, Blacksville #1 (near Brave), Federal #2 (Miracle Run), and the huge Emerald Mine near Waynesburg.  
Monongahela motive power at rest in Brownsville, Pennsylvania during September of 1971. Shown here are the pair of RF16's (ex-New York Central) later acquired by Delaware & Hudson, an S-12, and GP38 #2000. Photographer unknown.
In 1984 yet another new extension was added when the 15-mile Manor Branch opened to the Bailey Mine.  With business growing and its Baldwin's wearing out, new power was needed.  
This time, Electro-Motive was tapped for GP38's while secondhand GP7's were picked up from the P&LE.  As the mines began producing increasingly more tonnage, business jumped five-fold from a few million tons in the 1970's to some 30 million by the early 1990's.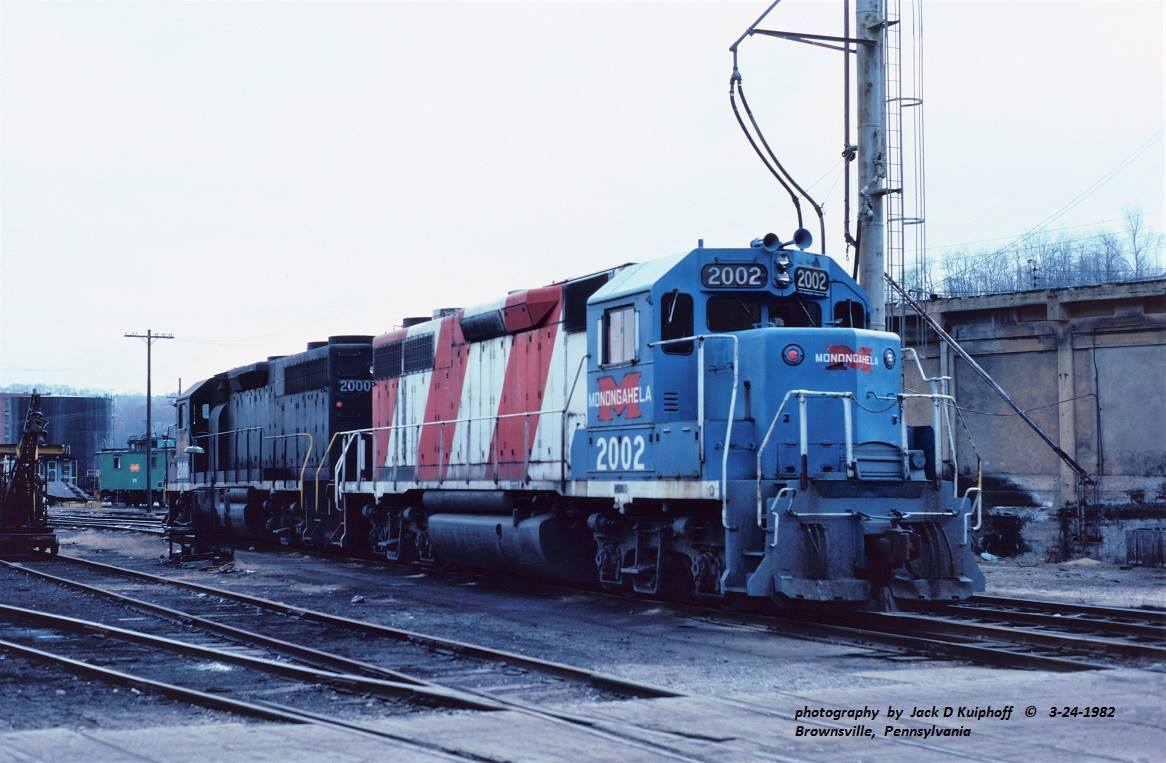 On a dreary March 24, 1982, Monongahela GP38's #2003 and #2000, both with the red class lights lit, rest at the railroad's engine terminal in Brownsville, Pennsylvania. Jack Kuiphoff photo.
The last "new" locomotives were acquired just before Conrail's acquisition, General Electric's "Super 7's."  These units were former U23B "U-boats" rebuilt by GE with upgraded electronics (Dash-8 specs) and other components, including Electro-Motive's Blomberg Trucks.

Diesel Roster
Baldwin Locomotive Works
| Model Type | Road Number | Date Built | Quantity |
| --- | --- | --- | --- |
| S12 | 400-406 | 11/52 | 7 |
| S12 | 407-408 | 5/53 | 2 |
| S12 | 409-418 | 7/53 | 10 |
| S12 | 419-422 | 3/54 | 4 |
| S12 | 423-425 | 6/54 | 3 |
| S12 | 426 | 7/54 | 1 |
| RF16A* | 1205, 1207, 1209-1211, 1213, 1216 | 12/51-1/52 | 9 |
| RF16B** | 3708-3709 | 1/52 | 2 |
*  All Ex-New York Central.  #1205 was never used in service on the Monongahela, later sold to the Delaware & Hudson in March of 1974.  In addition, #1211 operated only once before its retirement.
** Both Ex-New York Central.  #3709 also never operated on the Monongahela.
Electro-Motive Division
| Model Type | Road Number | Date Built | Quantity |
| --- | --- | --- | --- |
| GP7* | 1500-1506, 1508, 1510 | 1951-1953 | 9 |
| GP38 | 2000-2003 | 6/69 | 4 |
| GP38 | 2004 | 7/69 | 1 |
* Former Pittsburgh & Lake Erie, acquired in 1974 (#1500-1505) and 1975 (#1506, #1508, #1510).
General Electric
| Model Type | Road Number | Date Built | Quantity |
| --- | --- | --- | --- |
| Super7-23B (B23-S7)* | 2300 | 9/89 | 1 |
| Super7-23B (B23-S7)* | 2301 | 10/89 | 1 |
| Super7-23B (B23-S7)* | 2302-2303 | 11/89 | 2 |
| Super7-23B (B23-S7)* | 2304-2405 | 12/89 | 2 |
| Super7-23B (B23-S7)* | 2306 | 3/89 | 1 |
| Super7-23B (B23-S7)* | 2307-2308 | 2/90 | 2 |
| Super7-23B (B23-S7)* | 2309-2310 | 3/90 | 2 |
* Originally built between May and June of 1972 as U23B's, acquired by Western Pacific.
Steam Roster (All-Time)
| Number(s) | Class | Arrangement | Builder | Date Acquired |
| --- | --- | --- | --- | --- |
| M-70 | MD-MB-PA | Doodlebug | Pullman | 1940 (Ex-P&LE) |
| 99 | G-1 | 4-6-0 | Alco (Richmond) | 1925 (Ex-Scott's Run) |
| 101-102 | G-1 | 4-6-0 | Alco (Pittsburgh) | 1903 (Ex-P&LE) |
| 103-114 | H-1 | 2-8-0 | Alco (Pittsburgh) | 1903-1906 (Ex-P&LE) |
| 115-140 | H-5 | 2-8-0 | Alco (Pittsburgh) | 1909-1913 (New) |
| 141-152* | H-5sa | 2-8-0 | Alco (Pittsburgh) | 1915-1917 (New) |
| 153* | H-5sa | 2-8-0 | H.K. Porter | 1923 (New) |
| 170-179 | L-1 | 2-8-2 | Alco (Schenectady) | 1918 (New) |
| 180-185 | L-2 | 2-8-2 | Baldwin | 1927 (New) |
| 186-188 | L-3 | Doodlebug | Alco (Schenectady) | 1940 (Ex-P&LE) |
| 189-190 | L-3a | 2-8-2 | Alco (Schenectady) | 1916 (Ex-P&LE) |
| 191-193 | L-3a | 2-8-2 | Alco (Dunkirk) | 1916 (Ex-P&LE) |
| 194-200 | L-3b | 2-8-2 | Alco (Brooks) | 1947 (Ex-P&LE) |
| 201-206 | H-3a | 2-8-0 | Juniata/Baldwin | 1903 (Ex-PRR) |
| 207-212 | H-4 | 2-8-0 | PRR | 1907 (New) |
| 301 (1st)**, 302 | D-3 | 4-4-0 | PRR | 1904-1905 |
| 300 | D-1 | 4-4-0 | P&LE | 1909 |
| 301 (2nd) | D-2 | 4-4-0 | P&LE | 1909 |
| 303-304 | D-4 | 4-4-0 | Alco (Pittsburgh) | 1911 (Ex-P&LE) |
| 305-307 | D-4a | 4-4-0 | Alco (Pittsburgh) | 1915-1916 (Ex-P&LE) |
| 308-310 | E-2a | 4-4-2 | PRR | 1917-1918 |
| 311 | E-3sd | 4-4-2 | PRR | 1937 |
*  Equipped with superheaters.
** Never used, parts source for #302.
All above roster information is courtesy of, "The Monongahela Railway: Its History And Operation, 1903-1993," by authors David Gratz and Terry Arbogast.
---
Monongahela GP38's #2001 and #2003 have a loaded coal train at Catawba Junction near Rivesville, West Virginia on March 2, 1986. Jack Kuiphoff photo.
Conrail
During the Monongahela's last decade it transformed into a first-class operation featuring relatively new motive power, heavy 132-pound welded rail, a right-of-way maintained to the highest standards, and computer-assisted dispatching and accounting.  
For anyone who was not acutely aware of the company's situation it could easily pass as a superb, Class I operation (although it operated fewer than 175 miles).  Through mergers, the P&LE sell out, and a shakeup in the Northeastern's rail network, only two owners remained by the late 1980s; Conrail and CSX.  
The latter decided to sell its one-third interest in 1990, giving the former complete control by 1991.  Conrail was subsequently granted permission by the Interstate Commerce Commission to fully acquire the Monongahela and it officially disappeared on May 1, 1993.  Things have a funny way of coming full circle, however.
In 1999 Conrail was split between Norfolk Southern and CSX; during the breakup the Monongahela property was acquired by Norfolk Southern but with the stipulation that CSX would have access to any online shippers. So, today, you can still catch NS and CSX trains operating over the old Monongahela, today known as the MGA Mine District.