Chicago and Western Indiana Railroad

Last revised: June 10, 2023
By: Adam Burns

One of Chicago's important but since forgotten belt lines was the Chicago & Western Indiana.  It thrived during the heyday of rail travel, providing several railroads with a direct connection into Dearborn Station.  

The C&WI was the vision of John Brown who recognized a need for a single rail system to offer services into the growing city's downtown region.  While this project was under way he created a freight division which later became the Belt Railway of Chicago.  
It remains in operation today.  The C&WI continued expanding throughout the late 19th century as it worked to open additional interchange connections with other Midwestern carriers.  For many years, railroads remained so distrustful of each other that only a few would share the C&WI's trackage.  

However, eventually common sense prevailed and several others joined the original owners.  During the railroad's peak years it owned hundreds of miles of trackage which included all main lines, spurs, yards, sidings, etc.
The company retained its independence through the postwar period until rail travel's decline resulted in Dearborn's closing following the creation of Amtrak in 1971. The C&WI finally disappeared as a corporate entity in 1994.  

Photos
Chicago & Western Indiana rostered nearly all RS1s, as seen here with #261 assisting a red-flagged and inoperable Chicago & Eastern Illinois E7A through Chicago's Dearborn Station on July 7, 1966. Marty Bernard photo.
History
The corporate histories of the Chicago & Western Indiana and Belt Railway of Chicago are integrally linked, the idea of John B. Brown.  According to Cynthia Ogorek's and Bill Molony's book, "Images Of Rail: Chicago & Western Indiana Railroad," the C&WI was incorporated on June 5, 1879 after Brown had gained financial support from the Chicago & Eastern Illinois to launch his endeavor.  
In turn, the C&EI convinced the Chicago, Indianapolis & Louisville (future Monon); Chicago & Atlantic (later acquired by the Erie); Grand Trunk Railway (predecessor of the Grand Trunk Western, a Canadian National subsidiary); and the Wabash, St. Louis & Pacific (Wabash) to all help fund the project.  
The C&EI, in particular, was interested as Mr. Brown's project would ensure the small road a direct entry into Chicago instead of relying on trackage rights over a Pennsylvania Railroad subsidiary.  
With funding secured construction began just a month after incorporation.  The C&WI's route took it northward from Dolton as it headed towards downtown Chicago at Dearborn Street.  Here, a great terminal would be constructed, Dearborn Station.
Formation
As the endeavor got underway, Brown realized that to be successful an eastern extension would be needed to reach the railroads along the Indiana border.  To do this he incorporated the South Chicago & Western Indiana Railroad (SC&WI) on April 20, 1880 and the Chicago & Western Indiana Belt Railway Company (C&WIB) on April 22, 1881.  
Near what is today West 87th Street Street tracks crossed over the Rock Island and then veered eastward before heading southward again to South Deering.  The line eventually terminated at a location known as State Line (near Hammond) which opened interchange possibilities with multiple carriers.  
At A Glance
| | |
| --- | --- |
| Headquarters | Chicago, Illinois (Dearborn Station) |
| States Served | Illinois |
| Dates Of Operation | 1882 - April 30, 1971 |
| Incorporation Date | June 5, 1879 |
| Route Miles | 16.6 |
| Track Gauge | 4 Feet, 8 ½ Inches |
| Principal Lines | Dearborn Station - Englewood - Oakdale - Roseland - Kensington - Dolton |
| Reporting Mark | CWI |
| Successor | None |
On January 26, 1882 the SC&WI and C&WIB were merged into the Chicago & Western Indiana at which time the project was rapidly nearing completion.  The C&WI's line into downtown Chicago headed due north out of Dolton before turning westward near 112th Street where it negotiated an agreement to cross the Illinois Central.  
It then continued north to Belt Junction where the Belt Railway of Chicago's own line headed west towards Clearing Yard and Cragin Junction, the BRC's end-of-track.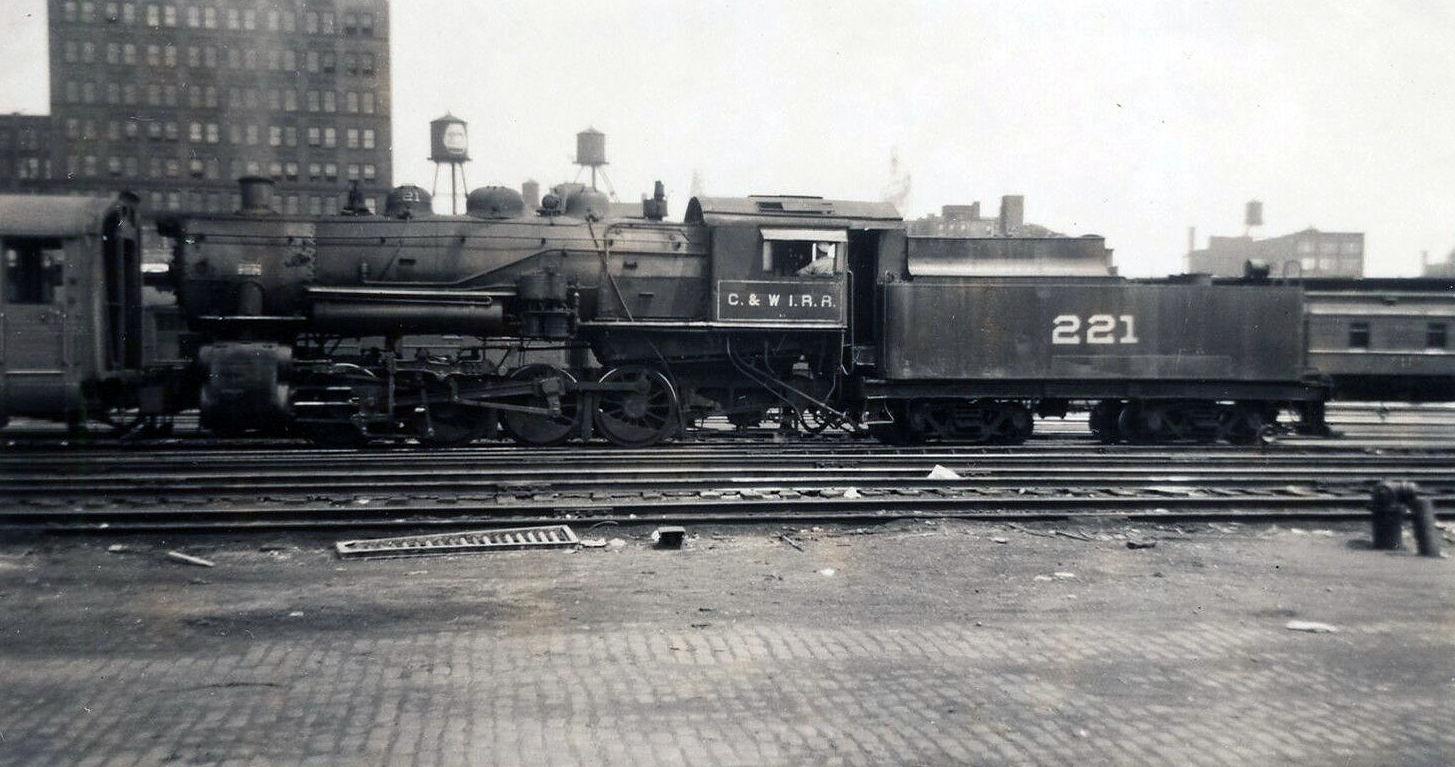 A Chicago & Western Indiana 0-8-0, #221, performs switching duties in Chicago, circa 1949. Robert Graham photo.
From Belt Junction the C&WI extended more or less due north as it passed through Englewood and squeezed along the narrow stretch of land above 18th Street between the Chicago River's South Branch and Lake Michigan.  In the process it crossed the Rock Island; Pittsburgh, Fort Wayne & Chicago (PRR); and the St. Charles Air Line.  
The angle of the river pushed its alignment briefly to the northwest before turning north again and finally terminating at Dearborn Street.  In addition, because of the heavy business anticipated and the potentially dozens of grade-crossings encountered the C&WI elevated its right-of-way from Oakdale to Dearborn Street as well as a stretch from 81st Street to Pullman Junction.
Dearborn Station
By 1882 the C&WI was largely complete and a year later work began on a terminal at the south side of Polk Street. Dearborn Station's headhouse was designed by architect Cyrus L. W. Eidlitz and built by J. T. Alton, who constructed the building in the Romanesque Revival style.  
Eidlitz used pink granite and primarily red brick for the building's exterior, which featured a beautifully centered clock tower which rose more than 200 feet above the ground. Additionally, the building was 212 feet wide with a train shed that extended more than 700 feet behind the head-house.
As an added touch Eidlitz gave the building dormer windows and louvered roofs, which were fashioned after the architecture of those found in Luxemberg.
Dearborn opened on May 8, 1885 and while the C&WI was given actual ownership, the Santa Fe is the most closely associated with the terminal.  The transcontinental carrier first began using the facility in 1887, initially via its own tracks, and then later over the C&WI.  
During the streamliner era one could find the most prestigious trains calling there such as the Super Chief, El Capitan, Pere Marquette (later moved to Grand Central Station), Whippoorwill, Hoosier, Tippecanoe, Erie's Erie Limited and Pacific Express, Maple Leaf, International Limited, Banner Blue, and Bluebird.  
As Ms. Ogorek's and Mr. Molony's book notes, into the 20th century the C&WI maintained a sprawling network that included a 14-track yard at 83rd Street, coach yard at 51st Street, and team tracks at 26th and Canal Streets.  
The importance of the coach yard (containing repair shops, storehouses, and even a power plant) demonstrates the C&WI's primary role of handling passenger trains.  It was C&WI's subsidiary, the Belt Railway, which was largely responsible for freight services.  
System Map (1910)
According to Jerry Pinkepank's article, "How The Belt Came To Be" from the October, 1966 issue of Trains Magazine, the Belt Railway of Chicago's history began in early 1881 when Brown chartered what was then known as the Belt Division, Chicago & Western Indiana Railroad.  
Subsequently, the rest of the C&WI became known as the Terminal Division.  Eventually, the Belt Division was renamed as the Belt Railway of Chicago in 1882.  The BRC would grow into a 152 mile network (including through routes, yards, and sidings) that served the most railroads within the Windy City. 
Into the early 20th century Chicago's railroads realized that working together via shared trackage presented the most efficient means of interchange.  As a result, in 1912 the Belt Operating Agreement was signed providing the BRC with more new owners including the Burlington; Chesapeake & Ohio; Chicago & Alton; Chicago, St. Paul, Minneapolis & Omaha (C&NW); Illinois Central; Pennsylvania; Rock Island; Santa Fe; and Soo Line.  
The C&A and CStPM&O later sold their stakes.   In addition, the Pere Marquette purchased an interest in 1924 but was then acquired by the C&O in 1947.  Of these new owners, only the Chesapeake & Ohio and Pere Marquette used Dearborn as its Windy City passenger terminal.  This changed during the 1960's when the C&O acquired the Baltimore & Ohio, which owned nearby Grand Central Station and Chessie moved operations to that facility. 
Diesel Roster

During the steam era it operated nearly 100 locomotives with the largest power being 2-10-2 Santa Fe's (it owned just five of these, however).
It began replacing its steamers in 1947 with diesel switchers and light road switchers, mostly from the American Locomotive Company (Alco) products, which predominantly were RS1's. Interestingly, the line also even sported its own livery of black and yellow. 

| Builder | Model Type | Road Number | Built | Quantity |
| --- | --- | --- | --- | --- |
| EMD | NW2 | 250-251 | 11/1947 | 2 |
| Alco | HH600 | 1 | 4/1934 | 1 |
| Alco | RS1 | 252-263 | 7/1949-2/1950 | 12 |
---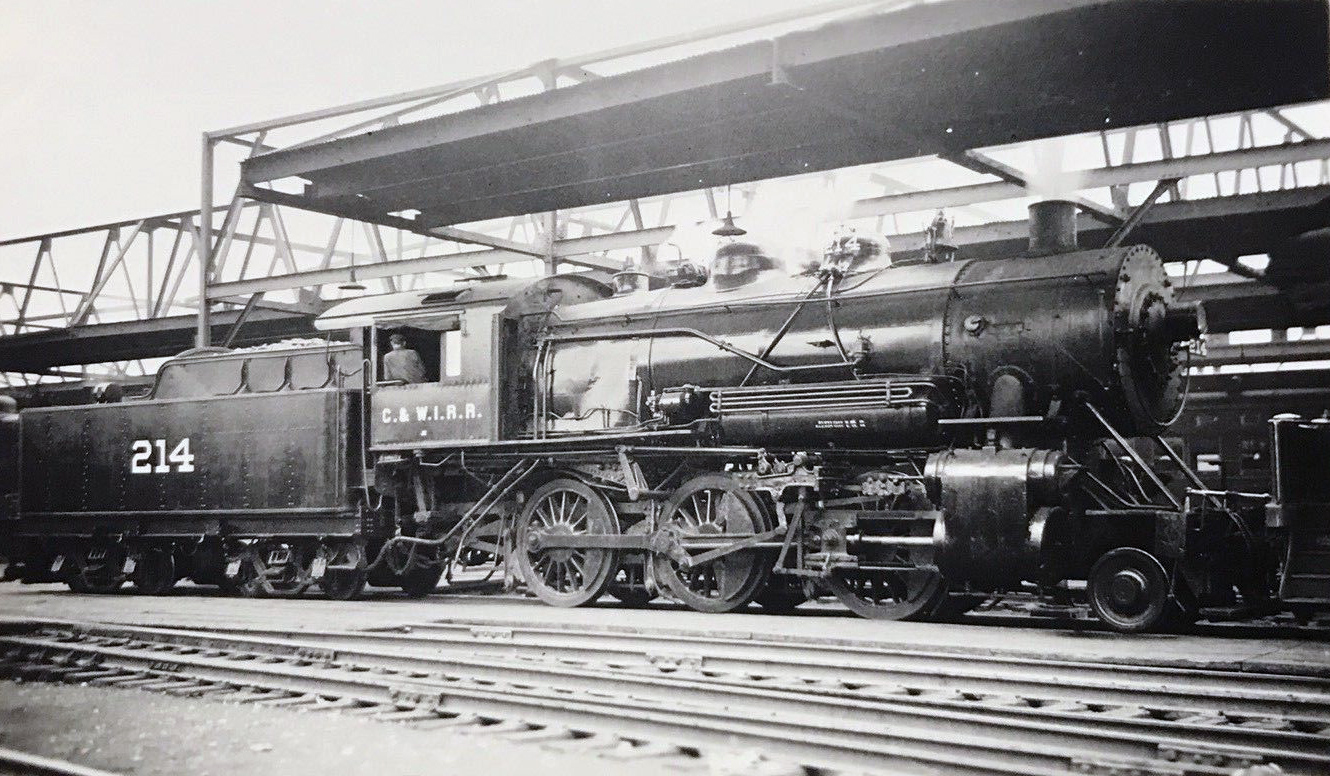 Chicago & Western Indiana 2-6-0 #214 (J-2), a 1914 product of Lima, is seen here at Dearborn Station. Robert Graham photo.
Final Years
At the peak of operation the C&WI maintained fourteen different interlocking towers and owned a total of 327 track miles, which again included all through routes, yards, sidings, spurs, etc.  At the height of rail travel the company dispatched 61 passenger and 135 freight trains daily.  
Of note were the C&WI's own commuter services, hosted between Dearborn Station and Dolton until these ceased on July 26, 1963.   The railroad's primary role was predominantly to switch passenger trains and keep rail operations flowing smoothly in and out of Dearborn.  
During its final days as an independent operation, around 1970, the C&WI's ownership had dwindled to just the Santa Fe, Erie Lackwanna (Erie successor), Grand Trunk Western, Louisville & Nashville (C&EI successor), and Norfolk & Western (Wabash successor) as all other carriers had either ended passenger operations, switched terminals, or were merged out of existence.
With the terminal's closing as major hub in 1971 following the creation of Amtrak on May 1st that year the C&WI's role shrunk significantly.   After that point the company mostly functioned on paper only as its entire property was taken over by the Belt Railway for freight services only. It carried on as a separate, corporate entity until 1994 when the company was formally dissolved.