Iowa, Chicago and Eastern Railroad

Last revised: June 10, 2023
By: Adam Burns

The Iowa, Chicago and Eastern Railroad (reporting marks, ICE) was a Class II railroad which was part of the Dakota, Minnesota & Eastern system, both of which were held under the holding company Cedar American Rail Holdings.

The IC&E operated a system that stretched through six states; Illinois, Wisconsin, Iowa, Missouri, Kansas, and Minnesota with connections to the DM&E in southern Minnesota. 
The DM&E reached into the South Dakota, Minnesota, and Wyoming with hopes of building brand new railroad to tap the lucrative Power River Basin coal seams.
Unfortunately, in October of 2008 the IC&E and parent DM&E became part of the large Canadian Pacific system ending any hopes of this project becoming reality.  
The IC&E interestingly only operated for about six years as it has its beginnings dating back to 2002 when the DM&E created the subsidiary to operate ex-Milwaukee Road trackage (mostly branch lines) in the previously mentioned states, which at the time of purchasing the lines were being operated by I&M Rail Link (which was then defunct).
In another case of things coming full circle, the ex-Milwaukee Road trackage the IC&E would eventually come to operate was spun off by the Canadian Pacific-controlled Minneapolis, St. Paul & Sault Ste. Marie Railway (Soo Line) in 1997 citing low profit margins.
Photos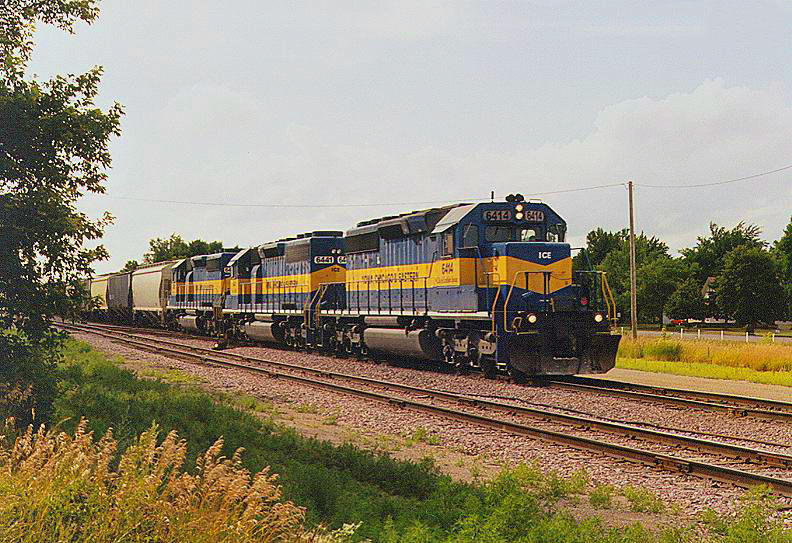 A trio of Iowa, Chicago & Eastern's SD40-2's hustle a grain train through Tracy, Minnesota over sister road Dakota, Minnesota & Eastern on July 17, 2008. Doug Kroll photo.
History
The I&M operated the trackage through 2002 before it too stated the property, which spanned some 1,400 miles of track (mostly including branch lines serving agricultural interests), was unprofitable and sold the lines to Class II, regional, Dakota, Minnesota and Eastern.
At A Glance
Headquarters

Brookings, South Dakota (22nd Avenue)

States Served

Illinois, Minnesota, Iowa, Missouri

Dates Of Operation

July 30, 2002 - October 29, 2008

Employees

975

Route Miles

1,400

Track Gauge

4 Feet, 8 ½ Inches

Principal Lines

Chicago - Sabula

Rockford, Illinois - Janesville, Wisconsin

Sabula, Illinois - River Junction, Minnesota

Marquette - Mason City - Sheldon, Iowa

Mason City - Austin - Northfield, Minnesota

Austin - Jackson, Minnesota

Sabula - Davenport - Ottumwa, Iowa - Chillicothe, Missouri - Kansas City

Predecessor Trackage

Milwaukee Road, Soo Line, I&M Rail Link

Reporting Mark

ICE

Successor

Canadian Pacific Railway
The Dakota, Minnesota and Eastern came into existence in 1986 when the Chicago & North Western (the C&NW) decided to abandon a large chunk of its railroad in South Dakota in 1985.
At the time this section of track was quite unprofitable as nearly all of the granger railroads during that period were having a very tough time earning a profit on a region which was not only overpopulated with railroads but also losing traffic.
Dakota, Minnesota & Eastern
What actually led to the DM&E's creation was in part due to US Senator Larry Pressler who fought against the C&NW's proposed abandonment of the South Dakota lines and won (which then led to DM&E being created to serve the routes). 
To operate its new lines, which allowed the DM&E to more than double in size, it created a subsidiary, the Iowa, Chicago and Eastern Railroad.
Specifically, this trackage stretched west from Chicago reaching as far as Kansas City. It also reached to the northwest, interchanging with parent DM&E in southern Minnesota but also stretching into northwestern Iowa and southern Wisconsin.  
Logo
In all, the Dakota, Minnesota and Eastern operated a railroad of some 1,103 miles of track, with nearly 195 miles of that trackage rights. Along with operating a 2,500-mile rail system, the DM&E also owned some 200 locomotives and 8,000 rail cars.
Perhaps what the DM&E was most notable for was its recent attempt to access the lucrative Wyoming Power River Coal Basin. The process has taken a decade and construction has yet to begin.
Worse for the railroad was the fact that a requested federal loan of some $2.3 billion to fund the project was denied by the FRA in 2007.
System Map
Despite this, new owner CP still has plans to eventually build into the PRB. An irony of CP's purchase of the railroad was the battle that the town of Rochester (Minnesota) and the Mayo Clinic fought to keep the D&ME from building its PRB extension.
With the purchase, CP rerouted its Chicago to Huron, South Dakota trains from what was then through Iowa and Illinois to the ex-Milwaukee Road main line through Wisconsin to Chicago and connected to the former DM&E at Winona, Minnesota.
---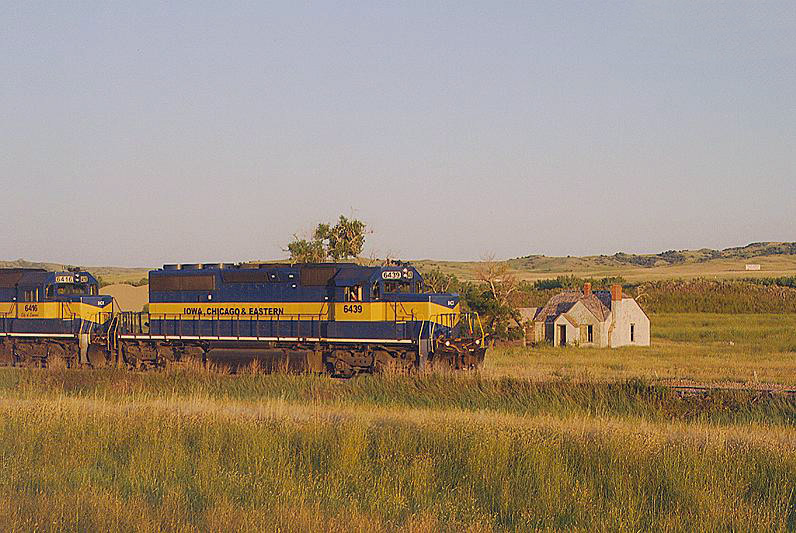 Another view of train #471 taken a few days earlier is traveling through the open countryside westbound near Wasta, South Dakota powered by three SD40-2s and an SD40-3 on July 16, 2009. Doug Kroll photo.
Postscript
For its part, the DM&E had already been successful in returning traffic to its former Chicago & North Western Railway trackage in southern Minnesota and central South Dakota.

It was likewise successful in returning traffic to the former Milwaukee Road trackage operated by the IC&E, so much so that by 2008 the Canadian Pacific decided to repurchase this former property it owned along with the ex-C&NW lines.
Since the purchase the "noise" has died down regarding the CP's interest in continuing the Powder River Basin project. As such, it most likely will never happen. However, if it does you will surely be hearing the raucous it will create from those who still oppose its construction.