Wisconsin Central Railway

Last revised: June 12, 2023
By: Adam Burns

The history of the Wisconsin Central Railway is rather fascinating and quite a roller coaster of different owners, lines, and names. The earliest railroad by that name dated to the 1890s and in later years owned a system stretching across the Badger State.

The original route was under the control of the Soo Line for much of its existence. After taking over several smaller systems in the 1980s the Soo tried to increase traffic along their lines in Wisconsin but to no avail, ultimately spinning them off that instantly created a new regional railroad which took the same name as the long defunct WC. 
What resulted turned out to be one of the most successful spinoffs in history. The WC breathed life back into its route and steadily grew through the 1990s, even taking over other railroads in the area.
At its peak it owned more than 2,000 miles of track and its success drew the attention of the Class I giants. In October, 2001 it was purchased by Canadian National.  a

Photos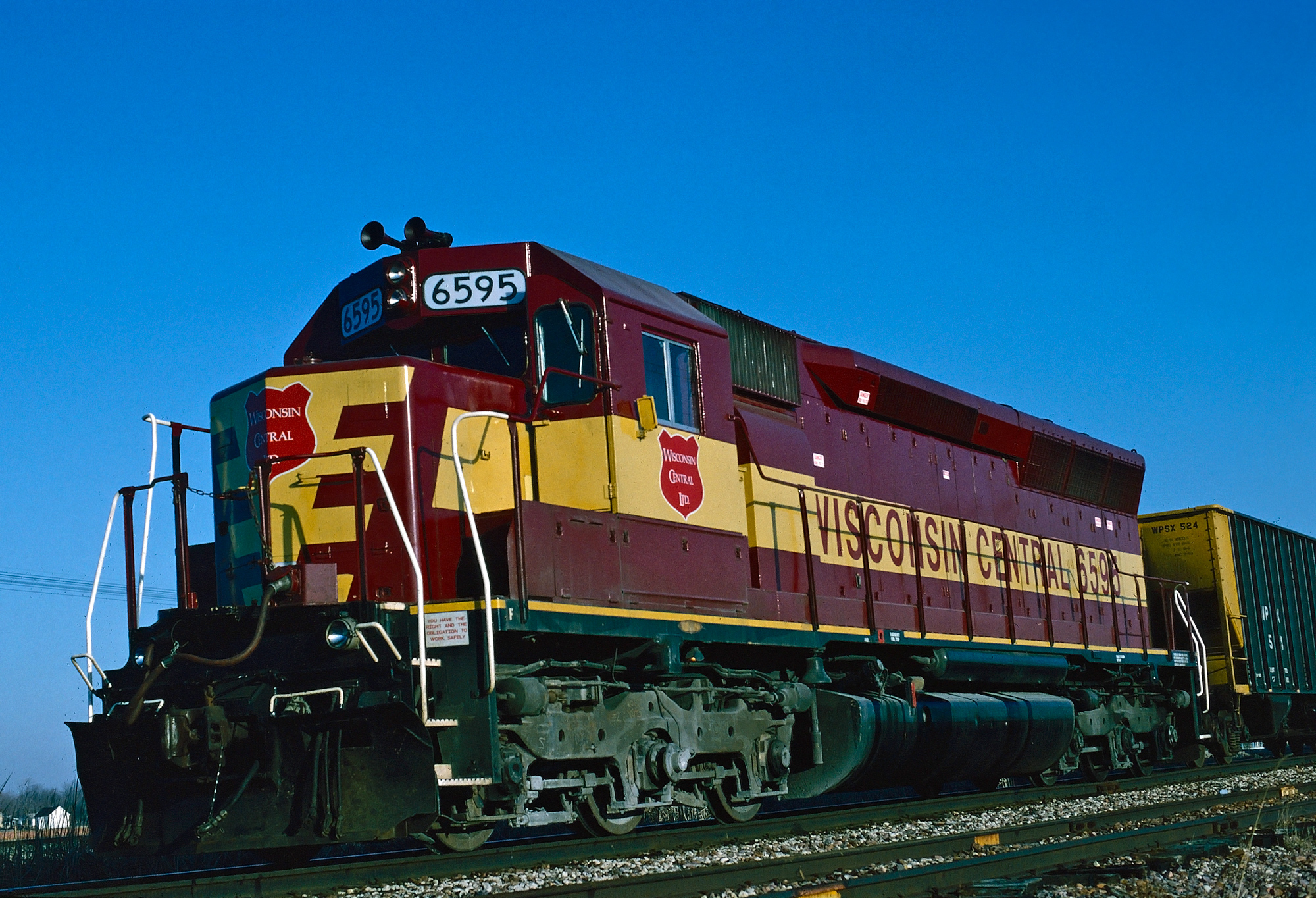 Wisconsin Central SD45 #6595 at Fond Du Lac, Wisconsin; April 1, 1994. Tom Farrell photo. American-Rails.com collection.
History
The history of the original WC begins in the 1870s when the federal government was offering free land grants in an effort to attract railroad development in Wisconsin and surrounding states. One such route hoped to be built in the Badger State would connect central Wisconsin with the Lake Superior region.
This drew the attention of the state legislature which established the Wisconsin Central Railroad Company on February 4, 1871 to construct a line from West Menasha (now Neenah) to Ashland. The 260-mile route headed west to Stevens Point (a distance of 63 miles) and then curved due north to Ashland, opening in 1877.
At A Glance
Headquarters

Fond du Lac, Wisconsin

States Served

Michigan (Upper Peninsula), Wisconsin, Illinois (Chicago), Minnesota (Minneapolis)

Canadian Provinces Served

Ontario

Dates Of Operation

April, 1987 - October, 2001

Route Miles

2,850

Track Gauge

4 Feet, 8 ½ Inches

Principal Lines

Hearst - Sault Ste. Marie, Ontario (Algoma Central)

Franz - Michipicoten, Ontario (Algoma Central)

Sault Ste. Marie, Michigan - Argonne, Wisconsin - Neenah, Wisconsin - Schiller Park/Chicago

Waukesha - Milwaukee - Green Bay - Black Creek

Manitowoc, Wisconsin - Neenah - Owen, Wisconsin - Minneapolis

Owen, - Superior, Wisconsin

Argonne - Cameron/Rice Lake/Almena, Wisconsin

Minneapolis - Amery, Wisconsin

Prentice - Ashland, Wisconsin - White Pine, Michigan

Bradley - Stevens Point - New Lisbon, Wisconsin

Reporting Mark

WC

Successor

Canadian National Railway
Throughout the rest of the 19th century the system continued to expand reaching Chippewa Falls in 1880, Schleisingerville (Slinger) in 1882, St. Paul/Minneapolis in 1884, the major rail gateway of Chicago in 1886, and Manitowoc in 1896 (which gave the railroad carfloat connections to the Pere Marquette and Ann Arbor). 
During the 1890s, from 1890 until 1893 the Wisconsin Central was leased by the Northern Pacific, giving it direct access to Chicago. However, the 1893 financial panic forced the NP to withdraw and the WC again became an independent line.
The first decade of the 20th century saw the WC again expanding as it reached Ladysmith in 1906 and Superior in 1908.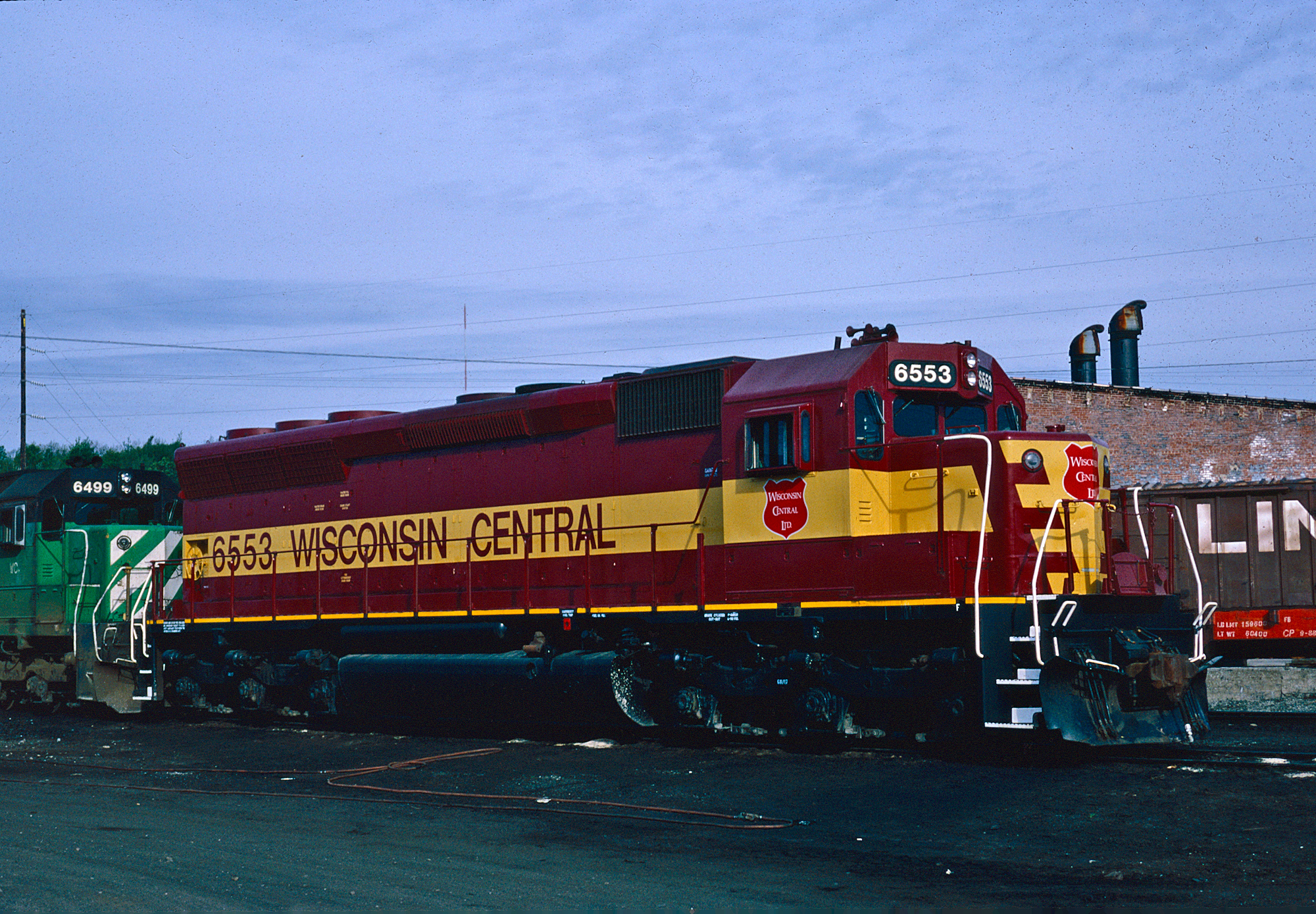 Wisconsin Central SD45 #6553 (ex-Burlington Northern #6553) in Gladstone, Michigan; July 7, 1990. Larry Nast photo. American-Rails.com collection.
In all, it constituted a railroad that stretched some 1,000 miles all across Wisconsin and northern Illinois, although ironically did not offer service to its home state's largest city of Milwaukee and also bypassed Green Bay.

The WC's independence after NP ownership was short-lived. A year after opening its line to Superior it was leased by the Minneapolis, St. Paul & Sault Ste. Marie Railway (the Soo Line) in 1909.
Logo
While now operated by a parent, the WC still remained somewhat independent for the next 50 years. However, this changed in the early 1960s when the Soo restructured itself by merging several subsidiaries into a new company, including the WC, Duluth South Shore & Atlantic, and the original MStP&SStM to form the Soo Line Railroad effective January 1, 1961. With this, the original WC was history.
Creation
The events which led to the creation of the "new" Wisconsin Central Railway began in the 1980s. With deregulation afoot after 1980 and railroads merging, the Soo realized in 1984 that to stay competitive it needed to expand as well.
So, in February, 1985 it bid out the Grand Trunk Western and Chicago & North Western to buy the greatly slimmed down Milwaukee Road, by then a Midwestern Class I, despite the fact that the C&NW offered more cash for the railroad.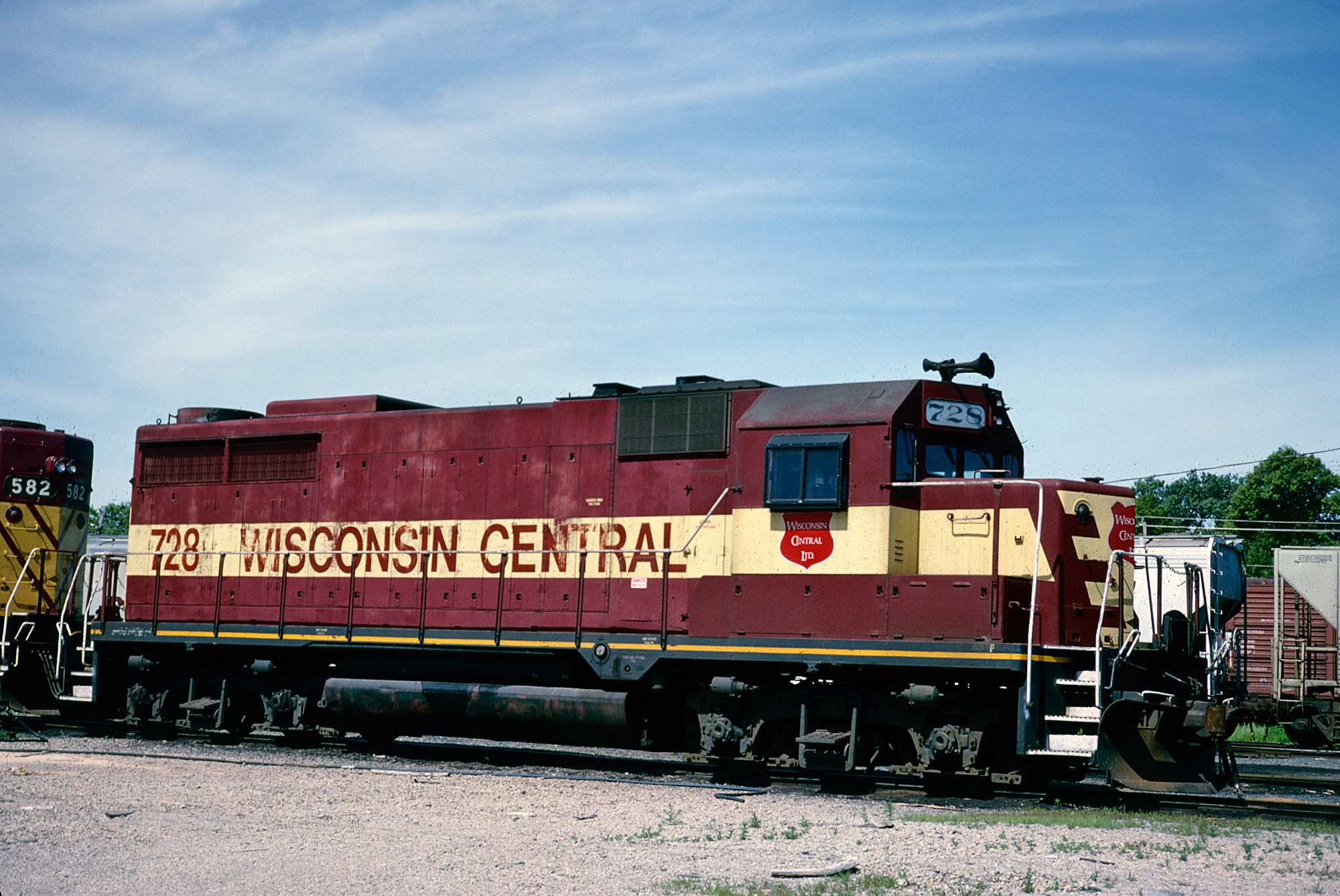 Wisconsin Central GP35 #728 lays over in Neenah, Wisconsin on June 5, 1992. Tom Wilson photo. This unit was built as Soo Line #728. American-Rails.com collection.
The Milwaukee acquisition gave the Soo new markets in Minnesota, Wisconsin, Iowa, Missouri, and Illinois. However, it also gained a heavy debt load and the expected income never materialized as planned from the takeover.
To streamline operations the Soo Line formed the Lake States Transportation Division (LSTD) in February, 1986 that would cover some 2,300 miles of track, mostly in Wisconsin but also reaching into northern Illinois and the Upper Peninsula of Michigan to Sault Ste. Marie. It was this network that formed the new WC.
Ed Burkhardt
After a year of mediocre results with LSTD, Soo announced in January, 1987 that it was selling the entire network to help pay off its debt from the Milwaukee Road takeover. After finding a group of buyers (for $122 million), including Ed Burkhardt (who would become president and CEO), an old name was brought back, including its famed shield logo; Wisconsin Central Ltd.
System Map
The new WC and its parent Wisconsin Corporation were both formed in April, 1987. The system set up headquarters near Chicago and Rosemont while its operations and customer service center was located at Stevens Point, about the mid-point of the railroad.
Under Burkhardt, the WC thrived, although the first few years proved very rocky as the new, upstart Class II regional found its footing. In 1988 the railroad earned operating revenues of $93.7 million and a year later this had ballooned to $101.3 million.
When the WC began, its 2,068-mile system was so large that it dwarfed all other Class IIs of its day including the MidSouth Rail Corporation, Dakota Minnesota & Eastern, Montana Rail Link, Chicago Central & Pacific, and Wheeling & Lake Erie. As of 1990, it was also larger than some Class Is at the time including the Kansas City Southern, Grand Trunk Western (GTW), and Florida East Coast.

As mentioned above, the new WC utilized most of the former LSTD lines that included a combination of original's trackage as well as a few Milwaukee branches and the former Soo in the UP of Michigan. Major connections for the railroad included Chicago, Duluth, the Twin Cities, Green Bay, and Milwaukee.
During its early years it was paper that allowed the WC to prosper during the 1990s as it served 25 of Wisconsin's 52 such plants, and the traffic always derived a significant amount of its earnings.
However, it was also diversified in other freight such as food products, sand/aggregates, coal, chemicals, electric transformers, and other general merchandise.   As profits soared under Burkhardt the WC expanded; in 1993 it picked up the historic Green Bay & Western from the Itel Corporation. 
Diesel Locomotive Roster
The WC is best remembered for its large fleet of SD45s it operated. However, the numbering of these locomotives was so eclectic that they have not been listed here. 

| Builder | Model Type | Road Number | Built | Quantity |
| --- | --- | --- | --- | --- |
| EMD | SW1 | 1 | 1941 | 1 |
| EMD | SDL39 | 582-590 | 1969-1972 | 9 |
| EMD | GP30 | 700, 703, 711, 713, 719 | 1963 | 5 |
| EMD | GP35/M | 726, 4011 | -1964-1965 | 2 |
| EMD | SW9 | 1231 | 1951 | 1 |
| EMD | SW1200 | 1232-1237 | 1965-1966 | 6 |
| EMD | GP7M/LM | 1501-1508 | 1951-1952 | 8 |
| EMD | SW1500 | 1550-1571 | 1966-1972 | 22 |
| EMD | FP9 | 1750-1755 | 1954-1957 | 6 |
| EMD | FP7 | 1756 | 1953 | 1 |
| EMD | F9B | 1760-1763 | 1954-1957 | 4 |
| EMD | GP38-2 | 2001-2006 | 1981 | 6 |
| EMD | GP38-2 | 2001-2006 | 1981 | 6 |
| EMD | GP35/M | 2051-2061, 2551-2558 | 1963-1965 | 19 |
| EMD | GP30 | 2251-2253 | 1963 | 3 |
| EMD | SD24 | 2401-2402 | 1959 | 2 |
| EMD | SD35 | 2500 | 1965 | 1 |
| EMD | GP40 | 3000, 3002-3007, 3009-3012, 3014, 3017-3018, 3021-3025 | 1970-1971 | 19 |
| EMD | GP40-2 | 3026-3027 | 1966-1967 | 2 |
| EMD | SD40 | 6001 | 1971 | 1 |
| EMD | SD40-2 | 6002-6006 | 1973 | 5 |
A big thanks to Otto P. Dobnick's article "The Wisconsin Central Story Part 1:  Acting Like A Class I But Not Always Thinking Like One" from the September, 1990 issue of Trains as a primary reference for this page.

---
Wisconsin Central SW1200 #1235 (built as Cotton Belt #1072) lays over in Appleton, Wisconsin on May 16, 1989. Tom Wilson photo. American-Rails.com collection.
Final Years
The GB&W was about 214-miles in length connecting Winona (Minnesota), Wisconsin Rapids, Green Bay and Kewaunee and the WC placed it under the direction of a paper company, the Fox Valley & Western Railroad (a year, however, it abandoned much of the GB&W's original main line).  
Then, in 1995 it acquired the Algoma Central Railway from GTW, a 322-mile Canadian short line that stretched from Sault Ste. Marie to Hearst, Ontario.  At its peak, WC owned a massive network of 2,850 miles and would have likely continued to grow, possibly into the next Class I system under Burkhardt's leadership.
However, a growing rift between himself and the directors saw the WC's greatest president fired in August, 1999 due to disagreements.
As a result, with the railroad humming along it attracted the attention of Class Is, notably the Canadian National. The growing CN offered a price for the company, which was accepted by shareholders, and the WC was taken over in October, 2001.