El Paso & Southwestern Railroad

Last revised: June 12, 2023
By: Adam Burns

Considering its once massive size the El Paso and Southwestern Railroad is often completely forgotten as a large, Class I carrier that served the desert region of the Southwest.

The EP&SW was established by copper interests, which felt that a railroad was the best way to move raw ore to their smelters and then on to market. With a strong financial backing the system continued to grow from its original founding in the late 1880s to serve the states of Arizona, New Mexico, and Texas as well as northern Mexico! 
Despite its large size the EP&SW always relied heavily on copper as its major source of freight and when prices began to decline around World War I so too did the company's fortunes.
In the 1920s the road was picked up by Southern Pacific and eventually fully merged into its system by the early 1960s. Today, some sections of the EP&SW are still in operation although after SP ownership much of the railroad was abandoned or sold as traffic dried up.  
Photos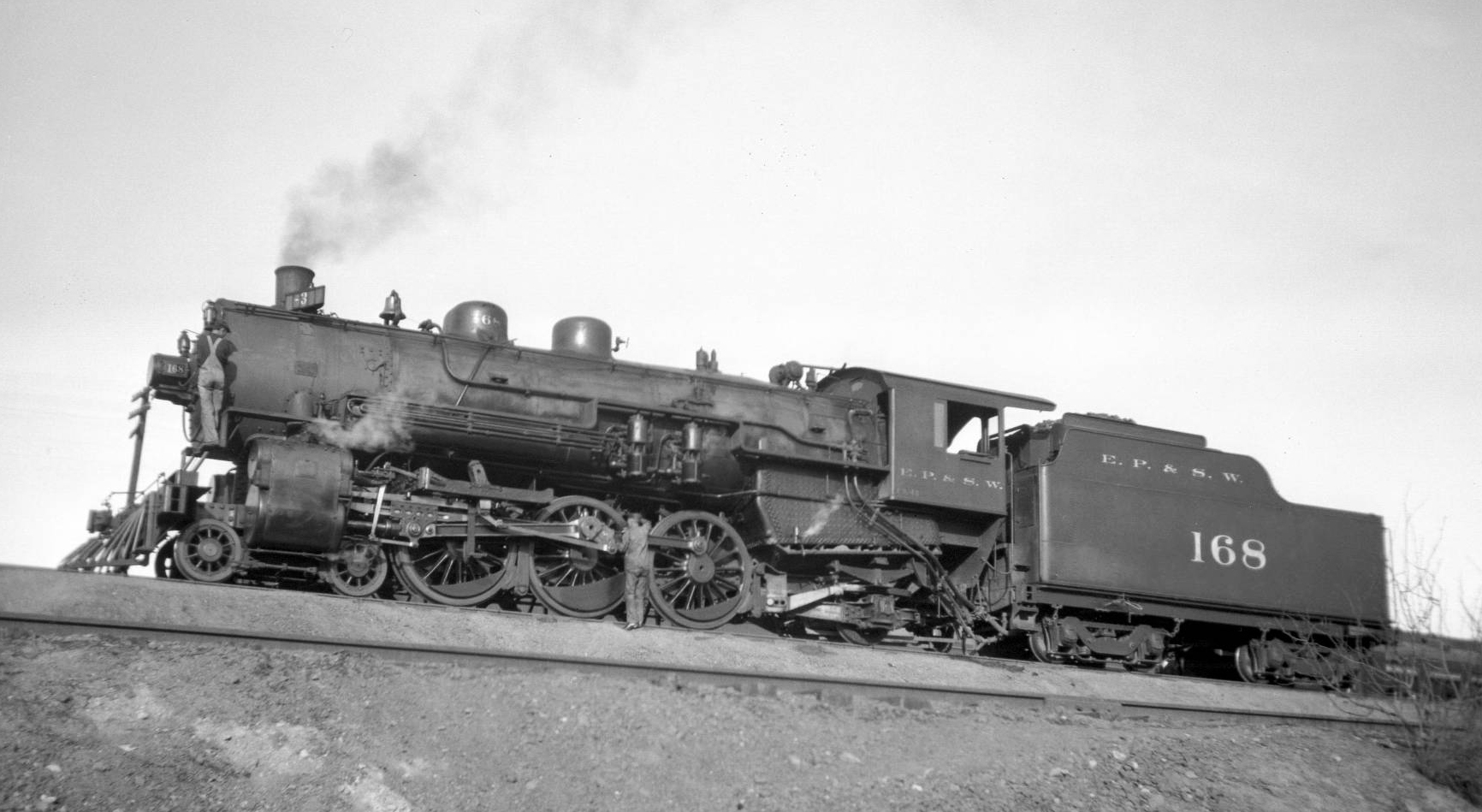 El Paso & Southwestern 4-6-2 #168 is seen here in El Paso, Texas on January 21, 1919. Otto Perry photo.
History
What grew into a 1,000+ mile system started out humbly enough as the Arizona & South Eastern Rail Road chartered in May of 1888 (later known simply as the Arizona & Southeastern Railroad) by the Phelps, Dodge & Company.
The business, which at the time focused on the importation of various metals, had not only discovered large deposits of copper ore in Mule Pass near Bisbee, Arizona but also deposits which were incredibly rich with iron (concentrated at 20% or more).
At first Phelps, Dodge gave no inclination in building its own railroad, instead hoping to lure a railroad such as the Santa Fe or Southern Pacific to build a branch to the area and serve its smelter at Bisbee. Unfortunately, neither road had much interest in such an endeavor and the company decided to forge ahead with its own line.
At A Glance
Headquarters

El Paso, Texas

States Served

Arizona, New Mexico, Texas

Dates Of Operation

1889 - May 31, 1982

Formation Date

1901

Genesis

Arizona & South Eastern Rail Road (May, 1888)

Route Miles

902.6 (1910)

Track Gauge

4 Feet, 8 ½ Inches

Principal Lines

El Paso, Texas - Tucumcari, New Mexico (Eastern Division)

El Paso - Benson, Arizona (Western Division)

Osborn - Bisbee, Arizona (Bisbee Branch)

Fairbanks - Tombstone, Arizona (Tombstone Branch)

Alamogordo, New Mexico - Russia, New Mexico (Alamogordo & Sacramento Mountain Railway)

Douglas - Courtland, Arizona (Courtland Branch)

Carrizozo - Captain, New Mexico (Captain Branch)

Tucumcari - Dawson, New Mexico (Dawson Railway)

Hachita - Hermanas - Deming, New Mexico (Deming Branch)

Jarilla Junction - Jarilla, New Mexico (Jarilla Branch)

Slogan

The Southwestern Route

Reporting Mark

EPSW

Successor

Southern Pacific
After the A&SE was created the new railroad wasted no time in beginning construction opening its initial 36-mile route between Bisbee and Fairbanks the following year in 1889.
At first company officials hoped to establish a connection with the Santa Fe although when an agreement on freight rates could not be agreed upon it was decided that a 19-mile northward extension to Benson would be carried out to reach the SP instead, completed in 1895.
What ultimately began the A&SE's astronomical growth was the coming of electricity around the turn of the century. With the need for copper to transport electricity, naturally demand for the metal grew prodigiously. This resulted in the need for a new smelter, which was built just south of Bisbee. 

Logo
Additionally, new deposits were discovered south of the border in Mexico and Phelps, Dodge chartered the Nacozari Rail Road (a subsidiary of the A&SE) in June, 1901 to reach mines at Nacozari which was opened a year later.
The summer of 1901 also witnessed the formation of the El Paso and Southwestern Railroad to take over the operations of the A&SE to better reflect the company's intentions of continuing to expand eastward.
Thanks to a continued growth and demand of copper it was not long before the EP&SW officially opened its extension to El Paso, opening just a year later on December 28, 1902 (unofficially, tracks reached the city on November 19th of that year). Loaded with cash and a desire to continue its expansion the EP&SW more than doubled in size when it took over the El Paso & Northeastern Railroad on July 1, 1905.

System Map (1910)
The EP&N dated to 1896 chartered by Charles Eddy who had purchased the charter of a defunct line that had hoped to do the same, the Denver & El Paso Short Line Railroad.
Under Eddy's control the EP&N slowly trekked northward reach Alamogordo in June of 1898, Carrizozo a year later, and Santa Rosa in 1902 via subsidiary El Paso & Rock Island Railway.
Here, the EP&N established an interchange with the growing Rock Island system and soon after reached Tucumcari via CRI&P trackage rights (it would later outright lease this line from the Rock as of July 1, 1907).
Expansion
Interestingly, enough, the growth did not stop there as the railroad had no more than opened its latest extension when the newly established Dawson Railway was under construction.
This latest development would add 132 miles to the EP&N's operations stretching northwest from Tucumcari and opened in 1903. Before Eddy could continue to expand his growing railroad it was acquired by the EP&SW.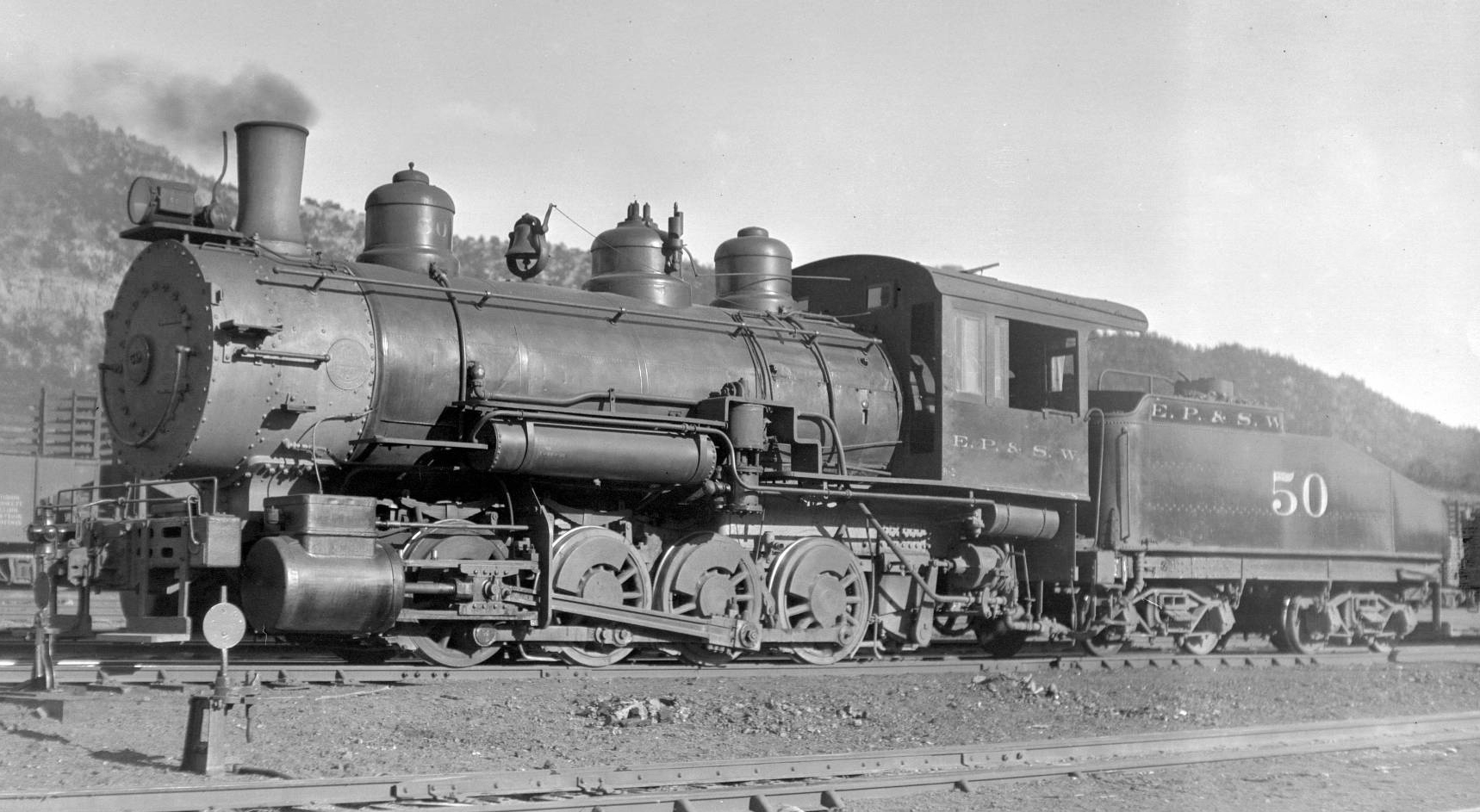 El Paso & Southwestern 0-8-0 switcher #50 is seen here in Dawson, New Mexico on October 18, 1920. Otto Perry photo.
With a road that now stretched from eastern Arizona through most of New Mexico the EP&SW was split into Western and Eastern divisions with its base of operations being El Paso.
Over the coming years some expansions continued, mostly in the way of additional branches from its through routes although the road did open a significant 66-mile extension west between Fairbank and Tuscon that began service on November 20, 1912.
With this the EP&SW was mostly complete, boasting a route that covered more than 1,200 miles. Since the company's primary freight was ore it employed a fleet of fairly respectable steam locomotives including heavy 2-8-0 Consolidations,  2-8-2 Mikados, 2-10-0 Decapods, and 4-8-2 Mountains (other wheel arrangements included 2-6-2 Prairies, 2-6-0 Moguls, 4-6-0 ten-wheelers, and 0-6-0/0-8-0 switchers).
Copper, however, was not its only source of freight as the EP&SW also hauled coal, agriculture, livestock, food products, merchandise, and various LCL (less-than-carload) traffic not to mention scheduled passenger trains.
The company's decline, unfortunately, began soon after it reached its peak size. Following World War I the price of copper plummeted forcing mines to close, which of course caused a loss of traffic and reduction in carload value.
Ironically, however, the EP&SW saw an addition during this time when it took over the Arizona & New Mexico Railroad on January 1, 1922 which was sold by parent Arizona Copper Company feeling the affects of the metal's decline.
Southern Pacific Takeover
The A&NM connected to the EP&SW at Hachita, New Mexico reaching as  far north as Clifton. With sagging copper prices and the railroad's revenues cut by one-third officials at Phelps, Dodge elected to sell it to Southern Pacific during uncertain times with the deal completed on  October 31, 1924 that included stock, bonds, and cash of $64 million. 
The transaction also required the Espee to construct a new line to serve Phoenix and provided Phelps, Dodge with terminal property back in Los Angeles. The SP also saw a benefit with The Southwestern Route as it was still a profitable road and also offered the western giant a connection to the Rock Island.
(Thanks to "The Strange Story Of The El Paso & Southwestern" by author David F. Myrick from the February, 1966 issue of Trains as a primary reference for this article.)
---
Near the northern edge of the system, El Paso & Southwestern 2-8-2 #367 is seen here in Santa Rosa, New Mexico on October 25, 1920. Otto Perry photo.
Through the early 1930s the SP's new subsidiary lines continued to earn decent income, interestingly enough, although the Great Depression began to take its toll.
The larger railroad also transferred much heavier power to the property using former Boston & Maine 2-8-4 Berkshires and impressive, brand new 2-8-8-4 Yellowstones acquired from Lima in 1939.
Slowly branches and routes were cut back as copper and coal mines played out, so much so that by the early 1960s the only remaining sections of the EP&SW still in use was the main line between El Paso and Tucumcari as well as a few branches in southern Arizona and New Mexico.  
Officially, SP merged the El Paso and Southwestern Railroad into its network in 1961 ending one of the Southwest's largest if relatively unknown Class I systems.
Perhaps most interesting about The Southwestern Route is at one point it actually was looking to takeover the Rock Island, purchasing 10% ownership into the Midwest railroad in 1910 (enough to give it a seat on the board). Ultimately, the holding company created to oversee the stock failed ending any such possibilities.