Pennsylvania-Reading Seashore Lines (PRSL)

Last revised: September 14, 2023
By: Adam Burns

The Pennsylvania-Reading Seashore Lines was a jointly-owned operation of the Pennsylvania and Reading railroads.

The PRSL served the popular tourism and beach destinations west and south of Philadelphia along the New Jersey coast reaching such seaside towns as Atlantic City, Ocean City, and Cape May.  
For many years the two railroads had, via their predecessor lines, competed fiercely for the lucrative passenger traffic of vacationers flocking to these popular beach destinations.  
During the line's peak years it was double-tracked in some locations, electrified in others, operated hundreds of trains daily, and at times maintained speeds above 100 mph!  

Today, all of these perks are gone.  However, segments of the old PRSL network remain in operation under New Jersey Transit, Conrail Shared Assets, Cape May Seashore Lines, SMS Rail Lines, PATCO Speedline, Southern Railroad of New Jersey, and Winchester & Western.  

Photos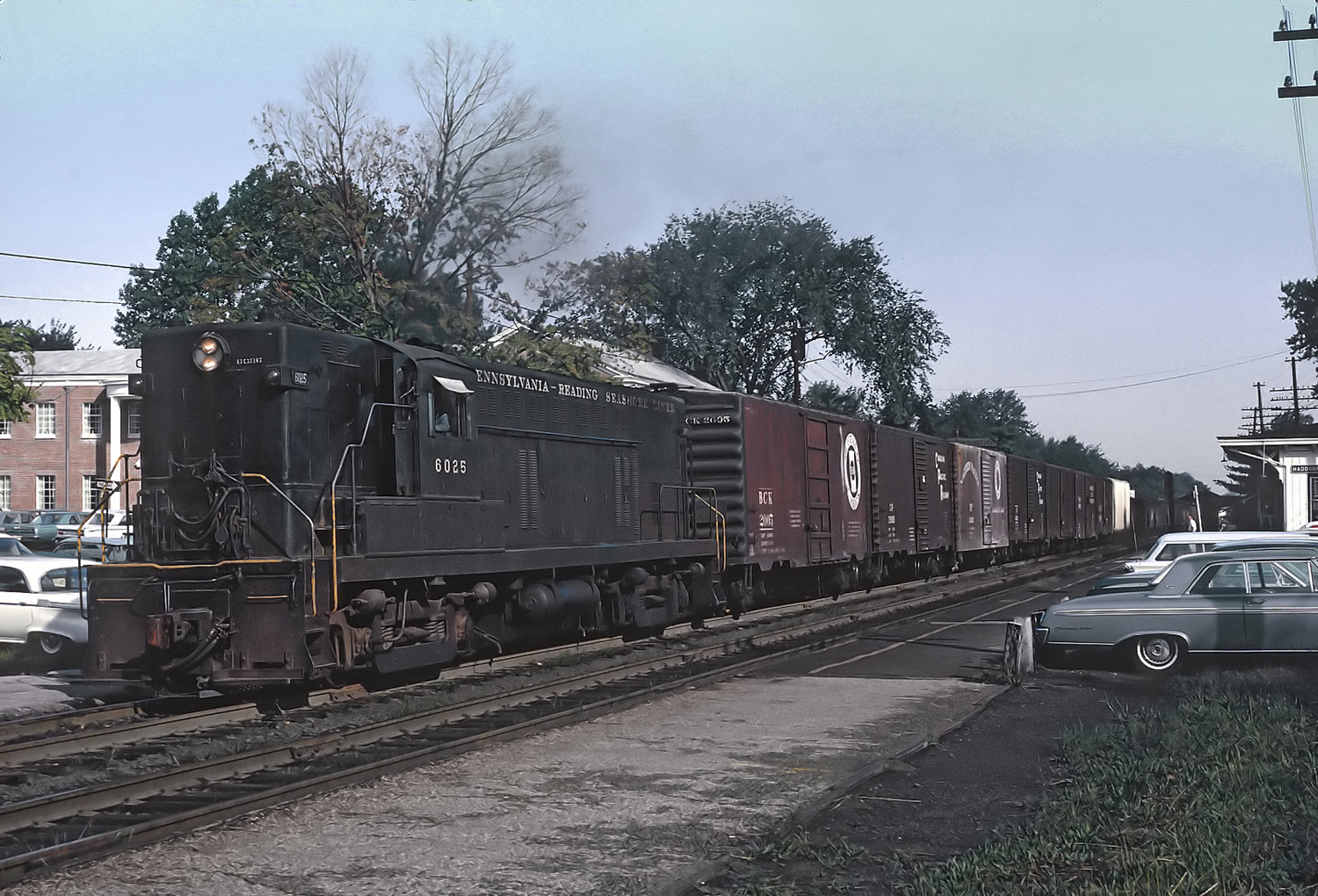 Pennsylvania-Reading Seashore Lines AS16 #6025 works freight service as it passes the station at Haddonfield, New Jersey on September 2, 1965. Roger Puta photo.
History
While the Pennsylvania-Reading Seashore Lines eventually became a joint operation of the Reading and Pennsylvania it did not start out that way.  
According to A.C. Kalmbach's article, "Penn-Reading Seashore," from the August, 1941 issue of Trains Magazine the system was originally formed on June 25, 1933 through the merger of the Pennsylvania's West Jersey & Seashore Railroad and the Philadelphia & Reading's (Reading) Atlantic City Railroad.  
The marriage came about through a requirement by the New Jersey Board of Public Utilities.  The mandate was handed down on March 4, 1931 stipulating they must mutually join for the public interest.  The so-called Consolidation Agreement provided the PRR with two-thirds ownership and Reading one-third.  
At A Glance
Headquarters

Philadelphia, Pennsylvania

State Served

New Jersey

Dates Of Operation

1854 - 1976

Formation Date

June 25, 1933

Genesis

Camden & Atlantic Railroad (March 19, 1852)

Total Miles

715 (1950)

Track Gauge

4 Feet, 8 ½ Inches

Principal Lines

Camden - Seaside Park - Bayhead

Camden - Winslow - Atlantic City

Camden - Woodbury - Carney's Point

Woodbury - Newfield - Atlantic City

Woodbury - Salem/Quinton

Glassboro - Bridgeton

Camden - Haddonfield - Winslow - Richland - Tuckahoe - Cape May

Newfield - Woodbine Junction

Reporting Mark

PRSL

Successor

Conrail
All of the energized territory was the result of PRR's work on its line between Camden-Atlantic City and Woodbury-Millville while the Reading's operation was steam powered only. 
During the early 1940s PRSL's locomotive fleet consisted of ten 4-4-2 Atlantics (PRR Class E-6), twelve 2-8-0 Consolidations (PRR Class H), and five 0-6-0 switchers (PRR Class B).  On occasion the road utilized a fleet of Pennsy' s hearty 4-6-2's (K-4s) and even a Reading 4-6-2 (Class G).
The use of almost-entirely PRR-owned or handed-down equipment was a result of the previously-mentioned agreement.  The Pennsy's motive power department was responsible for maintaining and supplying PRSL's locomotive fleet.  
Into the diesel era things were much more interesting as the road operated almost entirely rare Baldwin models like the S-12, AS-16, and DRS-4-4-1500.  Finally, electrified service (all third-rail) extended from Camden to Bridgeton and as far as Millville via Newfield.  
Logo
The PRR had originally electrified its entire line from Camden to Atlantic City in 1906.  However, as Mr. Kalmbach points out this was later cutback to Newfield.  

Before diesels took over a small fleet of gas-electric "Doodlebug" rail cars replaced electrics along the eastern end to Atlantic City.  For the most part, the entire 715-mile (total rail miles including all yards, spurs, and sidings) Pennsylvania-Reading Seashore Line network was powered with traditional locomotives.
Expansion
The region exploded into a popular tourist destination following the Civil War.  The first to offer service was the Camden & Atlantic in the 1850s, a precursor to the PRR's West Jersey & Seashore Railroad while the predecessors of Philadelphia & Reading's eventual Atlantic City Railroad began offering competition in the 1870s.  
The ACRR property had been entirely double-tracked by 1889 as demand soared for those flocking to the beaches and escape the summer's heat.  
By the 1940s the PRSL was operating 176 daily passenger trains during the summer season, 111 of which departed from either Philadelphia's Market Street Wharf or Broad Street Station bound for the New Jersey coastline.  
These trains handled more than 50,000 travelers each day (according to the article "Three Months Feast, Nine Months Famine," by Al Rung from the June, 1948 issue of Trains demand peaked at 100,000 daily riders during World War II).
In addition, the PRR and Central Railroad of New Jersey dispatched trains from the New York to Southern New Jersey; the former from its main line at Trenton and the latter via its flagship Blue Comet connecting Jersey City with Atlantic City via PRSL's Winslow Junction.
---
Passenger Trains
Listed below are principal Pennsylvania-Reading Seashore Lines services operating between Camden/Philadelphia and Atlantic City.  Depending upon where the trains were headed they departed from different locations, including PRR's 30th Street and Broad Street Stations in Philadelphia.
Atlantic City Express
Barnacle Bill Special
Boardwalk Arrow

Boardwalk Flyer
Cruiser
Dolphin
Navigator

Seahawk

Skipper

---
Today, the United States does not place the important emphasis on passenger rail travel it once did.  The public has largely ignored trains in favor of cars and airliners.  There are few places where one can still enjoy trains traveling near or above 100 mph today.  
This was not the case prior to 1950 when railroads spent a great amount of effort and money providing the public with efficient, high-speed service.  A case in point was the PRSL; trains traveling the 58 miles from the nearly arrow-straight line linking Camden with Atlantic City regularly did so in just 52 minutes with a top speed of 80 mph.  
System Map (1941)
In the years prior to the Seashore Lines speeds were even higher; 4-4-2 "Camelback" designs (or "Mother Hubbards" as they were sometimes known) of the Atlantic City Railroad zipped along at speeds eclipsing 100 mph.  

During one particular run on July 20, 1904, led by #1027 the locomotive set a speed record of 115 mph between Brigantine Junction and Egg Harbor City carrying a five-car consist.
---
Predecessors
Pennsylvania Railroad
The Pennsylvania Railroad's predecessors were collectively known as the West Jersey & Seashore Railroad. The WJ&S was created in May, 1896 and was actually a conglomeration itself of smaller lines including:

Camden & Atlantic Railroad
Chartered on March 19, 1852 by the state of New Jersey the C&A connected Camden with Atlantic City.  It opened for service in 1854. 

Delaware River Railroad
Originally chartered as the Delaware Shore Railroad in February, 1873 it was completed between Woodbury and Penns Grove in July, 1876. The line went bankrupt and became the Delaware River Railroad in early 1879. The WJ&S took over the property in the spring of 1900.

Millville & Glassboro Railroad
This line was chartered in March, 1859 to connect its namesake towns, finished in October, 1860. It attempted to push service to Cape May but ran out of money.

It was re-chartered as the Cape May & Millville Railroad, finally reaching Cape May in 1867. It was leased to the West Jersey Railroad two years later in 1869.
Philadelphia, Marlton & Medford Railroad
Chartered in January, 1880 it connected Haddonfield and Medford in July, 1881. It became part of the C&A by 1885 and subsequently a division of the WJ&S. It lasted just a few months into the PRSL era before being abandoned in the fall of 1931.

Salem Railroad
Chartered in March, 1856 the road connected Pittstown to Salem by 1863. The line was leased to the West Jersey Railroad in early 1868.

West Jersey Railroad
The West Jersey Railroad was chartered by the state of New Jersey in February, 1853. Its original main line stretched from Camden to Cape May and also reached Glassboro from Camden via the then abandoned Camden & Woodbury.
 In addition, the road leased, built, or took over a number of other small systems including the Millville & Glassboro, Salem Railroad, and Camden & Atlantic mentioned above.
It chartered the Swedesboro Railroad in 1867 to connect Woodbury and Swedesboro, opening the route a year later. The WJRR later chartered the Woodstown & Swedesboro Railroad to reach Woodstown, completing that line in February, 1883.
Finally, the WJRR chartered the Maurice River Railroad in June, 1887 to connect Manumuskin with the Maurice River, opening the route in November, 1887.
West Jersey & Atlantic Railroad
Chartered by West Jersey Railroad in November, 1879 it connected Newfield, Atlantic City, and Mays Landing opening for service in June, 1880.

Pennsylvania-Reading Seashore Lines AS16 #6014 has train #1001 at Haddonfield, New Jersey on September 2, 1965. Roger Puta photo.
Philadelphia & Reading Railroad
The Philadelphia & Reading's southern New Jersey lines were operated by its Atlantic City Railroad subsidiary, which was created on April 1, 1889 to effectively control them.  
The Reading had originally acquired control of the predecessors in 1883 and standard-gauged the Camden, Gloucester & Mt Ephraim in 1884.  These properties included:
Camden, Gloucester & Mt Ephraim Railway
Chartered in June, 1873 the CG&MtE connected its three namesake cities by May of 1876. Originally a three-foot narrow gauge line, after its purchase by the Philadelphia & Reading in November, 1884 it was converted to standard gauge.

Philadelphia & Atlantic City Railway
Chartered in March, 1876 this railroad looked to connect its namesake cities (via Camden) and opened in just three months completing the 55-mile line by July of that year.

Originally a narrow gauge operation it was converted to standard gauge in 1884 with the Philadelphia & Reading gaining full control by December, 1885.
Williamstown & Delaware River Railroad
Chartered in March, 1871 as the Williamstown Railroad this railroad looked to connect Atco with Glassboro, finishing only as far Robanna by 1873 before financial troubles ended the plan.

It was reorganized as the Williamstown & Delaware River in 1883 and controlled by the Philadelphia & Reading and Central Railroad New Jersey who completed the route to Glassboro. The P&R gained full control by 1885.
The ACRR also leased the Pleasantville & Ocean City Railroad and Philadelphia & Brigantine Railroad, although it divested itself of the latter operation by 1897.
Between 1901 and 1930 the railroad acquired five additional lines including:
Camden County Railroad (connecting Mount Ephraim Borough and Spring Mills)


Cape May, Delaware Bay & Sewell's Point Railroad (connecting its namesake towns)


Ocean City Railroad (connecting Ocean City Junction to Ocean City)


Seacoast Railroad (connecting Winslow Junction, Tuckahoe, Sea Isle City, and Cape May)


Wildwood & Delaware Bay Short Line Railroad (connecting Wildwood Junction to Wildwood)
After the PRSL's creation it acquired the Stone Harbor Railroad in 1932 which connected Cape May Court House to Stone Harbor. 
---
While passenger services dominated PRSL operations there was also some freight serving a variety of customers.  During World War II some 18 regular trains plied the network on a daily basis.  

Since the PRSL relied so heavily on travelers it was susceptible to highways and interstates and was particularly hurt after a series of new roadways were built following World War II.

These included:
The Garden State Parkway constructed between 1946 and 1957 along the entire length of New Jersey's eastern shore. t


The Atlantic City Expressway opened in its entirety during 1965 competing directly with the PRSL between Turnersville and Atlantic City.


Finally the New Jersey Turnpike finished in 1952 cut across the state from the northeast to southwest.  
There were many others under construction at around the same time which harmed the railroad's bottom line.  
Diesel Roster
| Road Number | Manufacturer | Model Type | Date Built |
| --- | --- | --- | --- |
| 2000-2009 | EMD | GP38 | 12/67-3/69 |
| 6000-6005 | BLW | DRS-4-4-1500 | 4/50 |
| 6006 | BLH | S-8 | 5/51 |
| 6007-6016, 6022-6027 | BLH | AS-16 | 3-4/53-11/53 |
| 6017-6021, 6028-6033 | BLH | S-12 | 6-7/53 |
---
Roger Puta captured this scene of the Pennsylvania-Reading Seashore Lines' right-of-way at Camden, New Jersey from the cab of RDC #M-407 on September 2, 1965.
Final Years
The state's growing hostility to rail service was on full display with its own Jersey Central, which paid exorbitant property taxes while dealing with the loss of freight and passenger traffic from subsidized highways.  As roads slowly eroded PRSL's passenger traffic it cut back operations and abandoned some lines.
However, its freight base was strong enough to maintain the system throughout the 1960s. With the bankruptcy of the Penn Central in June, 1970 and the Reading falling a year later on November 23, 1971, Pennsylvania-Reading Seashore Lines had effectively no ownership as it was not itself in receivership.
With the creation of Conrail in the spring of 1976 the new entity took over the PRSL property and continued operating commuter service on the line for a few years until state agencies took over the responsibilities during the early 1980s. 
Today, while some segments have been abandoned, as mentioned above, numerous entities operate many sections of the former PRSL network.