Bessemer & Lake Erie Railroad: "The Bessemer Route"

Last revised: February 19, 2022
By: Adam Burns
The Bessemer and Lake Erie Railroad was a regional system based in western Pennsylvania that connected Bessemer, Pennsylvania (near Pittsburgh) with the Lake Erie port of Conneaut, Ohio.
In addition, it enjoyed an interchange with the Nickel Plate Road's main line (later Norfolk & Western/Norfolk Southern) at Wallace Junction (near Erie, Pennsylvania).
Similar to the Pittsburgh & Lake Erie, which operated in the same region but connected different cities, the Bessemer is best remembered for the large volume of steel and steel-related traffic it handled.  
The road's history traces back to the mid-19th century and is integrally tied to ore, coal, and coke.   It transported little else outside of these products, including the general public.  
The B&LE also carried a close association with Minnesota's Duluth, Missabe & Iron Range as the two roads worked together in moving ore from the upper Midwest to steel mills situated near or around Pittsburgh.  Today, the B&LE is a division of Canadian National.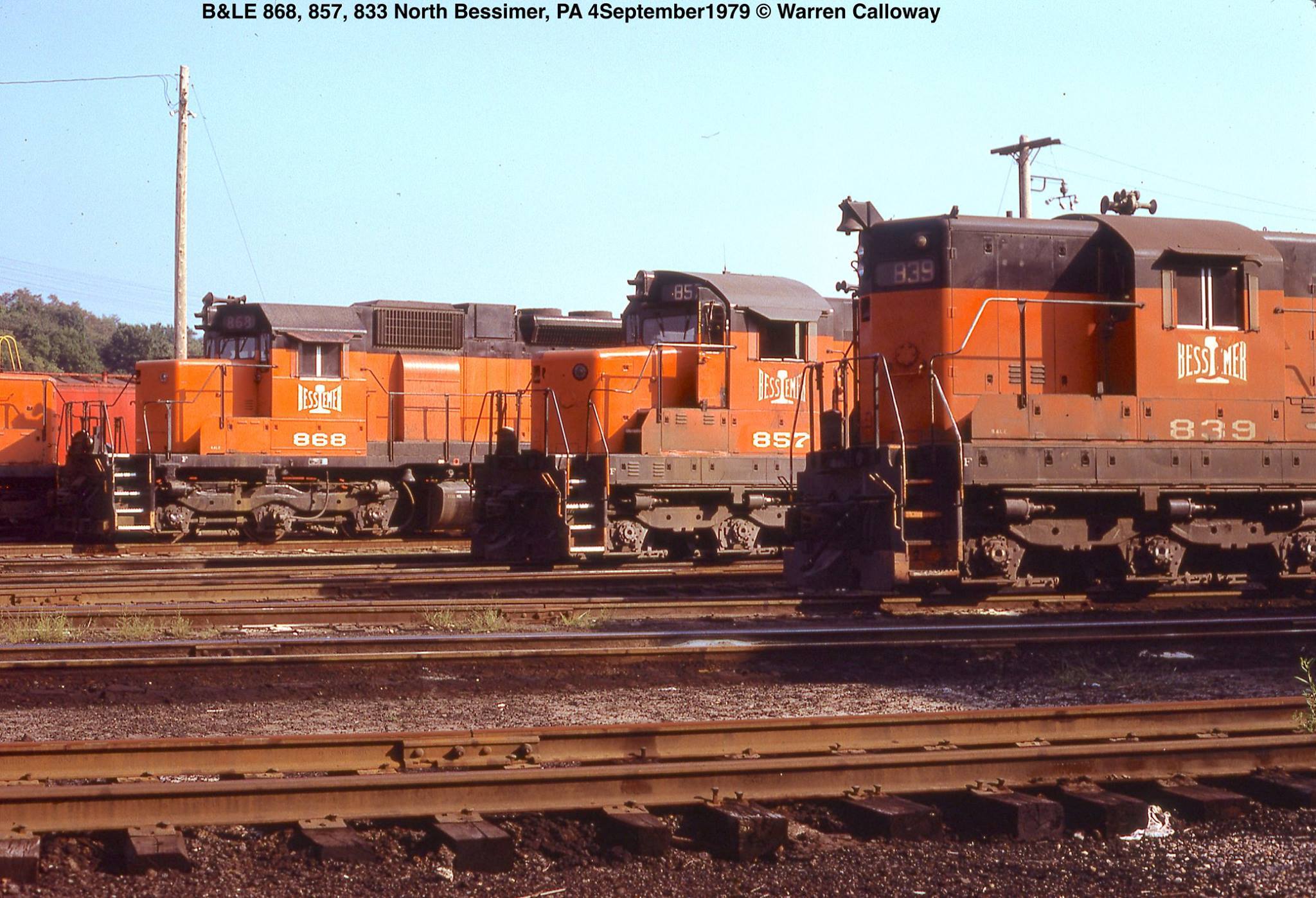 From right to left; Bessemer & Lake Erie SD9 #839, SD18 #857, and SD38AC #868 at North Bessemer, Pennsylvania on September 4, 1979. Warren Calloway photo.
A Brief History Of The Bessemer & Lake Erie
The history of the Bessemer & Lake Erie dates as far back as the Bear Creek Railroad, chartered on March 20, 1865.  Its promoters envisioned the road as a coal hauler, serving a mine owned by the Mercer Mining & Manufacturing Company based near Pardoe, Pennsylvania (north of Pittsburgh) and connecting with the nearby Atlantic & Great Western (a later Erie Railroad predecessor).  
A few years later the company changed its name as the Shenango & Allegheny Railroad on April 9, 1867 to better reflect its intentions of a northern connection at Shenango (near Greenville).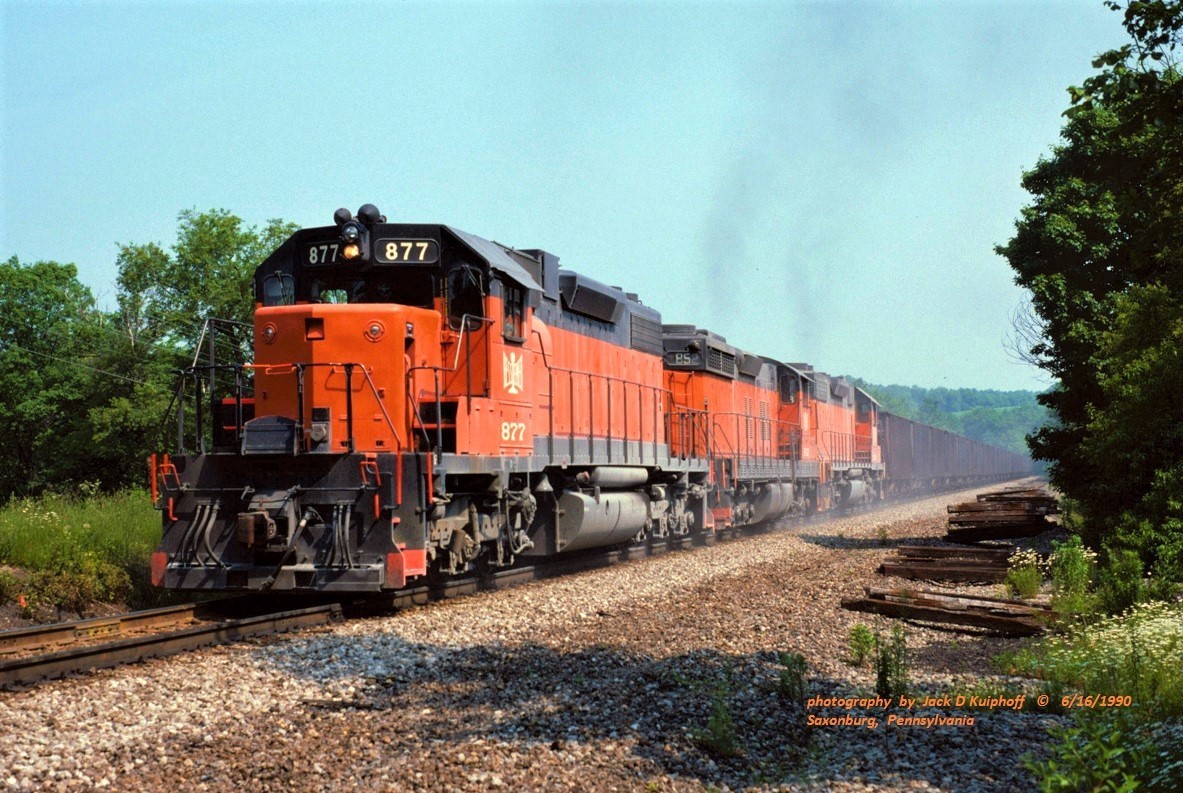 Bessemer & Lake Erie SD38-2 #877 leads #852 and #873 with a southbound ore train as they battle the grade in notch 8 near Saxonburg, Pennsylvania on June 16, 1990. Jack Kuiphoff photo.
The line was completed between Shenango and Pardoe in October of 1869.  During the next two decades the little system continued to handle coal and, as the publication, "History of Mercer County: 1888," notes slowly expanded southward connecting to Harrisville in July of 1872 and Hilliards in January of 1876.

During the early 1880s the S&A extended branches within Mercer and Butler Counties to serve additional coal mines while a short extension north from Shenango in March of 1882 brought direct rail service into Greenville.  
In 1883 the main line was opened beyond Pardoe to Butler and one final extension was carried out before the road's 1888 reorganization; that year it reached a location near Osgood (known as Amasa Crossing located north of Greenville) where an interchange was established with the Lake Shore & Michigan Southern (New York Central).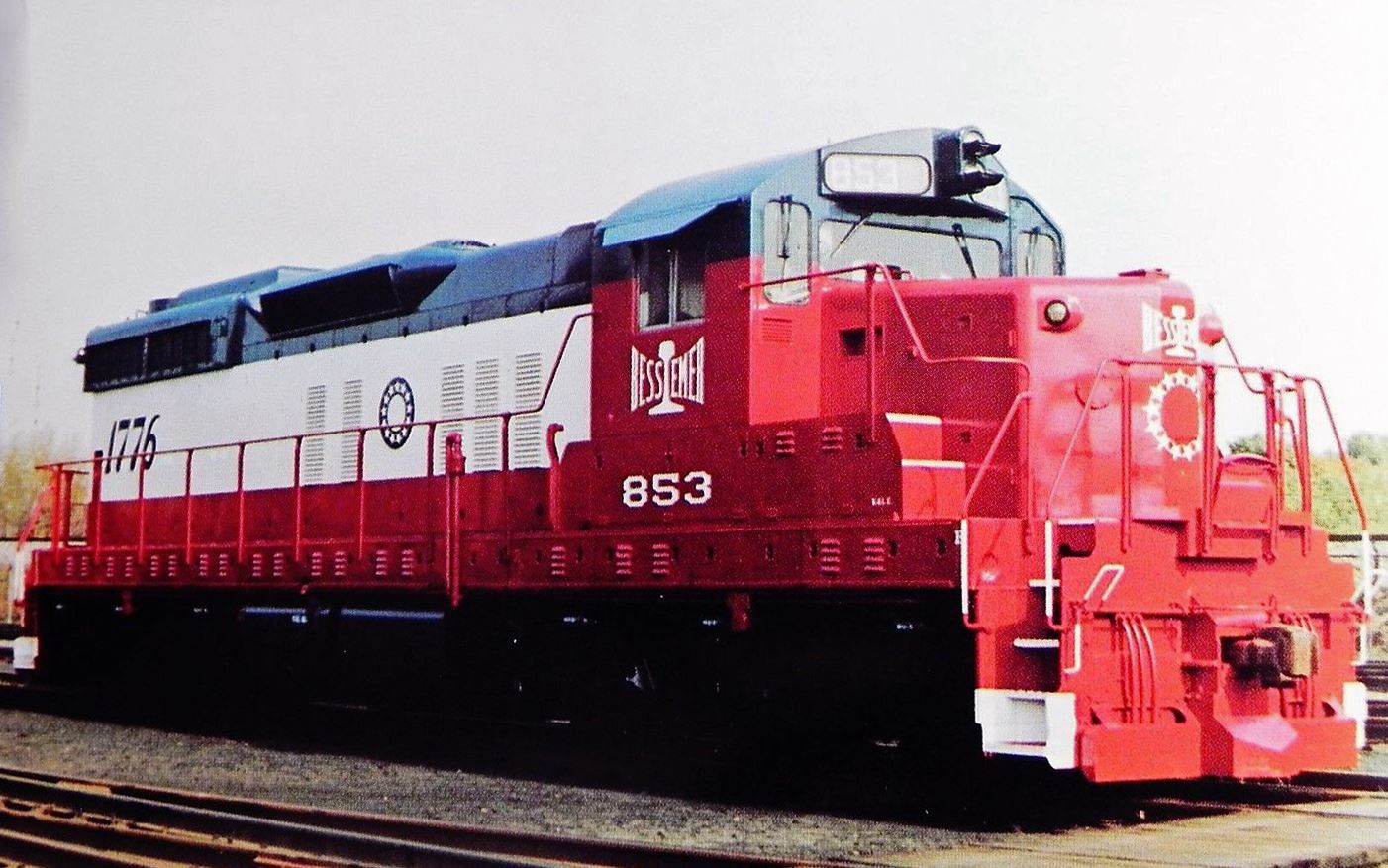 A postcard of Bessemer & Lake Erie SD18 #853 wearing the road's special Bicentennial livery circa 1976.
On February 11th the S&A was renamed as the Pittsburgh, Shenango & Lake Erie.  Under new ownership, the PS&LE pushed rails beyond Osgood to Conneaut, Ohio, just across the Pennsylvania border along the shores of Lake Erie.  

The modern B&LE system took root when steel tycoon Andrew Carnegie entered the picture, chartering the Pittsburgh, Bessemer & Lake Erie Railroad in 1897 to acquire control of the PS&LE.

The purpose of Carnegie's new portfolio was to haul products related to steel production, notably iron ore, from Conneaut to his steel mills near Pittsburgh.  However, to provide direct rail service into the Steel City a new line was needed beyond Butler.  
On April 8, 1896 the Butler & Pittsburgh Railroad Company was incorporated for this purpose, opening to East Pittsburgh on October 27, 1897.  
The present day Bessemer & Lake Erie received its name in 1900 when it formally leased the aforementioned Pittsburgh, Bessemer & Lake Erie created through the merger of the Pittsburgh, Shenango & Lake Erie and Butler & Pittsburgh.  
In 1901 the Bessemer would become a sister road with the Minnesota ore hauler Duluth, Missabe & Iron Range when the Carnegie steel interests were purchased by the United States Steel Corporation, which had taken over the DM&IR some years prior.
The Missabe is a Minnesota institution best remembered for handling the same type of traffic, iron ore/taconite.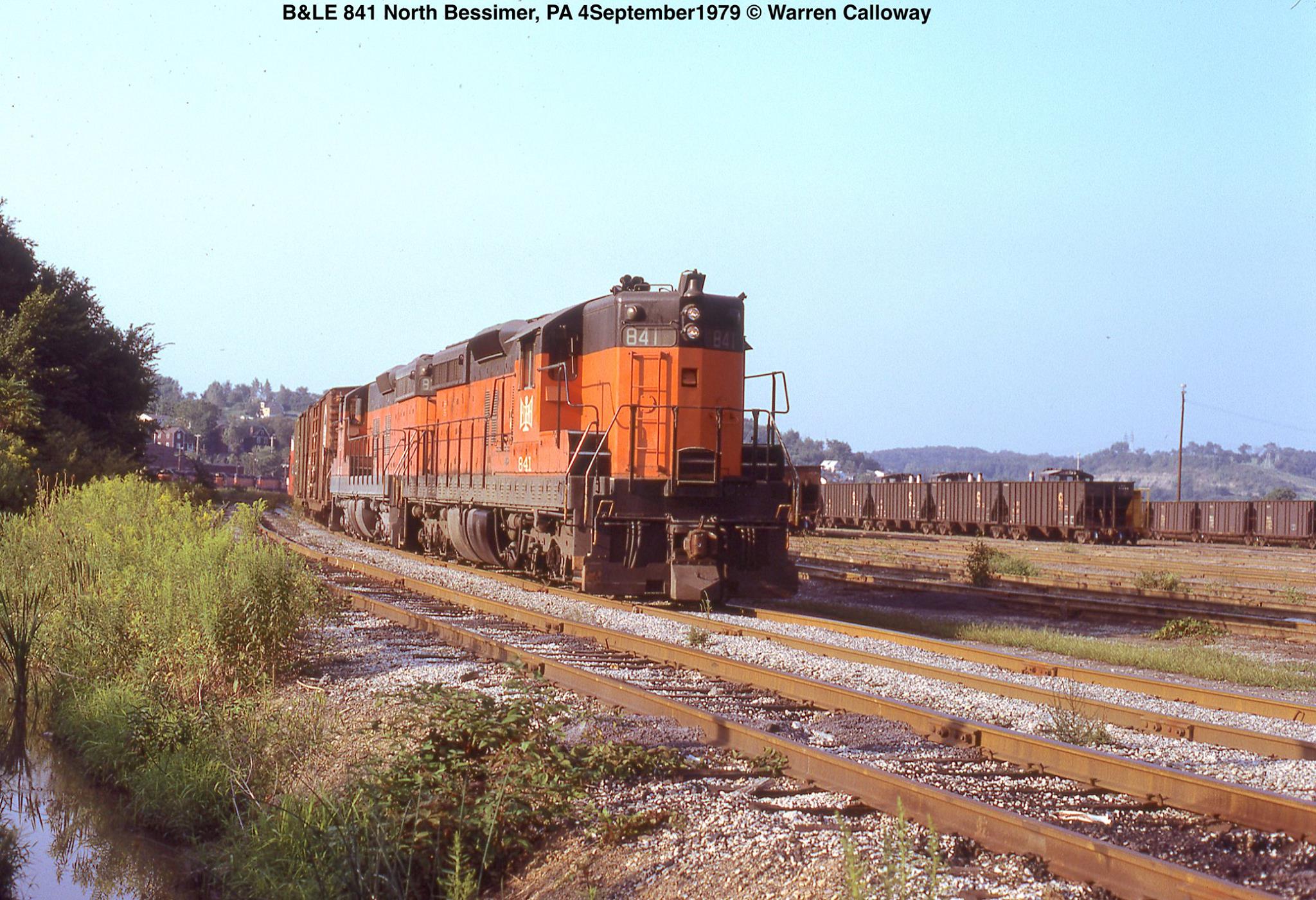 A pair of Bessemer & Lake Erie SD9's lead their train through the yard at North Bessemer, Pennsylvania on September 4, 1979. Warren Calloway photo.
Working together, the Missabe and B&LE acted as a conveyor belt handling this product from Minnesota to Pittsburgh.  
As Gus Welty notes in his article from the September, 1957 issue of Trains Magazine entitled, "Assembly-Line Railroading Complete With 9,035 Hoppers And A Hotshot," the cleaned and graded ore was moved on the DM&IR to docks located along Lake Superior.
From this point the Pittsburgh Steamship Company shipped it across that waterway, past Sault Ste. Marie, down Lake Huron, through the St. Clair and Detroit Rivers, and into Lake Erie before terminating at Conneaut.  
From this point gargantuan Hulett unloaders transferred the mineral into B&LE hoppers, or jennies, at the road's large yard near the waterfront before trains finally transported them southward to the mills.  
The Bessemer was a successful, highly efficient railroad during its heyday but did move other freight such as coal which traveled north back to the lake.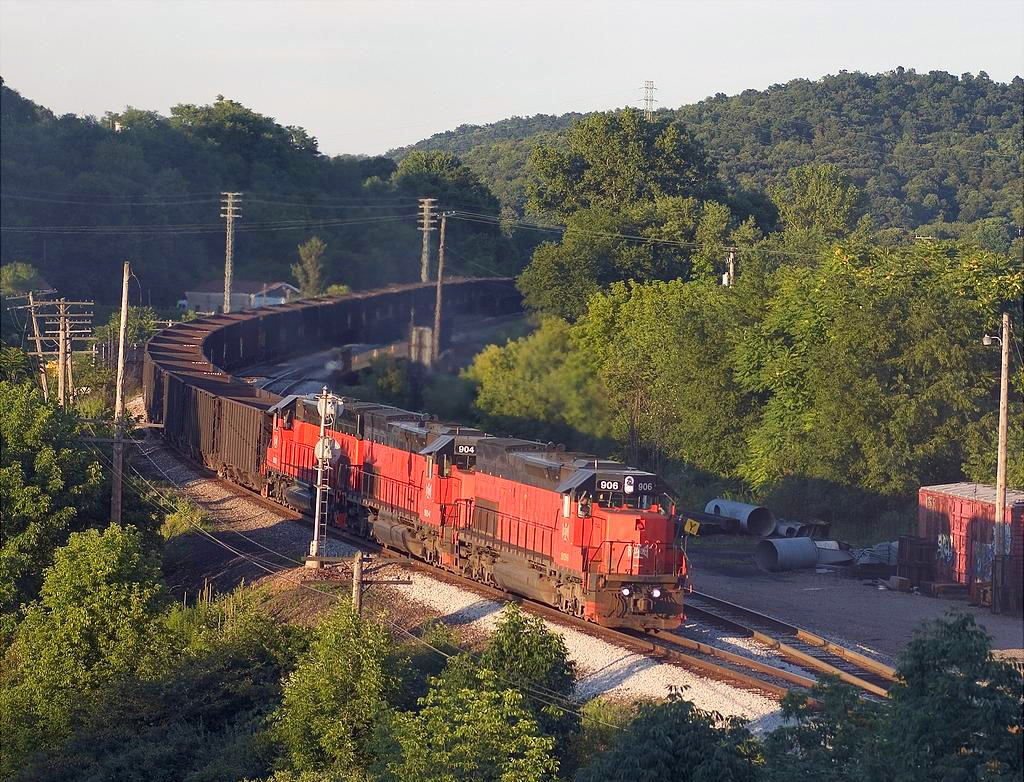 Three Bessemer & Lake Erie SD40T-3's power an empty string of coal hoppers through Butler, Pennsylvania on the evening of July 23, 2005. Wade Massie photo.
Bert Pennypacker points out in his article, "Tough Texans Of The Bessemer," from the Winter, 2000 issue of Classic Trains Magazine, at its peak the B&LE operated 224 route miles between Bessemer (where it still connects with the Union Railroad, a terminal line serving Pittsburgh) and Conneaut with a total of 597 track miles.  
At the start of World War II its traffic consisted of 47% ore, 29% coal, and the rest a mix of general merchandise.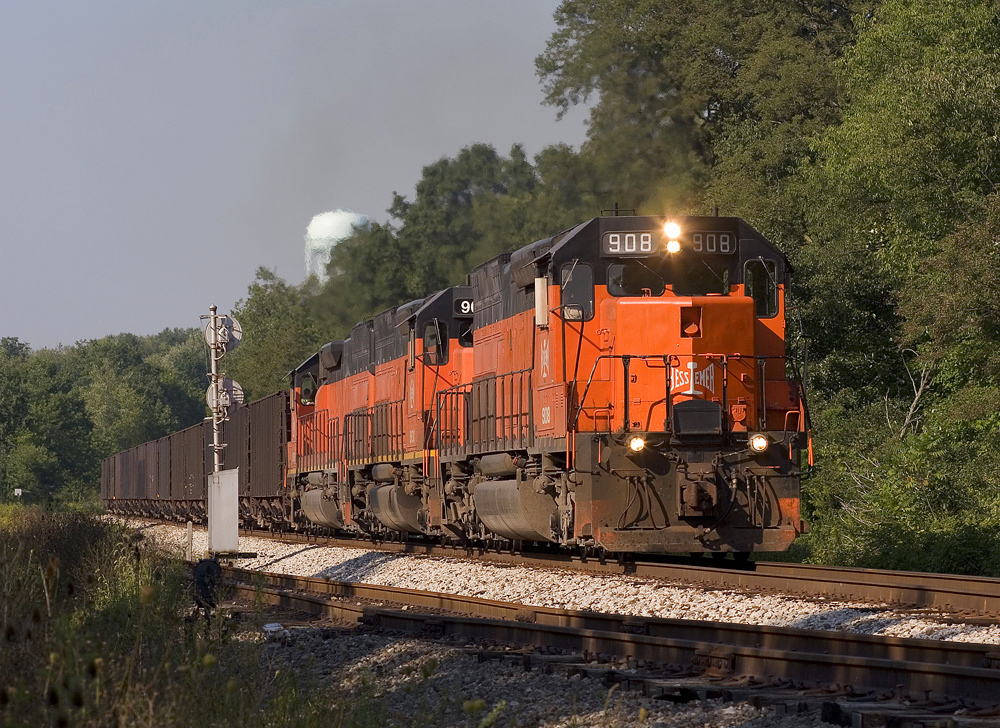 Seen here rolling through Ivywood, Pennsylvania, a Bessemer & Lake Erie ore train with three SD40T-3's up front heads southward on August 28, 2007. Wade Massie photo.
The railroad also once had three branch lines diverging from its main line;
Hilliards Branch (connecting Branchton with Hilliards, Pennsylvania, a distance of over 10 miles)


Meadville Branch (connecting Meadville Junction with Meadville, Pennsylvania, spanning over 15 miles)


Kaylor Branch (running between Hooker and Kaylor, Pennsylvania, 18 miles).
Finally, it gained access to Erie, Pennsylvania via trackage rights over the New York, Chicago & St. Louis (Nickel Plate Road) from a location known as Wallace Junction (just north of Girard).  This connection split north of Albion at NA Tower and Conneaut Junction.
While the B&LE never rostered such an impressive fleet of steam locomotives as the Missabe the heavy tonnage did require the need for 2-10-4's (47 in all, they were built by Baldwin between 1929 and 1944, classed H-1a through H-1g ) and 2-10-2's (1919 products of Baldwin, there were 25 in all classed D-1a/D-2a).
The railroad's diesel locomotives were perhaps even more interesting.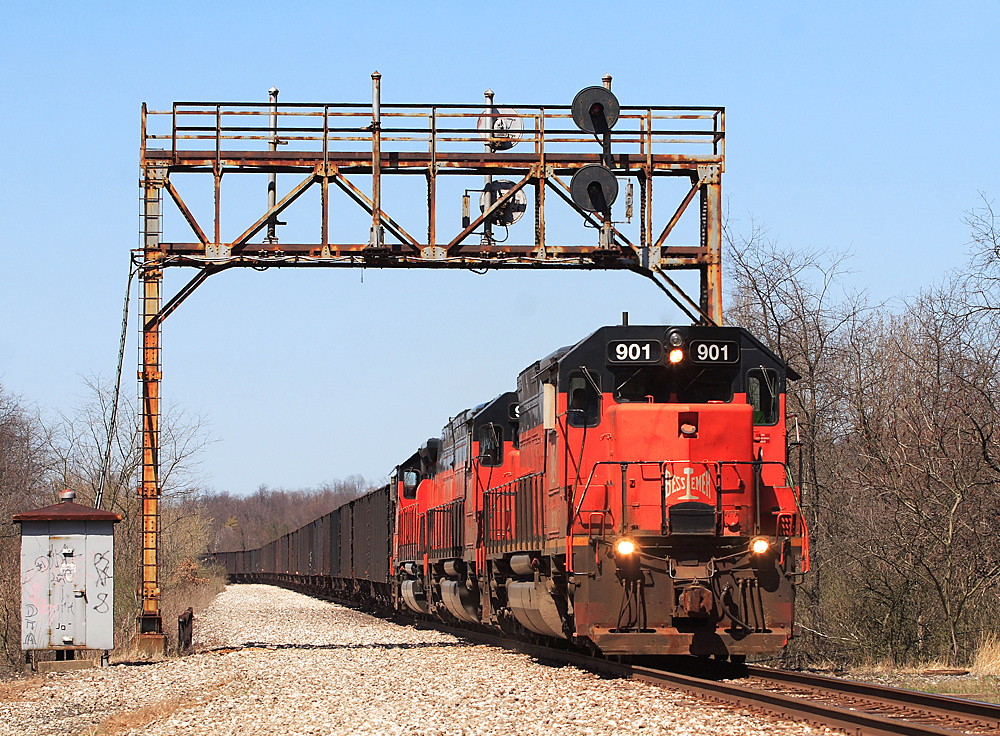 A southbound Bessemer & Lake Erie ore train passes under the aging signal tower at Russellton, Pennsylvania led by SD40T-3 #901 on April 15, 2008. Wade Massie photo.
While it mostly preferred EMD's the B&LE did experiment with rare, first-generation Baldwins operating its DRS-6-6-1500 road-switcher and later As616 model (the railroad also purchased one DS-4-4-1000).  
In general, however, the railroad stuck with Electro-Motive operated a sizable fleet of its F7 model and a few SD7's before realizing six-axle power and its additional traction was the way to go; all future models were of that variety including SD18's, SD38's, SD38AC's, and SD38-2's.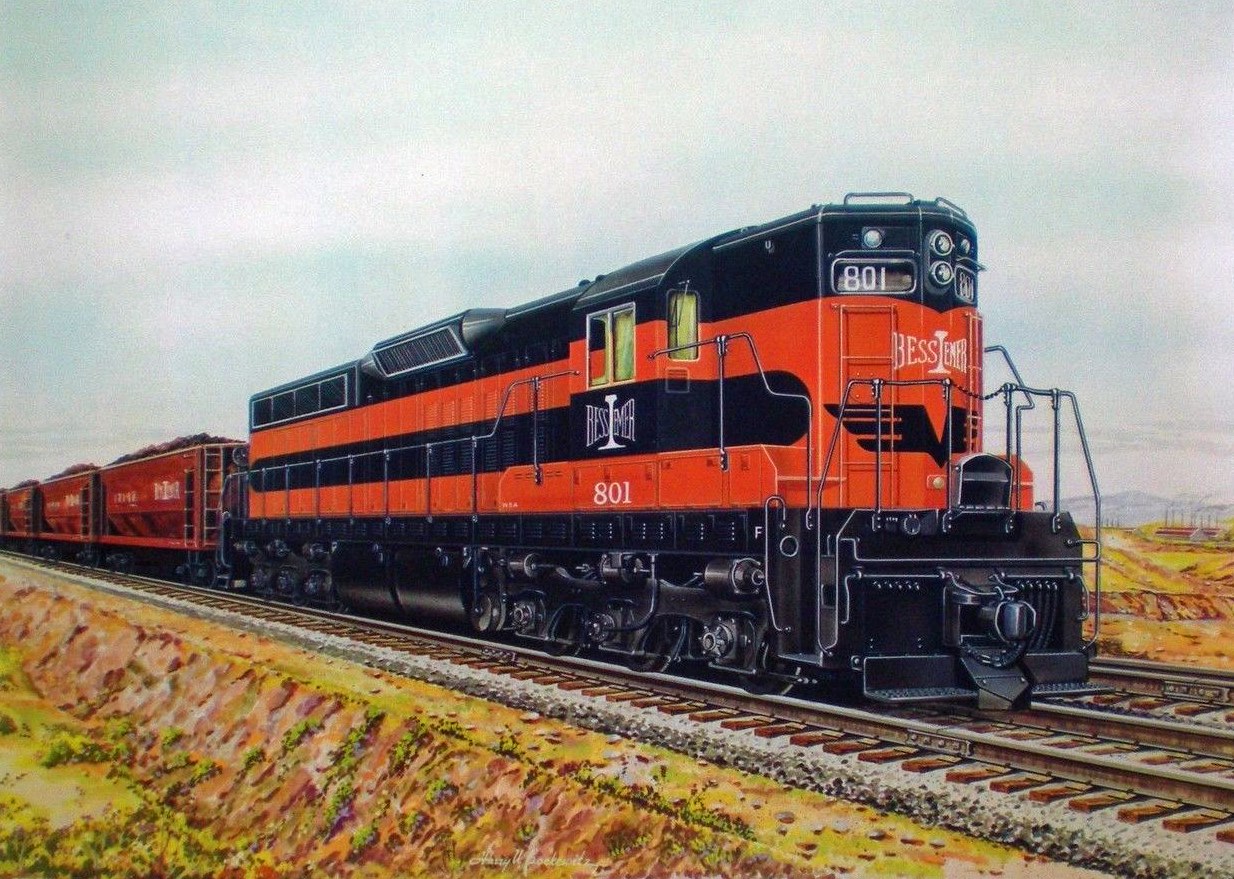 A General Motors/Electro-Motive publicity piece from 1952 featuring Bessemer & Lake Erie SD7 #801. Harry Bockewitz artwork.
In December of 1988 U.S. Steel (then known as USX Corporation) sold its railroad interests, including the Bessemer, to a new subsidiary known as Transtar, Inc.  
Another round of sales more than a decade later saw the B&LE permanently removed from the U.S. Steel empire when it, and several other U.S.S. short lines, were sold in 2001 to Great Lakes Transportation, LLC.  
By the 21st the Bessemer was one of only a small handful of classic lines still around. However, that all changed on May 10, 2004 when Canadian National purchased Great Lakes Transportation.
While the Bessemer and Lake Erie Railroad is now under CN control (known as its Bessemer Subdivision), it is still technically a corporate entity.
However, it is unclear how much longer CN will allow the locomotives to keep their classic orange and black livery.
That being said if you are interested in checking out this railroad before it disappears into the CN system I would certainly suggest getting out there to see it before its too late! 
Diesel Locomotive Roster
American Locomotive Company

| Model Type | Road Number | Date Built | Quantity |
| --- | --- | --- | --- |
| S4 | 291-292 | 1952 | 2 |
Baldwin Locomotive Works

| Model Type | Road Number | Date Built | Quantity |
| --- | --- | --- | --- |
| DS-4-4-1000 | 282 | 1949 | 1 |
| DRS-6-6-1500 | 401-407 | 1949-1950 | 7 |
| AS616 | 408-409 | 1952 | 2 |
Electro-Motive Corporation/Electro-Motive Division

| Model Type | Road Number | Date Built | Quantity |
| --- | --- | --- | --- |
| SD7 | 451-455, 801-803 | 1952-1953 | 8 |
| F7A | 701A-728A | 1950-1953 | 28 |
| F7B | 701B-726B | 1950-1953 | 26 |
| SD18 | 851-857 | 1962 | 7 |
| SD38 | 861-863 | 1967 | 3 |
| SD38AC | 864-869 | 1971 | 6 |
| SD38-2 | 870-879, 890-892 | 1973-1976 | 13 |
Steam Locomotive Roster
| Class | Type | Wheel Arrangement |
| --- | --- | --- |
| C | Consolidation | 2-8-0 |
| D | Santa Fe | 2-10-2 |
| E | American | 4-4-0 |
| H | Texas | 2-10-4 |
| M | Mogul | 2-6-0 |
| P | Pacific | 4-6-2 |
| S | Switcher | 0-6-0/0-8-0 |
---
---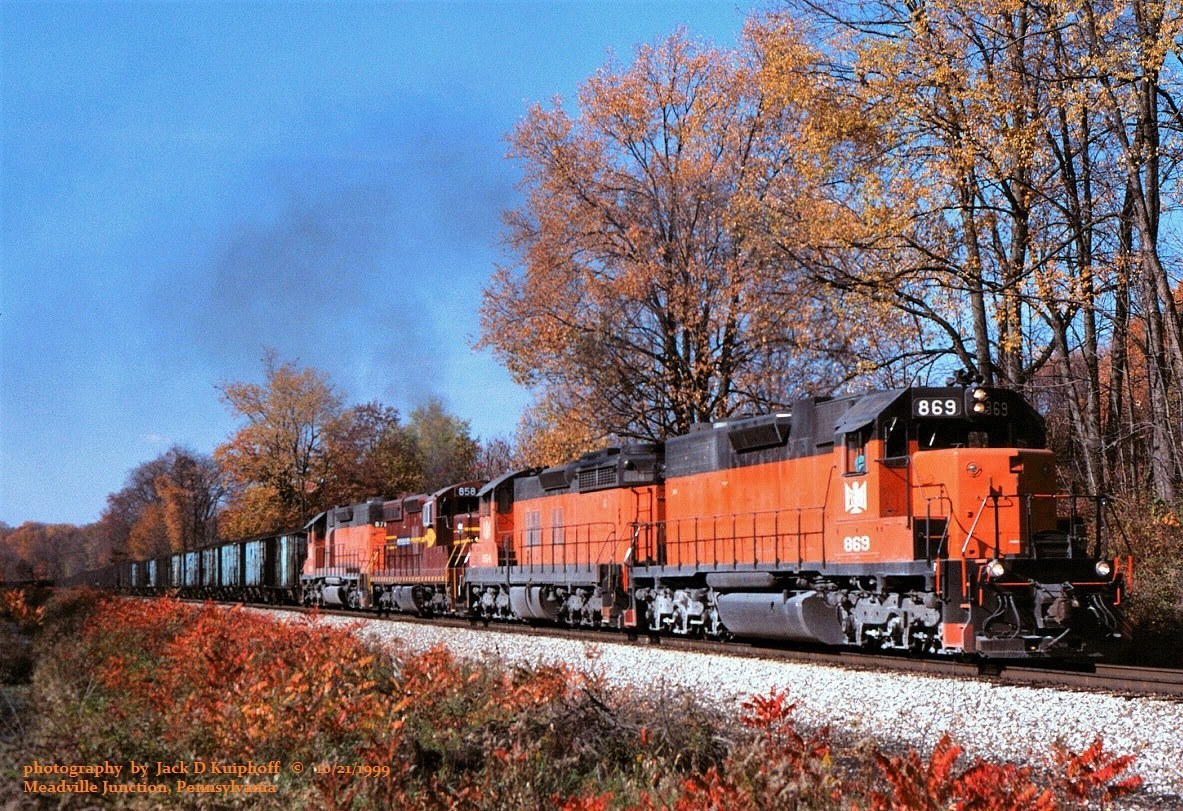 Bessemer & Lake Erie SD38AC #869, SD18 #854, SD-M #858, and SD38-2 #878 have a northbound loaded coal train at Meadville, Junction. Pennsylvania on October 21, 1999. Jack D. Kuiphoff photo.
The B&LE has had an interesting, if somewhat quiet corporate existence.  Its operation was strictly business-only and largely stayed out of the public eye handling freight related to the steel industry.  
The railroad's main line is still in regular use under CN today albeit is disconnected from the Class I's North American rail network.  
There is one notable B&LE steam locomotive preserved today, 2-10-4 #643 (H-1g) located at McKees Rocks, Pennsylvania.  
At one time plans were in place to restore this Texas back to operating condition although that prospect seems unlikely now.  
The locomotive was saved by the B&LE and displayed from time to time through the 1960s until being sold to the Steel City Railway Historical Society in 1983 and today is privately owned by Glenn Campbell (one other preserved B&LE steamer includes 2-8-0 #154 which has since been graciously preserved indoors at the Henry Ford Museum in Dearborn, Michigan).