Minneapolis, Northfield & Southern Railway: "The Dan Patch Line"


The Minneapolis, Northfield and Southern Railway was the brainchild of successful livestock feed and mail/order businessman, Colonel Marion Wills Savage.  He envisioned an electrified interurban connecting the Twin Cities and Dubuque, Iowa with through service into Chicago and other Midwestern points.  
Like so many traction schemes this one fell far short of its intended goal.  What was originally known as the Minneapolis, St. Paul, Rochester & Dubuque Electric Company only made it about 40 miles out of Minneapolis before funding ran out.  
Soon afterwards, Savage and his famous race horse, Dan Patch, passed away.  The property subsequently failed and was renamed the Minneapolis, Northfield & Southern. New ownership realized its only chance for success was by transitioning into a belt line.  
Throughout the 1920's freight continued to grow and was soon earning more than $1 million annually.  The MN&S went quietly about its business for the next six decades until the merger movement finally brought change.  
During the early 1980's it was acquired by the Soo Line as part of that road's attempt to expand across the Midwest.  After this endeavor fell through the former MN&S lines were sold to new short line startups.  
Today, most of its original network remains in operation under the Twin Cities & Western and Progressive Rail (this company continues sporting the MN&S's historic livery and logo).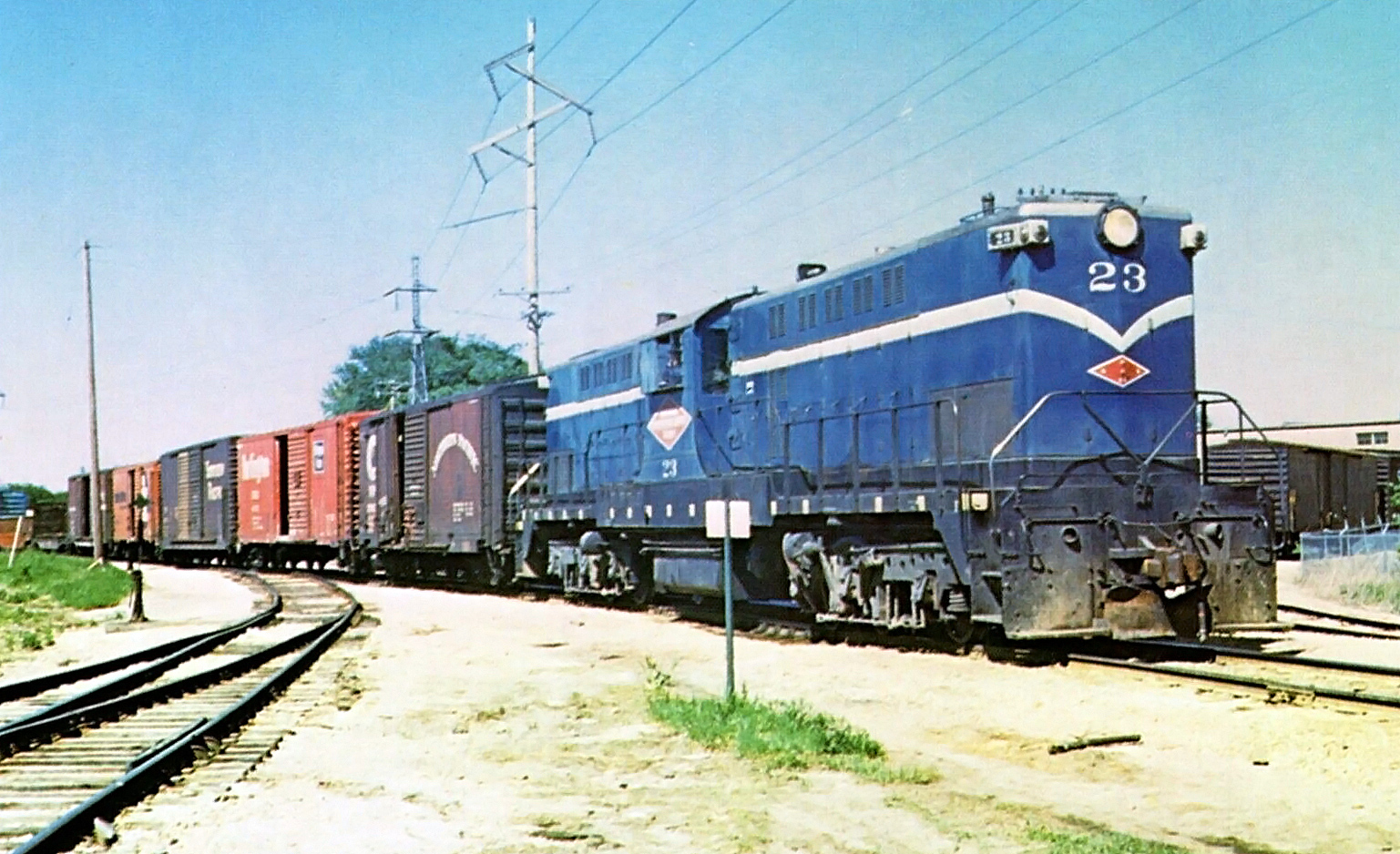 Minneapolis, Northfield & Southern DT-6-6-2000 #23 is seen here in service on May 20, 1971. Bob Johnson photo.
In their excellent book, "The Electric Interurban Railways In America," authors and historians Dr. George Hilton and John Due point out how there were three great eras of interurban growth in the United States.  It all began during the 1890's and reached a fever pitch between 1901 and 1904 when more than 5,000 miles were laid down.  
The Panic of 1903 briefly ended further expansion but construction reignited between 1905 and 1908 when another 4,000 miles were built.  It was during this latter period that Marion Savage dreamed of his own electrified railroad.  
In an era just before Henry Ford's revolutionary Model T, the interurban was viewed as the future in transportation with reliable, efficient, and high-speed service between cities of all sizes.  
The traction concept faced a daunting task even before the automobile as it tried to compete against the long-established steam railroads.  
For some strange reason, many further handicapped themselves by connecting tiny countryside hamlets like Middlebourne, West Virginia and Montrose, Pennsylvania where such little development offered only a marginal chance for success.
In addition, few bothered developing carload freight traffic.  As a result, many were abandoned during the 1920's.
Resources About The Minneapolis, Northfield & Southern
A History Of Minnesota's Railroads
An Overview Of Interurbans And Streetcars
More Classic American Railroads
The Dan Patch Line's origins begin just prior to Marion Savage's involvement when promoter W.P. Mason incorporated the Minnesota, Rochester & Dubuque Traction Company (MR&DT) on November 27, 1906.
His plan was to improve transportation within communities located south of the Twin Cities but here, again, no effort was made to garner any freight business.  
A route was laid out to the Mississippi River heading in a southeasterly direction while passing through a predominantly rural region.  It even missed Rochester, the largest city below Minneapolis/St. Paul, after the two parties failed to secure a franchise agreement through city streets.  
Like Savage, Mason had ambitions for electrification and a right-of-way built to the highest standards.  Unfortunately, he was unable to secure the needed financing.  That changed during mid-April of 1907 when Savage became involved and reincorporated the MR&DT as the Minneapolis, St. Paul, Rochester & Dubuque Electric Traction Company (MStPR&DECT).  
Never failing to advertise or market an opportunity, Savage immediately gave it the nickname "Dan Patch Air Line" (later shortened to "Dan Patch Line") after his celebrity racehorse which had never lost a race and carried multiple world racing records.
Savage's plans were similar to Mason's although the MStPR&DECT carried a slightly different route.  Despite the enthusiasm, the idea was facing strong competition from the region's major steam railroads.  
The Milwaukee Road, Chicago Great Western, and Chicago, Burlington & Quincy all served the same territory directly while the Rock Island was not far away.  In addition, Chicago & North Western and Soo Line held a presence.  Nevertheless, Marion pressed forward.  
With an advertising prowess like a slick car salesmen, he regularly exaggerated his interurban's exploits, often overselling its success, completion date, and projected route.  The first sign of trouble occurred with surveying as towns either squabbled over wanting service or refusing entry (Faribault).  
Grading finally began in 1908 and according to the book, "The Minneapolis, Northfield & Southern Railway" by authors John Luecke and Paul Spyhalski, the first 12.38 miles from 54th Street (Minneapolis) to the community of Savage (named after the owner it featured his 750-acre stock farm) opened for regular service on July 5, 1910.
Since the MStPR&DECT was designed or passenger service it needed a direct entry into downtown Minneapolis if it hoped to procure the expected business.  This was also a problem since its would-be connection, the Twin Cities Rapid Transit Company (TCRT), had no desire to work with the interurban.
To make matters worse, Minneapolis initially refused a franchise (later remedied).  In the meantime, the Dan Patch Line continued southward and commenced regular service to Northfield (37 miles) on December 13, 1910.  
Another issue was the matter of electrification; Savage had continually promised the road would be energized, even perusing potential sites for a small power plant.  Ultimately, the idea was abandoned and the company settled on gas-electric rail cars manufactured by General Electric.  While the MStPR&DECT encountered numerous early setbacks, operations did eventually improve.  
An agreement was reached with the TCRT and, following construction of a small depot at 54th Street, through service was inaugurated to that point on March 1, 1911.  A year later the Dan Patch discontinued its southern construction efforts entirely when work ceased on an extension to Faribault.  
Instead, the road leased Chicago Great Western's Mankato Branch.  This line was never particularly profitable but the CGW connection it offered at Northfield/Randolph proved very important as the carload freight business grew.

In an effort to increase ticket sales the Dan Patch followed in the footsteps of many other interurbans by building amusement parks and resorts.  The most popular was Antlers Park situated along Lake Marion, not far from Savage.  
It featured a beach, club house, dancing pavilion, aerial swing, and even a miniature railway all of which drew huge summer crowds. The road's first involvement with freight occurred on August 25, 1911 when it shipped 400 gallons of milk from the Crescent Creamery located in Northfield to Minneapolis.  
This was followed a few years later by the purchase of a freight locomotive, delivered in July of 1913.  It was the first gas-electric design ever built, a product of General Electric that featured a boxcab carbody with a massive center headlight.  
The machine was about 40 feet in length utilizing a pair of engines producing (combined) 640 horsepower with a top-speed of 38 mph (reports state it was operated as high as 51 mph).  
As historian Bill Middleton notes in his article, "The Strange, Successful Story Of The Railroad That Was Once Named For A Race Horse" from the June, 1959 issue of Trains Magazine, the employment of this new locomotive gave the Dan Patch Line claim as the very first railroad or interurban to operate exclusively with internal combustion power.  
As the freight business took off, Savage further sought a downtown Minneapolis connection for improved interchange with the major Class I's. 
He was finally able to achieve this in 1914 when the Dan Patch Line opened a new terminal at 7th Street North, operated in junction with the 3-mile Electric Short Line Terminal Company (ESL for short, this system was formally merged into the Minneapolis, Northfield & Southern in 1956.).
It was all made possible by a connector built from Auto Club Junction (near Savage) to ESL's Luce Line Junction.  In addition, a freight terminal was situated nearby (When the MStPR&DECT entered receivership it stopped using this facility, as well as the Chicago Great Western's Mankato Branch for a few years.  After the M&NS's startup, service resumed to each.).  
Unfortunately, the lack of a strong freight base, coupled with the expensive infrastructure projects, led the MStPR&DECT into receivership on July 20, 1916.  This occurred just two weeks after a strange series of events resulted in the passing of both Marion Savage and his fabled race horse, Dan Patch, which died unexpectedly on July 11th.  
After hearing the news, his owner passed just a day later.  What followed was a brief but dramatic reorganization period when parties, particularly creditors, wanted the railroad liquidated to reclaim monetary losses.  This effort was thwarted, in the end, which led to the property's reorganization as the Minneapolis, Northfield & Southern Railway in June of 1918.

Recognizing the only chance for long-term profitably lay in freight, new ownership wasted no time developing this business.  In 1919 such carloads earned $79,000 while just a year later had jumped to $116,000.  These numbers continued to climb while at the same time passenger service was cutback.  
It gained true belt line status when a 6-mile extension opened in 1927 from Soonor, on the western outskirts of Minneapolis, to a connection with the Soo Line at Crystal.  This included an additional 7 miles of Soo Line trackage rights to reach Shoreham Yard and an interchange with Northern Pacific's Northtown Yard.  
With this half-million dollar project completed the MN&S now had seven interchanges opened with the primary carriers serving the Twin Cities region (Chicago & North Western, Rock Island, Chicago Great Western, Milwaukee Road, and Great Northern along with those previously-mentioned).  
There was also an interchange with the Minnesota Western Railway, a small road with its own.  It began as the Electric Short Line Railroad (ESLR) incorporated in August of 1908.  
By 1927 it had opened just over 115 miles from Minneapolis to rural Gluek, Minnesota with intentions of pushing as far west as Brookings or Watertown, South Dakota (never completed). The lightly patronized ESLR was managed by the MN&S until its 1956 when it was sold to the Minneapolis & St. Louis and later abandoned.
In 1929 the Minneapolis, Northfield & Southern grossed over $1 million in revenue for the first time in its history and continued acquiring new locomotives (including steam) to meet growing demand.  The onset of the Great Depression did witness traffic declines although the company withstood this period relatively well.  
Some retrenchment took place as the depression settled in, notably dropping its lease of CGW's Mankato Branch on January 18, 1931.  
This trackage had originally been built under the Rock Island (as the Wisconsin, Minnesota & Pacific) to extend its reach across the Upper Midwest, and perhaps even reach the Pacific coast, although that idea eventually fizzled.  
For awhile it was leased by the Minneapolis & St. Louis as its "Cannon Valley Division" before finally behind sold to the CGW in 1899.  The stub-end branch never saw much business and was later abandoned.  The MN&S continued to thrive during, and after, World War II reaching a net operating revenue of $4.77 million by 1957.  
During the diesel era it maintained an interesting fleet, owning a few Fairbanks-Morse models and even Baldwin's odd DT-6-6-2000 center-cab transfer switcher. 
---
Minneapolis, St. Paul, Rochester & Dubuque Electric Traction Car Roster
Numbers

1 (Ogerita)

2 (Irene)

3 (Rosamond)

4-7

8-10

11-12

13-14

Builder

Strang/Brill

Strang/Brill

Strang/Brill

GE

GE

GE

GE

Date Built/Notes

1906

1908 (Strang Demonstrator)

1908 (Ex-Missouri & Kansas Interurban, Acquired 1911)

5/1911 - 7/1911

3/1912 - 5/1912

8/1913

7/1915 - 8/1915
Minneapolis, St. Paul, Rochester & Dubuque Electric Traction Steam Locomotive Roster
Numbers

200-202

Wheel Arrangement

2-6-0

Builder

H.K. Porter

Date Built/Notes

1915 (New)
Minneapolis, St. Paul, Rochester & Dubuque Electric Traction Gas-Electric Locomotive Roster
Numbers

100

101-103

Builder

GE

GE

Horsepower/Arrangement

350 HP/B-B

350 HP/B-B

Date Built

1913

1915
Minneapolis, Northfield & Southern Steam Locomotive Roster
Numbers

1

100-101

143, 146

300-302

400-405

500-506

506 (2nd)

507

Wheel Arrangement

2-6-0

2-6-0

2-6-0

2-6-2

2-8-0

2-10-0

2-10-0

2-10-0

Builder

Baldwin

H.K. Porter

Alco

Alco

Alco/Pittsburgh

Alco/Brooks

Baldwin

Alco/Brooks

Date Built/Notes

1889 (Acquired 1918)

1920 (New)

1907 (Ex-Soo, Acquired 1927)

1906 (Ex-NP, Acquired 1925)

1905-1907 (Ex-DM&N, Acquired 1927)

1917 (Ex-DT&I, Acquired 1932-1935)

1944

1918 (Ex-Erie, Acquired 1945)
Minneapolis, Northfield & Southern Car Roster
Numbers

12

13

14

15

55

59

A-1 (Railbus)

Builder

GE

GE

GE

Strang/Brill

Wason

Wason

MStPR&DECT


Date Built/Notes

1/1916 (Ex-FEC #200, Acquired 1921)

7/1915 (Ex-MStPR&DECT)

8/1915 (Ex-MStPR&DECT)

1908 (Ex-MStPR&DECT Irene)

6/1912 (Ex-MStPR&DECT)

4/1913 (Ex-MStPR&DECT)

1918 (Built At Company Shops)
Minneapolis, Northfield & Southern Diesel Locomotive Roster
| Road Number | Manufacturer | Model Type | Date Built | Other Notes |
| --- | --- | --- | --- | --- |
| 10 | FM | H12-44 | 1/51 | Preserved as C&NW #10. |
| 11 | FM | H10-44 | 9/46 | Scrapped. |
| 12 | BLW | VO-1000 | 9/44 | Scrapped. |
| 15 | BLH | DRS6-6-1500 | 3/50 | Scrapped. |
| 20-24 | BLH | DT6-6-2000 | 12/48-1/49 | All scrapped except #21, donated to IRM. |
| 25 | BLH | RT-624 | 7/53 | Scrapped. |
| 30-35 | EMD | SW1200 | 9/62-5/65 | All in use. |
| 36-37 | EMD | SW1500 | 1/66 | Both in use. |
| 40-41 | EMD | SD39 | 10/68 | Both in use. |
| 60-61 | BLW | VO660 | 6/40-9/42 | Scrapped. |
---
---
The Midwestern merger movement began with C&NW's acquisition of Minneapolis & St. Louis in 1960, followed by the Chicago Great Western in 1968.  As the number of railroads shrank the MN&S realized its future was in doubt since over 70% of its 82,000 carloads in 1957, for instance, came via overhead/through business (interchange).  
It did well until the CGW merged caused its car-loadings with that carrier to drop by half.  As marriages (and bankruptcies) continued through the 1980's, Soo Line saw the MN&S as an important Twin Cities gateway to coincide with its larger plan of purchasing the former Rock Island's "Spine Line" between St. Paul and Kansas City. The Soo formally took control on June 2, 1982.  
The company and its employees had always taken a great deal of pride in the property with spotless locomotives, well maintained rights-of-way, and very well-kept shops at Glenwood Junction.  The Soo quickly razed this facility and removed the connecting yard.  
Ironically, the MN&S ultimately became a useless appendage when the "Spine Line" sale fell through after rival C&NW was awarded the corridor in 1985.  
No longer of any use the property was sold; in April of 1996 Twin Cities & Western took over the northern section above Savage while Progressive Rail purchased the segment south of Lakeville (the Savage - Lakeville section remains owned by Soo parent Canadian Pacific). 
There is also talk of turning the route into a commuter rail line given the population growth of towns and suburbs within the  greater Twin Cities region.  How interesting to think that the entire corridor could come full circle and again carry passengers/commuters just as it did a century ago.