Duluth, Winnipeg & Pacific Railway: "Delivered With Pride
"
Last revised: June 10, 2023
By: Adam Burns

The Duluth, Winnipeg and Pacific Railway (DW&P) began as a remote logging operation based near Virginia, Minnesota, located some 70 miles northwest of Duluth.  

What was known as the Duluth, Virginia & Rainy Lake Railway (DV&RL) was privately-funded by two businessmen and had barely gotten underway before it was purchased by the Canadian Northern Railway, a future component of the Canadian National.  
The new owners eyed the DV&RL for several reasons but was largely interested in utilizing it as a stepping stone to reach Duluth.  
Beyond this port city lay a coveted through connection to Chicago, the railroad capital of America.  The DW&P, or simply the "Peg," earned respectable profits until the Great Depression when times were tough.  
However, after World War II it blossomed into a true money-maker as a bridge route for the parent Canadian National between Fort Frances, Ontario and points throughout the Upper Midwest.  
While the Peg disappeared in 1991 following a corporate shakeup in CN's American holdings its corridor remains a vital segment of the Class I's transcontinental network today, now comprising the western segment of its main line into Chicago.

Photos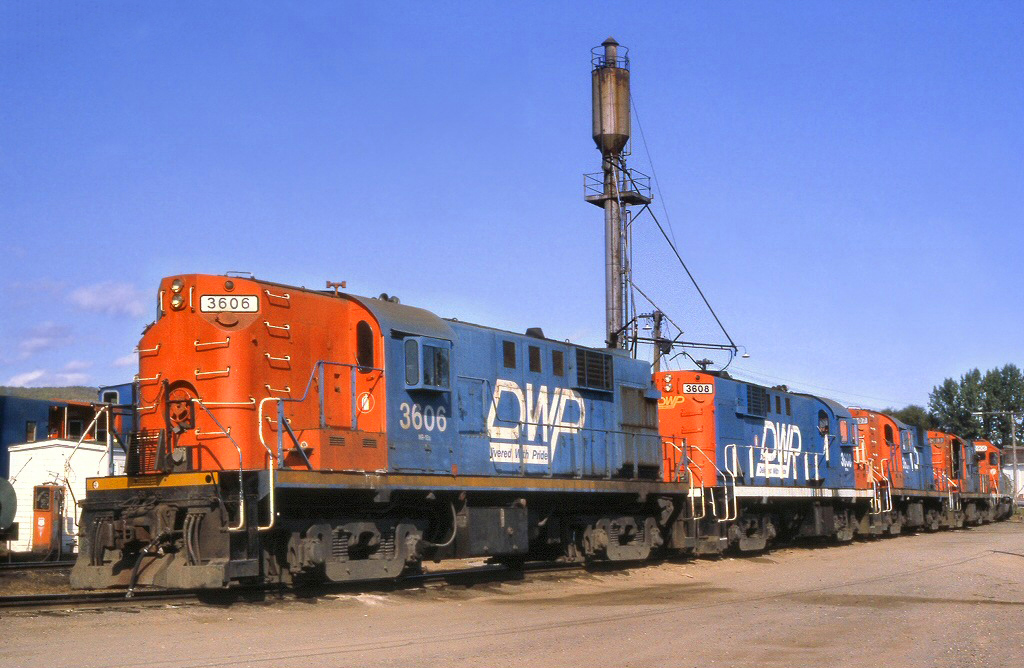 Into the 1980s the Duluth, Winnipeg & Pacific was still using Alco's in main line freight service. Seen here are several RS11's at the engine terminal in Duluth, Minnesota during September of 1981. Rob Kitchen photo.
History
The Duluth, Winnipeg & Pacific Railway's history is tied to three primary events; the discovery of vast natural iron ore deposits in the Vermilion and Mesabi Range, tapping Minnesota's northern timber tracts, and the Canadian Northern's interest in reaching the United States' Midwestern territory.  
But first, Minnesota's northeastern region needed improved transportation.  That finally came with the Lake Superior & Mississippi Railroad's (LS&M) completion, a system originally created after the Nebraska & Lake Superior Railroad was renamed on March 8, 1861.  
Overview
| | |
| --- | --- |
| Headquarters | Virginia, Minnesota |
| States Served | Minnesota |
| Dates Of Operation | 1902 - December, 1991 |
| Genesis | Duluth, Virginia & Rainy Lake Railway (July 30, 1901) |
| Formation | March 18, 1909 |
| Track Gauge | 4 Feet, 8 ½ Inches |
| Principal Lines | Fort Frances, Ontario/International Falls, Minnesota - Duluth/Superior, Minnesota |
| Slogan | Delivered With Pride |
| Reporting Mark | DWP |
| Successors | Canadian National |
According to Lester Burrell Shippee's article, "The First Railroad Between The Mississippi And Lake Superior" from the September, 1918 issue of "The Mississippi Valley Historical Review" (Volume 5, Number 2), the LS&M opened in 1871 between Duluth and St. Paul (155 miles), envisioned to handle agriculture and grain traffic.
It was followed by the Duluth & Iron Range on July 31, 1884, linking Agate Bay (Two Harbors) and a location known as Tower (68 miles) to serve the natural iron ore deposits of the Vermilion Range.
Heritage Of "The Peg"
The D&IR's completion was followed by its future partner, the Duluth, Missabe & Northern Railroad in October of 1892 when it launched service within the nearby Mesabi Range between Stoney Brook Junction (near Duluth) and Mountain Iron.  
All of these new railroads allowed loggers to begin constructing their own railroads in tapping northern Minnesota's vast white pine tracts and economically ship the finished lumber to market.  
According to Jon Severson's book, "Delivered With Pride:  A Pictorial History Of The Duluth, Winnipeg & Pacific Railroad," loggers Wirt Cook and William O'Brien, formed the Duluth, Virginia & Rainy Lake Railway on July 30, 1901 to serve their new sawmill at Silver Lake, near the small hamlet of Virginia. 
This mill was part of another establishment they owned, the Minnesota Log & Timber Company, which would carry out actual logging operations.  
With capital available and the topography relatively flat (aside from boggy wetlands) building the railroad was soon under way.  Work began in September of that year and by early 1902 opened as far as Lake Junction (Britt), 10 miles to the north.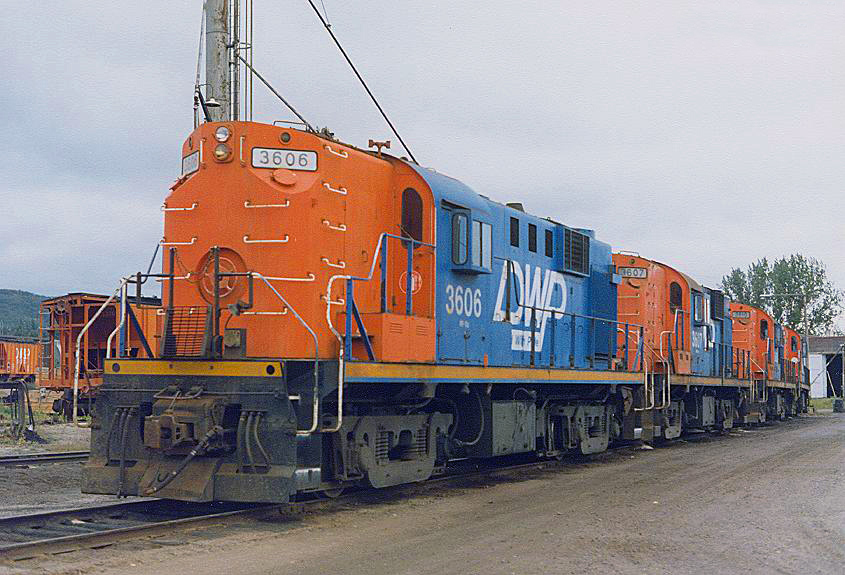 Duluth, Winnipeg & Pacific RS11's #3606, #3607, #3610 and #3613 are lined up outside the shops at West Duluth on September 14, 1982. Doug Kroll photo.
Expansion
Cook and O'Brien had hopes of pushing steel rails far to the northwest, reaching Koochiching (later renamed International Falls).  The railroad would, interestingly, reach this point albeit via new ownership.  
The DV&RL was completed to Ashawa (later renamed Cooke), a distance of 28 miles, in 1903 before Canadian interests eyed their little operation as part of a much larger corridor extending southeastward from Ontario.  
William Mackenzie and Donald Mann along with their company by the same name (Mackenzie & Mann, Ltd.), were the driving force behind Canada's second transcontinental, the Canadian Northern Railway.  Under their guidance the CN stretched from Quebec City, Quebec to Vancouver, British Columbia via Ottawa, Winnipeg, and Edmonton.  
While extending westward they acquired the Minnesota & Manitoba Railway on December 31, 1901.  This small system ran right along the Canadian/U.S. border between Warroad, Minnesota and Fort Frances, Ontario, directly across the Rainy River from Koochiching.
Logo
In their desire to reach the Upper Midwest, specifically the growing lake ports of Duluth, Minnesota/Superior, Wisconsin, Mann and Mackenzie approached Cook and O'Brien about buying out their interest in the DV&RL.  
The two agreed and the parties finalized the sale in 1905.  The DV&RL was subsequently renamed as the Duluth, Rainy Lake & Winnipeg (DRL&W) that December.  The next immediate issue was connecting the small road with the rest of the CN network.  
According to Stanley Mailer's article, "In Minnesota CN Is Spelled DW&P" from the March, 1974 issue of Trains Magazine, to do this a 66-mile gap needed to be closed between Cook and Fort Frances.  
Despite yet more wet, marshland to deal with strong financial backing saw the project finished quickly and trains were rolling by April of 1908.  
For through connections into Duluth the DRL&W established an interchange with the Duluth, Missabe & Northern at Rainy Junction (just south of Virginia).  
During these early days timber products derived a great deal of the road's traffic base although it also handled some agriculture (grain out of Canada's western provinces) and established passenger service in conjunction with the DM&N.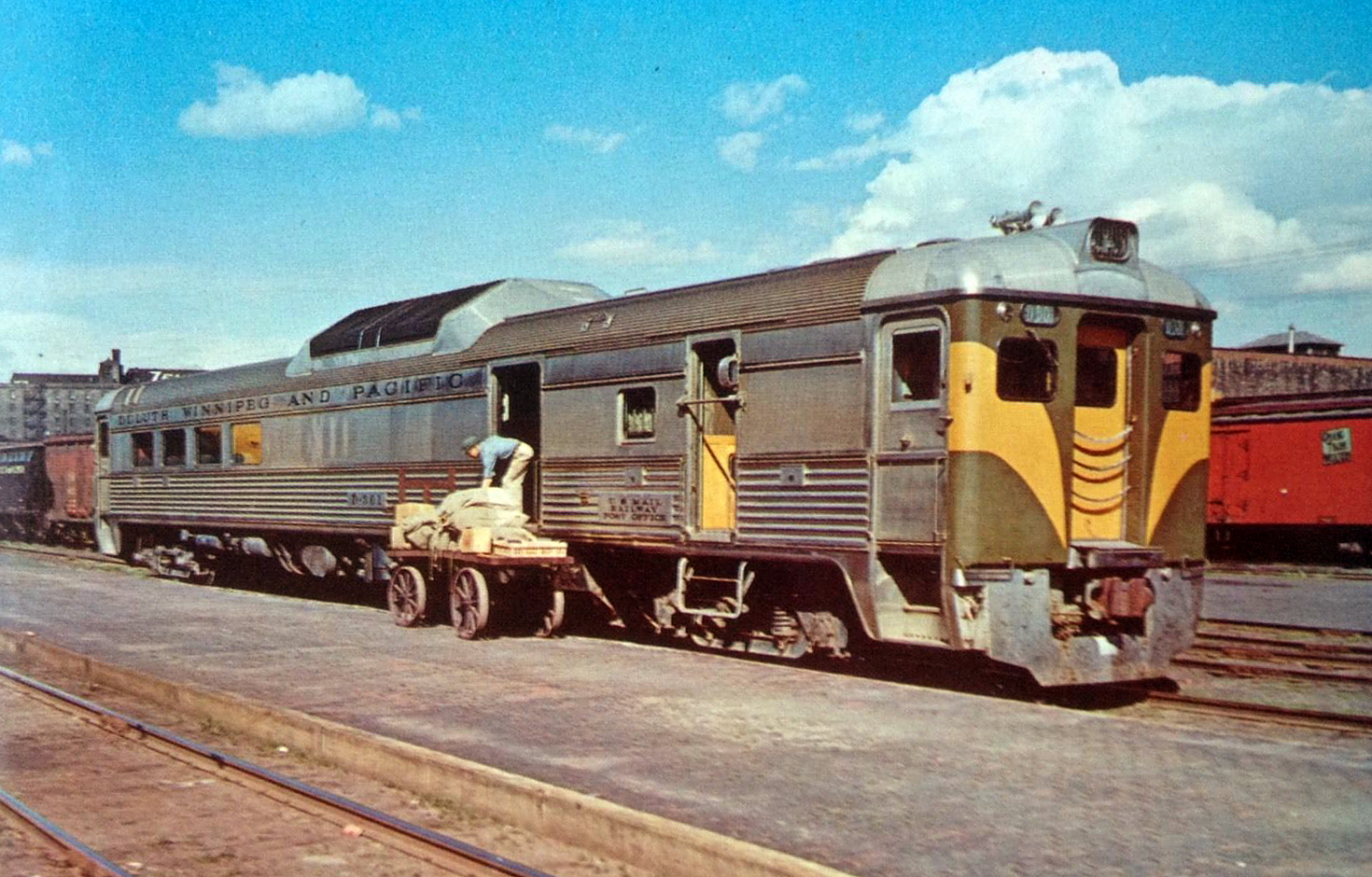 The "Peg's" sole RDC-3, #D-301, loads mail and express at Duluth, Minnesota for the 173-mile run to Fort Frances, Ontario during July of 1957. Donald Smith photo.
Its timber business exploded at this time when the massive Virginia & Rainy Lake Company began operations.  It was a joint venture between Weyerhaeuser, Edward Hines, and the very same Wirt Cook and William O'Brien who had launched the DV&RL.  
The V&RL's sawmill remained at Silver Lake while its private rail networks followed the timber for some 150 miles throughout the surrounding region.  The mill could handle a staggering 200 million logs annually and, of course, provided the DRL&W with substantial traffic.  
Unfortunately, the business lasted barely 20 years before all stands had been exhausted; operations were officially suspended after October 8, 1929.  The DRL&W's signature goal remained a direct route into Duluth.  
To finally reach this much coveted location the Canadian Northern formed the Duluth, Winnipeg & Pacific Railroad on March 18, 1909 to build 81.2 miles southward from, "a point 4 miles north of Virginia."  
In an interesting corporate maneuver the group also established the Duluth, Winnipeg & Pacific Railway the same day, presumably as a holding company which subsequently leased the DW&P Railroad and DRL&W.
System Map (1939)
The line's construction was carried out over a two-year period as it wound its way southward.  The only railroad encountered during the work was the DM&N near Munger where an overpass had to be built.  
As it neared Duluth the railroad also had to find a suitable alignment, as well as property for yards and maintenance facilities, since all others had been taken.  
It was decided the latter would be situated in West Duluth (at 64th and 73rd Avenues West, the Peg established here a ten-stall brick roundhouse with 75-foot turntable, general offices, machine shop, coaling tower, water tank, and storehouse) while the right-of-way was kept to the north bank of the St. Louis River.  
The topography drops sharply by more than 800 feet just to the west of Duluth along the lakeshore escarpment, making it difficult for any engineer attempting to survey a suitable railroad while maintaining relatively manageable grades.  
The nearby DM&N and D&IR dealt with the very same issues when building their respective lines westward out of Duluth and Two Harbors.  Despite the difficulty, which included a tunnel near Milepost 8 and up to four miles of blasting through solid granite, the Duluth extension was opened for service on December 9, 1912.
---
Passenger Service
Passenger operations never accounted for considerable business on the Duluth, Winnipeg & Pacific.  There were two trains running the line, #20 (southbound/eastbound) and #19 (northbound/westbound), powered by Canadian National 4-6-2's (Class J-4).  
As Mr. Mailer's article points out CN locomotives could not remain on U.S. soil for more than 24 hours so they had to swiftly make the run from Fort Frances to Duluth, be quickly serviced, and return to the border.  
Interestingly, the DW&P did not have any locomotives specifically assigned to passenger service and none were even maintained in Duluth in the event of an emergency.  That changed, however, in 1956 when the DW&P acquired a new RDC-3 of its own from the Budd Company.  It was given number D-301 and would provide remaining services until all were abolished in 1961.
---
Interestingly, the DW&P's primary passenger terminal in Duluth was via the Chicago, St. Paul, Minneapolis & Omaha's (Chicago & North Western) brick/stone structure at 5th Avenue West in the city's downtown area, not far from Duluth Union Depot (served by St. Paul & Duluth [Northern Pacific], Duluth & Iron Range, and Duluth, Missabe & Northern).  
The company would eventually open its own three-story facility in West Duluth during the spring of 1913 although it was only used as a secondary terminal, primarily housing offices while also maintaining mail/express business.  
Finally, trackage rights were secured over Northern Pacific for 2.6 miles to Rices Point Yard where it gained direct freight interchange points with NP and Milwaukee Road.   Within just a few years of the Peg's opening, parent Canadian Northern found itself in dire financial straits.  
It was turned over to the government on September 6, 1918 and later nationalized as part of the Canadian National Railways, incorporated on June 6, 1919.  The Duluth, Winnipeg & Pacific would maintain a separate identity during this corporate reshuffling and later became part of CN's Grand Trunk Corporation formed on July 31, 1971, which maintained its American holdings.  
Diesel Roster
| Builder | Model Type | Road Number | Date Built/Notes | Quantity |
| --- | --- | --- | --- | --- |
| Alco | RS11 | 3600-3614 | 1956 | 15 |
| EMD | GP9 | 4429 | 1954, Ex-GTW #4429 | 1 |
| EMD | GP38-2 | 5726-5727, 5850-5853 | 1973-1978* | 6 |
| EMD | SD40 | 5902-5911 | 1969, Ex-GTW #5902-5911 | 10 |
| EMD | NW2 | 7902 | 1941, Ex-GTW #7902 | 1 |
*  All units acquired from Grand Trunk Western: #5726 built as MP #865 in 1972, became Grand Trunk Western #5726; #5727 built as MP #901 in 1972, became GTW #5727; #5850-5853 built as Rock Island #4368-4370 in 1978.
Rail Diesel Car Roster
| Road Number(s) | Model | Builder | Date Built |
| --- | --- | --- | --- |
| D-301 | RDC-3 (Rail Diesel Car) | Budd Company | 1956, To CN As #6355 in 1969 |
Steam Roster
The steam locomotive reigned on the Peg until the 1950's, operating arrangements no larger than 2-8-2's.  In 1956 it picked up its first diesels via American Locomotive's RS-11 road-switcher.  This allowed for remaining iron horses to be retired and were off the roster by 1960.
Duluth, Virginia & Rainy Lake Railway
| Road Number(s) | Wheel Arrangement | Builder | Date Built |
| --- | --- | --- | --- |
| 10-15 | 2-6-0 | Dickson Manufacturing | 1902 |
| 100-101 | 4-6-0 | Rogers | 1906 |
| 200-202 | 2-8-0 | Rhode Island | 1906 |
Duluth, Rainy Lake & Winnipeg Railway
| Road Number(s) | Wheel Arrangement | Builder | Date Built |
| --- | --- | --- | --- |
| 905 | 0-6-0 | Alco/Schenectady | 1910 |
| 924-925 | 2-8-0 | Alco/Schenectady | 1910 |
Duluth, Winnipeg & Pacific Railway
| Road Number(s) | Wheel Arrangement | Builder | Date Built/Notes |
| --- | --- | --- | --- |
| 950-954 | 2-8-0 | Alco/Brooks | 1911 |
| 975-979 | 4-6-0 | Baldwin | 1911 |
| 1981-1984 | 2-8-0 | Alco/Schenectady | 1905, Ex-Central Vermont* |
| 2399 | 2-8-2 | Alco/Cooke | 1914 |
| 2900-2909 | 2-8-0 | Alco/Brooks | 1916-1917 |
* Built for the Central Vermont Railway and acquired by the DW&P in 1928.  These ex-CV units included #405-408 (Class M-2-a).
---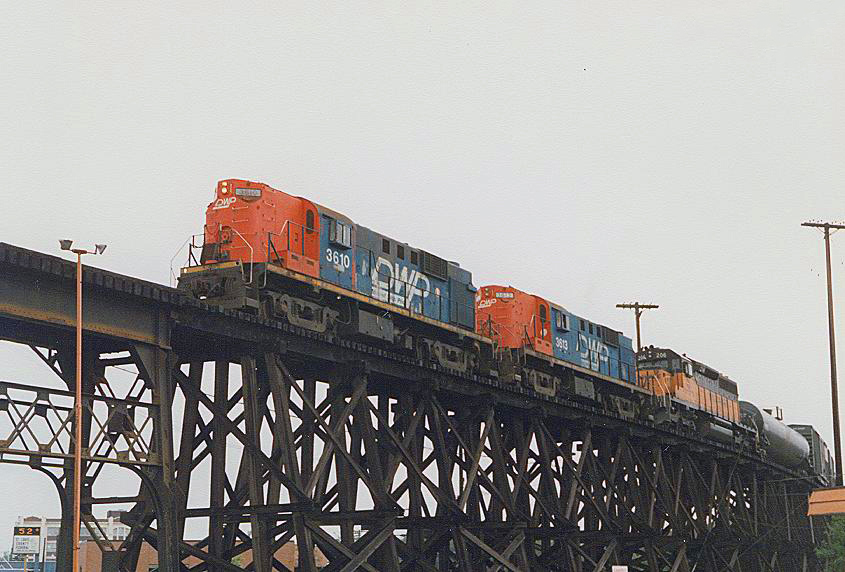 Two DW&P RS11s and a Milwaukee Road SD40-2 head back towards West Duluth during a transfer run from Burlington Northern's Rice's Point Yard on September 15, 1982. Doug Kroll photo.
Final Years
Throughout the Peg's history it has nearly always been a profitable system.  Its only rocky period occurred directly after the V&RL's shutdown, subsequently followed by the Great Depression and difficult economic times during the 1930's.  
However, the railroad quickly bounced back during the traffic surge brought about through World War II and increasingly grew in importance as part of the CN network.  
After the war, DW&P became a strategic bridge route moving such freight as potash, general agriculture, sulfur, butane, propane, lumber, and other traffic.  
As business grew the railroad's trackage needed overhauled, the original 80-pound rail could simply no longer handle demand.  At first, 100-pound stick-rail was introduced during the 1960's but even this proved inadequate.
So, more improvements took place beginning in the 1970's. Following more than a decade of work the railroad officially completed the project on August 15, 1991 whereby it boasted a main line equipped with 115-pound welded rail capable of speeds reaching 45 mph (up from just 25 mph).  
That same year in December also signaled the end of the D&WP as a separate corporate entity when it was merged with the Central Vermont and Grand Trunk Western.  Today, the former Peg remains integral part of the CN system as part of its Winnipeg-Chicago main line.