Chicago & Illinois Midland Railroad

Last revised: June 7, 2022
By: Adam Burns
The Chicago and Illinois Midland was, and remains, not particularly well-known as it operated a network of barely 100 miles.  
Its primary function was to provide transportation services for owner Commonwealth Edison, moving coal from the southern Illinois coal fields to power plants in Chicago.  
Overview
It all began as a very small operation established by local interests south of Springfield in moving agricultural goods to market.  
After coal became the primary focus the C&IM's purpose remained relatively unchanged for more than 80 years.  Its passenger business was, as one might imagine, relatively insignificant and these trains were abolished after World War II.  
Interestingly, the C&IM did not gain its name from the territory it served but rather the companies which owned it. Its patchwork network ran no further north than Peoria and no further south than Taylorville.  
In 1996 it became part of the Genesee & Wyoming family of short lines and its corporate name was changed as the Illinois & Midland Railroad. 

A pair of Chicago & Illinois Midland SD9's, led by #51, and another unit lead a northbound freight just outside of Petersburg, Illinois along Highway 97, circa 1956. American-Rails.com collection.
History
Because of its size there has not been many publications highlighting the corporate history of the Chicago and Illinois Midland.  In the mid-1950s the company released a short booklet on this subject entitled, "Chicago & Illinois Midland Railway Company: The Midland Story," that helps explain its heritage.  
The earliest component was the Pawnee Railroad, chartered in 1890 by local farmers in the rural community of Pawnee to ship their agricultural products to market much more efficiently than the traditional methods of wagons and horses.  
That same year the small pike opened a 4 mile system from the town to a connection with the Illinois Central at nearby Pawnee Junction, later renamed Cimic.  
In 1905 the Chicago Edison Company, which became Commonwealth Edison in 1907 (via merger with Commonwealth Electric) and headed by noted industrialist Samuel Insull, acquired the Pawnee Railroad in conjunction with Francis Peabody's Illinois Midland Coal Company.  
Their efforts were part of a larger plan to handle coal from seams situated in Sangamon and Christian Counties to power plants in Chicago.  
On January 25, 1906 the system was reorganized as the Chicago & Illinois Midland Railway (Interestingly, its name did not derive from the city or region it intended to serve.  Instead, it was a combination of owners, Chicago Edison and Illinois Midland Coal.) then proceeded to expand both eastward and westward reaching Taylorville and Auburn.  
The former offered interchanges with the Wabash and Baltimore & Ohio while the latter provided connections with the Chicago & Alton (later Gulf, Mobile & Ohio), Illinois Traction (the future Illinois Terminal), and the Chicago & North Western at a location known as Compro (just west of Auburn).
Logo
The system remained regional in nature at less than 30 miles until March 17, 1926 when a segment of the moribund Chicago, Peoria & St. Louis Railroad was taken over.  

This system had struggled for years with a heritage tracing back to the early 1850's.  It had attempted to open a through route from Chicago to St. Louis and other points across the Midwest but constant financial problems derailed these hopes.  
System Map (1930)
It was reorganized for a final time in early 1913 as the CP&StL and at that time maintained a 200 mile route from St. Louis to Peoria with short extensions to Jacksonville (via Havana) and Grafton (located north of St. Louis along the Mississippi River).  

Timetable (1969)
In 1924 the road was shut down and its assets liquidated.  The 84-mile section from Springfield to Pekin, then known as the Springfield, Havana & Peoria Railroad, was subsequently leased by the C&IM while the Illinois Terminal picked up the southern segment serving St. Louis, east of the Mississippi River (this included the trackage between Granite City and Grafton, Illinois).  
The two other segments, including Lockhaven-Springfield and Jacksonville-Havana became spinoff short lines known as the Chicago, Springfield & St. Louis Railway and Jacksonville & Havana Railroad.  This trackage was later abandoned.
By acquiring its part of the old CP&StL the C&IM also gained a one-quarter ownership in the Peoria & Pekin Union Railway. This successful little terminal/switching carrier not only served numerous customers but also maintained a multitude of interchanges with major railroads including:
Chicago & North Western


Gulf, Mobile & Ohio


Illinois Central


New York Central


New York, Chicago & St. Louis (Nickel Plate Road)


Pennsylvania


Santa Fe


Burlington


Rock Island


Illinois Terminal


Minneapolis & St. Louis 


Toledo, Peoria & Western. 
The C&IM also worked out an agreement with Illinois Central to utilize trackage rights between Cimic and Springfield (16 miles) which allowed it to operate both of its segments as a unified network.  The entire main line from Pekin to Taylorsville, via Cimic and Springfield, totaled 121 miles.  

Modern Network
Coal, which comprised about 90% of the Chicago & Illinois Midland's annual tonnage, normally did move by rail all of the way into Chicago.  To reduce shipping costs a substantial rail-river coal transfer terminal was built in Havana along the Illinois River.  
From there the black diamonds were shipped north via barge.  According to J.P. Lamb, Jr.'s article, "C&IM Revisted" from the March, 1960 issue of Trains Magazine, most of the coal sent here derived from the Peabody Coal Company's Mine #10 near Ellis, Illinois while 60 to 80 daily loads interchanged from the Illinois Central and Gulf, Mobile & Ohio.
All of this went to either Chicago, home to eleven plants, or one generating station operated at nearby Pekin.  To move all of this tonnage the C&IM was laid with heavy 130-pound rail and relied on hefty 2-10-2's (either built new or acquired secondhand).  
Other wheel arrangements included 2-8-2's, 2-8-0's, various switchers, and a set of modern 4-4-0's for passenger service.  Not surprisingly, these trains were lightly patronized and scheduled #6 made its final runs in May of 1953.

Traditionally, all locomotive and car repair work was carried out at the primary shops in Taylorville.  However, this changed in the later 1950's when these facilities were moved to a more central location at Springfield which was also home to the road's headquarters.  
The C&IM contained a photogenic route, aglow in rolling hills and farmland, but not without its difficulties from an operational standpoint.  
Heavy coal drags heading towards the Havana terminal had to deal with a rugged 1.64% grade north of Petersburg referred to as either "Petersburg Hill" or just "The Hill."  
As the Trains Magazine article, "Oasis In Dieseldom" (August, 1955) notes, a lone 2-10-2 would pick up as much momentum as it could through Petersburg before tackling this stubborn grade.  
For a typical 60-car consist it had to repeat the assault two additional times utilizing roughly 20-car cuts.  During the mid-1950's the railroad began testing diesel road-switchers by leasing a few Milwaukee Road SD9's.  
Management liked their performance well enough to order a batch of five in 1955.  In addition, it picked up six SW1200's at the same time.  The original 11 diesels replaced a fleet of 26 steam locomotives.  There were also future orders for the rare RS1325, along with SD18's, and finally SD38-2's.  
Diesel Locomotive Roster
Electro-Motive Division
| Model Type | Road Number | Date Built | Quantity |
| --- | --- | --- | --- |
| SW1200 | 18-23 | 1955 | 6 |
| RS1325 | 30-31 | 1960 | 2 |
| SD9 | 50-54 | 1955 | 5 |
| SD18 | 60-61 | 1961 | 2 |
| SD38-2 | 70-75 | 1974 | 6 |
Steam Locomotive Roster (All Time As Of 1955)

| Class | Road Number(s) | Wheel Arrangement | Builder | Date Built/Notes |
| --- | --- | --- | --- | --- |
| A-1 | 500-502 | 4-4-0 | Baldwin | 1927 |
| - | 505-506 | 4-6-0 | Baldwin | Retired 1929/Ex-QO&KC* #24-25 |
| - | 507-508 | 2-6-0 | - | Retired 1927/Ex-CB&Q #1025 and #1016 |
| - | 519-520 | 2-8-0 | Pittsburgh | Retired 1935/Ex-P&LE |
| - | 525-526 | 2-8-2 | - | Retired 1948/Ex-C&O #2920-2921 |
| - | 527 | 2-8-2 | - | Retired 1951/Ex-A&StAB** #300 |
| - | 530-536 | 2-8-0 | - | Retired 1933/Ex-CCC&StL*** |
| D-2 | 540-541 | 0-8-0 | Lima | 1937 |
| - | 545-546 | 0-8-0 | - | Sold/Ex-MRC #101-102**** |
| D-4 | 547-549 | 0-8-0 | Lima | 1926/Ex-Kentucky & Indiana Terminal |
| F-4 | 550-552 | 2-8-2 | Lima | 1928-1931 |
| - | 560-561 | 2-8-2 | Alco | Retired 1951/Ex-DL&W #2120, #2137 |
| G-1 | 600-601 | 2-10-2 | Baldwin | 1927 |
| G-2 | 602-603 | 2-10-2 | Baldwin | 1929 |
| - | 651-655 | 2-10-2 | Alco/Brooks | Retired 1952-54/Ex-Wabash***** |
| G-4 | 656-657 | 2-10-2 | Alco/Brooks | 1917, Ex-Wabash #2501 and #2524 |
| - | 658-659 | 2-10-2 | Alco/Brooks | Retired 1952-53/Ex-Wabash #2515 and #2519 |
| H-1 | 700-703 | 2-10-2 | Lima | 1931 |
| H-2 | 751-758 | 2-10-2 | Baldwin | 1925-1926****** |
| - | 759 | 2-10-2 | Baldwin | Retired 3-30-55/Ex-ACL #2005 |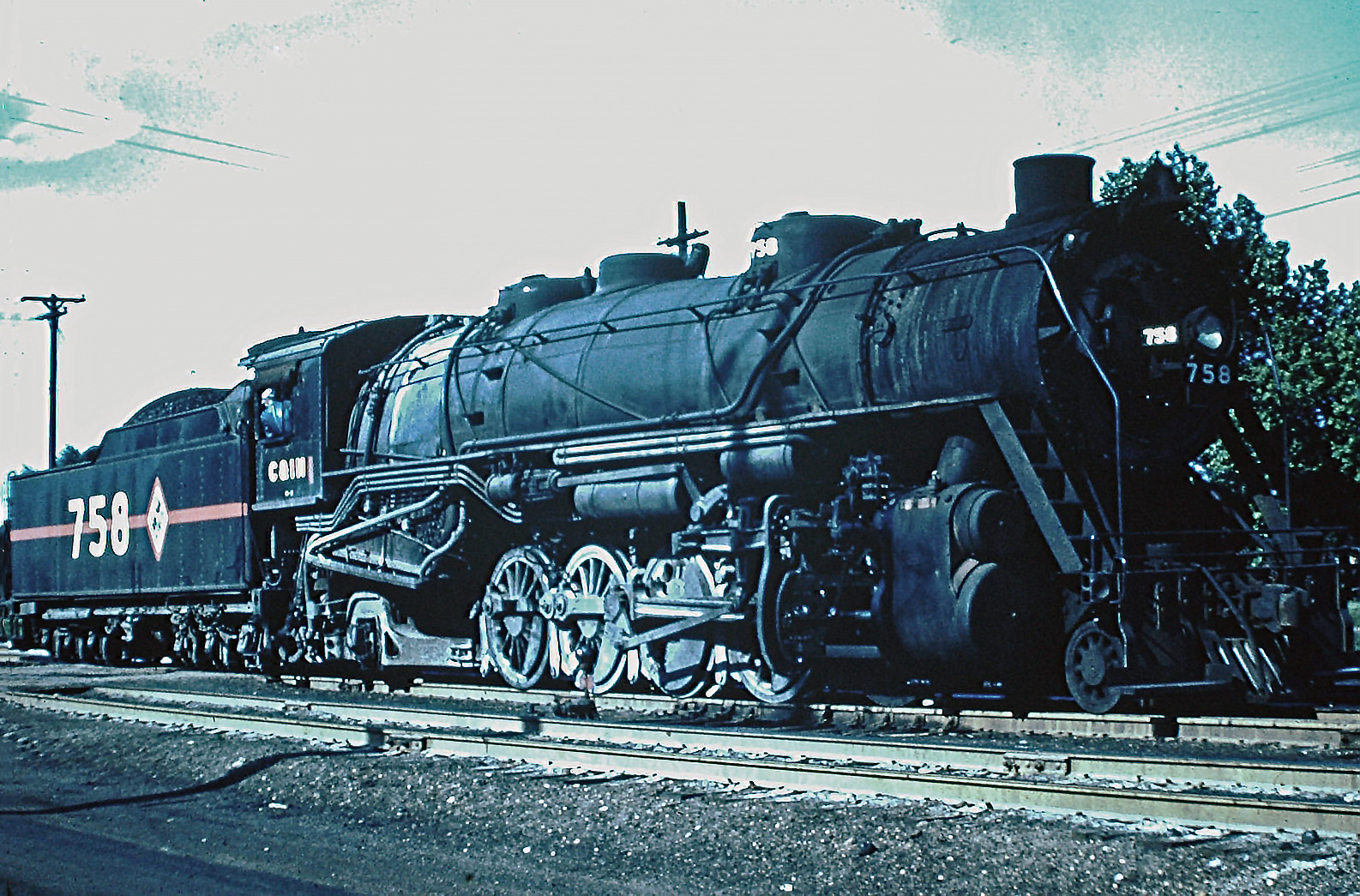 One of Chicago & Illinois Midland's big 2-10-2's, #758, is seen here running light at Taylorville, Illinois in August, 1954. This locomotive, classed as H-2, was one of nine (#751-759) acquired second-hand from the Atlantic Coast Line in 1951 (manufactured by Baldwin in 1925). All were scrapped in 1955.
*      Quincy, Omaha & Kansas City Railroad
**     Atlanta & St. Andrews Bay Railway
***    Cleveland, Cincinnati, Chicago and St. Louis Railway.  Former numbers (in order per C&IM's numbering system): #6575, #6584, #6587, #6588, #6592, #6595, and #6596. 
****   Manufacturers Railway Company: #101 sold to Cumberland Railway & Coal Company (#54) and #102 sold to Sydney & Louisburg Railway (#89).
*****  Former Wabash numbers (in order per C&IM's numbering system): #2510, #2514, #2528, #2517, and #2518.
******  Former Atlantic Coast Line numbers (in order per C&IM's numbering system): #2000, #2016, #2013, #2014, #2007, #2018, #2011, #2019, and #2005.
Thanks in large part to the Trains Magazine article, "Oasis In Dieseldom" (photos by Philip Hastings, writing by David P. Morgan) from the August, 1955 issue, for help in compiling this roster.

---
---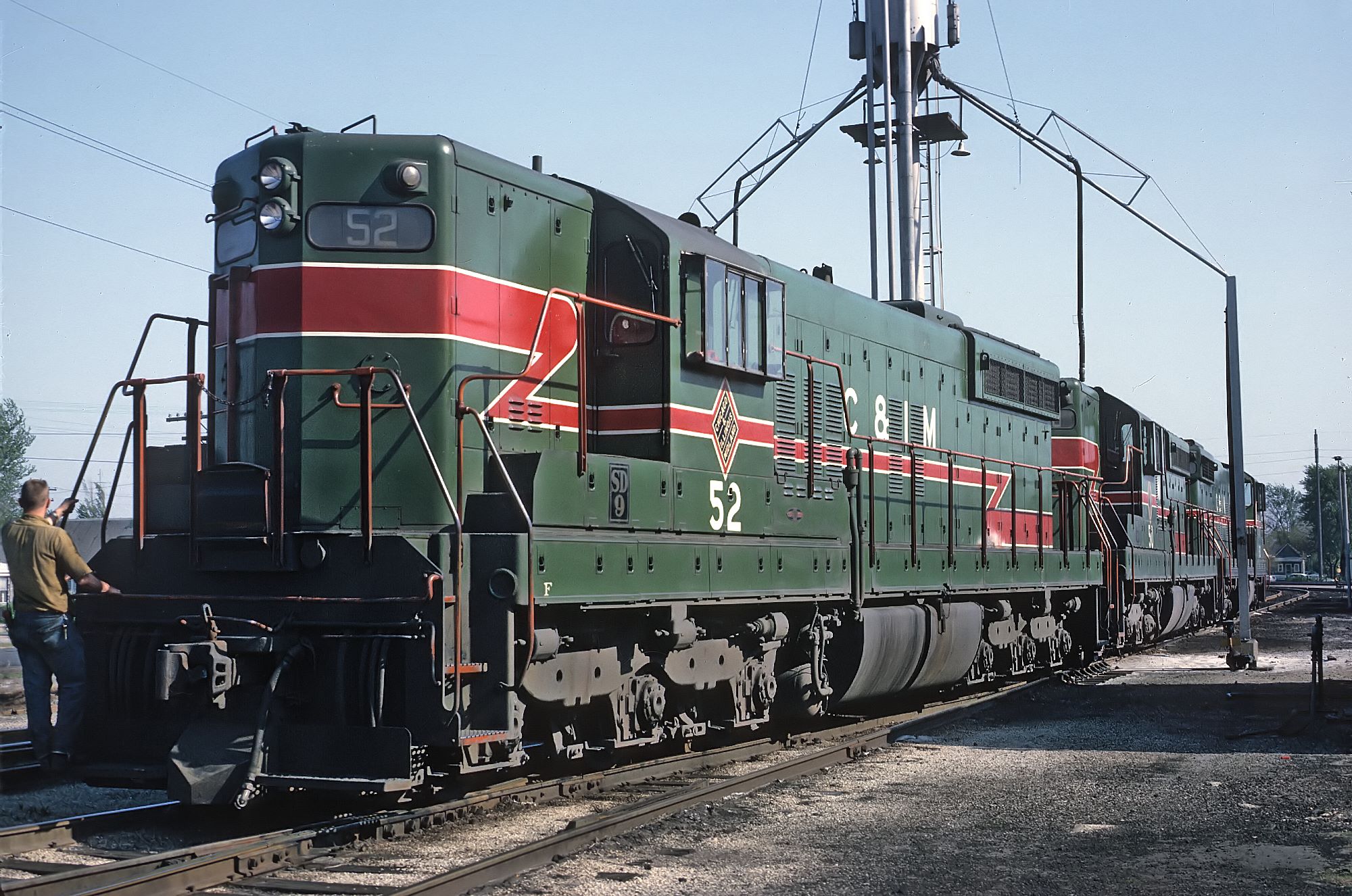 A crewman rides the footboard (since outlawed) of Chicago & Illinois Midland SD9 #52 at the engine house in Springfield, Illinois on May 7, 1966. Roger Puta photo.
Genesee & Wyoming Acquisition
In the 1960's the bottom fell out on high-sulfur, bituminous coal due in part to the passage of the Clean Air Act.  The new law significantly hurt the railroad's earnings and Commonwealth sought buyers for its railroad.  
Just around that time demand was growing for Powder River Basin's clean burning coal and as a result Commonwealth retained ownership.  While it did relatively well for the next 20 years, interestingly it was deregulation that brought about its eventual sale.
Now that railroads could set their own freight rates C&IM's parent found it was simply cheaper to contract with other nearby railroads rather than move the black diamonds through a subsidiary.  
So, in late 1987 the railroad was sold to private investors and then in 1996 was acquired by short line conglomerate Genesee & Wyoming.  Following G&W's takeover the company was renamed as Illinois & Midland Railroad.  
Today, the I&M remains a successful operation witnessing more than 100,000 annual carloads.  However, it no longer handles only coal with traffic consisting of "...agricultural/food products, building materials, wood products, minerals/ores, and municipal/ industrial waste."