Georgia Train Rides And Railroad Museums Guide

You would think that, given the state's location, size, and importance there would be several Georgia train rides to choose from. Instead, the Peach State currently features just three excursions of some kind and includes the SAM Shortline Excursion Train, Stone Mountain Scenic Railroad (located within a resort), and Blue Ridge Scenic Railway. It's also rather interesting that despite Georgia being known for its Southern heat, white, sandy peaches and flat coastal areas nearly all of its excursion trains are located near or in the Blue Ridge Mountains to the west. In any event, the information here just gives a brief highlight of the state's tourist trains.  Please note!  The guide here pertains only to Georgia train rides related to vacation and tourism destinations.  If you are interested in intercity/long distance rail travel please visit Amtrak's website.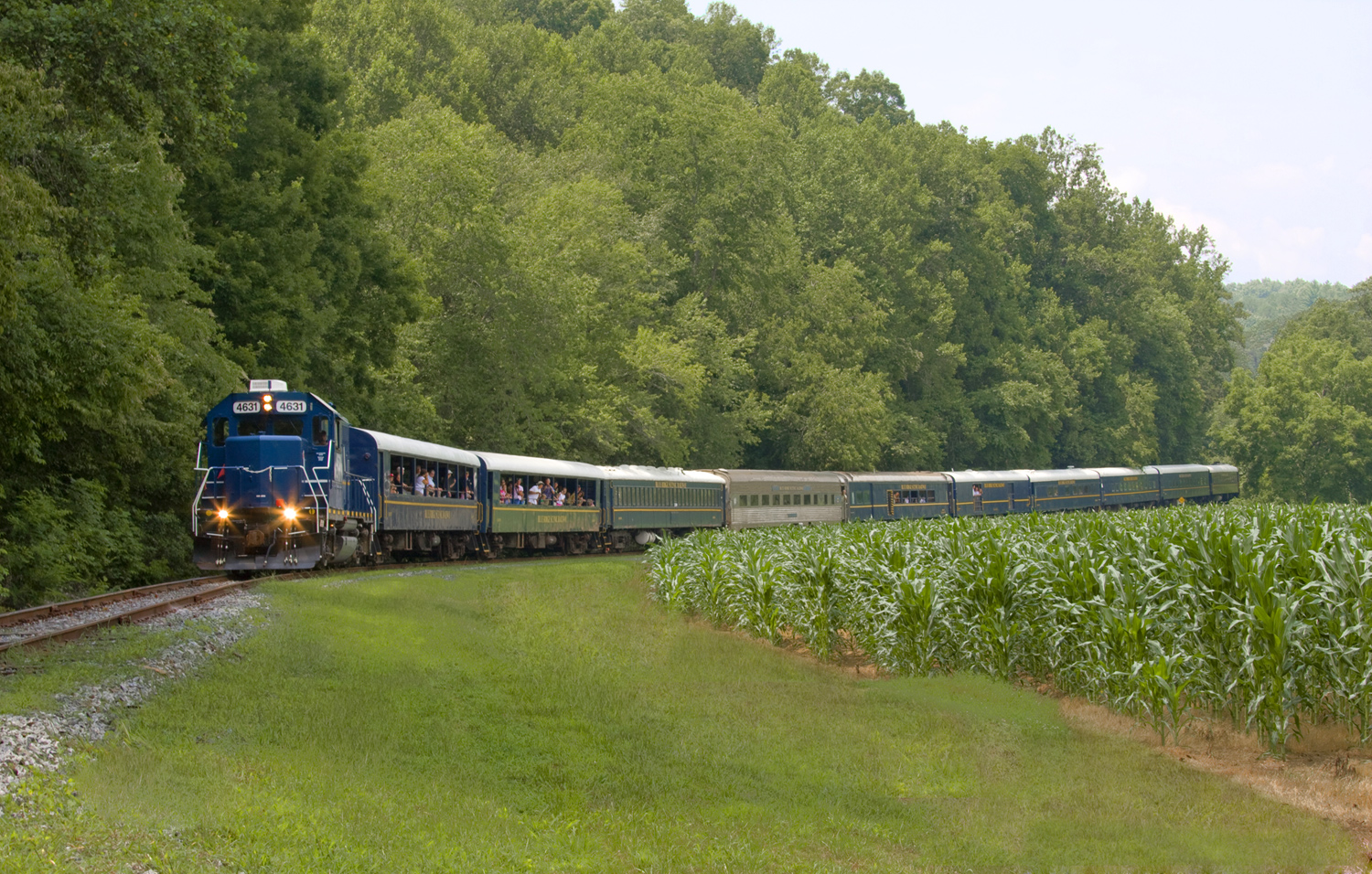 Georgia railroading has its beginnings dating back to 1833 when the Central Rail Road & Canal Company of Georgia was chartered. This little line was the earliest history of the later Central of Georgia Railway, and was created to compete with Charleston's new South Carolina Canal and Rail Road Company to the north. Today, only the Blue Ridge Scenic Railway truly attempts to preserve some part of the Georgia's history with trains operating the Louisville & Nashville's historic "Hook & Eye" line north of Atlanta. It has also become the state's most popular tourist train providing not only wonderful scenic views of the Blue Ridge Mountains but also offering passengers several different excursion options.  The SAM Shortline Excursion Train should also be mentioned as they offer guests many different events and specials throughout the year as well. It is also the only Georgia train ride located out of the mountains, south of Macon.  Also, if you are interested in Georgia train rides that pertain to specific events, such as "The Polar Express," Halloween, Thomas the Tank Engine excursions, or fall foliage events please click on the corresponding image found in the left hand-column of this page, below the navigation buttons.
Blue Ridge Scenic Railway
Perhaps the most popular tourist railroad in Georgia is the Blue Ridge Scenic Railway.  The railroad is located in the northern mountainous regions of Georgia and operates over 13 miles (a 26-mile round trip) of a former Louisville & Nashville Railroad branch line (originally part of the Marietta & North Georgia Railroad). The railroad has become quite a popular tourist destination in general since 1998 when it first began. Part of the railroad's success has come from its breathtaking scenery afforded from the Blue Ridge Mountains located in the northern regions of Georgia although another reason for its popularity has come from its friendly service and nearby attractions like whitewater rafting and cabin rentals.
Georgia Museum Of Agriculture & Historic Village
This museum, based in Tifton, preserves the early history of Georgia's agriculture industry and what it was like to farmstead in the 19th century.  They also have an operating tourist train on-site pulled by authentic, three-foot narrow-gauge steam locomotives (there are two in service while several more are stored on the grounds).  To learn more about the museum please visit their website.
Georgia State Roundhouse Railroad Museum
The Roundhouse Railroad Museum is based inside the Central of Georgia's old roundhouse and shops in Savannah.  According to their website the facility, "is believed to be the largest and most complete antebellum railroad repair facility still in existence, in the world."  They also feature a collection of historic equipment on the property and are open nearly year-round except for major holidays.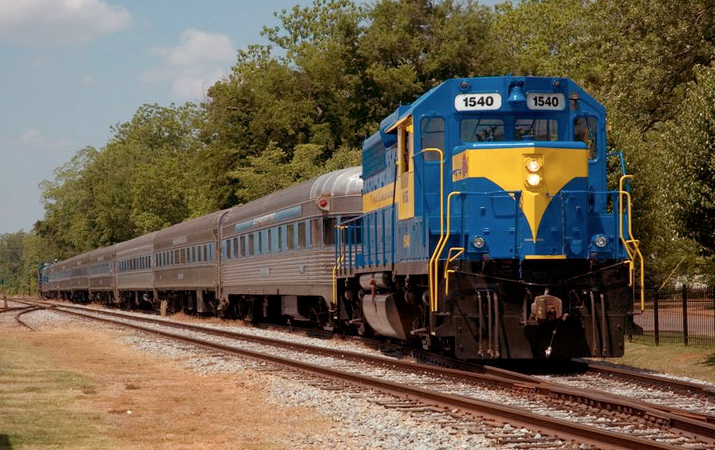 Misty Mountain Model Railroad
A model railroad group located in Blairsville that offers an O-gauge layout display.  To learn more about visit them please visit their website.
Okefenokee Heritage Center
This museum is located in Waycross and helps preserve the local region's history.  They also feature a small display of rolling stock including an historic steam locomotive on the grounds, housed under shed.
SAM Shortline Excursion Train
The SAM Shortline Excursion Train, located in Cordele, Georgia is a beautiful operation that features nearly a 70-mile round trip that makes stops along the four small towns that dot the line while also traveling through the Georgia Veterans State Park. The tourist train also hosts a number of special trains and events throughout the year.
Southeastern Railway Museum
This museum is one of Georgia's more prominent such facilities.  It is located in Duluth and houses a large collection of rolling stock and various railroad displays.  They also offer train excursions throughout the year.  To learn more please visit their website.
Southern Museum Of Civil War & Locomotive History
As its name implies this museum, located in Kennesaw, tells the history of the Civil War and how it affected the South.  They also bring to light the effect of railroads on the war and display one of the country's most famous locomotives, the 4-4-0 "General" involved in the legendary Andrew's Raid.
St. Marys Railroad
The St. Marys Railroad is long-time, short line freight carrier serving the local region around St. Marys near the coast.  However, recently they have branched out into the excursion business and now host a various selection of train rides throughout the year, some of which are special events.  To learn more please visit their website.
Stone Mountain Scenic Railroad
Part of the Stone Mountain Park and resort this excursion train takes visitors on a half-journey through the park in open-air cars (covering about 5 miles) and operates every day the park is open.  The equipment sports a gorgeous livery of green with grey and yellow trim that is loosely based from the historic Central of Georgia's design.
Thronateeska Heritage Center
This history museum, based in Albany, generally looks to preserve the history of town and surrounding region.  They also feature a train exhibit including historic rolling stock and model layout.

More On Georgia Train Rides And Railroad Museums
If you are interested in learning more about Georgia train rides and railroad museums, Kalmbach Publishing/Trains Magazine releases their Tourist Trains Guidebook each year, which highlights most such destinations throughout the U.S. and Canada

Home

›
Tourist Train Information
› Georgia