Iowa Scenic Train Rides (2023)
: A Complete Guide
Last revised: June 4, 2023
By: Adam Burns

Iowa embodied the "granger," a term describing railroads which derived a great percentage of their annual revenue from the movement of agricultural products. 

Once upon a time the Hawkeye State was served by a multitude of well-known names like the:
Chicago, Rock Island & Pacific (Rock Island)
Chicago, Milwaukee, St. Paul & Pacific (Milwaukee Road)
Chicago, Burlington & Quincy (Burlington)
The state also epitomized how railroads were overbuilt during the industry's high stakes, cutthroat era of the 19th and early 20th centuries. 
As a result, since the 1920's Iowa has lost more than 50% of its mileage due to abandonments.  Its rich history with trains, which once included nearly 10,000 miles of track, has resulted in several museums.  
There are also a few tourist attraction rides to enjoy.  To learn more about Iowa scenic train rides please read on below as each tourist railroad is briefly covered here with their contact/website information also included.  
In addition, guide information regarding available railroad museums is also included here. 
Please note!  What is presented pertains only to Iowa scenic train rides related to vacation and tourism destinations.  If you are interested in intercity/long distance rail travel please visit Amtrak's website.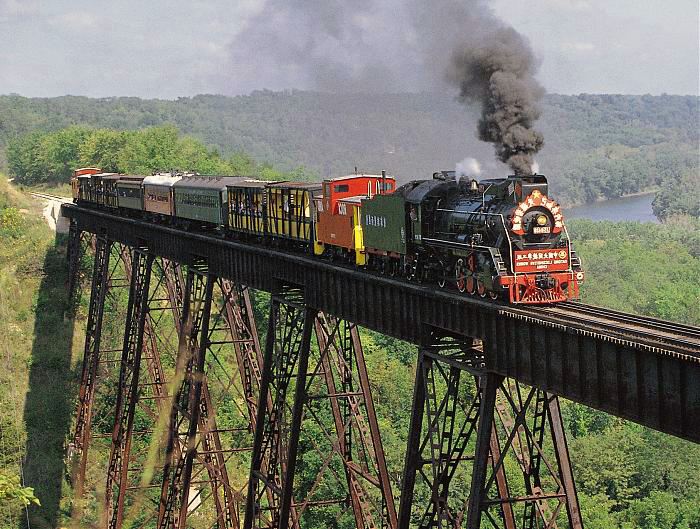 Boone & Scenic Valley Railroad 2-8-2 #8419, a JS Class Mikado built in China in 1989, leads an excursion across the famous Bass Point Creek High Bridge.
State Rail History
Iowa's rise into one of the most densely blanketed region of railroads in the country began with the Mississippi & Missouri Rail Road's chartering on February 5, 1853 to build from Davenport to Council Bluffs. 
It was born as a subsidiary of the Chicago & Rock Island to continue its westward expansion.  
As the book "Iowa Railroads" (the essays of Frank Donovan, Jr., edited by H. Roger Grant) notes, the M&M also planned branches to Muscatine and the Minnesota border via Cedar Rapids; the former opened on November 20, 1855 but the latter was not reached until some years later. 
Within two years of accessing Rock Island, the Mississippi River was bridged and direct service into Davenport, Iowa opened on April 23, 1856. 
The latter also marked the first time a railroad had spanned the mighty Mississippi.  Shortly thereafter, routes belonging to other small systems soon joined the M&M, which later became part of Rock Island's modern network. 
Most of these were building either to or from Chicago in an effort to tap Iowa's rich agricultural lands and reach the western gateway of Council Bluffs/Omaha (where connections were established with the Union Pacific). 
A few, though, only operated what amounted to branches; the Illinois Central contained one, long corridor (its "Iowa Division") running from Chicago to Omaha/Council Bluffs while the Wabash maintained short spurs from Brunswick, Missouri to Omaha and another from Moberly, Missouri to Des Moines/Ottumwa. 
If you were a train enthusiast prior to the 1980's, Iowa offered a fascinating variety of operations. 
There were high-speed, busy main lines maintained by the IC, Milwaukee Road, Chicago & North Western, and Burlington while agricultural branches proliferated the state.
The latter were a serious drain on each company's bottom line but quite fascinating to witness in person as rickety, weed-choked trackage tried to hold up several tons of locomotive(s) and freight cars bobbing along at 5 or 10 mph. 
According to John Stover's book "The Routledge Historical Atlas Of The American Railroads," the state's mileage peaked at more than 9,800 during the 1920's. 
Today, according to the Association of American Railroads, this number has dropped to just 3,818, operated by 15 different railroads.
Overview
Boone & Scenic Valley Railroad
The Boone & Scenic Valley Railroad, based in Boone, Iowa, is actually a museum as well as an operating tourist railroad.
Referring to itself as "The Scenic Line," in reference to its heritage, the Boone & Scenic Valley dates to 1983 when it acquired 11.3 miles of the old Fort Dodge, Des Moines & Southern from the C&NW.  
Unfortunately, the 'North Western was not kind to many of its acquired properties and the FDDM&S was no different as much of it was subsequently abandoned or sold.  
This particular segment ran from roughly the midway point of the FDDM&S at Boone, where a connection was made with the C&NW (now Union Pacific), and ran northwesterly to the small town of Wolf, via Fraser.  
The section included the breathtaking 156-foot "High Bridge" which spans Bass Point Creek outside of Boone. 
Today its trains are pulled by both steam and diesel locomotives, as well as restored trolley car #50 (they also have a very extensive collection of non-operating locomotives and cars).
Lastly, the museum hosts several special trains and events throughout the season like "A Day Out With Thomas" the tank engine. 
Delmar Depot Railroad & Military Museum
This museum, located in the restored Chicago, Milwaukee & St. Paul (Milwaukee Road) wooden depot (built in 1905), features both a veteran's memorial as well as artifacts and displays related to the town's railroading history. 
The tracks through this small town are long gone but to find out when the museum is open please contact the city of Delmar.

National Hobo Museum
This interesting museum, located in South Britt, offers a glimpse at the unique life of the hobo, an individual long known for his or her propensity to simply hop onto a moving freight train and wind up who knows where. 
Their slogan is "Decide your own life, don't let another person run or rule you." 
The organization features a collection of displays and artifacts related to such.  Since 1900 folks have been gathering in this town for a so-called National Hobo Convention. 
Its purpose, according to the museum, is "...to celebrate and exchange thoughts, tips, and stories about a penniless lifestyle. They gather to share tales of wandering around the country avoiding troubles and danger, and to preserve their self-taught train engineering and coded languages generated by decades of hoboes." 
The museum is normally open during the summer each year.
Iowa Trolley Park
This organization, based in Clear Lake, is home to the town's restored Chicago, Milwaukee & St. Paul (Milwaukee Road) depot completed in 1913. 
It remained under railroad ownership until 1984 was later preserved and renovated.  Visitors can enjoy rides at the park behind their operation 25-ton Plymouth diesel locomotive. 
They also feature a collection of rolling stock and Mason City & Clear Lake trailer car #27.  The MC&CL's heritage begins in the late 19th century when it opened between Mason City and Clear Lake on July 4, 1897. 
Today, it is known as the Iowa Traction Railway, the last electrically operated interurban freight carrier in America (a division of Progressive Rail). 
The museum is also working to complete a replica Virginia & Truckee steam locomotive, 2-6-0 #1.  Named the Lyon the project began in 2009 and is still under construction at the Strasburg Railroad.

Midwest Central Railroad

The Midwest Central Railroad, based in Mt. Pleasant, dates back to 1959 when a group of railfans known as the Midwest Old Threshers wanted to start a tourist railroad using steam locomotives.
Not particularly wanting the railroad as part of the Midwest Old Threshers group they started a new organization called the Midwest Central Railroad.
It offers a unique collection of operating, narrow-gauge steam locomotives and two small diesel locomotives.
The railroad only maintains a short, 1.25-mile segment of track but locomotive collection nevertheless draws many visitors each year.
Its current pieces include:
Erzbergbau Salzgitter 0-4-0T #16 (a product of Germany's Henschel & Sohn, completed in 1951, it is not operational)


Argent Lumber Company 2-6-0 #6 (built by the Baldwin Locomotive Works in 1891)


Argent Lumber Company 2-6-0 #2 (manufactured by Baldwin in 1906 it is currently under restoration)


Kahului Railroad 2-6-2 #12 (another Baldwin product completed in 1928 for this Hawaiian system)
RailsWest Railroad Museum
This museum is based in the Chicago, Rock Island & Pacific's restored brick depot in Council Bluffs, originally completed in 1899. 
During its time in service the facility played host to Rock Island's Rocky Mountain Rocket and Corn Belt Rocket as well as the Milwaukee Road's Midwest Hiawatha and Arrow. 
Among their collection is various historical displays and an indoor model HO-scale layout. 
Their featured pieces include a pair of preserved steam locomotives:
Chicago, Burlington & Quincy 4-6-0 #915 (Class K-4, manufactured by the Havelock Shops in 1901) and 


Union Pacific 4-8-4 #814. (Class FEF-1, this was one of the railroad famous "Northerns," of which it owned a total of 45 units.  This particular locomotive was outshopped by the American Locomotive's Schenectady Works in 1937.)
The museum is open during select days throughout the year but closed during January.  
Trainland U.S.A.
This organization, located in Colfax, operates a large, expansive O-scale layout.
The group is not new, having got its start in 1964 when an individual by the name of Red Atwood began a model train collection that slowly grew over the following decade. 
It became so large that in 1981 it today's Trainland USA was born.  The entire layout and all cars are of Lionel vintage which spans a total of "two average ranch-style homes." 
It is broken down into two segments; the central area features early America during the frontier days with steam locomotives while diesels run along the outside trackage. 
The toy train museum is open from Memorial Day through Labor Day, 10 AM through 6 PM.   They do require admission.  To learn more and plan a visit to this unique attraction please click here to visit their website.
Trains On The Farm
This museum is based in Clarksville and looks to keep alive the history of the railroads which served the area; Chicago Great Western (CGW) and Rock Island (currently, short line Iowa Northern Railway continues serving the community). 
They feature the town's preserved CGW block depot (its completion date is unknown but the Great Western was well-known for constructing unassuming, utilitarian depots), historic displays and artifacts, and also feature a small operating model layout.
The Chicago Great Western was a somewhat obscure Midwestern granger, operating in the shadows of the much larger Chicago & North Western, Burlington, Rock Island, and Milwaukee Road.  
It largely kept to itself with a focus towards customer service and modernity.  The 1,500-mile carrier was a David among Goliath's surrounding by roads nearly or over 10,000 route miles in length.
While its was not large it did reach many notable markets such as Chicago, St. Paul/Minneapolis, Omaha, and Kansas City.  What the railroad lacked in size it more than made up for in customer service.
Always the innovator the CGW was constantly looking to reach new customers, streamline operations, cut costs, and generally carry out any measure possible to grow business.  
Alas, its small size coupled with stifling federal regulations, rising costs, and competition eventually led to its acquisition by the C&NW.

---
Union Pacific Railroad Museum
The Union Pacific's official museum is located in Council Bluffs and offers a fabulous collection of displays related to the railroad and its long history. 
There is currently no admission fee and the facility is open on select days of the week, year-round.  Union Pacific is an American corporate icon with a heritage tracing back to 1862 when it was signed into existence by President Abraham Lincoln. 
It would later go on to form the eastern leg of the United States' first Transcontinental Railroad, which opened in the spring of 1869 when crews met the Central Pacific at Promontory Summit, Utah. 
The UP remained a relatively modest western carrier until it began adding several notable railroads during the 1980's.   
According to Union Pacific, as of 2015 the company boasts the following credentials; 32,100 route miles, 44,500 employees, and an annual revenue of $21.81 billion (ranking only slightly behind BNSF Railway in this regard).