Cumbres & Toltec Scenic Railroad

Last revised: June 4, 2023
By: Adam Burns

The Cumbres & Toltec Scenic Railroad (C&TS) is another famous narrow-gauge tourist attraction based in southwestern Colorado/northwestern New Mexico which utilizes a former component of the Denver & Rio Grande Western's fabled San Juan Lines. 

The trackage, in its entirety, was built west from Walsenburg, Colorado to Durango and Silverton. 
Along the way it crossed the scenic La Veta Pass and Cumbres Pass, via Alamosa and Antonito.  These lines were constructed during the early 1880's, a time when the then-Denver & Rio Grande was carrying out major expansion efforts throughout Colorado. 
History
By the early 1900's silver and gold mining had largely dried up.  As a result, the San Juan trackage became increasingly less important.  While it remained in use beyond World War II the corridor was abandoned as a through route during the late 1960's. 
In an interesting twist, increased tourism interest spared the entire trackage from being pulled up.  The C&TS, along with its sister operation, the Durango & Silverton Narrow-Gauge (D&SNG), was formed in 1970 to convert a component into an excursion operation. 
Thanks to the Rio Grande's generosity many pieces of original equipment, and several historic buildings, were included in the sale, adding further charm to the present-day railroad. 
Photos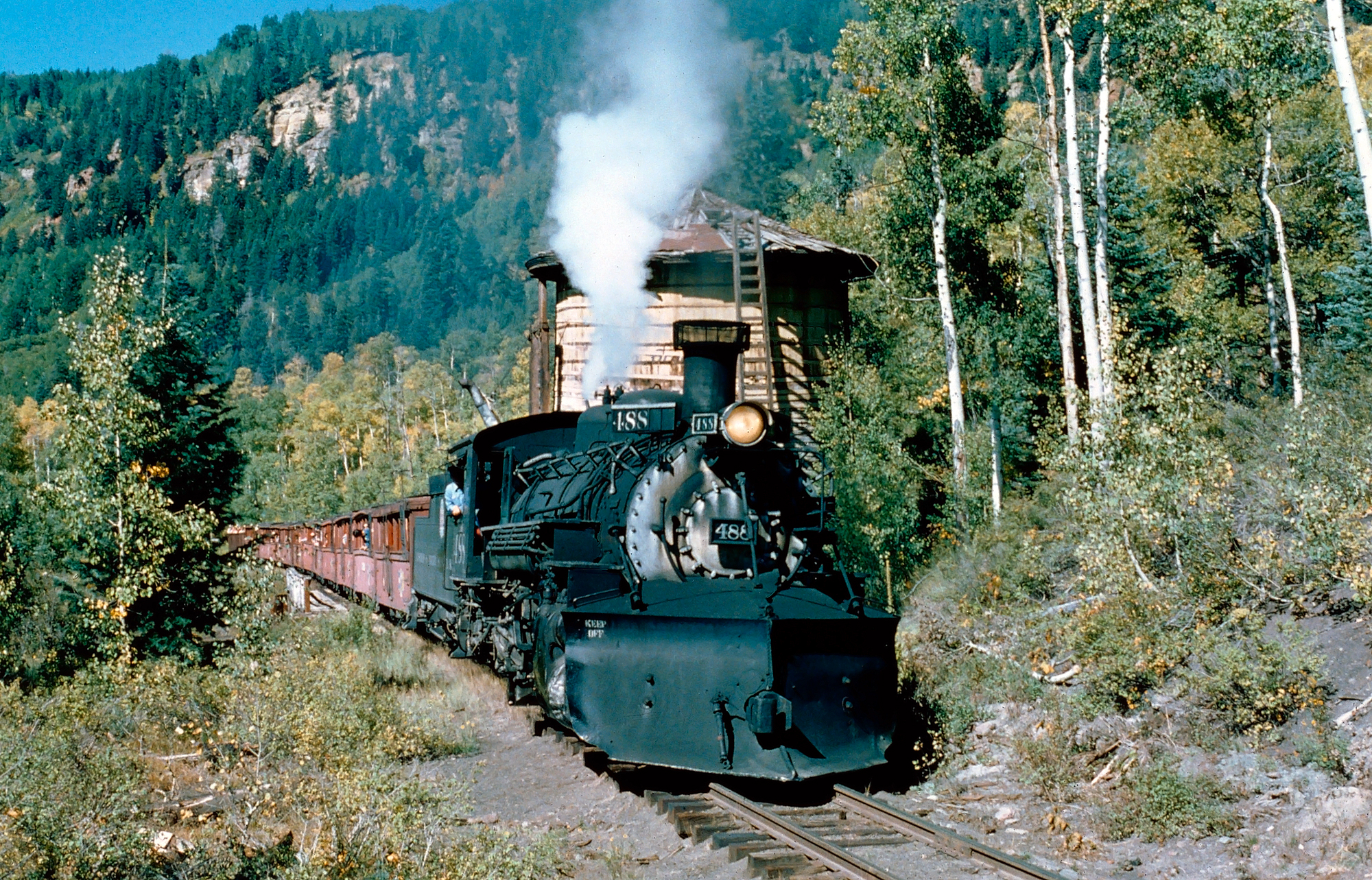 Cumbres & Toltec Scenic 2-8-2 #488 (K-36) leads an eastbound excursion past the historic water tank in Cresco, Colorado during the fall of 1983. Mike Bledsoe photo. American-Rails.com collection.
The Denver & Rio Grande Western was one of America's most fascinating railroads.  It was chartered as the Denver & Rio Grande Railway on October 27, 1870 by William Palmer and a few associates, according to Dr. George Hilton book, "American Narrow Gauge Railroads." 
They sought a narrower, 3-foot gauge right-of-way (in an effort to reduce costs and avoid clearance issues due to the rugged Rocky Mountains), which would accomplish three tasks:
Link Denver with Salt Lake City.


Complete a corridor running south of Denver to El Paso, Texas via Colorado Springs and Pueblo.


Open a third route to the San Juan mining district via La Veta and Alamosa. 
The D&RG would never reach the Lone Star State following a protracted battle with the Atchison, Topeka & Santa Fe (AT&SF) for access over New Mexico's Raton Pass. 
Surprisingly, Palmer's two other goals were eventually realized, despite his involvement ending in 1883 (long before the modern Denver & Rio Grande Western was finished). 
What began as a multifaceted effort to penetrate the Rockies and serve the booming gold/silver trade was later transformed into a successful bridge route between Denver and Salt Lake City.  To read a complete history of the Rio Grande please click here.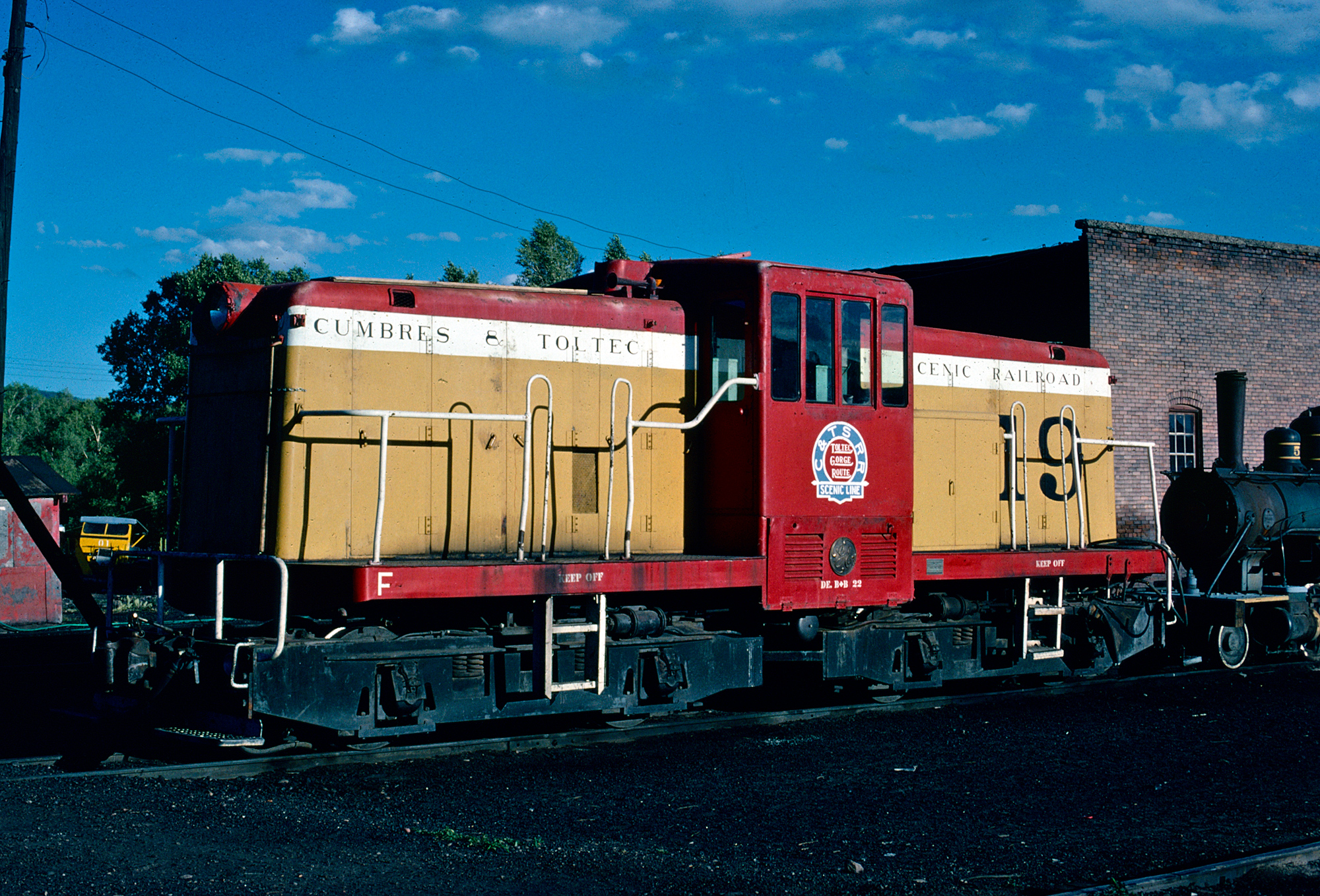 Cumbres & Toltec Scenic 44-ton narrow-gauge switcher #19, a product of General Electric, is seen here in Chama, New Mexico during September of 1977. This unit was built for the Oahu Railway & Land Company of Hawaii as #19 in October, 1943. American-Rails.com collection.
The trackage which now comprises the Cumbres & Toltec Scenic began with a branch off the Pueblo-Trinidad main line at point known as Cucharas (roughly the halfway point between the two previously-mentioned towns) in 1876. 
Officials believed the lucrative mineral traffic within the San Juan Mountains would not only provide substantial profits but also enable further construction of the D&RG system elsewhere. 
As work continued, La Veta was reached in June, 1876 and rails then crossed Veta Pass (in 1899 a better alignment over nearby La Veta Pass was built) to arrive at Fort Garland in April, 1877 according to James Griffin's book, "Rio Grande Railroad." 
Once this mountain chain was hurdled, work focused on what was a relatively straight western alignment into Alamosa with track gangs arriving in that town during June, 1878. 
Instead of continuing due west, a southern heading within the Rio Grande Valley was chosen.  The D&RG arrived in Antonito in early 1880 and actually continued south from that point as Palmer sought to extend his railroad as far as legally possible under the "Treaty Of Boston." 
This document was a peace accord signed by the D&RG and Santa Fe on March 27, 1880 to end the two railroads' hostilities regarding access to Raton Pass and the San Juan mining region.
The Cumbres & Toltec Scenic yard in Chama, New Mexico as it appeared in the summer of 1982. Note rotary snow plow "OY." Mike Bledsoe photo. American-Rails.com collection.
Scenic Locations
As part of the arrangement, the D&RG agreed not to expand south of Trinidad or continue south of Española, New Mexico Territory (via Alamosa), the latter of which was already under construction and later completed on December 30, 1880. 
However, Palmer was determined to push his railroad into New Mexico and sought a connection as far as Albuquerque, which would open a through connection with AT&SF's transcontinental main line. 
To circumvent the issue of extending beyond Española a group of independent businessman, hoping to see the Rio Grande reach Santa Fe, formed the Texas, Santa Fe & Northern Railroad.  During 1881 grading for the 34-mile line was predominantly completed but funding was exhausted.  
In 1886 it came under the control of General L.M. Meily who finished the project on January 8, 1887.  It was renamed as the Santa Fe Southern on January 4, 1889 but financial difficulties led to bankruptcy at which point it was acquired by the D&RG and renamed again as the Rio Grande & Santa Fe Railroad.  
The RG&SF was then merged into its parent on August 1, 1908.  Under the Rio Grande the corridor officially became known as the Santa Fe Branch although it quickly earned the nickname, "Chili Line," due to the propensity of local farmers to ship their red chile crop over this corridor. 
Unfortunately, Palmer never reached Albuquerque and the Santa Fe connection proved insignificant since the AT&SF accessed the city via a branch. 
Cumbres & Toltec Scenic 2-8-2 #487 leads an excursion eastbound across the Lobato Trestle in New Mexico spanning Wolf Creek during the 1970s. American-Rails.com collection.
In addition, the gauge differences further hampered freight and passenger business. The rugged and unprofitable "Chili Line" was subsequently cut back to Antonito in 1941.
As the Rio Grande sought an extension into the San Juan mining district, it did so west of Antonito, which required summiting nearby 10,015-foot Cumbres Pass.
Despite a westbound grade of 1.4% and a torturous eastbound ascent of over 4% (extending some 14 miles) the twisting, but beautiful, route reached Durango (a new railroad town formed on September 13, 1880), 172 miles away, in 1881.
The first train arrived there on July 27th that year. A year later the 42-mile Silverton Branch, the location of the targeted mining camp, was also opened.
Interestingly, when the so-called Ouray Branch, which served another mining location at Ouray within the Uncompahgre River Valley, was completed in 1887 the D&RG needed only 23 miles to link its original main line (running via Montrose and Gunnison) with its San Juan Line.
Unfortunately, the rugged topography made grading a manageable right-of-way impossible.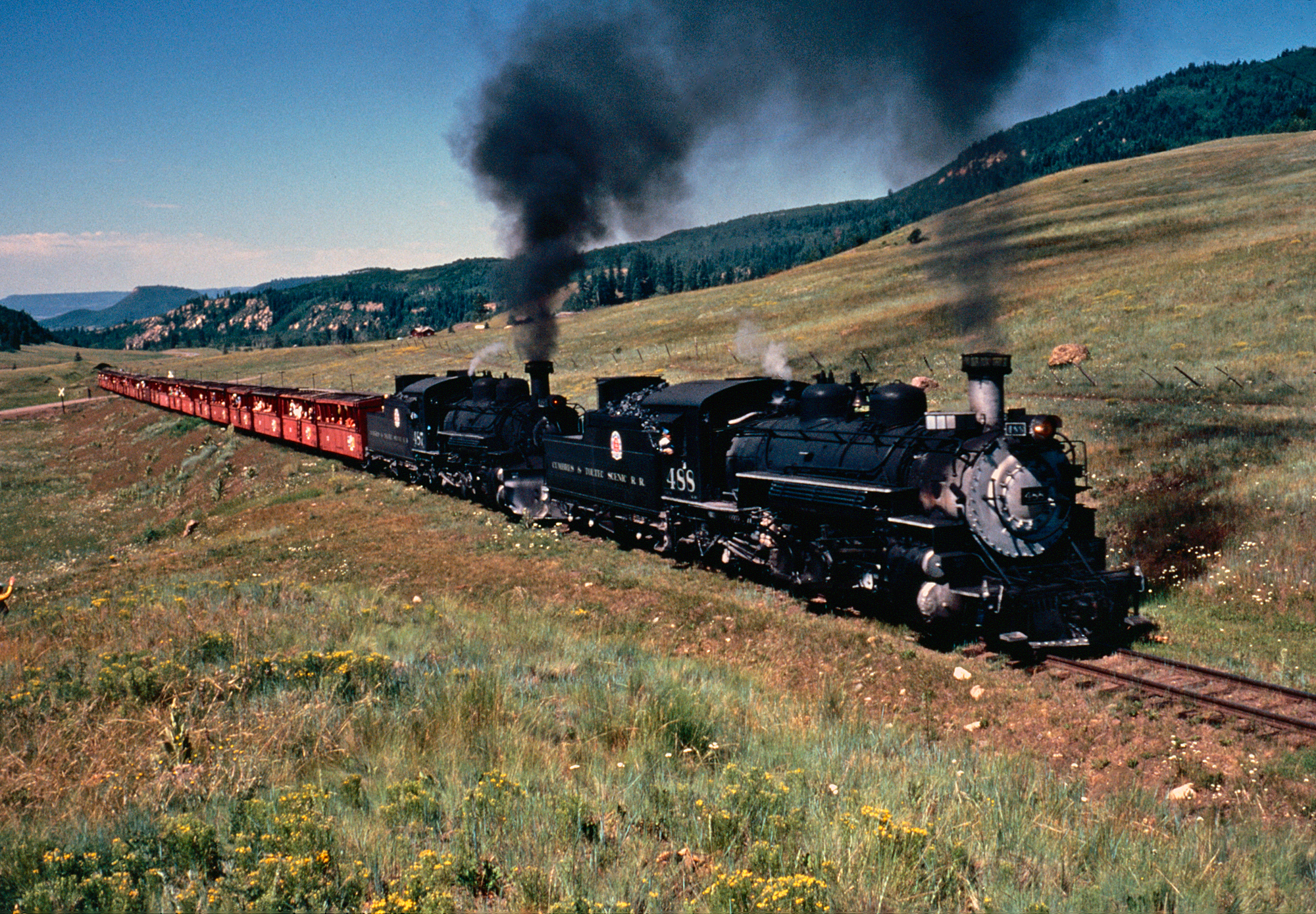 Cumbres & Toltec Scenic 2-8-2 #488 and #487, a pair of K-36's, cross County Road 445 with an eastbound excursion during the early 1980s. American-Rails.com collection.
The last noteworthy extension in the San Juan region was the so-called Farmington Branch, which ran south of Durango to the community of Farmington, New Mexico. 
The standard-gauge line opened in 1905, due to the railroad's intentions of eventually converting all the San Juan trackage. 
However, when the Rio Grande gave up on this endeavor the Farmington Branch was changed to narrow-gauge in 1923.  This move coincided with repeal of Sherman Silver Purchase Act by President Grover Cleveland in 1893, made in response to an oversupply of silver. 
As a result, mining operations were greatly reduced throughout Colorado and the D&RG realized its best opportunity for a successful future was as a bridge route. 
This led to many lines, particularly its through corridors from Denver to Salt Lake City being converted to standard-gauge. 
The D&RG's narrow-gauge network peaked at 1,673 mile in 1887 but, interestingly, was being converted even prior to the Silver Act's repeal. 
In 1893, its 3-foot system had been reduced to just 961 miles with conversions continuing throughout the early 20th century. 
In 1899 the entire Walsenburg - Alamosa line was converted and the railroad made the latter town its standard-gauge/narrow-gauge junction point; the route south to Antonito was given a third-rail in 1901 while Alamosa became the narrow-gauge network's (including the San Juan Line) primary shops/maintenance facility.
While traffic generally declined throughout the 20th century the route did see an uptick in traffic after World War II due to natural gas reserves found in the region. 
However, this was a short-lived and by the late 1960s the Rio Grande was looking to scrap its entire San Juan trackage. 
Passenger service ceased when the San Juan made its final run in February, 1951 and as early as 1962 the-then Denver & Rio Grande Western (D&RGW) petitioned the Interstate Commerce Commission for total abandonment of its San Juan Lines.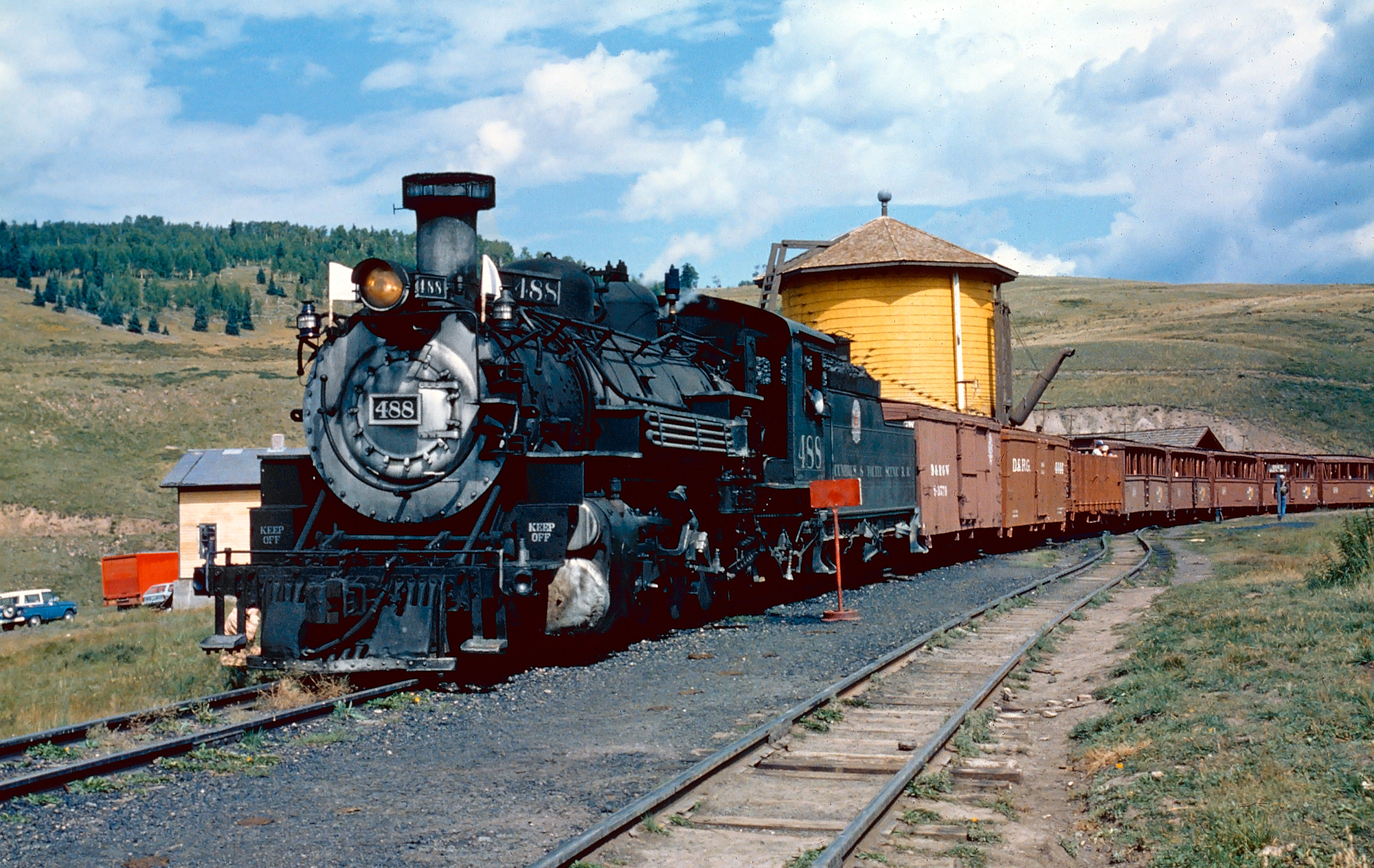 Cumbres & Toltec Scenic 2-8-2 #488 (K-36) is seen here with an excursion at Osier Station (Colorado), circa 1983. This point is about halfway along the railroad. Mike Bledsoe photo. American-Rails.com collection.
Modern Tourist Attraction
Realizing the tourism potential which had been building, Colorado looked to save the Durango - Silverton section in 1970, which became the Durango & Silverton Narrow Gauge. 
It also teamed up with New Mexico to purchase the 45-mile, Antonio - Chama segment. Thanks to their efforts the C&TS was born and has blossomed into one of the most popular such tourist attractions in the country.
Today, Cumbres & Toltec Scenic's passenger trains are pulled by vintage narrow gauge steam locomotives, all of which are original to the region (when the states purchased the route it included nine original D&RGW steam locomotives and more than 100 freight cars).
Obviously, the railroad is quite similar to the Durango & Silverton given that both operate the same line and use much of the same equipment. 
Locomotive Roster
Steam Locomotives (All Ex-Rio Grande)
Number

168

315

463

483

484

487

488

489

492

494

495

497

Class

T-12

 C-18

K-27

K-36

K-36

K-36

K-36

K-36

K-37

K-37

K-37

K-37


Wheel Arrangement

4-6-0

2-8-0

2-8-2

2-8-2

2-8-2

2-8-2

2-8-2

2-8-2

2-8-2

2-8-2

2-8-2

2-8-2


Builder

Baldwin

Baldwin

Baldwin

Baldwin

Baldwin

Baldwin

Baldwin

Baldwin

Baldwin

Baldwin

Baldwin

Baldwin

Date Built

1883

1895

1903

1925

1925

1925

1925

1929

1908

1908

1908

1908

Notes

Restoration

Display

Operational

Display

Operational

Operational


Operational

Operational

Display

Display

Display

Out-Of-Service
Diesel Locomotives
Number

19

Builder

General Electric

Model

50-Ton Switcher

Date Built

10/1943

Notes

Ex-Oahu Railway & Land Co.
---
Cumbres & Toltec Scenic 2-8-2 #488 (K-36) steams into the historic depot at Chama, New Mexico during the 1980s. American-Rails.com collection.
Excursions and Route
After nearly 50 years of service, the C&TS now provides passengers with a wide range of options via their fleet of historic, restored passenger cars.
These include the ability to ride in coach class, tourist class, or parlor class (the most expensive) depending on your budget and how you like to experience your trip. 
Visiting the Cumbres and Toltec Scenic Railroad and its historic steam locomotives is well worth it, in addition to experiencing the beauty of southwestern Colorado and northwestern New Mexico.
Typically, the Cumbres & Toltec Scenic's operating schedule runs from late May through mid-October. Today, they offer six different excursions between Chama and Ant/Osier either via train or bus.
They also host several specials including photo shoots (mostly reserved for photographers and train buffs the railroad operates a dated freight train featuring antique freight cars), wine/dinner trains, the Moonlight Train, holiday specials, and much more.   
For more information about the Cumbres and Toltec Scenic Railroad please click here to visit their official website where you can learn more about the history of the railroad, all of their special trains, standard excursions, pricing, operating schedules, and the latest happenings.