New Jersey Scenic Train Rides (2023)
: A Complete Guide
Last revised: May 31, 2023
By: Adam Burns

New Jersey enjoys the honor as one of America's cornerstones of railroading. 

It was home to one of the first and its peak contained more than 2,000 route miles despite a total size of 8,721 square miles, ranking it 47th among our country's current 50 states. 
There were many famous names operating within its borders such as the:
Central Railroad Of New Jersey

Pennsylvania Railroad

Lehigh & Hudson River

Lehigh & New England

Erie Railroad

Reading

Pennsylvania-Reading Seashore Lines (a joint Reading/PRR venture)

Delaware, Lackawanna & Western

Lehigh Valley
Today, scenic train rides and railroad museums abound in New Jersey, all aimed at preserving its fascinating rail heritage this history. 
The excursion attractions currently available include the Black River & Western Railroad, Cape May Seashore Lines, Delaware River Railroad Excursions, Pine Creek Railroad, and trips offered by the Whippany Railway Museum. 
What's more, right next door is Pennsylvania and New York, states which carry an equal amount of rail history.  
Please note!  The guide information here pertains only to New Jersey scenic train rides related to vacation and tourism destinations.  If you are interested in intercity/long distance rail travel please visit Amtrak's website.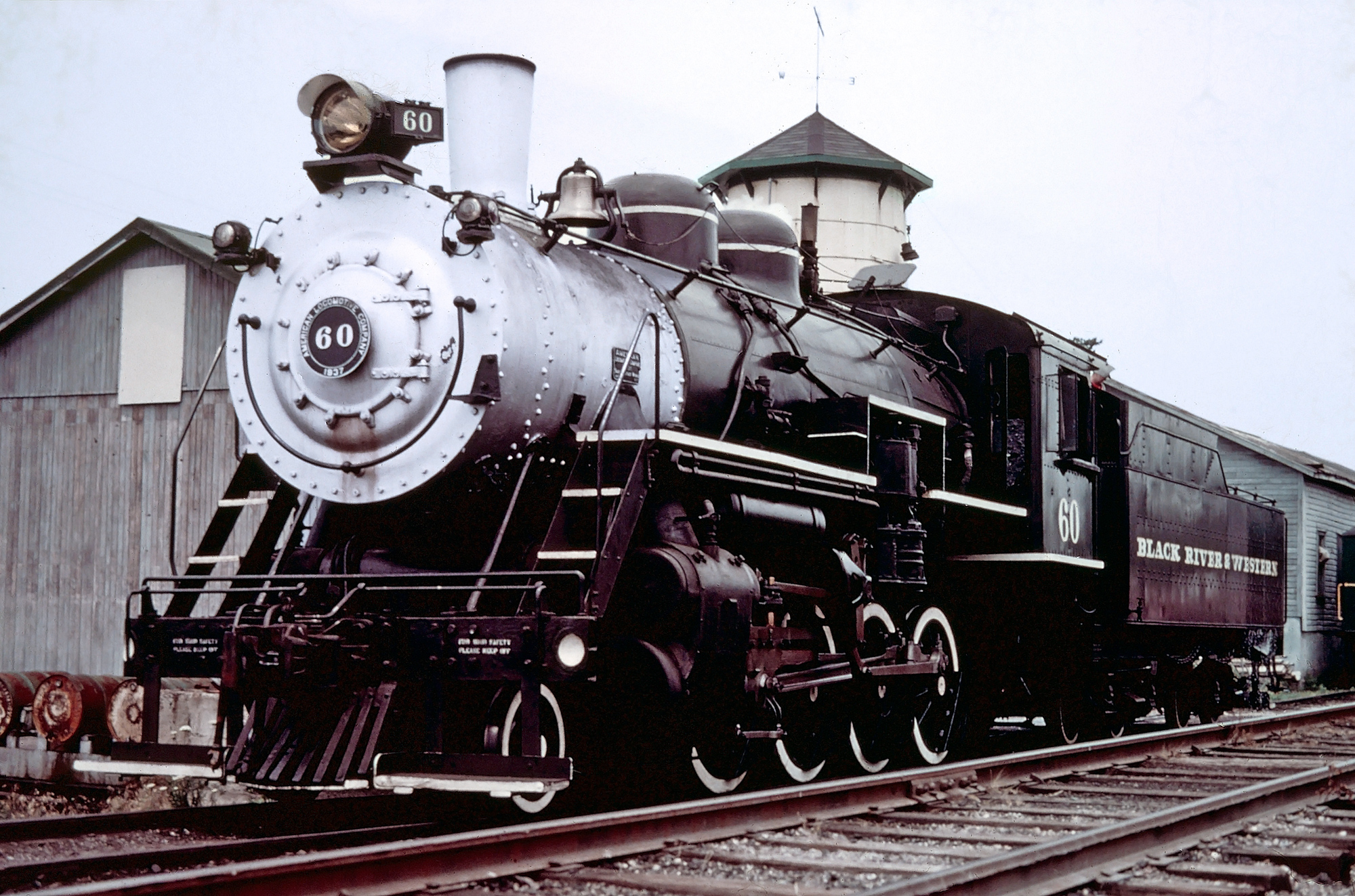 Black River & Western 2-8-0 #60 is seen here at the newly formed short line in 1965 after the Consolidation was acquired from the Great Western Railway of Colorado. The locomotive remains in operation today hosting excursions. American-Rails.com collection.
State Rail History
The Camden & Amboy Railroad was one of the earliest systems chartered in the United States.
It was formed on February 4, 1830 as the Camden & Amboy Rail Road & Transportation Company by Robert Stevens with the purpose of connecting the Delaware River, upon which the city of Philadelphia sat with the Raritan River, which ran into New York City to the east.
In those years canals and waterways were still important transportation arteries so the plan made logical sense.
Two months later the railroad began surveys although it was not until that December that construction actually began, at Bordentown, New Jersey (located near Trenton it is actually about 30 miles north from Philly) along the Delaware River and proceeded northeasterly.
The route was opened to the public on October 1, 1832 where it had reached Hightstown, about 13 miles away. 
According to an in-depth analysis Trains Magazine published in its January, 2007 issue entitled, "Great Railroading: State-By-State," by 1839 the C&A had opened a route between Bordentown, Trenton and New Brunswick, and Stevens' original dream of connecting these points finally became reality. 
This trackage would later become part of Pennsylvania Railroad's busy Northeast Corridor.
In their book, "Pennsylvania Railroad," authors Mike Schafer and Brian Solomon's note the  PRR was able to extend its reach eastward, beyond Philadelphia during the Civil War, by acquiring the Philadelphia & Trenton and United Canal & Railroad Companies through lease in 1871.
The UC&RC comprised several smaller systems (Camden & Amboy, New Jersey Railroad, Belvidere-Delaware Rail Road, West Jersey Railroad, Cape May & Millville, and Delaware & Raritan Canal Company) which offered through service as far as Jersey City, New Jersey. 
Collectively, the above-mentioned lines became the northern end of PRR's Northeast Corridor (NEC), a route that blossomed into a four-track high-speed thoroughfare handling dozens of freight and passenger trains every day.  
While the Pennsylvania was the only system to actually reach downtown New York City on Manhattan Island from the west, opening its massive Pennsylvania Station in 1910, many of the roads mentioned above were nearly able to do so by reaching the Hudson River waterfront at points such as Jersey City and Hoboken whereupon they built massive waterfront terminals.
John Stover's book "The Routledge Historical Atlas Of The American Railroads," notes that New Jersey's rail mileage peaked at over 2,300 miles during the 1920's. 
However, mergers and bankruptcies have resulted in much of this being abandoned over the years.  Today, the Association of American Railroads points out that only 984 miles remain in active use. 
Overview
Black River & Western Railroad
The Black River & Western Railroad, based in Ringoes, New Jersey operates from the town's restored depot. The tourist line is actually part of the Belvidere & Delaware River Railway Company, a short line freight railroad.
The BR&W operates weekend excursions, murder mysteries, and photo specials during its seasonal operations between March and December. 

Cape May Seashore Lines
The Cape May Seashore Lines based in Cape May operates scenic train rides along the Jersey shore operates two separate excursions; between Cape May Courthouse and Cape May City (a round trip of 22-miles), and between Richland and Tuckahoe (a 30-mile round trip).
The railroad gains its name from the Pennsylvania and Reading Railroad-owned Pennsylvania-Reading Seashore Lines, on whose former trackage it operates.

Delaware River Railroad Excursions
The Delaware River Railroad Excursions are based in Phillipsburg, operated by the New York Susquehanna & Western Technical & Historical Society.
Most trains are operated by a Chinese-built steam locomotive and the railroad features everything from wine trains to the Polar Express and "A Day Out With Thomas" the tank engine.

Maywood Station Museum
This museum is located within the small, restored New York, Susquehanna & Western depot at Maywood.  Inside they have a collection of historic documents, photos, operating model railroad, and displays related to the railroad and area. 
Additionally, outside on the grounds is a preserved caboose along with original Susquehanna Alco S2 switcher #206.  They are open on a limited schedule.  Please visit their website to learn more.

New Jersey Museum of Transportation
One of the state's largest railroad-related museums, NJMT was founded in 1952 and located near Farmingdale. 
Its mission is to preserve the state's history with trains and does so by featuring a large collection of rolling stock and locomotives, some of which are operational. 
They also operate the Pine Creek Railroad, which provides scenic train rides during certain times of the year.  To learn more please visit their website.

Old Station Museum & Caboose
This small museum operates as a subsidiary of the Mahwah Museum Society.  It houses the town's preserved Erie depot, originally erected in 1871. 
The building features a collection of displays and artifacts inside along with an operating model layout.  Additionally, on the grounds is a preserved caboose which can be toured.  They are normally open during select days in the summer and early fall.

Pine Creek Railroad
The Pine Creek Railroad is operated by the New Jersey Museum of Transportation. The railroad operates every day through the summer and on a limited scheduled in the late winter and September through December.

Phillipsburg Railroad Historians
Founded in 1990, this local organization attempts to tell the story of railroad operations once located around the Phillipsburg area. 
They are currently located on roughly 4 acres of former Jersey Central property and house their artifacts and displays inside the CNJ's former freight depot (which also includes a gift shop). 
Additionally, the museum has a growing collection of rolling stock including two small diesel switchers.  Finally, they also operate a small, scale railroad offering rides to the public.

---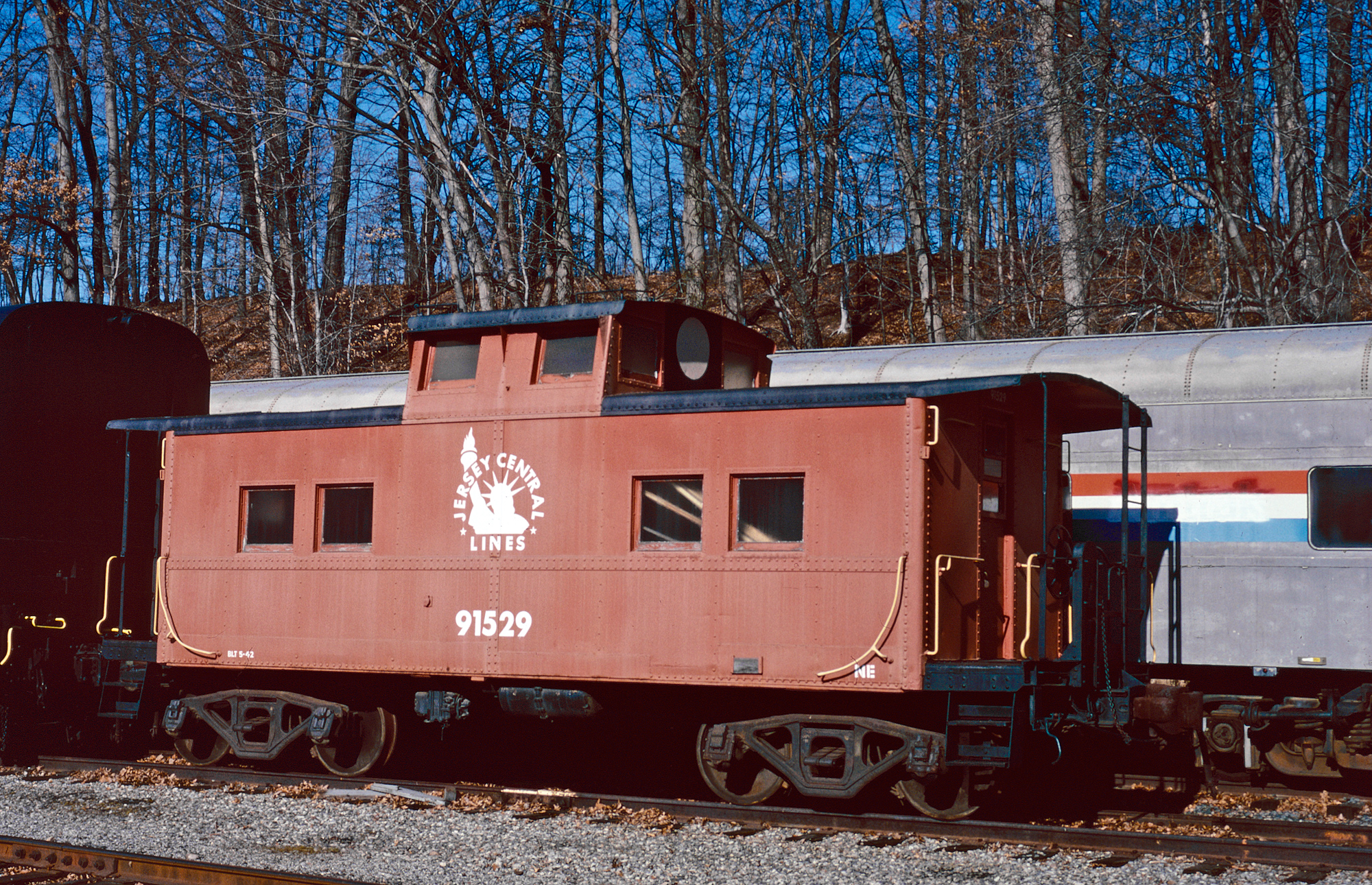 Jersey Central caboose #91529 is seen here at the Whippany Railway Museum, alongside other equipment, in Whippany, New Jersey on January 25, 2003. The car was originally built in May, 1942. American-Rails.com collection.
Whippany Railway Museum
The Whippany Railway Museum, base in Whippany, New Jersey also operates excursion trains on the museum grounds using one of a few operational diesel locomotives on hand.

Woodstown Central Railroad
(Woodstown):  This excursion launched in 2022 and is a division of SMS Rail Lines, a short line freight carrier which has served New Jersey since 1994.  From a historical standpoint, the operation utilizes about 16 miles of restored ex-Pennsylvania-Reading Seashore Lines trackage between Swedesboro, Woodstown, and Mannington.  The railroad is currently offering 32-mile round trips with some trains.
As a new railroad their excursions are still limited.  However, they current offer a few trips behind historic Baldwin diesel locomotives and a rail biking experience. 
Their long-term goal is restore several pieces of rolling stock for guests, including a Reading caboose already in service and a former private office car (passenger car).  In addition, they are working to restore an original steam locomotive, 0-6-0 #9. It should be operational by 2023.
This engine was built for the U.S. Army by the American Locomotive Company in 1942.  It has previously been at the New Hope Railroad in New Hope, Pennsylvania and has not operated since the 1970s.