Michigan Train Rides And Railroad Museums Guide

Michigan train rides offer a wide selection of options and if you are interested in catching an excursion pulled by steam then a visit to the state is a must. The famous Huckleberry Railroad operates a quite large fleet of five locomotives while the Little River Railroad in Coldwater pulls tourist trains using a 4-6-2 Pacific. And then there is the Steam Railroading Institute, owner of the famous 2-8-4 Berkshire #1225. If you want to catch a ride behind this large beauty you will certainly need to plan ahead as trips are only offered during certain times of the year. Often forgotten but Michigan is also home to the small Tahquamenon Falls Wilderness Excursion which uses a small section of narrow-gauge track near Soo Junction. Please be aware the state features a wide range of railroad museums as well.  Please note!  The guide here pertains only to Michigan train rides related to vacation and tourism destinations.  If you are interested in intercity/long distance rail travel please visit Amtrak's website.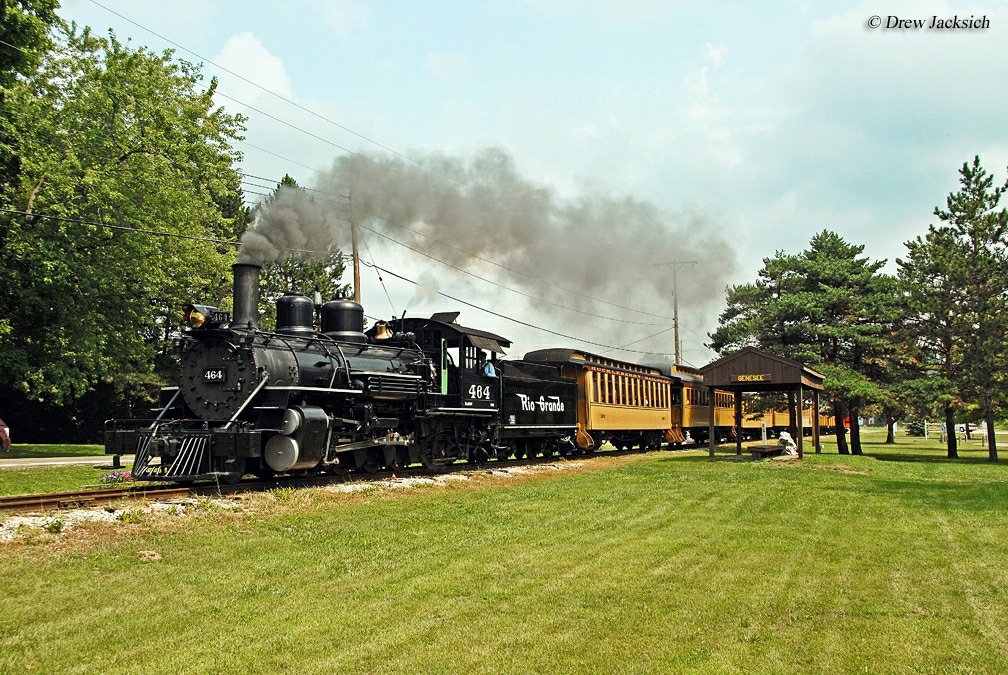 If there was one excursion train I would recommend you see when in Michigan it would have to be the Steam Railroading Institute. Not only do they own and operate the #1225 but they also offer quite a range of excursions (especially during the holidays) using climate-controlled cars. As such, it enables the organization to begin their operating season in February, well before most other tourist railroads. Of note, Michigan train rides also include the Adrian & Blissfield Railroad and Coopersville & Marne Railway. If you are interested in catching one of the finer dinner train operations in the country, the Adrian & Blissfield is worth the visit offering wonderful scenery of southeastern Michigan as well as some great eating. While the Coopersville & Marne, on the other hand, isn't known for incredible food or luxurious onboard accommodations they do offer very reasonable prices with several different excursion options to choose from. Also, if you are interested in Michigan train rides that pertain to specific events, such as "The Polar Express," Halloween, Thomas the Tank Engine excursions, or fall foliage events please visit the main tourist trains section of this website.
Michigan Train Rides And Railroad Museums, 2018
Bluewater Michigan Chapter, National Railroad Historical Society
This chapter of the NRHS, established in 1982, is based in Royal Oak. They do not have a physical address in which to view historic railroad equipment.  However, the group does have a collection of operational passenger equipment which may be chartered for use.  To learn more about this please visit their website.
Adrian & Blissfield Railroad
The Adrian & Blissfield Railroad, based in Blissfield, Michigan is well known for its fabulous dinner trains, notably the Old Road Dinner Train. The railroad offers a wide variety of other dinner train rides to choose from. While trains board at Blissfield you can also catch them from nearby Charlotte as well.
Capac Historical Society Museum
This small museum is housed inside the town's restored Grand Trunk Western depot.  Inside there are historic railroad displays as well as those related to the local community. 
Clinton Northern Railway Center
This organization is located in the town's preserved Grand Trunk Western brick depot built during the 1920's.  They also house a few pieces of original rolling stock along with a various collection of other artifacts.  They state their mission is to generally preserve rail industry history while telling the story of its national importance.
Coopersville & Marne Railway
The Coopersville & Marne Railway, based in Coopersville, Michigan offers a wide variety of train rides to choose from including train robberies, "Pizza Trains", and seasonal trips.
Durand Union Station - Michigan Railroad History Museum
This museum is located within the town's restored union station built by the Ann Arbor and GTW (it also currently acts as an Amtrak stop).  The building houses a number of displays and also hosts several events throughout the year.
Flushing Area Museum
This museum is housed inside the restored Cincinnati, Saginaw & Mackinaw (GTW) depot.  They offer a collection of displays as well as an operating Lionel layout.  Their mission statement state their intentions are, "to collect, acquire, preserve and interpret the history and cultural development of the area in and around Flushing, Michigan."
Green Village At The Henry Ford Museum
One of Michigan's most well-known museum this complex features an impressive collection of artifacts related to the history of transportation in this country and host various events throughout the year.  They feature several pieces of rolling stock and steam locomotives, a few of which are restored and even offer train rides.  To learn more please visit their website.
Houghton County Historical Museum
This museum is open from June through October and features several various exhibits inside related to the area's local history, including railroads.  They also operate short train rides behind narrow-gauge 0-4-0T #3, a small, historic steam locomotive built by H.K. Porter in 1915.
Huckleberry Railroad At The Crossroads Village
The Huckleberry Railroad is part of the Crossroads Village & Huckleberry Railroad Park, a popular tourist attraction in Flint that offers much more than just train rides (such as camping, boating, paddleboat rides, fishing, beaches, and more). While the railroad's star attractions are two steam locomotives, #2 and #464 the Huckleberry actually owns seven locomotives in total.
Junction Valley Railroad
Located in the town of Bridgeport, this organization offers quarter-scale train rides from late May through early September each year.  They also host a special trip for Halloween.  Finally, be sure to check out their hobby shop!

Little River Railroad
The Little River Railroad is based in Coldwater, Michigan offering rides as far west as Quincy, about 6 miles away. The railroad normally uses its 4-6-2 Pacific steam locomotive to pull trains although they also have a small 0-4-0 tank engine on hand for special events as well, which occur at various times throughout the year.
Michigan AuSable Valley Railroad
This little tourist attraction is based in Fairview and offers visitors the chance to ride one-quarter scale model trains during the summer months, which includes a tunnel and 220-foot long wooden trestle.  Quite a miniature railroad!
Michigan Transit Museum
The Michigan Transit Museum is located in Mt. Clemens, Michigan in the restored Grand Trunk Western depot. The museum looks to keep alive the history of the area's railroads featuring both displays and a short excursion train. 
Saginaw Railway Museum
This museum is based in its hometown of Saginaw and located within the Pere Marquette Railway's restored depot moved from Hemlock.  Along with historic artifacts they feature a small collection of rolling stock and they are working to restore the Michigan Central/PM Mershon Tower.  They are open on select days between May and November.
S.S. City of Milwaukee
This unique museum is actually a restored, coal-fired railroad carferry which has been converted for use as a museum.  They also offer several special events throughout the year on-board the boat.
Southern Michigan Railroad Society
The Southern Michigan Railroad, based in Clinton, has been in operation since 1982 operating about 13.5 miles of a former New York Central line acquired from Conrail.  They operate from the spring until December each year, hosting several special trips during that time.  

Steam Railroading Institute
The Steam Railroading Institute, based in Owosso, Michigan is the home of Pere Marquette 2-8-4 #1225, star of the hit movie The Polar Express. Throughout the year SRI operates diesel-powered excursions and on rare occasions does so using one of its operable steamers, such as #1225. During the Christmas season they operate their North Pole Express using none other than #1225. If you want to ride on the true Polar Express train, this is it!

Tahquamenon Falls Wilderness Excursion
The Tahquamenon Falls Wilderness Excursion located in Soo Junction, Michigan operates a short-stretch of narrow-gauge trackage in the state's beautiful upper peninsula.
Thomas Edison Depot Museum
Located inside the Port Huron's restored Grand Trunk Western depot is part of the larger Port Huron Museum complex.  Their mission statement notes, "The Port Huron Museum celebrates the history and culture of the Blue Water Area and fosters an appreciation of other peoples and places. Through exhibitions, education, and public programs, the Museum inspires knowledge of the past, participation in the present, and an imagination for the future."  The depot museum features a number of displays as well as a restored baggage car outside.
Tri-Cities Historical Museum
This museum, located inside the GTW's restored depot at Grand Haven, features a wide range of exhibits telling the history of the local area.  They also showcase Pere Marquette 2-8-4 #1223 along with several other pieces of rolling stock.  The museum is open on select days throughout the year.

Home

›
Tourist Train Information
› Michigan