Illinois Train Rides And Railroad Museums Guide

Illinois train rides are rather scarce considering that state has historically been the most important to railroads with Chicago being the epicenter in the movement of east and west coast freight traffic. As such, the Prairie State was once blanketed with rails home to more than 10,000 miles of tracks at one time. Despite this, there are only four excursion trains of some kind currently available in the state; three are short train rides offered by railroad museums while the Silver Creek & Stephenson Railroad runs on a few miles of track in Freeport. If you are interested in railroad history, however, Illinois is home to several museums, which have also been included here.  Please note!  The guide information here pertains only to Illinois train rides related to vacation and tourism destinations.  If you are interested in intercity/long distance rail travel please visit Amtrak's website.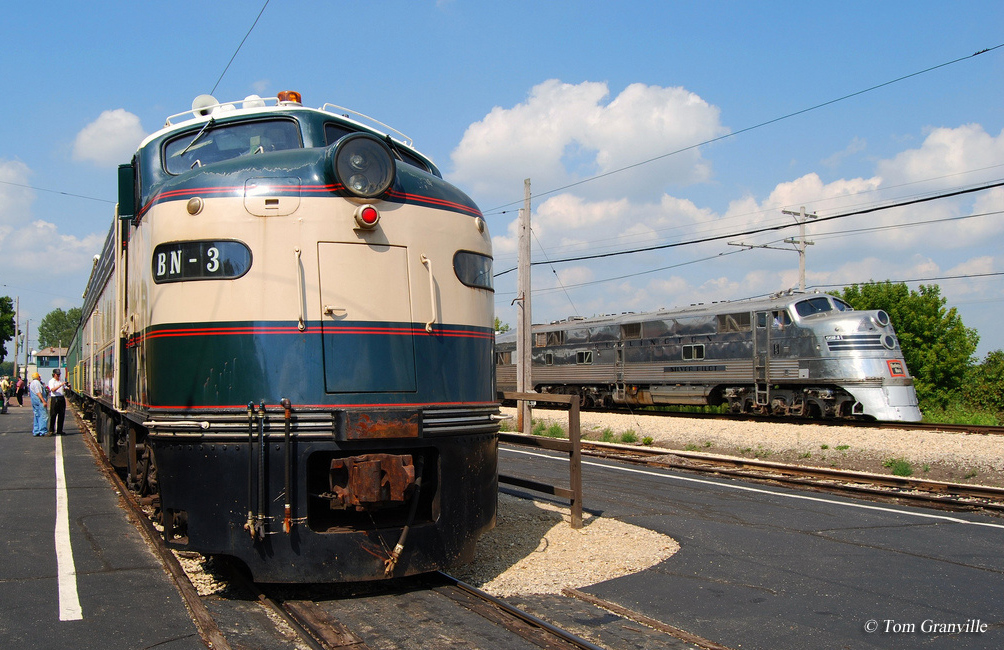 Despite the lack of train rides in Illinois I would highly recommend a visit to the Illinois Railway Museum, the largest such facility in the country. Their excursions only include about a mile of railroad around their property although they take visitors on trips of their restored trolleys, steam, and diesel locomotives. While the Silver Creek & Stephenson Railroad runs on just two miles of track and does not have much to offer visitors for excursions, such as on board dining or lots of special events throughout the year, they own an operable geared steam locomotive making them well worth a trip to see. Also, if you are interested in Illinois train rides that pertain to specific events, such as "The Polar Express," Halloween, Thomas the Tank Engine excursions, or fall foliage events please visit the main tourist trains section of this website.
Amboy Depot Museum
The Amboy Depot Museum is located in the restored Illinois Central former depot and division headquarters at Amboy.  The facility houses historic artifacts and is open at various times throughout the year.  Please check their website to learn more.

Chicago Great Western Railway Depot Museum
As its name suggest, this museum is housed in the restored Great Western depot at Elizabeth which features static displays and a caboose in front of the building.  They are usually open during the warmer months of the year from spring through fall.
Depot Railroad Museum
This museum is located inside the restored Chicago & Eastern Illinois brick depot at Rossville. Their collection is largely from the C&EI but also includes other items.  They are open during the summer season from Memorial Day through Labor Day.

Fox River Trolley Museum
The Fox River Trolley Museum, based in South Elgin, Illinois is dedicated to preserving the region's interurban history. In doing so it offers visitors the chance to ride one of many preserved trolleys the museum has on its property along its 4-mile restored right-of-way.
Galesburg Railroad Museum
Located in Galesburg this museum houses a large collection of rolling stock and displays.  During the year a few events are held and they are open from late April through early September.  To learn more please visit their website.
Historic Greenup Depot
Housed inside a restored Pennsylvania Victorian-era depot in Greenup this museum houses displays and is free of charge to the public (although donations are accepted).  They are opened during select days throughout the year.
Historic Pullman Foundation
This unique museum is located in Chicago at the industrial town built by George Pullman for his once expansive Pullman Palace Car Company.  To learn more about what is located there and the sights to see please visit their website.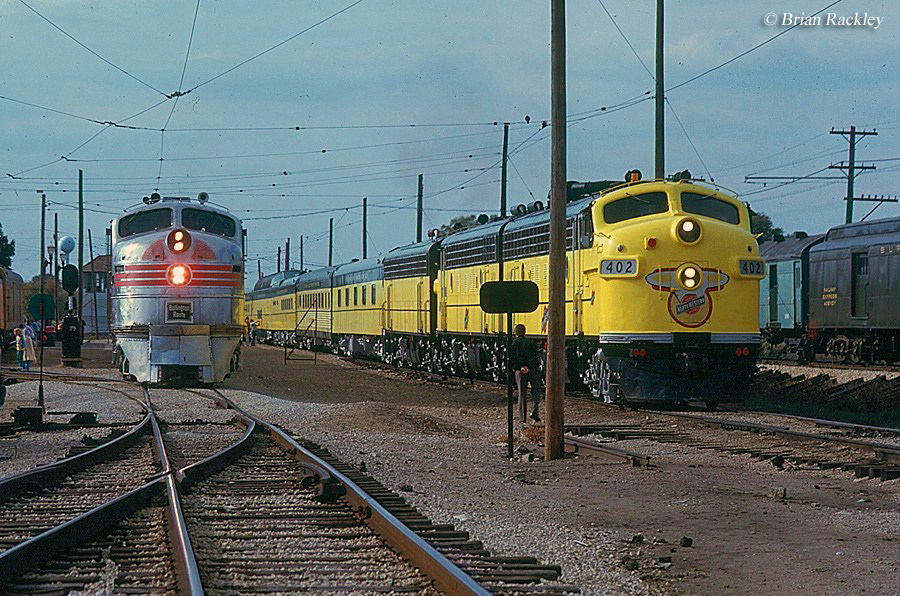 Illinois Railway Museum

The Illinois Railway Museum, based in Union, Illinois is one of the premier railroad museums in the USA and also the largest. The IRM, as it's also known, has an impressive collection of preserved and restored equipment at its amazing facility. Aside from hosting specials throughout the year like "A Day Out With Thomas" it also offers visitors the chance to take short excursion trains using either preserved diesel and steam locomotives pulling coaches or trolley cars.  This is a must-see attraction for any enthusiast interested in trains.
Kankakee Railroad Museum
This depot museum is housed inside the town's restored Illinois Central brick depot.  It is open during select days throughout the year and houses rolling stock outdoors as well as many displays inside.

Monticello Railway Museum
The Monticello Railway Museum, based in Monticello, looks to preserve the rail history of the region. However, they also offer excursion train rides, May through October, on weekends and holidays using vintage diesel locomotives and coaches. Cab rides are also available. To make things even more interesting, trains can be boarded at the restored ex-Wabash depot in the town.
Museum Of Science & Industry
One of Chicago's most noted museums has historic rolling stock on display as well as a fine model railroad to exhibit.  They are open nearly year-round except major holidays.  To learn more please visit their website.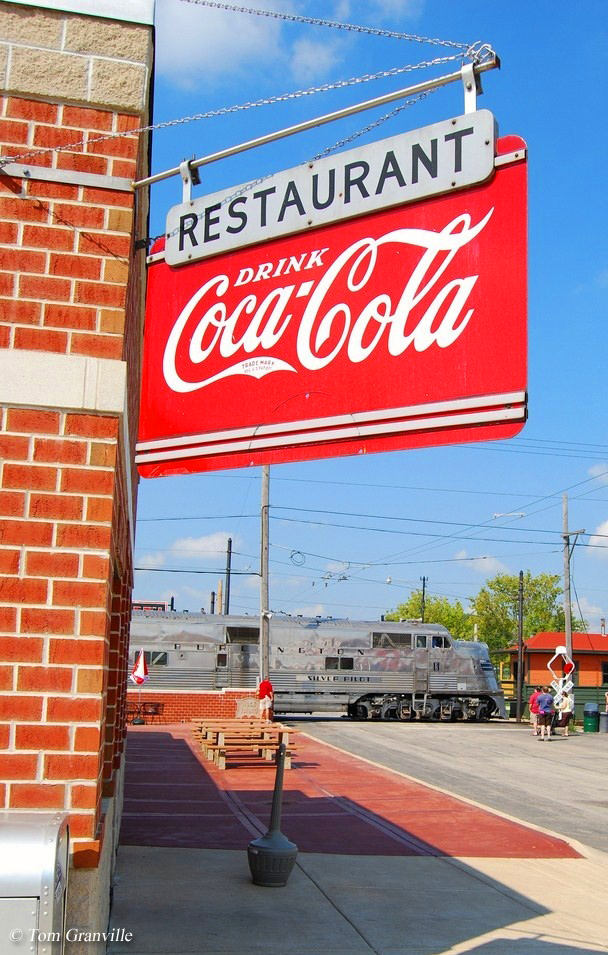 Silver Creek & Stephenson Railroad
Often forgotten about or unknown the tiny Silver Creek & Stephenson Railroad offers a gem of a train ride as they used a restored 2-truck Heisler steam locomotive to pull their excursions. Based in Freeport, Illinois the railroad uses nearly 2-miles of ex-Milwaukee Road right-of-way which had to be completely rebuilt in the mid-1980s. Trains are boarded from the Silver Creek Depot, a building constructed in the early 1990s using plans from the Illinois Central's depot based in Elroy, Illinois. For more information please call either 815-232-2306 or 815-235-2198 (they have a website but it has not been updated for years).
Stonefort Depot Museum
Based within the town of Stonefort's restored Cleveland, Cincinnati, Chicago & St. Louis (the "Big Four," a New York Central predecessor) depot built in 1890 this museum offers a small collection of artifacts to see within this restored building.  
Trolley Car 36
Operated as part of the Rockford Park District in Rockford Trolley Car 36 provides rides to the public on select dates throughout the year.  To learn more please visit the park's website.
Union Depot Railroad Museum
This museum, located in Mendota, is housed within a section of the town's original union station built by the IC and Milwaukee Road.  Along with various historic displays they also have rolling stock on-hand as well as an operating layout to see in action.  For more information and planning a visit please check out their website.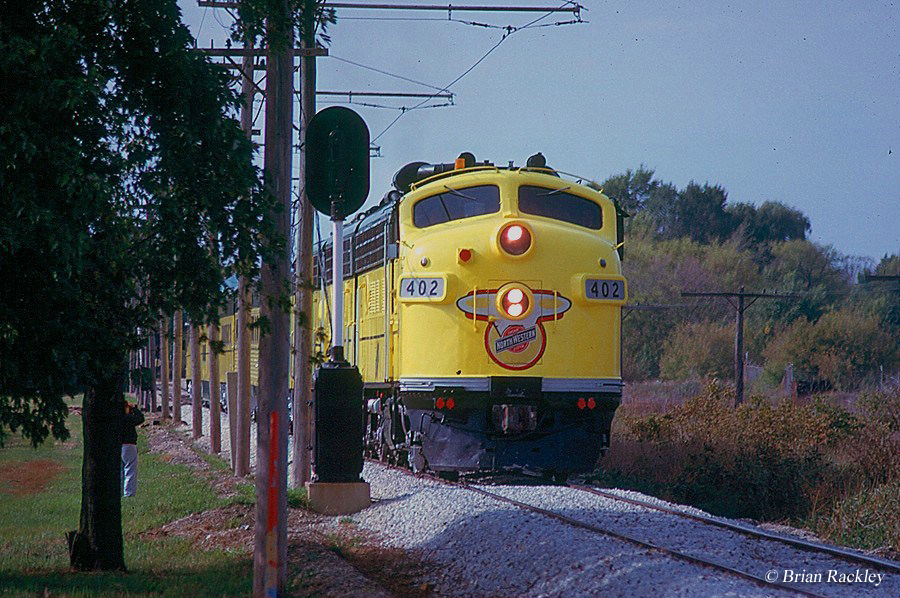 Waterman & Western Railroad

Based in Waterman at the Lions Club Park this little scale railroad offers train rides during the summer months each year.  To learn more please visit their website.
Wheels O' Time Museum
The Wheels O' Time Museum is located in Dunlap and offers a wide range of transportation-related displays, including a collection of historic rolling stock (as well as a steam locomotive).  To learn more please visit their website.

Home

›
Tourist Train Information
› Illinois