Arkansas Scenic Train Rides: A Complete Guide (2023)

Last revised: May 28, 2023

By: Adam Burns

If you are interested in Arkansas train rides the information here provides complete coverage concerning that subject. 

While the state has a long and interesting history with the railroad, Arkansas offers just a few train rides. Most notably is the Arkansas & Missouri, a successful "Class II" carrier, which hosts popular trips that run as far as 134 miles! 
The A&M's story can be traced back to the fabled St. Louis-San Francisco Railway, better known as the "Frisco," which served a great deal of the southern Midwest, areas of the Southeast, and parts of Texas. 
It would join the very large Burlington Northern in 1981.  Another popular little attraction is the Eureka Springs & North Arkansas Railway that operates on a short stretch of track that went by several different names over the last 100+ years. 
In addition to regular excursions, be sure and check out the Fort Smith Trolley Museum.   Located in its namesake town this organization hosts short trips in historic trolley cars. 
For more information about Arkansas's attractions, along with a brief history about the state's involvement with the iron horse please read on below.  Also featured are the state's few museums. 
Please note!  The information here pertains only to Arkansas train rides related to vacation and tourism destinations.  If you are interested in intercity/long distance rail travel please visit Amtrak's website.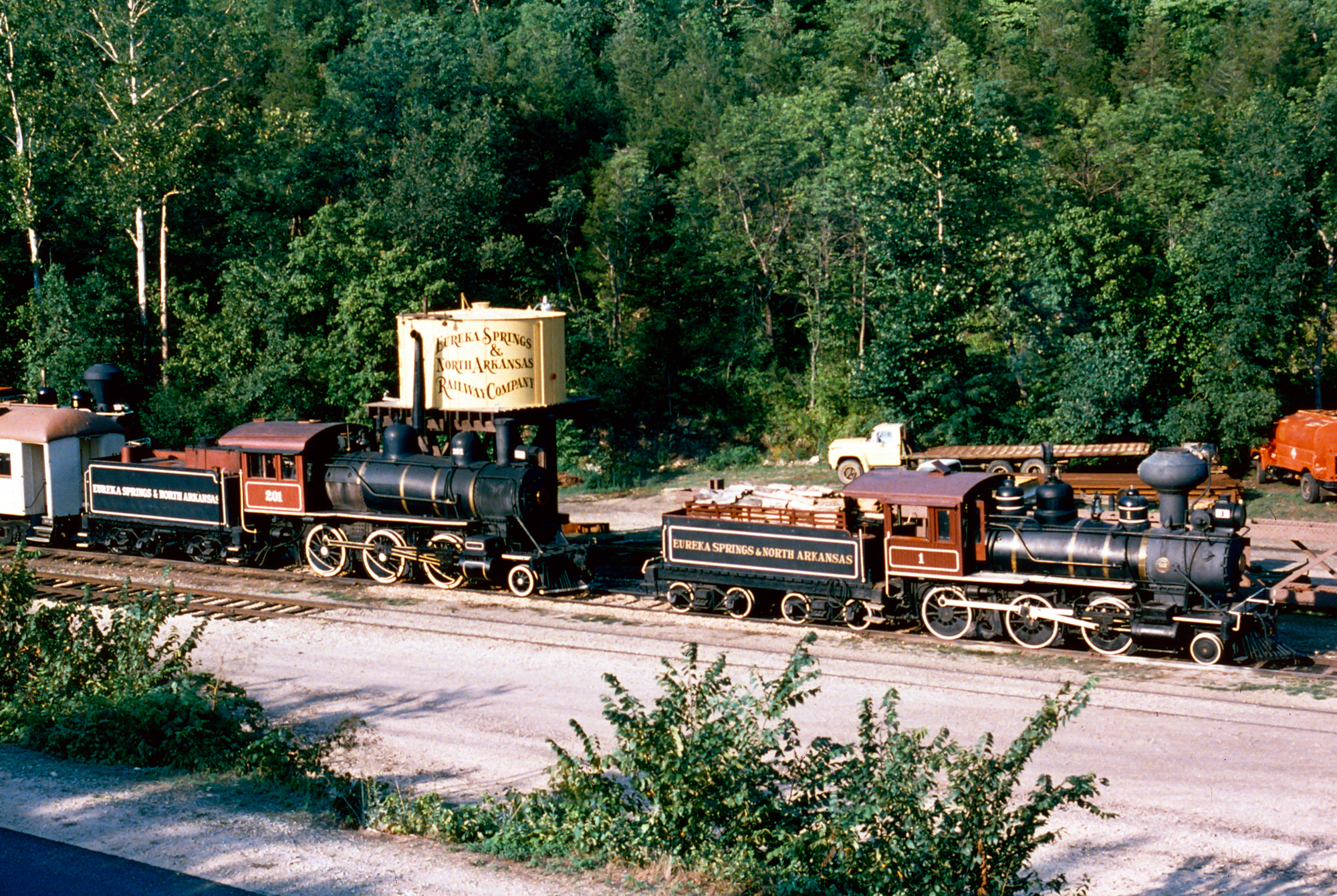 Eureka Springs & North Arkansas Railway 2-6-0 #1 (built for the W. T. Carter Lumber & Building Company in 1906 by Baldwin) and 2-6-0 #201 (built as Moscow, Camden & San Augustine #200 by Alco in 1906) are seen here at the railroad's headquarters in Eureka Springs, Arkansas in July, 1984. Today, neither Mogul resides on the property. Mike Bledsoe photo. American-Rails.com collection.
State Rail History
The first railroad to serve Arkansas was the small Memphis & Little Rock Railroad. 
According to the January, 2007 issue of Trains Magazine's which featured a nearly cover-to-cover subject on all 50 states entitled, "Great Railroading: State-By-State," points out the M&LR's initial segment opened in 1857 when its first train, led by the locomotive Little Rock, pulled six bales of cotton. 
The company's heritage began with its chartering on January 10, 1853 by the Arkansas state legislature to link Hopefield (across the Mississippi River from downtown Memphis, Tennessee) with Little Rock.  Construction began quickly with crews in the field by 1856.
However, due to inadequate financing only about 40 miles had been opened from Hopefield to Madison by the Civil War's outbreak in 1861. 

While both the North and South utilized the property during the conflict (it was under the Union's control by 1862) this did not slow the project. 
After the so-called "Eastern Division" was finished, work on the "Western Division" between Huntersville (near Little Rock) and the White River commenced in 1861 and was completed within a year. 
While the "Middle Division" remained unfinished efforts to complete this section were hastened following the railroad's return to private control on November 1, 1865.
The needed capital again proved a problem and only through state aid, to the tune of $1.2 million, could the line be finished. 
That moment came on April 11, 1871 when the last rail was spiked down and the 133-mile corridor was opened. Unfortunately, the M&LR proved less than successfully, partly due to its poor construction. 
It subsequently went through multiple name changes and bankruptcies.  Following these shortcomings it was acquired by the Choctaw & Memphis Railroad (C&M) on October 25, 1898, a subsidiary of the larger Choctaw, Oklahoma & Gulf Railroad (CO&G). 
The latter company was better known as the "Choctaw Route" with a main line, at that time, linking Memphis with Texola, Oklahoma. 
In 1904 the expanding Chicago, Rock Island & Pacific acquired full control of the CO&G and its subsidiaries.  In 1910 the route was extended as far west as Tucumcari, New Mexico where it interchanged with the El Paso & Southwestern, a future component of the much larger Southern Pacific. 
The "Choctaw Route" became one of Rock Island's important corridors connecting the Southwest and Southeast (it was later abandoned after the company's 1980 liquidation). 
Today, Arkansas is home to three Class I carriers (Union Pacific, BNSF Railway, and Kansas City Southern) and maintains 2,700 miles of track from a network, according to
John Stover's book "The Routledge Historical Atlas Of The American Railroads," that peaked at over 5,000 miles during the 1920's. 
Today, there are only a handful of Arkansas train rides to choose from although the Arkansas & Missouri, a successful freight carrier, does offer very nice excursions.
---
Rail Excursions At A Glance
Arkansas train rides may not offer the glitz of the Strasburg Railroad or glamour of the Grand Canyon Railway. 
However, you can ride behind authentic steam locomotives at the Eureka Springs & North Arkansas (all the while enjoying a meal) or within preserved trolley cars of at the Fort Smith Trolley Museum. 
The state's greatest attraction, however, is found at freight carrier Arkansas & Missouri.  It has been in operation since 1986 utilizing a component of the former "Frisco" Railroad. 
Excursions are hosted within the following cars:
Coach #104, named the Biloxi Blues built by Pullman in 1917,  


Coach #105, the Golden Age, built by Harlan & Hollingsworth [then a Bethlehem Steel subsidiary


Coach #106, Mountain View


Parlor #107 (the Explorer, a 1955/56 product of Pullman-Standard)


Dome coach #108 (named the Silver Feather, built for the Western Pacific by the Budd Company in 1948, used on the California Zephyr)


Diner-lounge #109 (named the Spirit of Arkansas it was built by the Budd Company in 1950 for the Southern Pacific as a coffee shop-lounge car)
As you can see the A&M provides a bevy of options that whisk passengers through the breathtaking Boston Mountains.
---
Eureka Springs & North Arkansas caboose #214 was photographed here at Eureka Springs, Arkansas in July, 1984. Mike Bledsoe photo. American-Rails.com collection.
Guide Information
From a geographical standpoint, Arkansas is well known for its natural beauty with rolling, green hills, winding rivers and abundant farmland.
To this extent the Arkansas & Missouri's trips indulge visitors through miles upon miles of the state's rugged topography while crossing trestles and passing through tunnels.   
The A&M does not provide many extra accommodations/services with their excursions, such as freshly prepared meals, but their trips have become very popular and you can catch an excursion every month of the year.
For a more historic trip, however, you may want to visit the Eureka Springs & North Arkansas. While they own just a few miles of track they operate through the beautiful Ozark Mountains and also offer dinners on-board. 
Finally, if you are interested in train rides that pertain to specific events, such as "The Polar Express," Halloween, Thomas the Tank Engine excursions, or fall foliage events please visit the main tourist trains section of this website.
Arkansas Railroad Museum
The state's largest railroad museum is based in Pine Bluff at the former St. Louis Southwestern Railway's (Cotton Belt) yard. 
The organization is operated by the Cotton Belt Rail Historical Society and features a large collection of rolling stock. 
They maintain two preserved steam locomotives, both of Cotton Belt lineage; 2-6-0 #336 (listed as Class D-3, it was manufactured by the Baldwin Locomotive Works in 1909) and 4-8-4 #819. 
The latter was the last in a batch of big "Northerns" the railroad's Pine Bluff Shops constructed in 1942.  It spent several years hosting excursions during the 1980's and early 1990's; today, it is once again under restoration. 
The Cotton Belt's 4-8-4's were modern steamers, utilizing oil for fuel and roller-bearings on all axles; on July 19, 1955 the #819 was donated to the city of Pine Bluff. 
The museum is unique in that it also utilizes the Cotton Belt's former shops, enabling the group to perform needed repairs and restoration projects within a large, enclosed space.  They are open Monday through Saturday from 9 AM to 2 PM and on Sunday afternoon by appointment.
Arkansas & Missouri Railroad
The most popular of all Arkansas train rides can be found at the Arkansas & Missouri Railroad, an operating freight line which also hosts trips for the public in the state's northwestern region.  
The history of the A&M begins in 1986 when western giant Burlington Northern looked to shed trackage it saw as redundant. 
One such corridor was the former St. Louis-San Francisco Railway's route between Monett, Missouri and Paris, Texas.
Of this, the A&M received exactly 133.6 miles of the main line between Monett, Missouri (at milepost 0.0 and a connection with today's BNSF Railway, successor to Burlington Northern) and Fort Smith, Arkansas (at milepost 133.6).
Additionally, it was granted the branch from Bentonville Branch Junction (Rogers) and Bentonville, totaling 5.7 miles length. In all, the A&M began as a 139.4-mile railroad. 
Their excursions offer a number of different packages to choose from including first class, club, coach, or even the caboose. 
Fort Smith Trolley Museum
You wouldn't think Arkansas train rides relating to trolleys would be possible but they are at the Fort Smith Trolley Museum (FSTM)! 
This organization predominantly focuses on the preservation of the region's interurban history.  In addition, they also host rides in their restored trolley car, #224 (built for the Fort Smith Light & Traction Company in 1926 as a Birney-type by the American Car Company). 
The FSTM opened as a museum in 1985 while their 3/4-mile streetcar line was dedicated on May 19, 1991. 
Along the way it passes the Fort Smith National Historic Site, Fort Smith National Cemetery, West Garrison Avenue Historic District, and 1907 Atkinson-Williams Warehouse Building (home to the Fort Smith Museum of History). 
They also have three other streetcars preserved although all are un-restored shells.
These include Fort Smith Traction, Light & Power #10 (built in 1902), Fort Smith Light & Traction #205 (a Birney-type built in 1919), and Fort Smith Light & Traction #221 (a Birney-type built in 1926). 
Finally, the group has a standard-gauged steam locomotive on the grounds; St. Louis-San Francisco 2-8-2 #4003, manufactured by American Locomotive in 1919 as a United States Railroad Administration (USRA) design.
Eureka Springs & North Arkansas Railway
If you are interested in Arkansas train rides of a slightly different nature, consider the Eureka Springs & North Arkansas Railway (ES&NA). 
This attraction is based in Eureka Springs offering excursions  behind an SW1 diesel locomotive, #4742, built by Electro-Motive in 1942 for the Chicago & Eastern Illinois (#98). 
Their property includes about 2.5 miles of a former short line, the Arkansas & Ozarks Railway, which once maintained a system of 69.37 miles (according to the 1958 Official Guide Of The Railways). 
Its main line extended 65.04 miles from Seligman, Missouri to Harrison Arkansas. The company also maintained the following branches; 1..81 miles from Freeman, Arkansas - Berryville, Arkansas and Junction, Arkansas - Eureka Springs, Arkansas (2.52 miles). 
The latter is operated by ES&NA.  Along with standard excursions they also provide the unique experience of dinners aboard some trips. 
Finally, be sure and visit their three preserved, but non-operating, steam locomotives:
Peter Buescher & Sohn 0-4-0T #35 (a German locomotive carrying a 600 mm gauge, manufactured by Orenstein & Koppel of Berlin in 1933)


Moscow, Camden & San Augustine Railroad 2-6-0 #201 (built by Alco's Cooke Locomotive Works in 1905)


2-8-2 #226 (manufactured by Baldwin in 1927)
---
Another view of Eureka Springs & North Arkansas Railway 2-6-0 #1 and 2-6-0 #201 in Eureka Springs, Arkansas during July, 1984. Mike Bledsoe photo. American-Rails.com collection.
Frisco Depot Museum
The Frisco Depot Museum (of Arkansas, there is also a similarly named organization in Oklahoma), based in Mammoth Spring, is housed in the town's restored 1886, Kansas City, Ft. Scott & Memphis Railway brick depot (the oldest such structure which still survives in the state). 
This system became part of the St. Louis-San Francisco Railway in 1901.  As individual railroads go, the KCFtS&M comprised the largest part of the Frisco's modern network.  For more reading about the history of this classic railroad please click here. 
The organization features displays inside while a restored wooden caboose sits beside the building, Frisco #1176. 
Admission to the museum, located within Mammoth Spring State Park, is free of charge although it is not open on Mondays and only on Tuesdays by appointment.  For information and planning a visit they have a web page on the park's website.