From a geographic standpoint the state is regarded for its rolling, green hills, winding rivers and farmland. To this extent the Arkansas & Missouri's train rides covering miles through this country while crossing trestles and passing through tunnels. While they do not offer a lot of extras with their trips, such as dinners, you can catch an excursion every month of the year. For a more historic trip, however, you may want to visit the Eureka Springs & North Arkansas. While they own just a few miles of track they do operate steam locomotives through the beautiful Ozark Mountains and also offer dinner train services.  Finally, if you are interested in Arkansas train rides pertaining to specific events, such as "The Polar Express," Halloween trips, Thomas the Tank Engine excursions, or fall foliage events please click on the corresponding image found in the right hand-column of this page.
Arkansas Railroad Museum
The state's largest railroad museum, the Arkansas Railroad Museum, based in Pine Bluff, has a large collection of rolling stock on display as well as a few locomotives.  Included in their collection is Cotton Belt 4-8-4 #819, which once hosted excursions some years ago.  They also are home to 2-6-0 #336, which operated in various private industrial settings and acquired by the museum during the mid-1990s.

Arkansas & Missouri Railroad
The Arkansas & Missouri Railroad is actually an operating freight line although it also operates popular tourist trains in the northwest region of the state. They offer a number of different rides and trips to choose from including the option of riding in first class, club, coach, or even the caboose. 
Fort Smith Trolley Museum
The Fort Smith Trolley Museum mostly focuses on covering the history of interurbans that served the region and to some extent the general rail system. However, they also offer trolley rides in their restored trolley #224.
Eureka Springs Model Railroad Company
This little organization is based in Eureka Springs offers a large layout of model trains on display, mostly of Marklin-build.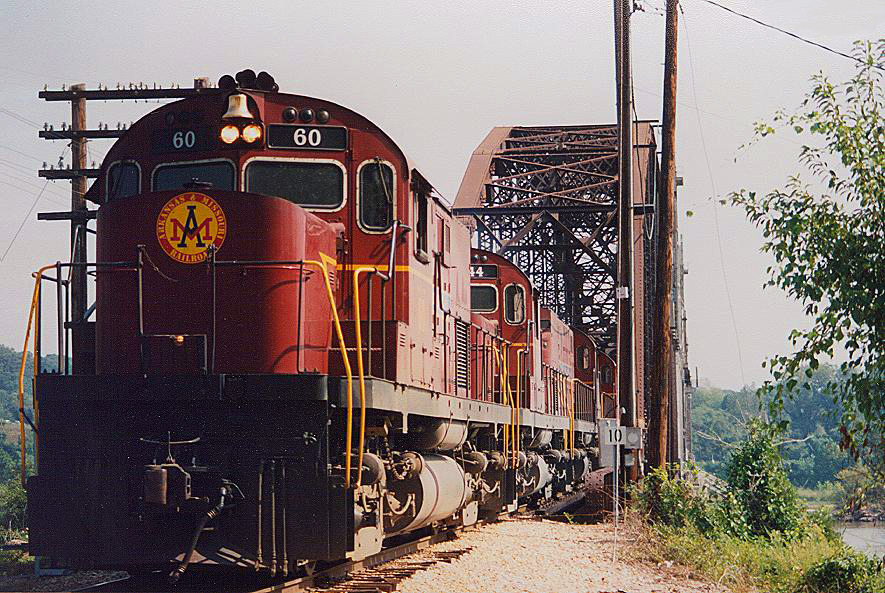 Eureka Springs & North Arkansas Railway
The Eureka Springs & North Arkansas Railway is based in Eureka Springs offering a ride behind steam locomotives through 4 1/2 miles of the Ozarks. The tourist railroad also offers a dinner train.
Frisco Depot Museum
The Frisco Depot Museum (of Arkansas, there is also a similarly named organization in Oklahoma), based in Mammoth Spring, is housed in the town's restored 1886, Missouri Pacific brick depot.  The organization provides display inside while a restored caboose sits beside the building.  Admission to the museum, located within Mammoth Spring State Park, is free of charge although it is not open on Mondays.  For information and planning a visit they have a web page on the park's website.

More On Arkansas Train Rides
If you are interested in learning more about Arkansas train rides, Kalmbach Publishing/Trains Magazine releases their Tourist Trains Guidebook each year, which highlights most such destinations throughout the U.S. and Canada


Home

›

Tourist Train Information

› Arkansas