Blue Ridge Scenic Railway
Last revised: March 27, 2023
By: Adam Burns

One of Georgia's most popular tourist railroads is the Blue Ridge Scenic Railway. This attraction is located within the Chattahoochee National Forest, along the southern edge of the Blue Ridge Mountains.

The line's heritage, which stretches 13 miles between Blue Ridge and McCaysville along the North Carolina border, is quite fascinating. 
It was built as the Marietta & North Georgia Railroad (M&NG), a 3-foot system (narrow-gauge) intended to connect Atlanta with northern points. 
Surprisingly, unlike many such operations the M&NG would eventually open a rather substantial network that reached Knoxville, Tennessee. 
During the early 20th century it became Louisville & Nashville's first entry into Atlanta and was once part of its famous "Hook & Eye" route. In another surprising move, the entire network survived into the 1980's before a component was abandoned. 
Today, the Blue Ridge Scenic Railway is a division of freight carrier Georgia Northeastern Railroad and has hosted tourists since 1998. 
Much of the railroad's success is thanks to its breathtaking scenery through the Blue Ridge Mountains and close proximity to several large cities.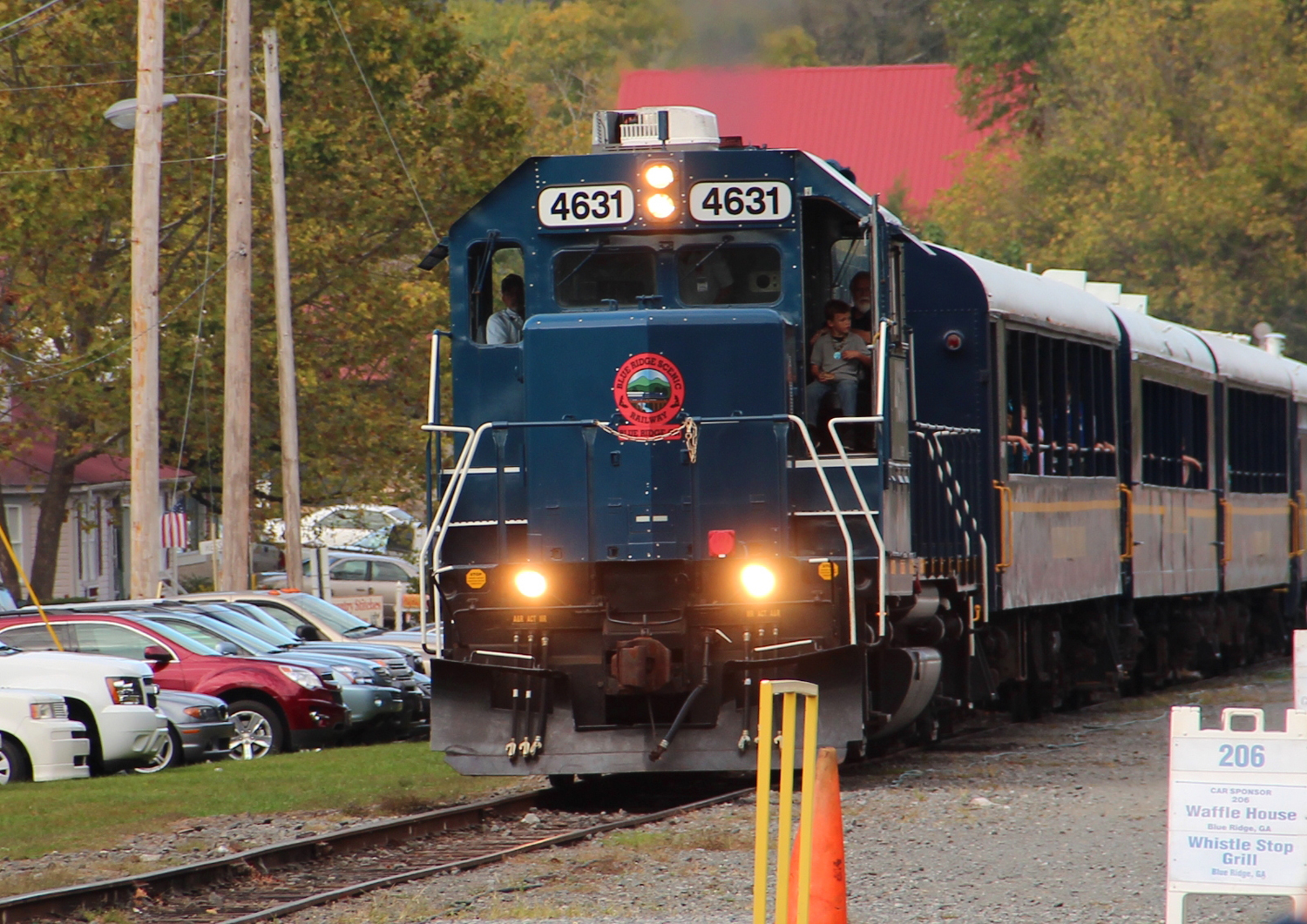 History
The history of the Blue Ridge Scenic Railway's route can be traced well back into the 19th century. 
As Dr. George Hilton notes in his book, "American Narrow Gauge Railroads," a corridor in this region was originally conceived in 1854 by Edward Hulbert as the Ellijay Railroad. 
Its purpose was to link Atlanta with marble quarries under development in North Georgia.  In addition, the line would continue further north to Murphy, North Carolina where iron and copper mines would be served. 
Unfortunately, Hulbert could never find the needed financing for his endeavor. A similar project named the Marietta, Canton & Ellijay Railroad ran into similar problems. 
Following several years of dormancy the idea finally garnered strong financial backing under William Phillips as the Marietta & North Georgia Railroad. 
Actual work on the 3-foot route began from Marietta (where a connection was made with the Western & Atlantic) in 1874 and by May 1, 1879, 23 miles were opened to Canton. 
In 1877 the state of Georgia, greatly eager to see the railroad completed, provided convict labor at a price of $20,000 annually.  
The use of these individuals was later provided at no cost following a legal dispute brought about by shareholders in regards to new ownership (Joseph Kinsey of Cincinnati and George Eager of Boston) in May, 1881. 
They continued to pursue the original goal although moved away from the narrow-gauge concept by laying standard-gauge ties north of Canton. 
Its purpose was to eventually see the line converted to standard gauge (4 feet, 8 1/2 inches).  By 1884 rails had reached Ellijay, roughly the half-way point, a distance of 67 miles.
By late 1886 the line was completed to Murphy (107 miles), which established a connection with the Western North Carolina Rail Road (The WNCR was leased by the Richmond & Danville Railroad on April 30, 1886.  In 1894 the R&D became part of the Southern Railway.), and officially opened in early 1887. 
Interestingly, despite the road's seemingly habitual financial problems it somehow continued to secure financing for further construction. 
After reaching Murphy, Georgia's involvement ended and the property found new management under an individual by the name of R.M. Pulsifer, a successful Boston publisher. 
He took the railroad in a new direction by aiming for a further northerly extension to Knoxville as part of a through route to Atlanta.
Ironically, despite Georgia's longtime interest in the endeavor the state legislature refused M&NG's entry into Atlanta by stating it would harm the Western & Atlantic's competitive standing. 
By late 1887 the railroad had secured $3.3 million in bonds, enabling it to begin the Knoxville corridor.  Due to the rugged nature of a line due north from Murphy a route via Red Marble Gap, North Carolina was not practical. 
Instead, engineers decided on an easier alignment extending from Blue Ridge, Georgia.  This decision would put Murphy on a long branch although it did maintain some importance as a Southern Railway connection. 
Construction began south from Knoxville in 1889, through a subsidiary known as the Knoxville Southern Railroad, and was completed as a standard-gauged railroad on August 9, 1890. 
While this was ongoing efforts to convert the original property to standard gauge were also underway.  The Marietta-Blue Ridge section was finished in May, 1890 and the Murphy Branch in late November, 1897. 
In January of 1891 the company suffered another receivership and was reorganized as the Atlanta, Knoxville & Northern Railway (AK&N) in 1896.  
During the M&NG's construction it had never been built to particularly high standards.  As such, deep cuts and fills were circumvented in favor of cumbersome switchbacks.  
Under AK&N management these were predominantly removed.  Once such location created the "Eye" of the famous "Hook & Eye Line" near Farner, Tennessee where the nearly 8,000 foot Hiwassee Loop was built up Bald Mountain.  
It then crossed back over itself using a 60-foot-high wooden trestle that offered a relatively manageable 1.5% grade.  The "Hook" had long been in place during the original construction of the narrow-gauge north of Talking Rock, Georgia (near Tate) which featured a tight, double-reverse curve.  
It remained in use until the 1950's when then-owner Louisville & Nashville, which acquired the AK&N in 1902, eliminated the "Hook" by building straight through the mountain for lighter grades and easier curves.  
Soon after L&N's acquisition of the AK&N it constructed a better engineered line to the west which bumped the "Hook & Eye" into a secondary role where it forever remained.
Locomotive Roster

| Builder | Model Type | Road Number | Date Built | Quantity |
| --- | --- | --- | --- | --- |
| EMD | GP20 | 316, 4125 | 1960 (Ex-GN, Ex-SP) | 2 |
| EMD | GP9 | 6576 | 1958 (Ex-B&O) | 1 |
| EMD | GP10 | 7529, 7562 | 1955-1956 (Ex-NYC, Ex-PRR GP9s) | 2 |
| EMD | GP18 | 8704-8705 | 1960 (Ex-NKP) | 2 |
| EMD | GP38AC | 9706, 9708 | 1970 (Ex-ICG) | 2 |
| EMD | GP38-2 | 2000 | (Unknown) | 1 |
Surprisingly, the line continued to garner enough freight business that it remained in use until CSX's creation in 1980.  That year, the Murphy Branch from Murphy to Mineral Bluff was removed.  
The rest remains in service to this day and is now part of short line Georgia Northeastern Railroad, which acquired the old MN&G property in 1987. 
While the Blue Ridge Scenic Railway is an independently operated tourist line it is a subsidiary of the Georgia Northeastern.
This railroad, based in Marietta, Georgia hauls a variety of freight ranging from timber to marble.  Aside from the Blue Ridge Scenic's standard excursions it also plays host to specials such as river rafting/biking adventures and The Santa Express, which runs during November and December.
The former is provided in conjunction with the Rolling Thunder River Company, where you are dropped off by train at either the Toccoa River or Ocoee River to enjoy a day of either floating downriver or challenge the rapids. Additionally, you can be taken to nearby biking trails or the appropriately-named Lake Kayak. 
---
While the Blue Ridge Scenic does not operate any steam locomotives they do use a small collection of historic diesels. When not being used in passenger service these locomotives typically pull freight on an as-needed basis.  
As for the railroad's equipment, they currently feature a roster totaling eleven cars:
One has been modified for handicap access (it can load/unload scooters and wheelchairs).


Three are covered, open-air cars.
There is a concession car that features light snacks and beverages (along with a small gift shop).


Finally, the remaining are standard coaches.
So, if you're even in northern Georgia considering stopping by and visiting the Blue Ridge Scenic Railway.
Between the scenic beauty of the Blue Ridge Mountains and experience of riding a train (where you can ride in either open or enclosed cars), you shouldn't be disappointed.  
There you can learn more about all of the train rides they have to offer, their calendar schedule, and special trips.
Also, if you would like to book your trip ahead you can do so directly through their website by either calling or reserving online (they actually recommend booking in advance as it is not uncommon for trains to sell out).