Grand Canyon Railway

Last revised: March 29, 2023
By: Adam Burns

The former Santa Fe branch the Grand Canyon Railway (reporting marks GCRY) operates today has had a rocky history since the AT&SF gave up on the line in 1974.

Despite this, the tourist line has blossomed into one of the most popular excursions in the country with its top-notch services and stunning scenery of the Arizona desert and Grand Canyon National Park.
The popularity of the Grand Canyon Railway has certainly increased over the past 34+ years since its inception in 1988.
Today, the railroad's fleet of diesel locomotives carry you in a fleet of restored passenger equipment ranging from café and club cars to observations and domes for unparalleled enjoyment and spectacular views.
As such, it is one of the more elegant excursion trains currently available to the general public. While the railroad no longer operates its impressive steam locomotive fleet they remain on the grounds and trip to the Grand Canyon remains a breathtaking experience.
Today the Grand Canyon Railway is owned by Colorado billionaire Phil Anschutz, who recently purchased the railroad from Xanterra Parks & Resorts of Denver, Colorado (which itself had purchased the railroad and assets from owners Max and Thelma Biegert in early 2006).
During the Biegerts ownership they watched their small operation grow from a dilapidated and rundown property (which was in the process of being salvaged after two other attempts at turning the railroad into an attraction fell through in the 1970s and early 1980s) in 1988 to a popular, well respected, and well maintained railroad when they sold it in 2006.  
The rail line to the Grand Canyon itself dates back to 1901 when the Santa Fe Railway decided to complete a branch (which had been started in 1898) from a junction at Williams, Arizona, which connected the national park 65 miles due north.
While the line did provide the Santa Fe with some freight traffic its primary purpose was for accommodating passengers and the general public looking to vacation.
During the late 19th and early 20th centuries many railroads built routes specifically to reach notable geographic locations, such as national parks.
This was especially true for western railroads as a means to increase passenger traffic (several eastern trolley and interurban lines also provided similar services during the same time period as they would construct lines to reach beaches, hot springs, and parks). 
For instance, the Pacific Northwest lines of the Northern Pacific, Great Northern, and Milwaukee Road all built branch lines to serve Yellowstone National Park in the state of Montana.
All three also operated their own hotels/resorts near the park, and the Santa Fe did the same at the Grand Canyon, opening the El Tovar Hotel just feet from the canyon rim in January, 1905.
Remember that during this time automobile travel was in its very early infancy and trains were used by the public to travel virtually anywhere of significant distance.
The idea for resorts, particularly those operated by the larger railroads near or in national parks worked quite well at drawing in tourists and vacationers (or simply sightseers).

Through the mid-20th century the Santa Fe's Grand Canyon resort was quite popular as folks traveling on the elegant, transcontinental Super Chief or El Capitan could simply catch a quick train between Williams and the national park.
However, like most such branches in the region it played out quickly of profitable rail traffic and in 1974 (with passenger service had been eliminated some years earlier) the Santa Fe called it quits on the branch. 
For power today, the Grand Canyon Railway maintains a fleet of six diesel locomotives and four steam locomotives.
Unfortunately, it was announced in the September of 2008 that the railroad's fleet of steam locomotives would be retired although for now they are still retained. Below is an up-to-date roster:
---
Locomotive Roster
Diesel Locomotives
· EMD FP40 #237: Ex-Amtrak
· EMD FP40 #239: Ex-Amtrak
· EMD FP40 #295: Ex-Amtrak
· EMD GP7 #2134
· Alco FPA-4 #6773: Ex-Canadian National
· Alco FPA-4 #6776: Ex-Canadian National
· Alco FPA-4 #6793: Ex-Canadian National
· Alco FPB #6860: Ex-Canadian National
· Alco FPB #6771: Ex-Canadian National
Steam Locomotives
· Alco 2-8-0 Consolidation #29: Ex-Lake Superior & Ishpeming

· Baldwin 2-8-2 Mikado #4960: Ex-Chicago, Burlington & Quincy
---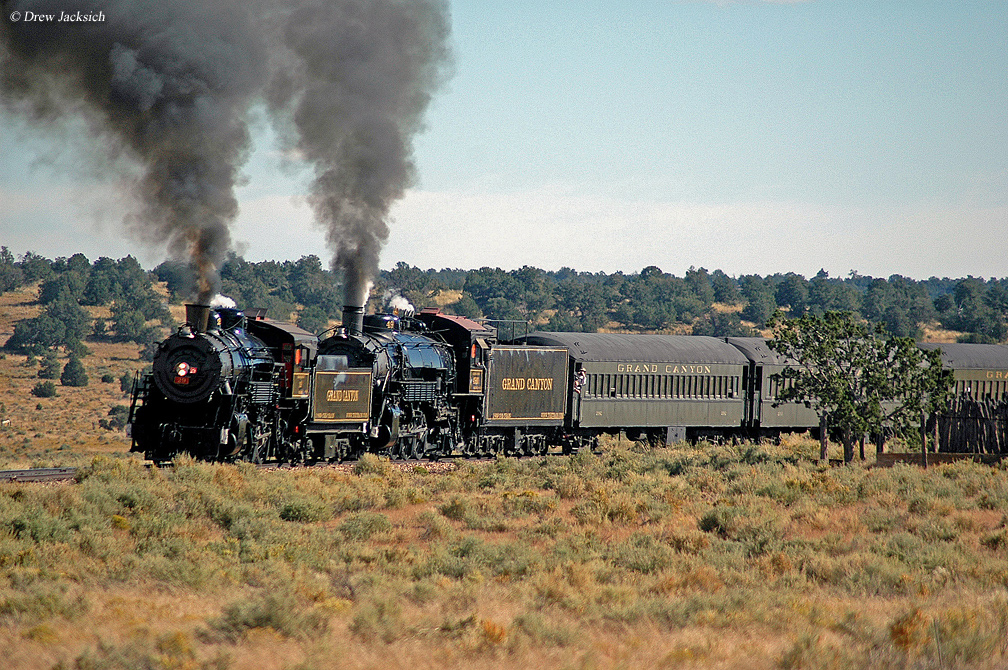 Depending on your interests and budget the Grand Canyon Railway offers a wide range of services for passengers.
Because of the climate trains operate year-round and they offer four different classes for you to choose from during your trip:
Coach


First Class


Observation Dome


Luxury Parlor First Class
Each is more expensive than the previous offering an increased level of service with Luxury Parlor Class located in the observation car providing refreshments and relaxing accommodations. 
Of note, the Grand Canyon Railway is one of the few operations to offer a wide range of lodging and dining options for visitors. 
---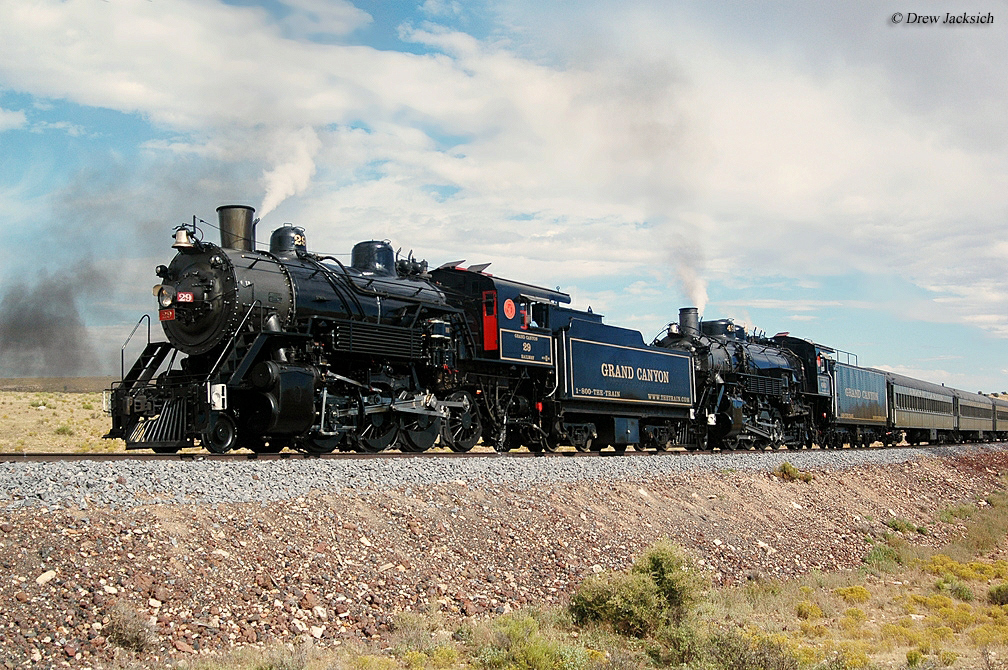 Additionally, if you are interested in vacationing at the canyon considering purchasing one of their packages for just such an occasion.
For more about the Grand Canyon Railway please click here to visit their website, which provides all of this information and much more about the train.
If you are interested in riding one of the few luxury excursion trains in the country, this is certainly one of them.  If you are interested, for a general history of the Santa Fe Railway please click here.