Cuyahoga Valley Scenic Railroad

Last revised: March 27, 2023
By: Adam Burns

The Cuyahoga Valley Scenic Railroad (reporting marks, CVSR) is a tourist attraction which operates more than 50 miles through Ohio's only national park situated just north of downtown Akron along the Cuyahoga River. 

It is headquartered in Peninsula and the non-profit organization has been in operation since 1975. 
This remains the case today although the trackage, originally owned by the Baltimore & Ohio with a history dating back to the 1880's, is now under the National Park Service's direction. 
As such, the federal government and the Cuyahoga Valley Scenic Railroad work together in maintaining the rails and growing ridership. 
Thanks to an effective marketing team, location within the Cuyahoga Valley National Park, and close proximity to Akron and Cleveland the railroad continues to break ridership records; 2016 was the best year yet with 214,063 passengers. 
In many ways it's surprising trains have continued operating in such a pristine natural setting at all, situated not far from two large urban centers.  This reason, in addition to many special events, allows the railroad to enjoy strong public support. 
It is also gained a widespread following among hardcore train enthusiasts thanks to an eclectic fleet of historic American Locomotive Company (Alco) and Montreal Locomotive Works diesels.
In this dated view of the Cuyahoga Valley Scenic, FPA4 #14 leads an excursion near Brecksville, Ohio on September 9, 1995. American-Rails.com collection.
History
The Cuyahoga Valley Scenic Railroad can trace its heritage back to the Baltimore & Ohio, which acquired control of the Valley Railway (VR) in late 1889. 
The B&O had spent much of the latter 19th century growing across the Midwest, largely through either outright acquisition or funding projects which it later took over. 
In the VR's case it sought entry into the growing urban center of Cleveland.  It began as an independent enterprise, incorporated on August 21, 1871 for the purpose of connecting Cleveland and Akron with coal mines located in Stark and Tuscarawas Counties. 
The project proceeded quickly and by August, 1873 nearly two-thirds of the right-of-way between Canton and Cleveland had been completed.  The financial panic that year slowed work and track-laying did not begin until October 26, 1878 when the first segment was spiked down in Akron. 
Finally, almost a year to the day later, 57 miles from Cleveland to Canton was finished on October 27, 1879.  Regular service commenced a few months afterwards on February 2, 1880. 
The VR's officials, though, were not satisfied with Canton as the southern terminus.  Following a few more years of construction they managed to open an additional segment from Canton to Bowerston, via Valley Junction and Sherrodsville, completed in 1884.
This opened a connection with the Wheeling & Lake Erie, which ran as far as Wheeling, West Virginia, which provided further eastern connections with carriers such as the B&O and Pennsylvania. 
The then 75-mile Valley Railway, however, would remain independent for only a few years.  While it handled considerable coal tonnage (comprising 75% of its traffic by 1888) the Baltimore & Ohio was after its Cleveland connection, a growing industrial and manufacturing center. 
After gaining stock control in the late 1889 the B&O placed directors on the VR's board on January 8, 1890. 
While now firmly under the B&O's wing, it remained a separate corporate entity for nearly two decades.  It was reorganized as the Cleveland, Terminal & Valley Railway (CT&V) on October 3, 1895 following bankruptcy and the B&O did not take over management of the system until June, 1909. 
Throughout the B&O era the former CT&V Branch (which operated as part of its larger Akron Division) handled various types of freight, from coal and iron ore to general merchandise and less-than-carload (LCL) business. 
Passenger trains fell victim early to the automobile with the first cutbacks taking place on July 18, 1933 when through trains to Marietta were discontinued.  The last to use the line was the Cleveland Night Express, which made its final run on January 3, 1963.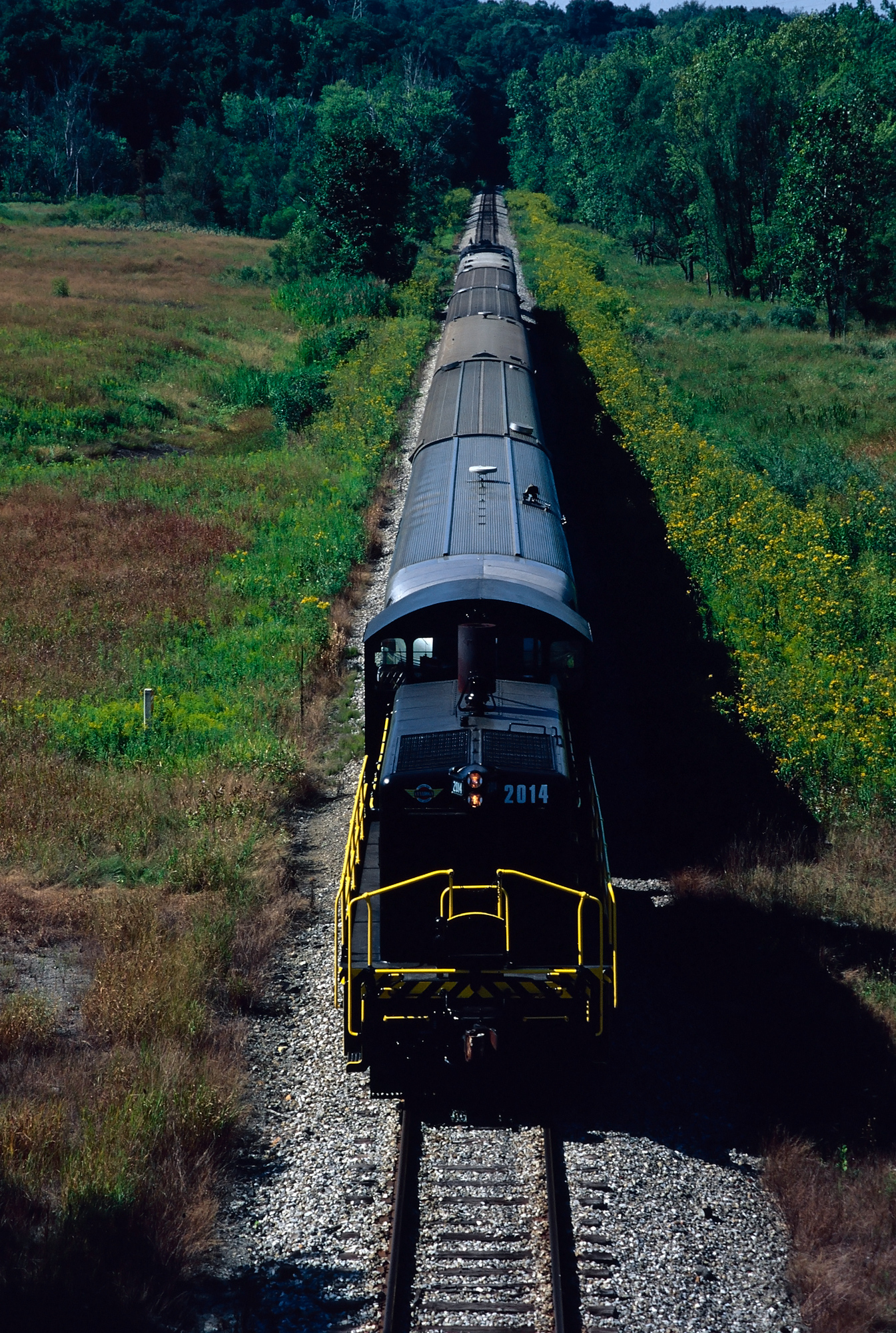 In this classic view of the Cuyahoga Valley Scenic, SW8 #2014 leads an excursion near Pittsfield, Ohio on September 9, 1995. American-Rails.com collection.
The B&O, itself, would eventually lose its independence.  In the post-World War II era it struggled to remain profitable against rising costs, strangling government regulations, and competition from highways, airlines, and other railroads. 
As a result, the Chesapeake & Ohio gained control on February 4, 1963.  The former CT&V Branch witnessed a general decline in business with the loss of steel mills and manufacturing. 
By the Chessie System era, which brought together the C&O, B&O, and Western Maryland under a single holding company in 1972, the conglomerate was looking to shift traffic off the former CT&V and onto another B&O line which reached Cleveland via Sterling, Ohio (the Cleveland, Lorain & Wheeling Branch). 
In his article, "Cleveland's Streamliner Rocks" from the May, 2010 issue of Trains Magazine, author Craig Sanders notes that by the 1980's the only traffic remaining on the CT&V was Pittsburgh-Cleveland coke train (purified coal) which ran three or four days a week. 
But by then a new source of business had sprang up, tourists.  The line ran through the beautiful Cuyahoga Valley National Park and as early as 1967 the Cuyahoga Valley County Fair Board was asking the B&O to run specials to Hale Farm, a living history museum, which continues to educate visitors about life in the 19th century.
The railroad showed no interest but the group persisted and the Cuyahoga Valley Preservation & Scenic Railway Association was created in 1972 to fund the trips themselves. 
The excursions, which operated under the name "Cuyahoga Valley Line" kicked off in June, 1975 as seasonal, steam-powered affairs running only on the weekends. 
Their original locomotive was Grand Trunk Western 2-8-2 #4070 (manufactured by American Locomotive in 1918), along with a fleet of heavyweight cars (these, along with #4070, were owned by the Midwest Railway Historical Foundation), and during 21 trips that first season (from the Cleveland Zoo to Hale Farm), 7,000 patrons rode the trains. 
The runs were extended to Akron in 1977 but despite witnessing 90,000 passengers during its first five seasons (operated from June through October), the trips could not break even. 
However, Chessie System continued to allow use of its tracks through the early 1980's, and even provided train crews until the railroad officially abandoned the 26 miles through the national park (Independence to Akron) in December, 1984. 
For another year excursions continued but Chessie stopped all trains in 1986 citing liability concerns.  After the railroad and federal government worked out an agreement, President Ronald Reagan signed legislation into law on November 6, 1986 authorizing the National Park Service to purchase the trackage for $2.5 million.
In March, 1991, the Cuyahoga Valley Line dropped its association with the Midwest Railway Historical Foundation and began running with its own equipment, at which time it acquired the now-famous Alco's. 
As the years passed, the organization expanded its services to attract ridership.  For instance, it now operates numerous specials throughout the year including:
A wine tasting train


Day Out With Thomas ("The Tank Engine")


Easter Bunny Express


The Polar Express


Halloween Express


 Christmas Tree Adventure
It has also opened several stops along its route including to the Pro Football Hall of Fame, Akron Zoo, Hall Farm and Village, and Stan Hywet Hall & Gardens. 
In June, 2003 it added another 25 miles from Akron to Canton when Akron Metro RTA, which had purchased the segment from CSX Transportation in 2001 for $6.2 million, gave CVSR permission to use the line. 
While the tourist railroad has attempted to serve downtown Cleveland directly, an additional 8 miles from Independence, CSX still owns this trackage and does not allow excursions.  There was an attempt to run buses but this garnered little interest.
The CVSR is one of the few such operations that offers a year-round schedule, although this varies depending on the season. 
In September, 1989 it began mid-week service as demand increased, which was further expanded to five days a week in 1995. 
However, this is maintained only through the summer months as service is cutback to weekend-only during the off-season. 
There are currently eight stations on the line including:
Rockside Station


Canal Exploration Center


Brecksville Station


Peninsula Depot


Indigo Lake Station


Botzum Station


Big Bend Station


Akron Northside Station
In 1990, the CVSR witnessed respectable patronage at less than 20,000 passengers but nothing outstanding.  However, throughout that decade it worked tirelessly to increase interest and was hosting more than 100,000 annually by 2000. 
This further jumped to 153,000 in 2008 and, as mentioned in the introduction, the railroad now hosts more than 200,000 each year!   As mentioned before the CVSR is an Alco haven with models ranging from FPAs to RS3s. Below is a current roster of the railroad:
Locomotive Roster
| Road Number | Builder | Model | Date Built | Notes |
| --- | --- | --- | --- | --- |
| M-3 | Budd | RDC-1 | 10/1950 | Ex-New York, Susquehanna & Western |
| 14 | MLW | FPA-4 | 3/1959 | Ex-Canadian National #6777 |
| 15 | MLW | FPA-4 | 2/1959 | Ex-Canadian National #6771 |
| 365 | Alco | C420 | 6/1965 | Ex-Seaboard Air Line #124 |
| 484 | EMD | FL9 | 11/1957 | Ex-New Haven #2029 |
| 800 | MLW | FPA-4 | 3/1959 | Ex-Canadian National #6780 |
| 1822 | MLW | RS18u | 5/1958 | Ex-Canadian Pacific #8779 |
| 2014 | EMD | SW8 | 5/1951 | Ex-U.S. Army #2014 |
| 4956 | Alco | RS3 | 1/1952 | Ex-Spokane, Portland & Seattle #71 |
| 4070 | Alco | 2-8-2 | 12/1918 | Ex-Grand Trunk Western #3734 |
| 4088 | Alco | RS3 | 8/1953 | Ex-Delaware & Hudson #4088 |
| 4099 | Alco | RS3 | 9/1952 | Ex-Delaware & Hudson #4099 |
| 4241 | MLW | C424 | 1/1996 | Ex-Canadian Pacific #4241 |
| 6003 | Budd | RDC-9 | 9/1956 | Ex-Boston & Maine #6903 |
| 6767 | MLW | FPA-4 | 1/1959 | Ex-Canadian National #6767 |
| 9801 | Budd | RDC-1 | 4/1953 | Ex-New Haven #48 |
| 9802 | Budd | RDC-1 | 4/1952 | Ex-New Haven #21 |
---
With assistance from the federal government, the railroad can maintain track speeds at 25 mph, very respectable for a tourist operation. 
There are no freight trains running through the national park although freights do run on sections from Akron to Canton. 
So, if you're ever in northern Ohio or near the cities of Cleveland, Akron, and/or Canton please stop by and check out the Cuyahoga Valley Scenic Railroad which not only provides comfortable, climate-controlled trips but also features fabulous scenery through the Cuyahoga Valley National Park.
Lastly, if you have the time please consider volunteering to help with not only restoration work but also maintaining the railroad. 
They rely heavily on such assistance and has stated many times that the railroad could not function in its current form without the many hours put in by thousands of volunteers.  For more information about the CVSR please click here to visit their website.  
(Thanks to Jerry Jordak for help concerning the information on this page.)