Mississippi Scenic Train Rides (2023)
: A Complete Guide
Last revised: June 5, 2023
By: Adam Burns

Mississippi enjoys a long, colorful history with railroads.  The Illinois Central provided the greatest coverage, a system that linked the Gulf Coast with Chicago. 

It also reached as far west as the western gateway of Council Bluffs, Iowa/Omaha, Nebraska. 
The competing Gulf, Mobile & Ohio was another notable, boasting two north-to-south main lines which passed through eastern Mississippi and reached New Orleans.
Both routes reconnected at Jackson, Tennessee before continuing on into Chicago. 
Finally, other fondly remembered names like Louisville & Nashville, Southern Railway, and St. Louis-San Francisco Railway (Frisco), all served Mississippi. 
The Magnolia State primarily consisted of through routes although the previously mentioned Illinois Central also provided many, secondary services (branch lines). 
And for any student of rail history, Mississippi is well known as the place where engineer Jonathan Luther "Casey" Jones was killed near Canton when his locomotive ("Ole 382") plowed through the caboose of a stopped freight train. 
The 4-6-0 ("Old 382") was leading Illinois Central's "Cannonball" at the time.  Thanks to his actions of staying in the engineer's seat and attempting to stop the train, everyone aboard survived but Jones.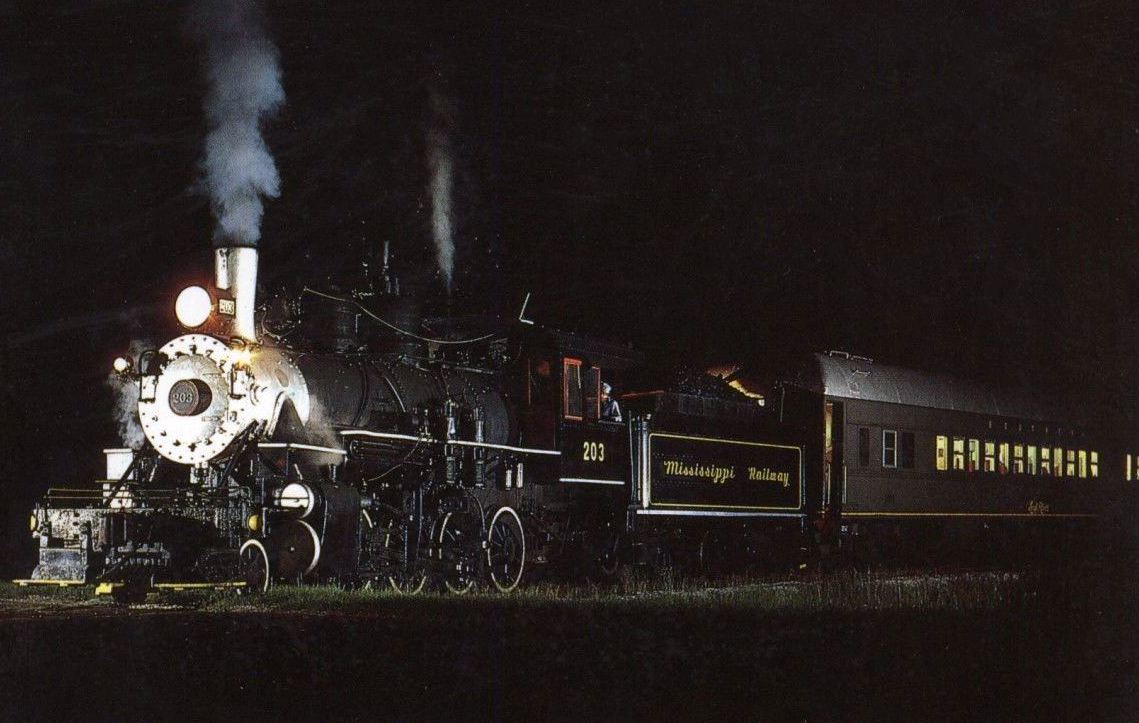 Mississippi Railway 2-6-0 #203 is seen here in service at Columbia, Mississippi with a Southern Railway coach (#1002, named the "Leaf River"). The locomotive was built in 1925 by Baldwin for Washington & Lincolnton Railroad. Louis Saillard photo.
State Rail History

Railroads in Mississippi got their start with the West Feliciana Railroad's incorporation on March 25, 1831.
According to the January, 2007 issue of Trains Magazine's which featured a nearly cover-to-cover subject on all 50 states entitled, "Great Railroading: State-By-State," it was named for the Louisiana parish in which it originated. 
On March 21, 1840 the first 11 miles were opened from St. Francisville to Turnbull's Plantation.  Two years later, on October 13, 1842, the line was completed to Bayou Sara, Louisiana (via Woodville). 
During these early days the system was primarily tasked with moving bales of cotton from plantations to the Mississippi River at Bayou Sara. 
On October 14, 1889 it became part of the larger Louisville, New Orleans & Texas (LNO&T), which itself was folded into the Yazoo & Mississippi Valley during October, 1892. 
This system was originally incorporated on February 17, 1882 as a wholly-owned Illinois Central property to manage most of the company's assets south of Memphis, particularly the LNO&T.  
In Mr. Murray's book he provides a very nice map detailing the Y&MV network, which comprised the main and secondary lines across western Mississippi.
Most of the IC's network throughout this region was thanks almost entirely to the Y&MV. 
At its peak the "Main Line Of Mid-America" contained over 6,700 miles; running the spine of America the IC served the following states; Iowa, southern Minnesota, southern Wisconsin, Illinois, Indiana, Kentucky, Tennessee, Arkansas, Alabama, Mississippi, and Louisiana. 
During its heyday the company was one of the most highly respected throughout the country, regarded not only for its many of years of strong profits but also revered heritage. 
Of the Illinois Central's many achievements perhaps the most remarkable was retaining its original name and avoiding bankruptcy throughout its entire 148-year history. 
On February 10, 1851 Governor Augustus French signed into law the charter for the Illinois Central Railroad.  
What became IC's "Charter Lines" included the main line running north from Cairo to Dunleith (East Dubuque) along the Mississippi River. 
Along the way it would pass through Clinton and reach Freeport before turning west.  In all, this segment totaled 453 miles.
In addition, a so-called branch would track due north from a point which later became Centralia (incorporated in 1859 it is named for the point where IC's Charter Lines converge) and reach Chicago, totaling 252 miles.
Overview
Friends Of Amory Regional Museum, Inc.
The Armory Regional Museum is located at 125 North Main Street in Amory and houses the largest N-scale model train layout in the state. 
The town was originally served by the St. Louis-San Francisco Railway, which maintained lines reaching as far east as Birmingham, Alabama and Pensacola, Florida. 
Better known as the "Frisco" this regional system also served parts of Kansas, Missouri, Texas, Oklahoma, Arkansas, Mississippi, Tennessee, and Alabama. 
Following one last bankruptcy, brought about by the Great Depression, it spent the last 30 years as a healthy carrier.  
Throughout its corporate history the Frisco was not your typical Midwestern "granger" as it carried a culture all its own, right down to a self-designed coonskin logo.
Both its own prosperity and the merger movement were growing during the 1970s, leading to its acquisition by Burlington Northern in 1981. 
The museum, which generally preserves the region's local history, was created on June 27, 1976 and housed inside what was formerly the Gilmore Sanitarium. Admission is free.
McComb City Railroad Depot Museum
This museum is located within the town's restored Illinois Central wooden depot, completed in 1901. 
The building also acts an active Amtrak stop along what is now the Canadian National's main line to New Orleans (the IC was acquired by this Canadian system in 1998, providing it access to America's Gulf Coast region). 
Among their historic displays and artifacts (which totals more than 1,500 pieces!) is:
Illinois Central 4-8-2 #2542 (A 2500 Class "Mountain Type" manufactured by IC"s own shop forces in Paducah, Kentucky during 1951 a very late date for new steam locomotive construction!)


An IC refrigerator car (reefer)


An office car built in 1883


ARailway Post Office car (RPO) constructed in 1914


An original wrecking derrick 
They are open much of the year, Monday through Saturday with group tours available.
Mississippi Agriculture And Forestry Museum
As its name states, this museum highlights farming, agriculture, and forestry as it relates to Mississippi. 
According to their mission state the organization looks, "to create an environment that communicates the value of past and present Mississippi agricultural lifestyles, relationships and practices and their relevance to the future of all people." 
Perhaps somewhat surprisingly, the museum also maintains a fascinating railroad attraction; there are three indoor layouts on display maintained by the Central Mississippi Model Railroaders Association and Red Caboose Crew.
These are in HO and O scale, and while not necessarily prototypical they do present railroading as it appeared in Mississippi during the 1960's and 1970's, the last great era before the industry's mega-merger movement began. 
As an added feature the  models are designed in a fashion that allows visitors to interact, to a degree; by activating a button the trains will operate on command.
---
Water Valley Casey Jones Railroad Museum
Located at 105 Railroad Avenue in Water Valley this museum tells the heroic story while preserving the memory of Illinois Central engineer Casey Jones.  
It is located within the town's restored IC wooden depot and houses a collection of artifacts and railroad displays. 
The idea for this attraction and historic endeavor began in March, 1982 when the railroad abandoned rail service through the town. 
At the time the company had fallen on hard times, an issue dating back to its 1972 merger with the Gulf, Mobile & Ohio which formed the Illinois Central Gulf. 
During the 1980's it greatly downsized its network, abandoning or selling off hundreds of miles. 
In 1985 the town and local preservationists began efforts to preserve and restore the abandoned depot, which had been damaged in a 1984 tornado. 
In 1988 an original ICG caboose was added to the premises and a large collection of artifacts were acquired in 1997.  Today, the museum is open on Thursday's, Friday's and Saturday's throughout much of the year.