Since their first trip in 1992 the railroad has grown by leaps and bounds, literally. Today, it operates two, unconnected sections of this former New York Central branch that once extended from Utica all of the way to Lake Placid to the north, a distance of over 150 miles. Their operations include a short 10-mile section of railroad between Saranac Lake and Lake Placid, and another 50-mile section between the town of Utica and Thendara, where it all began. Plans for the railroad include hopefully reopening the section between Thendara and Saranac Lake, a nearly 100-mile stretch of railroad that operates through New York's breathtaking Adirondack Park.
Still, today you can still glimpse the park aboard the railroad from its operations around Saranac Lake and about half of its route to Thendara. While the railroad does not operate any nostalgic steam locomotives it does provide you with cozy climate-controlled passenger cars. The Adirondack Scenic also offers several different special excursion trains throughout the year including their Wine Train, The Polar Express during the holidays, Halloween Trains, and even the very popular Murder Mystery trains!   In the over 16 years since the Adirondack Scenic Railroad began from virtually nothing but a dream it has grown immensely in that time. What's more is that the railroad has gotten local towns involved along its route and several have either restored their original, still-standing depots or elected to rebuild replicas of those torn down!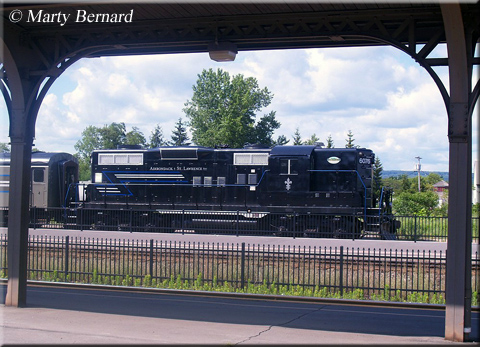 Adirondack GP9 #6076 readies to depart from Utica on the afternoon of July 2, 2007.
The Adirondack Scenic Railroad has become a very popular tourist railroad (it has been featured in a number of national publications, including Trains, the magazine) and if it is able to restore the entire route between Utica and Lake Placid the railroad is certainly poised to becoming one of the most popular in the country, even rivaling others like the Strasburg Railroad and Durango & Silverton, due to its onboard services and stunning scenery of upstate New York.   Regardless of having no steam locomotives the railroad is home to a nice collection of diesel locomotives, one of which is an original New York Central unit. Below is a roster of the Adirondack Scenic Railroad:
· New York Central #705 - Original Louisville & Nashville EMD SW1
· #1500 – Original Bessemer & Lake Erie EMD F7
· #1502 – Original Gulf, Mobile & Ohio EMD F10
· #1508 - Original Alaska Railroad EMD F7
· #2007 – Original New Haven EMD FL9
· #2018 – Original New Haven EMD FL9
· #2029 – Original New Haven EMD FL9
· #2031 – Original New Haven EMD FL9
· #4243 – Original Spokane, Portland & Seattle American Locomotive Company (Alco) C424
· #6076 – Original Pennsylvania Railroad EMD GP9
· #8223 – Original New York Central American Locomotive Company (Alco) RS3
For more information about the Adirondack Scenic Railroad please click here to visit their website. It includes much more information than I have listed here, which is mostly just a brief overview and history of their operation. For instance, their site includes an annual schedule, directions to their train, and special events that they host throughout the year among other things. So, be sure and check it out!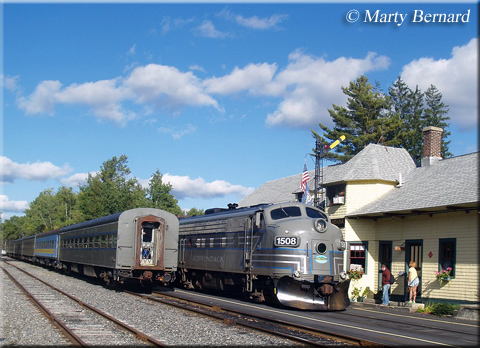 Adirondack F7A #1508 is seen here at the Thendara depot on September 29, 2007. The covered wagon began its career as Alaska Railroad #1508 in late 1953.

In all, for a fabulous trip by train on a super-scenic route in climate-controlled cars, a ride on the Adirondack Scenic is definitely something not to be missed if you have the chance. And, if you have time consider becoming a volunteer to help them in their effort to not only restore the track all of the way to Lake Placid but also keep their equipment and current railroad in good working order, they would certainly very much appreciate the help.  For more information about excursion trains like the Adirondack Scenic Railroad you might want to consider the book Tourist Trains Guidebook, which is put together by the editors of Kalmbach Publishing's Trains magazine and is regularly updated. 

Home

›

Tourist Train Information

› Adirondack Scenic Railroad