Oklahoma Train Rides

If you are looking for Oklahoma train rides the state is woefully short of these attractions. Right now, there are just two Oklahoma train rides to choose from; those operated by short line, Farmrail and the Oklahoma Railway Museum. Farmrail is an operating freight line that hosts excursions during just a limited window of the year between July and November. Known as their Quartz Mountain Flyer it is a very nice operation using restored, streamlined coaches, especially for being relatively unknown. The Oklahoma Railway Museum's excursions are much shorter than Farmrail's operation and just like the short line's train rides be sure and plant your trip as they operate during certain times of the year.  Please note!  The guide information here pertains only to Oklahoma train rides related to vacation and tourism destinations.  If you are interested in intercity/long distance rail travel please visit Amtrak's website.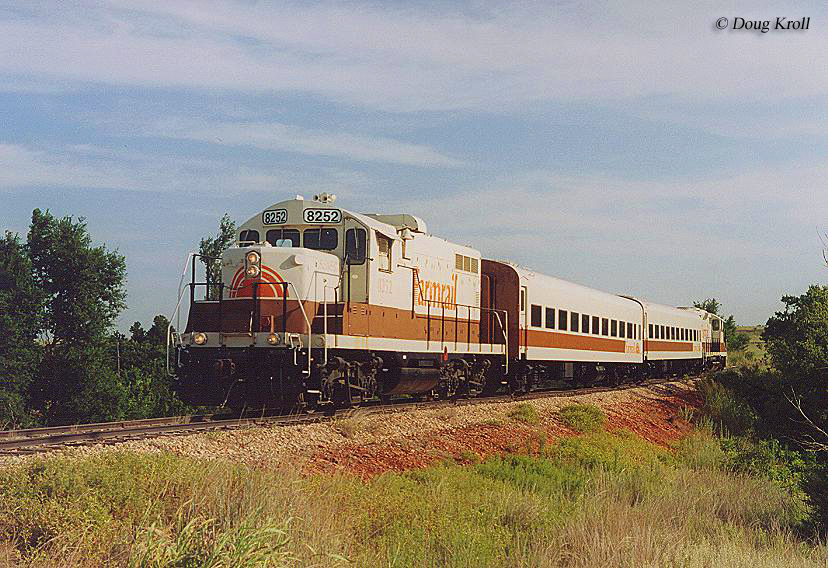 Oklahoma has, historically, always been important to railroads. However, back when classic lines like the Missouri Pacific, Santa Fe, Rock Island and others served the state it served an even more important purpose by providing a lot of online agriculture and other originating freight traffic. As for the Oklahoma train rides, Farmrail does not offer much information about what they provide, other than an excursion on their property using climate-controlled cars (they own a lot of trackage so the length of the ride could be quite long). In any event, please contact them to find out exactly what they offer. The Oklahoma Railway Museum operates just a short train ride on their property. The facility itself, however, is excellent and well worth the visit just to see the exhibits. Also, if you are interested in Oklahoma train rides that pertain to specific events, such as "The Polar Express," Halloween, Thomas the Tank Engine excursions, or fall foliage events please visit the main tourist trains section of this website.
Canadian County Historical Museum
This museum is housed inside the Rock Island's restored brick depot here.  It houses a collection of artifacts related to the area while you can also ride the Heritage Express Trolley located nearby.
Farmrail

Farmrail, based in Clinton, Oklahoma is an employee-owned freight railroad that operates nearly 200 miles of trackage in the state. Along with freight operations Farmrail also operates an excursion train which takes passengers up to the Quartz Mountain Resort. For more information about riding the train please call 508-323-1234.
Frisco Depot Museum
This museum is based inside the large, restored brick Frisco depot at Hugo, operated by the Choctaw County Historical Society.  The museum attempts to tell the history of the entire area and town including the role railroads played in its development.  Inside are many artifacts and displays (railroad and otherwise) as well as an operating model railroad layout.
Heritage Express Trolley

The Heritage Express Trolley, located in El Reno, operates an historic J.G. Brill streetcar from Heritage Park, located on the grounds of the Canadian County Historical Museum, into the downtown area.  It is available to ride on select days throughout the year.
Johnny's Trains And Garden Railroad
This small railroad attraction, located in Covington, features several operating layouts in various gauges (including a garden railroad) along with a hobby shop to peruse.  The facility is open most weekdays.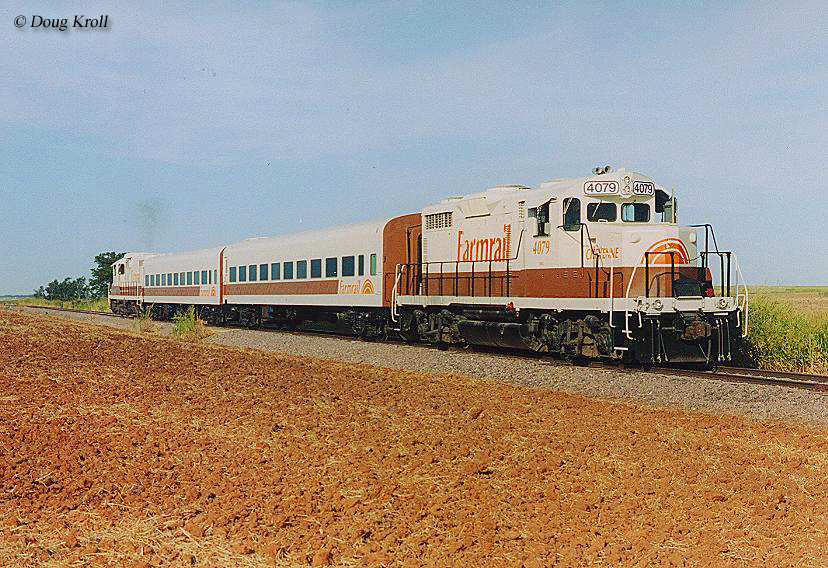 Oklahoma Railway Museum

The Oklahoma Railway Museum based in Oklahoma City looks to preserve the state's railroad history. Along with a wide collection of preserved equipment on hand the museum also operates train rides on a short stretch of trackage once owned by the Missouri-Kansas-Texas Railroad (the Katy).
Orr Family Farm & RR LLC
This tourist attraction is located in Oklahoma City has a wide range of things to do from carousel rides to zip lining.  They also operate a 1/3-scale train on the grounds pulled by a replica steam locomotive and features open-air cars for visitors.  According to their website the train offers, "...a 25-minute one-mile trip around the farm, traveling along the dam of Hidden Lake, circling the beautiful Wedding Garden and down by two ponds with their sparkling fountains before returning to the Train Station."
Railroad Museum Of Oklahoma
This museum is located in Enid and features a large collection of rolling stock to peruse, which includes St. Louis San Francisco (Frisco) 4-8-2 #1519, a 1925 product of the Baldwin Locomotive Works.  Additionally, inside they house a large collection of memorabilia including various artifacts, documents, and photos primarily related to the railroads which served Oklahoma.  Finally, be sure to check out their gift shop and/or ride their excursion train.  To learn more please visit their website.
Science Museum Of Oklahoma
While not actually a railroad museum (their featured subjects range from space exploration to aviation history) the Science Museum of Oklahoma, located in Oklahoma City, does have an exhibit on trains.  There is a operating model layout that is 1,000 feet in length along with a handful of dioramas on display.  Additionally, the museum has a fully restored Pullman parlor car to view.

Waynoka History Museum
This museum is housed within the town of Waynoka's beautifully preserved Santa Fe station built in 1910.  The Waynoka Historical Society acquired the building in 1995.  The restoration of the facility continues through today although the museum is open to the public during select days of each week free of charge.  Aside from rail exhibits they also feature other displays related to the local area.

Yukon's Best Railroad Museum
This small railroad museum is named after the Yukon's Best flour mill nearby.  It is located within former Rock Island boxcar #5542 situated on Third and Main Streets in the small town of Yukon.  The facility is open by appointment only and contains a small collection of artifacts, photos, and documents related to both the classic Rock Island system as well as railroading in general.  Admission to the museum is free although donations are accepted.  If you are interested in stopping by please call 405-354-5079.
Home

›
Tourist Train Information
› Oklahoma