The Strasburg Railroad dates back to 1832 and until the 1950s operated as a shortline freight railroad between its namesake city and a connection with the Pennsylvania Railroad at Paradise, a distance of four miles. Never carrying a large traffic base, after severe storms in the mid-1950s washed out the railroad in several locations the Strasburg filed for abandonment in 1957. Once again a railfan stepped in to save the day, in this case in the way of Henry K. Long who put together a non-profit group comprised of twenty-four individuals (including Mr. Long) who sold stock for $450 to raise enough money to purchase the railroad for $18,000.  After hard work to return the railroad to operation the first passenger train to operate on the "new" Strasburg Railroad pulled out of its namesake town on January 4, 1959 hauled by a little Plymouth diesel locomotive, Engine No. 1. A year later the railroad was able to purchase its first steam locomotive, a former Canadian National unit #7312, which was renamed #31 (it has since been given back its original number and painted in CN colors) and still operates on the property to this day.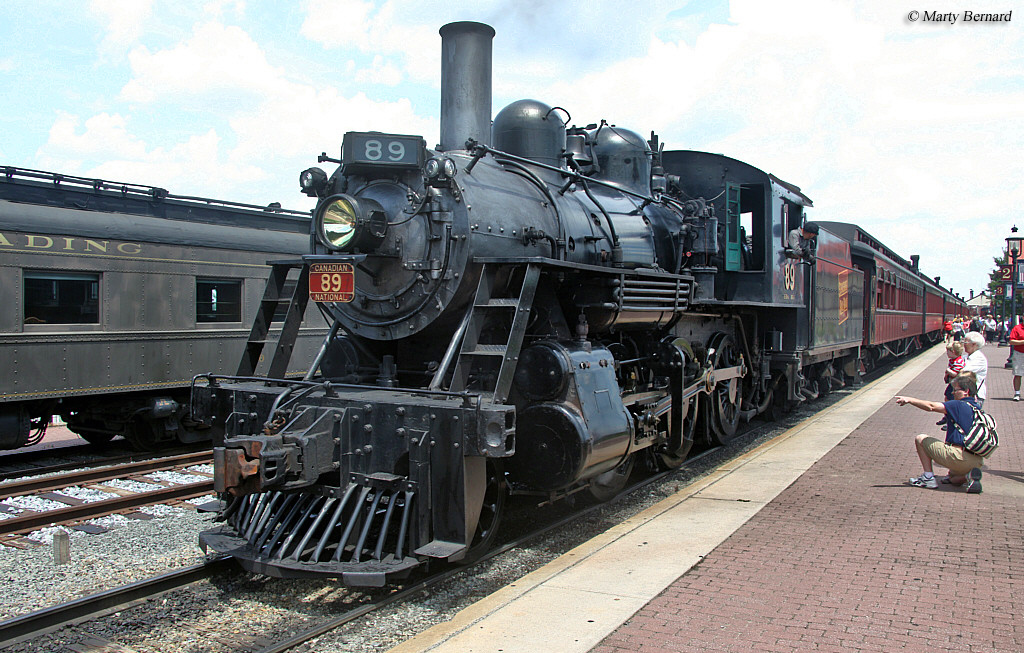 From this point forward the Strasburg Railroad was off and running and through dedicated hard work by those who wanted to see it prosper the railroad has done just that. Today, the Strasburg strives for authenticity and has set the time period in which it operates around 1915. Thus both the locomotives and cars carry era-paint schemes and interior designs. For instance, the steam locomotives are painted in their original owning-railroad's colors and the passenger cars feature a red/crimson livery that was commonly used during the early 20th century.
Two new features the Strasburg offers includes a railroad president's private car, Philadelphia & Reading #10, and an original wooden dining car, the Lee E. Brenner, that now features fine wine and dining since the railroad acquired its liquor license in 2006. Also, back in 1988 the railroad rolled out the parlor car Marian, which features onboard drinks and snacks. The former two services naturally cost extra but they have allowed the Strasburg to branch out into giving riders more options, not to mention additional means of revenue for the railroad.
For more information about Strasburg's fleet of locomotives please have a look at the table below:
· #1 – Plymouth Diesel Switcher
· #1 – 0-6-0T Porter Masquerading as Thomas The Tank Engine
· #2 – Plymouth Diesel Switcher
· #3 – An Amusement Park Cagney live steam locomotive
· #4 – Former Reading Railroad 0-4-0 Camelback #1187 Awaiting Restoration
· #10 – Ex-Lancaster, Oxford & Southern Diesel Rail Car
· #31 – Ex-Canadian National #7312 0-6-0
· #33 – GE 44-Tonner Diesel Switcher
· #89 – Ex-Canadian National #89 2-6-0
· #90 – Ex-Great Western #90 2-10-0
· #475 – Ex-Norfolk & Western 4-8-0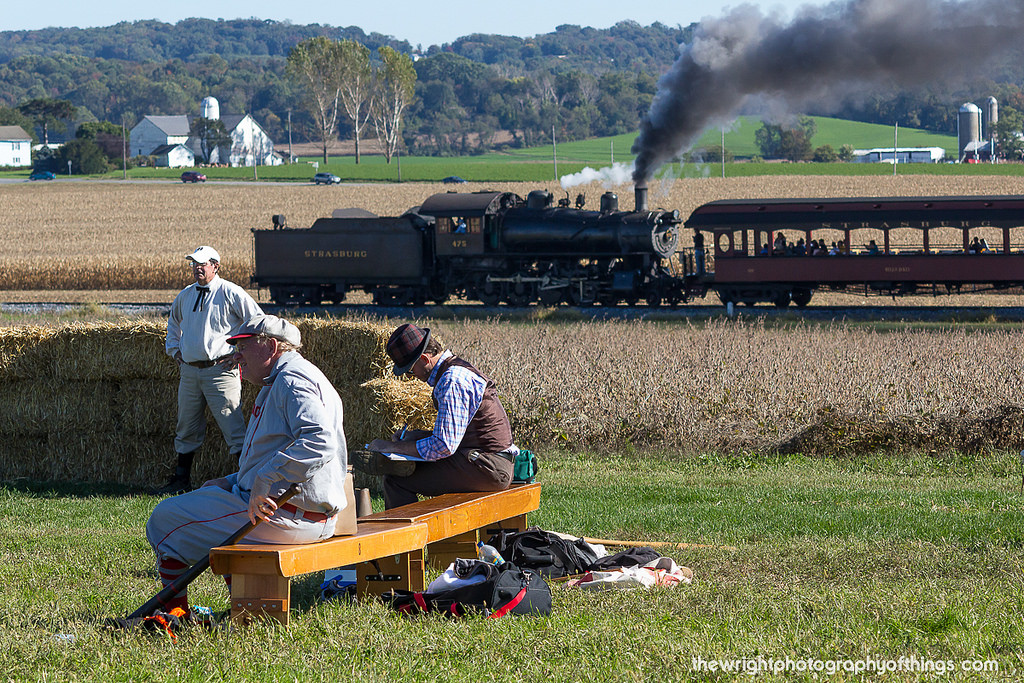 Aside from the Strasburg's immense popularity one other important part of the railroad that helps it stay in operation are its locomotive shops, which it uses to not only maintain its own locomotives but also for contract work. Having purchased several important tools to aide it in steam locomotive maintenance and repair the Strasburg makes a healthy profit doing contract overhaul work for other tourist railroads and shortlines.  Today, the Strasburg Railroad sees around 400,000 annual riders and one reason for its success is that it has kept up with the times and has tried to offer what folks, particularly families, are looking for in a vacation, which today usually includes not only entertainment but also a learning experience for the kids.

This is why authenticity has become such a trademark on the railroad, which was not always the case in years past when nostalgia trumpeted authenticity.  Finally, many folks forget that the Strasburg also handles a growing freight business as well.  This service lay mostly dormant since the late 1950s when the railroad became known for its excursion trains although in recent years it has steadily grown to the point that it now handles several hundred carloads annually from lumber to grain and other liquid materials.  So, if you are interested in a taking an enjoyable train ride behind historic steam locomotives traveling through Pennsylvania's beautiful Amish Country and want to learn something along the way a trip to see the Strasburg Railroad is well worth it. 
While there, also stop by the Railroad Museum of Pennsylvania to learn more about the state's rich railroading history.  To learn more about the Strasburg Railroad please click here to visit their official website. I would highly recommend doing so if you are planning a trip to Strasburg as their site details everything they have to offer in the way of trains, how to get there, special events, and things to do (among others). Finally, for more information about excursion trains like the Strasburg Railroad you might want to consider the book Tourist Trains Guidebook, which is put together by the editors of Kalmbach Publishing's Trains magazine. 

Home

›

Tourist Train Information

› Strasburg Railroad